Let me be upfront: the GetResponse vs ConvertKit battle wasn't hard to call. Not even close. ConvertKit has managed to gain a foothold in the email marketing service (EMS) market by doing a few things differently, but
GetResponse offers a far better package.
That's not to say that ConvertKit is a weak contender.
Considering how quickly it established itself in the industry, I believe the potential's there for ConvertKit – it's just a matter of smoothing out the rough edges. But
I had plenty of time to test things and play around with their respective features, and ConvertKit was almost always one step behind.
Whether it was a weird UI configuration or an option missing altogether, ConvertKit often faltered – while I felt that GetResponse was doing more to help me succeed. Both have free plans, so you can try them out for yourself, or if you're ready to commit you can check out
GetResponse's latest deals
. Alternatively, keep reading to find out why it won this comparison.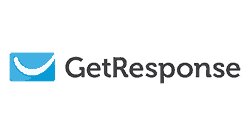 Save up to 30 % on your GetResponse plan!
Limited-time offer - Don't miss it!
157 users used this coupon!
Features
GetResponse Packs Plenty More Features
Simple text editors get the job done, but beautiful email designs can bring your message to life. The first thing I looked at was each platform's available email templates.
GetResponse offers 145 vibrant, minimalistic designs on its free plan
 (500+ on paid plans),
all completely customizable and mobile responsive.
I can't say the same about ConvertKit.
I counted just 9 templates, three of which didn't even contain graphics.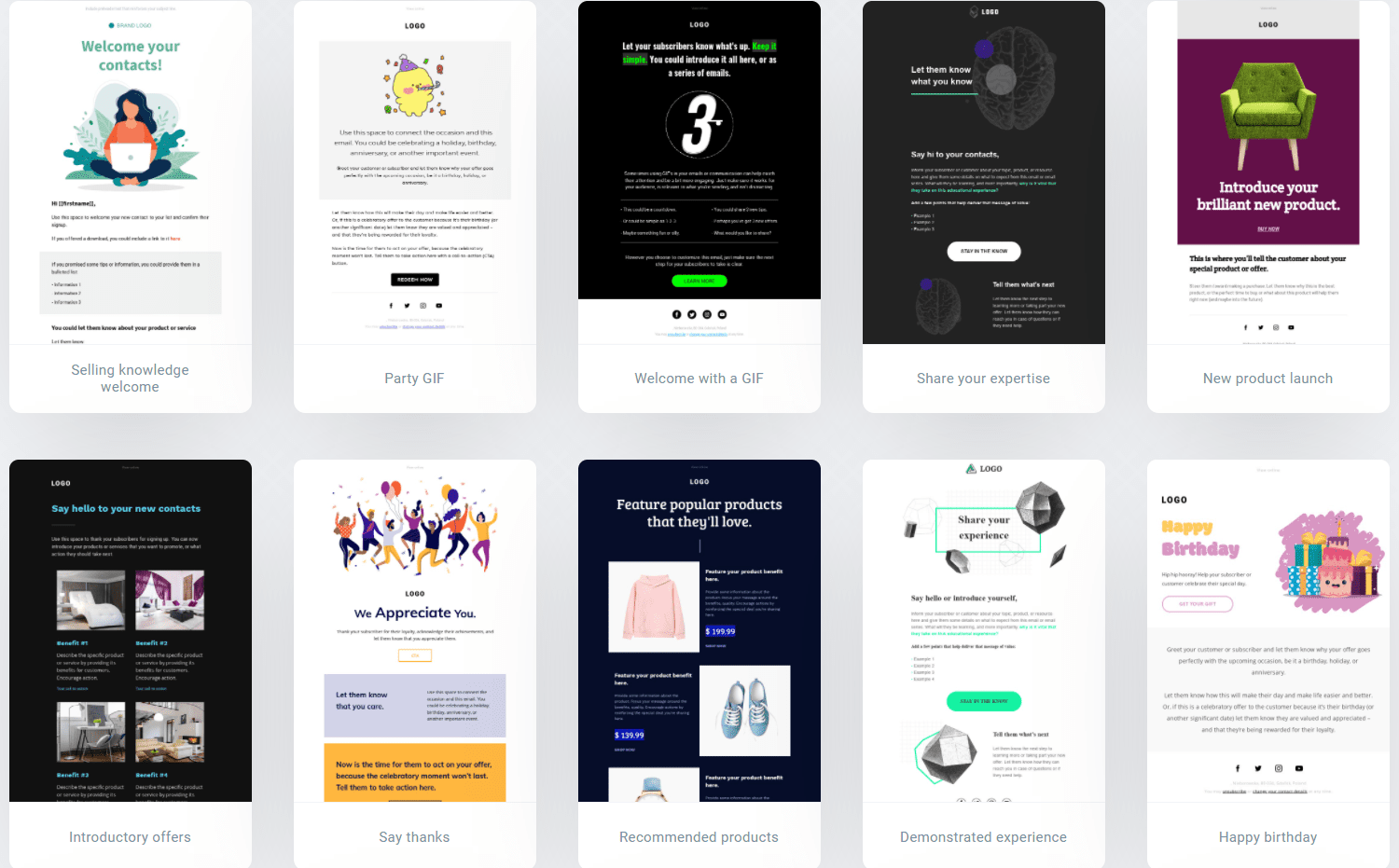 I then checked each platform's A/B testing capabilities.
With GetResponse, I was able to test both subject lines and content elements.
ConvertKit isn't as flexible – you can only test subject lines. When it comes to automation, both platforms provide templates to simplify processes and help you get things done. However,
GetResponse's automation tool is more powerful, going beyond simple email marketing automation.
I could easily combine webinars and other CRM activities into my workflows.
GetResponse also offers 200+ landing page templates and allows more customization
, compared to ConvertKit's 50+. Although not as robust, ConvertKit's landing page builder isn't terrible – and it's available with the free plan.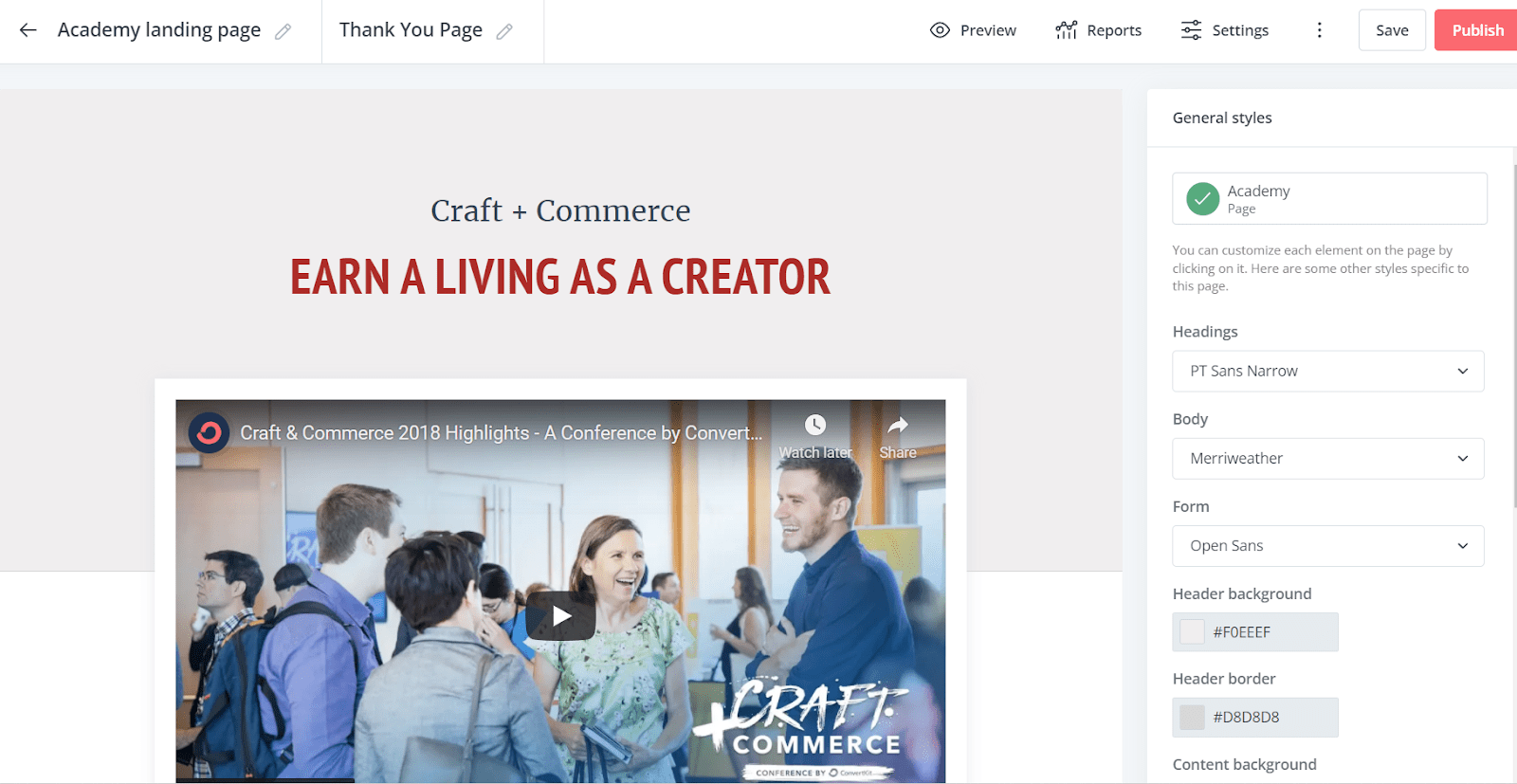 One more thing that makes GetResponse stand out is language support.
It adjusts blocks and elements to make space for right-to-left (RTL) scripts such as Hebrew and Arabic – ConvertKit doesn't.
GetResponse wins this round.
And, frankly, ConvertKit has a long way to go before it can earn a place among the top competitors.
Ease of Use
Both Platforms Are Easy To Use – But for Different Reasons
From its intuitive drag-and-drop builder to the visual workflow automation feature,
GetResponse's tools work well together
. I found everything easy, whether it was creating a new campaign, setting up a new sales funnel, or integrating a webinar into a workflow.
ConvertKit is also easy to use – but there's a reason for that
. It doesn't do as much as GetResponse (for example, it only has limited e-commerce integrations). Of course, less can be more when it comes to navigating a new platform, but I also found some of ConvertKit's design choices questionable. For example,
I don't understand why there's no drag-and-drop email editor.
ConvertKit's builder isn't hard to use per se, but drag-and-drop has become the industry standard. You also need to make sure you've saved your templates before you set up a campaign on ConvertKit. You can't edit them directly from the editor, which can be frustrating.
When it was time to import my contacts, GetResponse again made everything easy.
It integrates with plenty of other platforms and supports files in CSV, TXT, VCF, XLSX, and ODS format.
ConvertKit integrates with fewer services and only supports CSV
.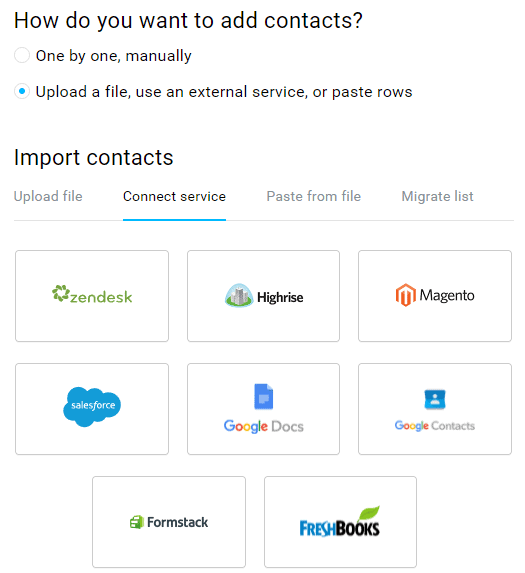 Finally,
GetResponse's dynamic segmentation tools
 are much more advanced than ConvertKit's.
I could easily segment my subscribers based on behavioral data, which saved me valuable time, especially compared to ConvertKit's more traditional manual tagging.
Both platforms are user-friendly, but GetResponse gets more things right.
ConvertKit's interface and overall user experience feel a bit awkward at times.
Deliverability
GetResponse Does More To Ensure Your Emails Reach Their Destination
A great deliverability rate can help you achieve your marketing goals. And if you've been in email marketing for a while, then you'll have seen plenty of other reviews that claim to be able to give you this rate as a simple percentage. To do this, a reviewer will hastily design an email, send it to a few thousand contacts, and come up with a precise deliverability rate.
But this number is almost always misleading.
Why? Most reviewers won't tell you what the email was about, what elements it contained, to whom it was sent, and whether it was tested against other email marketing services. There are just too many variables for this number to be meaningful. Here at Website Planet, we don't rely on arbitrary deliverability rates. Instead,
we check for specific features/protocols proven to increase deliverability rates.
Want to know more? My colleague wrote an article on
what you can REALLY do to improve deliverability
yourself. When testing deliverability, you should always pay attention to:
DKIM authentication. DKIM is how email providers can tell it's really you sending your emails. GetResponse and ConvertKit can both help you set up DKIM authentication and offer helpful guides on their respective knowledge bases.
Anti-spam policy. It doesn't matter if you're the most honorable marketer around. If you use a service riddled with spammers, your deliverability rate will also suffer, as users often share IPs. While both ConvertKit and GetResponse claim they don't allow spam, only GetResponse passed the junk email test, where we import several known spam addresses and wait to see whether the platform blocks them or filters them out.
Affiliate marketing. Affiliate marketing is an important source of revenue for many websites today, and most EMS allow affiliate links. But just like lenient anti-spam policies, lenient affiliate marketing policies can negatively impact your deliverability rate. GetResponse wins a point here for maintaining stricter guidelines – ConvertKit's affiliate marketing policy is a bit vague.
Private IP. With GetResponse, you need to be a Max user to get a private IP. ConvertKit charges $250 and recommends you send at least 150,000 messages a week.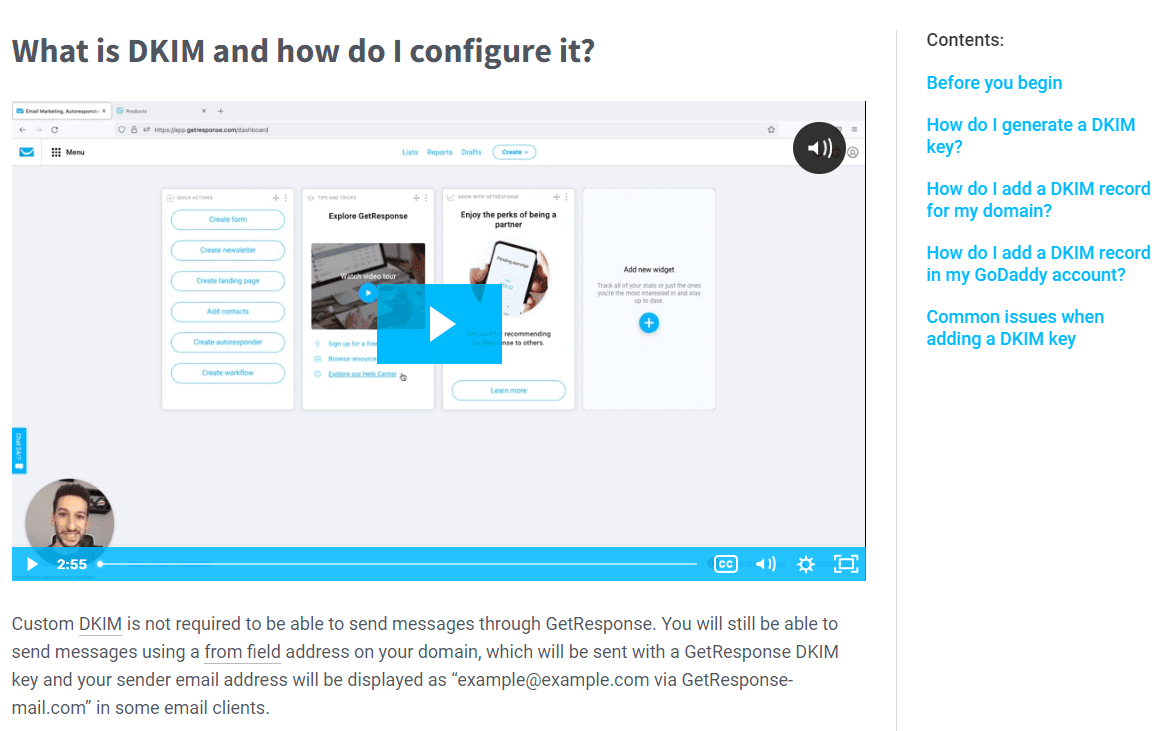 Overall,
GetResponse's shared network has a better reputation than ConvertKit's.
That means similar emails sent from both platforms will likely reach more of your subscribers' inboxes with GetResponse.
Reporting and Analytics
Neither Platform's Reporting Tool Feels Complete
GetResponse excels at many things, but unfortunately, reporting isn't one of them.
If you navigate to the Reports tab, you'll see how many people opened, clicked, unsubscribed, or bounced – and that's pretty much it. A Recipients tab with an engagement score was recently added to Reports, but there's still zero information about devices used or contact location. The good news is that you can
access these basic stats even if you're on GetResponse's free plan.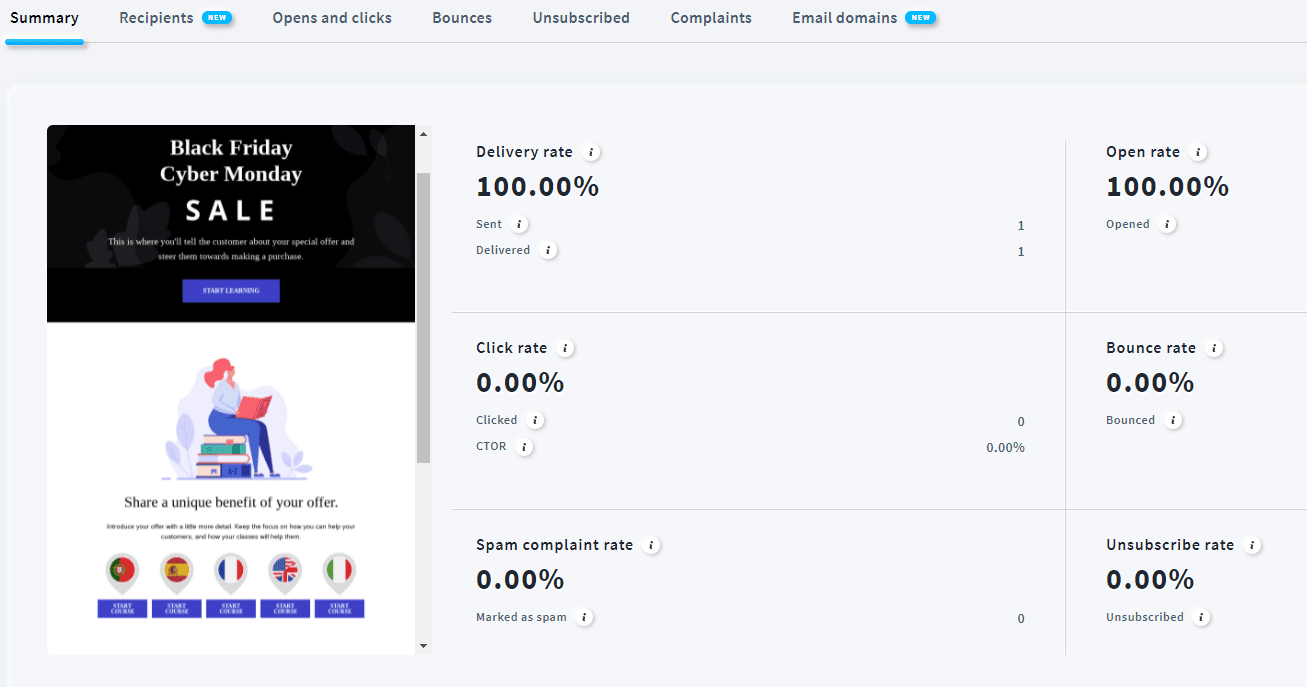 ConvertKit's reports are even less advanced, especially if you're a free user.
You can only check your open rate, click rate, and the number of people who've unsubscribed. The Creator Pro plan unlocks more advanced reports – but that starts at
$
59.00
/month for 300 subscribers. GetResponse wins this round, but honestly I expected more from both platforms. If you're looking for a reporting tool that can truly do it all, I recommend ActiveCampaign.
ActiveCampaign's Plus plan lets you quickly generate super-detailed reports
 on email campaigns, automation workflows, contacts, and even self-defined goals. Flexibility is key to success in email marketing, and
ActiveCampaign's analytics suite expands your options. You get to define your own goals in the admin menu
, gaining access to all the crucial information you need to stay on track and nail your strategy.
Pricing
Both Are Affordable, but GetResponse Offers Better Value For Money
ConvertKit and GetResponse are both competitively priced, but
GetResponse offers a few more plans to choose from. In most cases, it's also a few dollars cheaper.
Here's What You Get for Free
ConvertKit's free plan isn't too shabby, especially if you're just getting started with email marketing.
Your subscription allows you to maintain a limit of 1,000 subscribers while granting you the freedom to send an unlimited number of emails and create numerous landing pages. If you are a US customer, you also have the added benefit of being able to sell digital products and subscriptions. This combination offers an appealing package.
GetResponse's free plan is a bit more restrictive.
You can send an unlimited number of emails to 500 subscribers, but you can only create one landing page, and e-commerce tools won't be available to you.
Here's What You Get If You Pay
GetResponse offers four different pricing tiers, each with its own set of features.
The Basic plan starts at
$
15.58
/month for 1,000 contacts, unlocking autoresponders, unlimited landing pages, and email scheduling. The Plus plan starts at
$
48.38
/month for 1,000 contacts and includes marketing automation, webinars, contact scoring, and advanced segmentation. The Professional plan starts at
$
48.38
/month for 1,000 contacts, throwing paid webinars and advanced e-commerce capabilities into the mix. If you're looking for a custom solution with extra support, a dedicated IP address, and other perks, you might want to look into the Max plan.
ConvertKit's pricing structure is simple.
The Creator plan starts at
$
29.00
/month for 300 contacts, with which you can sell products and automate sequences. The Creator Pro plan starts at
$
59.00
/month for the same number of contacts, but also unlocks features such as subscriber scoring, advanced reporting, and priority support.
ConvertKit also has to score a point here for not counting subscribers twice.
If you have a contact in two different lists, they'll count as one subscriber, not two – whereas GetResponse charges extra for duplicate contacts.
Both services offer special deals for prepaid plans. GetResponse's annual discount is 18%
, while ConvertKit's is set to approximately 17%. GetResponse also allows users to sign up for 24 months for a substantial 30% discount. Just remember to always take advantage of free options/trials before committing to an annual/biannual plan. So, what does all this mean for you when comparing GetResponse vs ConvertKit?
Overall, GetResponse is almost always going to be a little bit cheaper.
This table sums everything up nicely:
GetResponse Plus
ConvertKit Creator Pro

$

15.58

/

month for 1,000 contacts

$

59.00

/month for 1,000 contacts
Templates

125+

9
Advanced Automation

✔

✔

Advanced Reporting

✔

✔

Sign-up Forms

✔

✔

Landing Pages

✔

✔

Subscriber Scoring

✔

✔

Ecommerce

✔

✔

Support

Live chat, email

Live chat, email
Support
Both Replied Quickly, but ConvertKit's Representative Was a Bit Confused
Knowledge bases and articles can answer many questions, but at some point you'll probably want to contact an actual human.
Both email marketing platforms offer live chat and email support on all their plans.
More expensive plans come with priority support, and if you're on GetResponse's Max plan, you'll also have access to 24/7 phone support. I contacted both support teams via live chat with the same question:
Does GetResponse/ConvertKit natively support languages written from right to left, such as Hebrew and Arabic?
GetResponse replied as soon as I pressed the "start a chat" button.
Their representative told me precisely what I needed to do to enable RTL support and even linked a picture with the appropriate menu setting. Thanks, Karolina!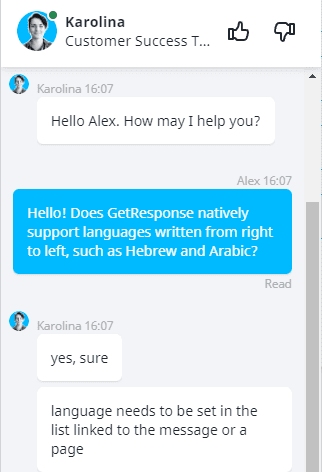 ConvertKit got back to me almost as quickly, but their representative wasn't sure whether RTL languages were supported.
A couple of minutes later, he came back with a link on how to set up custom HTML.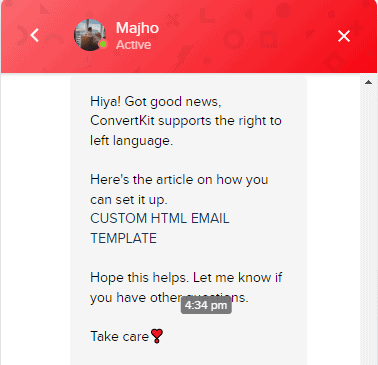 GetResponse was faster and more direct
, winning yet another round.
GetResponse Is Almost Always One Step Ahead
If we compare ConvertKit vs GetResponse solely on their features,
GetResponse
comes out as the winner
. It has more templates and importing options, more advanced automation and reporting tools, better deliverability, and better prices. Honestly, GetResponse is a top performer that could easily become your go-to, all-in-one email marketing tool.
ConvertKit isn't a terrible choice if you're a small creator
who's just looking for a hassle-free way to send out a few hundred emails a week – its free plan packs a few more features than GetResponse's – but
GetResponse will serve you better
as your list grows
and your marketing needs become more complex. Here's a table with everything we've covered so far:
Landing Pages
Yes (unlimited with the free plan)

✔
Native RTL Language Support
No
Reporting and Analytics
Okay
FAQ
Which is better: ConvertKit vs GetResponse?
GetResponse is a better email marketing platform than Convertkit. Overall, GetResponse offers more features, higher deliverability, and better prices – and it ranks consistently highly against other top EMS, too.
Is ConvertKit Any Good?
ConvertKit isn't terrible, especially if you're a small creator making use of its free plan – it's easy to use and gets the job done. That said, it lacks advanced features you find on other email marketing platforms and its more expensive plans are overpriced.
Is GetResponse Free to Use?
Yes, GetResponse does offer a free plan, but it's pretty restrictive. ConvertKit's free plan is considerably better – you can send unlimited emails to up to 1,000 subscribers, create unlimited landing pages, and even sell digital products/subscriptions if you're in the US.
What Is the Purpose of ConvertKit?
ConvertKit was developed with creators and small business owners in mind. But although it simplifies many processes, it's not as revolutionary as it claims to be. Other popular EMS offer equally simple interfaces with more advanced features. Check out our list of the best email marketing services for better choices.