Are "specialized" email marketing services (EMS) anything more than just a marketing gimmick? The answer is a lot more nuanced than a simple yes or no.
In the case of Drip, it's clear that its e-commerce focus has driven a lot of its best features
, like the automation builder and signup form builder.
But there's a ton of other stuff missing
or only just implemented. Likewise, ConvertKit has
some
useful features, such as the ability to pull images from your Instagram feed for your emails. But otherwise, everything else is either missing or extremely threadbare. And
I can't say there's anything that sets ConvertKit apart as a content creator-specific EMS
.
TLDR: If you really have to pick between ConvertKit and Drip, Drip comes out on top, simply for its ease of use and e-commerce tools. But honestly, after testing them thoroughly, it's certainly not the best EMS on the market. It still outstrips ConvertKit, but I found Drip to be frustrating and confusing in places.
Personally,
I recommend ActiveCampaign
– it's the best all-rounder from hundreds, yes hundreds, of automation templates, to help you grow your business as well as stronger reporting tools than either of these services. Plus, it offers a
14-day free trial
so you can try it without risk.
Sit tight and read on to see why Drip is my pick of these two EMS, and learn why ActiveCampaign beats them both at every turn.
Features
Drip's E-Commerce Automation Templates Are Super Helpful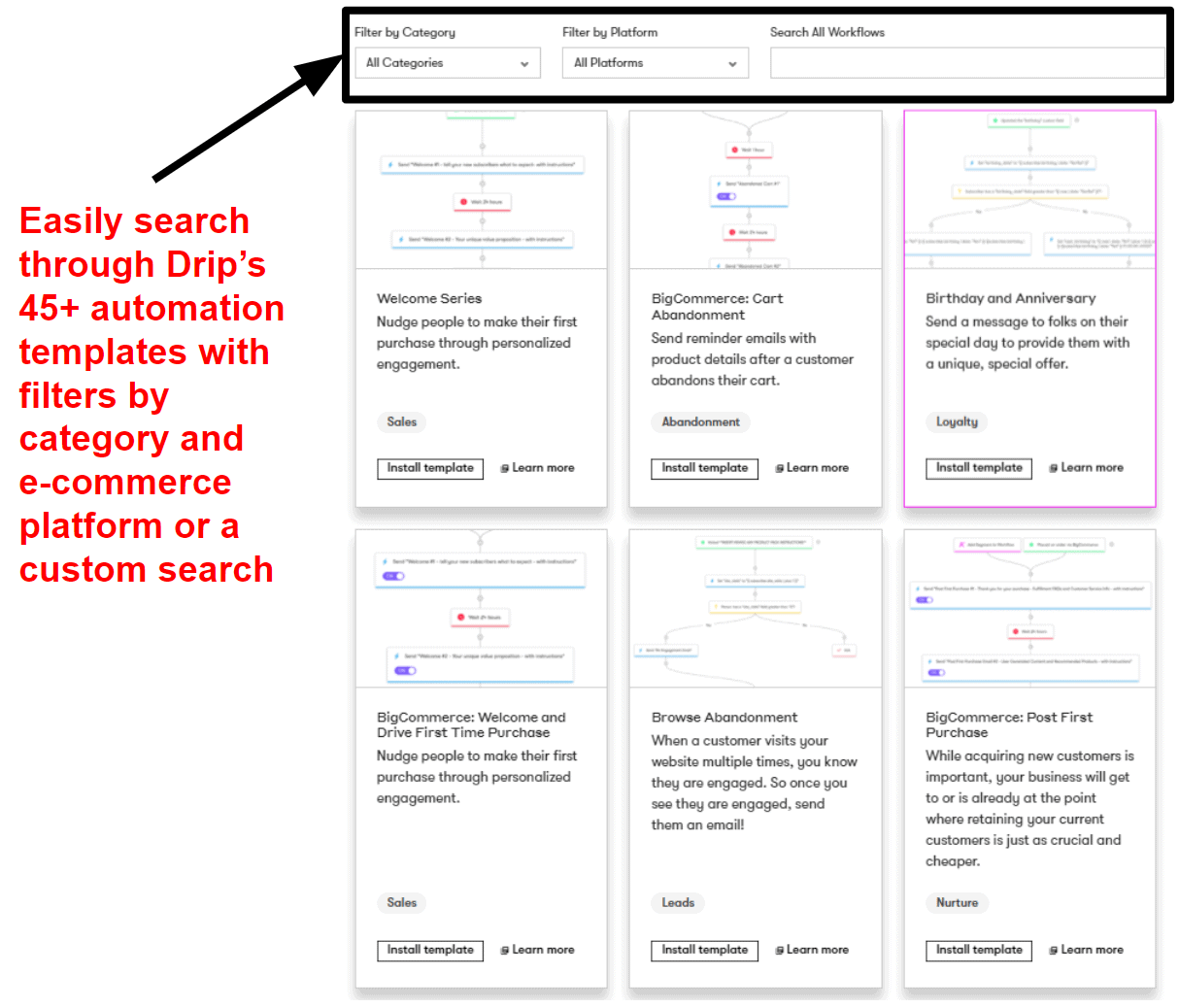 Both of these EMS offer broadly similar features.
ConvertKit and Drip only have a very limited number of extremely basic email templates,
and honestly, I wouldn't recommend either of these platforms for anything beyond simple email marketing. However,
Drip steals the win for this section for its workflow automation builder
, which offers 49 workflow templates (despite only saying 29 templates on its website) to help you automate your e-commerce emails. It's super easy to customize these templates with whatever steps you need, too. If none of the templates work for you, Drip also allows you to make custom workflows. However,
there are only 7 different step types you can add to your workflow, which can be pretty limiting. Still, that's more than ConvertKit
– its automation builder only offers 3 different step options.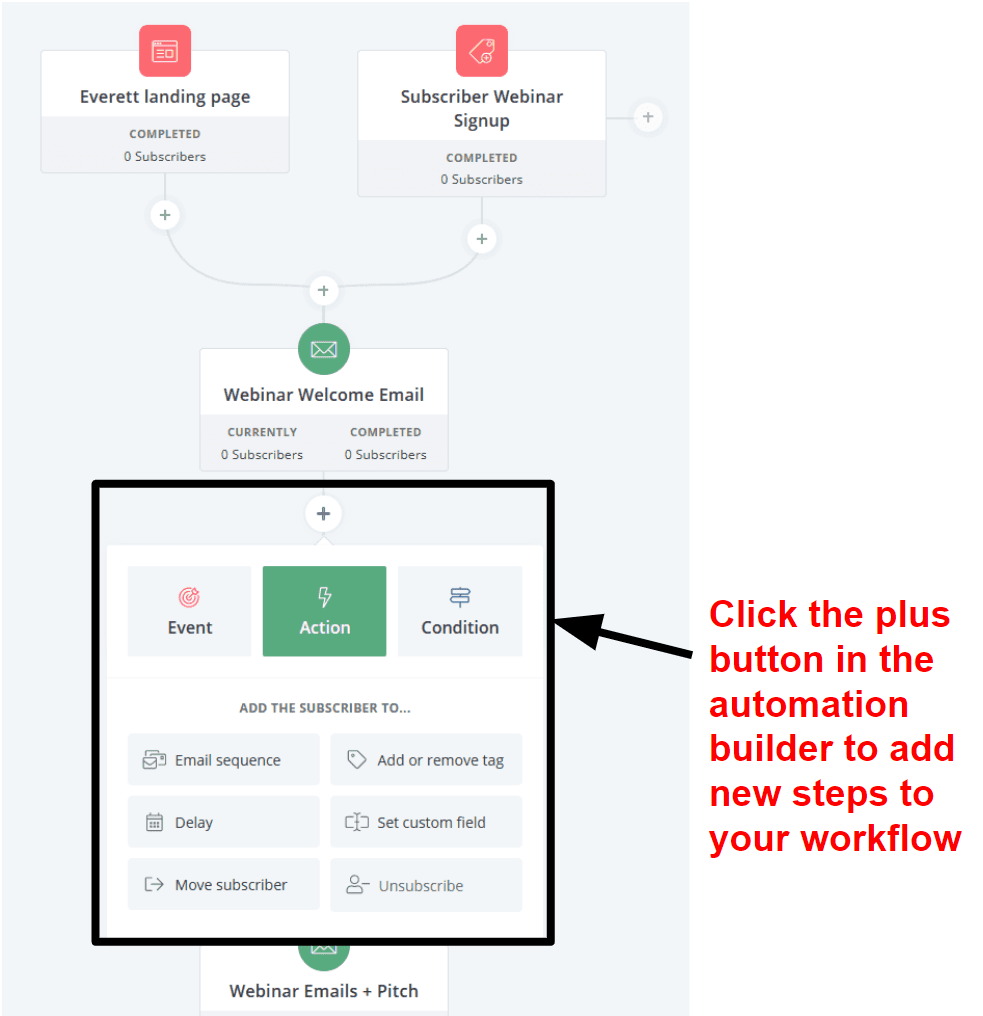 For more advanced automation,
I recommend ActiveCampaign
. ActiveCampaign has hundreds of automation templates and offers a ton of options, making it one of the most advanced email automation tools out there.
Ease of Use
Drip Passes the Low Bar of Being Usable
Drip's email editor functions exactly as you'd expect it to. That might not sound like high praise…but this simple fact bags it the win for this section. Drip's email editor is basic, sure, but it's super easy to use – in fact, I'd go as far as to say
Drip's is one of the most beginner-friendly email builders on the market
. You can even pull up documentation for the drag-and-drop builder with a single click, which is perfect if you're just starting out and need some extra help.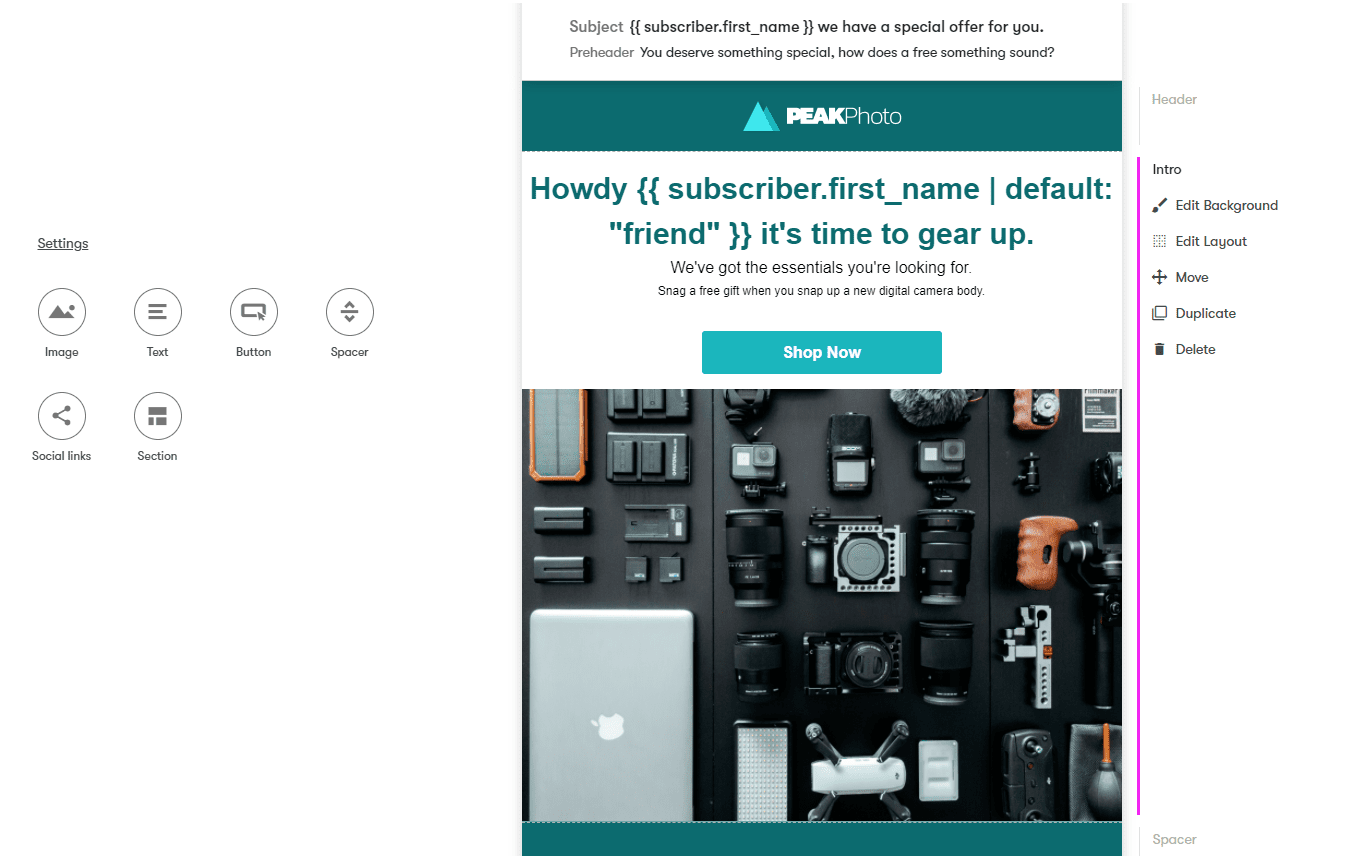 ConvertKit, on the other hand, has an entirely different process for no apparent reason.
You have to use two very clunky drag-and-drop editors to make a single email – one to edit the template, and one to edit the text and other settings. Honestly, it feels like it's trying to be different for the sake of it. It definitely doesn't make it more usable.
Deliverability
Both Allow Affiliate Marketing with Few Restrictions
Deliverability is a tricky beast to quantify, even though you'll see a lot of websites using deliverability tests that tie everything together in a nice, neat percentage.
The truth is that those tests don't tell you much
because they're notoriously unreliable.
My colleague's guide to boosting your deliverability is well worth a read if you want the full details
.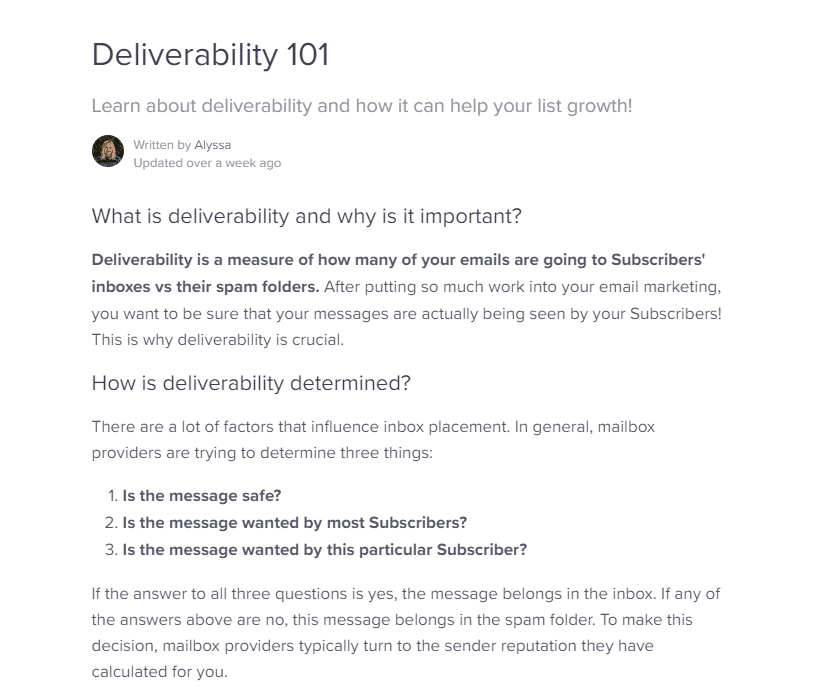 In short,
both Drip and ConvertKit are fairly similar when it comes to deliverability.
They both have DKIM authentication – which adds a chunk of code to your email that effectively says "Hi, I really am Jane Doe from Fancy Business Ltd" so email providers can trust you are who you say you are – and they both have guides to help you implement this.
Drip and ConvertKit also both allow affiliate marketing
, and they also both have internal controls to manage this. Drip places your account under additional scrutiny. ConvertKit will check you have a business outside of affiliate marketing, and that affiliate marketing emails aren't the only type of email you're sending.
Both EMS platforms also offer dedicated IP addresses
, so your emails won't get dragged down if someone using the same email server as you starts spamming their contact list. It's close, but
ConvertKit narrowly steals the win because dedicated IPs are more readily available.
You can purchase a dedicated IP if you send more than 150,000 emails a week, versus Drip's requirement to send over 12,500,000 emails a month. I have to say, though, that both are fairly average for deliverability. If you want to give your emails a greater chance of reaching your subscribers' inboxes,
I recommend ActiveCampaign
. It takes its anti-spam policy very seriously, and you can get your own private IP address to protect you further if you have enough subscribers.
Reporting and Analytics
Drip's E-Commerce Analytics Knock ConvertKit Out of the Water
Drip easily stole the win in this section
, because it genuinely blew me away with how detailed the analytics were (it scored very highly for its reporting tools in our
Drip review
). It's not the best EMS on the market for analytics, but it offers a level of detail I wasn't expecting from an EMS that, so far, hadn't proven itself to stand out in any particular area.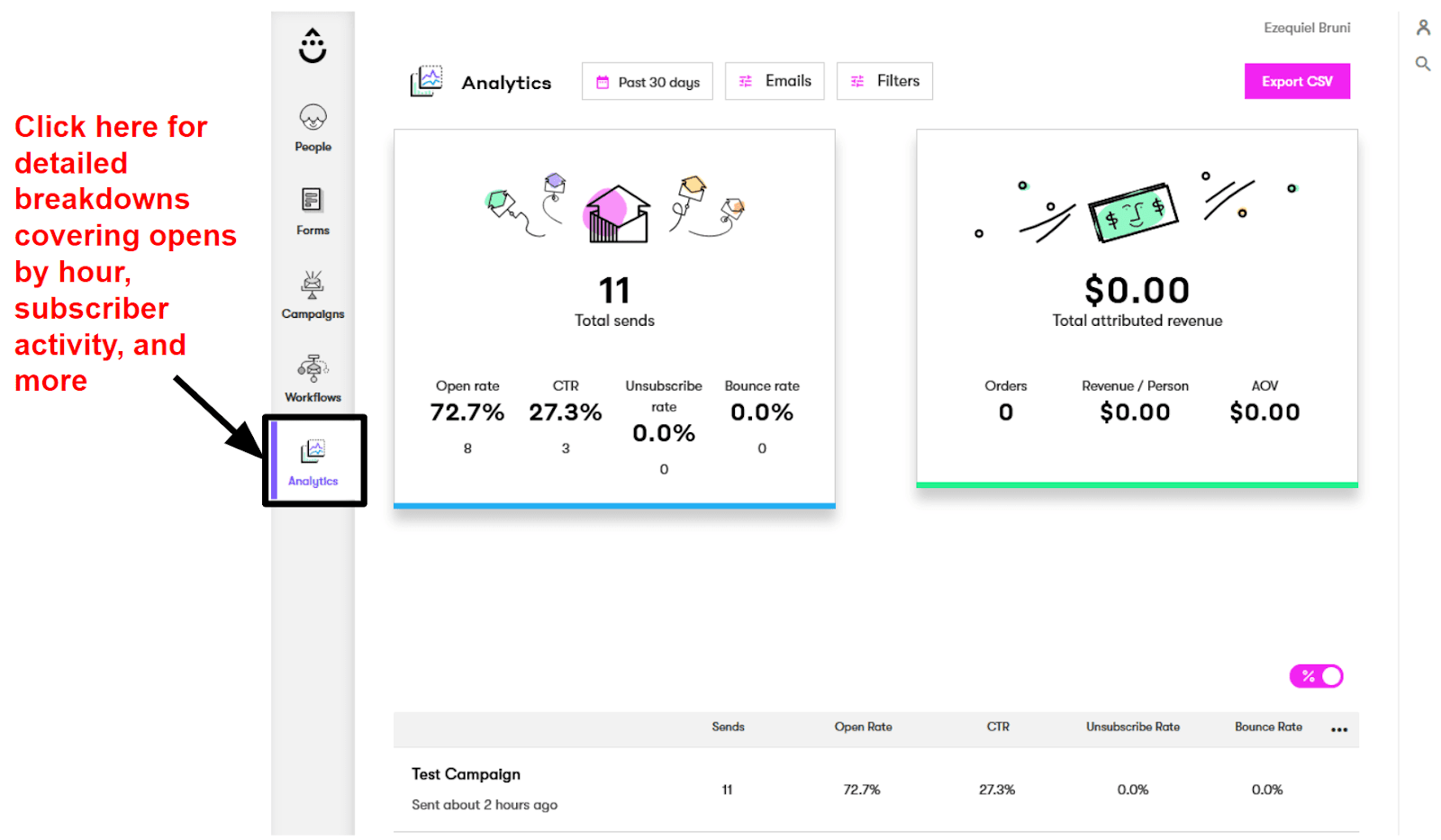 What impressed me most was that
Drip allows you to track some website statistics, including revenue from your e-commerce store, alongside your email metrics
. Not only that, but you can also track things like email opens by hour, which is super helpful for optimizing your email timing. By comparison,
ConvertKit's analytics are extremely simple
(just take a look at our
ConvertKit review
for more detail)
.
It covers basic user engagement, clicks, purchases, and deliverability, but not much else. It's not bad for beginners, but if you want to use data to optimize your email marketing, you're far better off elsewhere. As much as I liked Drip's reporting functionality, I also have to note that
it's nowhere near as good as other competitors for analytics. Especially when you consider that ActiveCampaign gives you reports on everything from automation workflows to your own self-defined goals, something I haven't seen anywhere else.
Plus, like Drip, you can get reports on daily and hourly engagement trends, but, unlike Drip, the rest of the service is much more impressive.
Pricing
Drip Offers Far More Value for Your Money
This was a hard-fought battle.
Overall, I had to give Drip the win simply because it's a lot more functional.
Both of these EMS platforms are roughly the same price, with Drip starting at
$
19.00
for up to 500 subscribers and Convertkit
$
29.00
for up to 300 subscribers.
Both also have two tiers of service.
Drip has two paid plans – Email and Email + SMS, which is pretty self-explanatory. ConvertKit, on the other hand, has Creator and Creator Pro.
Here's What You Get for Free
When you're weighing up ConvertKit vs. Drip, it's worth remembering that
both offer a 14-day free trial
, which is semi-useful if you want to test them both out before making a decision. In the grand scheme of things, 14 days isn't great but, in both cases, you'll be able to try out (almost) all of the platform's features before you need to pay. I say almost because
Drip's free trial doesn't include SMS.
When I tried to test this feature, I found that it's only available in the US. ConvertKit provides a free forever plan, allowing you to send emails, host landing pages, and access community support as long as your subscriber count remains under 1,000.
Here's What You Get if You Pay
Given that both platforms are relatively similar in terms of initial investment,
Drip offers the most value for your money here
.
It's a little more expensive, but honestly, it's worth it given how much more functional Drip is as a service. Drip has two plans, with the only difference being that Email + SMS includes, as you've already guessed, SMS marketing.
This plan doesn't include any extra email marketing features on top of the base plan,
so you don't have to upgrade if SMS marketing isn't your thing. On the other hand, ConvertKit's Creator Pro plan is where this EMS manages to jump over the low bar of being functional.
This tier unlocks deliverability reporting, engagement scoring, and a few other handy features.
It's just an odd choice to have open and click reporting locked behind the most expensive payment plan… Here's a handy table explaining why I think Drip offers better value.
ConvertKit
Drip
Starting Price

$

29.00

$

19.00

Contact limit*

500,000

140,000

Email sends/month

Unlimited

Unlimited up to 27,500 contacts, then capped

Email templates
9
27
Automation capabilities

Single and multi-step builders with a handful of templates

Multi-step automation builder with 45+ templates, in-built integration with e-commerce platforms, and a variety of custom options

A/B testing

Yes – subject line only

Yes – all aspects of your email design

Analytics and data

Extremely basic and limited with no deliverability data on this plan

Basic with some advanced reporting, but you can track website analytics and revenue alongside your email metrics
*
This is how many contacts you can have before you need to contact customer services for a custom quote.
Support
ConvertKit Offers a Good Level of Support
Even though I didn't exactly enjoy using ConvertKit, its support options are pretty good.
ConvertKit has a social media-style community support network, 24/7 live chat, and email support.
Although I couldn't find its email support option anywhere, live chat was prompt and super helpful.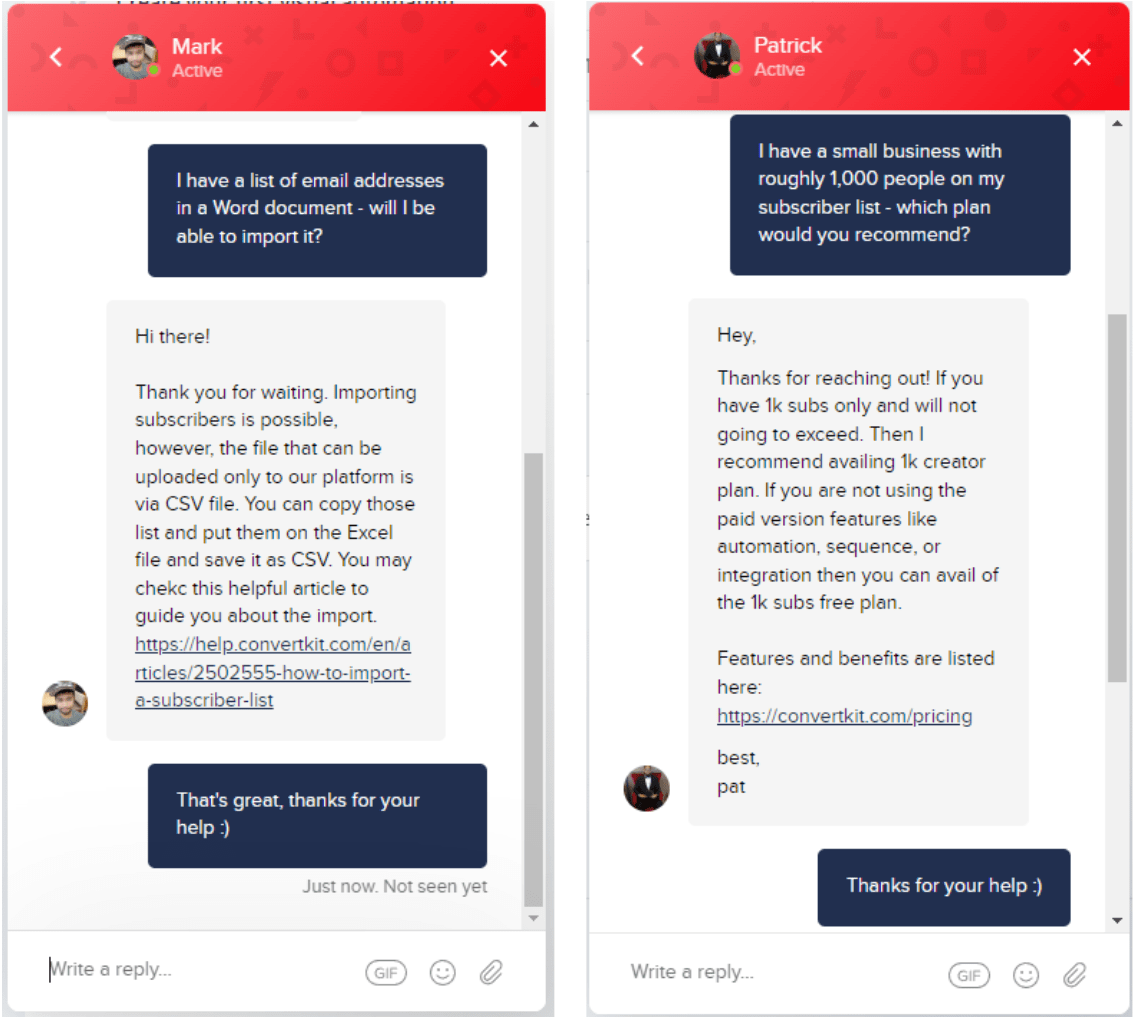 ConvertKit also offers a ton of learning resources like a knowledge base, video tutorials, workshops, and interviews with other creators. There's even a series of guides to help you learn about using social media and creating products to sell online.

I was genuinely shocked that Drip's customer support options were so limited. Seriously,
Drip is one of the only EMS platforms I've seen that doesn't offer 24/7 support.
Both email and live chat support are only available from 9am – 5pm CT Monday through Friday, and you can only use live chat if your plan costs over $99/month.
When I asked Drip's customer support what plan they'd recommend for 1,000 subscribers, I received a very confusing response about how billing is calculated instead
. The response was quick, at least, with support responding within 6 hours of sending an email.
ConvertKit easily wins this round.
I did find it odd that I couldn't find email support anywhere, but given that the alternative was Drip's extremely limited support options, ConvertKit came out on top.
Drip vs. ConvertKit: Not Great, Not Terrible
It's super easy to get caught up in the hype of EMS platforms that claim to be designed specifically for your niche.
Unfortunately, most of the time, this is nothing more than a marketing gimmick.
Overall, Drip wins this battle because it's genuinely well-suited for e-commerce email marketing.
Its automation builder works with most major e-commerce platforms, and even though the vast majority of its features aren't as advanced as some other EMS out there, it's not a bad place to get started. With that being said, I can't recommend Drip if you need anything more advanced than basic email marketing and automation. If you're planning to grow your e-commerce business,
ActiveCampaign is a far better choice
 because it offers hundreds of automation templates and integrations
. Here's a quick recap of Drip vs. ConvertKit:
ConvertKit
Drip
Templates
9
27
Automation

Single and multi-step automation builders with a handful of templates

Multi-step automation builder with 45+ templates, in-built integration with e-commerce platforms, and a variety of custom options

Native SMS Automation

No – SMS integration with third-party services

Yes – US only

Apps and Integrations
110+
110+
Landing Page Builder

Yes, 50+ templates but no custom layout options

No
A/B Testing

Yes – subject line only

Yes – all aspects of your email design

Native RTL Language Support
No
Yes
Ease of Use

Confusing interface and you have to edit templates separately

Slick but basic interface, with a beginner-friendly drag-and-drop email builder

Deliverability

Average on all counts, but dedicated IPs are easy to get for bulk email senders

Average deliverability, and dedicated IPs are only available if you're sending millions of emails a month

Reporting and Analytics

Extremely basic and limited

Decent, with an easy-to-read dashboard and the ability to track website statistics alongside your emails

Pricing

$

29.00

$

19.00

Support

24/7 live chat, email, community support, and other learning resources

Knowledge base, email, live chat ($99/month+ plans)

Total Rounds Won
2
4
FAQ
Which is better: ConvertKit vs Drip?
Drip is a better choice than ConvertKit because it offers far more features for your money. I also found it easier to use, and it gave me plenty of data to optimize my campaigns. The only downside is that the support options are lacking.
What is ConvertKit used for?
ConvertKit markets itself as an EMS for online content creators. However, I can't recommend it for creators given how basic it is. ConvertKit doesn't offer anything more than other platforms as you can see here – if anything, many competitors offer stronger features.
Which is the best free email marketing service?
Overall, for me, the best free EMS on the market is Benchmark. This EMS offers a free forever plan with unlimited contacts and some of the best automation capabilities I've seen from a free EMS. However, it only allows you to send 250 emails a month.
Is Drip better than Mailchimp?
Drip is better than Mailchimp because it offers a lot more automation capabilities for your money. Many automation features that Drip offers as standard, like behavioral automation and transactional emails, are only available on Mailchimp's expensive Standard and Premium plans.
How much does Drip cost per month?
Drip starts at

$

19.00

for 500 subscribers, making it pretty good value for money given the features you get. You can also save yourself a chunk of cash on Drip by checking out our coupons page.