this number is only expected to grow in the coming years
. And, if you are a freelance writer, the news only gets better: According to Marketing Mag,
content marketing is set to be a $300 billion dollar industry by 2020
. Content marketing, simply put, is a type of marketing that involves creating and sharing online material (such as blogs, email blasts, social media posts, etc.) in order to win your audience's attention and support. And it requires competent writers to execute. So, if you're wondering if freelance writers are in demand,
the short answer is yes
. Read on for the long answer.
Why Companies Are on the Hunt for Freelance Writers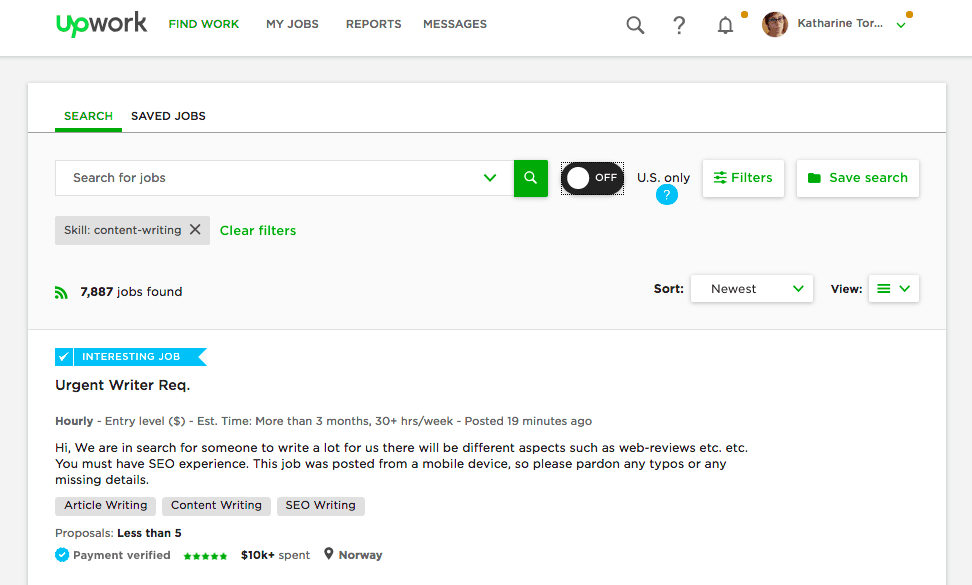 There are thousands of writing jobs currently listed on
the best freelance platforms
. More and more companies are choosing to outsource the writing of their online content and promotional materials, for a few major reasons:
#1: A Growing Demand for Content
Traditionally, marketing involved writing a couple versions of ad copy that were meant to reach a large and somewhat poorly-defined audience. However, today we live in the age of information and technology, which means that our
marketing efforts have become increasingly segmented and more highly targeted
. As well as trying to keeping up with this micro-focused targeting,
the scope of content marketing is also expanding to include a growing number of venues
, such as email marketing campaigns, social media streams, and a wide variety of shareable content. Not to mention, there are more websites and blogs every day, all which are looking to fill their channels with relevant and meaningful content. What's more, readers expect to be able to access content at a moment's notice. News travels at lightning speed, and companies need to work fast to keep on top of it all. Waiting four weeks for the next monthly issue of a magazine is no longer good enough. Consumers want content yesterday—and freelance writers help brands meet this growing demand.
Consumers want content yesterday—and freelance writers help brands meet this growing demand.
#2: Outsourcing Saves Time and Money
Crafting compelling copy takes time
—time which a busy company owner might not be able to afford—as well as a quiet space to be able to knuckle down. One of the great things about freelance writers is that they often work remotely, which means that they're free from the distractions of the traditional workplace environment. Moreover, due to their specialized background, freelance writers have the skills to complete content marketing tasks
both quickly and efficiently
compared to the average person. As well as saving time,
hiring freelance writers means that a business owner gets to save money when it comes to salaries, company benefits, and office overhead
. On a freelance platform, businesses can also
pay a freelancer
for a content marketing project either by an hourly rate or a fixed price, which means that they're only paying for the work to be completed in the optimal amount of time.
#3: Fresh Perspectives Get Results
A
company owner is required to wear many hats to successfully get their business off the ground
. They're exceptionally close to what they're doing, which can be both a good and bad thing. While they may know what they want to say, that doesn't mean they are the most qualified when it comes to actually putting pen to paper.
Freelance writers have the skills to strengthen the message that a business owner is trying to communicate, while effectively capturing the brand's tone of voice
. They can turn a piece of bland copy into a captivating sales pitch, thus provoking the reader to take action. This fresh perspective has the ability to greatly extend the efficiency of a brand's communication strategy. In fact, according to Content Marketing Institute,
content marketing generates three times as many leads as conventional marketing methods and can cost around 60% less
. What's more, when it comes to actual conversion,
the rates are six times higher than other methods
. When so much is at stake, it's important to ensure that the copy in your marketing materials is accessible and well-written—after all, it's the public voice of your brand. Not to mention, bad writing looks extremely unprofessional, which can massively jeopardize your brand image and affect the results of your campaign.
How to Become an In-Demand Freelance Writer
Technically, anyone can become a freelance writer if they so wish. However, it helps if a person has the following qualifications:
Solid writing skills: Due to the specialized nature of content marketing and the masses of competition, excellent written communication skills are a must in order to clearly convey brand messages
An education: Content Runner found that 40% of freelance writers have a bachelor's degree and 20% have a graduate degree, which helps them to stand apart from the competition and win more jobs
A content marketing background: The website Freelance Writing claims that having unique expertise gained from previous jobs allows a person to be a better freelance writer
A passion for creating content: There's absolutely no point in someone building a freelance writing career if they've got zero interest in content marketing, especially because freelancing requires drive in order to be successful
In addition to these qualifications, there are a few additional things you can do to differentiate yourself and help you land jobs as a freelance writer:
Strong freelance profile: Especially if you plan to find jobs on a freelance hiring platform, you'll need to craft a strong profile that can effectively sell your services
A personal website: It's important for a freelance writer to have their own corner of the Internet where they can provide significant business details and demonstrate their professionalism
An online portfolio: New clients always want to see work previously undertaken by a freelance writer; this should showcase your specific talent and skill sets
A niche: According to Copyblogger, a win-win for both business owners and freelance writers alike is when a freelancer is an expert in a particular style of writing, audience segment, or subject matter
Other Popular Freelance Avenues
It's not just freelance writers that are popular in today's gig economy. The following positions are also highly sought after:
Software Developers: The struggle for technical talent is very much real; according to USA Today, for every software developer, there are five jobs available
Graphic Design: A company isn't complete without its visual identity, and graphic designers can develop everything from logos to business cards
Social Media Marketing: There are more than three billion global social media users today, which means that there are a whole load of people out there just waiting to be successfully marketed to by social media experts
Accounting/Bookkeeping: Even though there's presently a multitude of accounting and bookkeeping software available, crunching numbers requires a particular set of skills, therefore this avenue has seen a spike in demand
Virtual Assistance: VAs are sought after for their versatility (see below for examples of three different types); they help business owners with a variety of jobs from sending out emails to uploading social media posts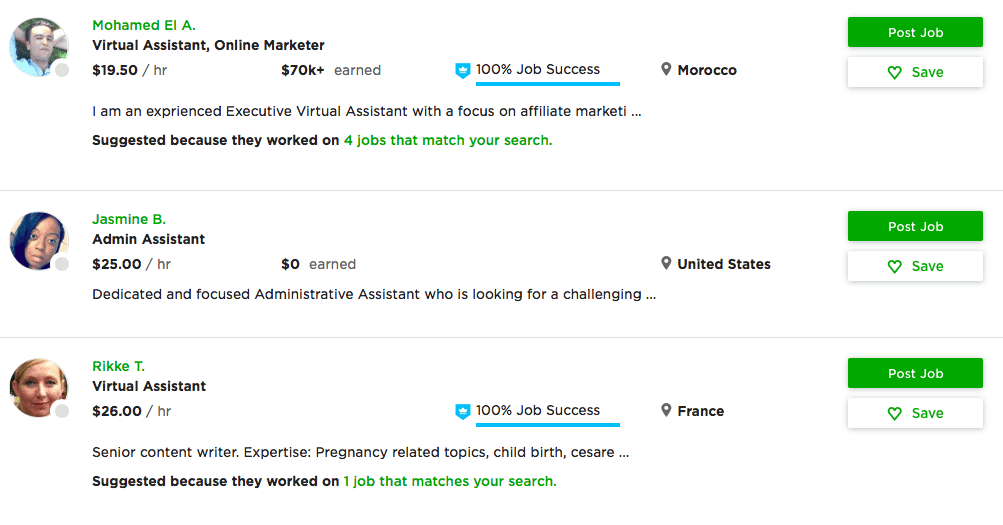 Join the Freelance Writer Revolution
It's not surprising that the practice of hiring freelancers—writers as well as a number of other specialties—is becoming more attractive to companies as technology continues to evolve and it is easier for work to be done remotely. The reality is that as the Internet continues to expand, business owners must ensure the ongoing relevance and currency of their websites. A perpetual demand for skillfully crafted, compelling content will persist, and freelance writers are well-positioned to abundantly fulfill this need.
---
Sources
The Crowded Future of Freelance Writing Jobs (And Why There's Room for You): https://www.skyword.com/contentstandard/storytelling/the-crowded-future-of-freelance-writing-jobs-and-why-theres-room-for-you/
Content Marketing Will Be a $300 Billion Industry by 2019: https://www.marketingmag.com.au/news-c/content-marketing-will-300-billion-industry-2019/
9 Stats That Will Make You Want to Invest in Content Marketing: https://contentmarketinginstitute.com/2017/10/stats-invest-content-marketing/
Some Statistics on Freelancers That Might Surprise You:
https ://www.contentrunner.com/blog/some-statistics-on-freelancers-that-might-surprise-you/
5 Reasons Hiring Freelance Writers is Worth the Money: https://www.freelancewriting.com/managing-freelancers/5-reasons-to-work-with-freelance-writers/
30 Tips That Help You Become an In-Demand Freelance Writer: https://www.copyblogger.com/become-a-freelance-writer/
In-Demand Freelance Skills That'll Get You Hired Today: https://eu.usatoday.com/story/sponsor-story/moonlighting/2018/06/04/20-in-demand-freelance-skills-that-will-get-you-hired-today/35677363/
The 8 Most In-Demand Freelance Skills For 2017: https://www.getsmarter.com/blog/career-advice/8-demand-freelance-skills-2017/
Image Credits
Featured Image: https://unsplash.com/photos/s9CC2SKySJM
Upwork.com