Fiverr Learn
,
Udemy
, and
Coursera
.
Each platform has courses designed for different types of professionals, that cost different amounts, and vary in quality.
So how do you choose? I'm here to make your decision a little bit easier. I've done hours of research on each of these platforms, and have personally taken classes on all three of them.
In this review, you'll find an in-depth summary of the most important aspects of each of these online learning platforms. Read on to find out which one is the best for you.
Fiverr Learn Is for Freelancers – Udemy and Coursera Offer More Variety
The first main difference between the platforms is in the
types of courses offered
. Each focuses on creating courses for students looking for different things.
| | | | |
| --- | --- | --- | --- |
| | Fiverr Learn | Udemy | Coursera |
| Course Topics | Creative skills and digital marketing | All topics imaginable | All academic topics |
| Number of Courses | ~30 | 100,000+ | 2,700+ |
Fiverr Learn Course Selection
Fiverr doesn't make the courses easy to find – you have to
go to the Fiverr homepage
, scroll all the way down to the bottom, and click the 
Learn
link in the footer.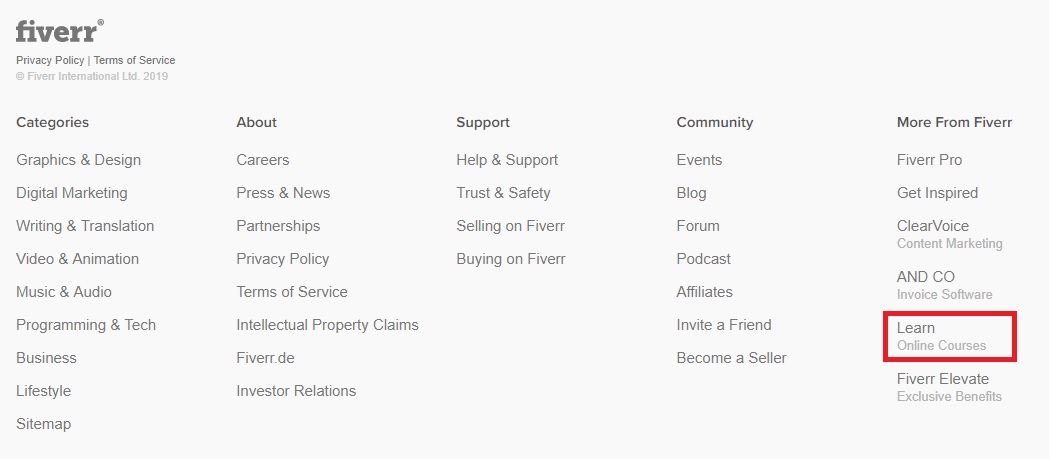 Fiverr Learn specifically targets freelancers. Each course is on a key topic area that could potentially be
offered as a gig
on the
Fiverr Marketplace
. That's why there are only two categories of courses: Digital Marketing and Creative, which are two of the most popular types of freelance gigs.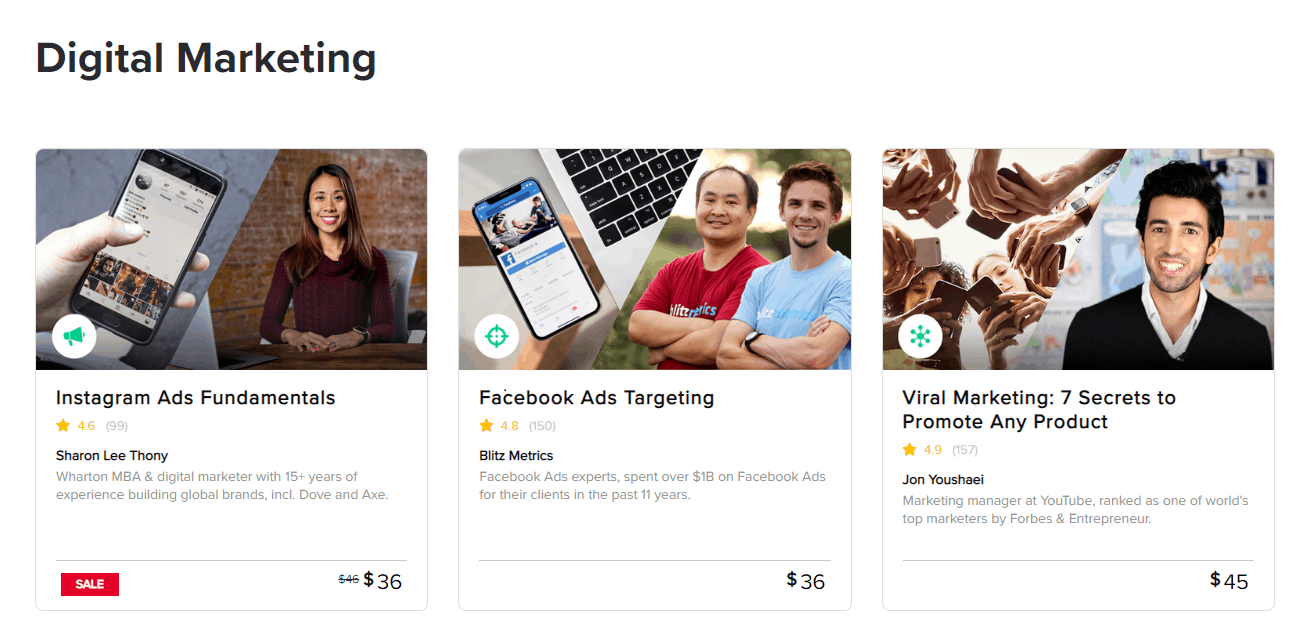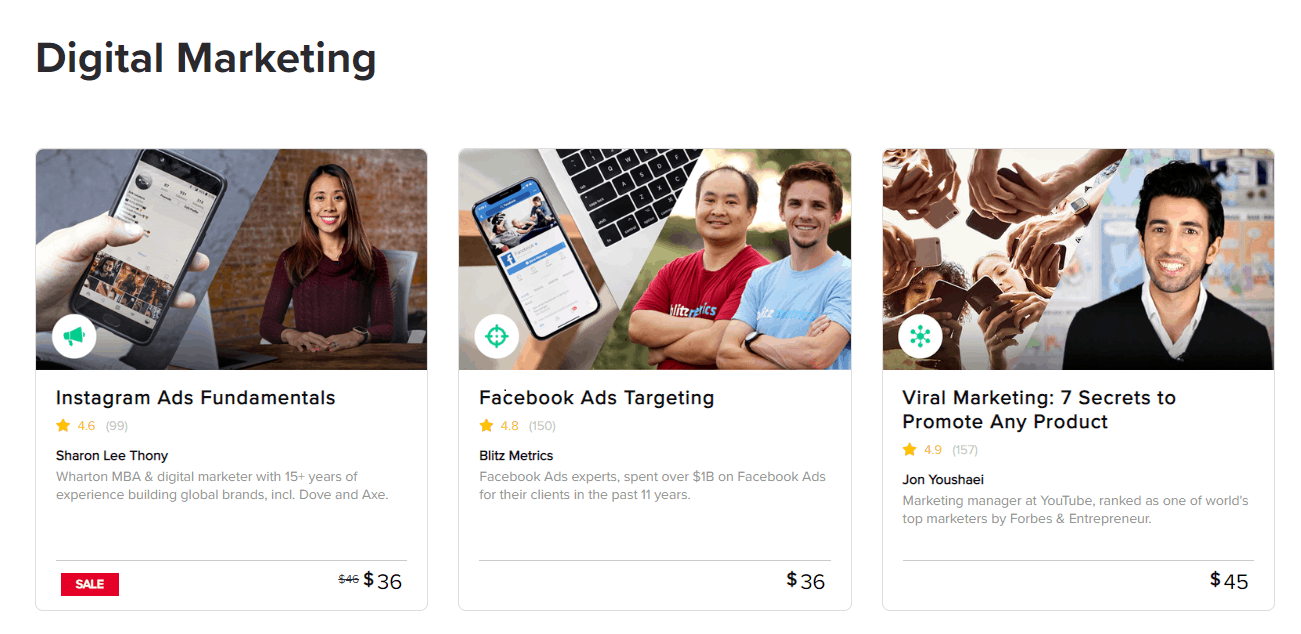 The platform was launched in late 2018, but still doesn't have a huge selection of courses. There are currently
only 11 digital marketing courses
, which cover the basics of key topics like social media advertising, content strategy, and understanding analytics. On the creative side, there are a few more courses, with
17 in total
.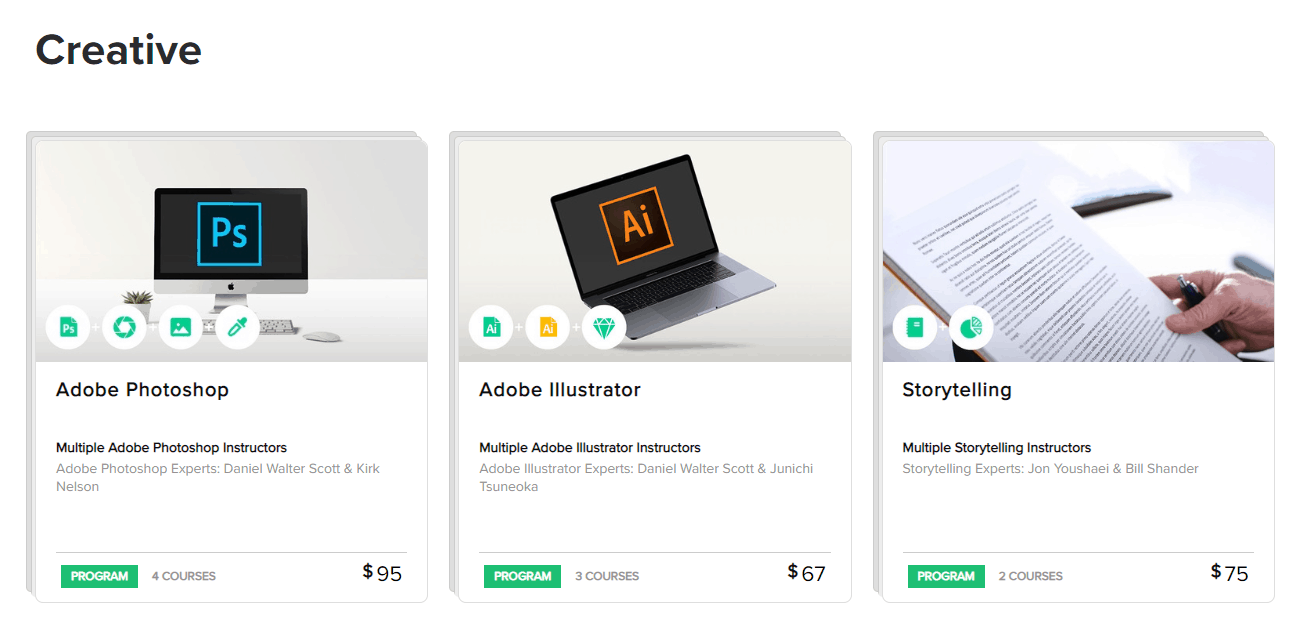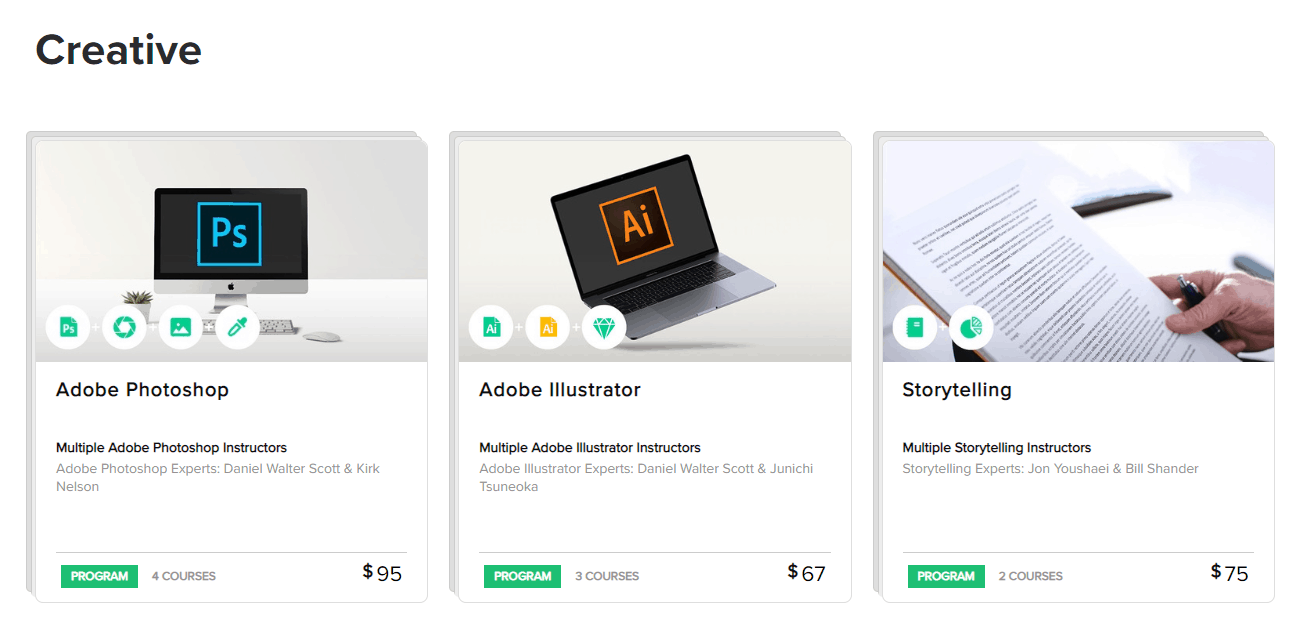 Again, these are mostly focused on the basics for now, despite having world-class instructors for the most part. There are also a few course "programs" offered, which bundle related topics together at a discounted rate. If you're looking to become a freelancer or pick up a marketable skill for fun, Fiverr Learn is a decent option. Want to know more about it?
Read our expert review.
Udemy Course Selection
Udemy has the most courses of any of these three platforms,
with more than 100,000 courses offered
. These cover pretty much any topic you could possibly think of.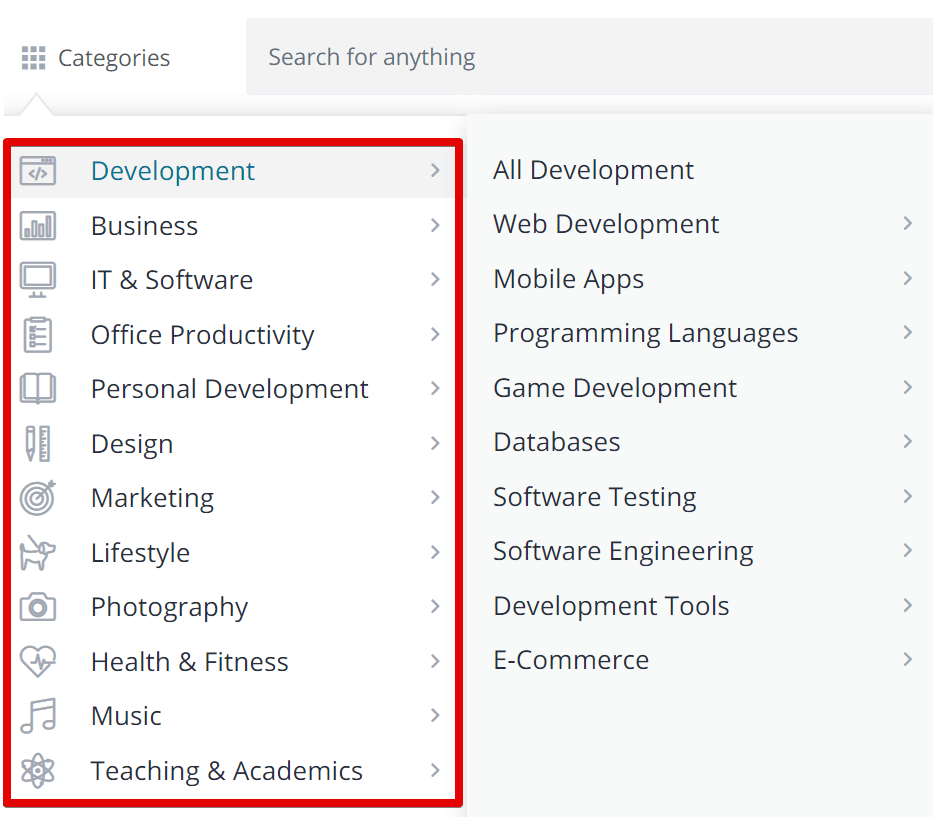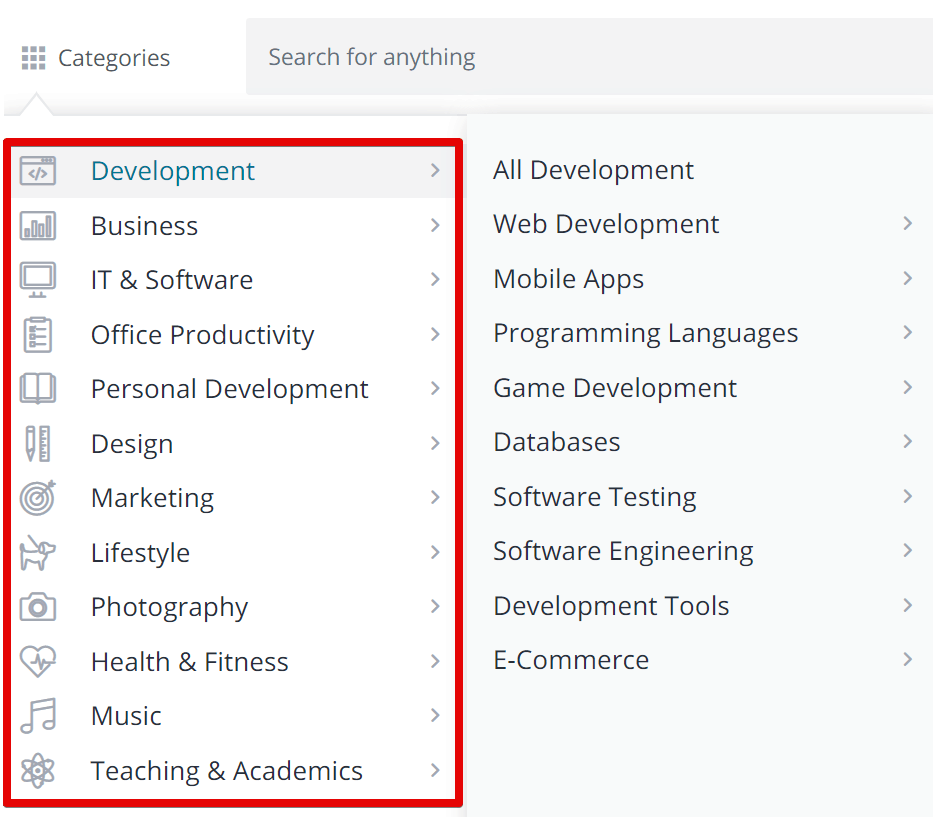 There's a good mix between academic topics (similar to the ones you'd find in a university course catalog), and unique skill-based topics. For example, while you can find courses on computer science and mathematics, you can also find courses in:
Watercolor painting
Training cats
Cake decorating
If you're trying to learn a specific skill, or trying to get into a new hobby, Udemy is your best bet to find a course.
Coursera Course Selection
Coursera maintains an impressive course catalog that
includes more than 2,700 courses
. These are all pretty much the same types of courses you'd find in school. In fact, you can even earn degrees by taking online courses from well-known universities (we'll talk pricing later).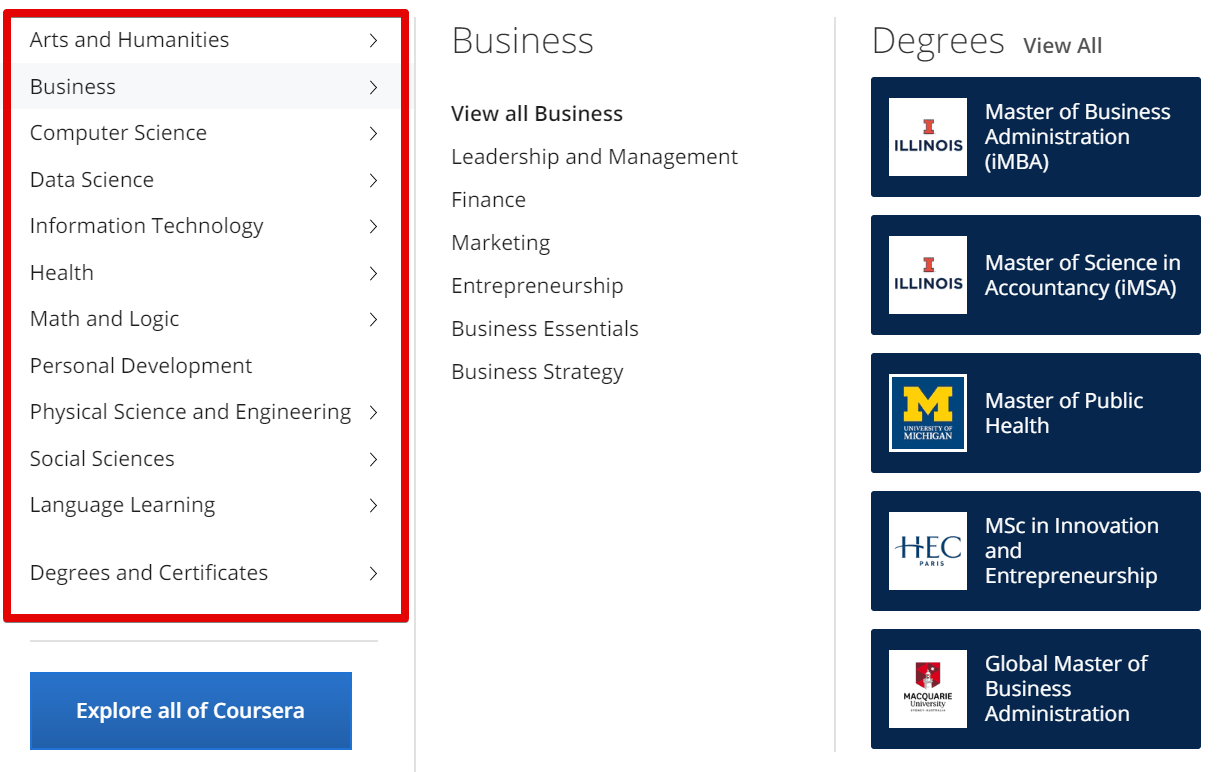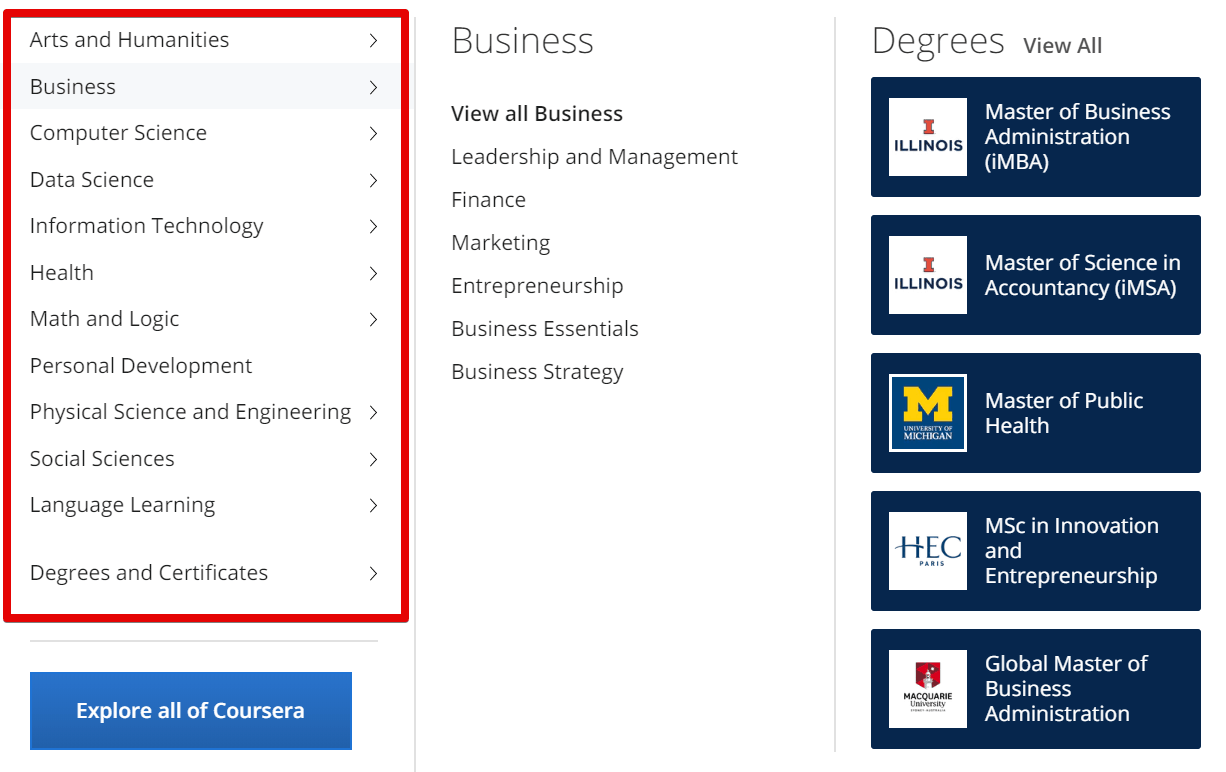 If you're trying to learn in order to get a job or advancement, Coursera should be your top option.
And the Winner Is…
In terms of course variety,
Udemy is the winner
, followed by Coursera.
Anyone could find at least a few courses they'd enjoy on Udemy
. Coursera is the
best choice in the event you're looking for courses resembling what you'd find at a university
. Finally, Fiverr Learn has a limited selection of courses now, only targeted toward current and potential freelancers.
Udemy Doesn't Vet Instructors – The Others Do
A big part of course quality comes down to who is teaching you. The course creators (and instructors) come from different backgrounds on each platform.
| | | | |
| --- | --- | --- | --- |
| | Fiverr Learn | Udemy | Coursera |
| Course Instructors | Industry professionals | Anyone can post a course | Top companies and university professors |
Fiverr Learn Instructors
Fiverr Learn
only
has courses from top industry professionals. It's the complete opposite of the Fiverr marketplace, where anyone can post a gig.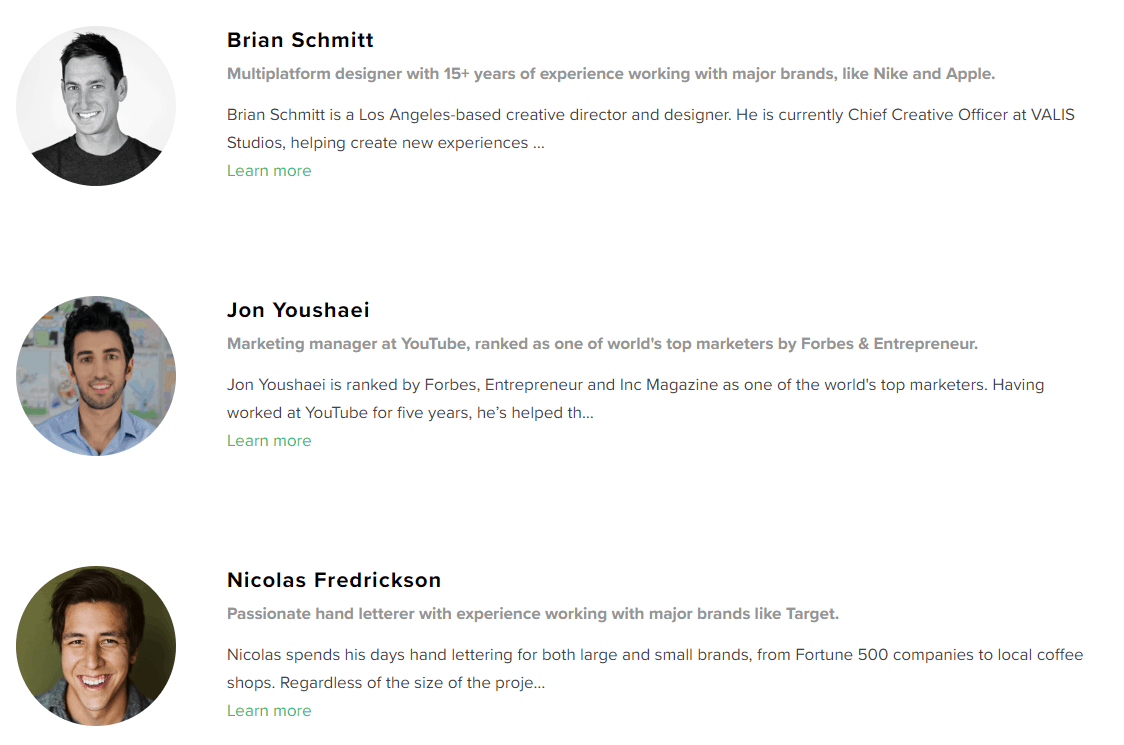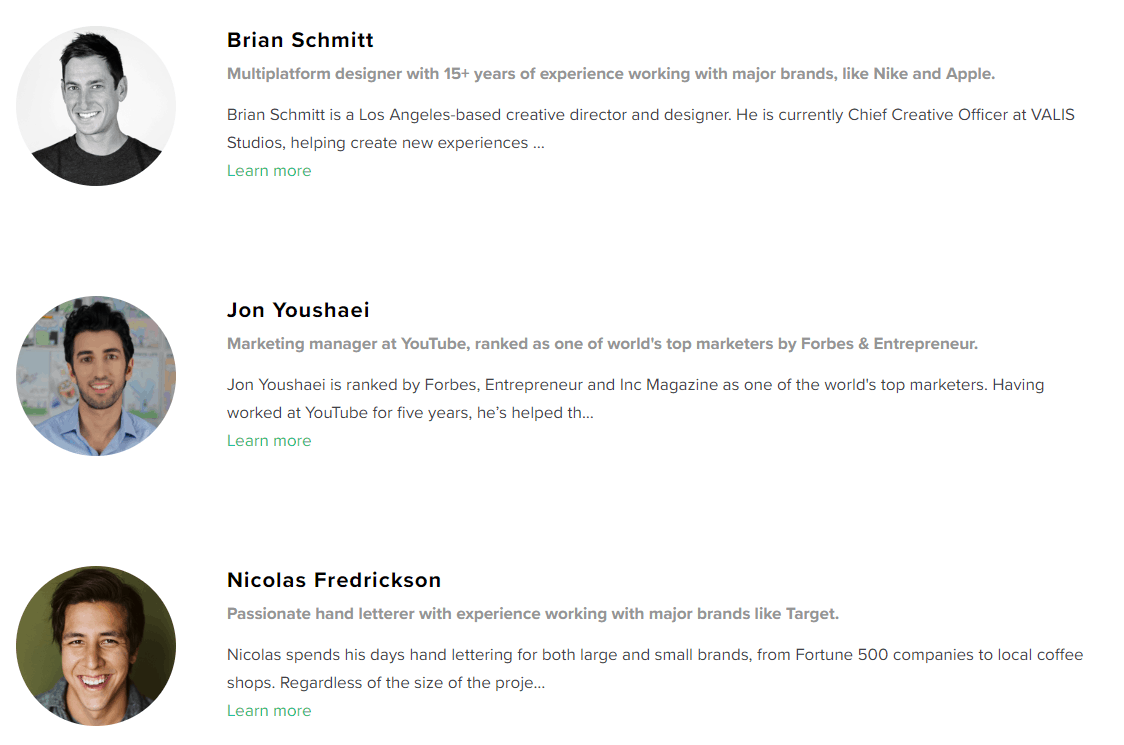 Many of the instructors have years of experience working with global brands. For example:
Junichi Tsuneoka: Graphic designer for Google, Nike, and Adidas
Kelly Murphy: Digital marketer who has worked with top Fortune 500 companies
Haylee Powers: An Emmy award-winning designer
Udemy Instructors
Sure,
Udemy has more than 100,000 classes
, but a decent portion of those aren't worth your time or money.
Why
? Because on sites like Udemy,
literally anyone can put up a course
.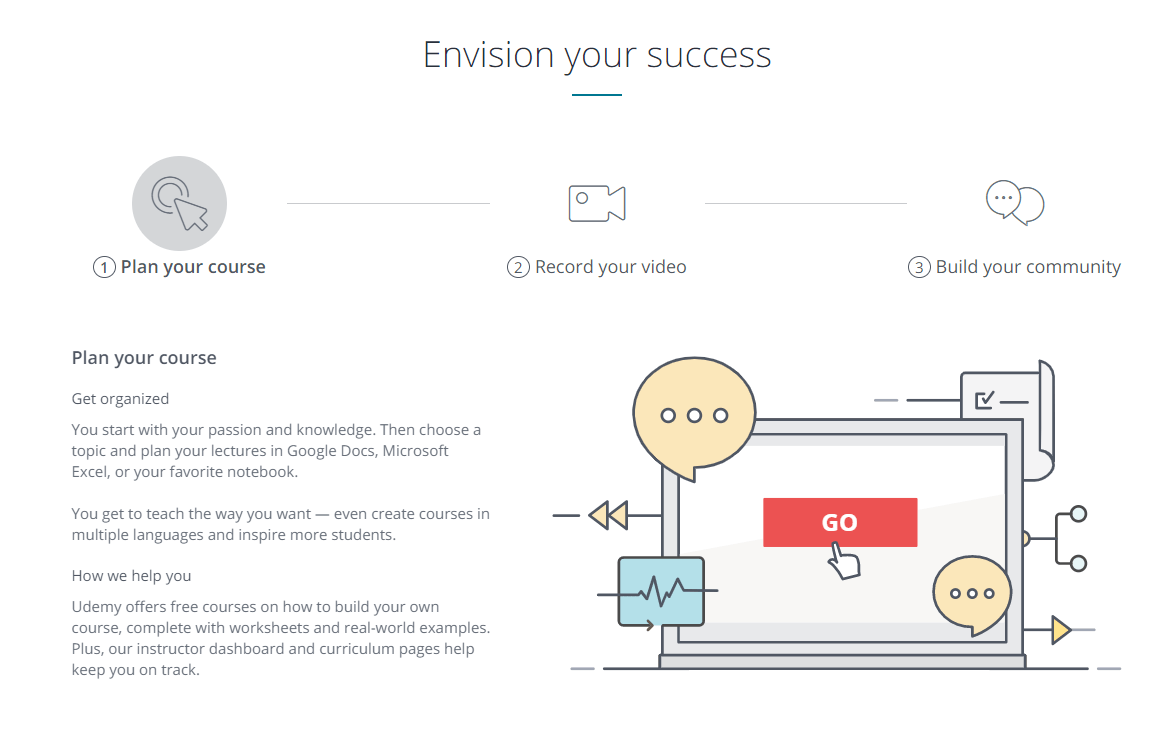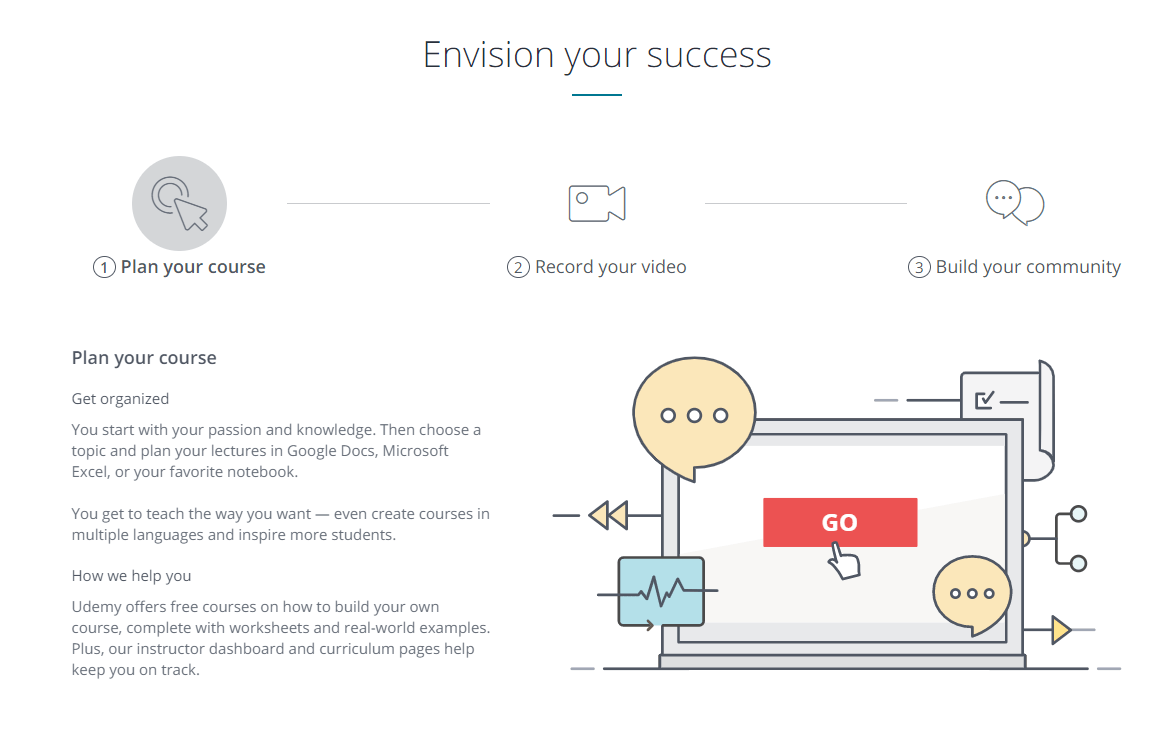 This is a good and bad thing. On one hand, it means Udemy has a huge selection of courses, including topics that no other platform offers. It also gives opportunities for experienced hobbyists and professionals that are good teachers, but aren't university professors. The bad thing is that many people publish sub-par courses just to try and make some quick money from students.


So while there are some great instructors on Udemy, there are also some terrible ones. Take the extra time to read individual course reviews in the
course catalog
. To find out more about Udemy,
read our expert review.
Coursera Instructors
Coursera features courses taught by top companies and professors
.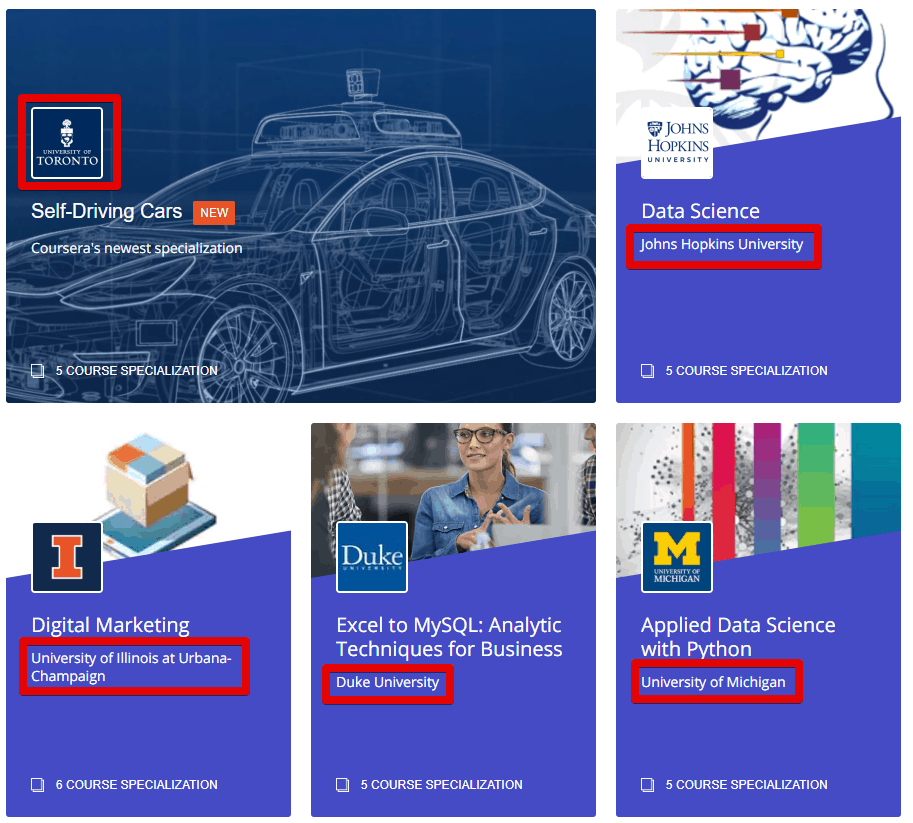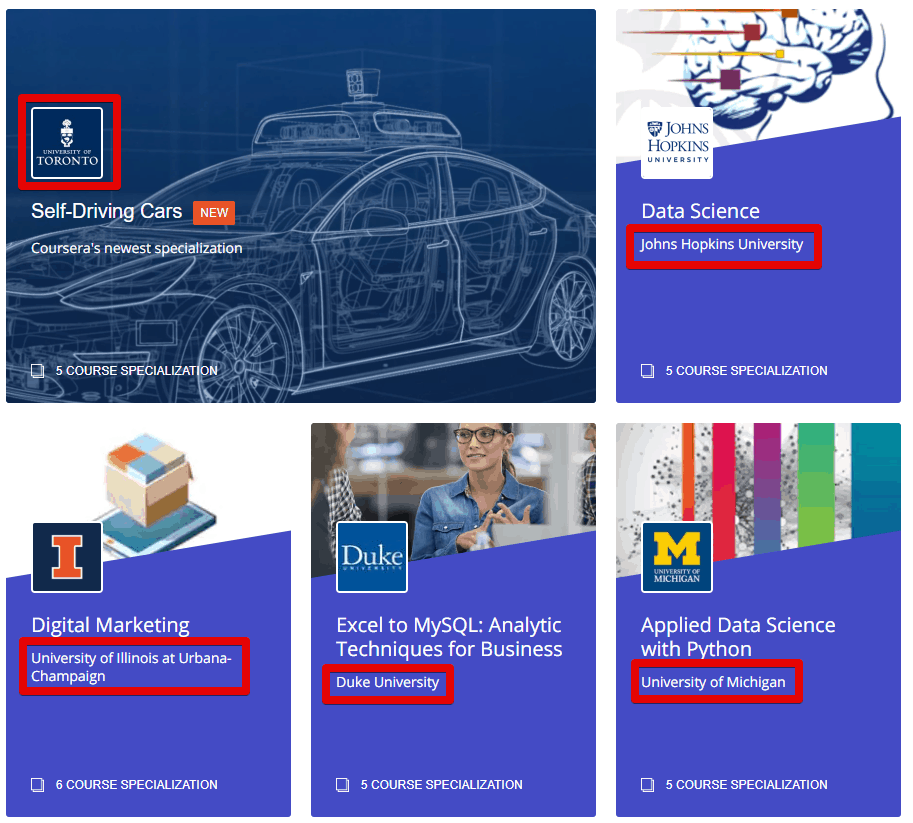 Not all of the courses come from world-renowned brands and schools, but you'll also find some from the likes of:
Princeton
Duke
Stanford
University of Toronto
Deeplearning.ai
Google
And the Winner Is…
This category really comes down to Coursera vs
Fiverr Learn
. Both have top-quality instructors that have been vetted. When you buy a course, you can be confident that your instructor is an experienced professional at the top of their field.
Want a Week-Long Activity or Semester-Long Commitment?
When you're trying to find a course to take, you should also consider how much time you can realistically dedicate to it.
Fiverr Learn Typical Course Length
Fiverr has extremely short "courses." Almost all of them fall within the 1-2 hours of video range.


Some courses have downloadable notes attached to the videos that you may want to spend time reviewing, but there's no real assignments or "homework" to do.
Udemy Typical Course Length
Since Udemy lets course creators have nearly full freedom, the length of courses varies widely.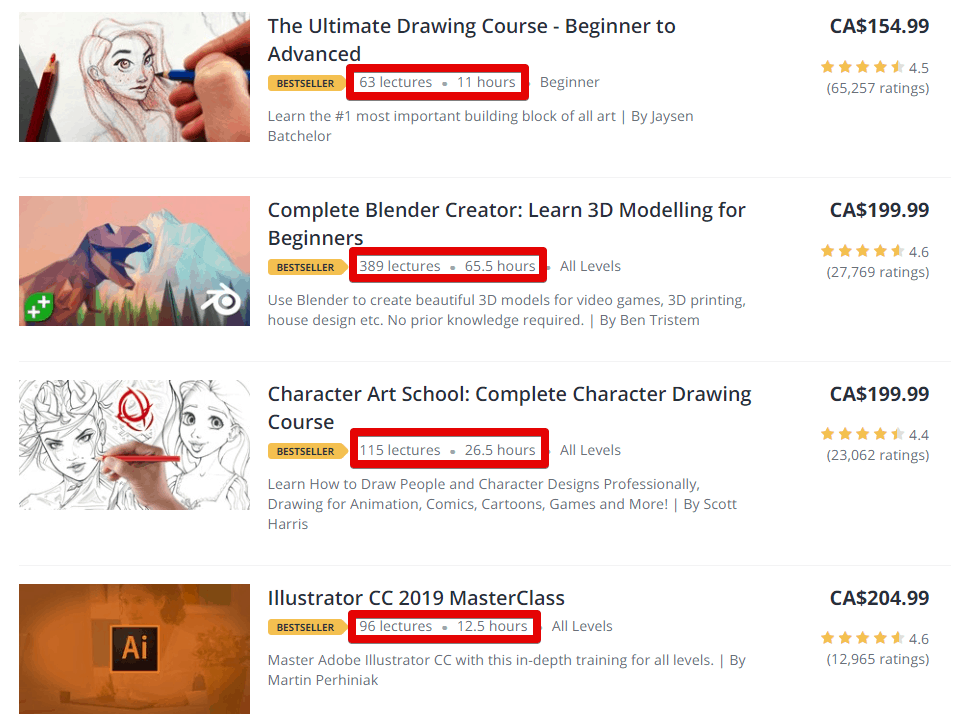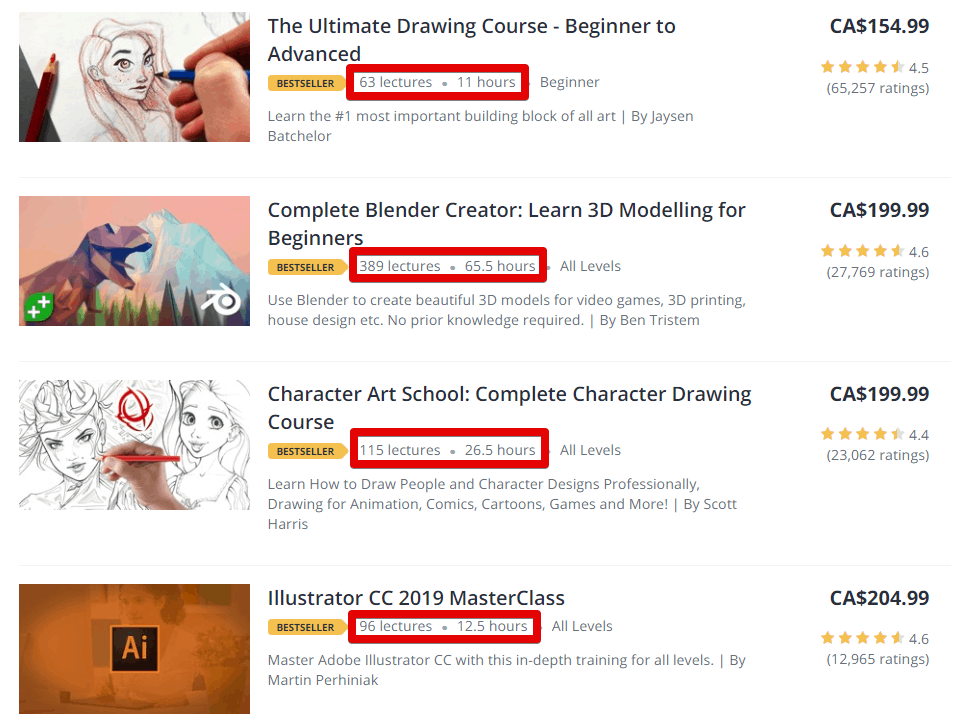 Almost all of the courses are at least eight hours, but some have more than 50 hours of video. It looks like about half include extra work to be completed outside the course, while others just include the video lectures.
Coursera Typical Course Length
Similarly to Udemy, the length of courses on Coursera really depends on who teaches it. The ones offered by companies are typically shorter, many of which only include about eight hours of video. The university courses tend to vary more. Some are short,
but most are between 40 and 80 hours long
. You also need to consider that many courses are considered a part of a "specialization," which is a series of courses that are highly related to each other. These obviously involve a greater time commitment.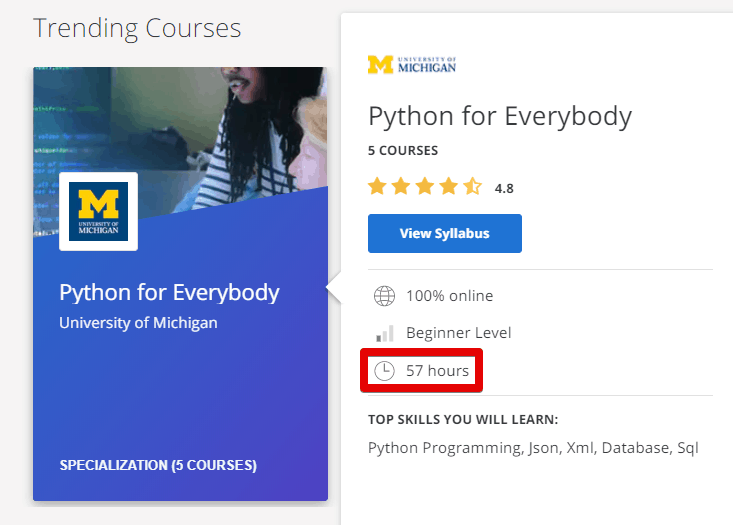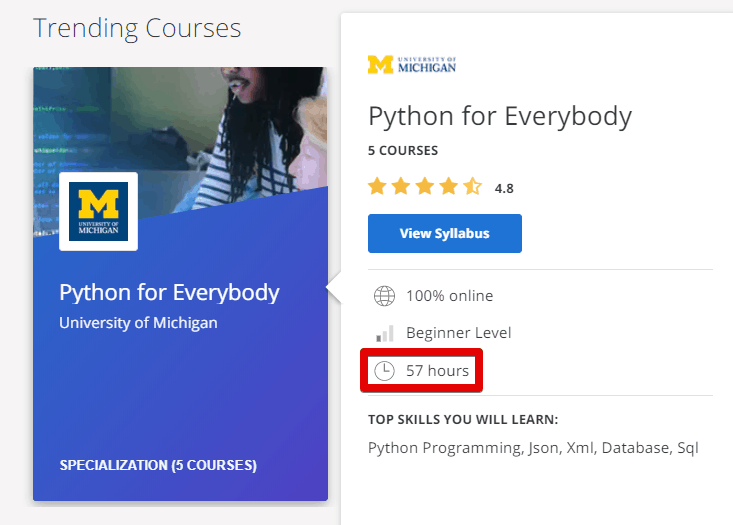 You don't
have
to do all the courses in a specialization, but you'll often want to if you're interested in the subject. Additionally, many of these classes involve "homework" that will take additional time. Expect to put aside at least a few hours a week for a few months with Coursera to finish longer courses or specializations.
And the Winner Is…
Well, this is a category where you really determine the winner
. The best course length comes down to your personal preferences and the time commitment that you can realistically make. If you only have a short amount of time available,
Fiverr Learn has the shortest classes by far
. Otherwise, you can find both medium-length and long courses on either Udemy or Coursera.
Are You Trying to Get Work After Completing Courses?
If you're learning something new with the goal of getting more freelance work, a new job, or a promotion, knowledge should probably be your first goal. But there's a reason universities award degrees, and it's because employers look for them. Each of these online platforms offers something different when it comes to certification.
| | | | |
| --- | --- | --- | --- |
| | Fiverr Learn | Udemy | Coursera |
| Certification Options | Fiverr profile badges that can help on the marketplace | Certificates of completion that could help with employers | Certificates of completion, and the ability to earn an online degree |
Fiverr Learn and Potential Employment Opportunities
The idea behind Fiverr Learn is that you could take a few courses to learn specific skills, and then
post gigs on the Fiverr marketplace to earn money
. You'd even have
a course completion badge that can help you get more sales
.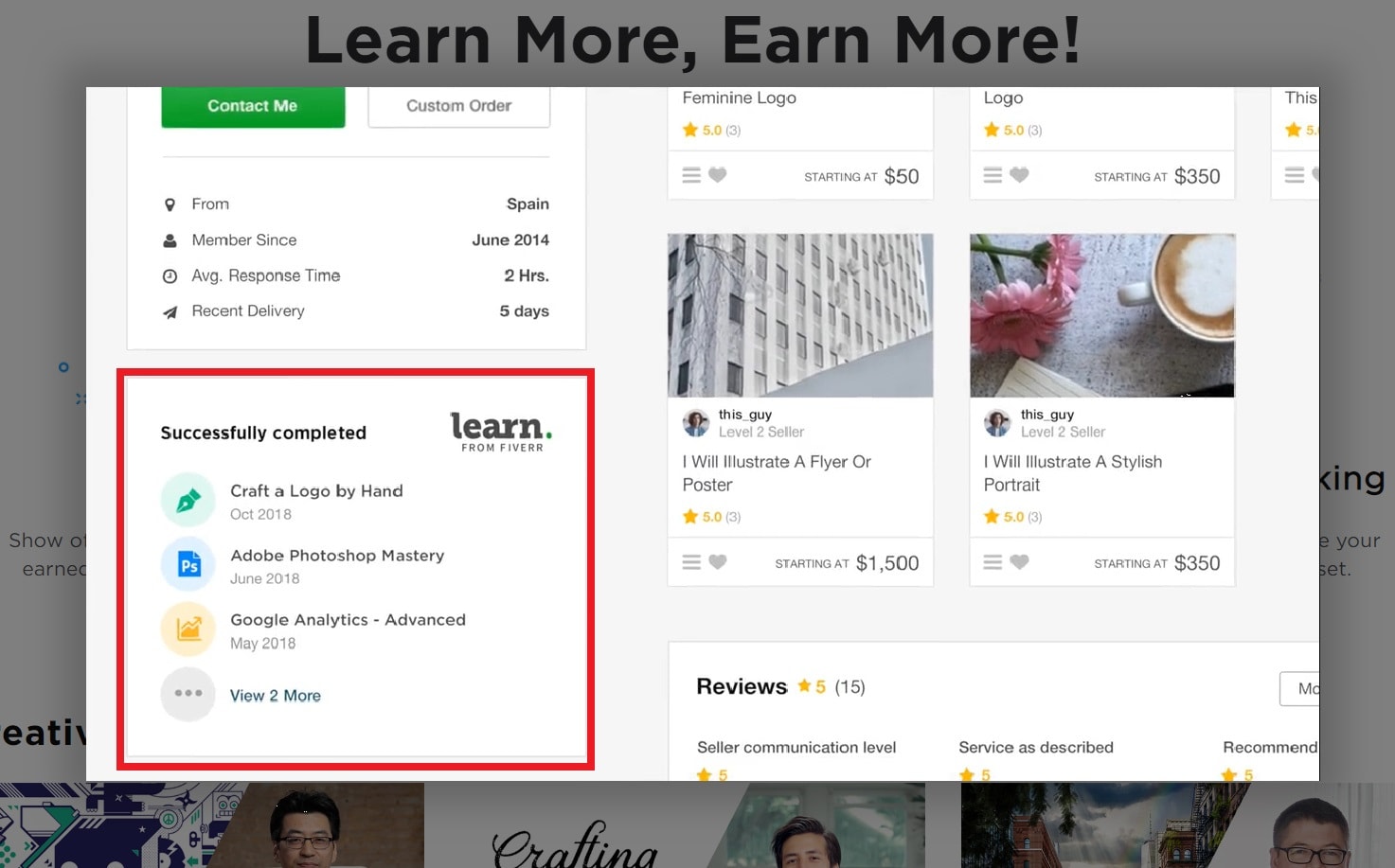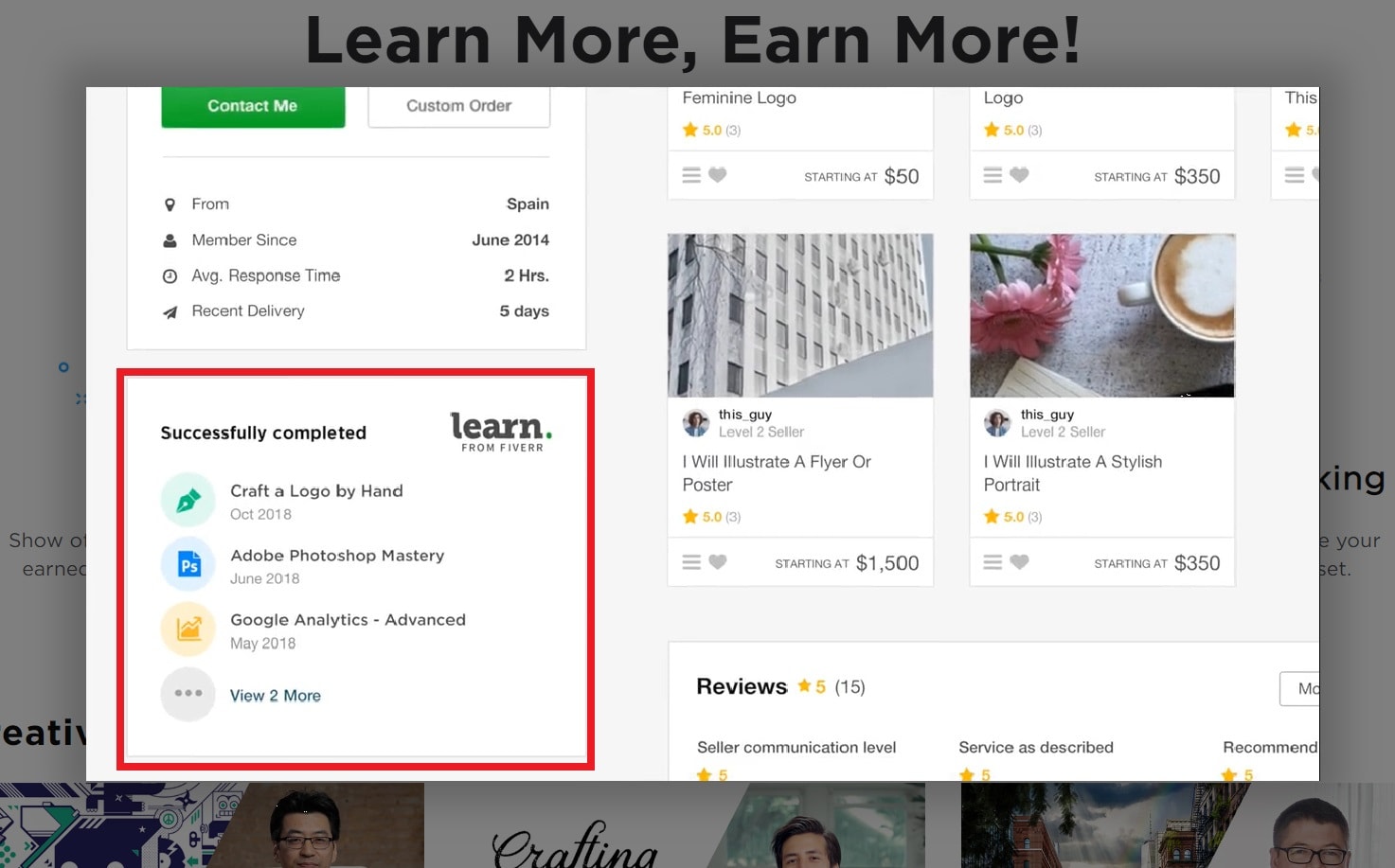 At least that's the idea in theory. Personally, I think the courses come up a bit short. You'll still need to put in additional time learning before you can truly offer a quality service to potential clients. Also, the
Fiverr marketplace is saturated
. There's a ton of competition for any of the skills taught in Fiverr Learn courses. I'm not sure that a small badge will help much when you're competing against people with hundreds of five-star ratings – especially when the classes include such basic information. It's important for you to understand that just because you take a few Fiverr Learn courses, doesn't mean you'll be raking in the money on Fiverr. In my opinion,
it can be a start to a freelance career, but far from the end of your education if you'd like to be successful
.
Udemy and Potential Employment Opportunities
With Udemy, there's no direct path to getting employment or freelance gigs. But that doesn't mean the courses can't be useful; it just depends on what type of courses you take. With each course you complete, you get a certificate of completion.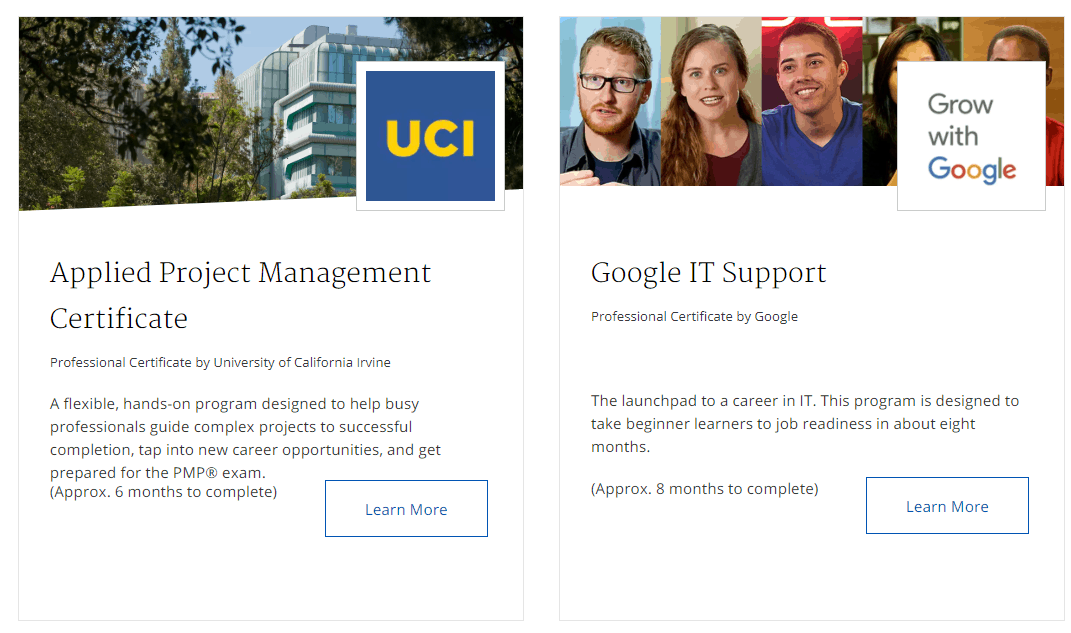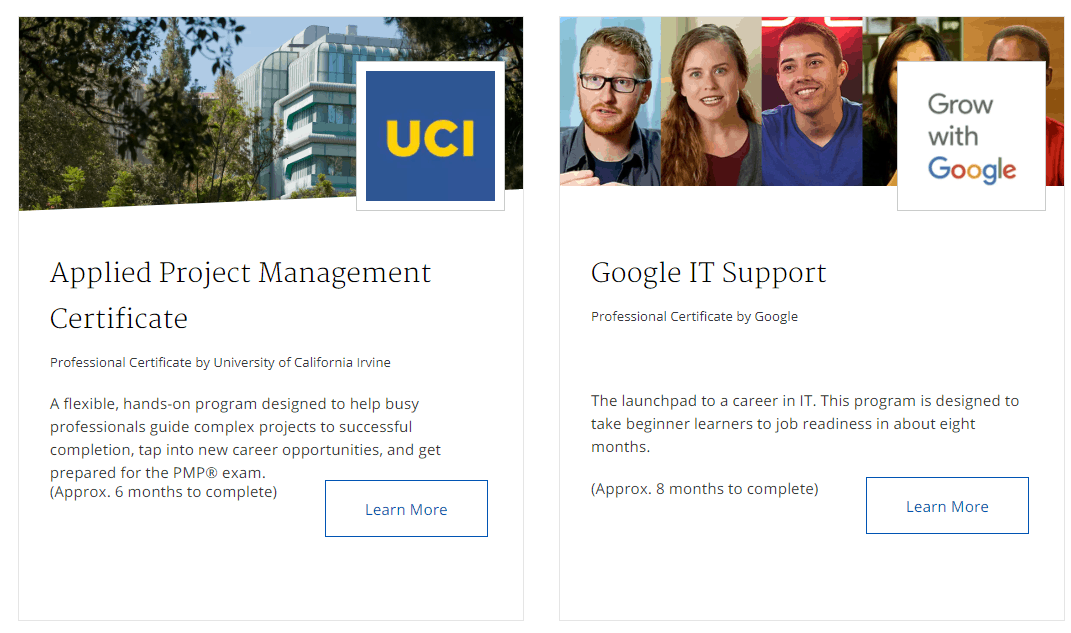 These certificates are specifically designed to help you land certain types of jobs. If you want to go even further on Coursera, you can apply to complete a degree at one of its partner universities. Keep in mind that
these are real university degrees
, which will definitely help you become qualified for new job opportunities.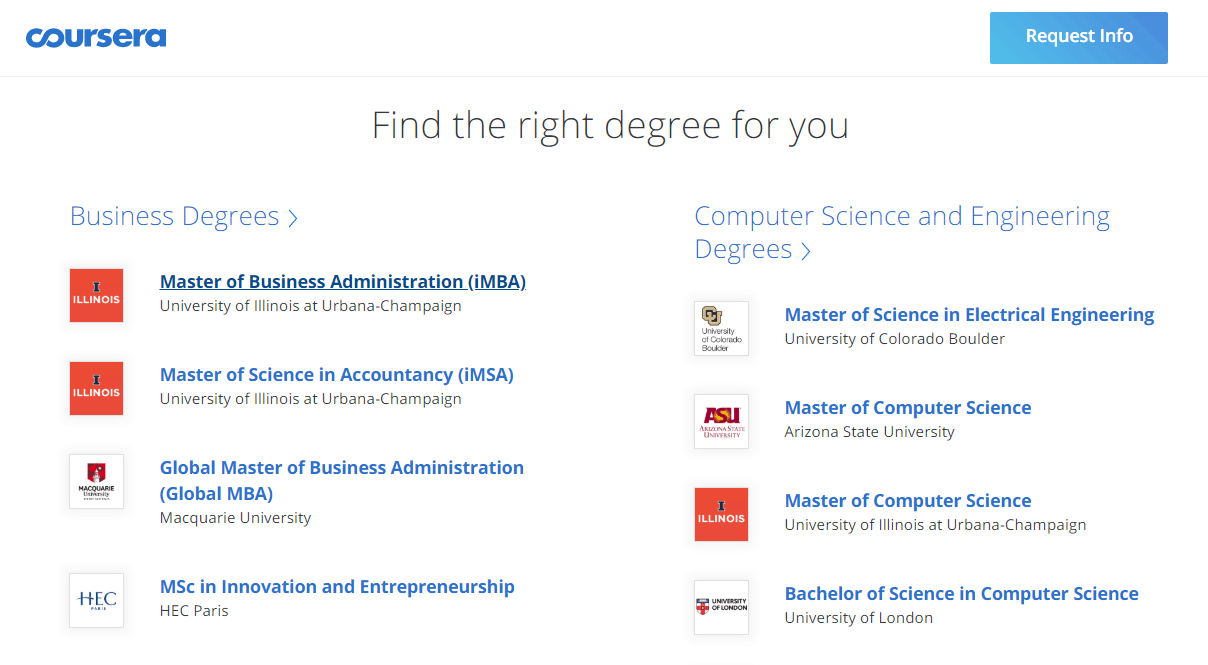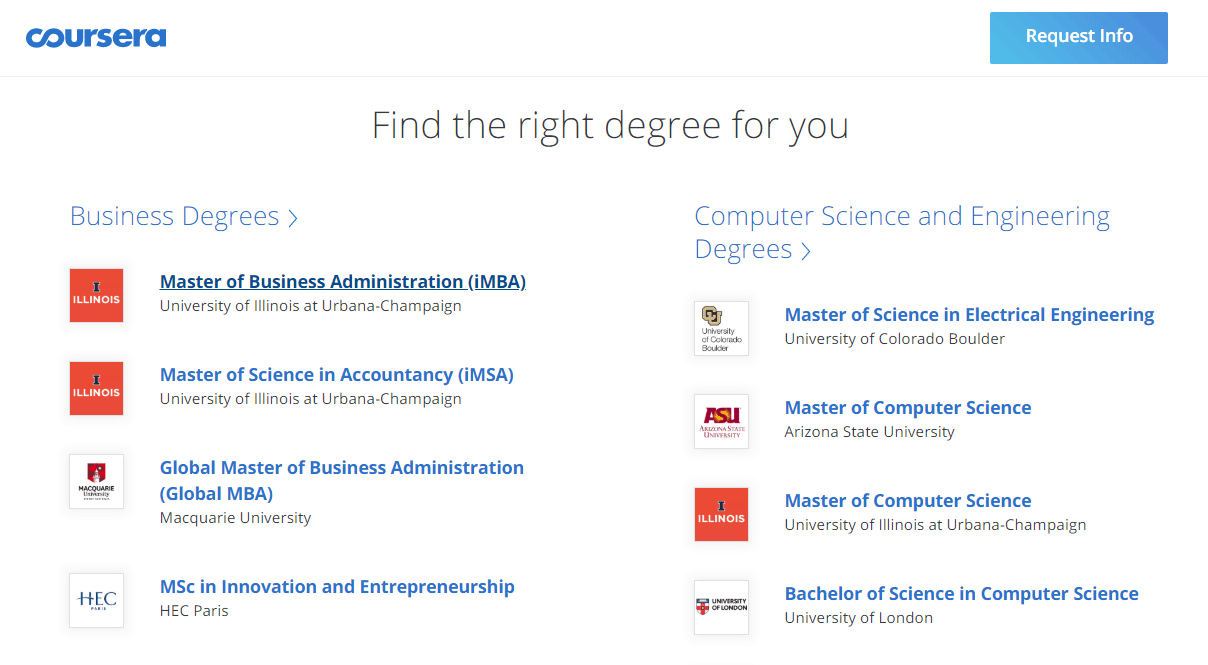 But it's not free
. These degrees cost $10,000 or more in most cases. Sure, it's cheaper than going to a school in person, but it's still a significant expense.
And the Winner Is…
Coursera, it's the only platform that gives you everything you need to become legitimately qualified for a job or promotion. However, you will need to invest a significant amount of time and money to get results.
Coursera Offers Knowledge For Free – Fiverr Learn and Udemy Charge for It
The last – and potentially largest – factor that may influence your decision is cost. These platforms and their instructors need to make money, so of course, there is a charge for certain things. The prices vary significantly on each platform.
| | | | |
| --- | --- | --- | --- |
| | Fiverr Learn | Udemy | Coursera |
| Typical course price | $19–$90 | Free–$200 (most are not free) | Free to audit a course ($29–$99 for most certificates) |
Fiverr Learn Pricing
Each Fiverr Learn course has a different price. The typical range is from about $20 to $90, with most of the courses falling on the lower end.


Keep in mind that you're usually only getting an hour of instruction for that price. You can also purchase "programs" for a discount, which are bundles of related courses that carry a higher price tag. Finally, if you don't finish a course, you can contact Customer Support and
get a refund within 30 days of your purchase
.
Udemy Pricing
Course prices on Udemy vary widely, since course creators determine their own cost and can also plan sales at any time. It's not uncommon to find a $200 course sold at a fraction of the price.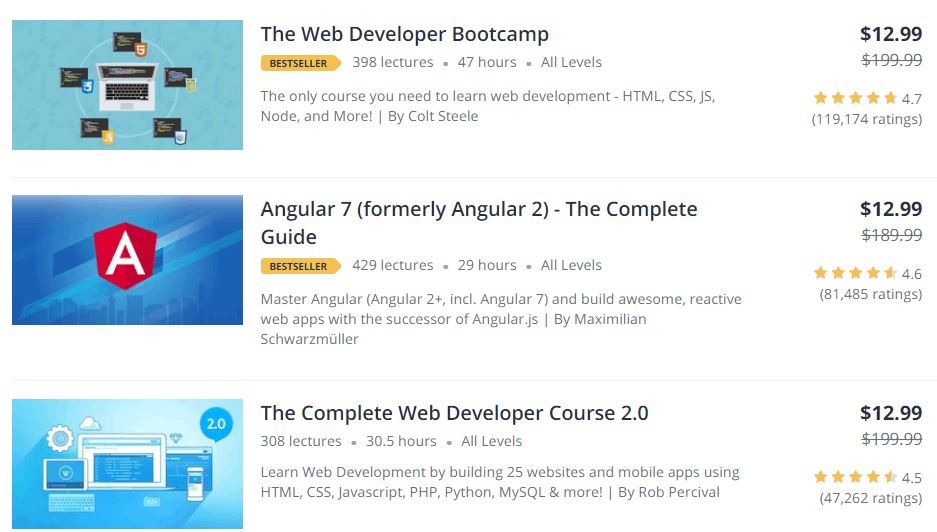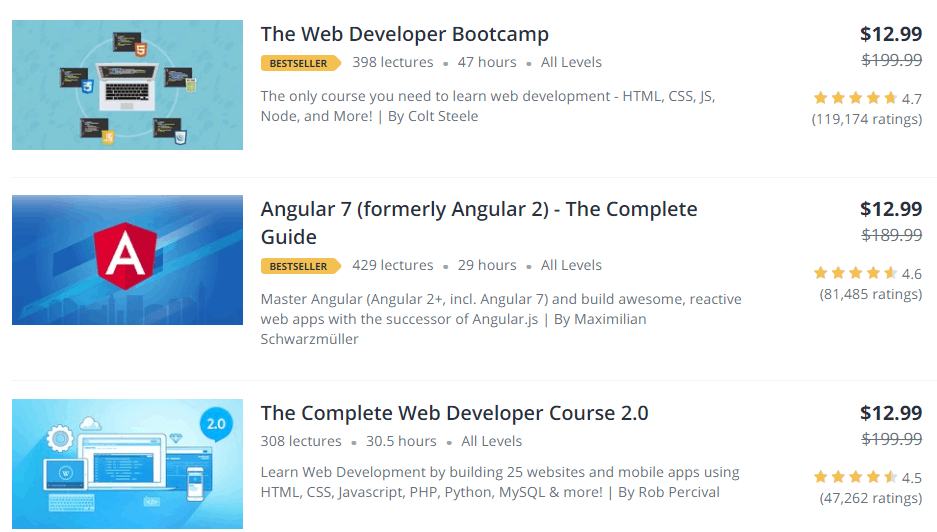 Course creators do this to get extra students (and hopefully better ratings), which can lead to more full-priced customers later. However, this means you should also be a little cautious when reading reviews. Either way, there's a
30-day money-back guarantee
 for every course if you end up not liking it for any reason.
Coursera Pricing
You can "audit" a course for free on Coursera, meaning you get access to all the course material at no cost. The only cost you'll encounter is if you'd like to take the graded assignments and earn a certificate. In this case, you can either
pay for an individual course, or a specialization
(access to multiple related courses for a discount).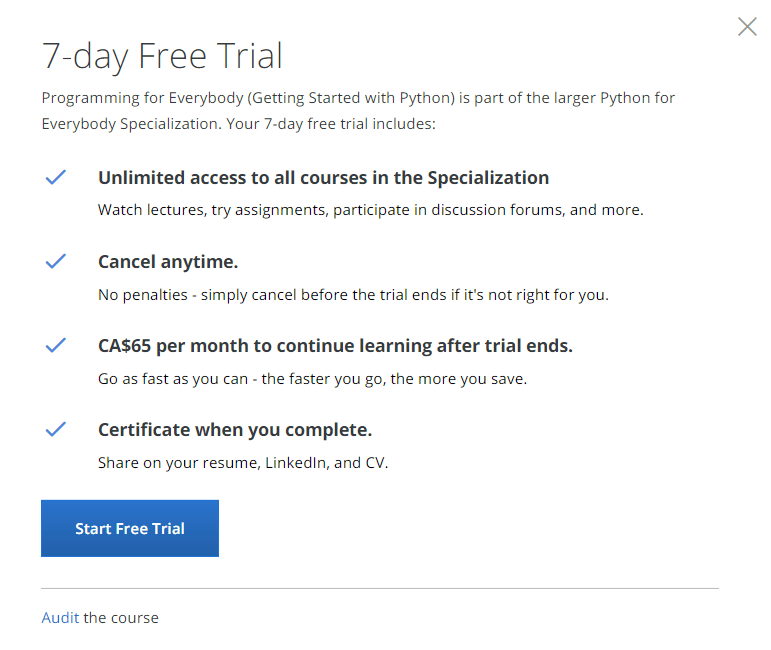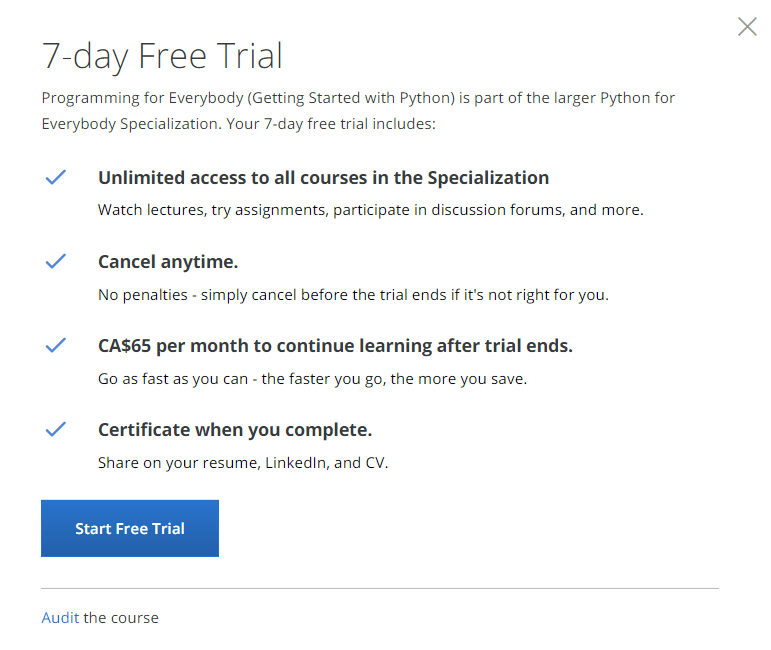 These costs are quite reasonable (usually around $50) for the amount of content in a course, plus they're entirely optional. If the cost of certificates is too high for you,
you can also apply for financial aid on Coursera
. Finally, you can request a refund for any individual course within two weeks of buying it. You can't get refunds on specialization subscriptions (they are monthly fees), but you can cancel future charges.
And the Winner Is…
Coursera, as it literally lets you
take top-quality courses for free
. And if you really want the certificate, it's reasonably priced.
The Best Online Course Platforms: Udemy vs Coursera vs Fiverr Learn?
If you want my opinion, the overall winner is Coursera
. But your specific situation matters the most. If you're trying to
become a freelancer
, go with
Fiverr Learn
, because all of its courses are specifically designed to help you
start offering freelance services
.
If you're more interested in expanding your personal interests, choose Udemy
, which has courses on almost any hobby that the other platforms won't. And if you're looking for
academic courses to take for fun or to advance your career, stick with Coursera
. The quality of the courses is high, the pricing model is generous, and the course selection is great. Here's a summary table of the key differences between each platform:
Aspect of Platform
Main Takeaways
Course Selection

Udemy and Coursera both have a huge selection of courses, while Fiverr Learn only has a small catalog
Fiverr Learn focuses on courses for freelancers, while Udemy focuses more on hobbyists
Coursera offers courses on academic topics

Instructor Quality

Coursera and Fiverr Learn both have top industry professionals creating and leading the courses
Anyone can publish courses on Udemy, so instructor quality varies a lot

Course Length

Coursera and Udemy both offer longer courses (usually at least eight hours of video)
Fiverr Learn is best if you're limited on time; courses are only one or two hours in total

Employment Opportunities

Coursera's course certificates carry more weight than the other platforms. You can work toward skill certificates or even full degrees
Fiverr Learn offers badges, while Udemy offers certificates for course completion. Both won't help you too much (at least directly) when it comes to finding work

Course Cost

You can take a Coursera course for free; you only pay if you want a certificate or degree
Be careful about buying Udemy courses at full price, as there are often steep discounts
Fiverr Learn courses are offered at relatively low rates
One last piece of advice? If you take a course on any of these online learning platforms, I'd urge you to take it seriously if you'd like to benefit from it. Most students abandon them before finishing. Dedicate time to your courses on a regular basis to get the most out of them. Here are some tips to help you stay productive:
Make a schedule that you can stick to
Set goals along the way and celebrate when you hit them
Do courses as early as possible so they can't be blown off
Close other tabs while learning to minimize distractions
Take notes if they aren't included with the course
So the next question you need to ask yourself is, what do you want to learn?