tons 
of online courses, both for fun and to develop real-life skills that can further your career. And while
there are
some situations where Udemy is the best platform for you, 
there are a few reasons why a different online course platform may be better. I regularly take online courses for fun and to learn new professional skills.
Coursera
,
Udemy
,
Fiverr Learn
, edX, you name the online course platform and I've used it. So I think I'm in a good position to highlight the 
main positives and negatives of Udemy
. Before you commit any time or money to a course on Udemy, read through this Udemy review to make sure you know what you're getting into.
What Is Udemy and How Does It Stand Out?
Udemy aims to be the online course platform where you can learn about
anything
. There are
more than 100,000 Udemy courses
. Some focus on professional skills, while others focus on learning hobbies
(even things like learning how to play video games).
Employers can get access to Udemy's most popular courses for their employees to encourage them to learn. It turns out that some 
huge
 companies like Adidas, Pinterest, and Eventbrite have taken advantage of this. In order to cover such a huge range of subjects,
Udemy lets anyone publish a course.
 This is why there are courses on topics like 
caring for plants
 that you won't find on other course platforms.

Allowing anyone to teach is
a 
good thing and a bad thing.
 The good is that it lets people share their expertise, even when they don't have a full certification to back them up. Many Udemy course creators are grad students or professionals who really are experts in their field.
What about the bad?
 Because Udemy is so open,
it 
doesn't have many big-name instructors or university professors.
 They would rather teach on more prestigious platforms like Coursera. Secondly,
some courses are just 
bad.
 If I wanted to publish a half-assed course tomorrow, I could.
However, chances are that it would get bad ratings by anyone who took it, so you should try to stick to the highly-rated courses to avoid wasting your time. But there are also some
big issues with Udemy's review system
 that we'll look at shortly.
Types of Courses Offered on Udemy
You can browse courses by searching for a keyword, or by navigating through categories.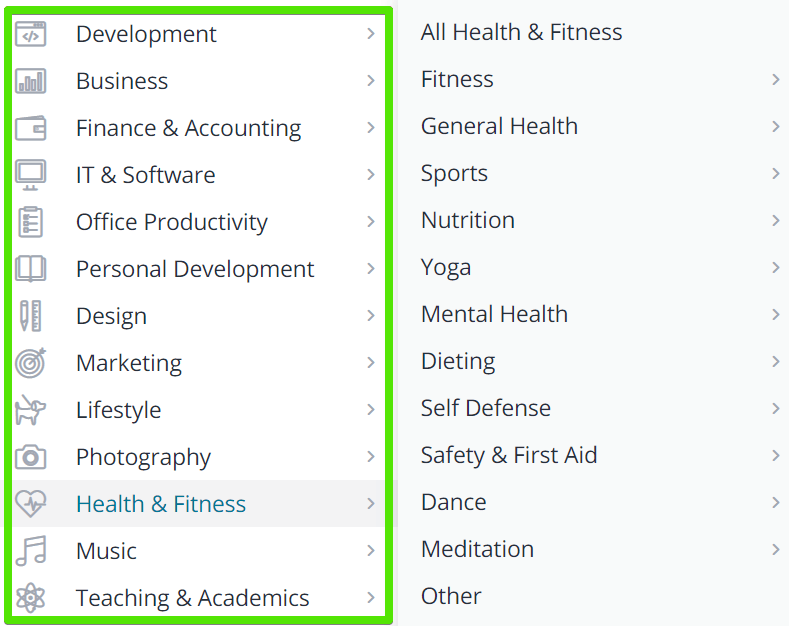 Each main category (e.g., design, finance, photography, health and fitness, etc.) have several sub-categories to choose from. Each category page has a mix of trending and popular courses to choose from. Most courses are 
$25 to $200 if you buy them at full price. 
However, you can often get them at a discount, potentially even free with a coupon.
Want to get a deal on some new knowledge?
There are sales on Udemy constantly,
but it varies based on the course you're interested in. It's ultimately up to the course creator whether or not to offer a sale.
My Course Experience: A Behind-the-Scenes Look
I've taken three courses over the past three years on Udemy, but I signed up for a new one just to do this review, to make sure Udemy hasn't changed much. I'll show you what taking a course on Udemy looks like, and point out the good and bad. I took a course in WordPress training, since I know
WordPress
 well and felt I could fairly assess the quality of the instruction.

The course is taught by David Murray, a long-time web developer on behalf of an SEO training and consultancy group. Courses are simple to buy. Once you
create a Udemy account
, you click the purchase button on the course page, and that will take you to a checkout form.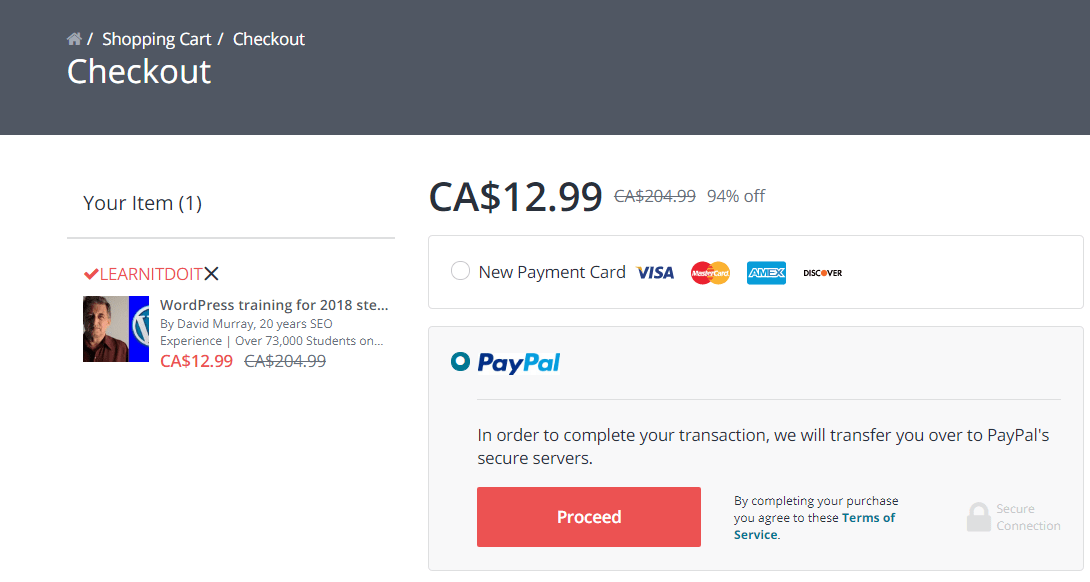 You can 
pay with any major credit card or PayPal,
and there are no hidden fees of any kind. Jumping into the course itself, it's divided into sections (i.e., lectures), which are also divided into small videos.

These small chunks are great if you only have a few minutes here and there to take the course. It's also easier mentally than having to process a long hour (or longer) video all at once. The software itself is smooth, and the video player comes with a handful of nice features that allow you to:
Change playback speed
Skip ahead or back five seconds
Turn on closed captioning
See a transcript (shows up in the right panel)
One other feature that's nice is the "Q&A" section underneath the video player.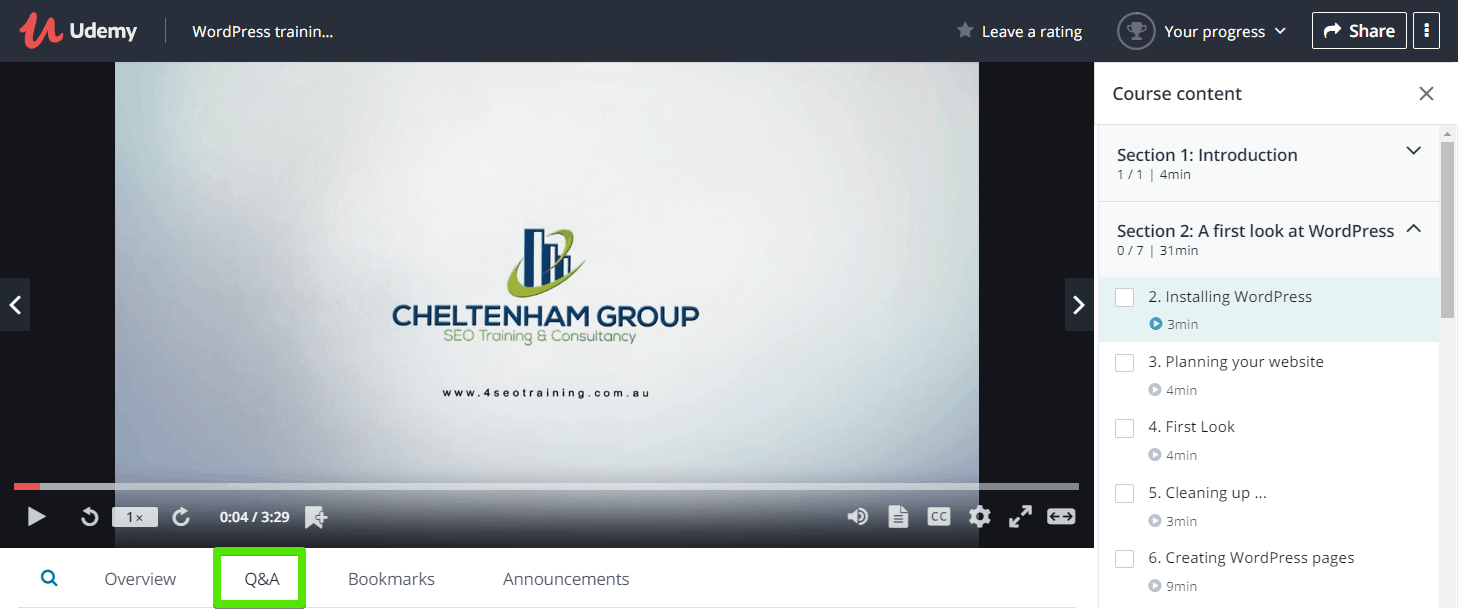 You can ask questions if you don't understand something, and the course instructor or other students can answer. There's a separate Q&A section for each video in the course.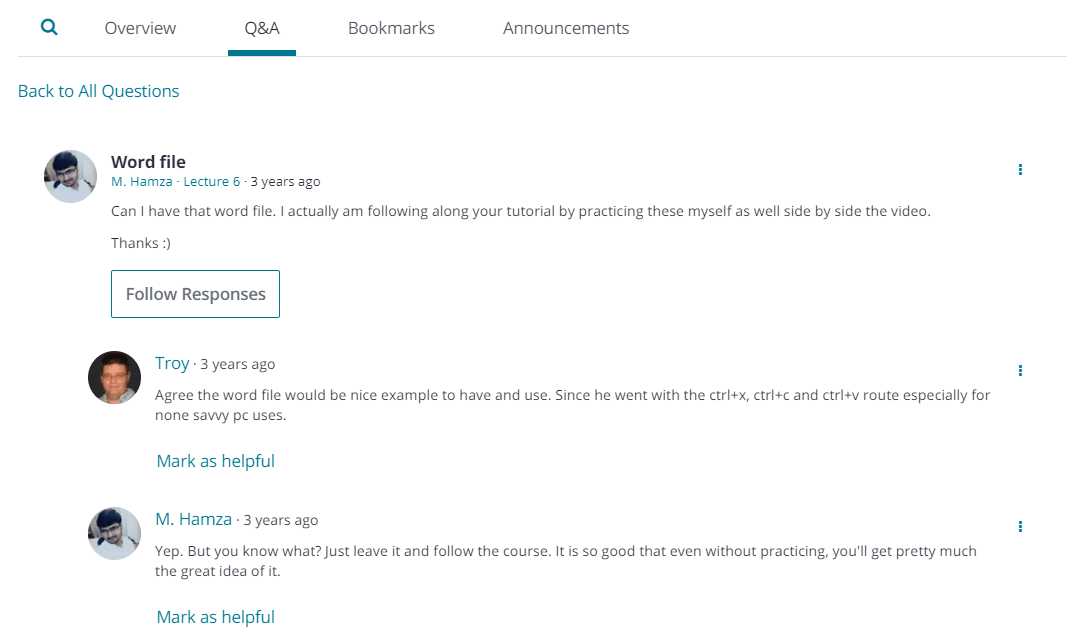 This is potentially a great feature that some platforms, like
Fiverr Learn
, don't offer. Unfortunately, 
it's not always useful.
In the courses I've taken, instructors aren't particularly active in the Q&A sections. And since only people struggling to understand a video go to these sections, other students aren't usually able to help either.
Overall Course Takeaways
After going through the lectures, there were a few things that stood out to me about
the
quality of the course
:
Good video and sound quality.

 It was easy to hear and understand the instructor, and the video was high enough quality to clearly see everything on the screen.

Good pacing.

 This course was meant for beginners, and I felt the content reflected that well. Each small section on a feature was covered in a reasonable amount of time.

Not quite up-to-date.

This course was released in 2018. Since then, WordPress has gone through a few huge updates. Most importantly, this course doesn't discuss the new

Gutenberg

 editor, which is scary to a lot of beginners, and really should be in the course.
Do I think this course was worth the full price of $200? Not a chance. But for $12, I feel like it's reasonable. You can find comparable tutorials on YouTube for free, but they won't have the nice structured chunks that can be really helpful.
Is There a Money-Back Guarantee With Udemy Courses?
One of the biggest positives of signing up for a course on Udemy is that each Udemy sale comes with a
30-day money-back guarantee
. Past that 30 day cut-off, you can't get a refund. That being said, there are a few rules in place to make sure the system isn't abused. If you download all the course content, you may not be eligible for a refund. If you frequently refund courses, you can even be suspended. As far as requesting a refund, it's quite simple. When logged in to any course you've bought, you can select "request a refund" from the drop-down menu in the top right corner.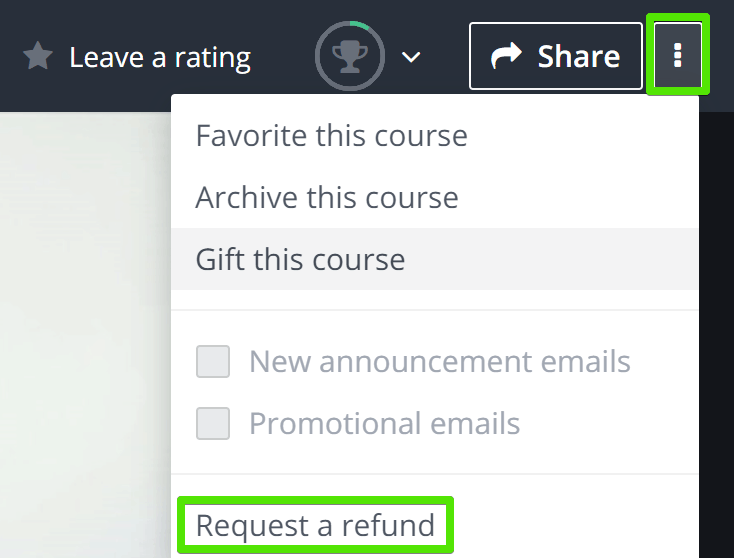 Then you just fill out a ticket for a refund request and you're done.
What I Like About Udemy
Let's talk a little about the big 
pros
 of Udemy. While it's not a perfect platform, there's a lot to like about it. First,
the 
variety of courses is amazing.
 No other online course platform comes close to offering as many courses on as many subjects. You can find good courses on topics ranging from dog training, to applying makeup, to video editing.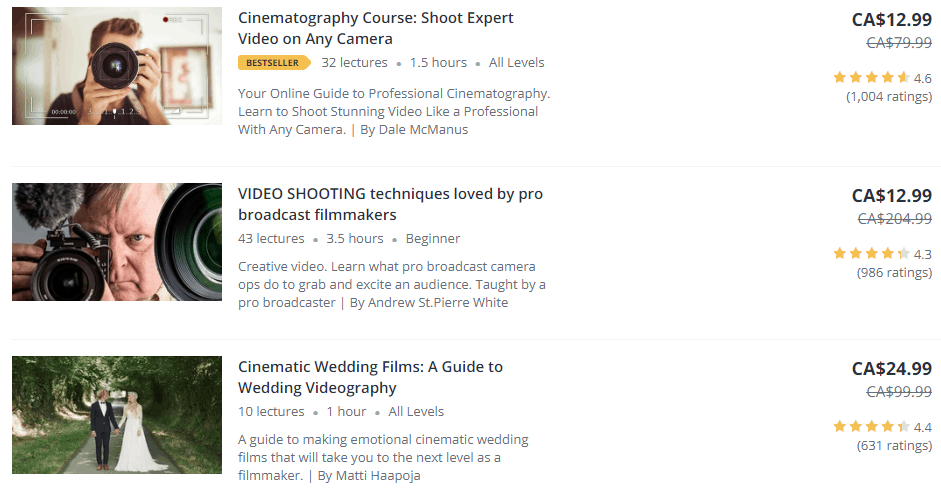 In terms of taking courses for hobbies, I personally think Udemy is the best choice. Next,
the 
course software itself is good.
The lesson player and course navigation are smooth and intuitive. I've never encountered a bug or was unable to find something I was looking for. Finally,
you can
take courses at your own pace.
 On platforms like edX, you have to wait for an enrollment period if there's a particular course you'd like to take. On Udemy, there's no rush or deadlines to complete the course, and you have lifetime access to it.
What I Don't Like About Udemy
I made it clear from the start that there are definitely some issues with the platform. There are three big things I don't like about Udemy. The biggest thing is the 
misleading review system.
You see a course rated 4.8 out of 5 and reasonably think it must be a great course. Sometimes it is, and 
sometimes it isn't.
The reason for this goes back to the extreme discounts. Course creators often put their course on sale for 90%+ or even gift it to early students (for a new course).

That's a problem. Because if I'm writing a review for a product I paid $10 for, I'm going to have 
very different expectations 
than if I paid $200 for it. While reviews are useful for filtering out the obviously bad courses, I haven't always found them to be accurate when it comes to highly rated courses. The next main issue comes from the fact that 
anyone can teach
, leading to many low-quality courses. Most instructors have good intentions, but since they're not always experts in their field, they may
teach topics inaccurately
.

This also leads to a lot of
variance in video and audio quality.
 Sometimes it's great, other times it's terrible. Finally, once a course gets a few hundred good reviews, it's going to stick to the top of its category. Many category pages are filled with courses made years ago, and are at least 
partially out of date.
While courses 
can
be updated, they aren't always. They may have deserved a five-star rating in the past, but don't anymore.
Will Udemy Help You In Your Career?
If you're interested in taking online courses to advance your career, you should know that Udemy won't directly help 
too much
. You do get a Udemy certificate upon course completion, but in my experience, they don't hold too much weight with most employers.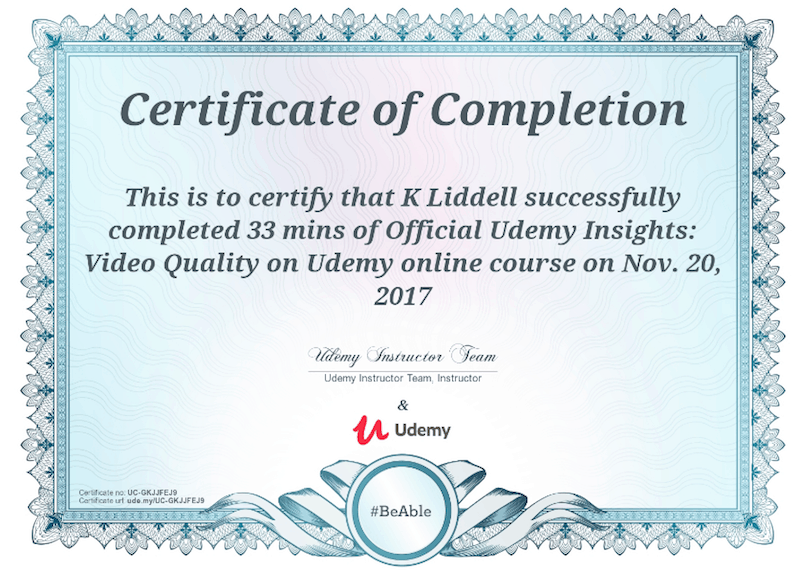 In most instances, I wouldn't include it on my resume. However, enrolling in courses that enhance your job performance and skillset could potentially result in a raise or promotion. I wouldn't take a Udemy course just for career advancement, but it's not going to hurt, and it 
might just help
.
Udemy vs. Other Online Course Sites
The two biggest competitors to Udemy are Coursera and edX. In my opinion, you're better off going with edX or
Coursera
 when you want to learn professional skills. But
Udemy has a much larger course catalog
, and is the only one of the three to offer hobbies-based courses. If there's a specific skill or topic you're trying to learn and you can't find it on the other two course sites, Udemy is your best bet.
| | | | |
| --- | --- | --- | --- |
| | edX | Udemy | Coursera |
| Courses taught by | University professors | Anyone can create a course | Professionals and university professors |
| Typical course price | Free to enroll (certificate and exams cost $50-99) | Free-$200 | Free to enroll (optional certificates cost $29-99) |
| Number of courses | 2,600+ | 100,000+ | 2,700+ |
Is Udemy Worth It?
Unlike other Udemy reviews, I'm not going to sugarcoat my opinion on the platform.
I would never buy a Udemy course 
at full price.
But I think when courses go on their ridiculous 90%+ sales, they offer a good amount of value for the cost.
With that being said, you can always try a course on Udemy for yourself, and fall back on the money-back guarantee if it doesn't meet your expectations.