best social media tools
, it's still important to choose a course that not only got great reviews last year, but is still relevant right now. There's only one problem – how do you know which social media course to choose? There are literally thousands online, and it's hard to know which ones are run by amateurs and which ones offer
real industry knowledge from trusted professionals.
Don't worry, though; I've done the hard work for you. I scoured the top online course platforms to identify their most popular social media marketing courses. Then I checked those out to see which ones have the most insightful, up-to-date information so you can
improve your social media marketing skills
to promote your business or blog, or just refresh your professional skills. I ended up checking at least 50 different courses. Sure, it made my brain hurt, but now you can save some time and money and know that these courses really are the best. (Don't thank me.
Share my article instead.
)
What We Look For in the Best Social Media Marketing Courses
When looking through social media marketing courses online, these were the features we prioritized:
Instructor expertise – Do the instructors know their stuff?
Course content and delivery – Does the course include the information you need to improve your social media marketing skills?
Course length – How much time will you have to invest in acquiring new skills and knowledge?
Certification – Do you get a certificate at the end to prove you've completed the course?
Ratings and reviews – What do past students think of the course and instructor(s)?
Cost – How much will you have to invest to access this social media marketing training?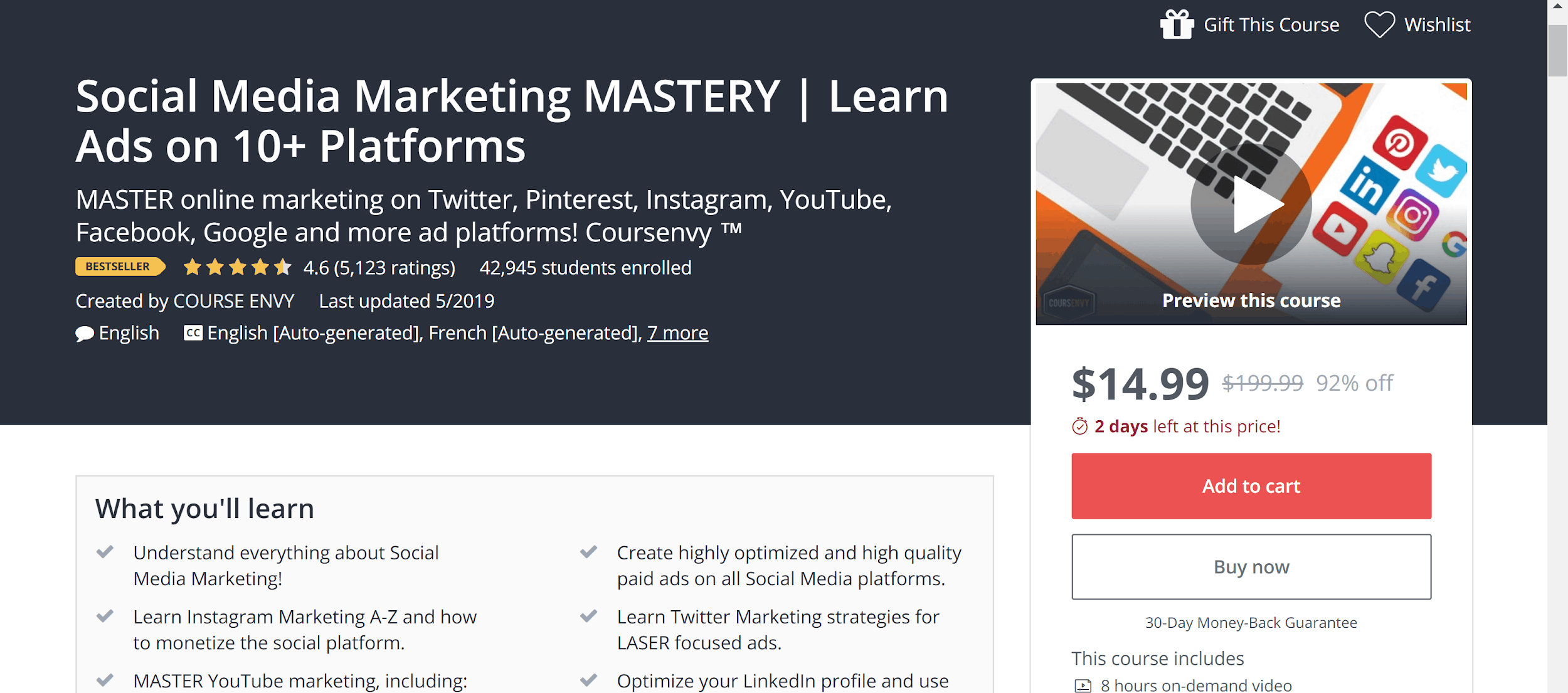 Don't let the term "mastery" fool you – Udemy's
Social Media Marketing MASTERY
course is suitable for beginner social media marketers. It promises to walk you through social media advertising from A to Z, helping you learn how to use different platforms to effectively promote your business. This course covers all of the big players, including Facebook, Twitter, LinkedIn, Instagram, Google My Business, Pinterest, and YouTube.
You'll also learn about blogging, SEO, and tools that can make your marketing more effective
. Course content includes eight hours of video, seven downloads, and 26 articles. It's accessible on the web, mobile devices, and TVs. At the end of the course, you'll get a completion certificate. This course has a 4.5-star rating from more than 5,000 students.
Like many courses on Udemy
, this course was originally priced at a couple hundred dollars. But keep your eyes open for deals. We've seen this one on sale for just a fraction of the price, which is excellent, considering that you get lifetime access to the course content. Even if you pay full price, there's a 30-day money-back guarantee. But if the student reviews are anything to go by, you won't need it.
Features
This course is created and delivered by Coursenvy, an LA-based agency and expert in social media advertising.
Course content is regularly updated (just a month before the time of writing), so you always have the latest guidance.
The course tutor is available to answer students' questions to help them market their own businesses.
The strategies shared are used by the course tutor with clients, which means they have been tried and tested in the real world.
| | |
| --- | --- |
| Beginner-friendly | Yes |
| Expert instructors | Yes |
| Certificate awarded | Yes |
| Content length | 8 hours |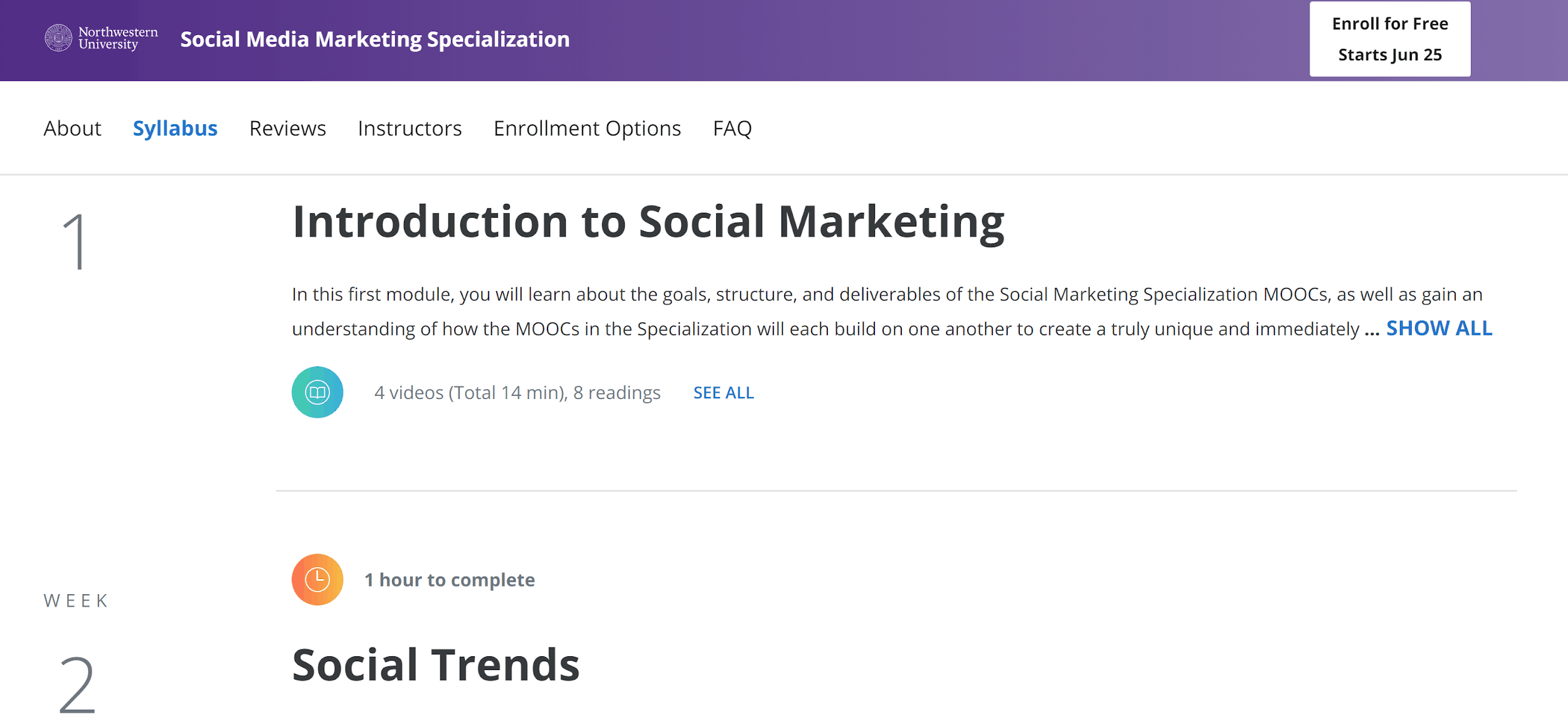 What Is Social?
from Coursera is a practical course that doesn't just
tell
you about social media marketing – it helps you
get started
. 
Coursera prides itself on having top instructors from major universities
, and this course is no exception. It is part of the Social Media Marketing Specialization by Northwestern University. Rather than simply focusing on individual platforms, this course goes behind the scenes so you can
learn about social media from a business viewpoint
and create your strategy accordingly. It covers social marketing, social trends, the business of social, and more. There are nine hours of course content, and it's suggested that students do about three hours a week, to complete the course in less than a month. Course content includes both videos and reading material. This course is highly rated by thousands of students for being both practical and useful. According to Coursera's stats, about half of all students taking this course received a career benefit, and 16% received a pay increase or promotion.
Features
The course isn't just about skills, but about context. Students will learn about the digital revolution, the impact of big data and much more.
Language doesn't have to be a barrier to taking this course – there are subtitles in English, Spanish, Japanese, and Arabic.
You can audit the course for free, but paid learners get additional information and a completion certificate. The class is more expensive than some of the other options, but there's a money-back guarantee during the first week.
| | |
| --- | --- |
| Beginner-friendly | Yes |
| Expert instructor | Yes |
| Certificate awarded | Yes, for paid learners (not by auditing) |
| Content length | 9 hours |
3. Hootsuite Academy – Social Marketing Training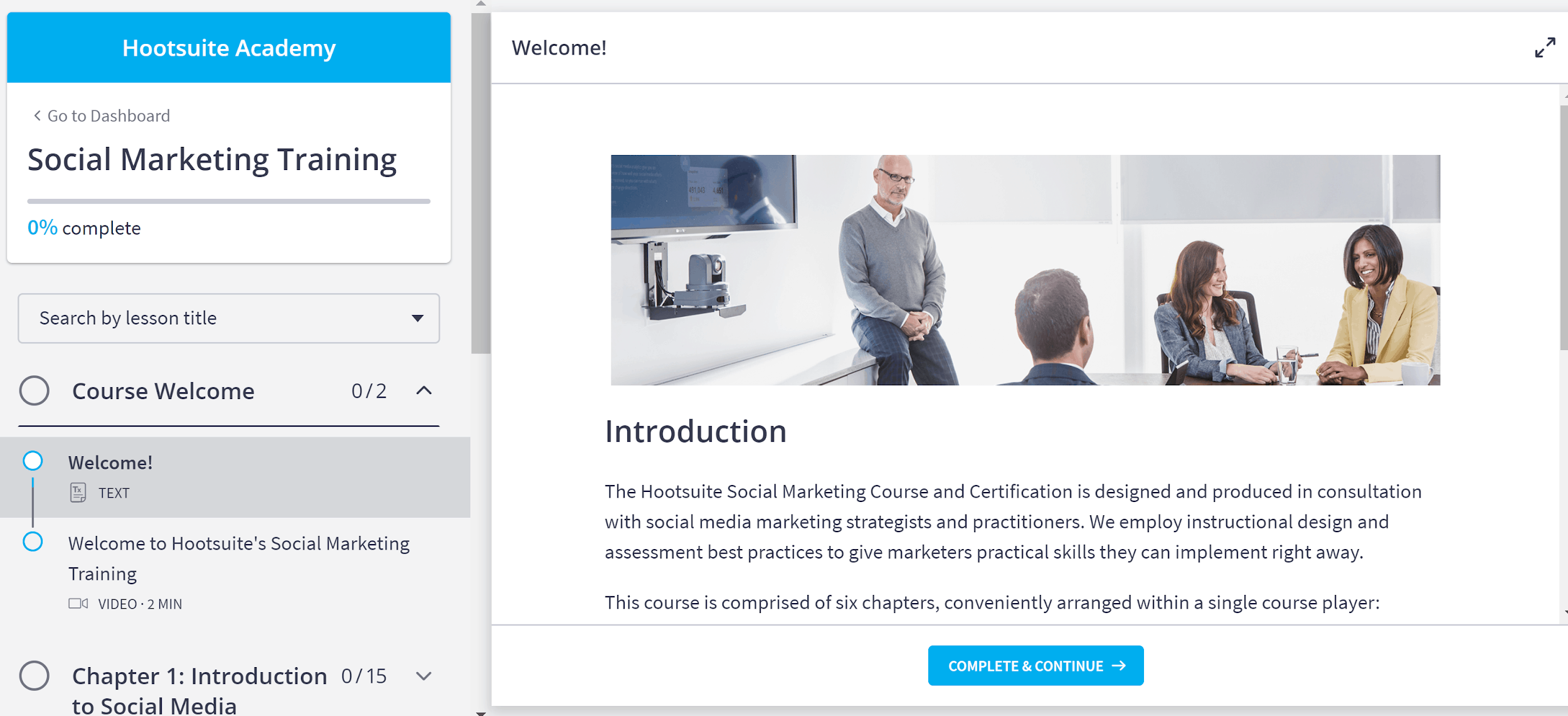 As the granddaddy of social media tools,
Hootsuite
 is a great place to start your social media training. Hootsuite takes a slightly different approach than other providers. It wraps multiple mini-courses into its
Social Marketing Training
program. You may start as a beginner, but by the end,
you'll know all the skills the professionals use.
The course covers:
Optimizing your social media profiles
Setting goals and objectives
Building your community
Content marketing
Social advertising
Courses are delivered – for free – via video and text, with some information available for download. Most videos are only a couple of minutes long. The whole course takes about six hours to complete, including exercises and quizzes. Course content is updated regularly, so you can be sure you're always getting the latest information. There are no ratings shown for the Hootsuite course, but the provider says it's educated 400,000+ students, including 46,000+ certified professionals.
Features
Courses are delivered in an explainer video format, so you never see an actual person – we found this animated approach entertaining.
There are quizzes at regular intervals so you can be sure you know the material before moving on.
While the course is free, you'll have to pay if you want to take the social media marketing certification exam.
If you decide to complete the certification, you can earn a listing in Hootsuite's Certified Professionals Directory for more visibility amongst brands and potential employers.
| | |
| --- | --- |
| Beginner-friendly | Yes |
| Expert instructor | Yes |
| Certificate awarded | Yes, if you pay for the certification exam |
| Content length | 6 hours |
4. Fiverr Learn – Social Media Content Strategy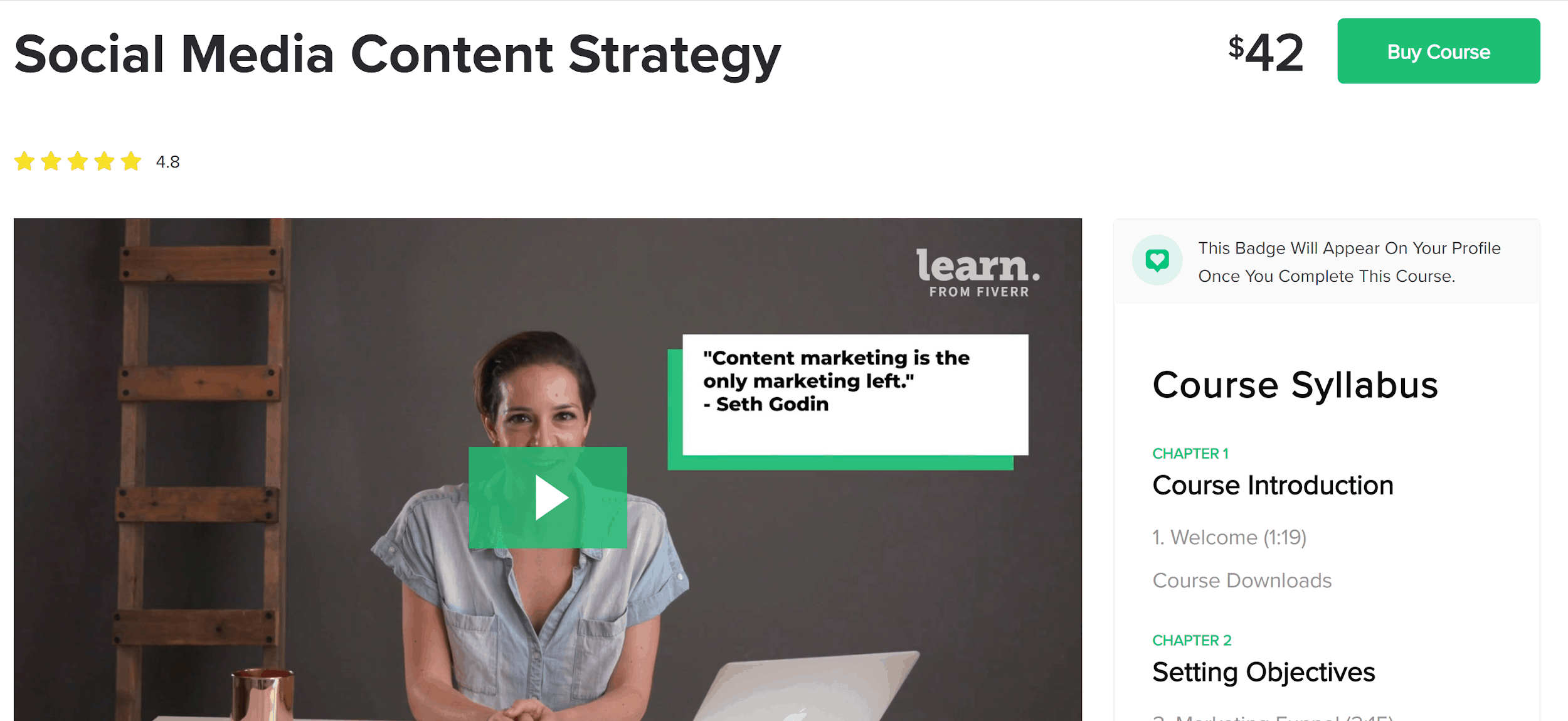 Fiverr Learn's
Social Media Content Strategy
course takes you through the main elements of creating and delivering a content strategy for social media marketing. The course tutor is expert Rita Cidre, named a top growth marketer by Hubspot and currently Marketing Manager at Qualtrics. The course is delivered over 23 videos, which contain about an hour and a half of content in total. It includes information on
setting your objectives for social media marketing, identifying your audience, defining and executing your strategy,
and more. There's a summary and quizzes at the end of each section, plus a final quiz so you can make sure you've really integrated that knowledge. This course is less expensive than most others, and there's a 30-day refund window if you don't complete it. Fiverr Learn is a relatively new platform (
read our full review
) so this course only has a handful of reviews, but it does have a 4.8-star rating. You'll need a
Fiverr seller account
to be able to use the Fiverr Learn platform.
Features
When you complete a course, a badge shows on your Fiverr profile. This can arguably help you win more gigs.
The course includes a section on empathy mapping, a tool that can give you more customer insight.
This is a practical course, helping you to create your own strategy as you work through it.
| | |
| --- | --- |
| Beginner-friendly | Yes |
| Expert instructor | Yes |
| Certificate awarded | No, but you do get a profile badge |
| Content length | 1.4 hours |
5. LinkedIn Learning – Social Media Marketing Foundations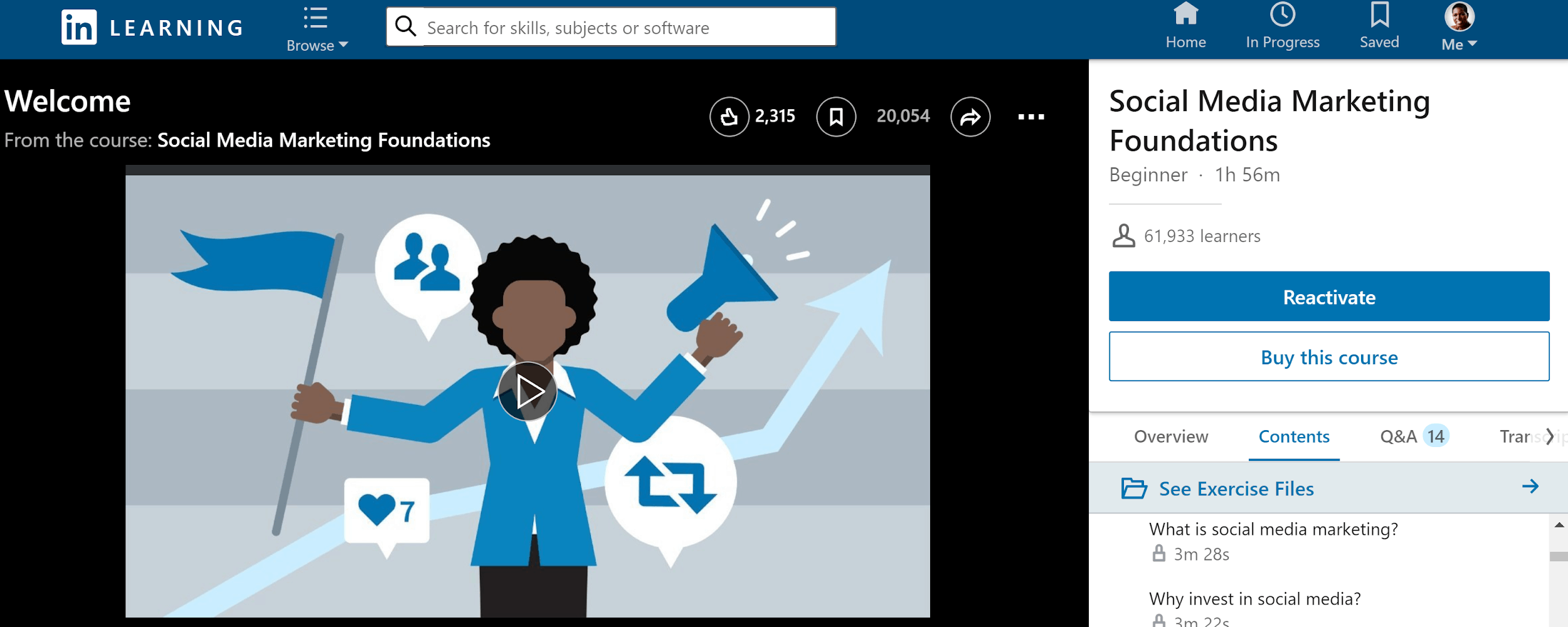 LinkedIn Learning's
Social Media Marketing Foundations
course is aimed at beginners and has nearly two hours of course content. The instructor, Brian Honigman, is a social media expert and Adjunct Professor at NYU. In the course, you'll learn the
benefits of investing in social media.
There are also tips on creating a social media strategy linked to your business goals and core audience. You'll learn the basics of Facebook, Instagram, YouTube, LinkedIn, Twitter, Pinterest, and Snapchat, as well as how to use social advertising to get results. This course also introduces social listening to help you better serve your customers and discusses
how to create and manage a social media community.
More than 60,000 people have viewed this course, and it's been liked by more than 2,000 people. The course is pretty low cost compared to some of the others on this list, and you can check it out for free with a one-month trial of LinkedIn Learning. Be aware that – once you subscribe – there are no refunds.
Features
This course includes the exercise files the instructor uses during the course so you can work on them at the same time.
Course content can be viewed offline or listened to as podcasts, and video transcripts are available.
There's a useful Q&A section where you can see what others have asked in the past or add your own questions, and the tutor is responsive.
You get access to this course for free with a LinkedIn Premium membership.
| | |
| --- | --- |
| Beginner-friendly | Yes |
| Expert instructor | Yes |
| Certificate awarded | Yes |
| Content length | 1 hour 56 minutes |
6. Learning.ly – Social Media Success for Business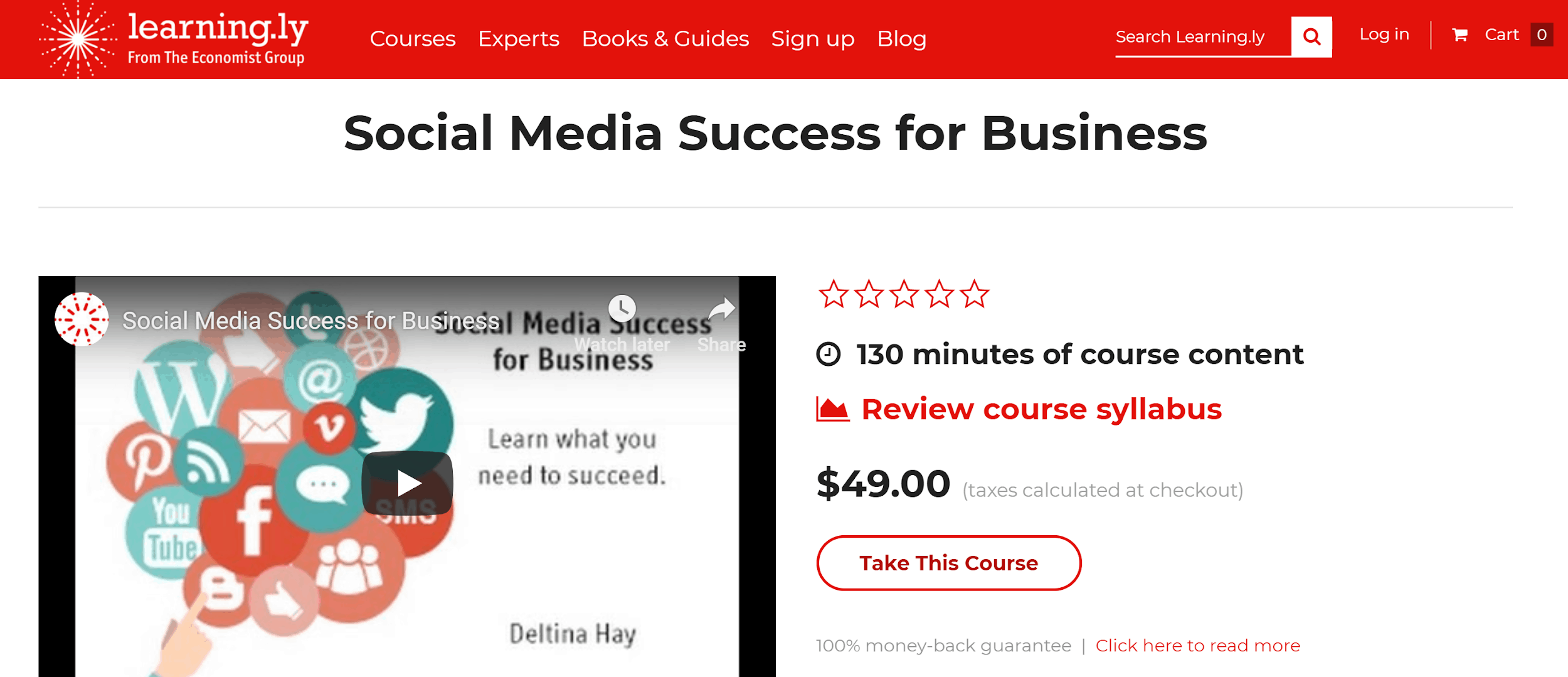 Learning.ly is a relatively new platform, so it's no surprise that the
Social Media Success for Business
course hasn't previously been reviewed. But since Learning.ly is under the badge of
The Economist
, you know that experts have been vetted, and the course tutor Deltina Hayes, is no exception. This is mainly a video-based course, with some worksheets and resources. It helps you lay the foundation for social media success so you can
use the tools, strategies, and techniques that are right for your business
. To start you off, there's a brief overview of social media, and an assessment of where you are. The bulk of the course focuses on real-world social media for brands, businesses, nonprofits, and public relations – plus you'll learn about different aspects of social media strategy. This course is also one of the more affordable options.
Features
A free course preview is available.
The course tutor is a social media pioneer and author of the Social Media Survival Guide.
If you're unhappy with the course, there's a 100% money-back guarantee, but you have to claim it within 14 days.
As well as instruction on social media, you also get information to help you plan your content marketing and analytics strategy.
| | |
| --- | --- |
| Beginner-friendly | Yes |
| Expert instructor | Yes |
| Certificate awarded | Not stated |
| Content length | 2 hours 10 minutes |
Which Social Media Marketing Course Is Right For You?
You now have our list of the top social media marketing courses. Which one should you begin with? Well, the choice depends on you. First, examine our comparison table, and then proceed to read our recommendations.
| | | | | |
| --- | --- | --- | --- | --- |
| | Length | Format | Certificate | Money-Back Guarantee |
| Udemy | 8 hours | Video, plus articles and downloads | Yes | 30 days |
| Coursera | 9 hours | Video and text | Yes, if you register | 7 days |
| Hootsuite | 6 hours | Video and text | Yes, if you pay | N/A |
| Fiverr Learn | 1.4 hours | Video | No, but you get a profile badge | 30 days (if you haven't completed the course) |
| LinkedIn | ~2 hours | Video with transcripts and audio | Yes | No |
| Learning.ly | ~2 hours | Video plus worksheets and resources | Not stated | 14 days |
If you're looking for depth and breadth, the social media training from
Coursera
and
Udemy
 offers the most content. If you're just getting started, the social media marketing classes on
Fiverr Learn
and
Hootsuite
 provide a great beginners' guide. And if you're focusing on the business aspects of social, you can't do better than the courses from Learning.ly and LinkedIn Learning.
Your best bet? Since most courses provide introductory videos, check those out, along with the full course descriptions and professor bios. This will help you see which course best fills in any gaps in your knowledge. Or take them all to become a savvier social media marketer in just a few weeks! Each one of these courses would tell you how important it is to ask readers to share, not just have those buttons on the page. So, I'm asking you now. If you found this article helpful, would you be so kind as to
share it on Facebook
or
tweet it
? That would mean the world to me! (Want to create your own social share links?
Use this handy tool!
)