GoDaddy is the winner of this matchup, since it gives you more resources for  better prices.
I'll let you in on a secret, though: GoDaddy also has its drawbacks. If I had to choose a hosting service right now,
I wouldn't settle for either FatCow or GoDaddy when I can get better quality at even better prices with Hostinger.
Click here to see Hostinger's latest deals
, or read on to see if one of these hosts could be the solution you're looking for.
1. Plans and Pricing 
Both Hosts Are Affordable, but FatCow Ends Up Costing More
Both companies have discounted offers for long-term shared hosting plans, but
you get better value for your money with GoDaddy.
For example, although GoDaddy's Deluxe shared plan features the same resources at a slightly higher price than the Original FatCow plan, GoDaddy offers better discounts for long-term contracts.
You can save up to 25% with GoDaddy if you're willing to sign up for a three-year plan
.
GoDaddy Hosting Web Hosting
A free domain name is included with some hosting plans from GoDaddy Hosting
A free domain name is included with some hosting plans from FatCow
When looking at WordPress hosting, GoDaddy's WordPress Basic is slightly more expensive than FatCow's WP Starter, but this is a one-time deal for the initial term.
When it comes to renewal fees, GoDaddy charges the same as FatCow, or sometimes even less.
 In addition, GoDaddy offers pre-installed WordPress, daily backups, and daily malware scans, which FatCow doesn't.
For VPS plans, GoDaddy has a sizable advantage over FatCow.
 FatCow's basic VPS plan gives you 1 vCPU and 1GB RAM for the same price as GoDaddy's 2 vCPU, 4GB RAM that also has over 2x FatCow's storage space. Essentially, you get over 2x the resources with GoDaddy for the same price.
A free domain name is included with some hosting plans from FatCow
With FatCow, you can choose a monthly contract, which GoDaddy doesn't offer. The shortest contract available with GoDaddy is three months. If you sign up for a plan and find out it's not for you, you can get a refund within 30 days with FatCow. GoDaddy has a 45-day guarantee, but it only applies to plans of one year or more. For shorter terms, you only have 48 hours to request a refund. While GoDaddy wins this category, it doesn't offer the best prices on the market. Hostinger offers the same features for a better price:
A free domain name is included with some hosting plans from Hostinger
2. Support
FatCow's Support Is Helpful, while GoDaddy Falls Behind
Both web hosts offer 24/7 live chat and phone support, with no ticket or email support. To assess whether GoDaddy or FatCow is better in terms of support, I went through a live chat interaction with both.
Even though FatCow is part of the EIG conglomerate, a company known for poor, outsourced support, the agents were actually more helpful than GoDaddy's.
Given all the hype around GoDaddy's services, I was expecting a better customer experience. What I got was a bit different.
Right from the get-go, the support agent recommended a website builder plan, which was more expensive than the basic shared hosting plan I needed.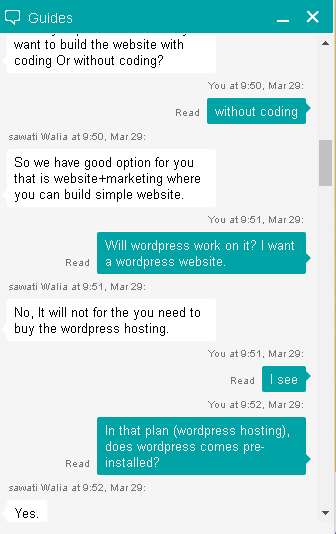 When I asked about site loading speed for visitors that aren't in the geographic proximity of GoDaddy's servers, the agent assured me they'll have good loading speeds, because the "server located in GoDaddy." At this point, t
he agent's poor use of English made it difficult to communicate.
After a follow-up, I managed to find out the actual location of the data centers, most of which are in the US. However, the agent didn't seem to be aware of the fact that their company also has two international choices – a data center in Europe and another in Asia.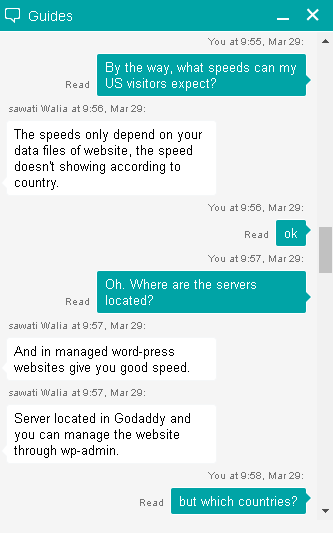 Even though I was obviously trying to find out more information about GoDaddy's hosting options, the agent repeatedly asked if I wanted to make a purchase right away. At this point,
it felt like they were pushing for the sale as opposed to genuinely trying to help me.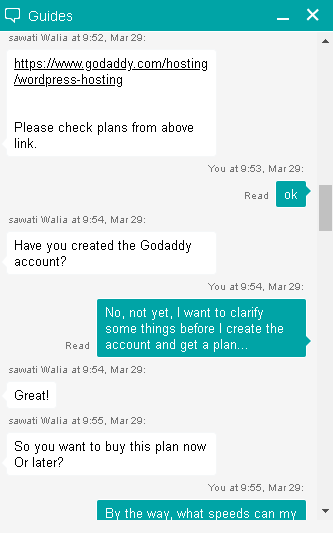 Right off the bat, it was clear to me that FatCow's support agent had a better command of the English language and was able to communicate more effectively.
There were some spelling and grammar mistakes here and there, but they didn't affect our interaction in any significant way.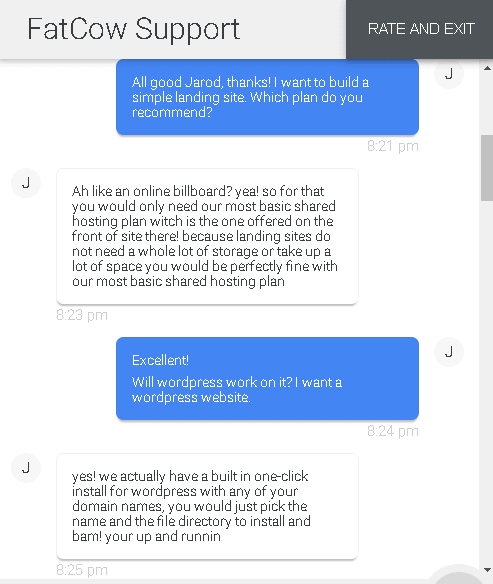 The agent recommended a hosting plan based on my needs. When I asked him about my website's loading speed, he explained how it would depend on several variables, such as the visitor's ISP and whether my content was optimized. It was reassuring to see that
FatCow's agent had a better understanding of how hosting works.
The honest, straightforward responses from FatCow's support agent definitely won me over.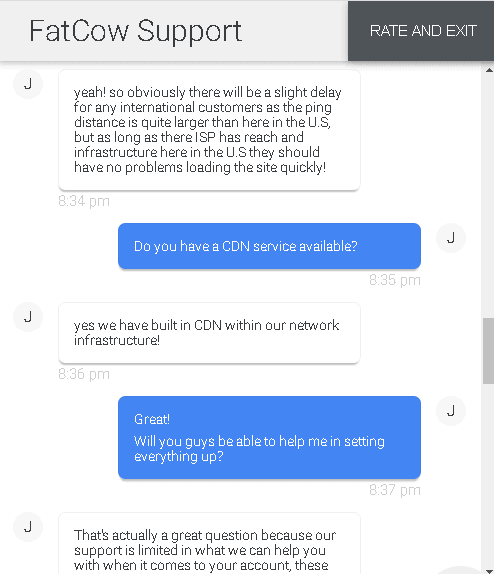 Overall, FatCow's support agent was more informative and helpful than GoDaddy's.
At no point throughout the conversation was I made to feel as if I had to make a purchase right away. For this reason and because communication was difficult with the GoDaddy agent, FatCow is the winner of the support category.
3. Features
FatCow Is Good, but GoDaddy Is Better
GoDaddy has an advantage over FatCow when it comes to features.
 This is less obvious for shared hosting, where the two are evenly matched, but clearly the case with managed WordPress hosting and VPS plans. For shared hosting, GoDaddy's Deluxe competes with the Original FatCow plan. Both offer unlimited storage, bandwidth, and websites. You might think that FatCow's free website builder is a sweet freebie, but this is only a free trial that you can use to design no more than 6 pages, which is rarely enough to actually complete a website. GoDaddy also has a website builder (you can read more about it in our
GoDaddy Website Builder review
), but it is a separate product, not included with the hosting plans. It does come with its own hosting, and you can take advantage of the
30-day free trial
 to test it before making a commitment.
One of the more frustrating aspects of FatCow's shared hosting is the vDeck control panel.
 Unlike GoDaddy's straightforward cPanel solution, FatCow uses its dashboard to push paid-for upgrades.
All of GoDaddy's WordPress hosting plans include automatic daily malware scans, automatic daily backups, and automatic software and security updates.
 On higher-tier plans, you get a staging environment to test new features before launching them. None of these tools are available on either of the FatCow WP plans. Here's a comparison table showing the core features you get with FatCow and GoDaddy.
| | | |
| --- | --- | --- |
| Feature | FatCow | GoDaddy |
| Hosting Type | Shared, VPS, WordPress, Dedicated Servers | Shared, VPS, Managed WordPress, Reseller, Cloud, Dedicated Servers |
| Free Domain | ✔ | ✔ |
| Free SSL Certificate | ✔ | ✔ (on higher-tier plans) |
| Disk Space | Unlimited | 100 GB to unlimited |
| Bandwidth | Unmetered | Unmetered |
| Automatic Backups | Paid | Yes, on WordPress plans, but only available as paid add-on for shared hosting |
| Control Panel | Customized vDeck | cPanel |
| Email Accounts | Unlimited | Up to 400 email accounts, free for the 1st year |
| Free CDN | ✔ | ✔ |
| Free Site Migration | ✘ | ✔ (through 1-click migration feature) |
| Money-Back Guarantee | 30 days | 30 days for yearly plans, 48 hours for monthly plan |
4. Performance
FatCow Is Slower than GoDaddy
Although neither GoDaddy nor FatCow are exceptional in terms of performance,
GoDaddy is the clear winner in this matchup.
 It offers SSD storage on more plans than FatCow, it has an uptime guarantee backed by an SLA (Service Level Agreement), and it has more data center locations. Neither GoDaddy nor FatCow offer SSD storage for shared hosting, but all of GoDaddy's VPS and WordPress hosting plans include it. With FatCow, SSD is only available for the WP Essential subscription. FatCow offers SAN with its VPS plans. SAN (or a Storage Area Network) is a way to configure your hard drives so they work together faster and improve the performance of your servers. SAN arrays can be based on HDD or SSDs.
While GoDaddy has an impressive fleet of servers located across the United States, Europe, and Asia, FatCow only operates two data centers out of Boston.
 However, both services have integrated CDNs, which means that regardless of where your visitors come from, they'll have decent loading speeds.
Unlike FatCow, which does not offer an uptime guarantee, GoDaddy has a solid 99.9% guarantee.
 If you experience more than 0.1% downtime, you get up to 5% of your monthly fee reimbursed as credit.
GoDaddy managed a solid score on our performance benchmark. To find out more, you can read our
expert GoDaddy review
.
We've yet to assess FatCow's performance thoroughly, but if you'd like to learn more about what it has to offer, you can read our
in-depth FatCow review
.
5. Security
When It Comes to Protecting Your Website, GoDaddy Gives You (a Bit) More
While FatCow offers a free SSL certificate from Let's Encrypt with its hosting plans,
GoDaddy only includes SSL on its Ultimate plan and up.
 GoDaddy does have a guide on how you can install a certificate from Let's Encrypt on your own, but you have to repeat the process once every 3 months, which can be a pain.
Both hosts offer some form of spam protection.
 However, based on the level of protection, I believe that GoDaddy is the winner of the FatCow vs GoDaddy matchup in terms of security. Most of GoDaddy's plans offer virus and spam protection, as well as a daily malware scan free of charge.
All of GoDaddy's WordPress plans come with automatic daily backups,
which will give you some peace of mind in case your website experiences errors or unforeseen downtime.
On shared hosting, you'll have to pay for automatic backups with either host.
 If you want more protection, such as the Essential Website Security bundle with GoDaddy or the SiteLock one with FatCow, you have to pay extra. GoDaddy's technicians will promptly restore servers in the event of downtime, ensuring your reliability. In contrast, FatCow hosting doesn't offer assurances in its SLA, leaving uncertainty about potential wait times for issue resolution.
GoDaddy Won't Win Any Championships, but It Does Beat FatCow
GoDaddy is slightly better than FatCow in terms of pricing, performance, and features.
On VPS plans, GoDaddy's advantage is more significant, since it includes double the resources you get with FatCow for the same price. FatCow might have been a decent competitor in its early days as a small business, but the service has changed a lot since the EIG acquisition. That said, GoDaddy isn't that amazing either. When you compare it with some of the best value web hosts, like
Hostinger
, it becomes obvious that GoDaddy isn't your best choice. If you're still not sure which host is right for you, don't miss our list of 
the best web hosting services
.
Plans and Pricing
Cheaper than GoDaddy only on initial terms, average value on WordPress and VPS
Cheaper than FatCow on renewals and long-term contracts, great value on WordPress and VPS
Key Features
Unlimited bandwidth, unlimited storage, unlimited emails, vDeck
Unlimited bandwidth, unlimited storage, unlimited emails, cPanel
Performance
SSD storage only on one WordPress plan, no SLA, just two US-based servers
SSD storage on all WordPress and VPS plans, 99.9% uptime guarantee, seven US-based servers, two international ones
Security
Free SSL certificates, paid-for backups, additional security add-ons can be purchased
Paid-for SSL certificates, automatic daily backups and malware removal tools on higher plans, security add-ons available
Support
24/7 support via live chat and phone, limited knowledge base
24/7 support via live chat and phone, good knowledge base and community forums
FAQ
Which host is better, FatCow or GoDaddy?
GoDaddy is slightly better than FatCow. Overall, GoDaddy's long-term plans offer more benefits. In addition, GoDaddy's international network of data centers allows you to choose where you host your website to better reach your target audience. On VPS plans, it isn't even a contest. With FatCow, you get fewer resources for higher prices, which makes for a poor value choice. But still, I can't recommend either of these hosts as the best on the market. Be sure to check which companies made it to our list of the best web hosts.
Is GoDaddy good for WordPress hosting?
It's not the best, but it's not bad either. You could do much worse than GoDaddy for your WordPress website, especially given the fact that backups, malware scans, and SSD storage are included on all plans. However, GoDaddy's resources and performance tools for WordPress plans fall behind industry-leading solutions from the likes of InterServer or A2 Hosting. You can see some other good options in our list of the best managed WordPress hosting services.
Does GoDaddy use SSD?
Yes, but not on all plans. GoDaddy offers SSD storage on all of its managed WordPress and VPS plans. You don't get SSD on shared hosting subscriptions, though. Click here to find out which hosts offer the best SSD hosting services.
Does GoDaddy offer a free domain?
Yes, GoDaddy offers a free domain for all its annual plans, so if you're looking to start your first website, this will help cut down costs. Even if you don't need a domain, I suggest you take advantage of the offer and either use it, sell it, or just don't renew it down the line. If you're not sure where to begin, don't miss our ultimate guide to choosing a domain name.