Every millisecond counts
 if you want to make the most of your investment and I searched for the best hosts that all promise to
improve your conversion rates
. That means finding the fastest WordPress host might be the easiest improvement you can make to your site.
But which one is fastest?
 They're all going to say they're quick, but who is actually performing faster in the speed tests? To answer that question, I tested all the major hosting providers on the market. I ran tests on local speed and worldwide speed to give you a full picture of how your site would perform for pretty much any visitor. For each of my tests, I used the same site with HD images and scrolling effects – reviewer sites sometimes use blank WordPress sites to test out speeds, but that doesn't give an accurate picture at all!
In a hurry? These are the fastest WordPress hosts available right now:
Hostinger – Some of the fastest loading times out there without breaking the bank.
A2 Hosting – Improve your site's speed with A2 Optimized for WordPress.
Kinsta – WordPress experts keep your site running smoothly.
What We Look For in the Fastest WordPress Hosts
Not all web hosts are created equal. That's why I was looking for these 5 key factors in my tests:
Fast server technology. Faster servers reduce your loading times. Find fast server technology and your load speed will increase, which in turn will increase your conversion rates.
Content delivery network (CDN). Using a CDN is key to faster loading times worldwide. It works by uploading copies of your site's data to remote server locations, so your site is delivered faster to visitors around the world.
Solid state drive storage. I always look for hosts with SSDs, because they're faster and more power efficient than legacy hard disk drives (HDDs). If you can save and load data faster, your site will load quicker.
Speed-boosting plugins. There are hundreds of WordPress plugins that boost speed, so I love it when I find a host that includes some of them for free. Jetpack is bundled with some of the plans I tested out, but other plugins like WP Rocket can be an excellent bonus.
Price. No one likes to spend more than they have to. That's why even though I was looking for the fastest loading times, I also considered price. Because of that, you'll find some of the faster hosts further down my list.
What's better than fast hosting? Fast hosting that's cheap too. Hostinger offers
LiteSpeed server connections and caching
at the lowest prices you'll find on the market
. During my test, loading times for my sites were as low as 1 second. This is really impressive for shared hosting where, generally, you're slowed down due to sharing your bandwidth with others.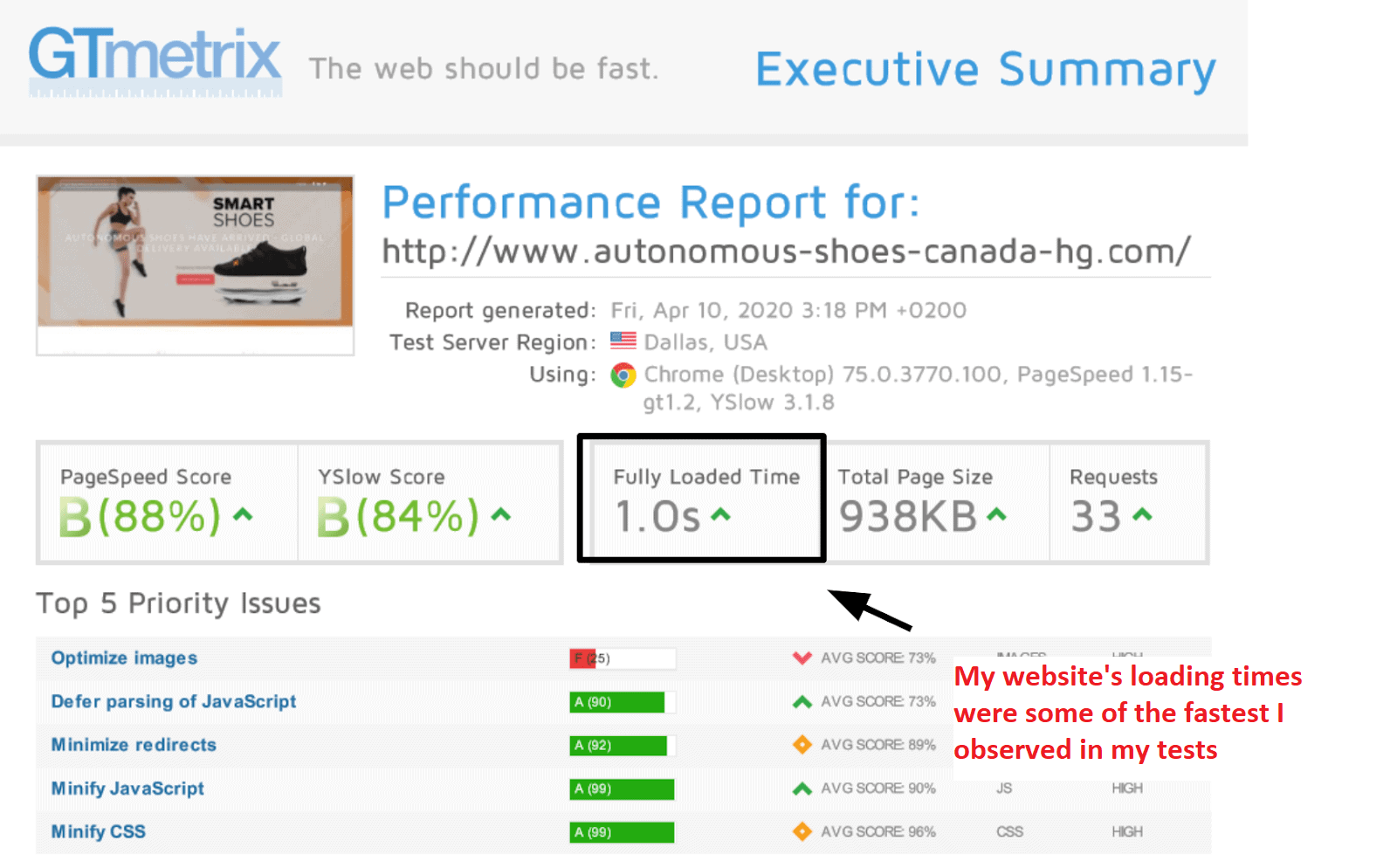 The one thing I didn't love about Hostinger is that
it doesn't offer a CDN with the two cheaper plans
. But Hostinger's knowledge base has useful tutorials to help you link up a third-party CDN easily. This will improve on Hostinger's already impressive speeds.
Hostinger WordPress Hosting
A free domain name is included with some hosting plans from Hostinger
Features:
Reliability. Keeping your site up is a top priority. My testing with Uptime Robot showed that Hostinger has an uptime of 99.997% – that's in line with Hostinger's 99.99% uptime promise and equivalent to just a few minutes over the course of two months.
SSD storage. Starting at 30GB of SSD storage with the Single WordPress hosting plan, you'll get plenty of space to save HD images and other content. If you need even more, Hostinger provides up to 200GB on its premium plan.
LiteSpeed cache plugin. This is an excellent plugin for speed, as your site's data will be compressed and cached for faster loading.
Jetpack subscription (with most WordPress plans). This is another plugin that you get for free with most of Hostinger's plans. As well as a range of other features, Jetpack's Image CDN will offload your HD pictures to different servers.
LiteSpeed servers?
Yes
CDN included?
Yes, with the Business and Pro plans
SSD storage?
Yes, from 30GB
Speed-boost plugins?
Jetpack
Starting price

$

1.99
A2 Hosting offers
four powerful and affordable WordPress plans
. Its turbo-boosted servers on the two higher-tier plans are particularly impressive.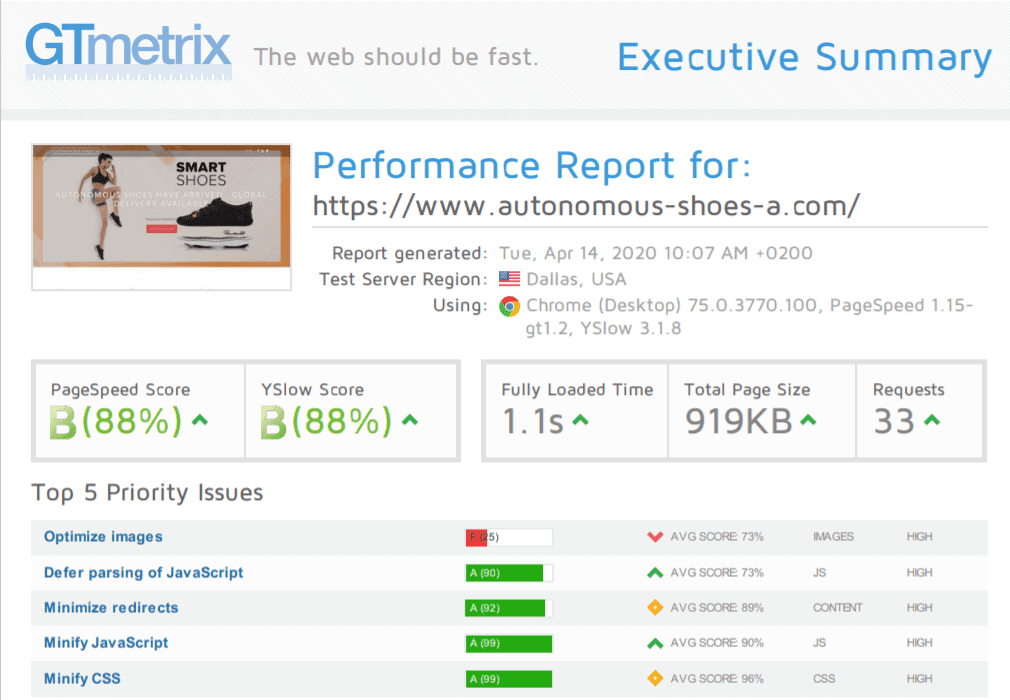 The only problem I had with A2 Hosting was that
the support team was a bit slow to respond
. This can be frustrating, but there is a knowledge base that can help you out while you wait for them to get back to you.
A2 Hosting WordPress Hosting
Features:
A2 Optimized plugin. This is almost like three speed-boosting plugins in one. Designed to cut down on how much code runs when your pages load, caching and image compression is done automatically, letting your visitors access your content faster.
Turbo hosting. For when you really want to increase performance, the Turbo Boost and Turbo Max plans claim to offer a 20x increase in speed. You may not get quite that much of a boost, but considering you're already running on high-speed servers, your site definitely won't load slowly.
Speedy server design. Even if you don't go for the Turbo Boost or Turbo Max plans, you can get great performance with A2 Hosting's Startup plan. Thanks to the SwiftServer technology, I got loading times as fast as 1 second.
Performance Plus. A spike in visitors could slow down your site or even take it offline. To prevent this, A2 Hosting offers the Performance Plus add-on, which will give you extra resources when you need them.
LiteSpeed servers?
Yes
CDN included?
Cloudflare
SSD storage?
Yes, from 100GB
Speed-boost plugins?
A2 Optimized and Performance Plus
Starting price

$

11.99
If shared hosting doesn't offer enough power for your site, you might want to look at Kinsta. It performed exceptionally well in
our review
. Every Kinsta plan gives you access to the best CDNs all over the world using the Google Cloud Platform.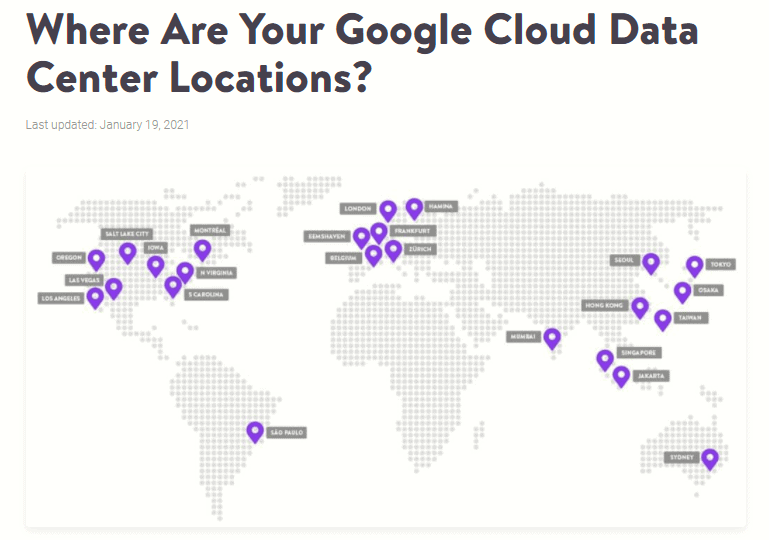 But that technology comes at a price.
Kinsta is the most expensive hosting provider on my list.
 Kinsta would be overkill for a blog, but if you're running an e-commerce platform and need dynamic, responsive pages, this might be the host for you.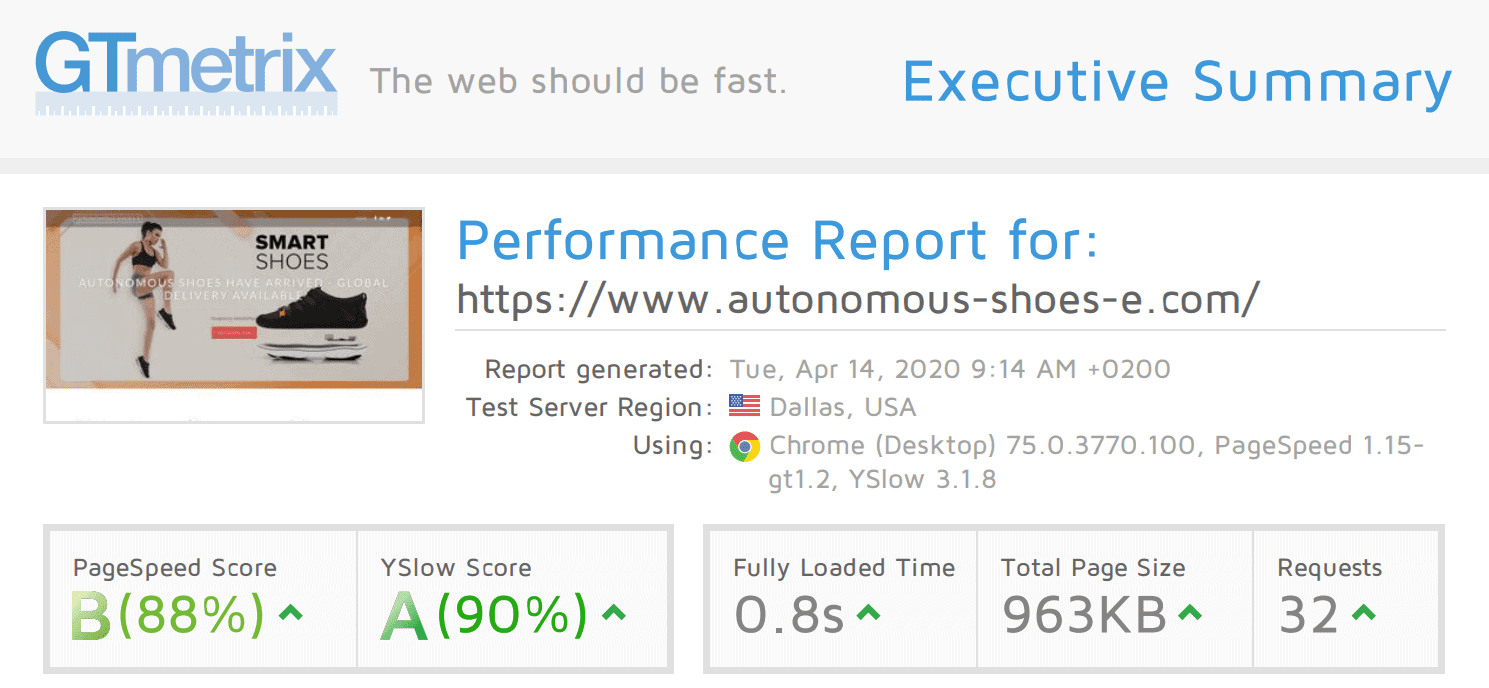 WordPress specialists. While Hostinger and A2 Hosting offer many kinds of hosting, Kinsta only has managed WordPress plans. That means all of their resources and staff are 100% focused on building WordPress sites and supporting those who are running them.
High-speed CDN. Kinsta's CDN runs on Google's state-of-the-art technology, so you know it's going to be fast. When you activate your CDN with Kinsta, you can offload up to 70% of bandwidth demands and cut your page loading times almost in half.
Completely managed service. Keeping a WordPress site up to date can be an annoying administrative task, but Kinsta will perform automatic updates and keep you optimized.
The Application Performance Monitor (APM) tool. Sometimes you know your website isn't performing well, but you don't know why. Kinsta's APM monitors your site's performance and gives you a breakdown of features you can debug.
LiteSpeed servers?
Yes
CDN included?
Kinsta CDN
SSD storage?
Yes, from 10GB
Speed-boost plugins?
Kinsta MU, APM, and more
Starting price

$

35.00
FastComet's plans come with at least 15GB SSD storage as well as a built-in version of Cloudflare CDN. That's already a great deal, especially when you know that FastComet's server system is powerful enough to deliver ultra-fast loading times – which is what we discovered in
our in-depth review
.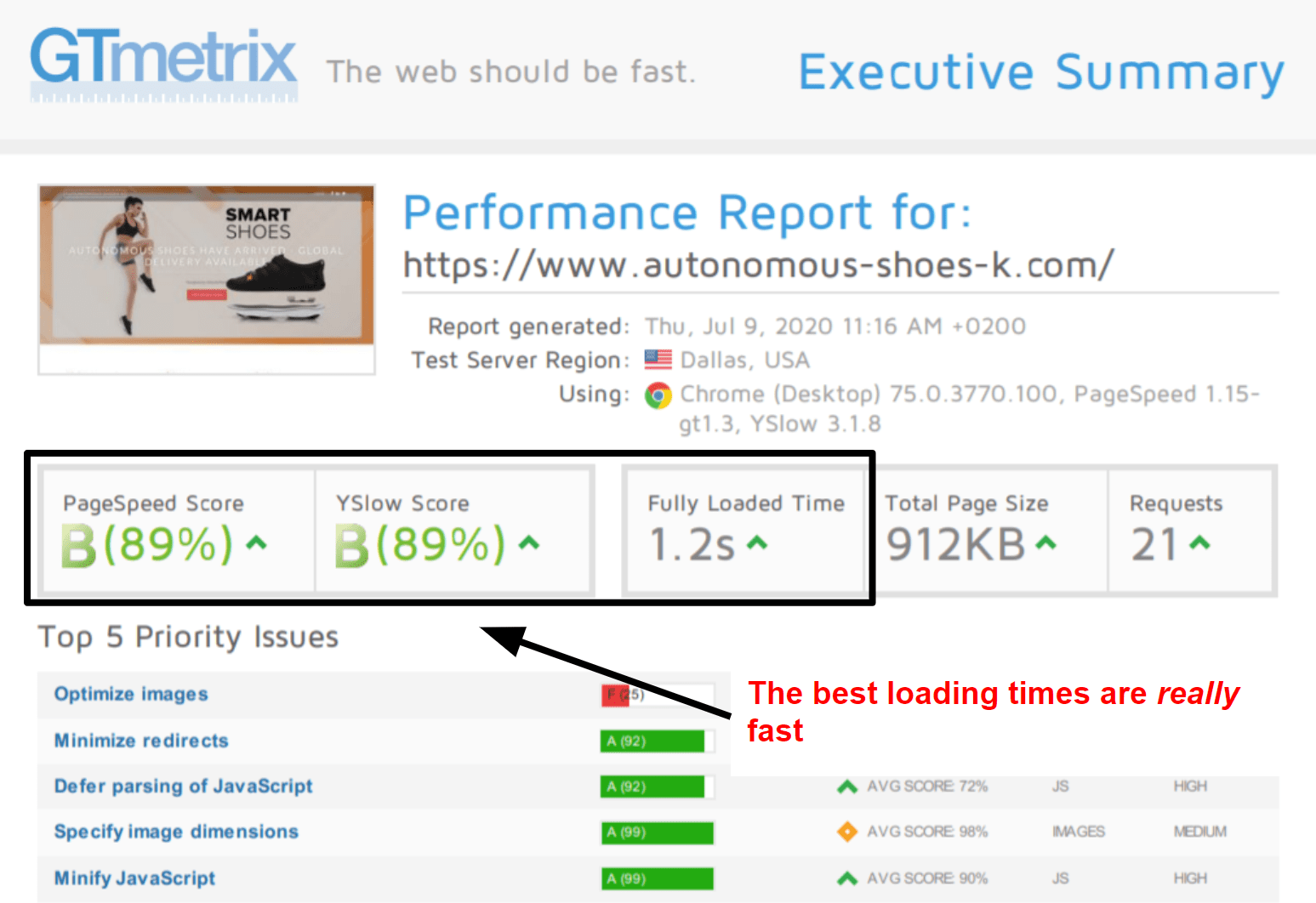 So why isn't FastComet higher on my list? The low starting prices quickly ramp up when you renew. Still, you do get a lot of free features, like access to a CDN, free SSL, and unmetered bandwidth.
Features:
Free Cloudflare CDN. Cloudflare isn't an expensive CDN, but getting anything for free is always nice. You can offload your pictures and other media to make sure that your site loads as quickly as possible without spending anything extra.
Excellent selection of data centers. FastComet has 11 centers all over the world, including Tokyo, Mumbai, Singapore, and Sydney – dead zones for many other hosts – which means that your visitors will get fast loading times no matter where they are.
RocketBooster.The FastCloud Extra plan means more resources, fewer clients per server, and an increase in server speed. That's all thanks to FastComet's RocketBooster feature.
Browser optimization. Sometimes little changes can make big improvements. FastComet includes browser optimization with all its plans, so your visitors see your site the way it's meant to be seen, no matter which browser they're using.
LiteSpeed servers?
No
CDN included?
Cloudflare
SSD storage?
Yes, from 15GB
Speed-boost plugins?
RocketBooster
Starting price

$

2.74
Nexcess' Spark plan
is its most affordable option, and it offers excellent features for boosting your WordPress site's speed.
Along with a free CDN
that's automatically optimized for WordPress
,
automatic image compression is included with all packages.
 That cuts down on page loading time and the amount of storage you need.

Like Kinsta,
Nexcess is a managed service, so it's more expensive
than some of the other hosts on my list.
Nexcess WordPress Hosting
Features:
Managed WordPress service. Updating WordPress and all your plugins is an excellent way to improve performance. That's why I was happy that Nexcess handled it for me (even on the cheapest plan!).
Lazy loading. Although lazy loading is easy enough to get as a plugin, it's great to have it included for free with all Nexcess plans. Lazy loading stops images from loading until they're needed – after everything else is loaded or when the visitor scrolls down to the image.
Useful knowledge base. Not all knowledge bases are created equal, and Nexcess' makes it easy to improve your WordPress site's speed. It's full of helpful guides and plugin suggestions.
Intelligent server design. Thanks to SSDs and RAID array setups (i.e., how the host arranges the SSDs), Nexcess' servers are designed for excellent performance – and it delivers, according to our in-depth review.
LiteSpeed servers?
No, NGINX (another high-speed technology)
CDN included?
Nexcess CDN
SSD storage?
Yes, from 15GB
Speed-boost plugins?
Automatic caching, image compression, and lazy loading plugins
Starting price

$

12.67
More often than not, InMotion Hosting delivers speedy service.
You get at least 50GB of SSD storage, a promise of 4x performance speeds over competitors, and a free CDN.

What holds InMotion Hosting back is that,
although its speeds can be extremely fast, it can be really inconsistent
. While
my tests got some loading times under one second
, other times they were in excess of five. That can really be a problem.
InMotion Hosting WordPress Hosting
Features:
Dedicated WordPress plans. The best way to run WordPress is on dedicated WordPress hosting. With InMotion Hosting's optimized configurations, you'll get the speed boost you need to give your visitors fast loading times.
Pick your own data center. InMotion Hosting offers a number of data centers in the US for you to choose from. If you're expecting traffic from one particular place, choose one close by to improve loading times for your visitors.
Plenty of SSD storage. You get a fantastic 50GB of SSD storage when you sign up for the basic plan. That's more than enough space for most sites, and you can rely on the SSDs to save and load your images quickly.
Fantastic top speeds. My InMotion Hosting tests found that at times my WordPress site loaded in 0.8 seconds. If 2 seconds is the bar for "good," InMotion's speeds are very good indeed. Sadly, that wasn't as consistent as I would have liked.
LiteSpeed servers?
No
CDN included?
Cloudflare
SSD storage?
Yes, from 50GB
Speed-boost plugins?
No
Starting price

$

4.99
I was intrigued by
GoDaddy's Boost CDN, which is included in every plan, and its claim to increase load speed by up to 50%.
 Sure enough, my WordPress site consistently loaded in around 1 second. Can't complain about that.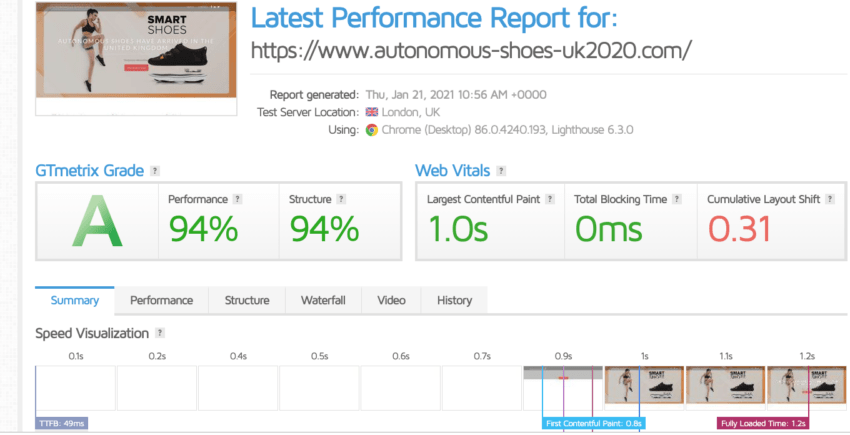 While you can get excellent speeds and a decent set of features with GoDaddy, the host's uptime let me down a bit.
In my tests
, GoDaddy remained up only 99.91% of the time.
 Maybe that doesn't sound too bad, but most providers guarantee at least 99.95% uptime.
GoDaddy Hosting WordPress Hosting
A free domain name is included with some hosting plans from GoDaddy Hosting
Features:
Speed-boost servers. GoDaddy's WordPress plans are on load balanced LiteSpeed servers. This tech keeps your site running optimally even when GoDaddy's servers get a spike in user activity.
Automatic updates for WordPress. In order to keep your version of WordPress up to date and running as smoothly as possible, GoDaddy's team will automatically update your installation.
SSD storage. GoDaddy's WordPress hosting comes with SSD storage, which is fantastic if you have a lot of HD images and other media on your site.
Automatic malware scans. You know what really slows down a site? Malware and hackers. But GoDaddy will automatically scan for security issues and concerns and keep your site online and free from hacked code.
LiteSpeed servers?
Yes (with WordPress plans)
CDN included?
Boost CDN
SSD storage?
Yes, from 30GB
Speed-boost plugins?
No
Starting price

$

8.99
When hosts provide great services for low prices, I'm already smiling.
InterServer's starting price is the lowest available, and while the renewal fee is much higher, you can pay on a still reasonable month-to-month basis if you want.
That makes getting access to LiteSpeed servers and the Cloudflare CDN with
all packages
 even sweeter.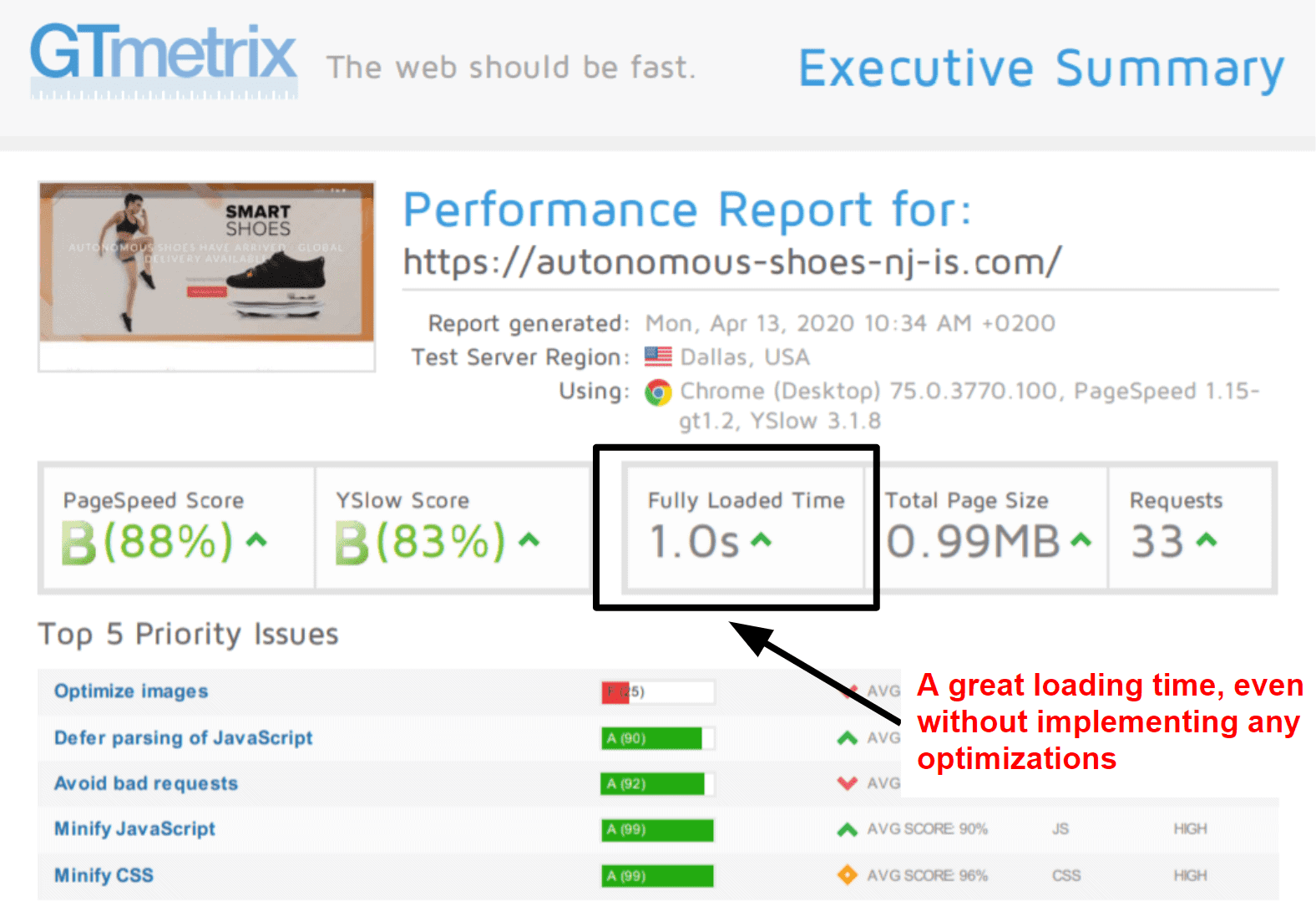 But if you can't promise those fast speeds to all your potential visitors, can you really claim to have a fast-loading WordPress site? If your visitors aren't close to the data center where your site is being hosting (all of InterServer's data centers are in the USA), performance might suffer. However, access to Cloudflare CDN is included, which can mitigate this problem a little.
Features:
Unlimited resources. When you have plenty of resources powering your hosting, you can use plenty of your storage to save and load the images you need. InterServer's WordPress plan comes with unlimited storage space, so you won't have laggy loading times.
LiteSpeed caching. As I've mentioned, this is some of the best server technology on the market. Because you can cache your websites to these top-of-the-range servers, you know that visitors close to those centers are going to have excellent loading times.
Cloudflare CDN. Having any CDN included in a hosting plan is a real boost, so the inclusion of the Cloudflare CDN with InterServer's WordPress plan is an excellent addition.
Excellent speeds for American visitors. Because the host's servers are all in America, InterServer gets you lightning-fast loading times for US visitors, according to our tests. But if you plan to target Australia, you might want to look elsewhere.
LiteSpeed servers?
No, but you can upgrade
CDN included?
Cloudflare
SSD storage?
Unlimited
Speed-boost plugins?
No
Starting price

$

2.50
Which Is the Fastest WordPress Host for You?
Finding the fastest WordPress host for you isn't as simple as pointing to the one that was the fastest for
me
. That's why understanding what each provider can offer you is so important. If you're still not sure, here are my recommendations: If you want speed without breaking the bank, I'd choose
Hostinger
. It'll give you everything you need if you simply want to post your blog and load a few HD images. For the best plugins, I would go with
A2 Hosting
. Thanks to the A2 Optimized plugin, you can get a real speed boost included in every package. And if you want someone to take care of the boring maintenance for you, sign up with
Kinsta
. As well as state-of-the-art technology, Kinsta's managed hosting plans mean that you won't have to deal with difficult processes like database optimization or malware removal.
LiteSpeed Servers
Caching Tools
SSD Storage
Starting Price
Hostinger

✔

✔

30GB

$

1.99

A2 Hosting
 

✔

✔

100GB

$

11.99

Kinsta
 

✔

✔

10GB

$

35.00

FastComet

✘

✔

15GB

$

2.74

Nexcess

✘

✔

15GB

$

12.67

InMotion Hosting

✘

✔

50GB

$

4.99

GoDaddy
 

✔

✔

30GB

$

8.99

InterServer

✘

✔

Unlimited

$

6.00
FAQ
Why is it better to have hosting optimized for WordPress?
When your hosting is optimized for WordPress, you get tools, plugins, and support to specifically improve your WordPress experience. This means that even before you've uploaded one blog post, the settings are there to make WordPress run as fast as possible. Instead of relying on a generalist hosting provider, you know that you'll get expert support from a team that really knows how WordPress works. This makes life easier, especially when it comes to optimizing your loading times. For a host with exceptional optimization for WordPress, I recommend you check out A2 Hosting.
Does hosting affect the speed of your website?
Yes, in lots of ways. You rely on your host to give you speedy connections and allow your visitors to load your pages as quickly as possible. This means you want to find fast servers, speed-boosting plans, and content delivery networks to get the fastest loading speeds possible. Find out how we test web hosts to find the fastest ones.
Why don't you recommend free web hosting?
Outside of letting you experiment with new ideas, free hosting is never really worth it. Free web hosting providers don't offer: 1. The same quality of code powering your site – this could lead to slow-loading pages or increased risk of hacking 2. A full domain – subdomains don't look professional for blogs or e-commerce sites 3. A chance of ranking on Google – Google hates free web hosting, so even the best SEO won't help you If you still want to give free (or almost free) hosting a try, we do have some recommendations. Or, you can check out our list of best web hosting providers for 2023 instead and get started properly.
Which is the cheapest hosting service?
I found that Hostinger is the cheapest WordPress hosting provider, especially when you sign up for the 4-year plan. You can pay as little as

$

1.99

per month, which is very wallet-friendly compared to some hosting providers that offer similar speeds. But finding the best deals for hosting can be a lot easier with coupons and offers. Take a look at the great deals on our coupon page to find bargains for what you need.