Jump down to find out how you can hire a pro graphic designer for a low price.
Feeling creative and want to make your own logo instead? Draw inspiration from some of my favorite drone logos from around the web, then scroll down to find out which free DIY tool I recommend.
9 Best Drone Logos
How to Hire a Great Designer for a Great Price
You might find it easy operating a drone, but designing one in a logo format requires some serious creative thinking. Luckily, you can hire a professional designer on Fiverr to come up with an original drone logo for you, some for as little as $5. As a leading platform for freelancers, Fiverr is home to tens of thousands of professionals from around the globe, all offering their services for very reasonable prices. Not only is hiring a pro cost-effective, but it'll save you the time and effort of trying to make your own, too.
In our quest to find a new logo for Website Planet, we tested several popular design services, including Fiverr. Check out
our in-depth logo design platforms comparison
to see logo examples and find out how each service performed.
Browsing the Fiverr Website
The Fiverr website is easy to navigate, so it's quick to find the ideal designer for your project.
Go to the Fiverr homepage
 and hover over
Graphics & Design
, then click on
Logo Design
under
Logo & Brand Identity
.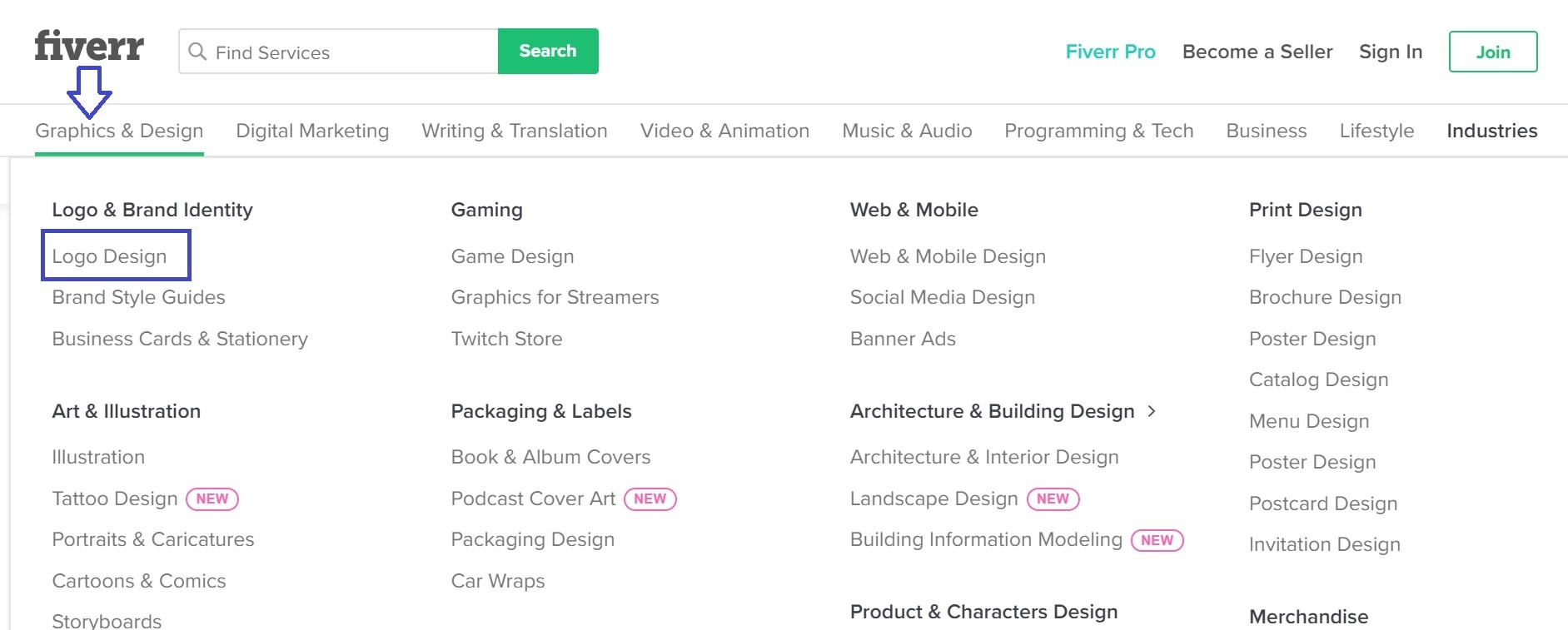 Start searching for a designer by typing a keyword (e.g., drone logo) in the search box at the top of the page, then use the search filters to refine your results. You can specify the type of logo you want, preferred delivery time, budget range, and seller details.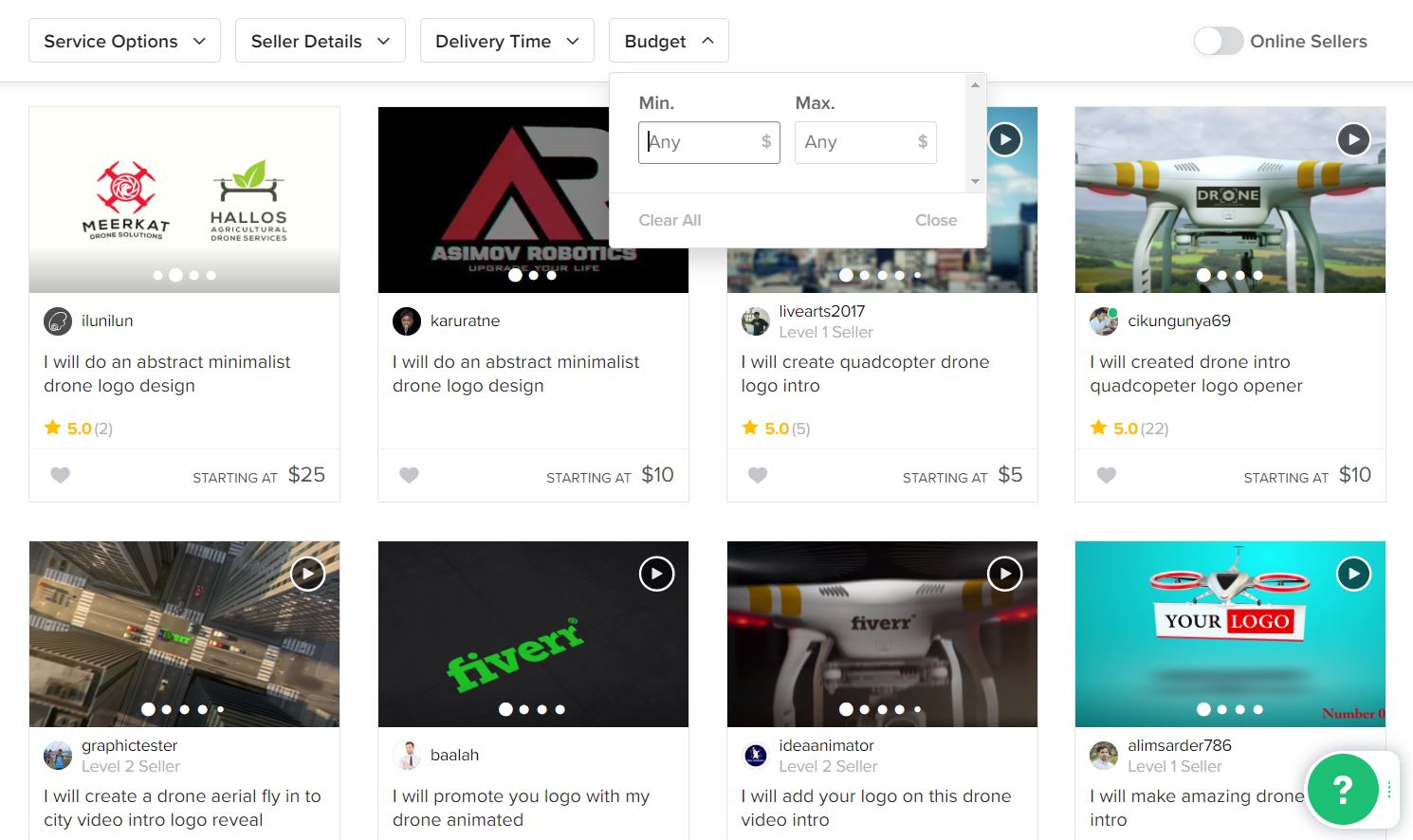 View each designer's portfolio and package details by clicking on their profile. You can also check other users' feedback to get a better idea about their work before committing to a gig.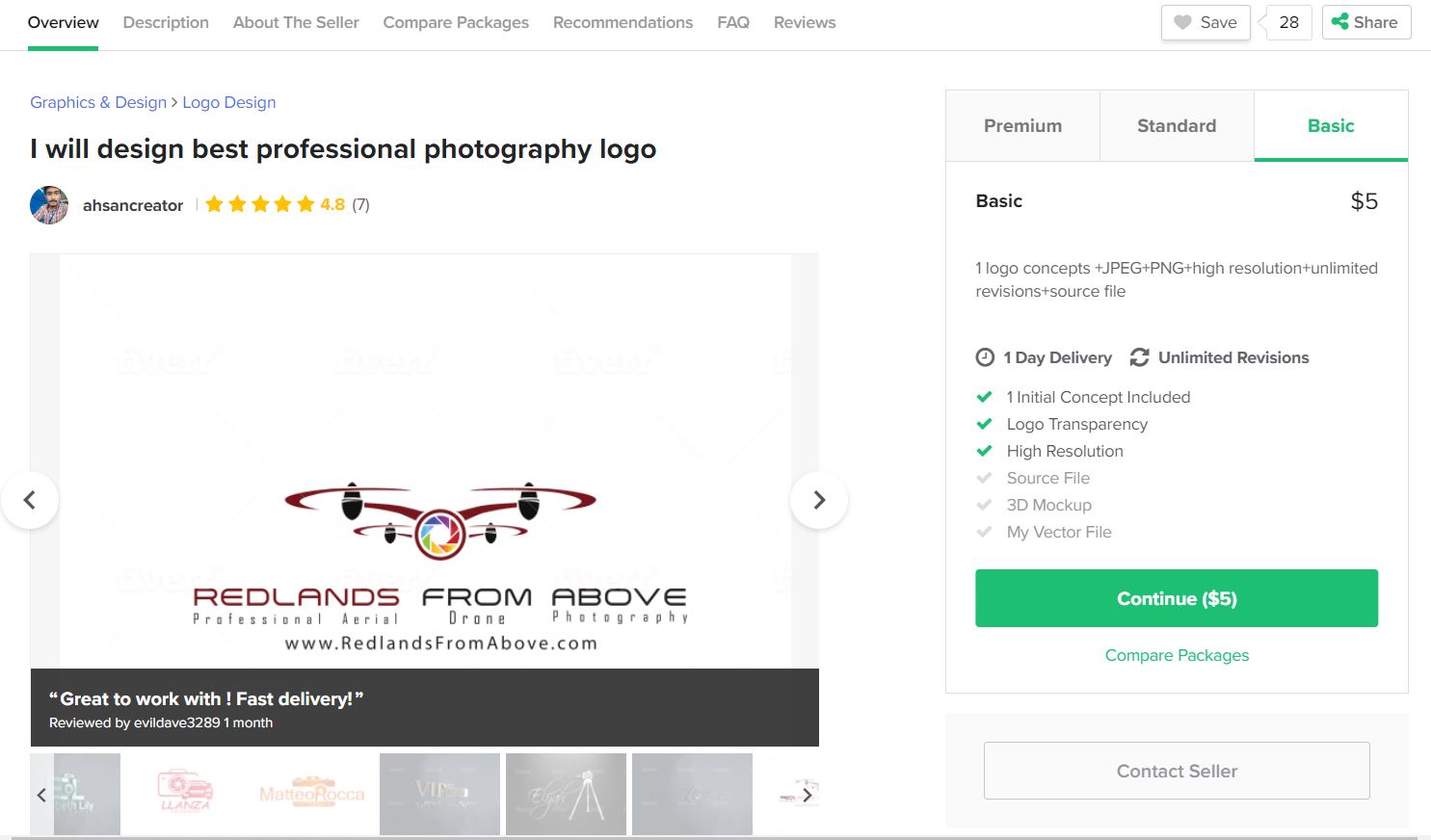 Interested in Fiverr? Read more expert tips on hiring the right designer in our
full Fiverr review
.
More Fiverr Features
Secure Payments – Although you pay upfront for a gig, Fiverr holds your money safely in escrow until your project is completed and you're completely satisfied with it.
No hidden charges – You pay the price you see. No more, no less.
Hand-vetted designers – Sign up for Fiverr Pro to hire the most experienced designers certified by Fiverr to deliver an exceptional customer experience.
Speak to designers directly – Use the free mobile app or the website messenger to chat with a designer directly, even before paying for a gig.
Business support – Fiverr's advanced business tools make it easy for small and medium-sized businesses to manage their orders, billing, and teams.
How to Make Your Own Drone Logo
Do you want to create your own drone logo? Then you'll need a logo maker that's easy to use, even for beginners, and will give you the tools to make your design as unique as possible. While there are a lot of DIY logo makers making these claims, I found that Wix Logo Maker delivers on all fronts. One of Wix Logo Maker's main benefits is its intuitive artificial intelligence (AI) that learns about your brand and tastes before suggesting logos for you.
Creating a Logo with Wix Logo Maker
Here's how easy the process is:
Go to the Wix Logo Maker homepage
 and click on
Start Now
to create a free account.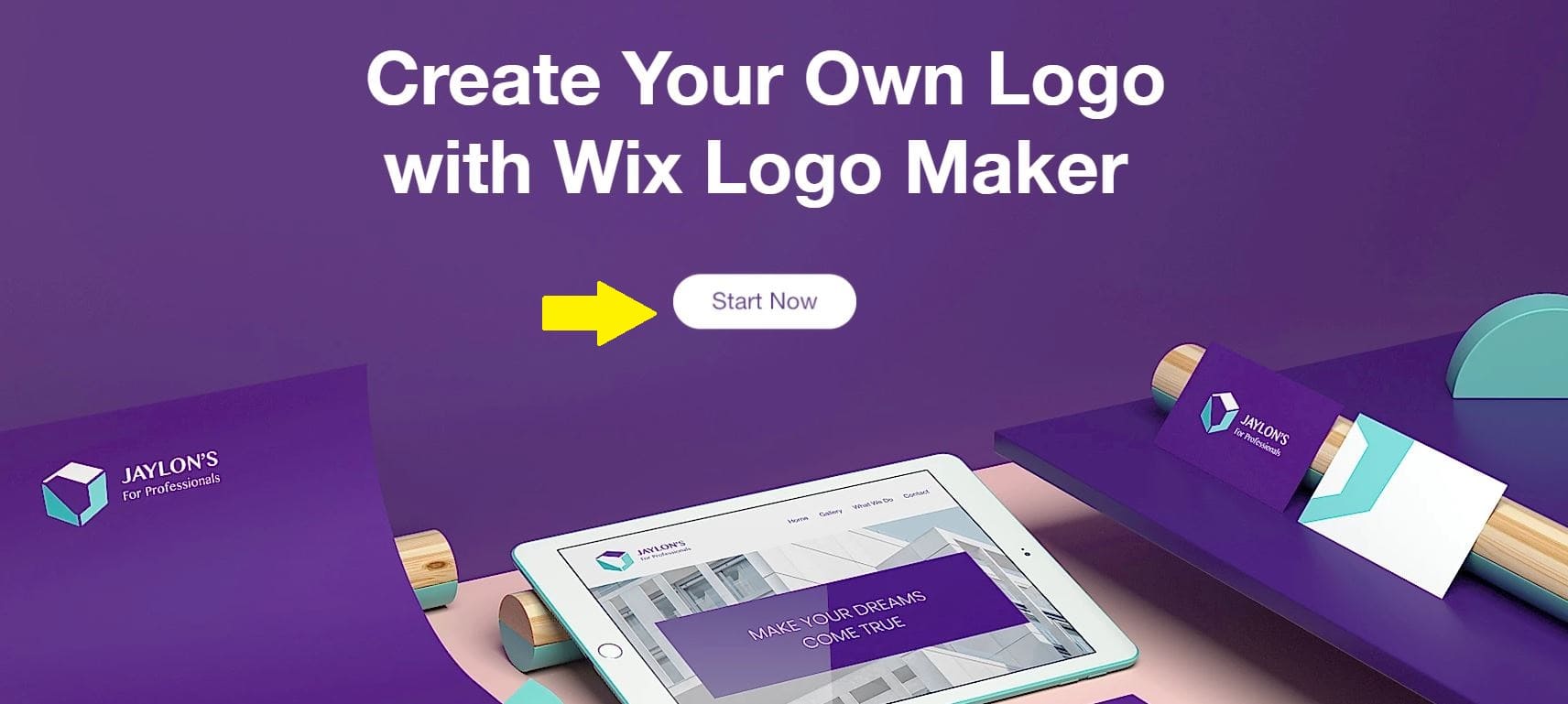 Next, the AI wizard will ask you simple questions to get a better understanding of what you're looking for. It then generates a list of logo templates it thinks match your style preferences. Improve your results by clicking
Replace Icon
, then type a keyword in the search bar (e.g., drone). Choose your favorite image to apply it to all of the eligible results.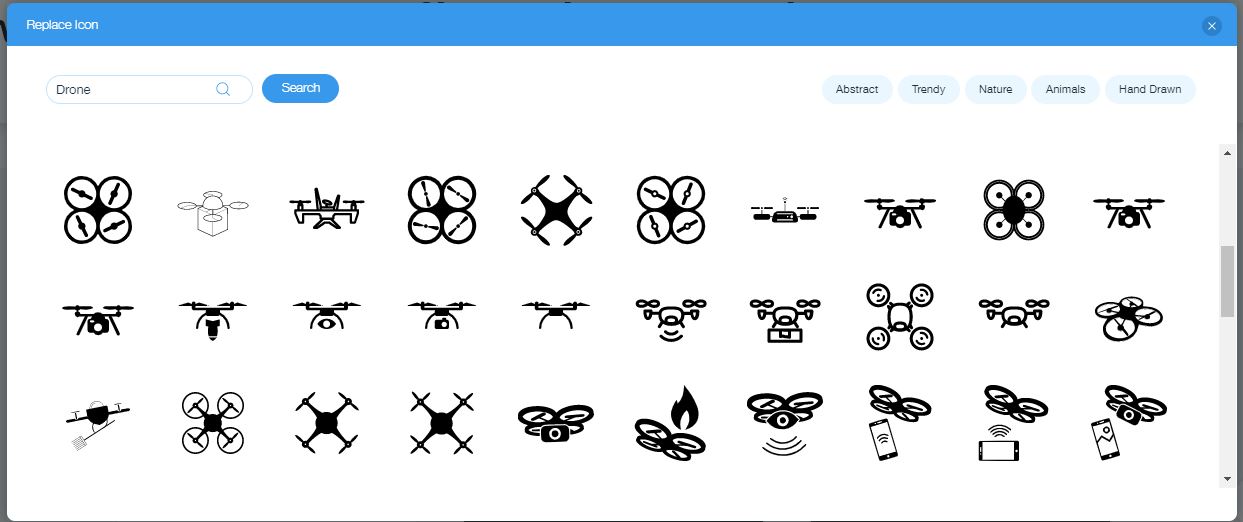 It's time to infuse your drone logo with a touch of originality. You have the opportunity to personalize every aspect of the template—ranging from the color scheme and icon to the font.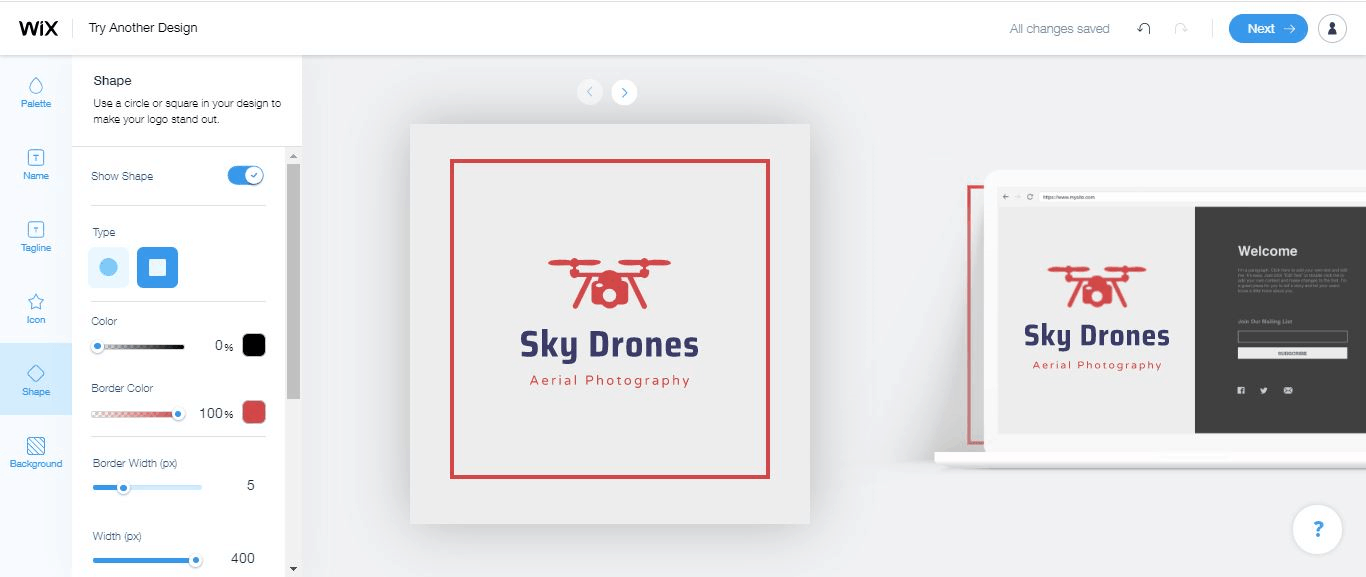 Happy with your design? Click
Next
to go to the payment page where you can choose to download it in usable, high-res formats, or get a small, free sample image. Want to learn more? Read our
full Wix Logo Maker review
 for more example logos.
Wix Logo Maker Alternatives
Looka allows you to select a maximum of five icons you like before your logo templates are generated. You can also edit your final logo an unlimited amount of times for up to 72 hours, even after paying for it. See some example logos in our in-depth Looka review.
With LogoMaker, you can have your new logo printed on anything including business cards, t-shirts, pens, mugs, notebooks, and more. Learn more about its features in our expert LogoMaker review.
Take Your Business Higher with an Original Drone Logo
A drone business uses cutting edge technology, and your logo should be just as innovative. Hiring a designer on
Fiverr
 is the smartest way to get ahead of your competitors without blowing your budget, especially when services start from $5. If you choose to DIY,
Wix Logo Maker
 is the best option. I recommend taking a look at other drone logo designs before getting started, so you know what it takes to stand out from the crowd. Having second thoughts about using a drone image? Check out our round up of the
best tech logos
for more inspiration. Discover more ways to create a logo with our full list of the
best logo design services
.