DreamHost may be a small company, but this doesn't mean that it can't give a large corporation, like HostGator, a run for its money.
But is either of these hosts really good?
I've researched and tested the two hosts based on five major aspects. DreamHost vs HostGator is a tight battle in many respects, including ease of use and features. I found HostGator to be a bit more reliable in terms of performance and uptime
.
However, if I had to choose, I wouldn't go with either of these hosts.
I'd go with Hostinger, which offers even better performance at an excellent price.
Click here to see Hostinger's best plans
, or read on to see if DreamHost or HostGator might be right for you.
1. Plans and Pricing
HostGator's and DreamHost's Low Prices Have Strings Attached
HostGator and DreamHost offer similar prices.
However, the
cheap prices both hosts advertise require a three-year commitment that has to be paid up front.
If you want a monthly subscription, the costs skyrocket and you can expect to pay up to three, sometimes four times the advertised amount.
A free domain name is included with some hosting plans from DreamHost
HostGator and DreamHost's pricing plans are based on a fair amount of upselling.
If you're not careful, you can end up paying for several add-ons you didn't even know about during checkout.
DreamHost automatically adds DreamShield Protection to your cart, while HostGator pushes Sitelock Essentials and CodeGuard backups. Although seemingly affordable, such add-ons can easily double your shared hosting costs if you forget to remove them. Still,
HostGator offers better value than DreamHost, because it gives you more for less.
 For instance,
HostGator's managed WordPress Business Plan includes unlimited storage, three sites, and an SSL certificate, while DreamHost's equivalent plan, DreamPress, only offers one site, an SSL certificate, and 30 GB of space for nearly double the price. The same is true of VPS. DreamHost's VPS Business plan is roughly the same price as HostGator's Snappy 2000. However, HostGator gives you double the storage space, not to mention two separate IP addresses and a VPS firewall. It's worth noting that on shared hosting plans,
DreamHost offers a 97-day money-back guarantee
, while HostGator's money-back guarantee is just 45 days. Although both should be long enough for you to tell whether the service fits your needs, I'd feel more comfortable knowing that I have three months to decide.
For a more straightforward, affordable web hosting service than either of these two, you'd be better off with Hostinger. You can read more in our in-depth Hostinger review.
A free domain name is included with some hosting plans from Hostinger
2. Support
HostGator Is Reliable, but DreamHost Offers Better Support
Both hosts offer 24/7 live chat support.
HostGator also provides phone support, while DreamHost has email support and Dreambot, customer support through AI (artificial intelligence).
DreamHost also has a callback feature for an additional fee. Ever since HostGator became part of the EIG conglomerate, its support has been outsourced overseas. Although this isn't necessarily bad, many technical inquiries seem to be beyond the knowledge of general support agents. I took the time to carefully test the support from both web hosts, and this is what happened.
Although helpful, the HostGator agent offered me less information than I would have liked. 
When I asked about an easy way to set up a landing page, they immediately pointed me to the website builder plans, which are more expensive.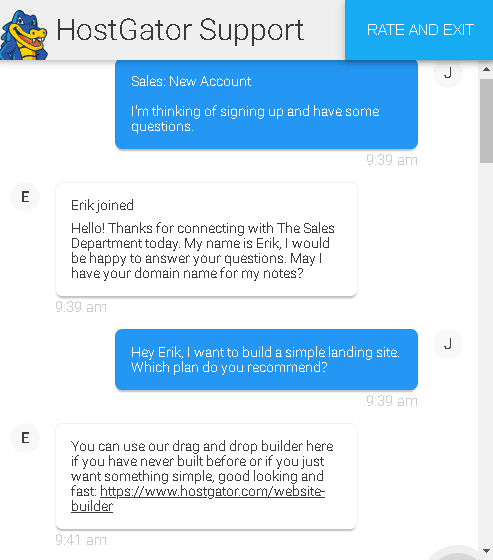 When I asked about connecting my domain to HostGator, I got a short, general answer. If you already have some experience in website hosting, this won't be a problem, but beginners will definitely need more guidance than this.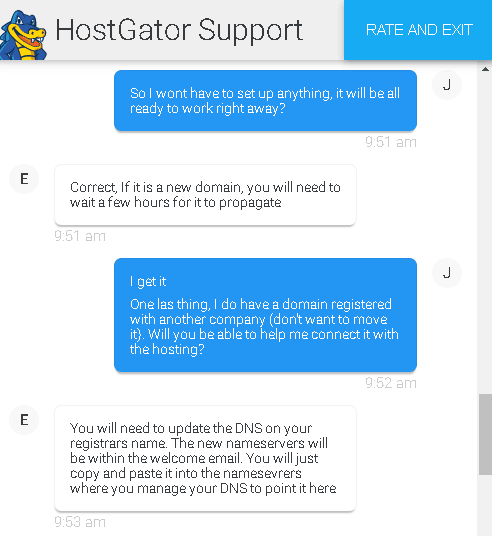 On the other hand,
my interactions with DreamHost's US-based team were more straightforward, not to mention friendly and professional.
 To test out DreamHost's support, I used the same questions as with HostGator. The difference was noticeable.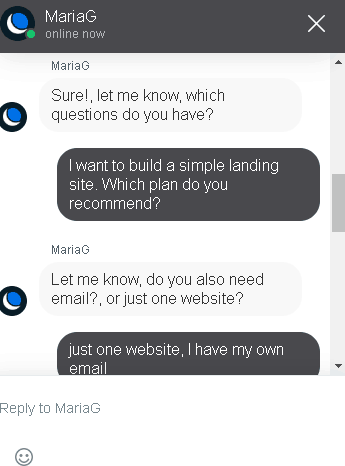 DreamHost's support agent asked about my needs and recommended a plan based on my feedback.
For every inquiry, they had a thorough answer and offered relevant links to step-by-step tutorials.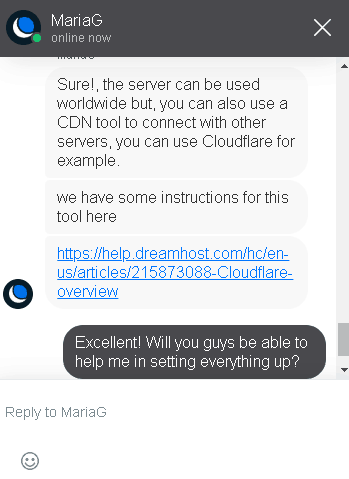 Both HostGator and DreamHost have good knowledge bases with lots of informative articles and guided tutorials.
 However, if you also want the assurance of an expert helping you every step of the way, you're more likely to get the assistance you need from DreamHost.
3. Features
HostGator Has a Slight Feature Advantage Over DreamHost
For several dollars a month, you can get either host's most affordable shared plan, and the resources you need to support a small website.
When it comes to features, though, the DreamHost vs HostGator competition leans in favor of HostGator.
Although both DreamHost and HostGator offer a good deal of basic features on shared plans, including a free SSL certificate, unmetered bandwidth, and a free domain name for one year
(if you sign up for a minimum of 12 months), they also have their differences. For instance, while HostGator's Hatchling Shared plan has unlimited storage, DreamHost's Shared Starter plan gives you only 50 GB. This might be more than enough for a simple website or a landing page, but will quickly become restrictive if you run a larger website. In terms of control panel, HostGator has cPanel included, while DreamHost uses a proprietary solution that is less cluttered and easier to use.
One good thing about DreamHost is that you get free automatic daily backups, while HostGator only provides weekly automatic backups.
You can also create manual snapshots of your HostGator site at any time.
If you're migrating from a different provider, HostGator offers one free website and DNS transfer, but DreamHost does not.
DreamHost charges you a flat fee for each mailbox on the Starter plan, while HostGator gives you free access to unlimited email accounts. If you need several addresses, the costs can easily skyrocket with DreamHost.
| | | |
| --- | --- | --- |
| Feature | DreamHost | HostGator |
| Hosting Type | Shared, VPS, WordPress, Cloud, and Dedicated | Shared, VPS, WordPress, Cloud, and Dedicated |
| Free Domain | ✔ | ✔ |
| Free SSL Certificate | ✔ | ✔ |
| Disk Space | 50 GB to Unlimited | Unlimited |
| Bandwidth | Unmetered | Unmetered |
| Automatic Backups | ✔ | Free weekly backups, daily backups available for purchase |
| Control Panel | Proprietary control panel | cPanel |
| Email Accounts | Unlimited on higher plans | Unlimited |
| Free CDN | ✘ | ✘ |
| Free Site Migration | ✘ | ✔ |
| Money-Back Guarantee | 97 Days | 45 Days |
4. Performance
HostGator Wins the Performance Race by a Landslide
HostGator and DreamHost each have two data centers located in the US.
 Neither service includes a content delivery network (CDN) as part of their offer, so if you know you have visitors from Europe, Asia, or Australia, you might want to get a CDN to make sure your site visitors get quick loading times. Both HostGator and DreamHost offer standard SSD storage on their shared plans. The difference in speed between HDD and SSD is noteworthy – SSDs are known to be up to 30x faster. However, despite the fact that DreamHost has a 100% uptime guarantee backed by a SLA (service level agreement),
many users have reported downtime and internal server errors that rendered their website inaccessible.
 Customers also complain that the tech support isn't always quick to restore full server functionality.
On the other hand, HostGator offers a 99.99% uptime guarantee,
and my tests indicate that it does a fairly good job maintaining it.
 In addition, HostGator will give you a full month's worth of credits in case of excessive downtime, while DreamHost will only give you up to 10% of your next renewal fee.
HostGator managed a near-perfect score in our performance appraisal. Learn more about its impressive test results in our
expert HostGator review
. DreamHost, on the other hand, didn't do so well. If you want to read more about its inconsistencies, feel free to read our
in-depth DreamHost review
.
It's worth mentioning that neither HostGator nor DreamHost offers the best performance. If you're looking for an affordable service that gives you more in terms of speed and reliability, SiteGround includes SuperCacher, a powerful caching system that accelerates website speed, in its WordPress optimized plans.
Click here to see SiteGround's best deals
, or read our
expert SiteGround review
 for more information.
5. Security
Both HostGator and DreamHost Have Decent Security Features
In terms of security, DreamHost vs HostGator is a draw. Both hosts offer a free SSL certificate from Let's Encrypt, which can help your site rank higher on Google.
Unlike HostGator, DreamHost includes domain privacy (or Whois) for free.
This means DreamHost will mask your personal information with their own proxy server, to deter hackers from accessing your data. On the other hand,
HostGator offers free spam protection from SpamAssassin.
 While you might be able to install this yourself with a DreamHost VPS plan, shared plans don't usually give you the administrative privileges required for the installation.
In terms of advanced protection, DreamHost gives you the option to purchase DreamShield, while HostGator allows you to buy SiteLock Essentials.
Both services fulfill similar functions – scanning your website for malware, monitoring your website's reputation, and more. All for a fee, of course.
HostGator Leads, but DreamHost Is a Close Second
Both
DreamHost
 and
HostGator
 offer competitive pricing and, as you've seen throughout my comparison of the two services, they both offer a good range of tools.
However, HostGator's superior performance and better features make it the winner of this comparison.
But neither HostGator nor DreamHost is one of our top 10 hosts. To see hosts that performed better, you can check out our list of
the best web hosting services
, or save your time and
check Hostinger's best deals
 right now.
Aside from lower prices, Hostinger offers professional support that can address any issues you have, regardless of how technical they might be.
In case you're still comparing DreamHost and HostGator, the table below details the most important features of both services:
Plans and Pricing
Affordable prices available for long-term contracts, renewal and monthly prices are much higher
Similar prices to DreamHost, but you get more value due to superior performance and features
Key Features
Unlimited bandwidth, 50 GB to unlimited storage, unlimited emails available on higher plans, proprietary control panel
Unlimited bandwidth, storage, and emails on all plans, cPanel
Performance
SSD storage, 100% uptime guarantee, US-based servers
SSD storage, 99.99% uptime guarantee, US-based servers
Security
Free SSL certificates, free Domain Privacy, free automatic daily backups, security bundle available for purchase
Free SSL certificates, free spam filter, free weekly backups, advanced security add-ons available, including domain privacy
Support
24/7 support via live chat and email, comprehensive knowledge base
24/7 support via live chat and phone, comprehensive knowledge base
FAQ
1. Is HostGator better than DreamHost?
Overall, HostGator is better than DreamHost. The additional features and performance speak for themselves, while the price differences for equivalent plans are negligible. For instance, you get unlimited storage, a free site migration, and better uptime with HostGator. However, I recommend you also look at our 10 best web hosting services before you make a decision. Our shortlist of the best web hosting services includes budget-friendly alternatives, as well as more specialized options.
2. How do I install WordPress on DreamHost?
To install WordPress on DreamHost, you have to log into your account, go to One-Click Installs, and select WordPress from the dropdown menu. You'll be asked to select a domain and, if you want, to provide a subdirectory for the installation itself. Unless you have a database already set up, you should leave the Select Database option on Automatically Create Database. For a simple setup, I would recommend the Deluxe Install package, which includes plugins, themes, and several security enhancements. If you ever find that DreamHost's WordPress plans become too restricting for your needs, you can check out our list of the best WordPress hosting services. Many of them also offer free transfers.
3. Does HostGator use SSD?
Cloud, Shared, and Reseller HostGator plans all use SSD drives. However, standard VPS and Dedicated configurations are equipped with HDD. Only higher-tier Dedicated subscriptions have been upgraded to SSDs. Don't miss our list of the best cheap SSD hosting services.
4. Is DreamHost good for an online store?
DreamHost has a series of WooCommerce hosting plans that accommodate a generous number of monthly visitors and come with a series of pre-installed tools, such as storefront theme, Jetpack, and more However, you can get more value and better performance with services such as LiquidWeb or WP Engine. For instance, there are many WooCommerce hosting options (both managed and self-managed) that will help you keep costs down and better reach your audience.