Both DigitalOcean and Linode offer services that look very similar at first glance. That's why I decided to personally test both of these hosts, to find out how they actually compare.
The results of my testing found some key differences that aren't initially obvious
, such as the quality of support, performance, and security features. Unfortunately, Linode disappointed me. Its support is rather lackluster, with the agents providing minimal help. The security features offered aren't even finished yet – instead, you have to sign-up for Beta versions. DigitalOcean has more helpful support, along with free robust security features and faster performance. That's why
 I picked DigitalOcean as the winner of this comparison
.
Click here to try DigitalOcean free for 60 days
, or keep reading to find out what makes DigitalOcean the better choice.
1. Plans and Pricing
Linode has a Money-Back Guarantee – DigitalOcean Offers None
Both DigitalOcean and Linode offer cloud computing services. This basically means that you are purchasing various computer resources, such as storage or processing power, through the cloud. With these services, DigitalOcean and Linode offer fully scalable and customizable Cloud VPS, Kubernetes environments, and more. While the other services have their place, the Cloud VPS is what we are most interested in.
Both DigitalOcean and Linode's services are charged by the hour
, which you pay for via a monthly bill. You have full control over how much you are charged, as you are only billed for exactly what you use.
Linode does contain a 7-day money-back guarantee
 outside of the free trial, while DigitalOcean has no guarantee of the sort. This makes Linode a little safer to try if you're unsure, but otherwise, they are very alike in terms of plans and pricing.
2. Support
DigitalOcean Provides More In-Depth Assistance
Cloud computing services tend to have a bad reputation when it comes to support, unless you're willing to pay large premium prices for managed services. I was interested to see if either of these two hosts could provide a good support service. First of all,
the main backbone of each host's free support is provided through tickets
. While Linode does offer a live chat, it's run by a bot and isn't very useful at all.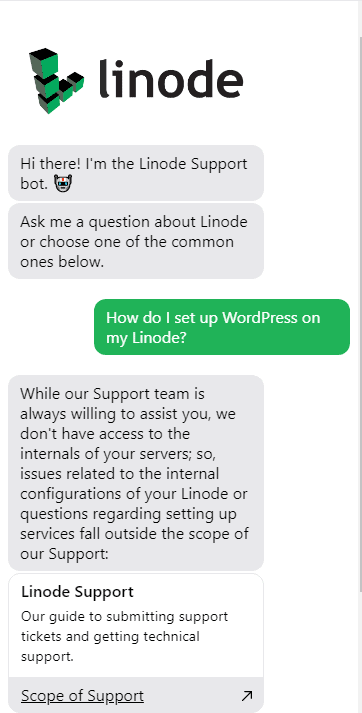 However, I had a better experience with its ticketing support, which thankfully put me in touch with a real human being. They did link me to the documentation that existed on the subject, but did state that they couldn't help with optimization, redirecting me to post on the Linode community forums instead.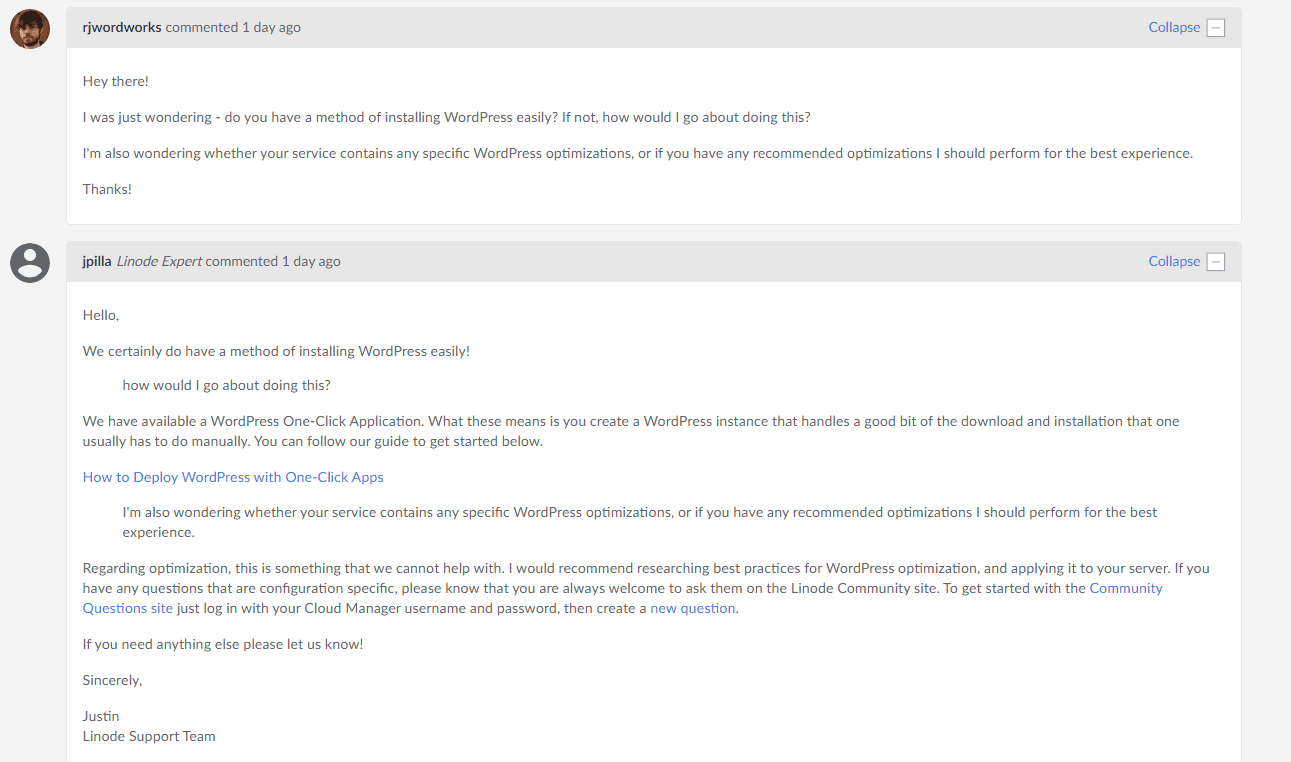 My experience with DigitalOcean proved to be much more helpful
. The support agent helped me confirm that WordPress was correctly installed on my Cloud VPS, then provided a detailed guide to connecting via SSH, along with information on WordPress optimization. It was all great stuff, but I was waiting 8 hours for this response. Still, it's better to wait a little longer for quality help, so I'd say DigitalOcean offers a superior free support service overall.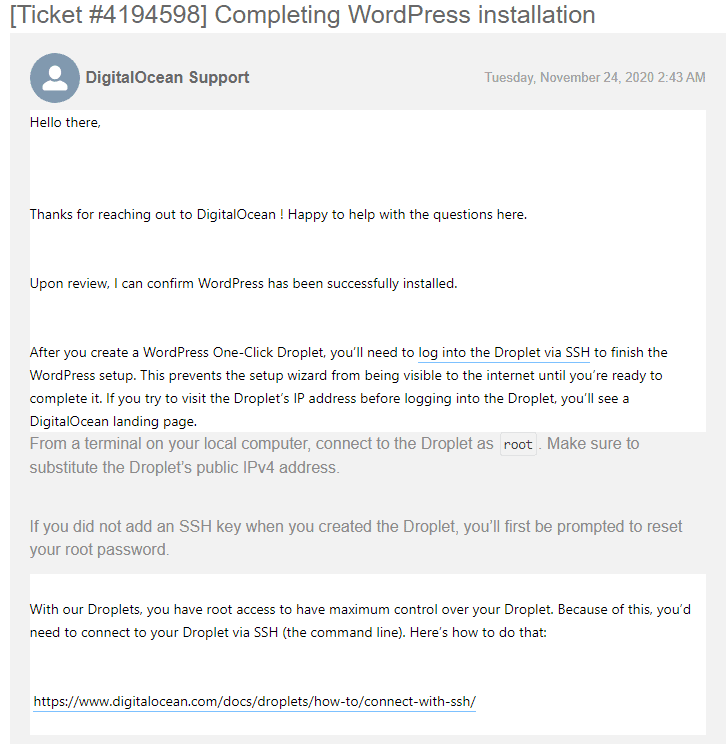 While DigitalOcean and Linode do have premium support structures available, they're very expensive.
If you're looking for managed support, you should instead check out Cloudways
, a third-party managed support service that works with both DigitalOcean and Linode. It's much cheaper and includes 24/7 live chat support, along with much faster response times.
3. Features
DigitalOcean Features an Optimized Storage Service – Linode Doesn't
As both DigitalOcean and Linode provide infrastructure rather than a dedicated web hosting service, their Cloud VPS plans don't come with many features included for free. You're given a blank slate of a server – if you want to turn it into a specialized web server, you'll have to bring the necessities. For example, neither host includes a web hosting control panel or an SSL certificate. You're expected to purchase these elsewhere, then apply them to your server and site.
DigitalOcean does include an in-built CDN for its optional simple object storage service
, called "Spaces". These are perfect for sites, as they can be filled with its static assets and cached accordingly. However, this optional service costs extra. Linode doesn't really have much to offer regarding CDNs, but it does have a premium migration service when DigitalOcean does not. The cost will vary depending on the complexity of your site, but it's nice to have the option. Both hosts also have optional automatic backup services, which again, cost extra. All in all, I'd say DigitalOcean has more to offer for web hosting. Honestly though,
if you're looking to host websites through either of these platforms, you're better off using the Cloudways management service
.
 Every Cloudways plan includes access to free SSL certificates, the free Cloudways CDN, automatic backups, staging environments, and more. It provides everything you need to get started with ease, at a cheap price too.
| | | |
| --- | --- | --- |
| | DigitalOcean | Linode |
| Hosting Types | Cloud VPS, managed Kubernetes, managed app platform | Cloud VPS, managed Kubernetes, dedicated Bare Metal servers |
| Free Domain | ✘ | ✘ |
| Free SSL Certificate | ✘ | ✘ |
| Disk Space | 25GB – 7.03TB SSD | 25GB – 7200GB SSD |
| Bandwidth | 1TB – 10TB | 1TB – 20TB |
| Automatic Backups | Automatic backups cost extra | Automatic backups cost extra |
| Control Panel | No web hosting control panel installed by default, you must bring and install your own | No web hosting control panel installed by default, you must bring and install your own |
| Email Accounts | No email accounts included | No email accounts included |
| Free CDN | ✘ | ✘ |
| Free Site Migration | ✘ | ✘ |
| Money-Back Guarantee | 60-day free trial with $100 credit, no money-back guarantee | 60-day free trial with $100 credit, 7-day money-back guarantee |
| | | |
4. Performance
DigitalOcean's CDN Helps It Speed past Linode
DigitalOcean's Cloud VPS runs on strong hardware, which uses enterprise-grade SSDs and 13 data centers throughout the world to deliver optimal performance. What's particularly of note is its CPU processing power, which offers more powerful performance at a lower cost than many of its competitors.
There's also the built-in CDN included within the "Spaces" optional service
, which can significantly speed up page loading times. While DigitalOcean does have a 99.99% uptime guarantee for its Cloud VPS services, which entitles you to refunds for the lost time incurred, there have been some downtime issues raised by previous customers. Likewise, Linode has had some uptime problems of its own in the past. However, in my recent uptime tests, both hosts performed well. Linode also has some impressive hardware behind its Cloud VPS. Particular features of note include speedy Intel E5 processors and native SSDs, all of which helps Linode gather some great speeds. However, it lacks a CDN, unless you include one yourself. It's uptime guarantee is also weaker than DigitalOcean, only guaranteeing a 99.9% uptime. Furthermore, downtime only entitles you to service credits, rather than a refund. Overall,
 DigitalOcean's CDN and stronger uptime guarantee helps it to steal victory in this section
. If you'd like to see the performance tests for yourself,
check out our DigitalOcean expert review
. Need more information about Linode's performance and uptime? Take a look at
our expert Linode review
.
5. Security
Linode's Security Is in Beta – DigitalOcean's Is Ready to Go
While both DigitalOcean and Linode expect you to mostly handle the security of your Cloud VPS, there are some security features included to help you along.
DigitalOcean features a nice free Cloud firewall service
, which features fully customizable firewall rules and the ability to control what ports are open or closed. Linode offers free DDoS protection with all its servers and provides a customizable Cloud firewall service. However, please note that the service is currently in Beta and is not yet fully completed. You have the option to sign up and assist in testing the service, but exercising caution is entirely understandable when the security of your server is at risk.
DigitalOcean also allows you to create a Virtual Private Cloud
, which allows Cloud VPS, Kubernetes environments, Load Balancers, and Databases to communicate in a secure fashion. It's useful for large projects or businesses that involve a lot of sensitive information. Linode has a similar VLAN (Virtual Local Area Network) service which offers much of the same functionality, but again, it's only in Beta. When it comes to security, DigitalOcean's security features are tried and tested, making it the better of the two, though it does lack the nice DDoS protection that Linode offers. However, keep in mind that you will still have to perform critical security tasks yourself with each host, including security patching, server monitoring, and more. Cloudways can handle these tasks for you, keeping your server secure and saving you a lot of time.
DigitalOcean Wins This Battle
If I had to pick between DigitalOcean and Linode, I'd go with DigitalOcean
 every time. While they offer quite similar packages, DigitalOcean has much stronger performance, a better uptime guarantee, superior support, and a significantly more robust security service.
But keep in mind that neither DigitalOcean nor Linode is beginner-friendly.
However,
both hosts benefit massively from the Cloudways managed service, especially if you are new to web hosting
. They can handle all the technicalities for you, meaning that you get to focus on developing your website without worry. By using Cloudways with DigitalOcean, you get access to an incredibly powerful hosting solution without the need for technical knowledge. Prices start low too! If you're still unsure and want to keep comparing hosts, check out our
list of the best web hosting services in 2020
. You can also check out the table below for a side-by-side comparison.
Plans and Pricing
Starts cheap, with the most basic Cloud VPS plan containing 1 vCPU, 1GB RAM, 25GB SSD storage, and 1TB transfer. Plans are fully scalable and there's a 60-day free trial with $100 credit. No money-back guarantee.
Priced the same as DigitalOcean, with the most basic Cloud VPS plan containing identical resources. There's a 60-day free trial with $100 credit, and a 7-day money-back guarantee.
Key Features
Premium simple object storage service comes with a free built-in CDN, perfect for websites. Premium automatic backup service .
Premium migration service, but no CDN available. Premium automatic backup service.
Performance
Faster performance with its built-in CDN and a stronger uptime guarantee. Some potential uptime issues.
Slower performance with a weaker uptime guarantee. Some potential uptime issues.
Security
Free customizable Cloud Firewall and the ability to create Virtual Private Clouds. No DDoS protection is included.
Advanced DDoS protection is included, but its Cloud Firewall and VLAN services are still in Beta.
Support
Support provides more in-depth help, but longer wait times. Only ticketing support is available for free.
Support provides less help, but with quicker response times. Only ticketing support is available for free.
FAQ
Is DigitalOcean cheaper than Linode?
DigitalOcean features near-identical pricing to Linode when it comes to its Cloud VPS services. However, DigitalOcean does include some extra value when it comes to its optional services, as its useful simple object storage service contains a built-in CDN, whereas Linode's similar service does not. An alternative to DigitalOcean and Linode is Kamatera, which offers a 30-day free trial and affordable prices once your trial period is over.
Is DigitalOcean good for WordPress?
Sure! DigitalOcean is fully capable of running a WordPress site to its full potential. However, if you're a newcomer to web hosting, you'll likely struggle to get WordPress set up. I'd advise beginners to use the Cloudways management service, or to choose one of the hosts in our list of the 6 best managed WordPress hosting providers.
Which host is better, DigitalOcean or Linode?
I'd say that DigitalOcean outshines Linode. It has more robust security features, better overall performance, and a more helpful support team. If you've read this comparison and come away thinking that neither host is right for your needs, no worries! You're sure to find a good fit in our list of the best web hosting services in 2020. I'd also recommend Kamatera, which had some incredible results in our performance tests.
Is DigitalOcean easy to use?
DigitalOcean is not for beginners. Its Cloud VPS is unmanaged, leaving you with the full responsibility of maintaining your server. This requires a lot of technical knowledge. However, you can turn DigitalOcean into a beginner-friendly host with the use of Cloudways. They'll handle the technical side and also provide 24/7 support if you have any queries.