Bluehost ranks high in reviews thanks to its generous affiliate program, but it doesn't have what it takes to go up against Amazon Web Services (AWS), let alone win.
I love an underdog as much as the next person, but in this case, AWS is simply better.
Bluehost might seem more user-friendly, but AWS has a great option for beginners: Amazon Lightsail.
Lightsail is easy to use and similar to a VPS with a lot of software pre-installed. You can use it to quickly create a WordPress, Joomla, or Magento website, deploy business software, and more. Lightsail
gives you access to Amazon's immense ecosystem of services,
such as cheap cloud storage and in-depth data analytics.
To make the comparison fair, I focused on Bluehost VPS vs Amazon Lightsail.
I can tell you right now, after my extensive testing and research, that AWS wins by a considerable margin.
However,
if you feel that AWS is either too challenging or time-consuming,
you should try Cloudways instead
 –
 it takes care of all the technical details of hosting on AWS so you can focus on your website. Or, read on to see the results of the AWS vs Bluehost showdown.
1. Plans and Pricing
Bluehost Is More Expensive and Less Transparent Than AWS
AWS gives you more resources than Bluehost at a lower cost, not to mention access to lots of additional features and services.
So what do you get with Bluehost's Standard VPS? 2 vCPUs, 2GB RAM, 30GB of SSD storage, 1TB bandwidth, and 1 IP address. Not bad. However,
with AWS you get twice the RAM, more than twice the storage, and four times the bandwidth for the same price.
If you don't need 2 vCPU cores (most starter websites don't),
you can actually halve your hosting costs by opting for the Lightsail plan with 1 vCPU, 2GB RAM, 60GB SSD, and 3TB bandwidth.
If your website might need to scale up later on, you can opt for Amazon EC2 and add whatever resources are lacking – usually CPU or RAM – as you go. With Bluehost, you are forced to upgrade to a more expensive plan with fixed specs.
Bluehost WordPress Hosting
A free domain name is included with some hosting plans from Bluehost
Unlike Lightsail, EC2 instances are not managed. If you don't think you can handle the granular configuration of an EC2 virtual machine (VM), you can always use Cloudways to simplify the experience. While it is more expensive,
Cloudways' plans come with everything you need
 in terms of security, support, team management, and more.
More importantly, you can pay on-demand with AWS.
 You're billed at the end of the month for only the resources you've used. No waste, and no advance payments. Or you can opt for a yearly plan with AWS and benefit from substantial savings.
Bluehost has deals on one-year plans, but beware: if you switch to a monthly subscription later on, your costs will double.
 And even if you stick with the yearly plan, your costs will increase by 50% after the initial term.
Amazon Lightsail and Bluehost's VPS both offer a 30-day free trial.
 You also get an entire year of free hosting (minus the modest domain costs) with Amazon Lightsail.
2. Features
AWS Has Heavy Artillery, While Bluehost Plays With Slingshots
AWS vs Bluehost is not much of a contest in terms of features.
Bluehost's only advantage is that it offers a free domain name for one year if you purchase a yearly plan, while AWS does not.
Amazon Lightsail comes with the same features as Bluehost's VPS, including the one-click installer.
But Lightsail gives you even more applications, such as detailed resource monitoring through Amazon CloudWatch or the Amazon CloudFront content delivery network (CDN). With Bluehost, you get the free version of Cloudflare, but you have to pay extra for a premium CDN.
With AWS, you can easily set up accounts for your collaborators through the AWS Identity and Access Management (IAM) interface.
This makes it easier to team up with systems administrators, content writers, or web developers on your websites. Bluehost doesn't include a tool like this. You get generous trial access to most AWS services. For example, you can use
SNS
push-messaging
to send automatic emails and text messages, as well as
AWS' email service (SES)
. Your devs can rely on
 AWS Lambda to run code remotely,
while your managers can use Amazon
QuickSight to drive business innovation.
 And that's just the beginning.
The list of features offered by AWS goes on and on.
After all, there's a reason so many high-profile companies use it. For an overview of the main features of Bluehost VPS and Amazon Lightsail, see the table below:
| | | |
| --- | --- | --- |
| | AWS | Bluehost |
| Service Type | Managed cloud, unmanaged cloud | Shared hosting, managed WordPress hosting, VPS hosting, dedicated hosting, reseller hosting |
| Free Domain | No | For yearly plans |
| Free SSL Certificate | Only with a load balancer | Yes |
| Disk Space | 20GB to 640GB (more storage available on-demand) | 30GB to 120GB |
| Bandwidth | 1GB to 7TB (more available on-demand) | 1TB to 3TB |
| Automatic Backups | 1GB snapshot storage free for 12 months | No |
| Control Panel | Proprietary dashboard, but you can install Plesk, cPanel or any panel you want | Proprietary control panel |
| Email Accounts | No | No |
| Free CDN | Free 12-month trial | No |
| Free Site Migration | No | No |
| Money-Back Guarantee | 30 days | 30 days |
3. Performance
Bluehost Is Miles Behind AWS in Speed and Reliability
An important reason Amazon Web Services is so popular is the sheer size and high performance of its global network.
AWS has
over 175 data centers spread across 24 regions, from Australia and Asia to South Africa, the Middle East, Europe, and North America. By comparison, Bluehost doesn't disclose the location or number of its server If you want to ensure blazing-fast loading speeds for your website's audience, being geographically close to them will help out a lot.
With AWS, you can be at your visitors' doorsteps.
One powerful, cost-effective feature of Amazon Lightsail is its load balancer.
 This enhances your site's performance by routing visitors over two or more VMs to prevent overloading your main server. Bluehost's VPS has no such option. In fact, you can't even add more CPU or RAM resources.
If your application or website gets thousands of hits every day, Amazon ElastiCache can help you boost performance and lower latency.
 This solution offers fully managed Redis and Memcached, which ensure millisecond response times for your users. With Bluehost, you'd have to install and manage these systems on your own. Just keep in mind that ElastiCache is free for your first 12 months with AWS but only on two of its VMs. Bluehost did quite poorly in our performance tests. To learn more about its problems, you can read our
expert Bluehost review
. Amazon Web Services put on a near-perfect show in our performance tests. If you'd like to find out more about its strengths, you can read our
in-depth AWS review
.
4. Security
Bluehost Barely Has Any Security, While AWS Offers Enterprise-Grade Protection
Bluehost gives you a free SSL certificate, while AWS provides one only if you use its load balancer. 
Not to worry, though, you can install a free certificate from Let's Encrypt on Amazon, it's just a bit more complicated than with Bluehost. Unfortunately, you don't get much else in the way of security with Bluehost's VPS. You can upgrade to Codeguard Basic, which lets you create backups of your site that are stored across multiple locations, but that's pretty much it.
In contrast to Bluehost, AWS is responsible for a large part of the world's web hosting security.
 The company actively and aggressively protects its hardware, software, and network with enterprise-grade caution. What's included with Amazon Lightsail? Spam and malware real-time monitoring, multiple layers of protection that range from the OS to virtual instances, block storage, database security, firewalls for incoming traffic, API calls, and more. If you add the CDN and load balancer to your instance, your account is even safer.
Nothing gets to your AWS instance without being scanned multiple times.
You can also set Lightsail to restrict SSH access to a handful of IP addresses (or just one) and/or block browser access altogether. That way, only your machine is allowed to access your hosting environment. If you want to back up your website(s), you can use the free 1GB worth of snapshots from the Amazon EBS service.
In terms of security, Bluehost vs Lightsail is a landslide victory for AWS.
5. Support
Bluehost Has Basic Live Chat Support, AWS Only Has Tickets and Phone
Both AWS and Bluehost have 24/7 support for account and billing issues.
If you have an AWS account, you can get support via tickets, but if you haven't yet opened an account your only options are email or phone. On the other hand, Bluehost provides assistance through live chat and phone, but  the quality of support varies according to who you're talking to. More often than not, you'll be wasting your time.
You can purchase a better level of support with both AWS and Bluehost, but it'll double the cost of your hosting, at the very least.
 Bluehost's advanced support only covers WordPress, while AWS offers enhanced tech support regardless of the CMS you're running. All of Amazon's support plans come with a detailed guide on how to improve performance and security for your website.
To help you better compare Bluehost and AWS in terms of support, I contacted them both.
 Let's see how they fared.
I sent AWS an email and got a response more than three days later, inviting me to talk by phone.
Since I had already created an account, I wrote a ticket instead. A response came within 24 hours, and with it, the issue was resolved.

On the other hand, my experience with Bluehost's live chat was just terrible.
 For starters, the rep tried to verify my identity by asking me to provide part of my password, even though I was already logged in.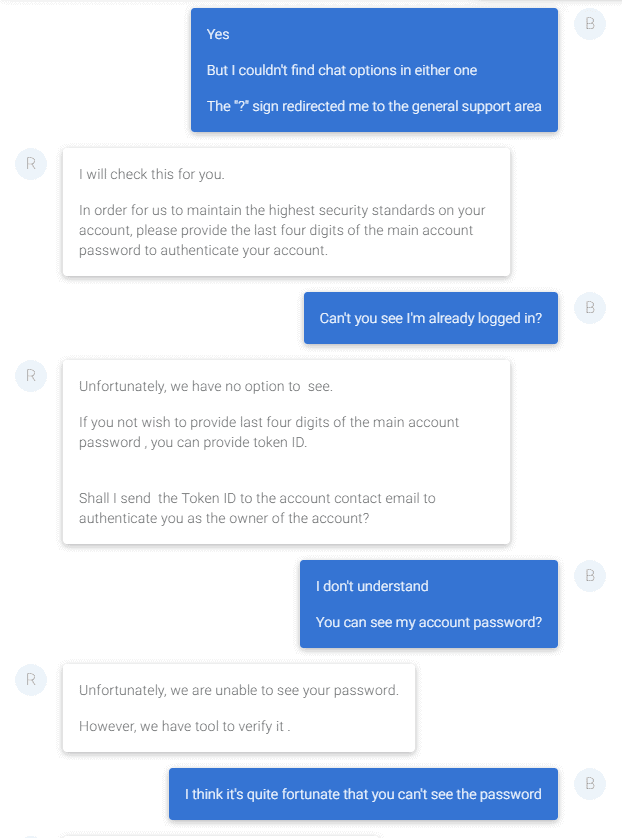 This happens because Bluehost's live chat platform is not actually connected to the hosting service,
which means you'll have to jump through some hoops to verify your identity.
Then Bluehost's support rep tried to upsell an unneeded service.
 When an agent tries to push for a sale, it tells me they're more interested in the sale than customer service. Both AWS and Bluehost have good knowledge bases to rely on, if you like to DIY. Amazon's is better, bigger, and more comprehensive, though. In addition, AWS has an active support forum where more experienced users can weigh in on your issues.
AWS Leaves Bluehost in the Dust
For all its popularity, Bluehost doesn't stand a chance against AWS' powerful cloud.
Amazon
Lightsail is just as easy to use as Bluehost's VPS – you can install WordPress on AWS in a matter of minutes. Lightsail offers cost-effectiveness along with a richer set of features, superior performance, and markedly enhanced security compared to Bluehost. Even when evaluating Bluehost's pricing, which is typically considered its primary advantage, it still falls short when compared to AWS' on-demand or long-term plans.
AWS' cloud is more flexible than Bluehost's modest infrastructure.
 You can spin up EC2 instances custom-made to address your needs and pay as you go, and as you grow. If you ever feel overwhelmed by the technical bits of cloud hosting,
Cloudways gives you access to several clouds (AWS included), with none of the hassle. 
The service acts as an intermediary that makes cloud hosting more straightforward with things like managed support, easy-to-use dashboards, and one-click installations. Also of note: Neither Bluehost nor AWS was named one of our top ten web hosts. To find out who was, check out this list of the
best web hosting services
. Still undecided? The table below offers a brief side-by-side comparison of AWS and Bluehost:
Plans and Pricing
Pay-as-you-go or plans with 1-year and 3-year terms, great value
Affordable for initial term, expensive renewals, poor value
Key Features
Automated backups, collaboration tools, simple email service, communication app, and tons of powerful AWS services
Free domain name for yearly purchases, instant provisioning
Performance
SSD storage, managed caching, CloudFront CDN, choice of 175 data centers, load balancers at a fixed price, 99.9% uptime SLA
SSD storage, no mentions of data centers, no uptime SLA
Security
Free SSL only with a load balancer, automatic daily backups, multi-layered security, compliance solutions
Free SSL certificates, automated backups available through paid upgrade
Support
24/7 phone and tickets for billing, limited tech support, impressive knowledge base with step-by-step tutorials, advanced support available for purchase
24/7 billing and tech support available through live chat and phone; good knowledge base, advanced WordPress support available for purchase
FAQ
Is AWS better than Bluehost?
Yes. AWS really shines thanks to its premium website performance, software solutions for everything you can think of, and first-rate security systems. AWS has an outstanding 12-month free trial on many of its services, while some of them are free all the time. You just have to sign up and try them out. If it's not what you want, you can easily switch later on. If you're considering Bluehost for shared hosting, I recommend you take a look at our list of the best web hosting services. You'll find shared hosting providers, like Hostinger, that offer much better deals.
Does AWS offer good performance?
Yes. Even for the smallest virtual instances, Amazon will yield excellent page loading speeds for your website. AWS has one of the biggest, most high-tech cloud networks there is. You can further boost your website or application's performance using Amazon's CDN, caching, and load balancers. If web hosting is a critical part of your company's success, working with AWS is one of the best choices you can make for the growth of your business.
Does AWS offer WordPress hosting?
Although you can easily install and run WordPress (or any other CMS) on AWS' virtual servers, there is no managed WordPress hosting to speak of. If you're a beginner and you want an expert's help, you're better off with a managed WordPress hosting provider.
Does AWS offer shared hosting?
No. Amazon is strictly a cloud-based platform. If you want the power that comes with cloud infrastructures, but you don't have the experience to manage it yourself, you can use Cloudways. Cloudways basically makes the cloud as user-friendly as any shared hosting platform. Although slightly more expensive than a shared plan, AWS' virtual machines come with a lot of added benefits that you don't normally get on a shared plan, such as static IP, increased security due to containerization, on-demand scalability, and access to AWS' powerful add-on services.