industry leaders need to embrace change if they want to stay relevant.
But keeping up to date with the latest online marketing trends isn't easy
, with new technologies popping up like mushrooms and consumers changing their demands faster than a chameleon changes its colors. While no one has a crystal ball, marketers do have the knowledge and experience to make an educated guess, and that's why
we asked 21 experts for their predictions on the top marketing trends
to keep an eye on. Keep reading to see what's changing in the marketing industry and get some expert tips that will help you dominate marketing in the next years.
Personalization
More Targeting Advertising, and the Growth of Augmented Reality
Marketing is all about reaching the right customer with the right message at the right time. And
one of the most effective ways to resonate with your audience is through personalization
. By using the data you've collected about your customers, you can create a personalized experience for them that's tailored to their specific needs and interests.
This can help improve customer loyalty
, encouraging customers to return to your site for future purchases.
What the Experts Say…
One way to apply personalization in your marketing efforts is by investing in targeted advertising. This has become the most insightful marketing strategy for my business because it allows us to laser-focus our efforts on the people who are most likely to be interested in our product or service. By delivering relevant, personalized content to a specific audience, we increased engagement, leads, and conversions.
Another popular marketing strategy I think will grow in the next couple of years – one that focuses on personalization – is augmented reality (AR). AR allows customers to see products in their own environment and get a realistic idea of how it would look before they purchase it.
For example, IKEA Place is an app that lets you place virtual furniture in your home to see how it would look before you buy it. This creates a more personal and memorable experience for the customer, leading to higher conversion rates.
Kevin Joubin, VP of Growth Marketing at
Branded Surveys
What will matter the most in coming years is the customer experience and personalization of that experience. Consumers are looking to make connections with the companies they do business with, so content and messaging need to be relevant and extremely targeted.
Customers are buying based on their overall experience rather than any other factor, so this is a must in all marketing efforts. Building connections leads to long-term relationships, which maximizes customer lifetime value.

Daniel Javor, Founder & CEO of
Step By Step Business
Want more inspiration on how to integrate personalization into your marketing efforts? We've collected
60+ personalization statistics that will help every digital marketer
.
Video Marketing
Keep Your Videos Short, and Consider Advertising on TikTok
Short videos have the potential to completely change the world of marketing
and advertising in the years to come. And appetite for video content is only growing.
What the Experts Say…
Video consumption in general is growing steadily, and short videos are becoming more and more popular among marketing and advertising specialists. There's two main reasons why shorts can't be ignored:
With TikTok, Facebook Reel, and other similar platforms, creating (and watching) short videos is easier than ever. We also have to mention YouTube Shorts, another main player in the market for shorter videos.
Longer videos have a problem with retaining attention and therefore driving engagement. Nowadays, video content needs to be more digestible.
Giovanni Merla, Video Producer and founder of
Rosso Productions
When compared to the use of photos, the transmission of information on whatever it is that you are selling is quicker easier, and more insightful. We have seen great success after incorporating these marketing videos into our social media, as indicated by the high number of new customer acquisitions.
Vincent Amodio, Founder & CEO of Icon Medical Centers 
If you need any more proof of this, CEO of
Search Influence
Will Scott recently ran a TikTok campaign for a school client that resulted in a
32% lower cost-per-click on TikTok than Facebook at $0.68/click
. He says he'lll be continuing to invest in both creative and advertising on this super-engaging platform. If you're in search of creative ideas for using video in your marketing efforts, check out our collection of
55+ Video Marketing Facts, Stats & Trends in 2023
.
Artificial Intelligence (AI)
Be Prepared for AI To Have a Big Impact on Content Creation and SEO
There's no question about it:
AI technology is improving all the time
. But how will that impact marketing efforts?
What the Experts Say…
We have already seen the launch of several AI content tools in 2021 due to GPT-3. This year, we will see more sophisticated tools that go beyond creating just headlines or ad copies. We will see tools that can write full blog posts or paragraphs. This will have a deep impact on how we create content.
Another area where AI will have a big impact is SEO. We will see more programmatic SEO as the tools become more sophisticated at generating content. Right now, it's difficult for a small business to use this strategy due to technical complexity and cost. But AI driven tools could democratize programmatic SEO with cheaper and easier-to-use tools.

Vishal Srivastava, VP of marketing at
HiveDesk
More and more digital marketers want to interact more personally with AI to sift effectively through the workload associated with promoting brands, products, and services. This will empower them to find nuggets of marketing angles, create better hooks, and to find, interpret, and use real-time insights with fewer hands on deck.

Jon Torres, founder of
Jon Torres
Did you know that you can even build an entire website using AI? No? Check out our
5 Best AI Website Builders
if you want to hand over the work of creating a website to your new robot assistant.
Influencer Marketing
Influencers' Influence Will Continue to Grow…but So Will the Cost of Working With Them
2022 has seen the continued rise of influencer marketing,
an industry
set to grow to approximately $16.4 Billion in 2022
. And that's not surprising, considering how it allows you to reach a wider audience while also building credibility. Many big brands – like GE, PwC, and Adidas – have successfully tapped into this opportunity.
Our experts predict that other businesses will also invest in influencer marketing
to increase their reach and brand value. For those who can't afford to hire a celebrity influencer, there are always micro-influencers available with a few thousand followers.
What the Experts Say…
People are becoming more conscious about who they are getting their information from, and influencers have such huge fan bases that when they endorse your service or product, people are more likely to trust their recommendations.

JD Bhatala, Content Marketer and Co-founder of
AffiliateIncomeMantra.com
TikTok will continue to grow, and we'll see a lot more use of micro-influencers because it is so easy to go viral. Brands will look at these micro-influencers to partner with and help spread their message.
Darren Easton, Vice President and Creative Director at the
Cyphers Agency
Ok, but Influencers Are Expensive, Aren't They?
True, but the future of successful influencer marketing is to utilize a mix of influencer types. Instead of just focusing on the most popular/branded individual influencers, it will include internal experts, micro-influencers, niche experts and customers in the influencer marketing mix.
Getting multiple perspectives and insights always enriches discussion and generates more activity online. Content, products or designs that are co-created by the brand and influencers from the very beginning will thrive in 2022.

Paige Arnof-Fenn, Founder & CEO of
Mavens & Moguls
So, it looks like influencers are here to stay. Before you jump into approaching someone, though, there are a few things you need to know. Relying on influencers can be tricky for the reasons outlined in our article on
the downsides of influencer marketing
.
Social Commerce
Once Again – The Experts Say TikTok Is Worth Investing In
Over 72% of Americans use some form of social media
. And plenty of them are looking to buy, even if they don't know it yet. If you want your business to stay afloat, it's time to embrace social commerce.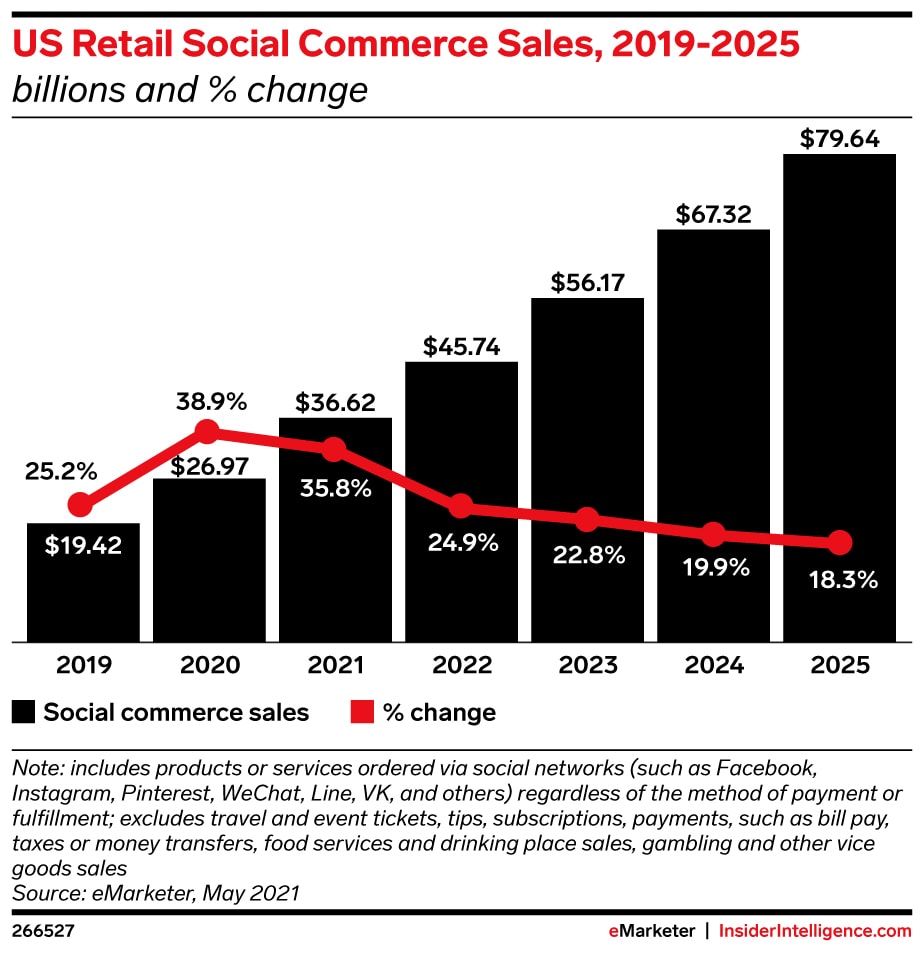 You're probably familiar with marketing on Facebook and Instagram. But
to stay current in 2023, you'll need to extend your efforts to TikTok.
This rapidly-growing social media network already has over 1 billion users, and experts say it will continue to grow.
What the Experts Say…
Almost 40% of internet and television services are purchased by Millennials, followed by Gen Z buyers at 20% of the market. Marketing on TikTok is essential to tapping into these demographics: 60% of Gen Z consumers and 40% of Millennial consumers use the social app. You need to keep up with TikTok to avoid getting left in the dust this year.
We are also experimenting with podcast sponsorships and advertisements in 2022 – podcasts are another opportunity to keep an eye on this year.

Laura Fuentes, Operator of
Infinity Dish
Visual Content
Don't Forget the Value of Impactful Design
Sometimes, focusing on
SEO can mean that we end up prioritizing copy and audio, while forgetting about visual content.
But how important is visual content, really?
What the Experts Say…
With the rise of smart speakers and voice search in recent years, it's easy to believe that "readable" content now takes precedence over visuals and design. Actually, nothing could be further from the truth.
While advances in voice search are undoubtedly influencing the way we create content now and in the future, visual content should not be overlooked.

Richard Mews, CEO of
Sell With Richard
Millennials even say they are more interested in visual search than any other new technology. It will be a boom to the net, and you will see audiences looking out for your successful additional feature.

Michelle Devani, Founder of
Lovedevani
… And let me just add that the likes of Google, Pinterest, and Amazon have already invested significantly in their visual content. Yeah, I'd be listening to them, too. To go a bit deeper, read the
50+ Visual Marketing Stats You Need to Know in 2022
Metaverse & Virtual Reality (VR)
A Renewed Interest in the Possibilities of VR
The metaverse is
a virtual digital world in which we can live out an alternative version of our daily lives
through 3D avatars. Plenty of organizations are already working on this concept, from Facebook to the South Korean government. One of the pioneers is Epic Games, which has been organizing massive virtual events within its Fortnite video game. But it's after Mark Zuckerberg's announcement to rebrand Facebook's parent company as Meta that
marketers' interest in immersive experiences and VR has been reignited
.
What the Experts Say…
We could have billboards in these virtual spaces that will be as valuable as real-life outdoor advertising. It will allow brands to create and sell virtual items for avatars to wear in the metaverse.
So far, we can see brands such as Gucci releasing exclusive digital sneakers to wear on online gaming platforms like Roblox or in augmented reality.

John, Co-Founder of
Mobitrix
Many of these activities are possible thanks to social media, but through a 2D screen. This new world would emphasize a sense of presence as well as teleportation. The entry of the metaverse into our society will enable the online connections which we have become used to in recent years defined by the epidemic, as well as the new ordinary.
Its development is not new, but since Zuckerberg's revelation, it has risen to the forefront of technological development and is seen as one of the most significant trends of the next year that will both generate new businesses and demand current firms to adjust.

D.F Carter, CRO Specialist at Perspective Pictures
It is certainly not surprising that the most important "trends" of the coming years will revolve around the virtual worlds of the metaverse and the associated technologies. This becomes clear when one looks at the forecast market values: in 2021, the global market for augmented and virtual reality was worth around USD 28 billion; in 2028, it is expected to have increased almost ninefold to USD 252 billion.
NFT technology has created a real boom in the metaverse and more and more brands are trying to get a foothold and help shape the metaverse. If you get in now, you are still one of the first movers. The most important thing for marketers is to understand the DNA of the Metaverse and of NFTs – to develop meaningful content and campaigns in this system and not simply copy it. As this world, which has existed for decades, is only now opening up to the global mass market, there is still a lot of potential for innovative solutions. Those who can assert themselves here and find the right tone will secure a place in the future.
Jürn-Christian Hocke, Interim Head of Faculty of Arts at Berlin School of Business and Innovation
Marketers faced the cancellation of all kinds of in-person events, from store grand openings to big-ticket concert series, as the epidemic prompted closures and social distance restrictions. Virtual events took their position as a cornerstone for engaging with customers and leads. Increased investment in social media and other digital platforms contributed to the success of these events. Consumers and the marketers who pitch to them now are torn between two opposing drives. Many people are content to keep things virtual after experiencing the immediacy of live events from the comfort of their couches. You'll need to create hybrid events to appeal to both audiences. In-person events will have a significant digital component, and technologies like augmented reality (AR) can create an immersive experience for individuals who don't want to leave their homes.
Jenny Ly, Founder at Go Wanderly
Mobile Marketing
Recently, reports surfaced that WhatsApp was giving Facebook its users' phone numbers to deliver targeted ads. While getting a text about a product you like is annoying, so is telemarketing…and that hasn't gone away.
Chances are, companies will increasingly communicate with customers via mobile devices
. When you also consider the death of the cookie by Google and Apple's new privacy restrictions (more on that later), retailers are going to be forced to find other solutions. And the fact is,
SMS texts cut through like no other channel
.
What the Experts Say…
This strategic move is crucial to attracting the attention of millennials and Gen Z, who are more used to the fast-paced environment. It can positively impact sales, and return on investment is higher as brands focus on mobile optimization in 2022. As a result, the engagement rate and conversion rate increase, which reflects positively on your company goals.

Nazy Rafaeil of
Jovani
Retailers will begin more wide-scale uses for SMS going into 2022. Email messaging is an overall lower-cost method of communication for retailers; however, SMS provides a higher return on investment.
"Customers are responding to text messages at a rate of 100% as compared to email marketing where messages may never get opened at all."
Barbara Casey, CEO at
Mobile High 5
Convinced you want to give it ago? Just remember,
mobile marketing doesn't always work on both websites and apps. Read our guide on
how to choose between a mobile app and a mobile website
to make sure you figure out mobile marketing that's going to work for your business.
Automation
Less Work, Same Results… Sounds Like a Win, Right?
With automation, marketers can scale their efforts without having to worry about scaling their team. This means more time for strategy and creativity, as well as less expense. Who wouldn't be interested in that? Virtual assistants are also becoming increasingly popular in the workplace – including in marketing teams – because they can help with things like responding to emails, managing social media accounts, and a myriad of other related tasks.
What the Experts Say…
With marketing automation, marketers can now track how people are responding to different messages that might be sent to them. This helps with data-driven rather than heuristic-based decision making.
Marketers are also now able to use content personalization to tailor messages to different groups. They use advanced analytics and search engine optimization techniques to help determine the best content changes for each group.

Michael Jan Baldicana, SEO and Content Specialist at Dream Chasers XYZ
Automated or programmatic direct mail is responsive and creates a highly personalized customer experience at a very low cost of entry. It triggers a single pre-designed postcard in response to that pre-programmed trigger.
What this looks like has a million variations – a "thank you" greeting card after a first purchase, a follow-up postcard after abandoning a shopping cart, a physical reminder for an upcoming appointment, etc. Each of these triggered messages could cost $1.65 on the high end, down to $0.80 each, and that's with postage included.
This technology is completely set-it-and-forget-it, and you can send as few or as many postcards as your budget allows. It's very scalable. One client of ours, a roofing contractor, scored a new roofing job after sending just 57 triggered postcards to website visitors who bounced from his site.
That job is probably worth at least $10,000, and those postcards likely cost around $1.50 each, so he spent less than $100 before seeing a return. That's an ROI of about 11,000%.
I think once more businesses catch on to how flexible, personalized and scalable this technology is, it will be huge.

Joy Gendusa, founder/CEO of
PostcardMania
Just think about the possibilities that come from implementing the
best marketing automation tools
in your email marketing…
Death of the Cookie
Tracking Users With Cookies Will Soon No Longer Be Possible
Google has announced that it'll be replacing third-party cookies by late 2023. That means that,
by 2023, you'll no longer be able to track consumers using third-party cookies
. Considering that
60% of the entire web's browser market share is on Google Chrome
, this is a massive loss of data for the advertising industry. So, what can we expect instead?
What the Experts Say…
I expect a middle way to emerge. While it's a little early (and too speculative) to properly define it, I believe we'll see some major steps in that direction

Mayank Batavia, Head, Marketing and Partnerships at
QuickEmailVerification
Brands will need to figure out how to convince users to allow them to use this data. They'll need to change up their marketing styles, and in some cases even change aspects of their businesses to get audience members on board and keep providing a valuable experience to that audience.
With third-party data becoming somewhat irrelevant in the future, first-party data is going to be what most brands will be focusing on.

Sean Nguyen, Director of
Internet Advisor
Amanda Malko, CMO of G2
, recently said this during her interview with the
CMO Convo podcast
:
"One of the things that I'm excited about as we look towards a potentially cookieless future is this ability to actually lean into the voice of your customer through things like intent data.
It is such a huge opportunity for marketers, because, to me, it's a much more qualified signal than what you think I'm interested in because I'm a certain demographic title. If I raise my hand, and you see that I have intent for a product, that is one of the best ways to get in front of me with valuable information because I've already raised my hand and said, I'm interested.
And so thinking about customer-led growth is also going to be important as we think about how we target our customers in an increasingly cookieless, and privacy-first world.
We see about half of our customers using intent data in some way and the other half not. I think that the other half is gonna catch up this year because we all have to, right? We're all gonna have to figure out new ways of reaching our audiences."
Data Analysis and Machine Learning
When it comes to marketing businesses in 2023, analytics are everything.
Data can predict the behavior and provide a greater level of understanding of your customers
. And marketers can use this intelligence to improve their marketing efforts. But marketers should remember that data can only provide numbers – it lacks any qualitative insight. To effectively analyze data, you will need to be thorough in designing the questions you want to ask.
What the Experts Say…
Take the example of
Sinan Aral's work with Jet
, an online sales platform. His goal was to improve overall sales.
Rather than dive straight into the data, he came up with specific questions to ask
: "which products are often purchased together?" and "which products are rarely purchased together?"
These simple questions could be answered by turning to sales data
. A simple tweak to the "suggested products" algorithm improved the likelihood of displaying products shoppers would actually be interested in purchasing – ultimately improving sales. The cycle of data-driven research delivers consistent results, and allows marketers to demonstrate real value to clients and management. More specifically,
data analytics and intent monitoring are becoming two of the most significant marketing trends in 2023
and will no doubt last through the next couple of years. More and more businesses are streamlining their marketing strategies to reach ready-to-buy customers. And more companies are stepping up and investing in tools that enable them to analyze big data. This helps identify the demographics of users searching for products and services, which can be helpful in running promotions and advertisements. Still need convincing?
Maria A. McDowell
,
a founder of
EasySearchPeople
, says she is now more focused on using verifiable data combined with actionable insights on customer intents
and demands to drive business growth.
Stay Ahead of the Game by Keeping on Top of Digital Marketing Trends
With many of the top digital marketing trends already on people's radar, it's important to keep up with what's happening so you can stay ahead of your competition.
By using these expert tips, you'll have a higher chance of successfully building your next digital marketing campaign
and help your business grow.