Video Marketing Industry Overview
First of all, let's look at some general statistics about video marketing and the industry as a whole. What works? What doesn't? And what do video marketers have to say about all of this?
1. Video is Taking Over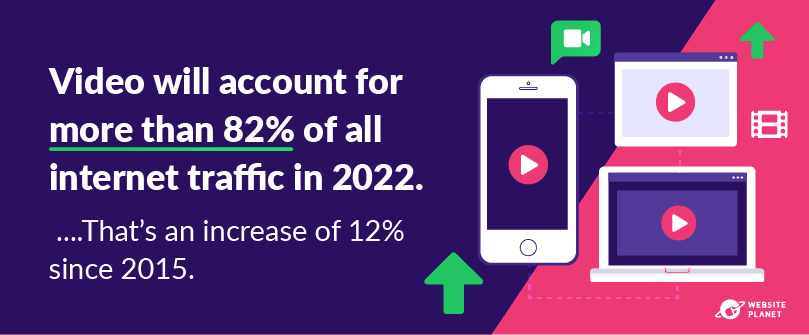 Video communications are taking over right now, as more video content continues to flood the online spaces we use. Not only are there more people on the internet to watch videos, but the traffic share of video content is increasing dramatically too. What does that mean? It shows that videos are making up a larger percentage of what people see and do online. Given the recent streaming boom, that's hardly unsurprising. According to Wyzowl, on average, people watch 16 hours of video per week. That's a 52% increase over the last 2 years.
2. How Many Online Videos Do People Watch Every Day?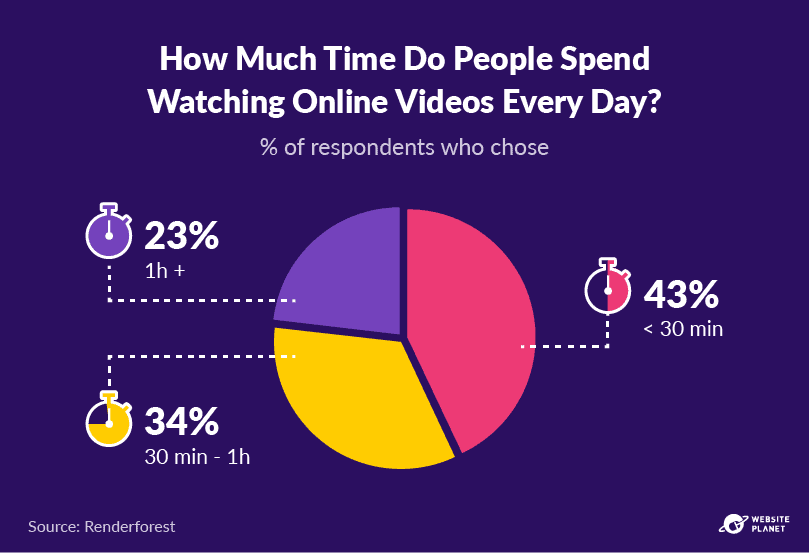 Renderforest asked users how much time they spend watching videos online, and the split is pretty even. Around a quarter of users watch a lot of video content every day. A third of people spend between 30 minutes and an hour watching online videos, while most internet users watch online videos for less than 30 minutes a day. This shows us that the online consumer's precious time is valuable, so make sure your video marketing materials make an impact!
3. Video Campaigns Are More Successful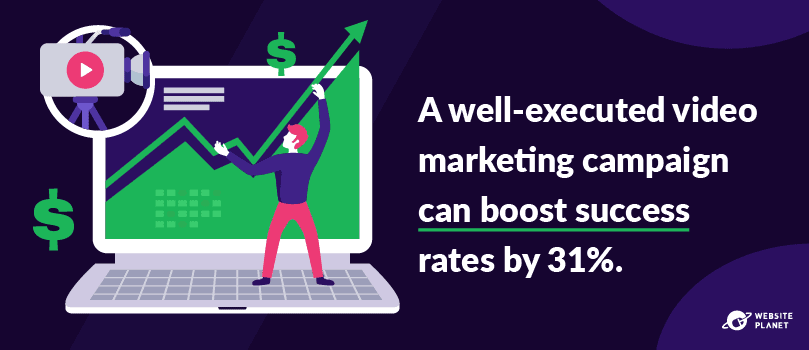 The proof is there for all to see: video marketing campaigns work. Still not convinced? How about this: marketers who employ a video marketing strategy grow business revenue 49% faster than those who don't?
4. Video Is Incredibly Engaging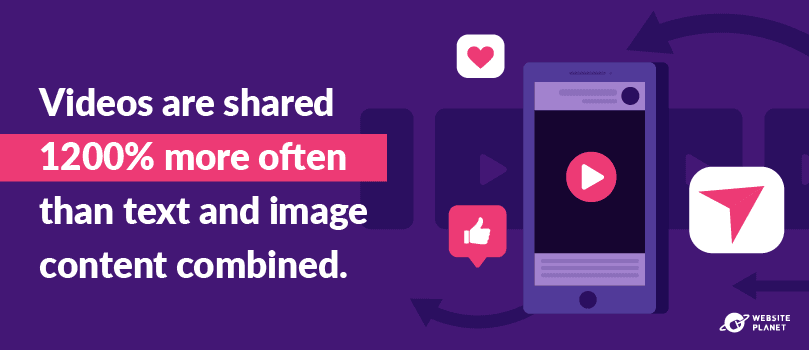 Videos promote more successful marketing campaigns because they engage viewers. Humans process visual content 60,000 times faster than text. We are visual learners, and video is the most interesting form of visual content. That's why people feel so inclined to engage with video. It spikes our interest and ultimately provides us with so much value that we need to share it. If you're wondering what viewers like about consuming video, the following statistic might go some way towards explaining…
5. Video Educates Viewers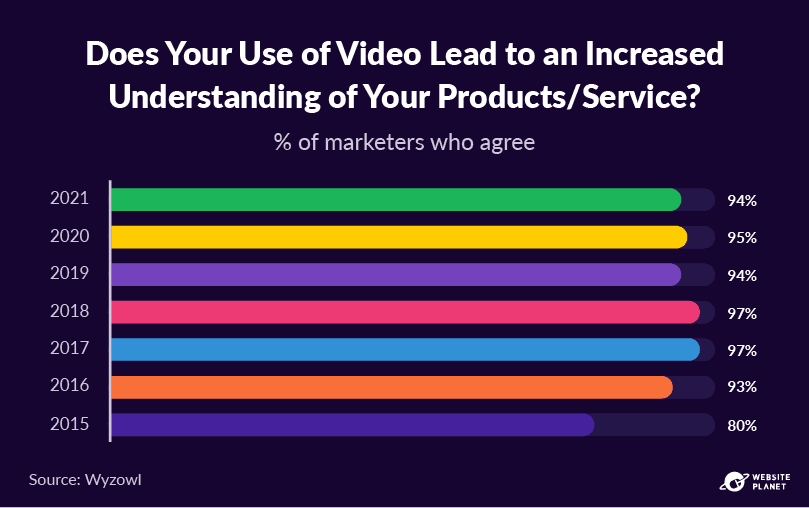 Video is the number one educational tool you can use for your brand. As we mentioned, humans are really good at processing visual information. According to Social Media Week, people who view videos retain 95% of the information (or message) contained within the video. That's huge. This equates to a significant increase in the level of understanding people have of your business. The fact your message stays with potential customers also increases brand recognition and brand awareness. Opinionmonster found that the use of video marketing materials increases brand awareness by 54%.
6. Videos Need To Get The Tone Right
Whatever you do, don't butcher your video marketing content. Hitting the wrong note with your customers could have negative consequences. As with all marketing materials, it's possible to have a campaign that unsells your product. That's why you need to get the tone right. People don't want to hear a cheesy salesman's voice, especially not on social media. If you're marketing in an informal space like social media, it's probably best that your content sounds informal too. More often than not, marketing in a conversational tone will better resonate with your audience.
7. Video Generates Leads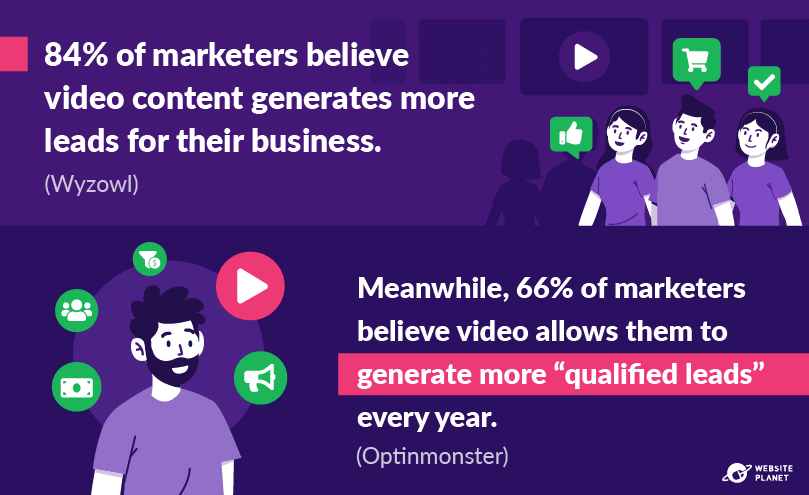 An increase in engagement, value, and brand recognition amongst viewers positively influences your business's number of potential customers. Hit these 3 criteria, and the reach of your marketing content will be huge. Over 80% of marketers get more leads from video content. Many of these leads are "qualified leads," too. These are leads who are nearing the end of their sales journey — i.e., They're pretty much ready to buy because your video was so darn effective.
8. Video Converts Customers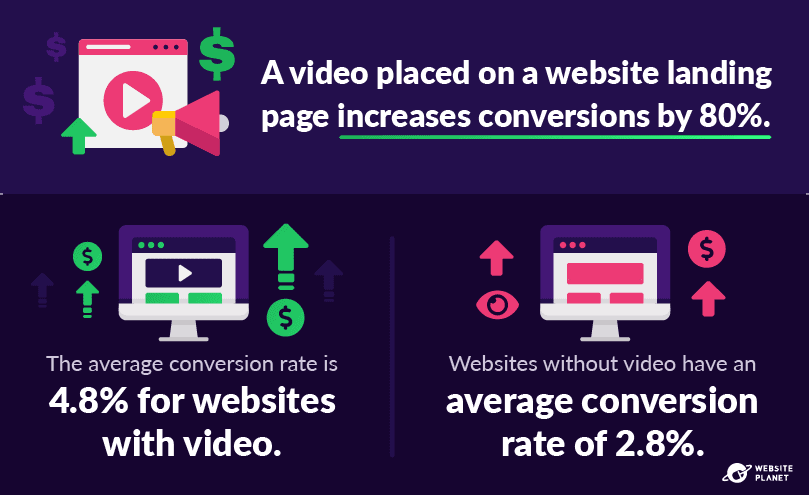 And what comes next? You guessed it… conversions. Video does such a great job of educating people about the value of a product or service that it increases paying customers. In a Wyzowl survey, 84% of consumers say they were convinced to buy a product/service after watching a brand's video content. That's why video is so crucial.
9. Producing Video Is Expensive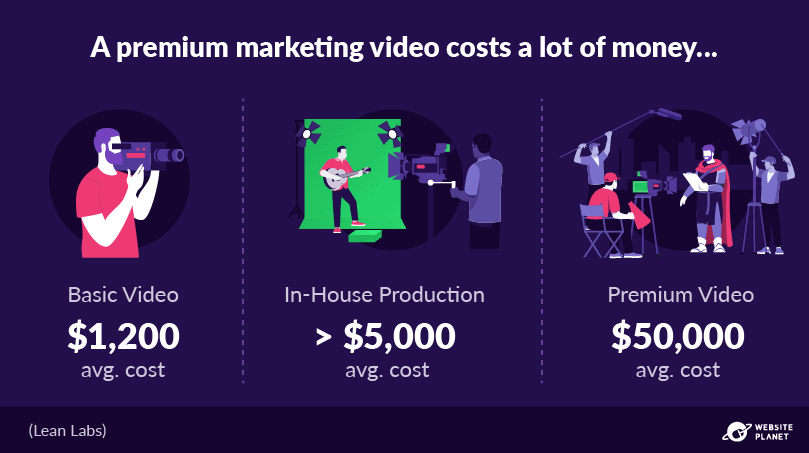 Video production is not for the faint-hearted, because it's really expensive to do. You can bring infographics or photographs to life in a matter of minutes. However, when it comes to video content, a tremendous amount of equipment, expertise, and editing is required to make a successful project. You'll need a camera or an animator, props, actors, and a production team. It's neither cheap nor easy, but don't worry — it's worth it. Video works out positively more often than not.
10. Video Can Provide Huge Return On Investment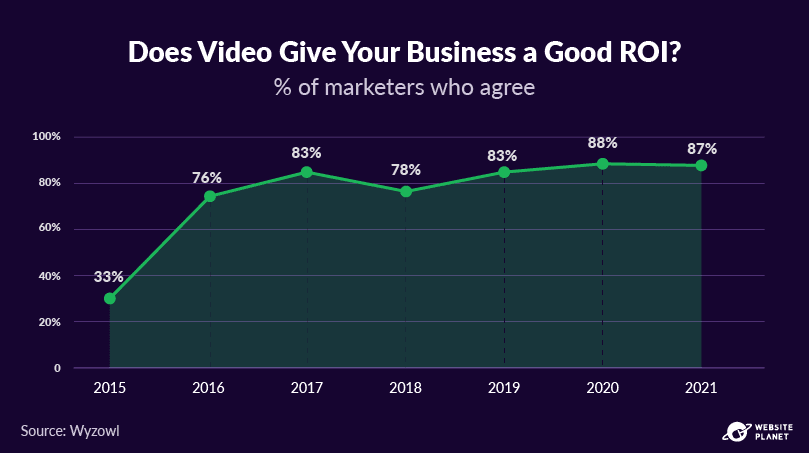 87% of marketers agree that video provides their business with a good ROI. In other words, it's worth all of the time, effort, and money it takes to produce. In the same survey, 78% of marketers said that video has directly increased sales. Not only are marketers making their money back on video, but they're also making more money because of it, too.
11. How Many Marketers Use Video?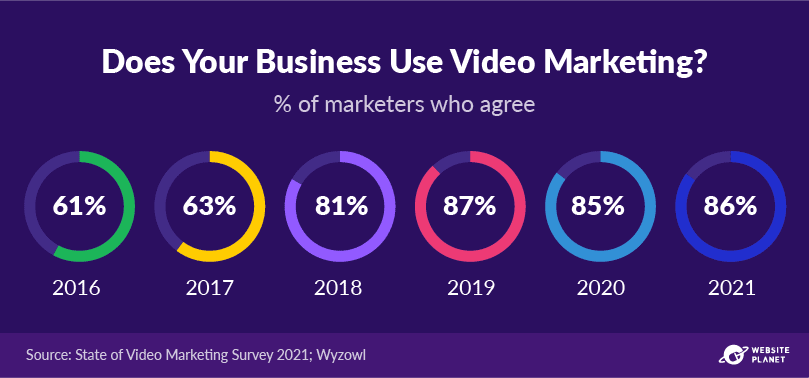 So, just how widespread is video amongst marketers right now? According to these statistics, the vast majority of marketers are employing video as part of their marketing strategy. Professionals are convinced of its value. And those not using video are being left in the dust.
12. How Often Do Brands Use Video?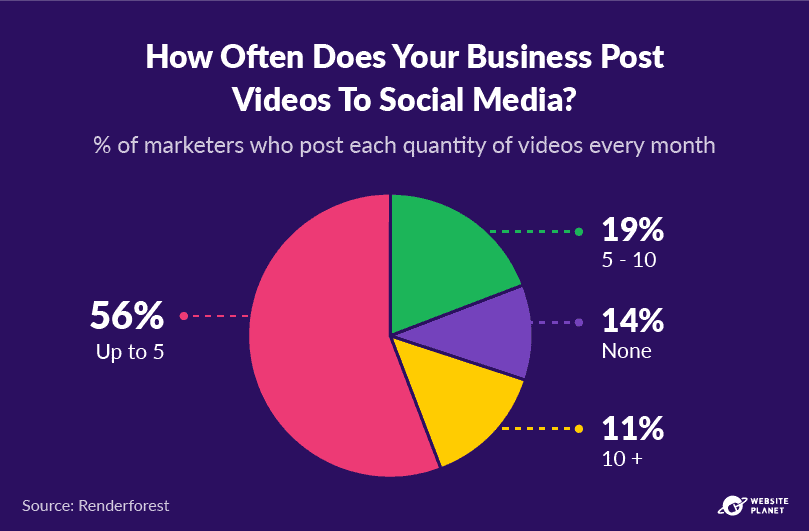 The average brand in Renderforest's survey posts up to 5 videos every month. That's actually higher than some people might expect, but if video is so valuable, why not post more? After all, video has a great return on investment, and people love watching videos from their favorite brands. Wyzowl found that 86% of people would like to see more videos from businesses. Brands should try to post as many videos as they can every month to maximize viewer engagement. I can guarantee those brands that post 10+ videos a month will do so for a good reason.
13. Marketers Agree Video Is Hugely Important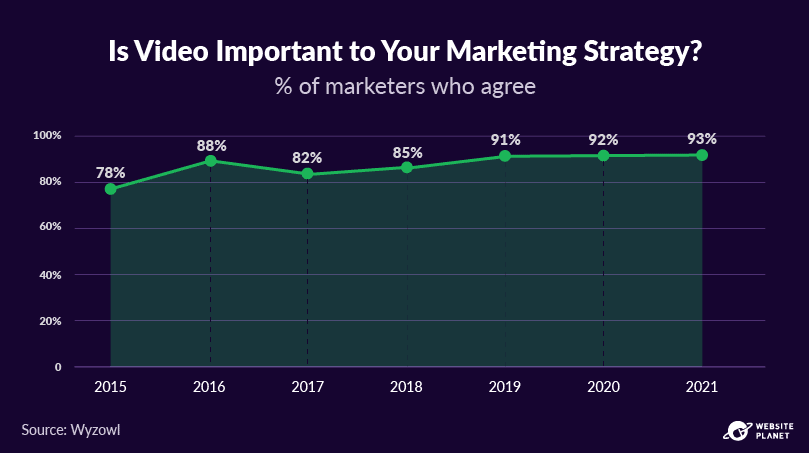 Video is essential to almost every marketer out there, and as the graph shows, more people realize the importance of video every year. In an Animoto survey, 70% of businesses say they have begun creating even more video content over the last 12 months. Video content is well and truly taking over the world of marketing, but if marketers unanimously agree about video's value, why do some still choose not to use it?
14. Why Don't Some Marketers Use Video at All?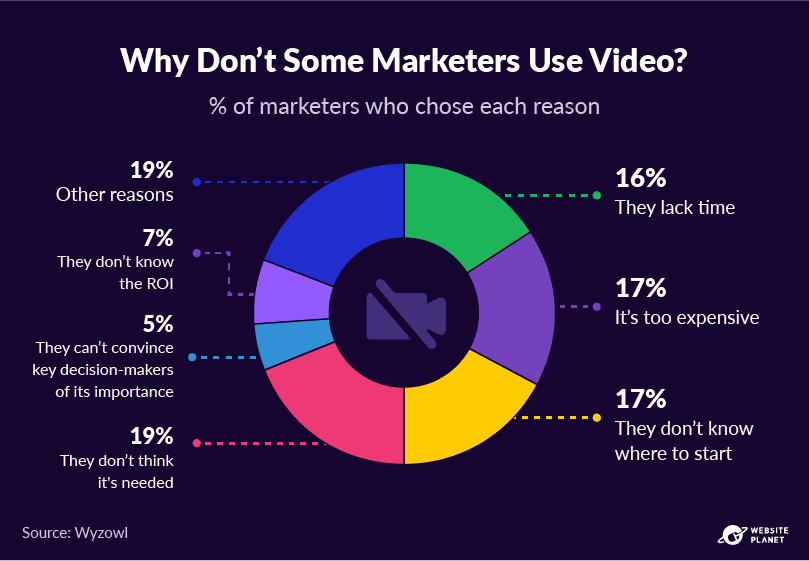 There are some pretty significant difficulties in getting started with video. However, we've disproved a lot of these worries already. Yes, video is expensive to make, but the return-on-investment is so good that the production costs shouldn't matter. Unless, of course, you're operating on a shoe-string budget. The 16% of people who say they "lack time" should make more time by scrapping less effective communications in favor of video. As for those who "don't feel it's needed," well, they're missing out. Video can add an extra element to your video marketing strategy, whatever that may be.
15. Top Challenges for Video Marketers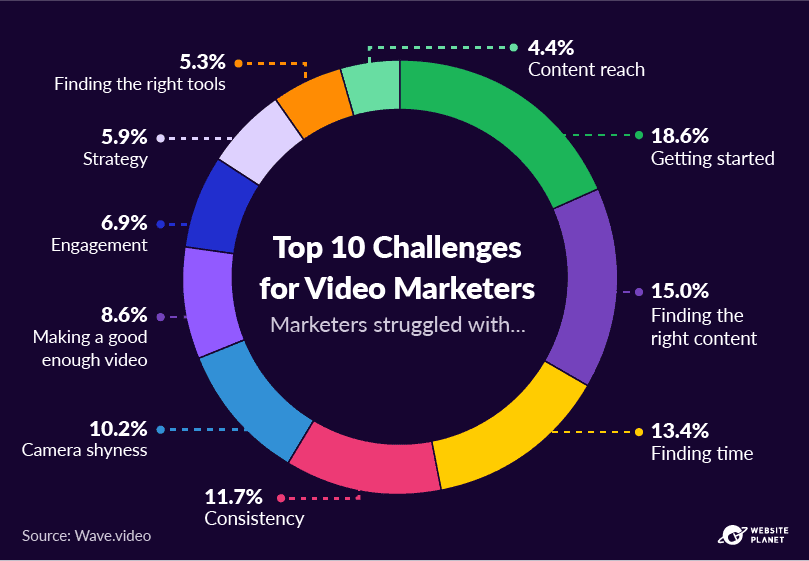 Marketers who are employing video in their strategy do face some issues when planning and creating their content. Again, time is a big issue for many marketers, while others struggle to get the ball rolling in the first place. Finding the right content is another major difficulty. This is expected because appealing to your brand's target audience is vital across any marketing medium.
16. The Effect Of COVID-19 On Video Marketing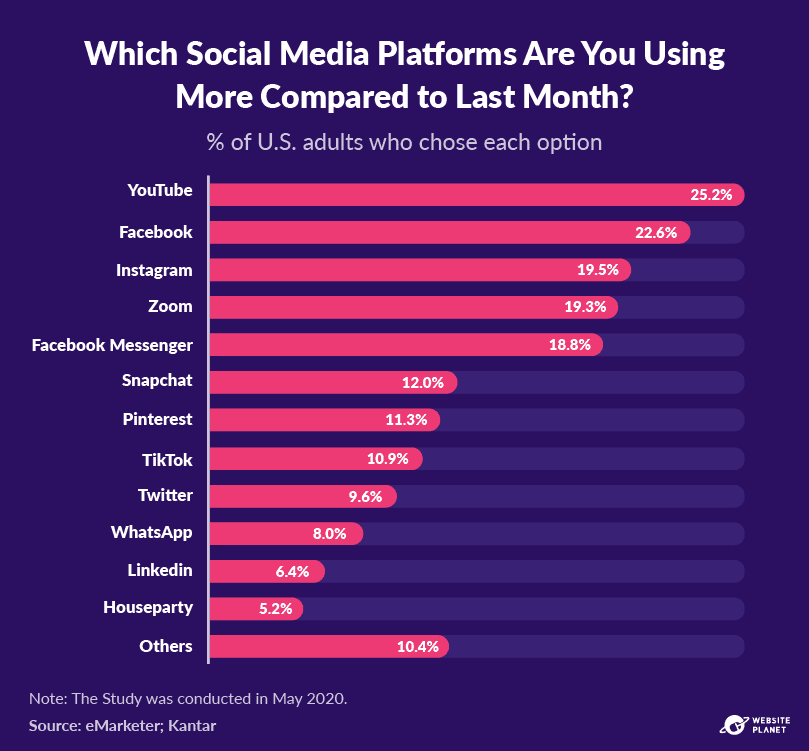 Lockdowns and the COVID-19 pandemic had a big impact on video consumption back in 2020. People went online without much else to do, and as a result, almost every social media platform enjoyed a significant increase in use. This is particularly true for social media platforms that feature a heavy dose of videos, such as YouTube, Facebook, and Instagram. The effects of this are still lingering today. Given these are the three biggest platforms people turn to in times of crisis, you should capitalize on the popularity they're receiving today.
Types & Forms of Video
Next, we're looking at the statistics behind the different types and forms of video. Here we'll cover everything from the different categories of video that marketers like to use to new technologies like augmented reality, virtual reality, and interactive video.
17. The Most Engaging Categories of Video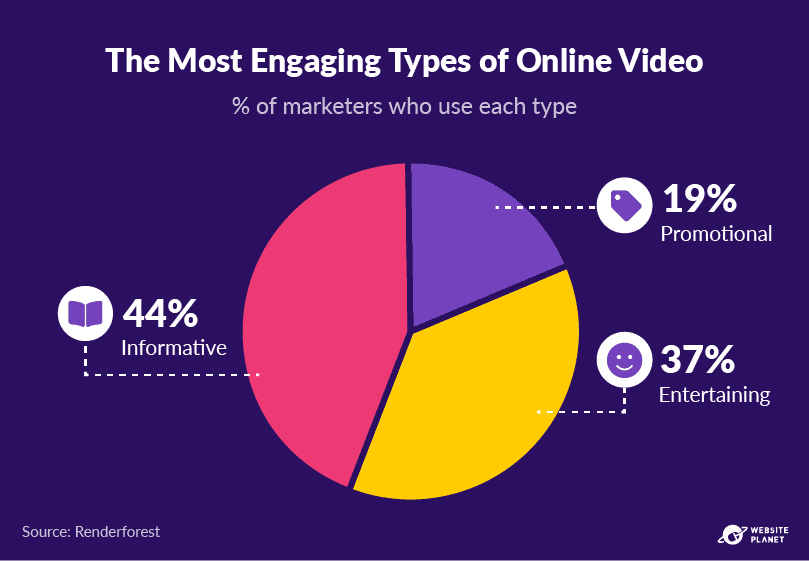 We can break video content into 3 broad categories, each of which tells us what the content is trying to achieve. You may be surprised to learn that people are engaged by informational videos more often than entertaining ones. This just goes to show the power of video as an educational tool for businesses. If you can create a video that informs and entertains all simultaneously, then you're onto a winner. Look at the likes of John Oliver and Trevor Noah.
18. Most Common Types of Marketing Video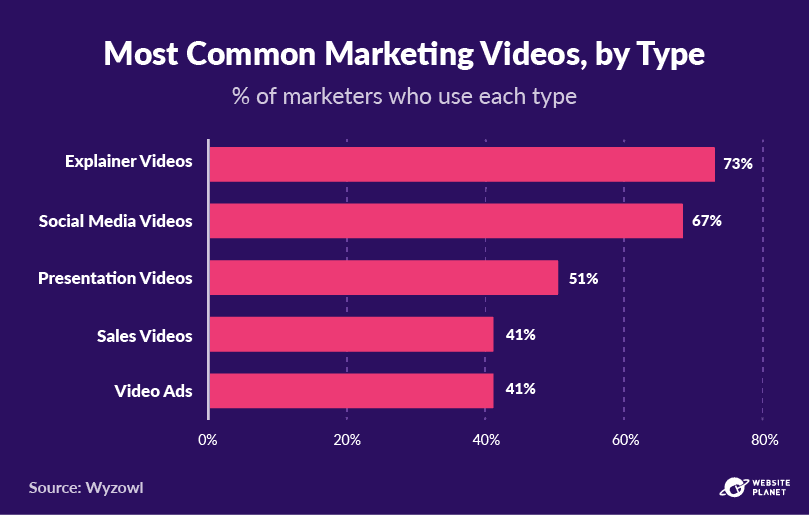 Marketers use explainer videos more than any other type, which is expected given how well video informs people about a product or service. Social media videos are huge right now, too, as more people watch videos on the most popular online platforms. "Spots" (or advertisements) are not used quite as frequently as informative forms. People don't want to see promotional videos too often, and providing value in other ways is just as important to draw customers in.
19. Video Explainers Are Crucial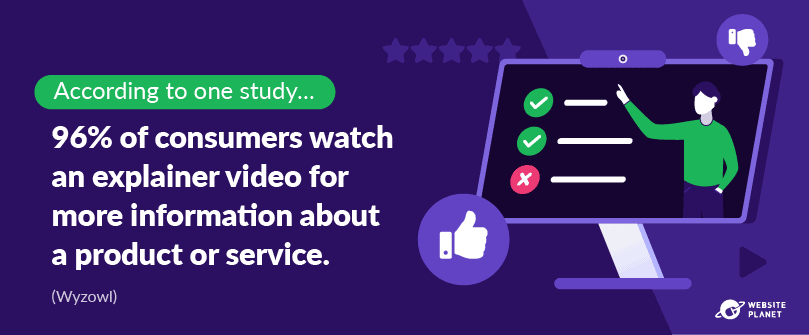 That's why 83% of businesses in the same survey rate their homepage explainer as "effective." It's the perfect introduction to a brand, product, or service. Explainers provide value to the viewer, which is the best way to get customers to stick around. Eventually, explainers lead to an increase in sales. That's why an explainer that accompanies a product/service boosts website conversion rates by a whopping 85%. It's no wonder these are the most popular type of marketing videos. Explainers are absolutely crucial.
20. Video Marketers Should Address COVID-19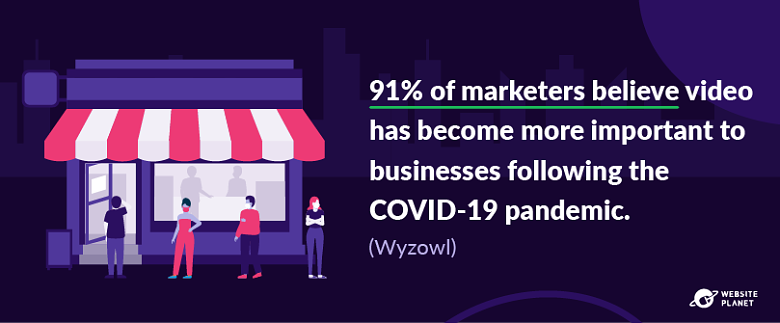 Businesses need to address the pandemic if they haven't already, and the best way to do this is through an explainer video. Having a strong voice at times of uncertainty means people can rely on your business. Reassuring customers about your business' safety procedures will improve brand popularity, while videos that address COVID-19 will remove any fear from the minds of nervous customers.
21. Businesses Love Animations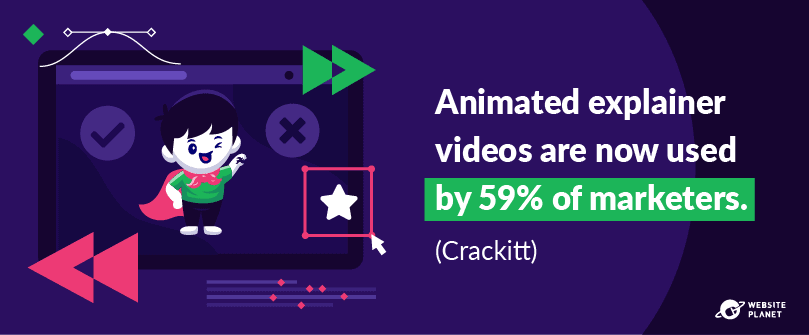 But why do so many marketers incorporate animations into their explainer videos? Many people think that animations only appeal to a very specific audience, but they're actually a great educational tool for any viewer. Animated videos bring clarity of communication that is not present in a lot of live-action marketing videos. When you see an animation, it's obvious what you're looking at, and there are minimal distractions on-screen, so the viewer can absorb more information. There's a level of creative license you can have with animations, too. You can visually represent concepts that wouldn't be possible with live video, and you can use the animations themselves to portray your business with a confident personality. Animations are often cheaper to make, so, understandably, businesses love to use them.
22. Presentation Videos Are Effective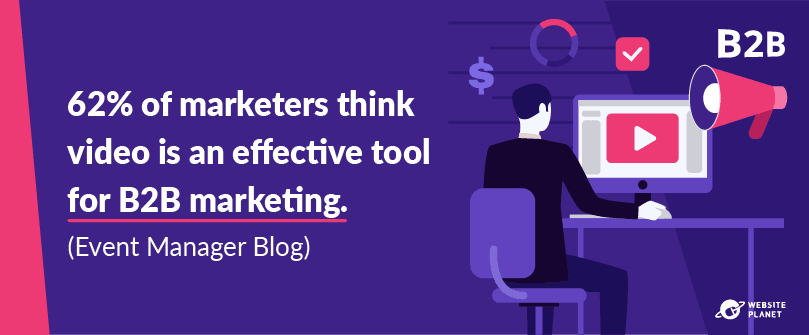 Presentation videos are like explainer videos for the business-to-business space. Of course, I'm sure many of you have seen enough presentations to know exactly what one is. Presentation videos work because businesses often need to know much more in-depth information than your average consumer before buying. They need to see graphs, analyses, trends, and statistics. Presentation videos allow B2B marketers to present clients with this wealth of information while pitching their business. That's why, for many B2B marketers, presentation videos are an incredibly effective tool.
23. Live Video Is On The Rise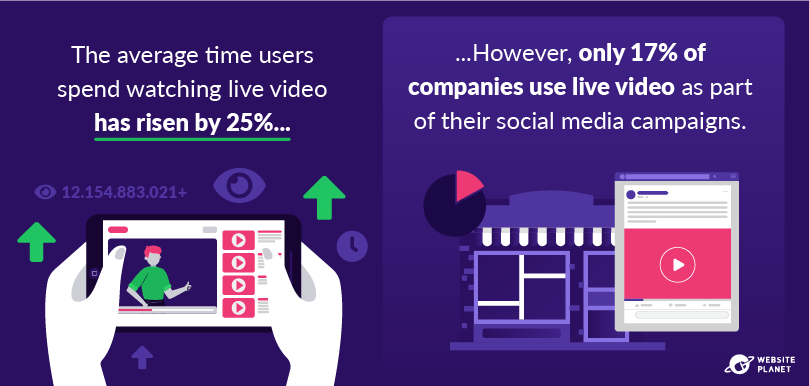 Live video is trending in 2021, and we can expect that to continue long into the future. Big social media platforms have incorporated live video features into their apps in recent years, and the overriding feeling is that people enjoy live content. Plus, it's super easy and free to produce. You don't even need to plan for live content. It's a wonder, then, why more companies aren't using it as part of their marketing campaigns.
24. Live Video Is Extra Engaging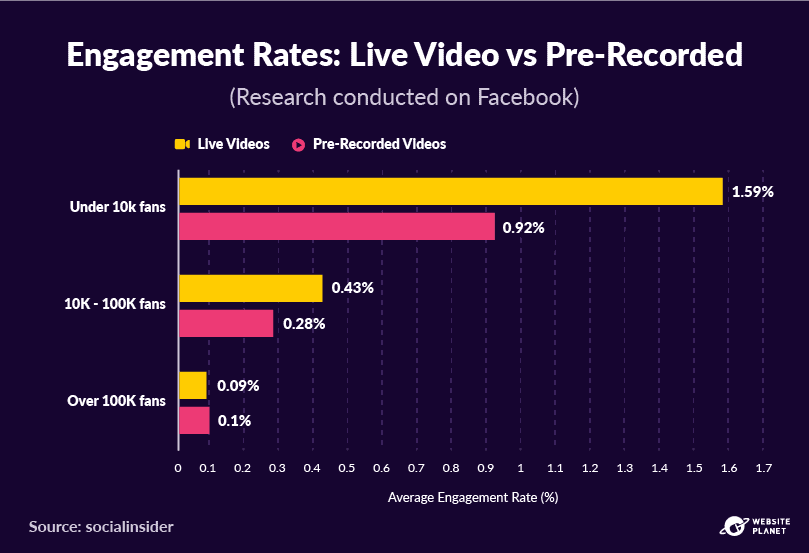 Live video promotes a high level of engagement. Much higher than traditional forms of video, as these statistics from Facebook clearly show. Live-stream posts can see engagement rates close to 2% on Facebook, which is far higher than Facebook's 0.21% average across all post types. In fact, 12% of Facebook posts are live streams, yet they garner twice the engagement of regular videos. According to social insider, live videos that are longer than an hour perform the best. Longer live videos had a higher engagement rate than shorter lives, by between 0.19% to 0.86%. So viewers are engaged by live content, but they're also engaged for longer. Research from Forrester shows that live videos retain viewers' attention for 10-20X longer than standard video content.
25. Which Live Videos Do People Watch?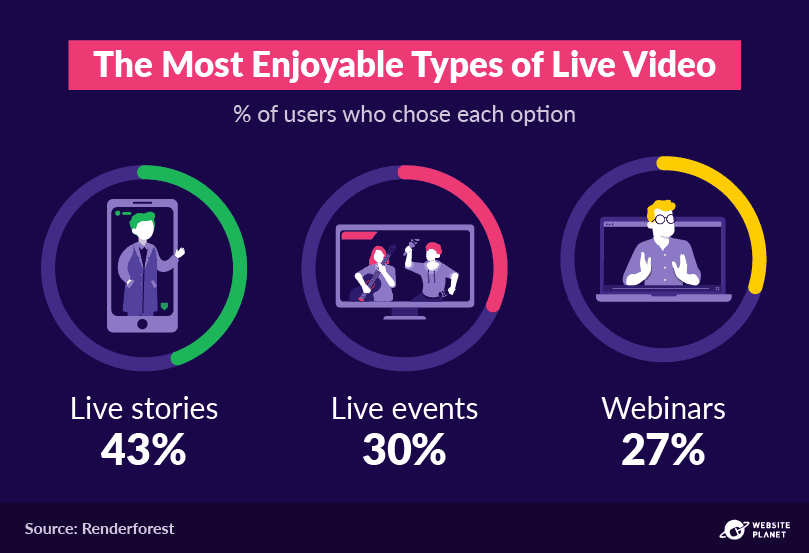 Users watch live stories more than any other type of live content. The engagement of this form means it's a great way to speak directly to followers, even if it means going live just to give a quick message or update. Live events are also a popular form of live content, and documenting branded events in this way should be great for drawing in viewers. Webinars are still really effective. They're a formal, educational type of video used in the B2B sector, so that's likely the reason people rank them as their least enjoyable live event.
26. Webinars Are Great In B2B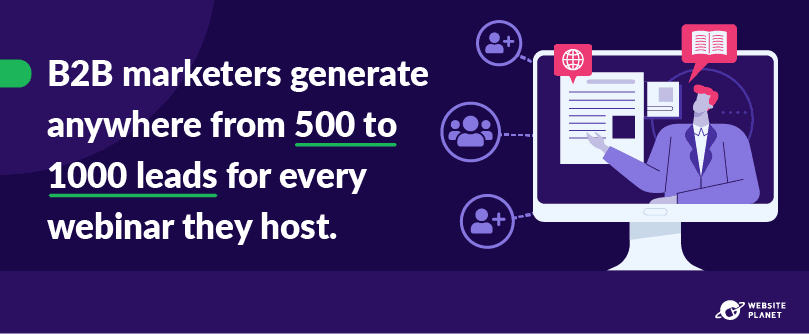 Webinars are a great form of content for B2B marketers. They allow brands to give presentations, show branded videos or web pages, and educate viewers about their business or industry. They are more niche than other types of live video, but crucially they provide a tonne of value to potential clients. According to the Content Marketing Institute, 6 in 10 B2B marketers use webinars as part of their marketing strategy. Another report by on24 found that the conversion rate of webinars was as high as 55%. In which case, I suspect that webinars will continue to be used by B2B marketers for years to come.
27. Live Streaming Events Is Growing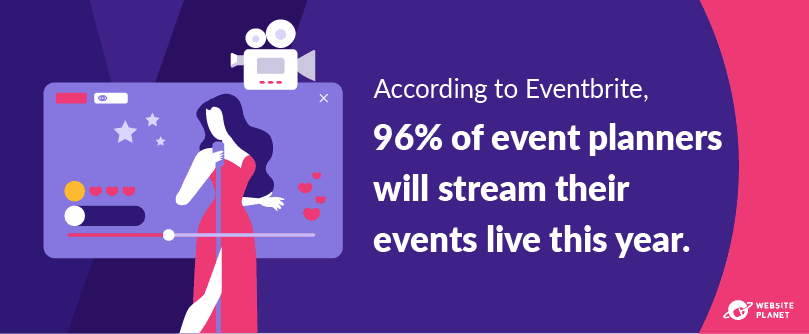 The figure is so high because it's a no-brainer. Live video is really effective, and it's absolutely free. If there's any kind of event, why not maximize its reach with minimal effort? Businesses spend so much money putting events together. They can make them global events by simply opening up a social media account and pressing the play button.
28. People Want Personalized and Interactive Videos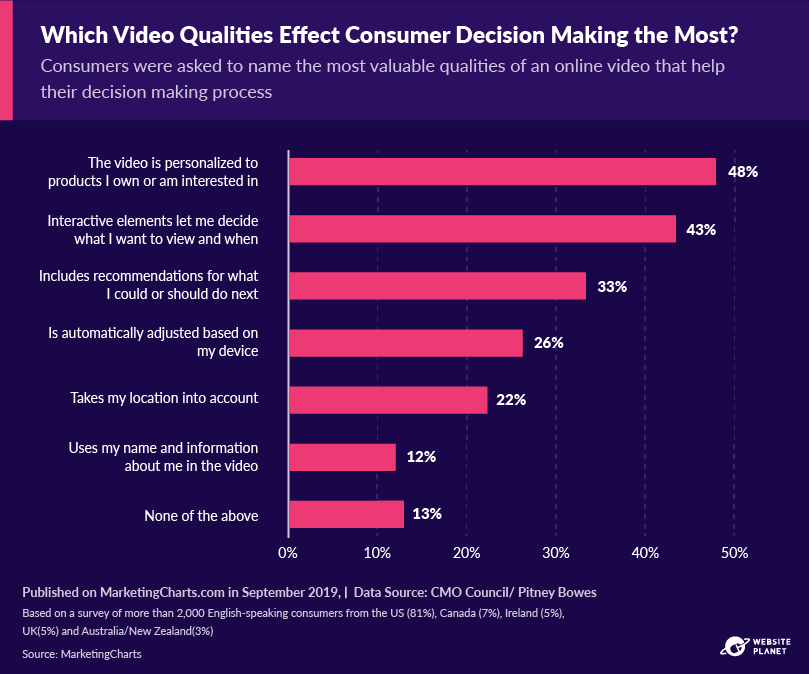 Users ranked the top video qualities that influence their decision-making process. The top 2 results are significant because they demonstrate that people want personalized and interactive features in videos. This level of detail streamlines customer experience and ultimately eases the buyer's journey through your marketing materials and site. Provide this kind of value to a potential customer, and the only decision they'll be making is how much more of your product they should purchase.
29. Personalized Videos Retain Viewers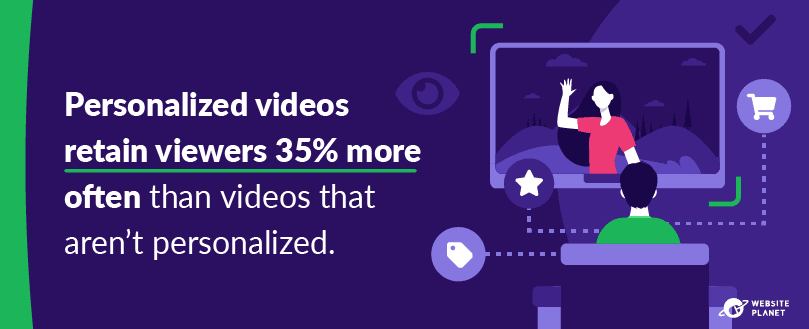 Personalized videos retain their viewership. When something is speaking directly to you, it's pretty difficult not to take notice. Viewers will watch to the end because they're interested, and probably quite impressed. Put it this way: if you receive a letter in the post addressed directly to you, you're likely going to read it. People are curious, and a personalized video will appeal to that same base instinct as any personalized letter or postcard.
30. Interactive Video Is Great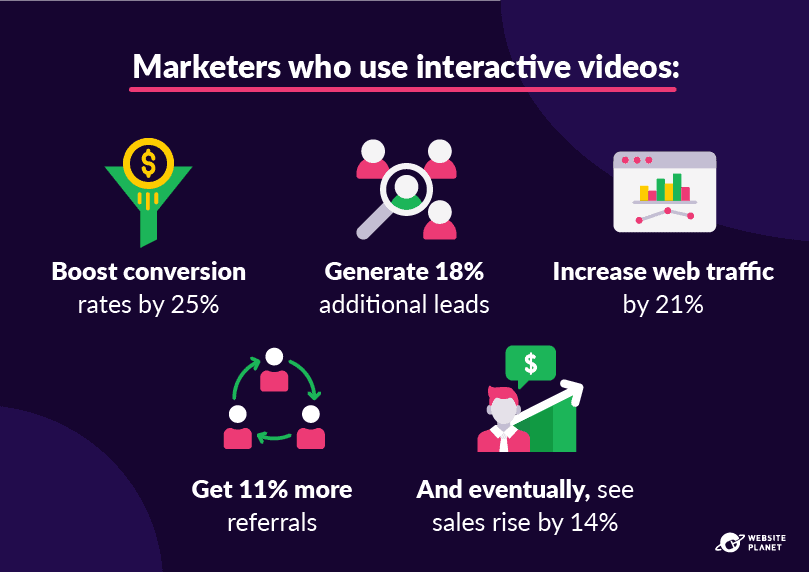 In truth, we could list countless metrics to prove the value of interactive video. How about this: interactive video achieves 66% more engagement, 29% more shares, and 44% more viewing time? The point is, interactive video is staggeringly effective at just about everything. It's super engaging because viewers find it fun to use. People stick around to use great interactive content. They tell their friends about how good it is, about how good your brand is, and ultimately this drives conversions.
31. AR  And VR Have Retail Potential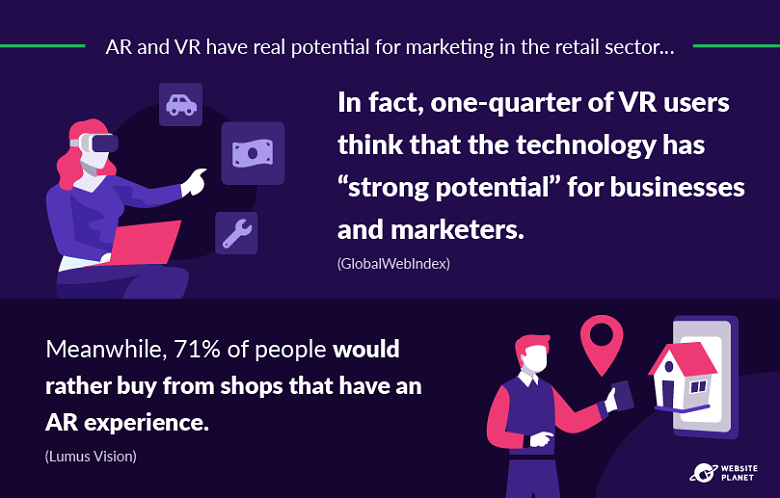 AR and VR have massive retail potential. Just like other new technologies, people are excited to find out what AR and VR have to offer. These 2 technologies are essential for marketing products because they open the door to so many possibilities. You could take a virtual look at that car you want to buy, or inspect an item from all angles before you decide to place it in your online basket. AR technology is accessible from most people's phones. AR opens up a whole bunch of customization options when it's utilized in the online retail space. For example, someone using AR could turn their front room into the dressing room of a clothing boutique, trying out different combinations of clothes as they look for new things to buy. Overall, these 2 technologies open up a world of opportunity in the retail sector. So begin looking at ways to invest if you haven't already!
32. 360-Degree Video Is Exciting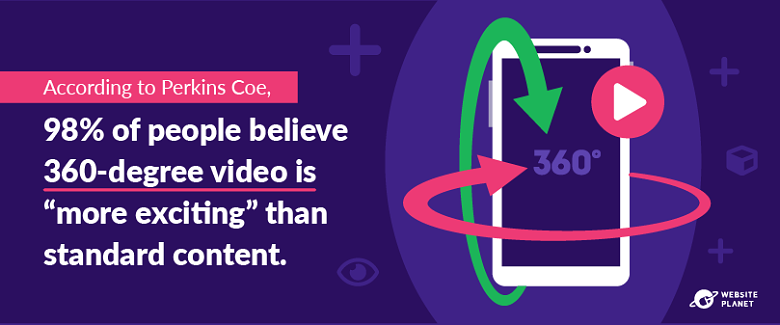 360-degree video is a type of immersive video that is recorded with a view in every direction. You can typically watch 360-degree videos on your phone or computer, moving your camera lens or dragging your mouse to look at surroundings within the video. People find this content ridiculously fun to use, and in some industries, that makes 360-degree an excellent marketing resource. In the same research from Perkins Coe, 41% of consumers like 360-degree video as it allows them to try out a product or service. Take the housing industry, for example. If someone wanted to view a house in another country, they could simply access a 360-degree video of its interior. They could view the house's size, layout, and condition and make decisions based on this information — all while enjoying the process. Sounds pretty cool, right?
Channels, Platforms & Patterns
Section 3 is all about the channels and platforms that marketers use to distribute their video content. Identifying patterns in how different types of video perform on these platforms is crucial to building a rock-solid video marketing strategy.
33. TV vs. Online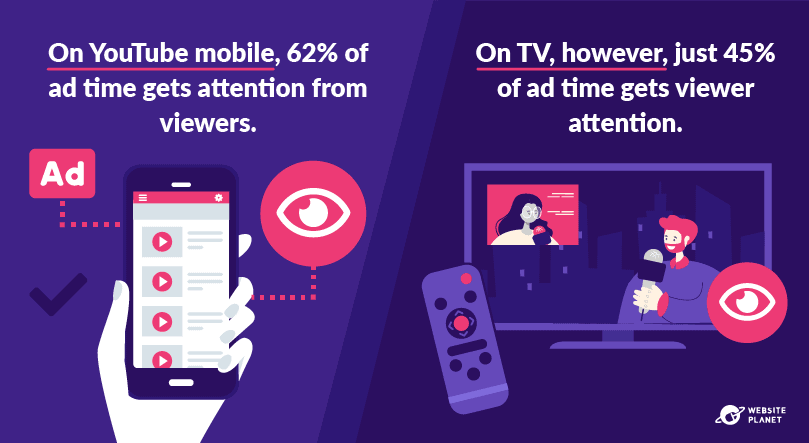 Online video has been overtaking TV for a long time now, and people are even willing to consume more adverts online than they would while watching TV. Videos on social media have proven the most effective way for customers to find new brands and make a purchase. As the biggest video streaming platform on the internet, YouTube does a great job of engaging its viewers and showing them adverts relevant to their wants and needs.
34. TV Is Making A Comeback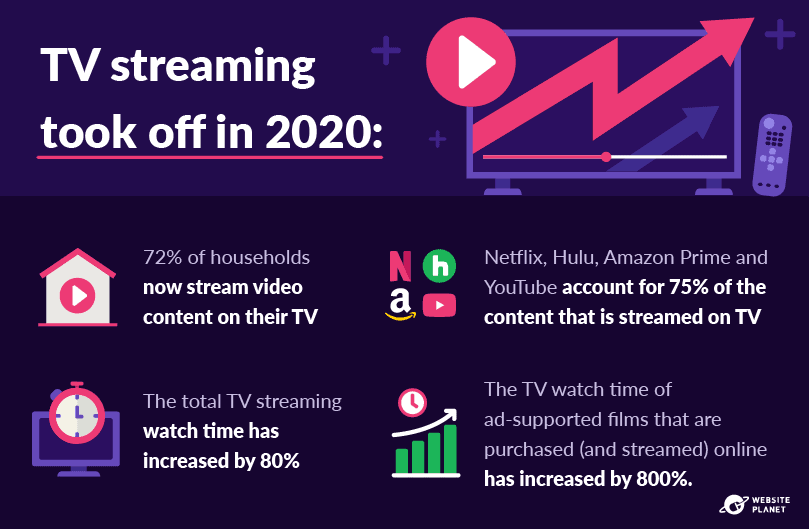 Although online video is some way ahead of TV right now, more people are now using their TVs to stream online video content than ever before. Google's streaming trends review throws up a few interesting stats that show somewhat of a comeback for TV. Most people use their TV to stream online video, with Hulu, Netflix, Amazon, and YouTube accounting for the vast majority of traffic. People are purchasing and watching more feature-length movies now, too, so one of these ad-supported platforms could be the ideal location for your video marketing materials.
35. Live Streams On TV?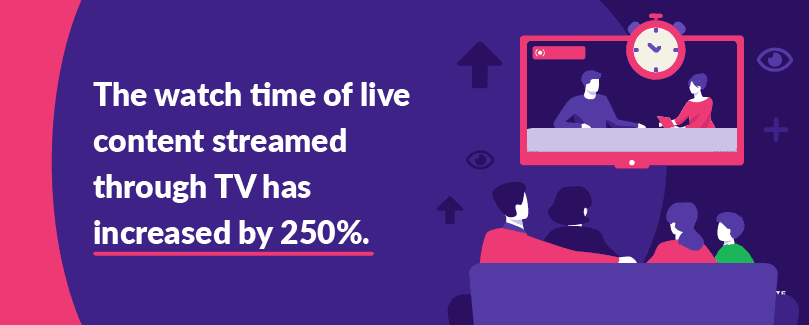 People also access more live content from their TV, with live-streamed events and platforms like Twitch now available with most smart TV technology. Content is best enjoyed from the comfort of a home entertainment system, and it will be interesting to see how marketers utilize this latest development. There could be ways to allow TV users to connect to quizzes or interactive videos. I also wouldn't be surprised if Facebook, Instagram, and TikTok allow users to access video content from their TV soon.
36. Video Dominates Social Media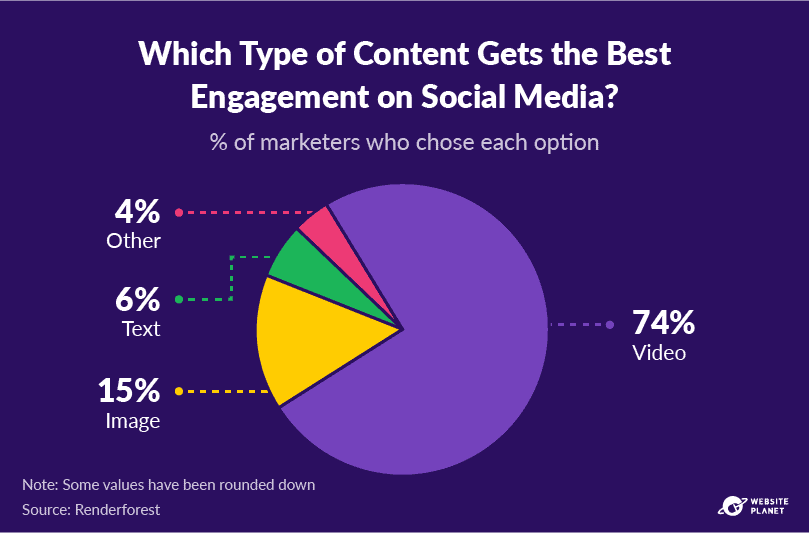 Video is the primary content that people want on their social media platforms, and that's why it's massively outperforming image, text, and other forms of social media content. Video gets more views, shares, likes, comments, and reach, and it generates more intrigue than any other form of content on social media. That's why video is the best form of content, especially if you're looking to boost social media engagement on your posts.
37. Video On Mobile Social Media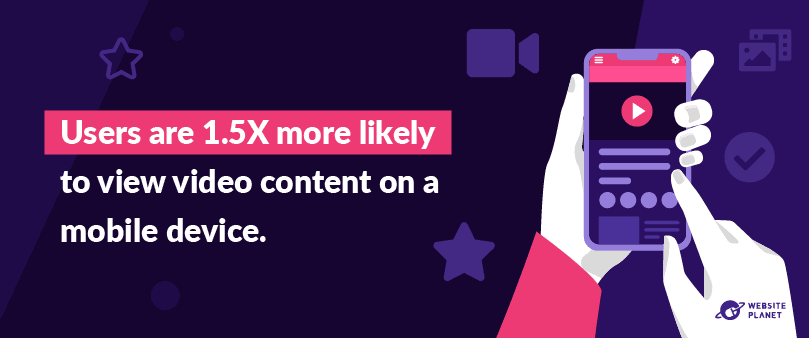 Mobile devices offer fantastic ease of use when consuming video content: their small size means viewers can watch videos any time, any place. 70% of YouTube video views come from mobile devices. On Twitter, a massive 93% of viewers access video content from their phone or tablet. All things considered, you're really missing a trick if you're not making video content mobile-friendly. That means using a simpler style or design in your content, which people can easily view on a smaller screen. Mobile users will skip an ad if it's too complicated, and that's not a risk that marketers can afford to take.
38. What Online Platforms Do Brands Use?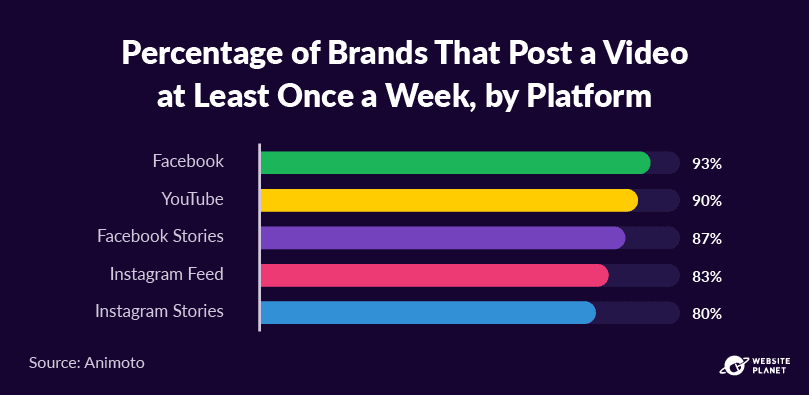 Facebook is the world's biggest social media platform, and as such, brands believe they can maximize their reach by posting video content to its feed more than anywhere else. YouTube is not far behind Facebook's feed as the second most popular platform for video marketers, though, YouTube's reach amongst video consumers may suggest it deserves priority over everything else. Facebook Stories, Instagram's feed, and Instagram Stories are three more popular platforms that marketers love to utilize with regular video content.
39. Where Do Users Watch Video?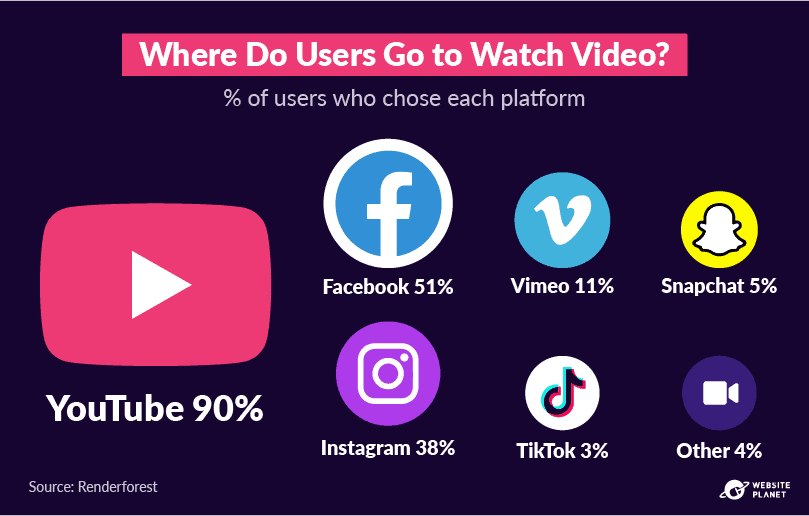 With 2 billion active monthly users and more than 1 billion streamed hours per day, YouTube is by far the number one place people go to watch video content. So, why is Facebook more popular amongst marketers? Facebook's not far behind YouTube and still gets huge viewership, with around 4 billion video views every day. Facebook has a larger user base than YouTube, too, with brands reaching about 2.8 billion active users. That being said, some brands could really benefit from primarily posting their content to YouTube.
40. YouTube Drives Purchases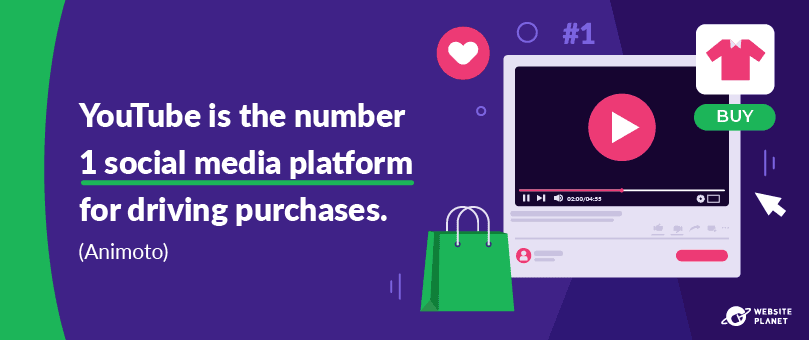 Despite the popularity of Facebook, YouTube actually drives more sales than any other platform out there. Some marketers may find YouTube a more complex platform to grow their brand's reach, but there are huge rewards available if you can succeed on YouTube. YouTube reaches more 18 to 49-year-olds per week than every cable TV channel combined. It's the principal place people go to watch videos, so it's also where people will go to watch explainers of your products. Big brands also aim to please with their content on YouTube. Think of Red Bull, which posts entire feature films to its account to generate interest. Perhaps the secret to YouTube is just that. YouTube viewers are looking for authentic, personal, and entertaining experiences, and brands can tap into those desires. According to Google, 65% of YouTube viewers say its content "feels like real life."
41. Instagram and Facebook Stories Convert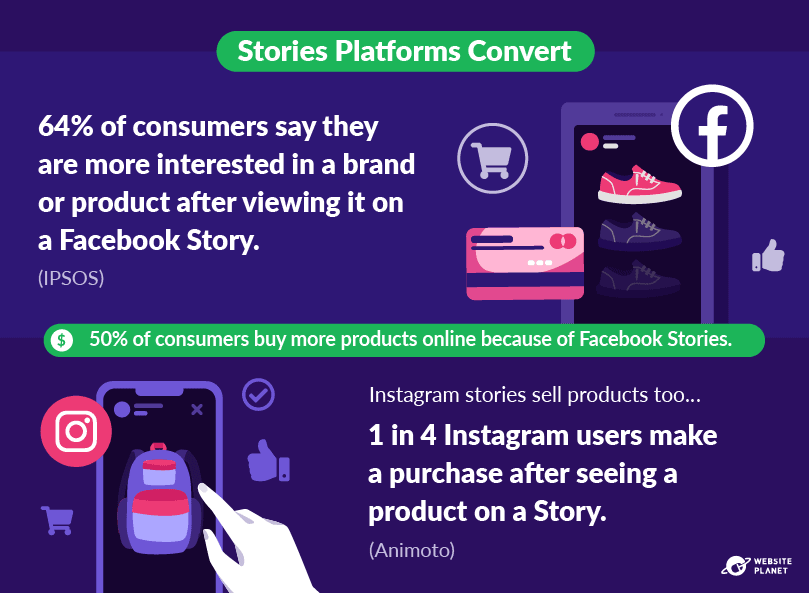 As we've established, Stories are the ultimate form of live video, and nowhere are they more effective than on Instagram and Facebook. These are arguably the 2 biggest Story platforms out there. So, understandably, marketers love using them. Stories promote a high level of conversions, with many people admitting they have made a purchase on these 2 platforms. Not only is live video more engaging than regular video, but Stories can also place a targeted ad right in front of a customer when they least expect it.
42. Optimal Length Per Platform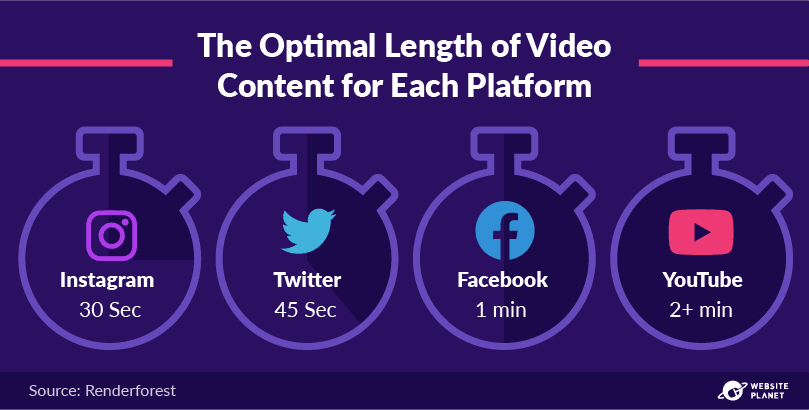 To magnify your performance on Twitter, Facebook, Instagram, and YouTube, it helps to post videos that suit consumers' general needs on each platform. People on YouTube want longer content than on Instagram, for example, while on Facebook and Twitter, viewers are somewhere in between. Across all platforms, videos shorter than 90 seconds retain 53% of viewers. People have short attention spans, so generally, a shorter video is your best bet.
43. Vertical View Is Best on Social Media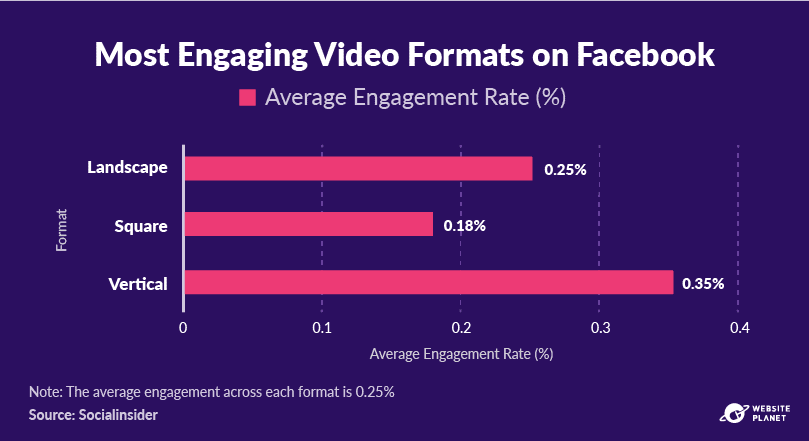 Socialinsider researched Facebook to find out the video formats that work best on the platform. Vertical videos checked out as the most engaging videos on the platform, with an average engagement rate of 0.35%. That's ahead of landscape videos (0.25%) and square videos (0.18%). The news is surprising, as most of us are well-used to watching videos in landscape form. Landscape use has dropped from 96% in 2014 to 52% in 2020. Meanwhile, vertical use has risen from non-existence to 15% of Facebook content. This trend is consistent with what's happening across the internet. On Instagram, for example, 70% of millennials prefer vertical view over landscape view when watching videos.
44. Captions Matter on Social Media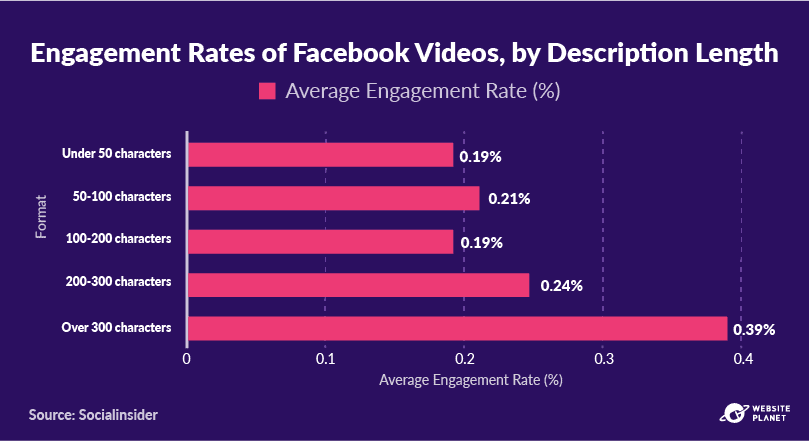 Socialinsider also tested the engagement rates of different length descriptions. It turns out that videos with descriptions over 300 characters had higher engagement rates than videos with shorter captions. In the age of bitesize video, how could this be the case? Facebook videos are consumed without the sound turned on 85% of the time, so viewers rely on a good description to inform them about the content. The same can be said for other platforms on the internet. According to Verizon, 92% of viewers watch videos with the sound off on mobile, and 83% of viewers watch without sound across all devices. 50% of viewers rely on captions as a result. So make sure you get yours right!
45. Design Silent Content on LinkedIn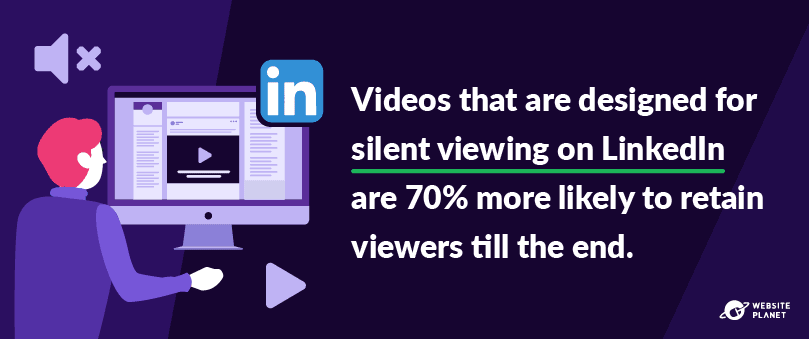 Nowhere is silent content more critical than on LinkedIn. Content that's designed to be watched silently performs far better on the platform. That's probably because LinkedIn viewers are often working from an office or silent space. So, create content that suits this setting. Use captions well, as stated above, and produce content that's low in dialogue, highly visual, and uses subtitles. Hit these three criteria, and you're sure to see some positive results on LinkedIn.
46.  Twitter Is Still Worthwhile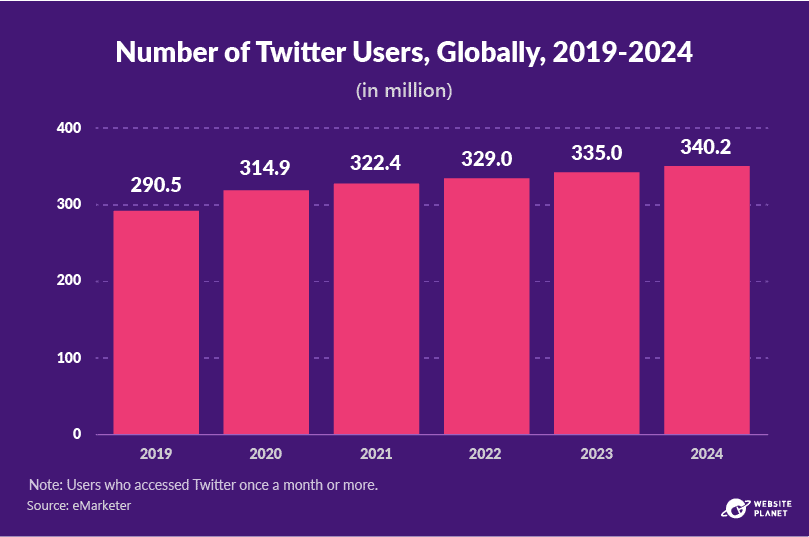 Twitter has a huge following, and despite so many other social media platforms, it's still expected to see significant growth over the next few years. That's why video advertising is still worthwhile on the platform. Video marketers can reach 5.7% of the world's population when advertising on Twitter. That's because Twitter users engage with videos a lot. Tweets containing video receive 10 times the engagement, and are 6 times more likely to be retweeted than regular tweets.
47. Video Increases Site Traffic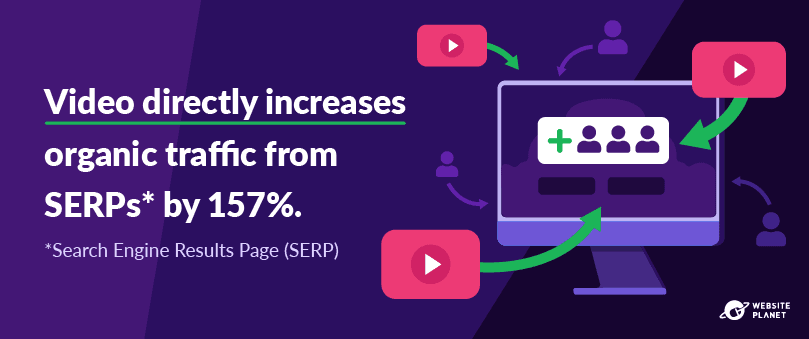 Using video on a website or a blog increases performance across loads of different areas. Crucially, video increases traffic from search engines by more than 150%. This has a direct effect on the performance of websites. Wyzowl reports that 84% of marketers believe video has increased lead generation from their website/blog site content. Meanwhile, 83% say that video increased the time users spend on their website.
48. TikTok Is Already Huge
TikTok is all the rage right now — especially amongst teens and young adults. In 2020, video marketers were testing the waters of TikTok with mixed results. The number of marketers employing the platform in their strategy doubled from 2019, up to 20%, and 67% of these marketers reported their TikTok campaigns as "effective." The platform is also attracting plenty of famous influencers that could market your content. The increasing popularity of short-form video positions TikTok in a good place heading forward, so watch this space.
49. Add Video to Emails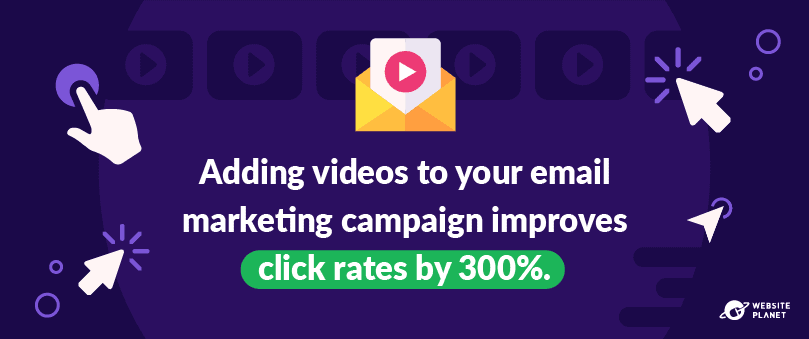 Adding video to your email marketing campaigns is an excellent idea. It will dramatically boost the click rates of your emails, which can ultimately lead to an increase in revenue further down the line. Interactive videos add another layer of engagement to your email marketing campaigns. According to GetResponse, interactive emails boost click-to-open rates by a whopping 73%.
The Future of Video Marketing
Last but not least, we have a list of the biggest video marketing trends to look out for over the next few years.
50. The AR and VR Boom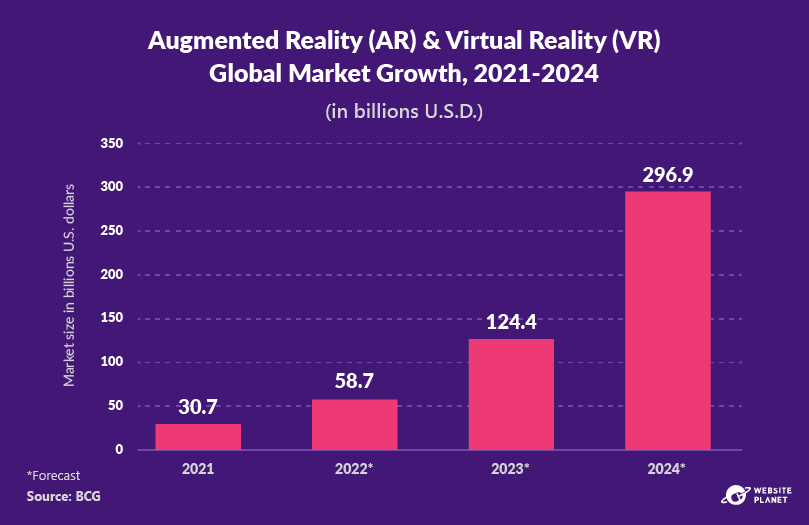 AR and VR products are expected to see incredible market growth over the next few years, as they become a part of everyday life, business, and marketing. The Boston Consulting Group (BCG) forecasts that 2024 will be the year when VR and AR take off. We can expect to see virtual shopping experiences, interactive demos, and try-before-you-buy services hitting the mainstream video marketing industry by then. Why don't you start planning to use VR and AR today? If you're already incorporating these technologies into your strategy now, you'll be one step ahead when the market eventually explodes.
51. Interactive Video Is Growing Fast Too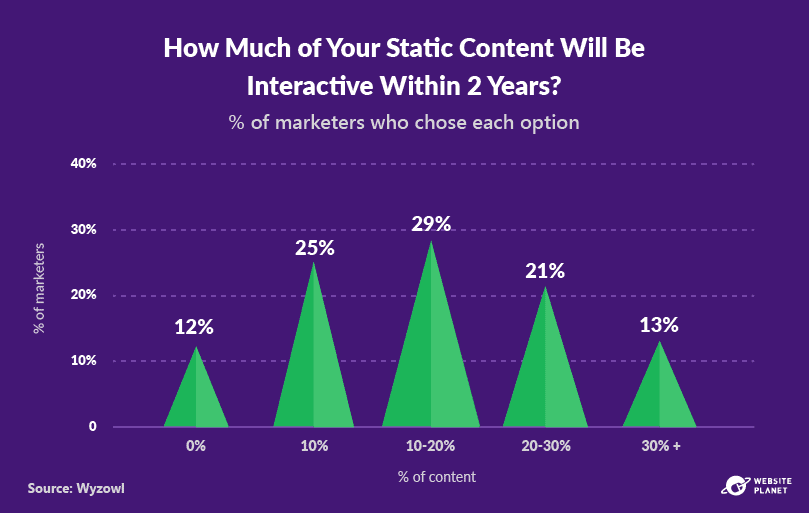 As with Virtual Reality and Augmented Reality, new, stimulating forms of video are set to take off in the coming years. This is certainly true for interactive video, which is already well on its way to making up a huge portion of marketing content for many of the most astute marketers. Viewers want content that's constantly changing, providing different (and more interesting) experiences every time they view it. That's why static content, like static videos, will gradually be replaced by interactive content over the next few years.
52. Streaming Is Unstoppable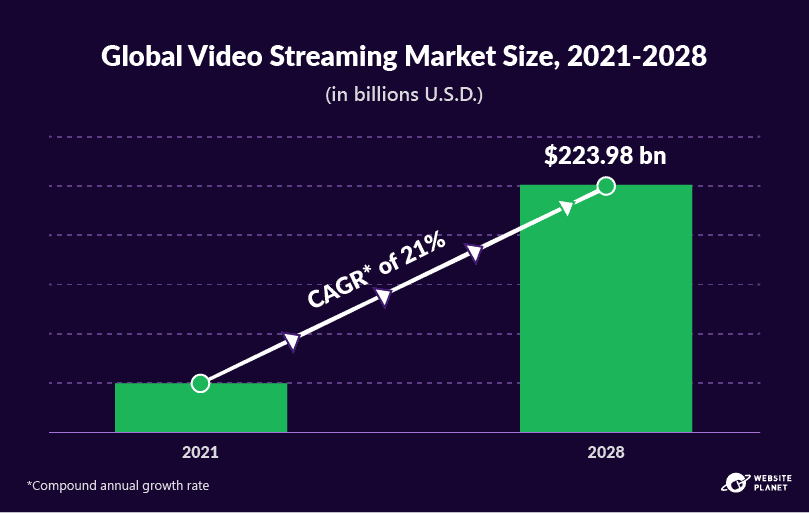 Video streaming has already seen phenomenal growth over the last few years, but you'd be wrong for thinking that's going to change anytime soon. Video streaming is here to stay – from video streaming services like Netflix and Amazon Prime to video-orientated platforms like YouTube and live streaming services like Twitch. Actually, it's going from strength to strength, and you're seriously missing out if none of these sites are part of your strategy.
53. Live Video Will Continue To Rise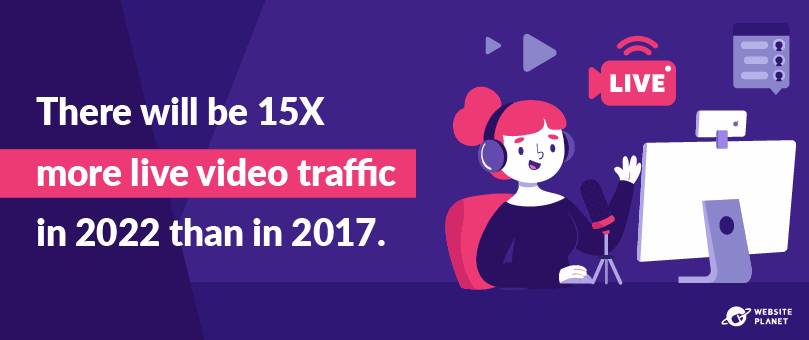 Live content streaming will account for a huge portion of the video streaming market's forecasted growth. The live video streaming market grew 99% between April 2019 and April 2020 alone, and the expectation is that the live content market will reach a massive $184.27 billion by 2027. Platforms like Twitch will drive massive growth in the industry, especially as Gen-Zers and Millennials migrate to live content platforms with increasing regularity over the next few years.
54. Bitesize Video is the Future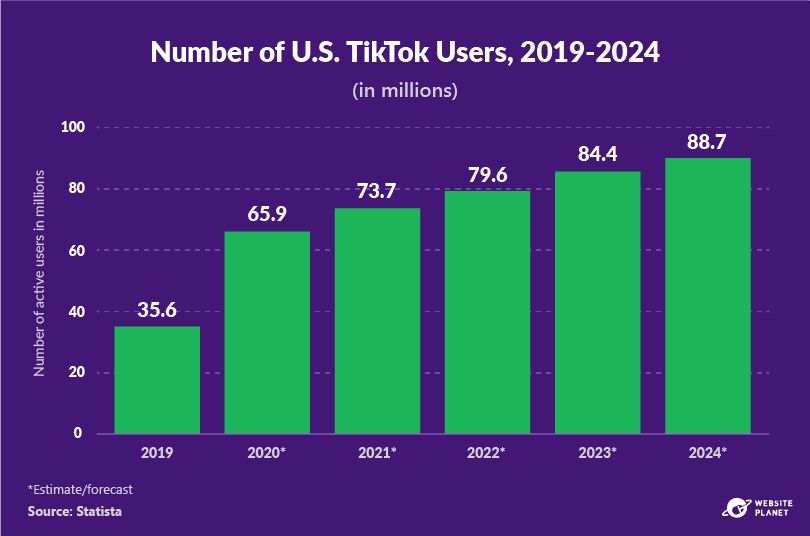 TikTok just keeps getting bigger. The rise in popularity of this service over the last couple of years is staggering. But it's not the only short-form video platform gathering momentum. YouTube's latest competitor, YouTube Shorts, is already receiving over 3.5 billion daily views. That's despite the fact YouTube Shorts is still in beta testing. This surge in popularity tells us that short-form video is going to be huge (if it isn't already). People are now searching for faster, more digestible ways to consume their content, and this trend will only become more prevalent in the next few years.
55. Mobile Will Become More Dominant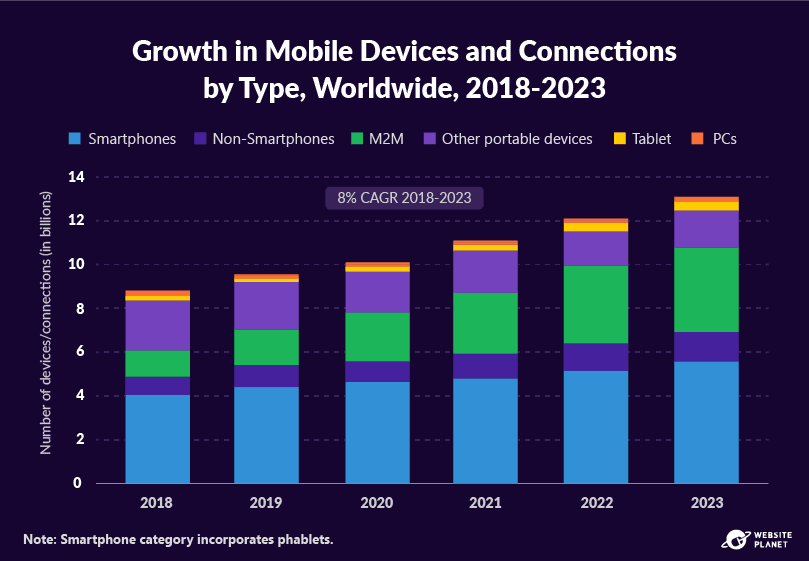 Mobile is already the best way to watch videos for most people, and mobile use is only increasing. Again, this ties in with a theme we see across the board. People want their content to be easy to watch and accessible, whether that's achieved through the design of the content itself or the device they watch it on. Not only will more people be using their mobile devices, but they'll also be watching way more videos on mobile. Mobile video consumption increases by 100% year on year.
56. High-Quality Content Will Be More Important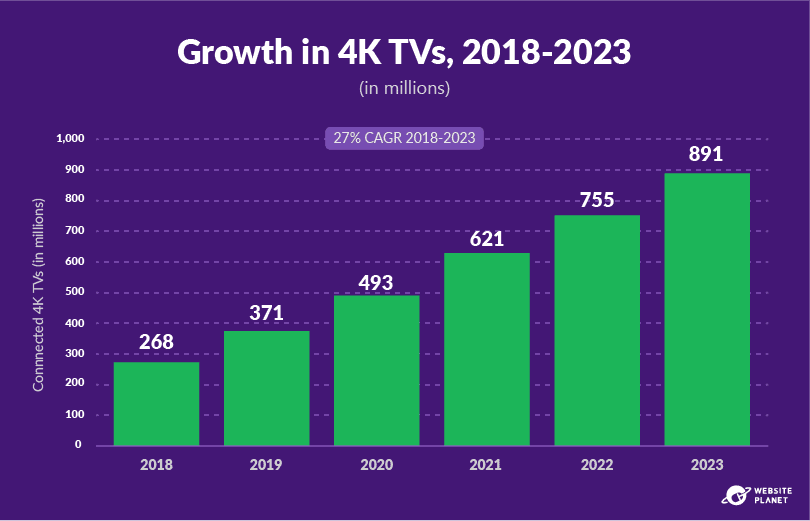 4K technology is becoming cheaper and more accessible, which means poor quality content will be painstakingly obvious in years to come. This isn't just true for TVs either, phones will have higher definition screens, and mobile network speeds could triple by 2023, too — meaning there'll be no excuse to hide behind when your low-quality ad loads in 360p. Marketers need to move with the times and upgrade any necessary equipment as better visual technology becomes widespread. Any poor quality content on a large 4K display will be a big turn-off for potential customers.
57. AI Will Drive Personalization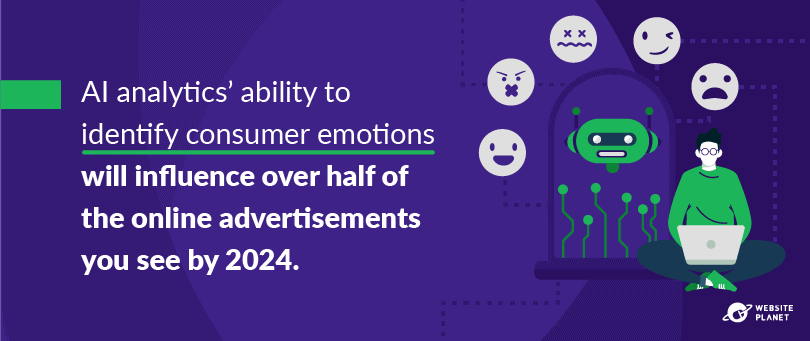 The use of AI analytics is now common amongst many video marketers, and the growing importance of personalization will only increase the use of this technology. People would rather see adverts that are relevant to their interests. That's why marketers can massively increase the success of their marketing campaigns by targeting viewers with personalized adverts. Account-based marketing analytics (ABM) is an AI marketing technology used by many marketers. In a survey from SiriusDecisions, 99% of marketers using ABM experienced better engagement, 80% had a higher win rate, 73% said the average size of purchase was higher, and 91% said ABM analytics improved their return-on-investment.
The Bottom Line
Video marketing is a constantly changing field of work. In the wake of new technological developments and a massive spike in online streaming following the COVID-19 pandemic, now — more than ever — is the time to implement significant changes in your video marketing strategy. Taking note of some of the trends and future forecasts outlined in this article will go a long way to helping you achieve better results. In general, people are looking for more interactive and engaging ways to view video content, focusing on digestible content and a seamless customer experience across the board. Get ready for the emergence of new technologies and maintain an open-minded approach to innovating within your strategy. By excelling in these two areas, you and your business could enjoy a promising future.