Whether your company's name features a royal phrase, like king, queen, or palace, or you want to convey a luxurious, expensive feel, a crown logo is an eye-catching choice. The right designer can bring your creative vision to life. And luckily, professional logo designers don't come with the same price tag as crown jewels, even though their input can be priceless. I'll show you my top tip for hiring an affordable graphic designer –
read on to find out where you can hire a pro for just $5.
---
9 Best Crown Logos
How to Get Your Logo for $5
Your crown logo design doesn't have to be costly to be of high quality. With Fiverr, you can hire a professional logo designer for just a few dollars. This freelancing website allows experienced designers to offer a range of packages from the $5 starting price, and many have services available for the lowest price. To get your affordable, professional logo, you'll need to find the designer you want to work with first.
Go to the Fiverr homepage
 and search for "crown logo". Browse the designer profiles in the results to find one that catches your eye.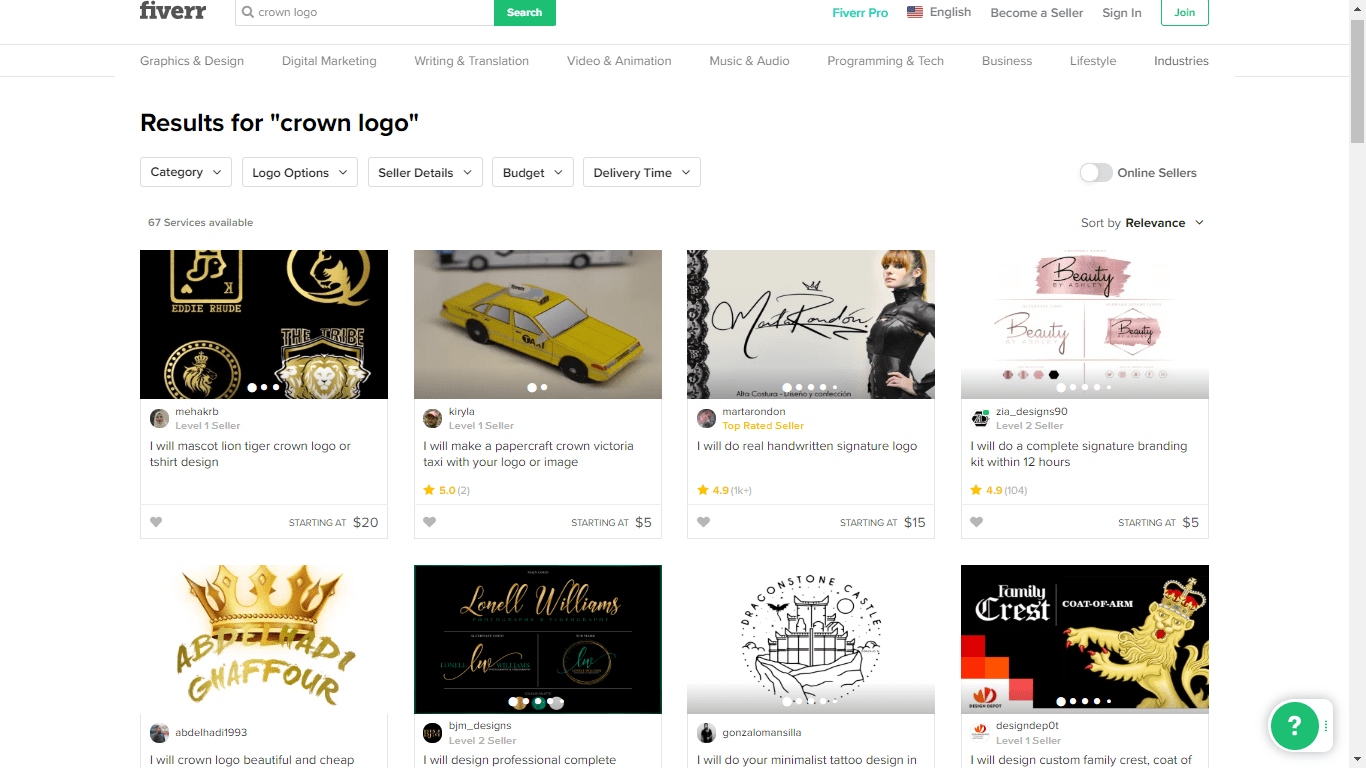 Click on a designer's profile to see their 'About This Gig' section, their portfolio, and the services they offer. Before buying anything, you can message the designer for more information on their availability, design style, and any other queries. When you're ready to hire a designer, click
Continue
to head to the payment review page.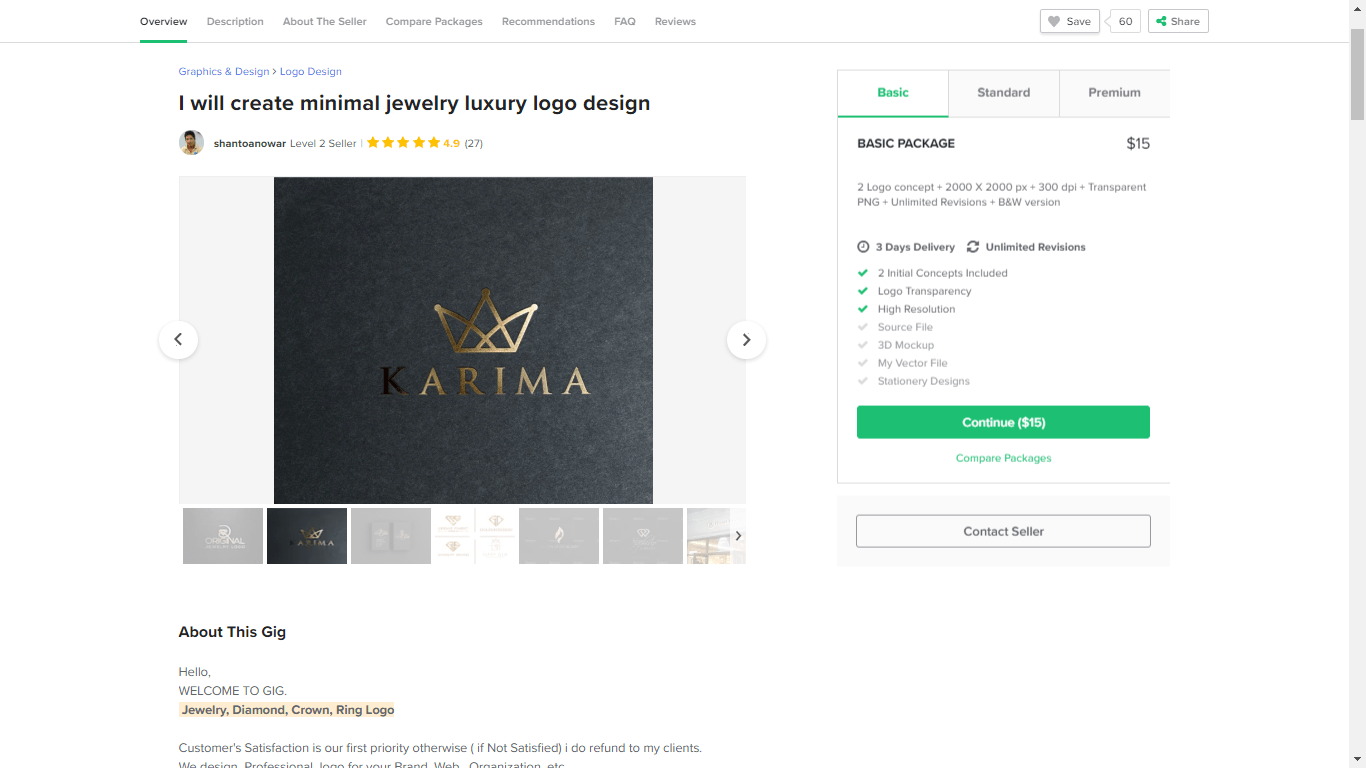 Review your chosen package and the included services before clicking
Order Now
to finish hiring your designer.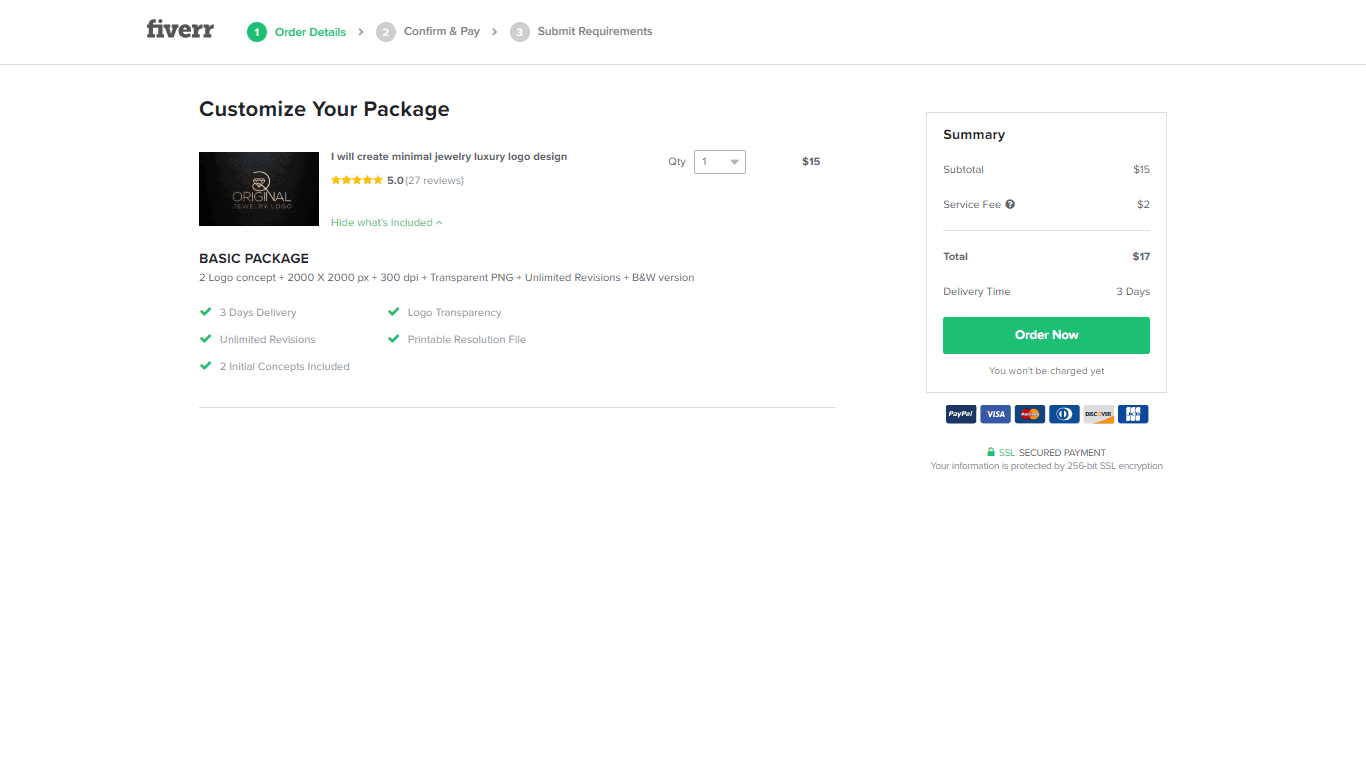 After payment, you can message the designer with an extended brief explaining exactly how you want your logo to look. In no time at all, your company's new logo design will be on its way to you!
Here are a few more Fiverr perks I like:
Protected payments – You pay before your logo is created, but the funds are only released to the designer once you're 100% satisfied with their work.
Designer search options – Use handy search filters such as budget, logo style, and delivery time to narrow your search results to the most relevant options.
Package extras – Many designers offer package add-ons for a fee to help you tailor their offerings. These include services like 3D mockups, vector files, and additional revisions.
Seller levels – Sellers are categorized into levels based on their time on the site, customer feedback, and punctual delivery. Choosing a designer with a higher level can help guarantee higher logo quality.
Want to know more? Read our
expert Fiverr review
 to see some logo samples.
Making Your Own Logo Design
Crave a little creative expression and want to take the DIY route? Be warned, creating a logo isn't always as easy as it sounds. You may spend hours designing something that ends up looking generic or similar to a competitor who used the same logo maker. However, if you have a real creative eye and don't mind putting time and effort into logo making, then a logo maker is your best bet. My recommendation is Wix Logo Maker as it's so easy to use. You answer a few basic questions and the artificial intelligence (AI) does the hard work and comes up with loads of customizable logo suggestions. To get started,
go to the
Wix Logo Maker homepage
 and whizz through the profile set up. Then you're ready for the logo questions. First, enter your company name and tagline (if you have one).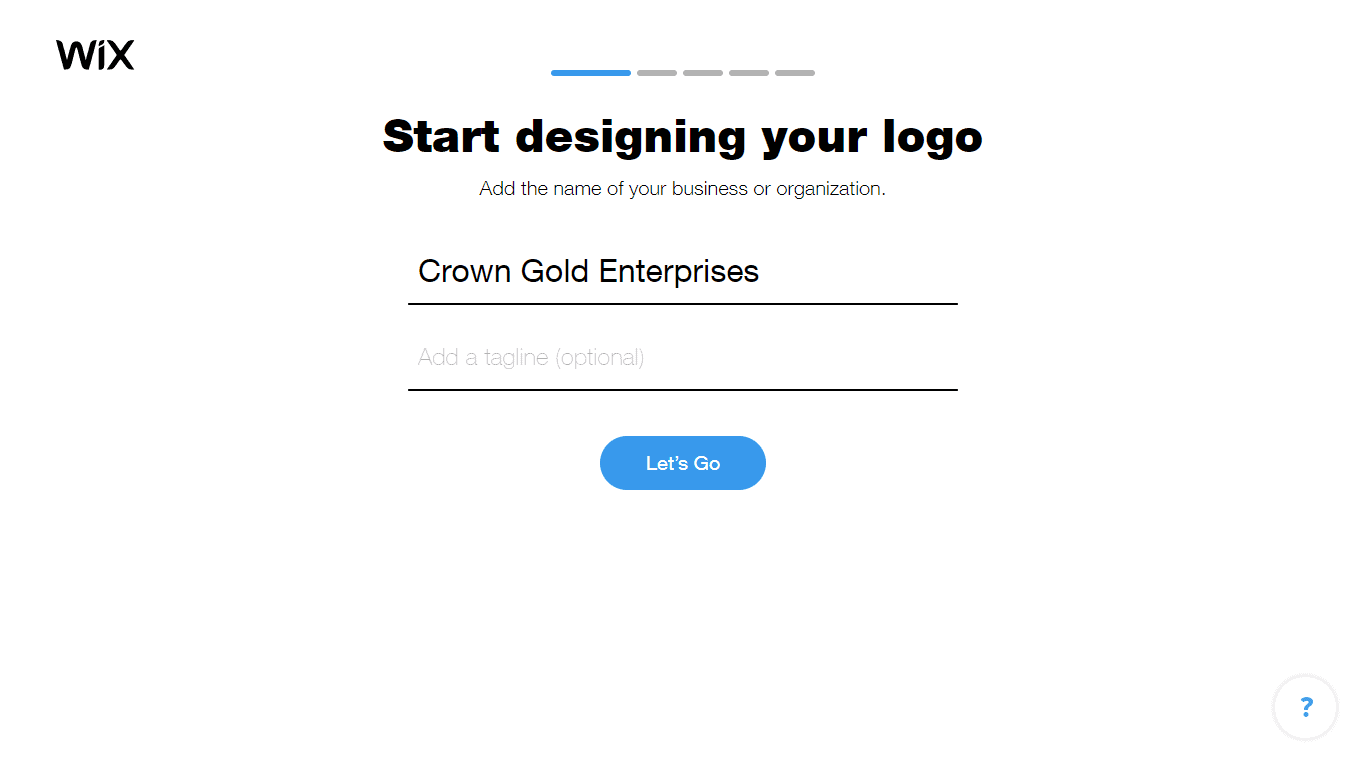 Next, enter your company's industry. Wix Logo Maker has a wide range of industries, so be as specific as you can with the options available.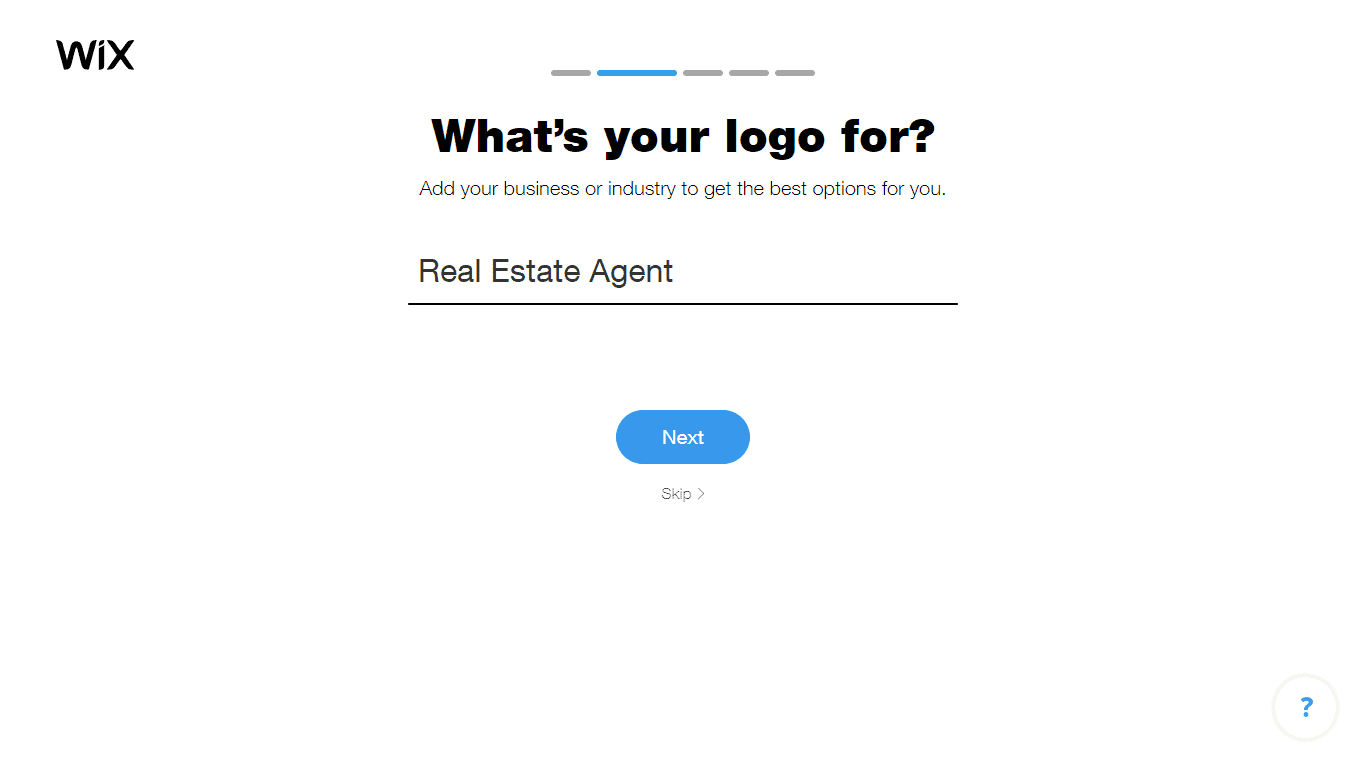 Choose a selection of adjectives to best describe the way your logo should look and feel. This stage helps the AI tailor the icons, fonts, and colors later on.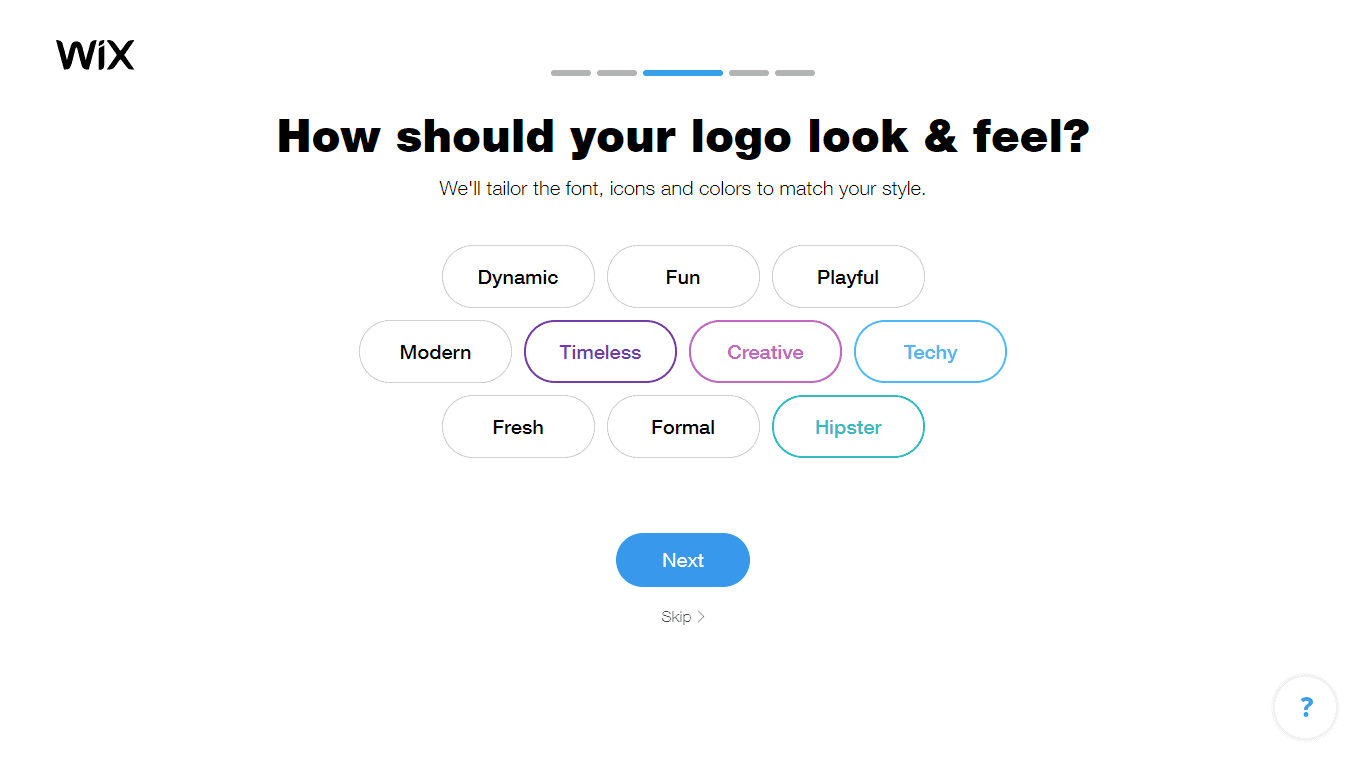 Next, you'll see a few different logo pairs in a comparison format. This is another way for the AI to learn your style. Choose the logo in the pair that you like best or click
I don't like either of them
to skip on to the next.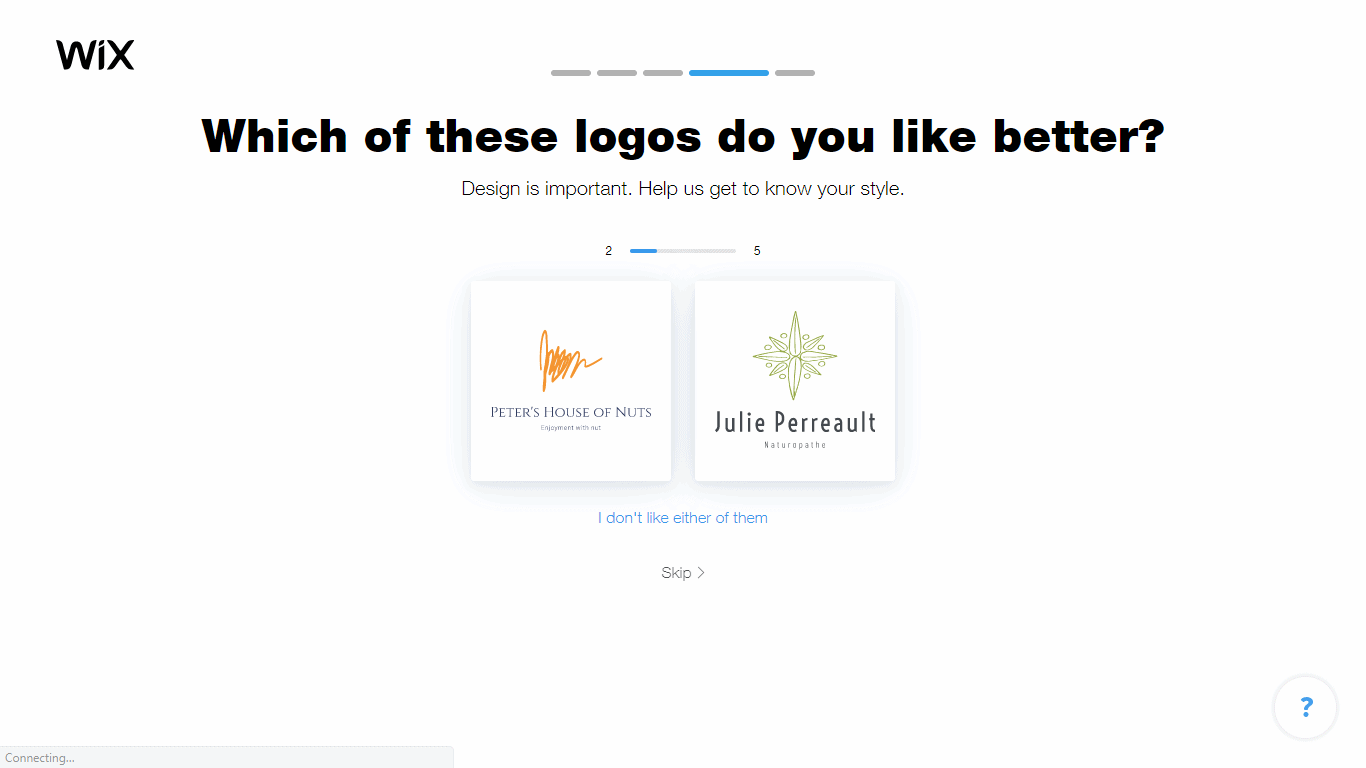 Lastly, tell Wix Logo Maker where you'll be using your logo, such as on social media or on merchandise. And that's the last of the questions!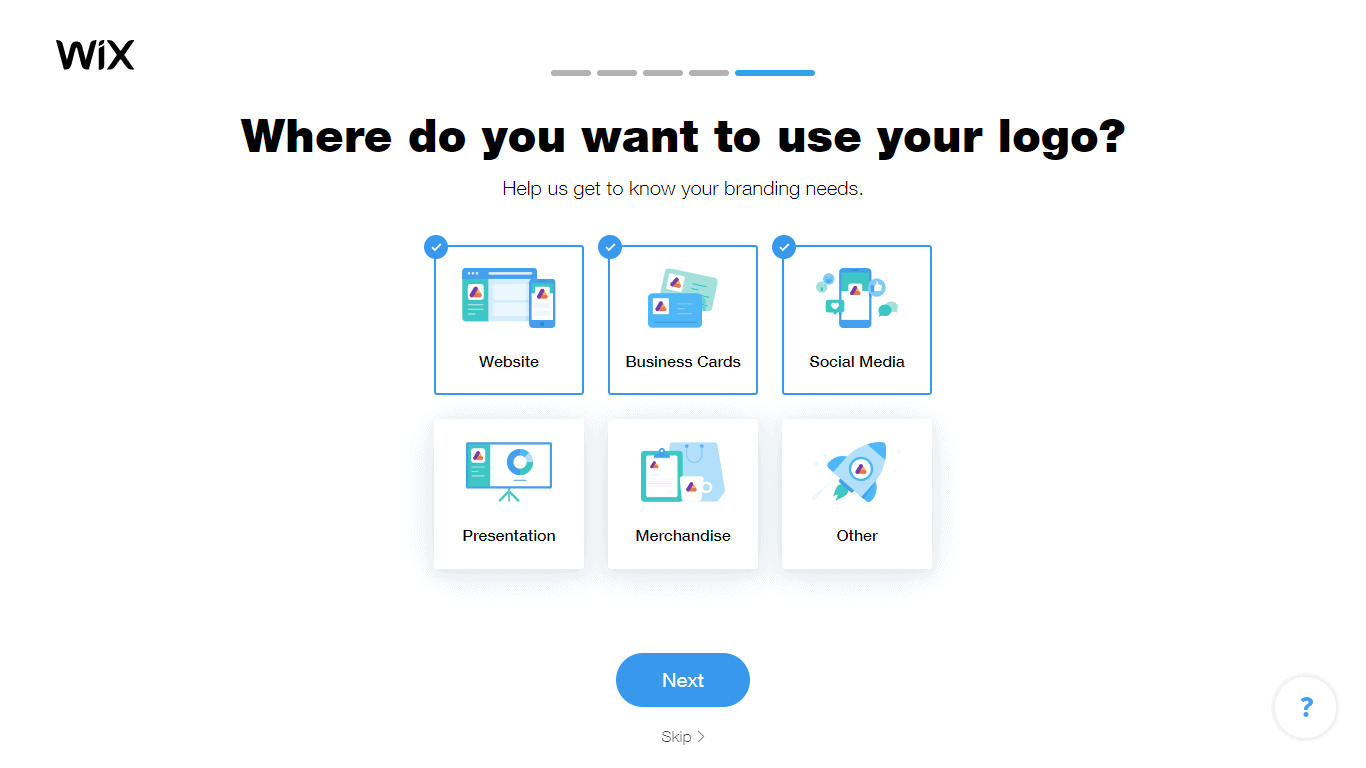 It's time to engage in creative thinking. The AI will produce numerous logo suggestions for you, drawing from the insights gained through the questions. Evaluate these suggestions to discover a design that closely aligns with your envisioned concept.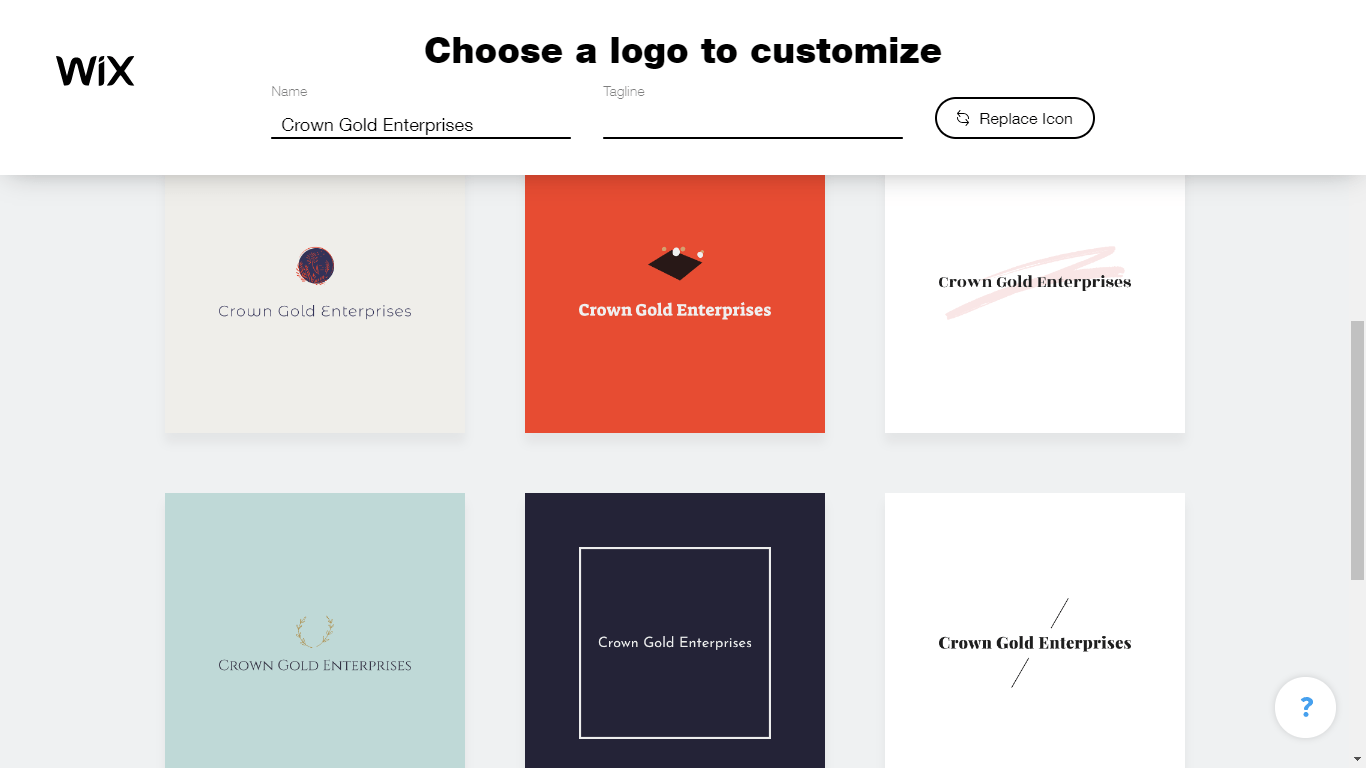 The icons in the suggestions might be too generic at this stage, but you can manually change that. Simply click
Replace Icon
and search "crown" to pull up more specific icons. Your choice will be applied to all the applicable designs with icons.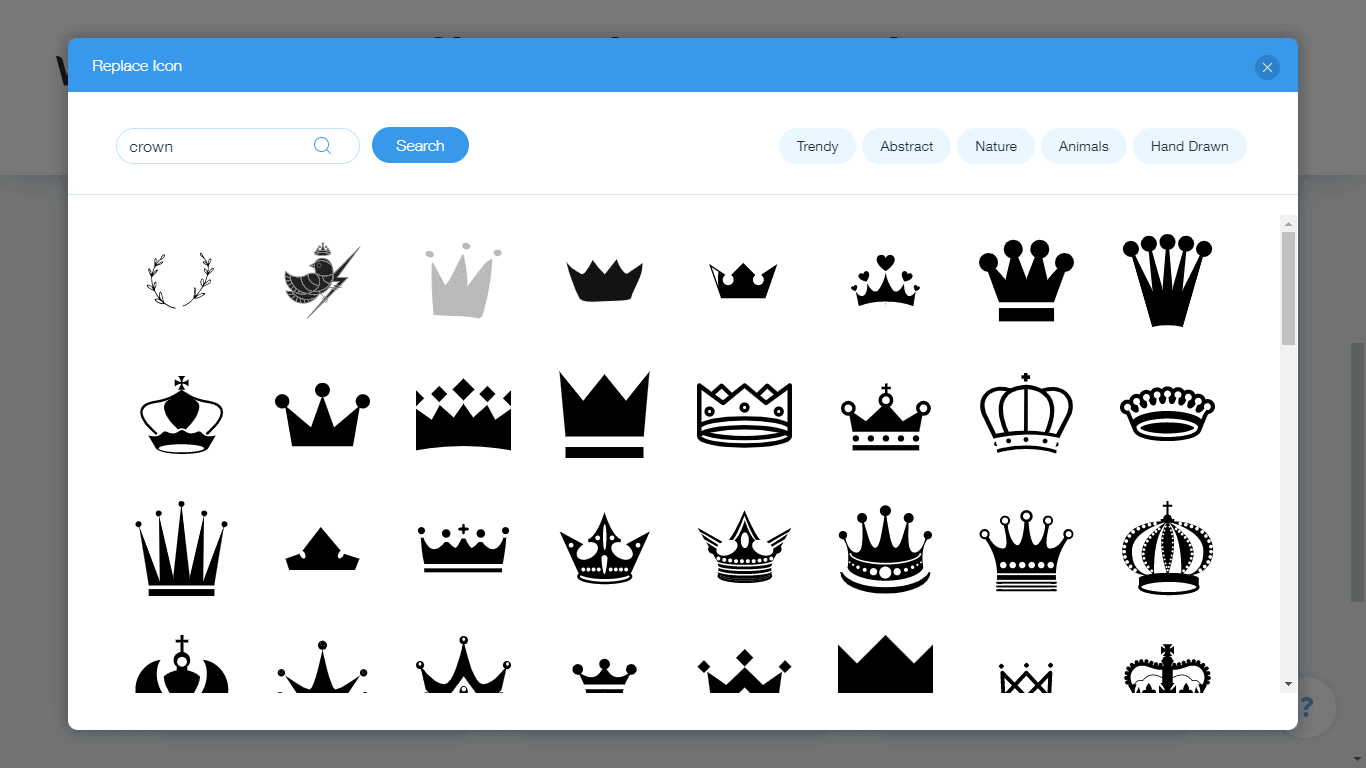 When you've found the right logo design template for you, it's time to begin customizing. This is the stage where you can make the design as original as possible and really tailor it to your brand. You can change the colors, the fonts, and even add multiple icons (a new feature!). Once your logo is finished, click
Next
to choose the most appropriate package and pay.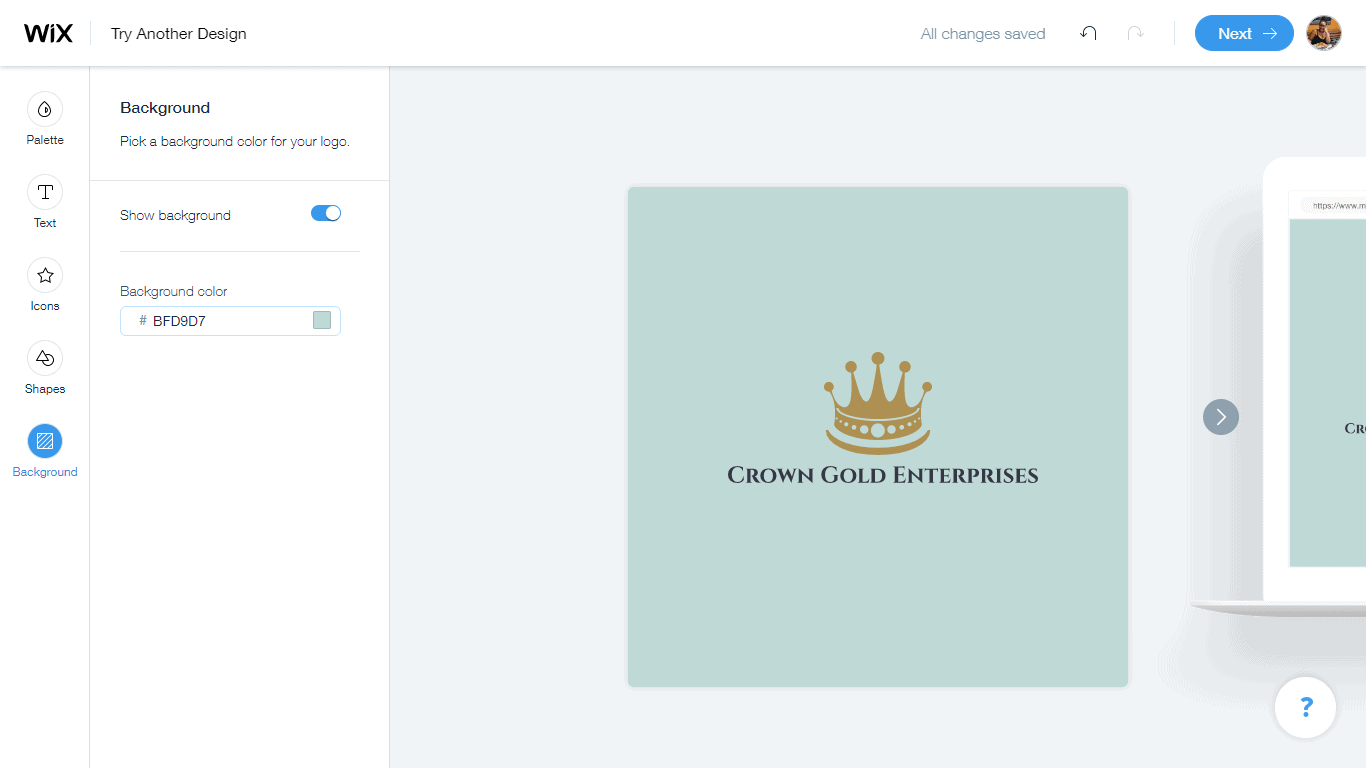 After you've paid, you can download your new logo design in high-resolution and begin using it! To learn more,
read our in-depth Wix Logo Maker review
. A few other logo maker options:
DesignEvo – If you prefer a templated approach, there are more than 10,000 logo templates at DesignEvo. Browse through the categories, or search "crown" to bring up relevant options from across all categories. Read our full DesignEvo review for more features.
Looka – After creating your logo with Looka, you can purchase full branding options featuring your new design, from social media kits to business cards. Learn more in our detailed Looka review.
In Conclusion
Getting a professional logo designed for just $5 can be a reality when you utilize
Fiverr's expert logo designers
 and their affordable packages. You'll never have to sacrifice quality in order to stick to your budget again. For all your DIY logo-making needs,
Wix Logo Maker
 is your best bet. Updated features and a user-friendly interface make this my top recommendation. If you're still on the fence about which logo design service to use,
check out my colleague's full logo design service comparison
 to see how Fiverr and Wix stood up against other popular platforms.