The Mailchimp vs ConvertKit battle was a close one.
Mailchimp is definitely more popular – but ConvertKit has recently gained some traction marketing itself as the ultimate creator marketing platform.
ConvertKit and Mailchimp both offer users unlimited free plans, which often appeal to new marketers with relatively small lists.
I spent several days testing both platforms, and it all came down to the details. 
TL;DR: I need to be honest with you – I wasn't blown away by either service. While no email marketing platform is perfect, ConvertKit and Mailchimp kept reminding me of that fact every step of the way.
Instead, I would personally recommend ActiveCampaign. It scored an impressive
4.8
out of 5 in our
ActiveCampaign review
because it's an all-rounder. It's got more (and better) features than both of these services, excellent analytics, and unbeatable automation tools. Plus,
ActiveCampaign offers a 14-day free trial
 so you can try it all out risk-free.
Read on to find out what happened in my comparison and what else I would recommend.
Features
Mailchimp Packs More Features than ConvertKit
Simple text emails work great, but there should always be the option to create something more elaborate.
Mailchimp offers more than 100 templates on its free plan, but most look like they belong in the pre-internet era.
Not a great start. On the other hand,
ConvertKit doesn't even try. I counted just 7 email templates
, and figuring out where they were took me a few good minutes. So,
Mailchimp scores a point here – but I'd hardly call that a win
. Other competitors with more extensive selections of higher-quality templates (such as
AWeber
) immediately come to mind.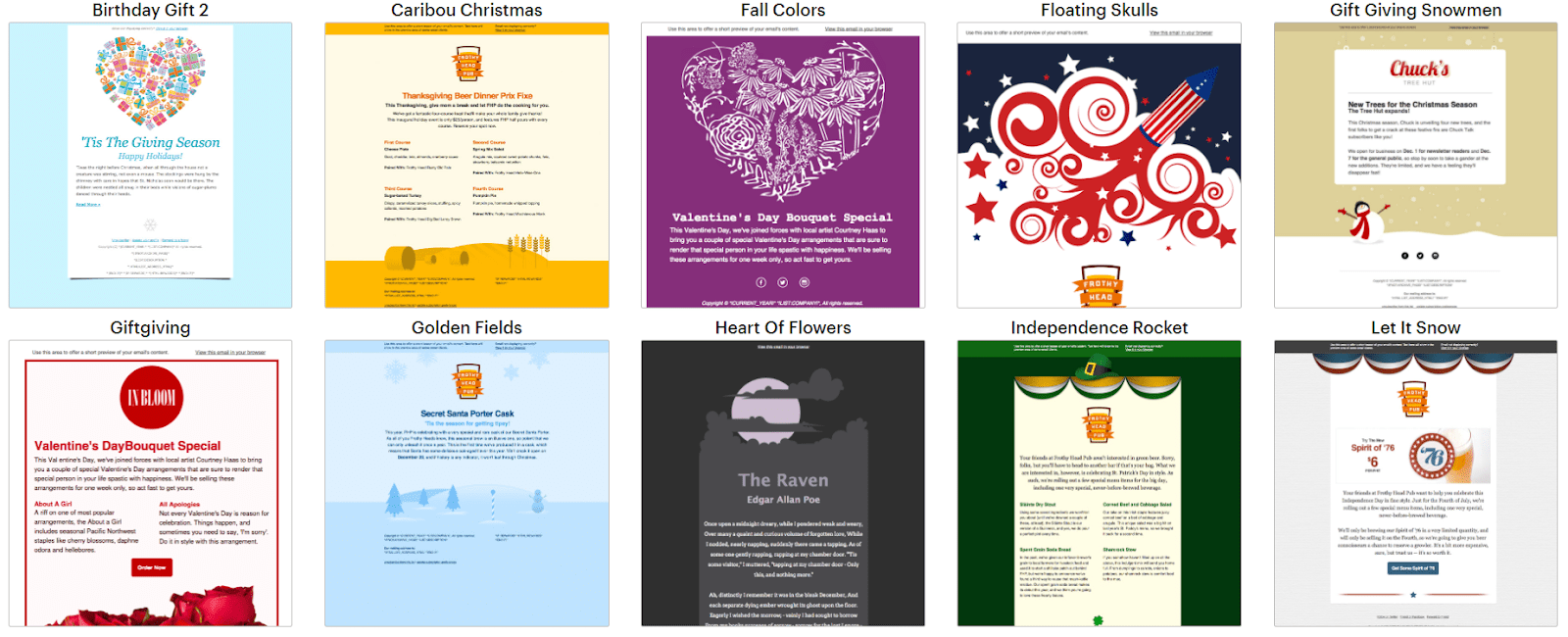 Personalization is how your emails stand out to your readers.
Mailchimp grabs another win here, as it offers dynamic content
(the option to show/hide content based on who's viewing it), while ConvertKit doesn't. So, what about A/B testing?
Mailchimp's split testing tool isn't perfect (it's actually quite buggy), but it does let you test different variables
, such as subject lines, content, images, etc.
ConvertKit removes all those options, so that all you can test are subject lines.
When it comes to automation, both services offer tools that can help simplify processes and speed things up. If I'm honest, though,
ConvertKit's Creator Pro plan
 offers slightly more options, and its ready-made automation templates can save you a lot of time.
As far as landing pages are concerned, things aren't as clear.
ConvertKit includes 50+ templates, but limited customization options. Mailchimp only offers about 10 templates – but its landing page editor is flexible and easy to use, and it offers some of the most robust landing page analytics and performance stats around.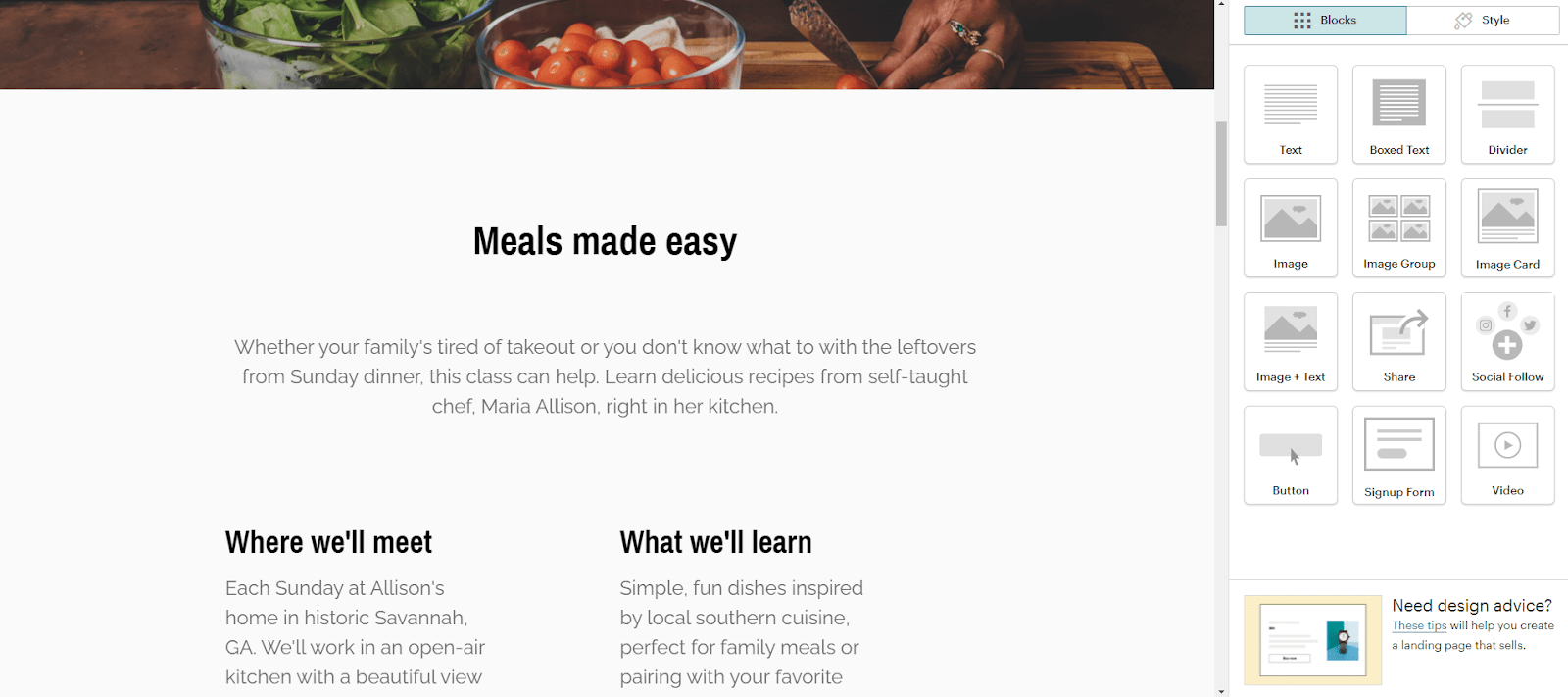 Unfortunately, neither platform natively supports languages written from right to left (RTL), such as Hebrew and Arabic.
If you want to create campaigns in these languages and don't want to rely on custom HTML templates, I recommend choosing a platform that fully supports RTL languages –
GetResponse
is a great choice.
Mailchimp won this round with relative ease.
Sadly, this victory had less to do with Mailchimp's strengths and more to do with ConvertKit's glaring weaknesses.
Ease of Use
Both Platforms Are Easy to Use, but I Prefer Mailchimp's Interface
Mailchimp markets itself as a beginner-friendly, easy-to-use, all-in-one email marketing platform designed for small businesses.
That much is true. The interface is simple, the automation and analytics tools are easy to use, and the same is true for the intuitive drag-and-drop editor.
That said, I don't agree with all of Mailchimp's choices.
For example, grouping landing pages, forms, and the automation tool under the "Campaigns" tab doesn't make much sense to me. ConvertKit isn't perfect either. The main interface looks clean, but, just like with Mailchimp, some things struck me as odd. For example,
ConvertKit's editor doesn't feature a drag-and-drop option – and you also have to edit templates outside the email editor.
What's that all about, ConvertKit?
Moving on to contact importing, both platforms let me down.
They support files in CSV format, and the process itself is straightforward, but other top competitors, such as
AWeber
, also offer some form of XLS and TSV support.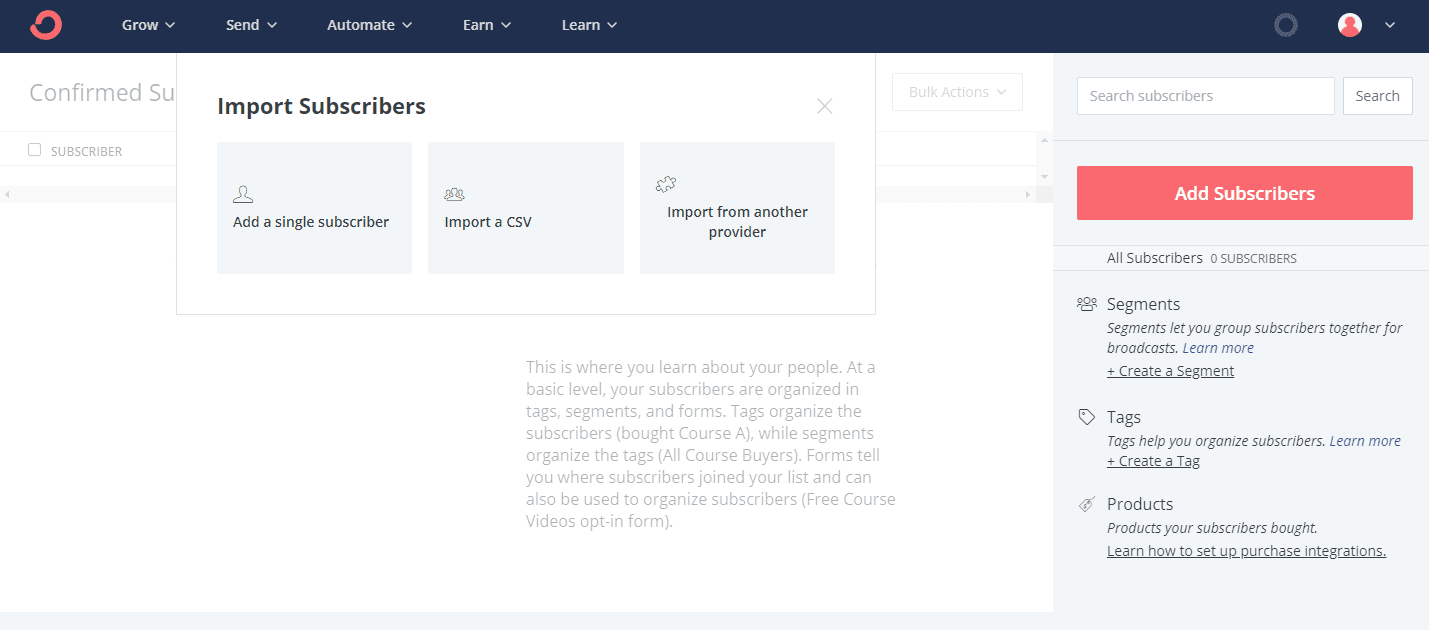 Mailchimp's segmentation options are somewhat limited,
and there's no clean-up feature available on any of the plans
. With ConvertKit, there are plenty of tags and filters to choose from, and you can even take advantage of ConvertKit's subscriber clean-up feature if you opt for the
Creator Pro plan
.
I found some of ConvertKit's interface and design choices a bit odd, but I can't say I was impressed with Mailchimp either.
Honestly, if you're looking for an easy email marketing platform to get you started,
I recommend you check out Benchmark
or
Sendinblue
instead.
Deliverability
ConvertKit's Affiliate Marketing Policy Is a Bit Vague, Dragging Its Deliverability Score Down
Imagine spending hours designing the perfect campaign, only to learn that your emails aren't reaching your subscribers. Deliverability is crucial to success – but there's much more to it than arbitrary numbers. If you've been into email marketing for a while, then you already know how other review sites measure deliverability. They run a few tests, come up with some rough percentages, and call it a day.
Unfortunately, that won't get you the information you want.
The thing is, there are just too many variables to consider for these percentages to be meaningful. Who ran the test? What was the email about, and what do we know about the recipients?
Here at Website Planet, we prefer to examine whether an EMS offers certain features proven to increase your deliverability rate
.
We've explained in detail how it all works and what you can do to boost your deliverability
, but in short, here are four things you should always look out for:
DKIM authentication: DKIM lets email providers know that the emails you send are really coming from you. As with most EMS, ConvertKit and Mailchimp offer DKIM authentication. Setting up DKIM can be a bit of a headache, but fortunately, both websites come with guides to help you through it.
Anti-spam policy: High deliverability rates are often tied to strict anti-spam policies. Simply put, the stricter a service is about spam, the higher the chance your emails will make it to their destination. Because users share the same IP, it only takes a few bad eggs to tarnish a platform's reputation and ruin everyone else's performance. ConvertKit and Mailchimp claim that they don't tolerate spam, but they both failed the junk email test.*
Affiliate marketing: Most websites today make use of affiliate marketing in one form or another. Email marketing platforms tend to allow affiliate links, provided they add value to your content and are relevant to your business. We know Mailchimp is a lot stricter with its affiliate marketing policy than ConvertKit, which likely translates to a higher deliverability rate overall.
Private IP: A private (or dedicated) IP can dramatically increase your deliverability rate. The bad news is that it's not always easy to get. ConvertKit requires that you send at least 150,000 messages a week, and Mailchimp doesn't even offer a private IP.
Mailchimp's strict affiliate marketing policy puts it ahead in the deliverability race.
If you run the same campaign on both platforms, it's likely that Mailchimp will successfully deliver your emails to more people. *In our junk email test, we upload several spam addresses as contacts and wait to see whether they'll be blocked or filtered out. You can see what happened in our
ConvertKit review
and our
Mailchimp review
.
Reporting and Analytics
Mailchimp's Analytics Suite Isn't Perfect, but It's Better than ConvertKit's
Marketers don't like taking chances. Statistics can give you more information about your audience and your emails' performance, helping you create better email campaigns in the future.
Mailchimp's reporting tool is easy to navigate, and it's equipped with all the basic stats you'd expect from a top email marketing platform.
There's even a map that breaks down opens by location. That said, it fails to provide data about operating systems and screen sizes, which is a shame. I liked the competition tool, which compares your performance against industry standards. If you opt for Mailchimp's Premium plan, then you'll also unlock access to comparative reports.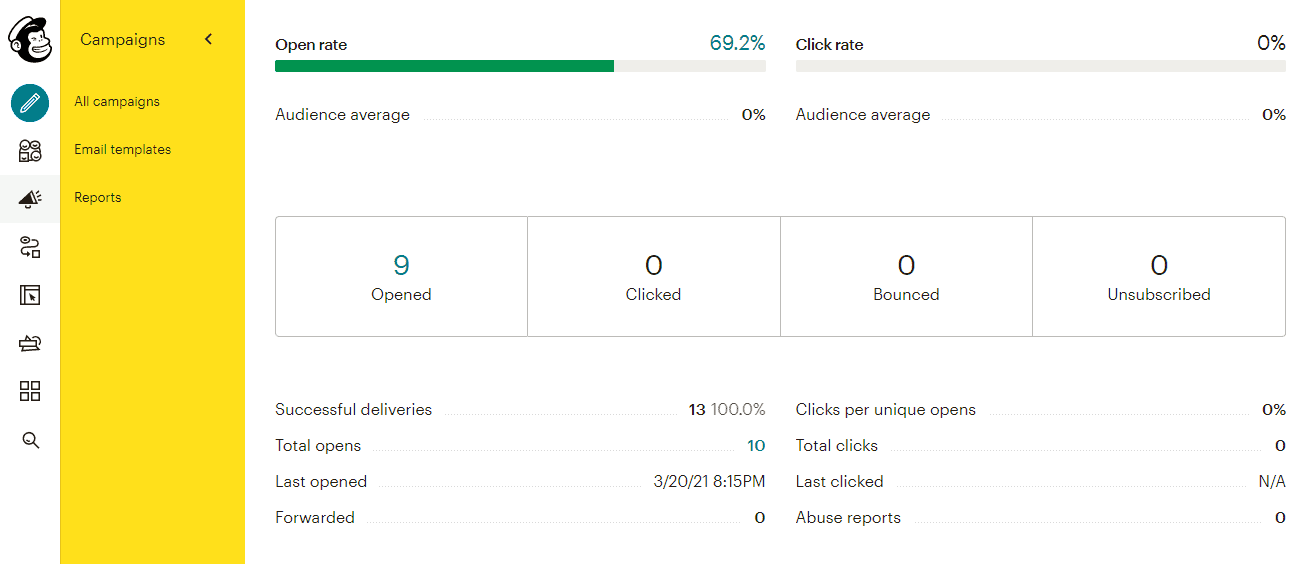 ConvertKit's analytics suite isn't as exciting.
At first, I couldn't find the reports page, which would've made for a very awkward comparison. Turns out it's lumped in at the top of the Subscribers tab.
Some essential data is there, but to be honest I expected more.
The email marketing industry is constantly evolving, and it seems like ConvertKit isn't making enough of an effort to grow with it. Mailchimp wins yet another round. If you want to know everything there is to know about your subscribers and campaigns, I recommend you check out
AWeber's excellent analytics tool
in our
in-depth AWeber review
.
Pricing
ConvertKit Is Cheap, while Mailchimp's Add-Ons Drive Costs Up
ConvertKit is priced competitively for what it offers. Mailchimp's plans, on the other hand, are considerably overpriced.
Here's What You Get for Free
ConvertKit's free plan is a decent choice for beginners and new marketers.
There's a limit of 1,000 subscribers, but you can send an unlimited number of emails. You can also create as many landing pages and forms as you like, and can even sell digital products and subscriptions (if you're in the US).
Mailchimp's free plan
is a lot more restrictive
. Although the subscriber limit is set at 2,000, you can only send 10,000 emails each month. You also can't access any of the platform's email templates, and you'll only be able to contact support through email for the first 30 days.
Here's What You Get If You Pay
ConvertKit offers two paid plans, with each tier unlocking a new set of features. The
Creator plan
starts at
$
29.00
/month for 300 contacts, and it includes a free migration from another tool, live chat, and automation. Most of ConvertKit's more advanced features are locked behind the
Creator Pro plan
, which starts at
$
59.00
/month for 300 contacts. This plan includes subscriber scoring, advanced reporting, priority support, and access to the newsletter referral system. Mailchimp's pricing system is, honestly, more confusing. There's the Essentials plan, which starts at
$
20.00
 for 500 contacts, unlocking templates, email and live chat support, as well as A/B testing. The Standard plan starts at
$14.99
for the same number of contacts, throwing advanced automation, email scheduling, and dynamic content into the mix.
If you want access to all of Mailchimp's features (such as phone support, comparative reporting, and multivariate A/B testing), you'll need to pay at least

$

0

 and have a minimum of 10,000 contacts
– Mailchimp's Premium plan is beyond expensive. You should also keep in mind that
Mailchimp's plans don't come with unlimited sends.
More expensive plans have higher limits, but expect to pay extra if you send multiple batches every month. At this point,
I should also mention that ConvertKit offers discounts for annual plans, which Mailchimp doesn't
. As always, I recommend you make full use of a platform's free plan before committing to a yearly one. At first glance, it looks as if Mailchimp and Convertkit charge about the same for similar services. But
as your business grows and your lists expand, Mailchimp's pricey add-ons will end up costing you a lot more
. Check out this comparison table:
Mailchimp Standard
ConvertKit Creator Pro
$14.99/

month for 1,000 contacts

$

59.00

Templates

100+

7
Advanced Automation

✔

✔

Advanced Reporting

✔

 

✔

 (not as advanced as Mailchimp's)
Sign-up Forms

✔

✔

Landing Pages

✔

✔

Subscriber Scoring

✔

✔

Conditional Content

✔

✘

Support

Live chat, email

Live chat, email
Support
ConvertKit's Support Is Alright… Mailchimp Couldn't Care Less
Whether you're new to email marketing or a seasoned veteran, it's always good to know there's someone you can turn to for answers.
Both ConvertKit and Mailchimp offer knowledge bases with plenty of FAQs, but sometimes you need to discuss your issue with an actual human.
To give them more of a challenge, I contacted both teams late on a Sunday afternoon (Eastern European Time). My question was simple:
What files does Mailchimp/ConvertKit support for importing contact lists? Would I be able to import a list of email addresses in a Word document?
ConvertKit's live chat option is available even for website visitors,
but I had been warned – a small box let me know that the usual reply time was "a few hours." To my surprise, I got a reply less than five minutes later: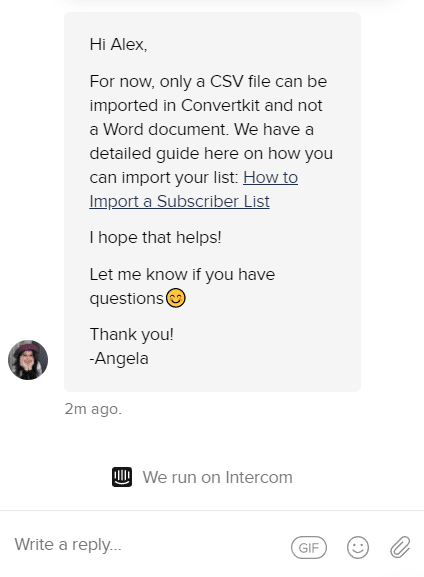 Angela's answer was short and to the point – no complaints here.
ConvertKit doesn't offer phone support, but I can definitely live without it if their team is always this quick and helpful. If you're on the free plan, Mailchimp's support team is only available for 30 days. After that, your only option is to try and solve things with their "clever" AI bot. As a free user, I could only contact Mailchimp via email.
Although it hadn't been thirty days since I created my account, no one ever got back to me.
Mailchimp has ghosted me before, so this didn't really come as a huge surprise. It's setting the bar low, but since ConvertKit didn't completely ignore me, it wins this round.
Mailchimp Wins against a Weak Opponent
This is kind of a sad moment.
This ConvertKit vs Mailchimp comparison ended up being less about picking a winner and more about choosing the platform with the least flaws
. Mailchimp outperforms its competitors by offering a richer set of features, a user-friendly interface, and superior deliverability rates. While ConvertKit may have cost advantages and a strong support team, I must admit that it falls short as a formidable contender. Although the fundamentals are in place, ConvertKit has a considerable distance to go before it can secure a position among the top competitors.
If you have to choose between these two (and you don't mind abysmal support), I'd say go with Mailchimp, but be wary of add-ons and extra costs
. Or check our
list of the 10 best email marketing services
for better alternatives. I'd recommend services like
GetResponse
and
ActiveCampaign
over any of them. Here's a table with everything we've covered so far:
Mailchimp
ConvertKit
ActiveCampaign
Landing Pages
Yes
Yes
Yes
Native RTL Language Support
No
No
Ease of Use
Very easy to use
Easy to use
Very easy to use
Deliverability
Great
Good
Great
Reporting and Analytics
Great
Okay
Great
FAQ
Which One Is Better, Mailchimp or ConvertKit?
Overall, Mailchimp is the better email marketing platform of the two. ConvertKit is cheaper and has better support, but Mailchimp packs more features, is easier to use, and does a better job at delivering your emails. However, I'd recommend ActiveCampaign and GetResponse instead from our list of the best email marketing services in 2023.
Is It Easy to Switch From Mailchimp to ConvertKit?
Yes, switching from Mailchimp to ConvertKit is very easy. You can use ConvertKit to transfer over all of your contacts – all you need is your Mailchimp API key. There are articles on ConvertKit's website that can guide you through the process.
What Is Better Than ConvertKit?
ConvertKit markets itself as the ultimate email marketing solution for creators. But there are many competitors that can do everything ConvertKit does – and more – much better. GetResponse and ActiveCampaign are two EMS that immediately come to mind. Check out our list with the best email marketing services for more options.
Is Mailchimp Good for Beginners?
Although Mailchimp does have a free plan, it comes with plenty of inconvenient restrictions. You can't access the email template selection, and you can only contact the support team via email for the first 30 days. If you're looking for a beginner-friendly, easy-to-use platform with an excellent free plan, I recommend you give Sendinblue a try instead. Either way, make sure you save as much as you can on your chosen plan by checking out our coupons and deals page first!