Based in Germany, Contabo specializes in webspace packages and dedicated servers. The company has 5,000 servers across two data centers, in Munich and Nuremberg. Have you read my
in-depth review on Contabo
and decided to give it a try? If you're just getting started, this blog post will guide you through the steps to set up a WordPress website and connect your domain. Are you ready? Let's go.
Step One: Log Into Your Dashboard
Your welcome email will include login credentials to access your dashboard. In fact, the welcome email is very helpful and includes lots of useful information, so be sure to take a minute or two to read it before diving in.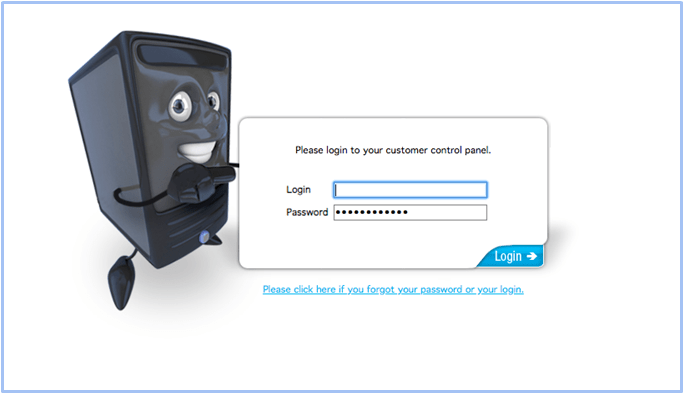 Step Two: Log Into cPanel
When you're inside the dashboard, head to
Your services
, which is easily accessed by the menu on the left-hand side. From here, you can select
Login cPanel
for the applicable hosting service. You need to log in again to access the cPanel, which is a little unusual (most hosts allow you to log in automatically). In case you're unsure, you can find the login details for the control panel in your welcome email.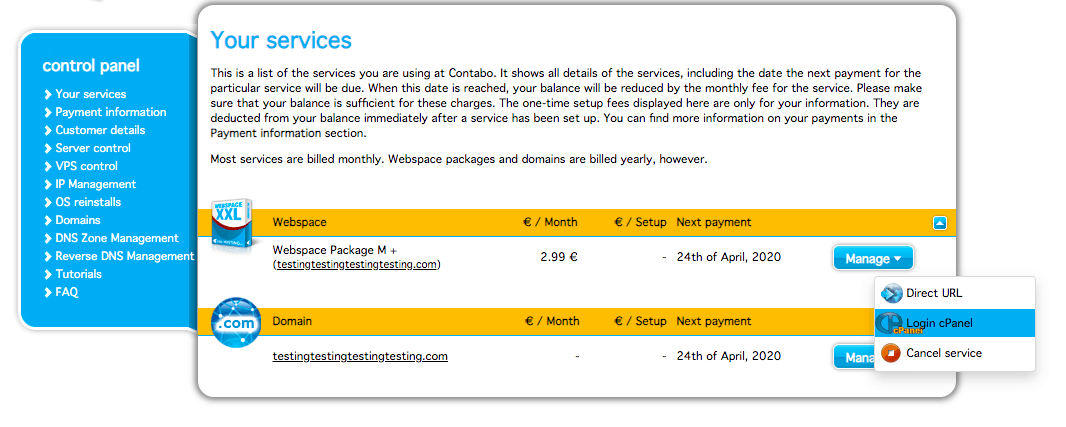 Step Three: Access the WordPress Manager
As Contabo uses the proven combination of Softaculous and cPanel, the process to install WordPress is relatively straightforward. Scroll down to
Applications
and click to access the WordPress Manager.

Step Four: Create a New Site
Inside the WordPress Manager, select
New Site
from the top menu.

Step Five: Install WordPress
Select the blue
Install
button and wait (less than a minute). Once complete, you will see a green success notification.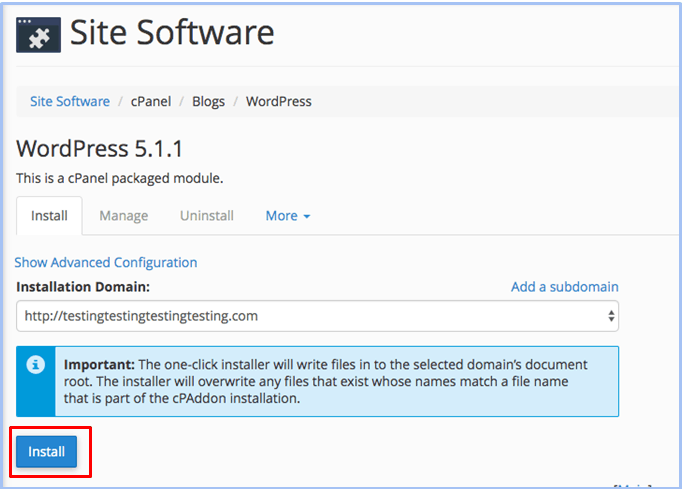 Step Six: Connect the Domain
I utilized the free domain provided by Contabo, which automatically connected my domain. If you've transferred an existing domain, simply acquire Contabo's nameservers and proceed to update them at your current domain registrar (e.g., GoDaddy).
Simpler Than Creating an Account
If you've read my article on
creating an account with Contabo
, you've likely seen me say it tends to complicate simple processes. However, I'm pleased to report that's not the case here, which is largely due to the use of cPanel and Softaculous. Overall, the process is quick and easy. Contabo won't be for everyone. But don't worry, there are plenty of other website hosts to choose from. If you're looking for a vendor that is more beginner-friendly, try
SiteGround
. If you're looking for a vendor that specializes in WordPress hosting, click here to read about
Liquid Web
.