An Award-Winning Host, but Still Reasonably Priced
Based in Germany, Contabo was formed in 2003 as Giga-International, specializing in hosting packages and dedicated servers. The company now has 5,000 servers in two data centers, in Munich and Nuremberg.
One of the first things I noticed about Contabo is that its website looks straight out of the 1990s. Don't let that bother you, though, because it's a reasonably priced European hosting provider and it's pretty good at what it does.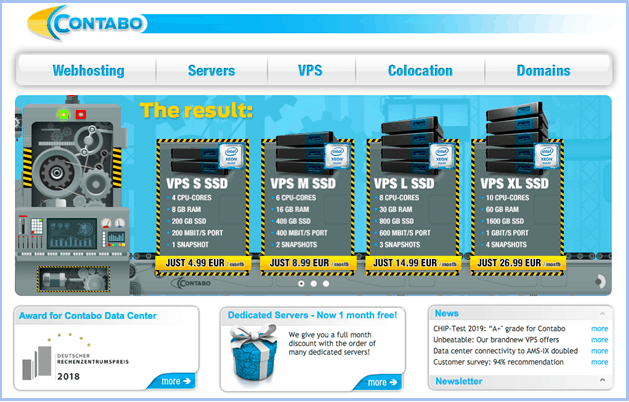 Contabo's self-service tools allow you to open up an account and get started immediately, with your pick of shared, dedicated, or VPS hosting. It also offers colocation services and reasonably priced domain names.
Contabo isn't shy about sharing news of some its awards, including "very good" ratings from the CHIP Hotline Test and wins at the German Data Center Awards 2017 and 2018.
So far, so good, right? Well, that depends. As always, it comes down to figuring out whether Contabo is the best website host for you, and that's where this article comes in. Let's dig in and see exactly what Contabo has to offer.