We noticed that ever since Hostinger reduced their prices, many users are closing their accounts with Hetzner.
Hetzner is definitely not right for everyone. The interface is a little outdated and the setup process is tedious.
If you've purchased a plan and decided to cancel, this guide offers a step-by-step process to do so, along with some recommended alternative hosts that may be more suitable, such as Liquid Web.
To cancel your Hetzner account, just follow these easy steps:
Browse to konsoleH and log in at Admin level.
Select the domain name you wish to cancel in the Hosting Services tab.
In the left-hand menu, click Manage Services > Package Admin > Manage Terminations.
On the next screen select Confirm.
Click Terminate hosting and transfer the domain from the dropdown box.
Select a reason for cancellation from the dropdown list.
Confirm with your bank the refund has been processed.
My Cancellation Experience
The dashboard, or konsoleH, is not particularly visually appealing, but it is functional. And it's nice to see a host that lets you cancel easily without needing to call customer service.
I followed the steps above and quickly canceled my account. All I needed to do was log in, select Manage Terminations, and follow the on-screen instructions. It took less than a minute.

The final screen confirmed I was within the seven-day grace period; however, it didn't mention how soon my refund would be processed. I sent a quick email to the billing department asking for clarification.

I was told that since I was within the seven-day grace period, my payment would be refunded in full. However, the downside was that refunds were only processed on the last day of the month, so I would need to wait to get my money back.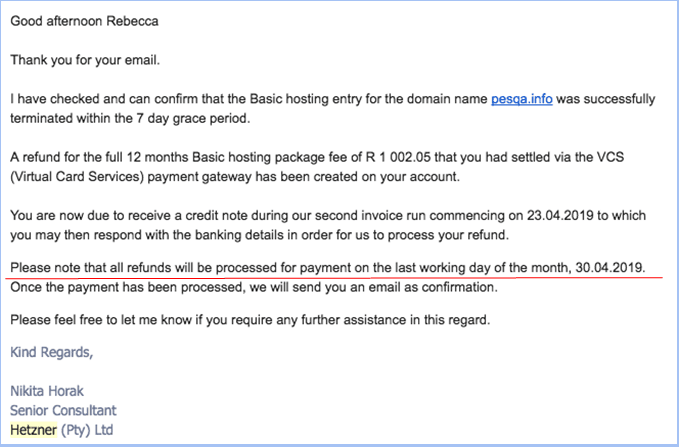 Overall, the experience was easy and could be done by the newest of website owners. I have no complaints, aside from the rather retro interface (but I covered that in-depth here) and the delay in the refund being processed.
Best Hetzner Alternatives:
Hetzner didn't work out and you're searching for a new host? Check out our top Hetzner alternatives:
If you're looking for a host that will get its hands dirty with server configuration and managing WordPress updates, consider reading about Liquid Web.
Or if you're on a budget and can do without all the bells and whistles, check 000webhost's selection of free and affordable plans.
Simple to Cancel
It's easy to cancel your account with Hetzner. It can be done totally via the dashboard, although I sent a quick confirmation email – I was just erring on the side of caution. If you're considering giving it a try, you can do so knowing it sticks to its refund policy, no questions asked.