But a lot of these themes are actually ideal.
 The hard part is actually going through each and every one to figure out which could work – luckily, I've done it for you!
I've selected a handful of themes with the features nonprofits need most.
Think members-only areas, recurring donations, events calendars, blogs, social media buttons, and accessible design. Because you're probably trying to minimize costs,
I've also been mindful of the price tag.
WordPress.com has almost 200 themes to choose from, so it took me a lot of (wo)man hours to put this list together. You can rest assured that
any of the themes below will allow you to build an on-brand, on-message, fundraising website in no time at all!
For extra brownie points, I've also highlighted a couple of themes to avoid, as well as
some of the best options from Wix
 as well as a few independent themes you can on WordPress.
WordPress Themes That'll Impress Your Donors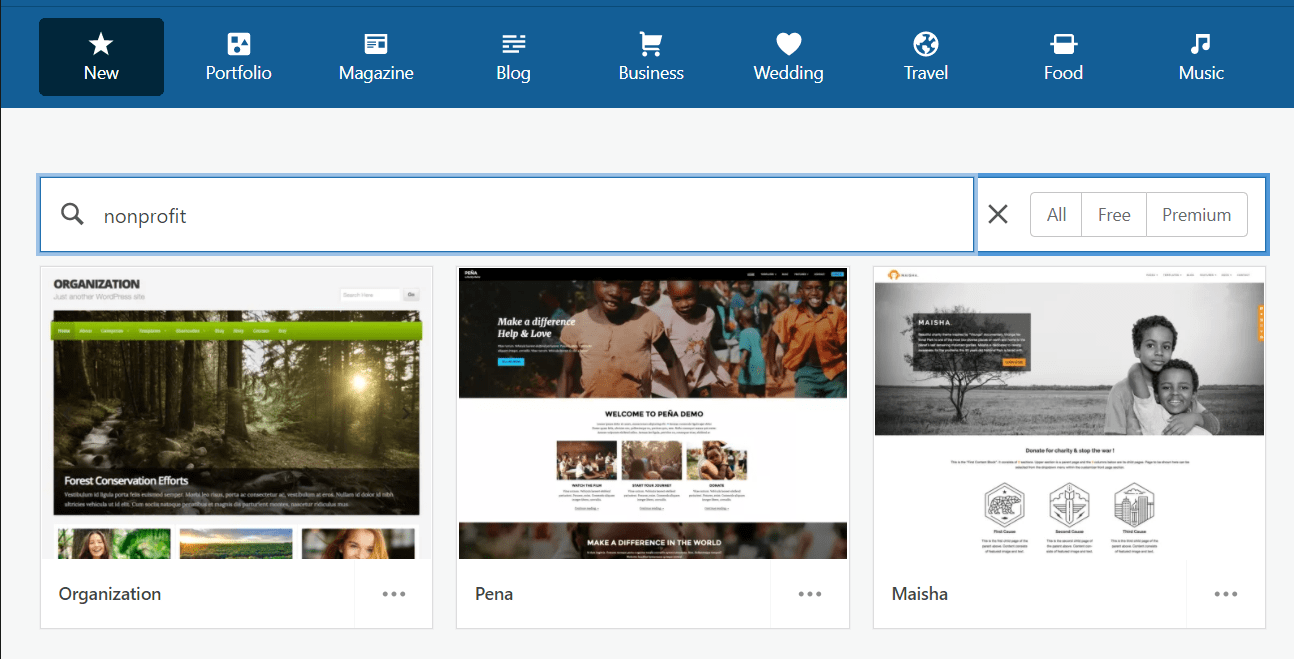 Whatever plan you're using, essential SEO, advanced image galleries, social media share buttons, form builders, and email subscription buttons all come as standard.
 So do certain event widgets, like Eventbrite and Google Calendar. You won't even need to install them. Premium plans and up also get automatic access to video uploads, Google Analytics, and a CSS editor. While Business subscribers benefit from advanced SEO tools. Of course, WordPress.com offers lots of other third-party plugins too. But you'll need a Business plan to take advantage of them. With these must-have features checked off your list, let's take a look at some designs that look great and offer even more perks for nonprofits.
Alves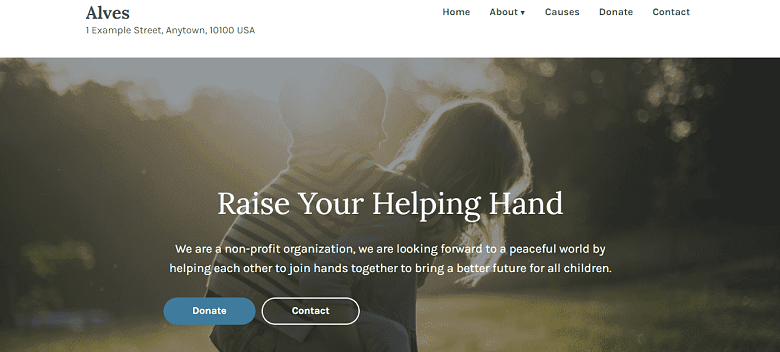 Inclusivity is a priority for many nonprofits, so
the fact that
Alves
 adheres to accessibility best practices may appeal to you
. It enables keyboard navigation and allows the visually impaired to navigate your website. The theme also features step-by-step instructions, which are interspersed with helpful support videos. This makes it easy to get started. From adding your own logo to creating each block of text, it's all there in the theme's overview.
So
Alves
 is ideal if a complete beginner is in charge of your project.
But you should know that 
this theme's design relies on strong images.
 If your nonprofit has some,
Alves
 will definitely work for you. Otherwise, you should check out WordPress's Free Photo Library before getting started.
As it's completely free,
Alves
 is a great option if you're operating on a shoestring budget.
 However, if you want to process donations or other payments on your site, you'll have to sign up for a paid WordPress subscription – a Personal plan at the very least. Though this would only cost a few bucks each month.
Alves
 is best suited to small nonprofits.
If you need a simple site to raise awareness about your work in the community,
Alves
 will be a great fit.
But if you run a larger nonprofit, you should probably keep reading.
Pena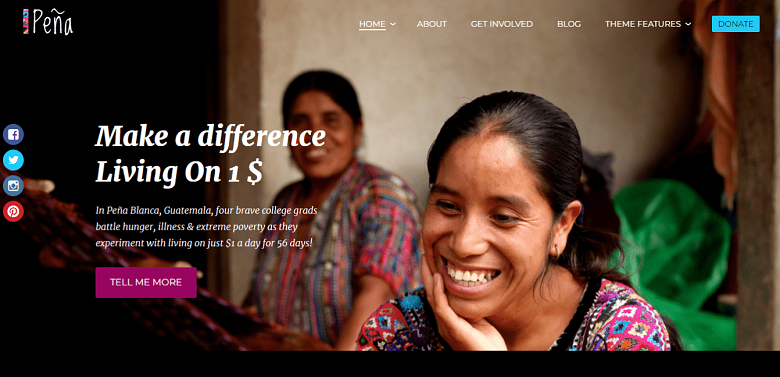 Pena
 is a clean, modern theme which offers a variety of customization options and page templates for nonprofits.
It is also accessibility and mobile ready.
The design features a striking homepage and prominently placed social media buttons. It's ideal for building trust and connecting with donors.
But if you don't like something, this theme is particularly flexible.
 You can customize the header, menu, colors, and fonts. You can even choose from a selection of three blog layouts. There's plenty of opportunities to incorporate your choice of widgets, too. You can easily add an event calendar, email sign-up, or petition form to the sidebar or footer.
Pena
 also supports popular payment plugins like Give and WooCommerce.
These can both facilitate recurring donations, as well as various payment gateways –
you can read our expert WooCommerce review for more info
. So if you want to raise funds through an online store,
Pena
's got you covered. However, you'll need a Business plan to access these plugins. But a couple of sales each month would cover the cost.
Pena
's setup instructions also provide the code needed to add a donation section to your site – just like the one seen in its demo above.
Pena
 is a premium theme, which means
it is free if you're signed up to a Premium or Business plan with WordPress.
 Otherwise, it will cost you just under $60.
Maisha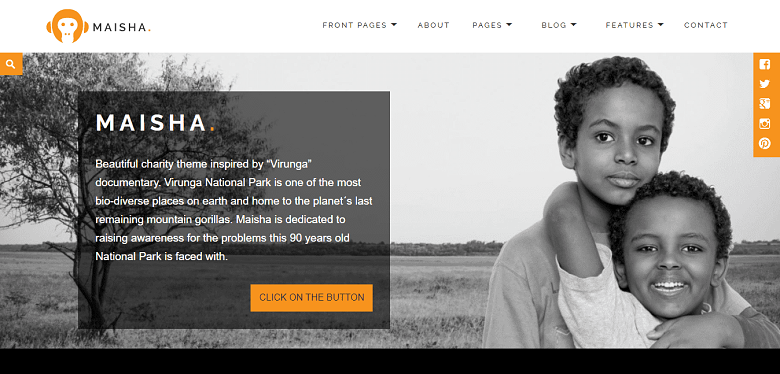 Maisha
 is versatile, responsive, and puts social media icons front-and-center.
 The design is just as modern as
Pena'
s – though it features a lot more white space. Personally, I prefer
Pena
 but
this theme is a better option if you want to focus on blog content.
 With six blog layouts to choose from, as well as different post formats, you can present your content whatever way you like. You can also add featured content to your homepage to highlight important posts, petitions, or emergency appeals.
Maisha
 supports Give and WooCommerce for donations. Free plugins like Peepso and BuddyPress can also be used to create community forums.
 These can be added to any theme. But the designers behind
Maisha
 have tested and tweaked their code specifically to ensure full design integration with these few plugins. Forums can nurture discussions around your nonprofit's work. Or, if you restrict access to members only, you'll have a private area where you can publish exclusive content or organize volunteers. However, one downside to note is that
Maisha
 doesn't appear to be an accessibility-ready theme.
Maisha
 costs just under $60 – or you'll get it for free if you've got a WordPress.com Premium plan or higher.
Prosperity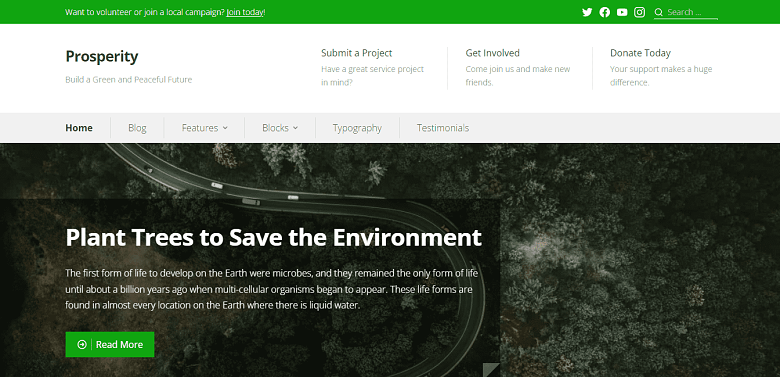 I love
Prosperity
's warm aesthetic and minimalist design. 
This theme is perfect for professional nonprofits, particularly those with a focus on green issues.
Created for use by nonprofits and medium-sized enterprises,
Prosperity
 offers responsive design, four page templates, and a testimonials feature.
This is also a great theme if you want to add a blog or news section to your website.
 You can choose between lots of different post formats to showcase videos, galleries, or quotes. You can also enable threaded comments and featured content sliders – which is a great way to promote content around priority campaigns. According to the theme's designers, each page is carefully constructed with SEO-friendly code.
It's also translation-ready, which means it will support multiple languages.
If you want to add donations or a members-only area to your site, you'll need to make use of WordPress plugins. Both free and premium options are available and
Prosperity
 is compatible with most of them too. But, like I said earlier, a Business subscription is required to access plugins.
Prosperity
 is free to Premium and Business plan subscribers, but it costs around $150 if you're on a lower tier subscription.
WordPress Themes Nonprofits Should Avoid
According to the theme store,
Fortune
 is suitable for businesses and non-profit organizations. However, I personally don't think it works.
Powerful images are key to inspiring your visitors to donate or volunteer. But that's not what this theme is about.
 The live demo is largely business focused and
is
very heavy on text. You'd have to invest a lot of time in writing content to fill the white space.
So, unless you happen to run a nonprofit which regularly publishes hefty research papers, this probably isn't the theme for you.
 But if you do, you should check it out!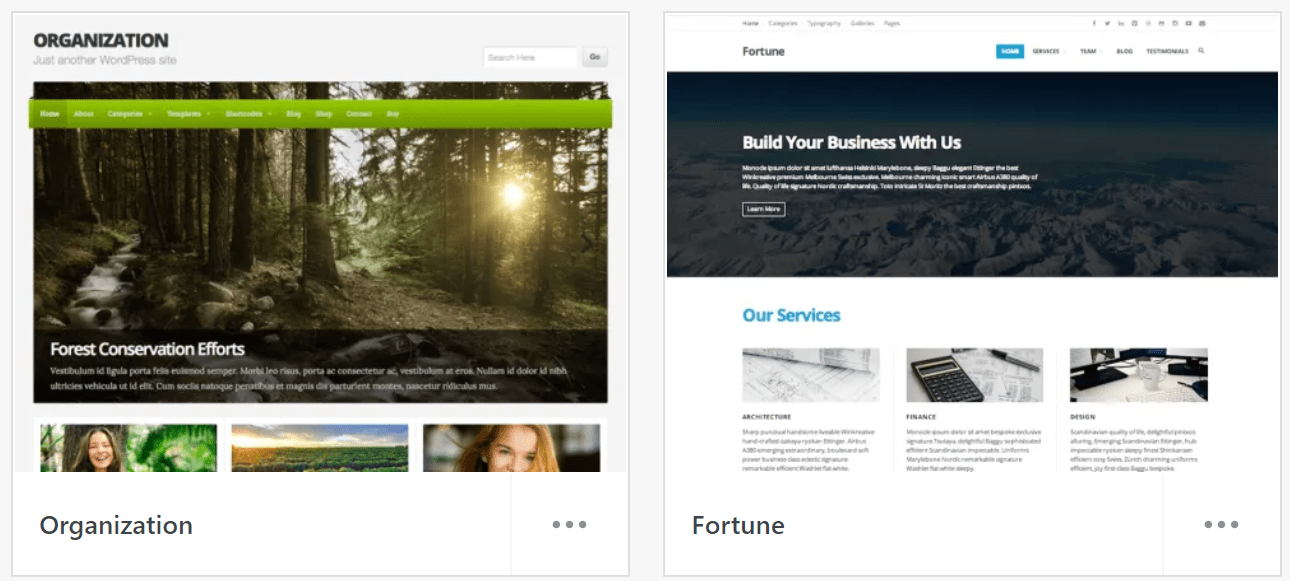 Another theme to avoid is
Organization
.
Though it has a lot of great benefits, like responsive design and flexible customization, I think it looks a bit dated.
So it's not likely to inspire trust and confidence in your audience, which could be problematic if you're looking for donations.
Organization
was designed with eco-friendly businesses and nonprofits in mind. But I think the
Prosperity
 theme would be much more appealing to eco warriors! However, if you aren't signed up to a Premium or Business plan and have a very tight budget,
Organization
 is much cheaper.
Other Nonprofit Themes You Can Use on WordPress
If you still haven't found the ideal WordPress theme for your nonprofit, you could always check out what other platforms have to offer.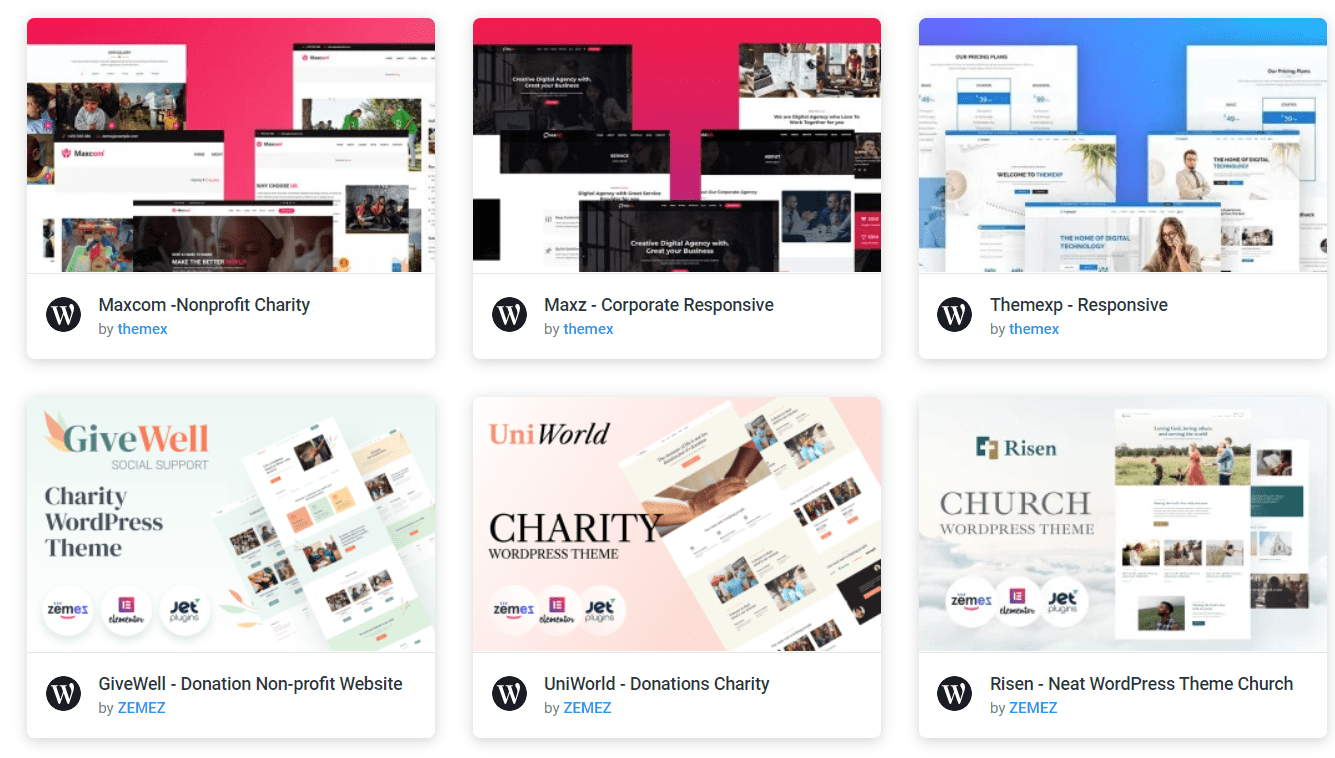 If you're signed up to a WordPress Business plan, you can install third-party themes from the likes of
ThemeForest
 or
TemplateMonster
.
 They offer loads of options for the nonprofit niche. On ThemeForest, titles like
Charity Foundation
 and
Alone
 have lots of positive reviews. Most of
Charity Foundation
's five-star ratings specifically relate to design quality and customer support. One user pays tribute to the theme's attention to detail. And I've got to agree with this,
from fundraising progress bars to unique nonprofit icons, this theme is thoughtfully designed.
With a hero slider featuring lots of unique transition effects,
Alone
 is a more eye-catching option from ThemeForest. But the true appeal here is
Alone
's 40 niche demo templates.
Each one is designed for a different type of nonprofit – from political groups and churches, through to healthcare and environmental organizations.
 If you find one for your niche, you can import this demo content and save lots of time. Over on TemplateMonster,
Maxcom
 looks really appealing too. It includes a nice event calendar feature, as well as striking gallery options. You can customize everything from buttons to menu design too.
If You Can't Find What You Want on WordPress, Check Wix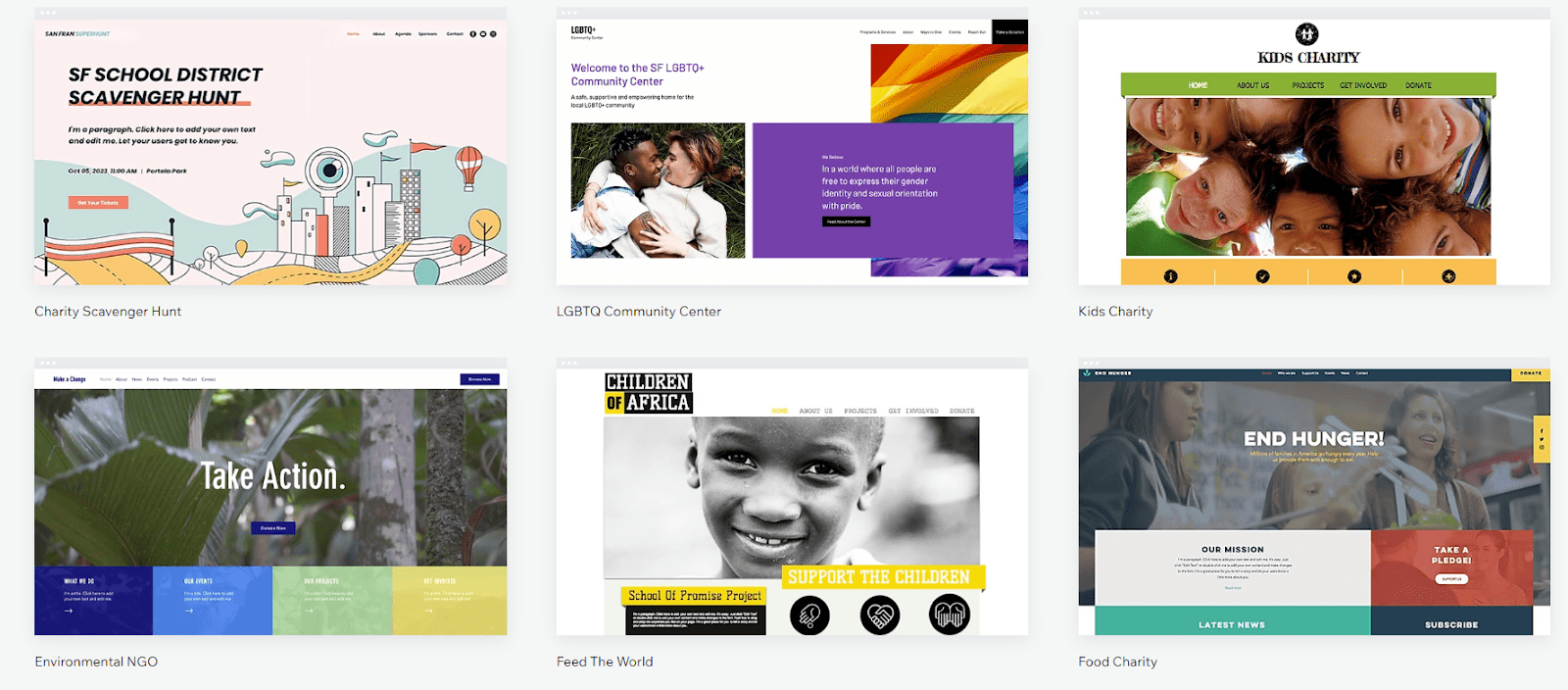 You could also look at alternative website builders to see what they have to offer.
Wix, for example, has a huge range of templates to choose from.
 In fact, Wix has a whole category of templates designed especially for nonprofit organizations!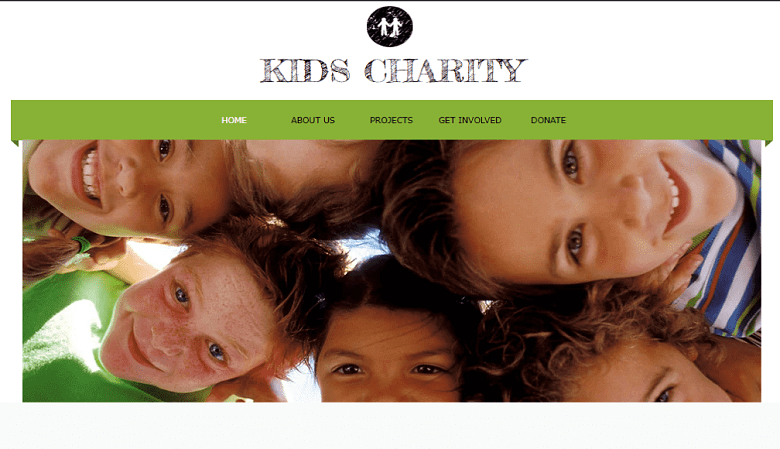 Titles like
Kids Charity
,
LGBTQ Community Center
,
Animal Shelter
, and
Youth Center
 are all well-designed, but very different. It's worth browsing through them all.
If you find one closely related to your niche, it could save you a lot of work.
All Wix's templates are mobile-friendly and the intuitive drag-and-drop editor is perfect for beginners.
Set Up Your Website For Good
Spending a few hours searching for the ideal theme for your nonprofit organization will simplify the process of creating your website. As you determine your selection, consider the elements that resonate with your target audience. Contemplate what factors would encourage them to interact with your website. Assess the current and future requirements of your website in terms of features. Do you aim primarily to enhance awareness, draw in volunteers, or generate funds?
By identifying these key factors, you'll be sure to choose a theme that fulfils all your needs.
And if you decide you need more variety than what's offered on WordPress – or you just want some more inspiration – check out the templates from our
list of the best website builders in 2023
.
FAQ
How do I choose a theme in WordPress?
The best way to choose a theme is to put together a list of your must-have website requirements. Then use the search function to find a theme that suits your needs – you can filter by keyword, feature, layout, style, subject, and price.
Can you use WordPress without a theme?
No, you need a theme to build a website on WordPress.com. However, if you don't want to choose one yourself, you can simply use the default theme. Every year, WordPress releases a new default theme. It usually features a modern design and is extremely versatile, so it would be suitable for most websites – including nonprofits. In our review of WordPress, our website building expert found that you can use it to build almost any kind of blog or simple website.
What is the most popular free WordPress theme?
Every year, WordPress releases a new default theme which is named after the current year (Twenty Nineteen, Twenty Twenty, etc.), and every year it becomes the most popular theme. It's always free too! That said, most of the best website builders also offer free plans and templates – so you'll have plenty of options, even if you don't find one you like on WordPress.
Is it worth paying for a WordPress theme?
It is possible to build a great website with a free WordPress theme. However, a great premium theme can help you create a unique website that really stands out. This may help your website generate more sales and awareness in the future. If you find a premium theme suited to your specific needs and niche, it can also reduce the time needed to build your site. And don't forget – if you sign up for a Premium or Business plan, the fee for a lot of the theme store's premium options is waived. If you decide to go this route, be sure to take advantage of any current WordPress coupons or discounts!