If you want an Irish website, it might seem like a good idea to go with an Irish web host. But while local hosts can bring your site closer to your audience, this doesn't necessarily mean you'll get better performance. In fact, I've tested dozens of popular Irish hosting services, and some of them had very disappointing page loading speeds.
Others didn't provide essential features like automatic backups or a free SSL certificate. And although most services seemed affordable at first, many of them ended up costing more than they initially let on.
So – which hosting service should you trust with your website? That's what my colleagues and I wanted to find out.
Earlier this year, Website Planet undertook possibly the largest hosting comparison project of this type. We signed up with every popular Irish host, and ranked its performance, customer support, ease of use, and other important features based on our experience. Then, we compared these services to a handful of international hosts with outstanding performance in Ireland.
Find out how they did below, or head straight to my recommendations.
What We Tested in Ranking the Best Web Hosts for Ireland
Most web hosts promise the best possible service, so I wanted to see for myself whether they could actually deliver. These were the key areas I prioritized during my tests:
Features. Storage space and bandwidth are important, but there are other things you'll need to properly host a website. I've looked for free SSL certificates, automatic backups, built-in performance boosters, and more.
Ease of use. Hosting a website shouldn't feel like learning Gaelic all over again. I signed up with each provider and built a website from scratch to ensure that anyone (including a complete beginner) could do the same.
Performance. I ran several benchmarks over a period of three months for each host. But I didn't run these tests on a blank website. To get more accurate results, I used a landing page similar to what your site might look like.
Support. I contacted support over multiple channels (where possible), and I rated these interactions based on availability, waiting time, and helpfulness.
Pricing. I've included options for every budget. You'll find incredibly cheap hosts that pack a lot of value into their entry-level plans, but also a few premium services with unmatched performance and support.
.ie domain name extension. Many web hosting companies do not offer domain names with the .ie extension, but you can easily register one with an Irish web host that is authorized to provide them, such as Hosting Ireland. You do not need to register your domain name with the same company you use for web hosting, and it is often advisable to keep these separate as it can make it easier to switch web hosts if you choose to.
This is just a quick overview of what we tested in our huge web hosting comparison project. I'll go into more detail about the process later on, but first, here are the top web hosts for Ireland.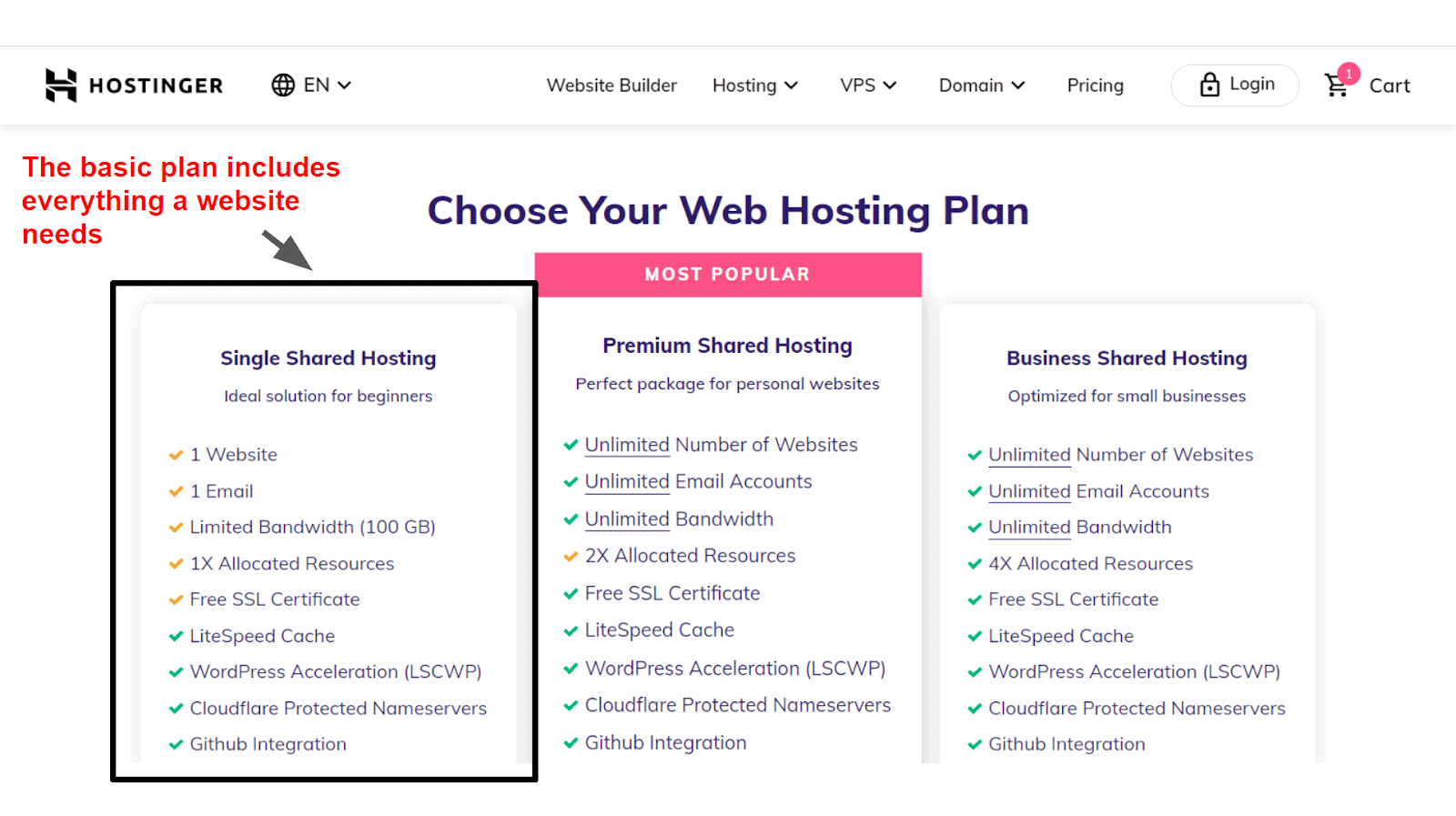 If you sign up for a four-year plan, Hostinger costs close to nothing. But as you can imagine, I had my reservations. For one, I thought that Hostinger might compromise on performance in order to stay cheap. So I put it to the test.
To my surprise, Hostinger did very well. In fact, it was one of the fastest low-cost hosts I've tested, and the results were consistent over several benchmarks. For personal blogs and business pages, its shared hosting plans are a perfect fit.
Hostinger is an international provider rather than a local Irish one, but it does have a data center in the UK so you can still host your website close to your target audience. I was impressed with its performance in Ireland, which is why it's at the top of my list.
Features:
Optimized for WordPress. Hostinger uses the LiteSpeed web server, which is arguably the best technology for WordPress websites. And LiteSpeed Web Cache Manager is built into your dashboard for simple activation and configuration.
Easy-to-use control panel. hPanel is better organized and easier to navigate than the usual cPanel. All the important functions are there, although Hostinger does tend to pester you with upsell attempts, which are safe to ignore.
Free email hosting. You can create a professional email "@yourdomain" for no additional cost. More email addresses are included in higher-tier plans.
Free SSL certificate. All Hostinger plans come with an SSL certificate, so your website is padlock-protected by default. Many Irish hosts make you pay extra for this feature.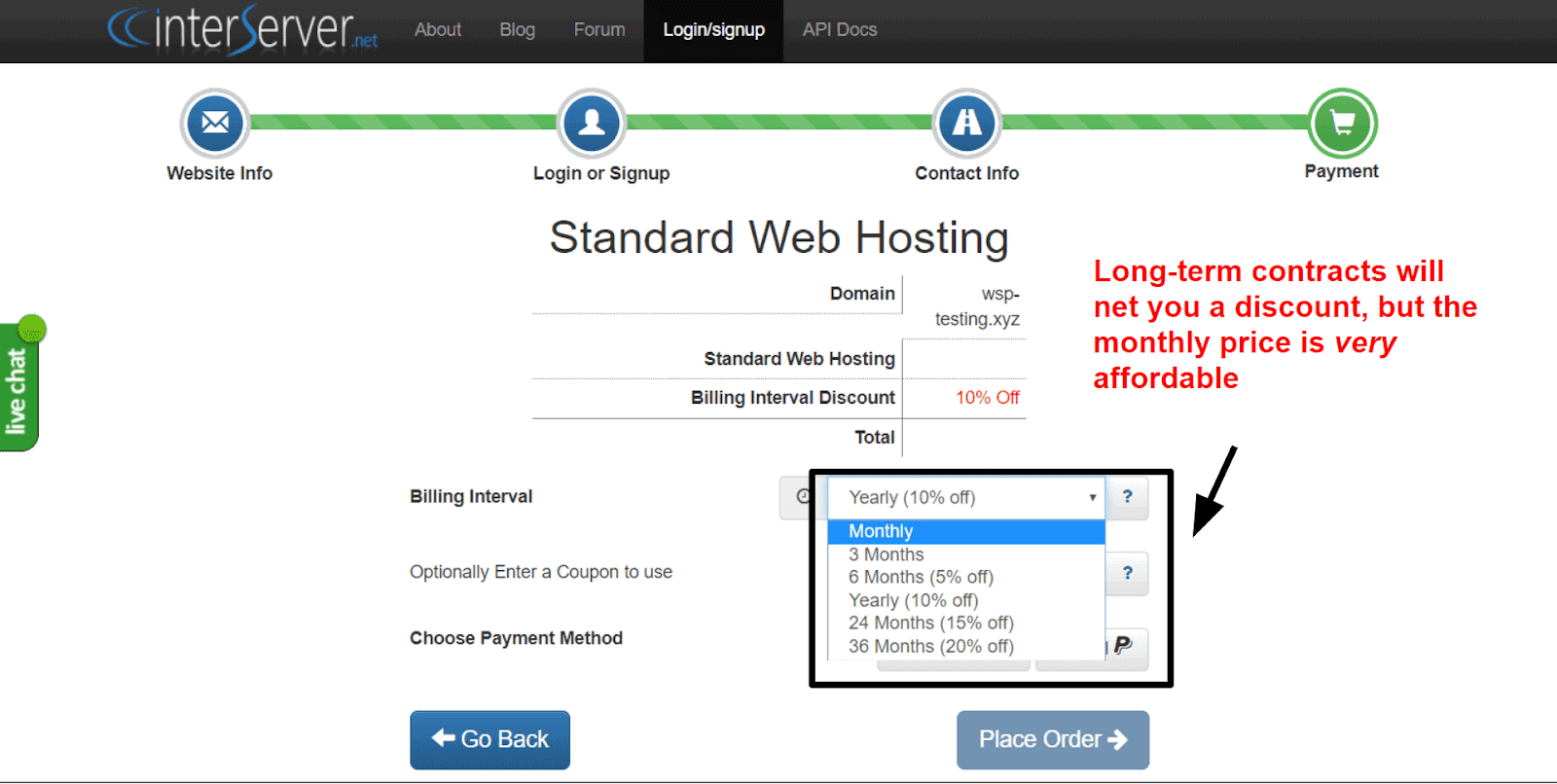 If you don't like the idea of paying upfront for several years of hosting, InterServer is your best bet. Its Standard shared hosting plan is affordable even if you pay month-to-month, and it includes unlimited websites, storage space, and bandwidth.
Given that InterServer's data centers are all US-based, you might be wondering why it takes the second spot on my list of the best web hosts for Ireland. Honestly, it's just that fast. Throughout testing, I used InterServer's New York-based data center, and performance was actually better in Western Europe than with several Irish hosts.
Features:
Unlimited domains. InterServer is one of the few hosts that let you set up multiple domains on an entry-level plan. If you want to host several small websites, InterServer is a great solution.
cPanel and Softaculous. cPanel isn't the most user-friendly control panel, but it gets the job done. As for Softaculous, you can use it to install hundreds of CMSs and scripts with a couple of clicks. WordPress, galleries, contact forms, ecommerce carts – everything is there.
Integrated CDN. A content delivery network (CDN) stores copies of images and code from your website on servers around the world for faster loading. You can effortlessly enable this service on the account dashboard.
Ironclad security. A machine learning firewall, an automatic malware scanner, and an SSL certificate are all included in the Standard plan. Plus, if your website ever gets hacked, InterServer will clean it up and restore it for you.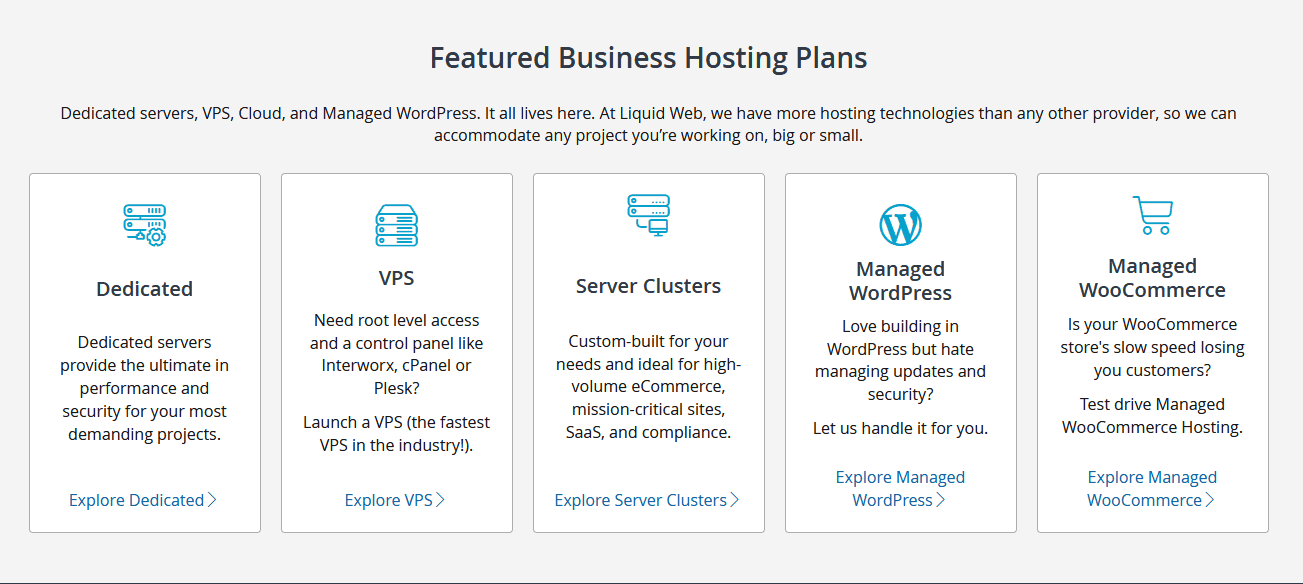 Both Hostinger and InterServer are excellent options for small to medium websites, but if you want to host a high-traffic site or an online store, I recommend Nexcess. It's more expensive, but you can have experts take care of everything for you, from website transfers to performance optimizations.
Nexcess offers managed WordPress, WooCommerce, and Magento plans. Each package includes all the essential features, and then some. With managed WordPress hosting, for example, you get automatic updates and plugins, built-in caching, and two premium WordPress plugins for easy website management and security.
For websites with Irish visitors you can use Nexcess's data center in the Netherlands. According to my tests, you'll get a level of performance and reliability few other hosts can match.
Features:
Custom-built control panels. Depending on your CMS, Nexcess gives you a proprietary control panel to make life easier. I tested the WordPress plans, and I have to admit the dashboard was one of the most streamlined I've used.
NGINX web server. Like LiteSpeed, NGINX is newer web server software built for speed and reliability under pressure. Nexcess servers use NGINX on a proxy layer.
Managed plugin updates. Nexcess regularly creates a clone of your website to test new versions of your existing plugins. If everything works, the patches are applied for you.
E-commerce ready. Nexcess's WooCommerce and Magento plans come equipped with a set of performance and security plugins that'll help you make the most of your online store. On request, Nexcess will also help you qualify for PCI compliance.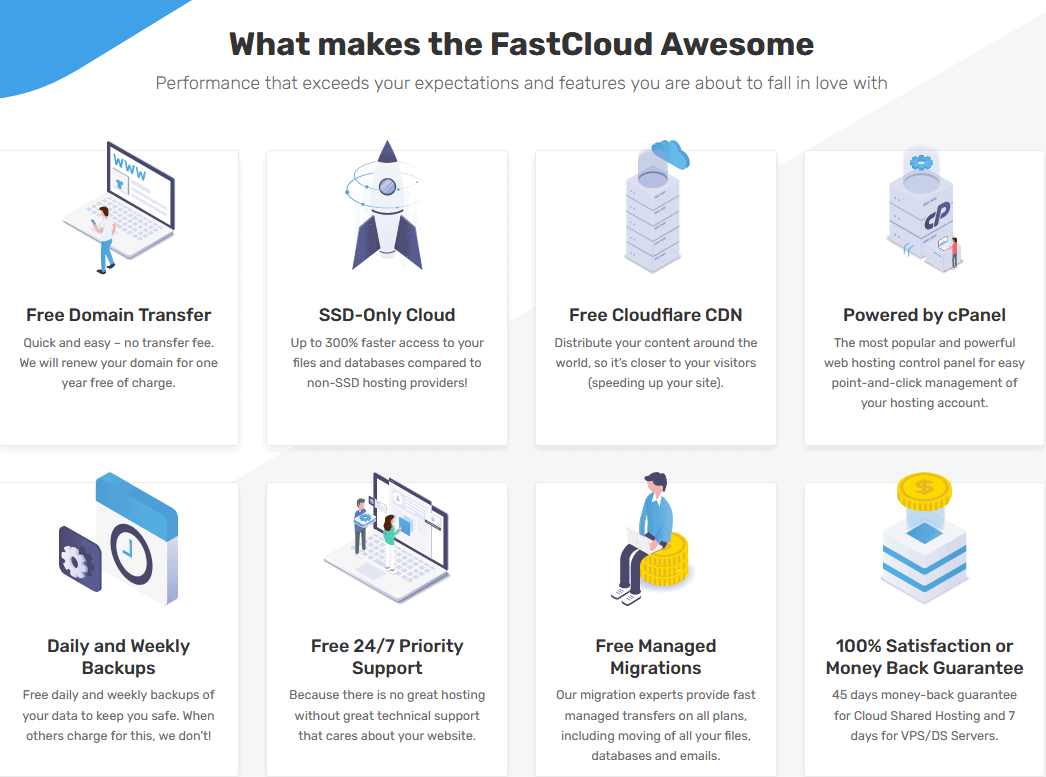 If you want to keep costs low, your best option is shared hosting. But if you go with shared hosting, your website's performance can be affected by other users on the same server. FastComet uses the latest container-based technology to properly isolate each account on a shared server.
Although performance can still fluctuate, you are guaranteed enough CPU and RAM to run your site. Account isolation also ensures malware can't spread to your website from other users.
FastComet has an impressive network of data centers around the world, including one location in the UK. So long as you're near your target audience, performance is stellar, even on the cheapest plan.
Features:
Resource usage graph. Most shared hosting providers don't tell you that you've used too many resources until it's too late. FastComet's dashboard includes colorful charts and graphs that can help you keep track of your resource usage.
Built-in optimizations. The best caching plugins are locked behind the FastCloud Extra plan, but gzip compression, code minification, and other performance boosters are also available on FastCloud and FastCloud Plus.
Simple website builder. If you don't fancy building a WordPress website from scratch, you can use FastComet's drag-and-drop site builder (and themes) to get online quickly.
Excellent customer support. In my experience, FastComet's support agents are quick to respond and almost always helpful. One agent even optimized my website for me, which isn't something a lot of other hosts would do.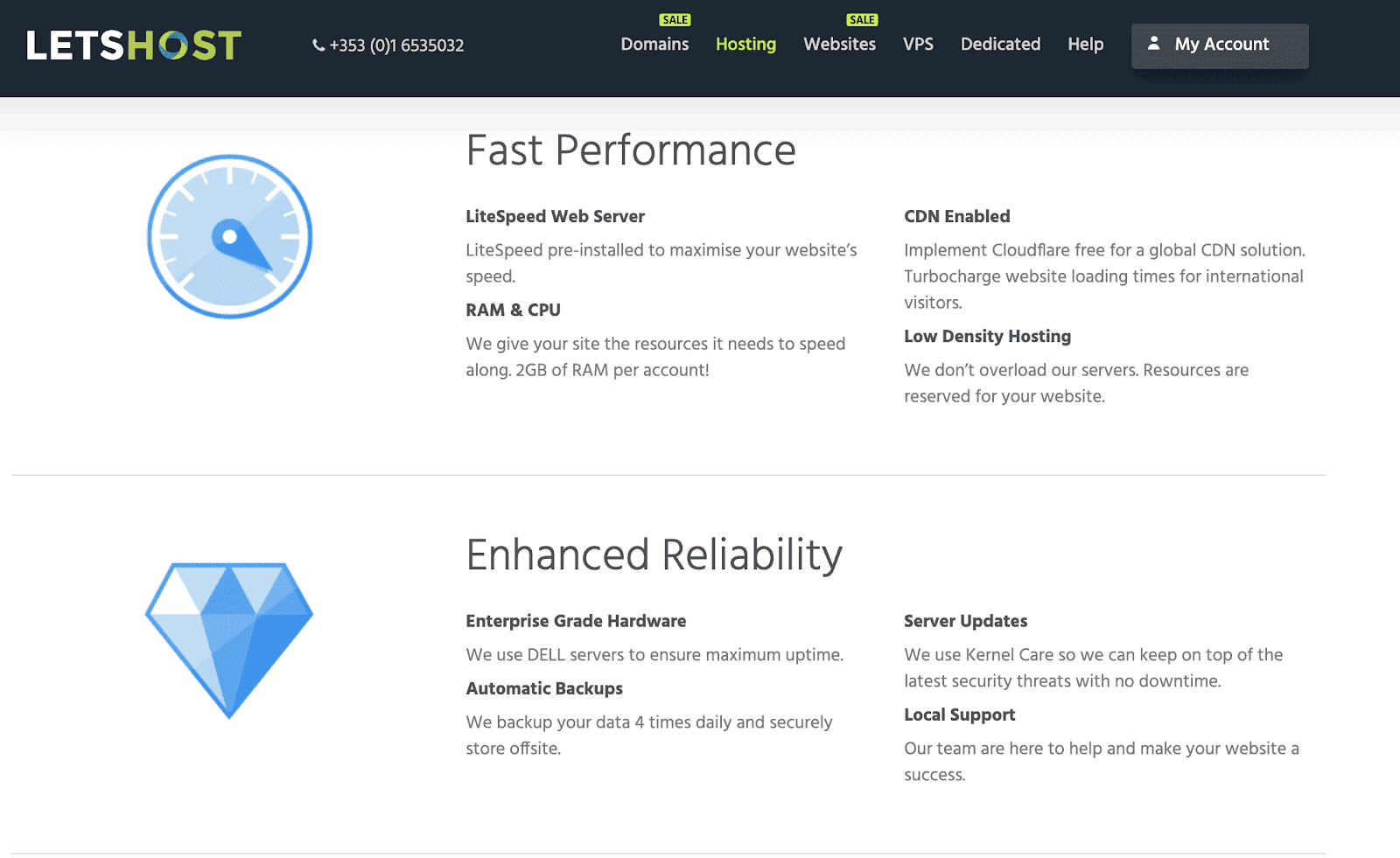 The first Ireland-based web host on my list, LetsHost gives you generous resources and most of the features you'll need for a regular website. Its plans aren't revolutionary, nor are they very cheap, but performance is decent, and customer support is excellent.
I was truly impressed with LetsHost's support agents. Although live chat wasn't available, I never had to wait too long for someone to respond to my tickets. I was able to get help setting up WordPress and optimizing my website, which was not the case with most other Irish hosts.
That said, there is one big downside with LetsHost: the lack of a free SSL certificate. You'll have to buy the SSL separately, and LetsHost won't make it cheap. But if you have enough room for it in your budget, I'd say it's worth a try.
Features:
WordPress-optimized plan. This one comes with additional PHP memory, WordPress-optimized servers, and automatic updates for your core installation and plugins. Plus, it's only slightly more expensive than the entry-level plan.
LiteSpeed web server. If you opt for the WordPress plan, your website is hosted on a LiteSpeed server, which means better loading speeds.
Beginner-friendly dashboard. It was easy to sign up, install WordPress, and build my site. I was able to manage my hosting service, my domains, my support tickets, and billing. cPanel was there for everything else.
Automatic backups. While most hosts make you pay extra for daily off-site backups, LetsHost provides them for free.

Hosting Ireland is the fastest Irish host I've tested. Heck, its performance in the region is even better than that of premium international services like Nexcess. It's also relatively cheap, and you can pay on a monthly basis. But…
I was very disappointed with Hosting Ireland's customer support. It was one of the least helpful hosts that I've tested for this massive project. Support is only available during working hours, and only through phone or tickets. I got in touch several times, but I wasn't able to get any help with either my WordPress installation or the optimization of my site.
In fact, one agent took the opportunity to "kindly recommend" a more expensive plan, rather than offer any real advice. Thanks, but no thanks. And when you consider that SSL certificates are not included with any plan, Hosting Ireland becomes significantly less attractive. It's fast, for sure, but that's about it.
Features:
10+ Websites. Most entry-level plans support only a single website, but Hosting Ireland's Cloud Lite+ lets you host up to ten websites. That's great news if you have several low-traffic sites.
Generous email hosting. No less than 50 email accounts are included with the cheapest plan, which means that everyone – including your favorite Cocker Spaniel – can get an email "@yourdomain." Of course dogs need email too.
Free malware scanning. SSL certificates aside, you won't have to pay extra for website security. Malware scanning and automatic security patches are included in every plan.
Easy account management. Your domains, hosting services, and billing information can be accessed from a single, streamlined dashboard. It's also super-easy (though painfully expensive) to add an SSL certificate.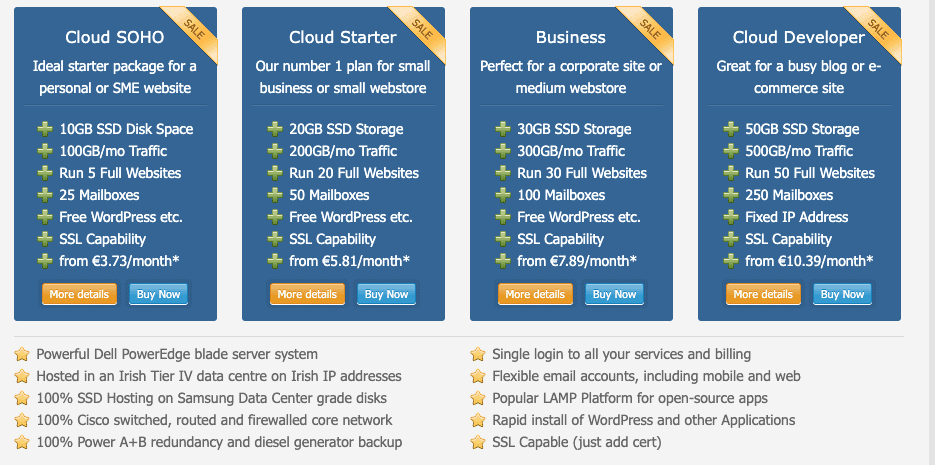 Irish Domains is a mixed bag. It's one of the cheapest Irish hosts that I've tested, and its uptime is impressive, but the shared hosting plans are very basic. There are no WordPress optimizations, no built-in performance features, no security tools, and more importantly, no free SSL certificates.
In terms of loading speed, Irish Domains could definitely use some improvements, but it got decent and fairly consistent results on GTmetrix. You won't get great performance outside of Ireland, but if your visitors are from this region, your website's loading speeds will be ok.
Overall, there's no big reason for me not to recommend Irish Domains, although that premium SSL will cost you a pretty penny. I'll just say this: there are better options out there.
Features:
CloudLinux servers. Like FastComet, Irish Domains uses Linux containers to isolate different accounts on the same server. This is a big plus for stability and security, although the benefits are somewhat overshadowed by the host's average performance.
Preinstalled WordPress. During checkout, you can opt for WordPress to be installed for you. This is even faster and more convenient than using the one-click installer provided by most hosts.
Easy-to-use site builder. Not a big fan of WordPress? Irish Domains' free website builder comes with professional-looking templates and a convenient drag-and-drop interface.
Odin control panel. It's not cPanel, but I have no complaints. All of the important functions are there, and the dashboard is actually easier to navigate. There aren't as many unnecessary icons as with cPanel, and the one-click installer can help you set up any popular CMS.

Blacknight is a lot like Irish Domains: its plans give you no more than the bare minimum. You get to host multiple websites on the entry-level plan, but storage space and bandwidth are limited, and there are no built-in performance boosters.
Blacknight isn't  as fast as some of the other Irish providers I've tested, but it's not the worst either. Uptime is also decent, so I can't complain about its reliability.
It's just that you could get better features and performance for your money. Blacknight is yet another Irish host that doesn't include free SSL certificates in any of its plans, and this alone makes it cost more than it's worth.
Features:
Generous bandwidth. Although Blacknight can't match the unlimited bandwidth you get with international hosts like InterServer, it offers more than most local providers.
Live chat support. Most Irish hosts offer phone and ticket support. Blacknight also has live chat during working hours, and in my experience, the agents are readily available and eager to help.
The latest PHP versions. If you use a PHP-based CMS like WordPress, upgrading to the newest PHP release can boost your website's speed and security.
One-click installer. Blacknight doesn't have Softaculous or Installatron, but it does have an Application Vault with easy setups for popular CMSs like WordPress and Drupal.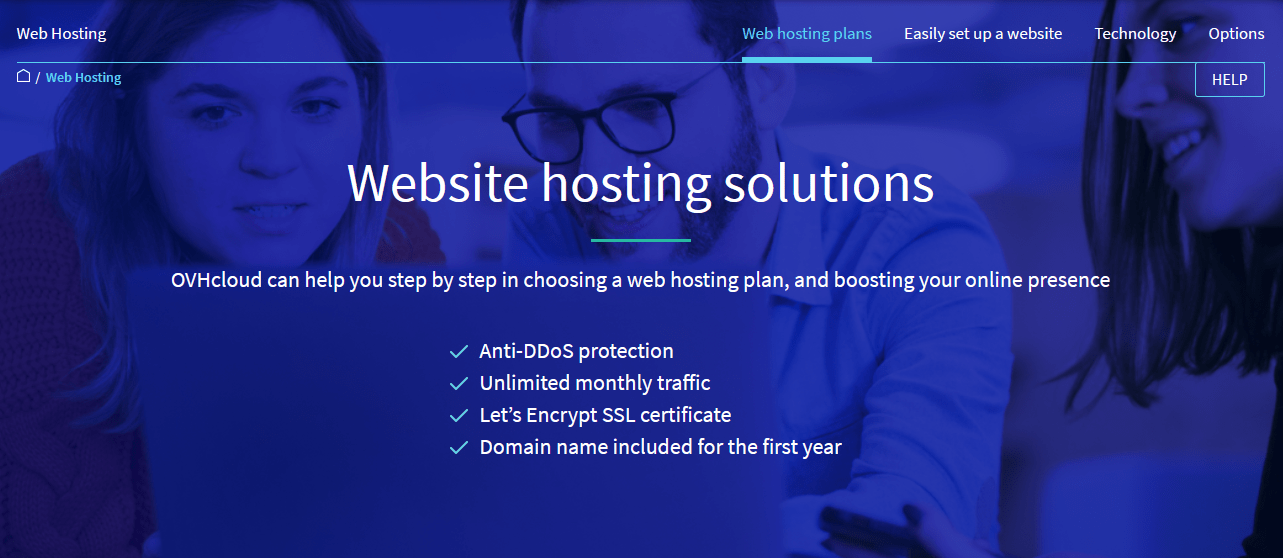 Looking over OVHcloud's affordable plans, I thought I had finally found a host with an Irish data center that could compete with industry giants like Hostinger. OVHcloud actually gives you everything you need to host a website, including lots of storage space, a free domain name, and an SSL certificate. But then I tested its performance.
And while it did very well on GTmetrix (it was almost as fast as Hosting Ireland), its uptime was significantly lower than the 99.9% guarantee. I kept tracking OVH's service availability for several months after the initial testing period, and uptime did improve. But overall, I can't recommend it as a reliable host.
It's also not the most user-friendly platform out there. Its proprietary control panel is unnecessarily difficult to navigate, and customer support is rarely willing to help. Still, if you're a tech-savvy user and you don't mind taking a risk on uptime, OVHcloud could be a decent option.
Features:
Unlimited bandwidth. Not many Irish providers include this in their entry-level plans. In fact, most have a bandwidth cap even on their most expensive shared hosting packages. With OVHcloud, bandwidth is always unmetered.
Automatic backups. Here's another feature that most local companies will make you pay for. With OVHcloud, you get free daily backups that are stored off-site. It's also super-easy to restore a previous version of your website from the dashboard.
Optimized servers. The Personal plan runs on WordPress-optimized servers, while the Performance plan is also configured for Joomla, Drupal, and PrestaShop.
Very affordable VPS. Even compared to big international hosts, OVHcloud's VPS configurations are incredibly cheap. You can get one vCPU core, 2GB of RAM, and 40GB of storage for the price of a regular shared hosting plan.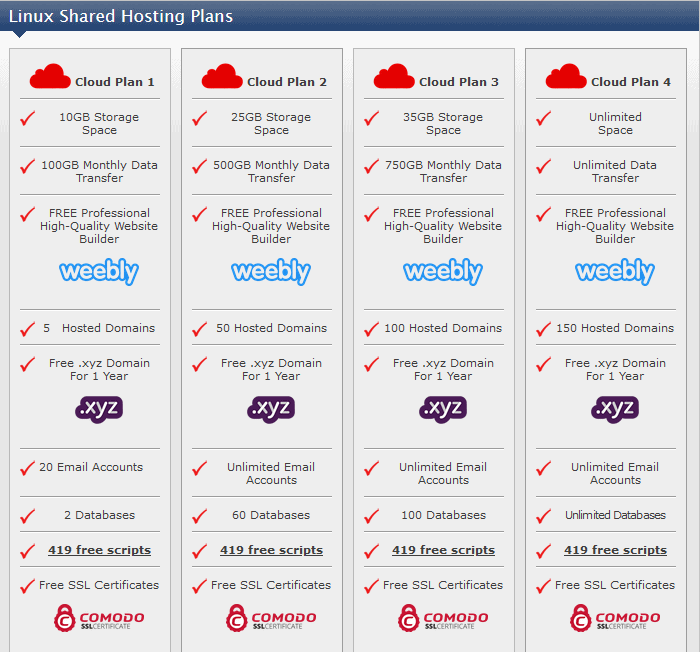 Most local Irish hosts offer customer support during regular office hours only, and never during weekends. Web World Ireland is one of the few providers with 24/7 live chat support. If you encounter a problem, you can get help right away…or that's the theory, at least.
When I tested Web World's live chat service, I was pretty disappointed. For instance, when I asked for help with my WordPress installation, the agent sent me a link to an outdated article describing a complicated manual setup instead of pointing me to the one-click install available through Softaculous. Simply put, it was useless.
I've seen my fair share of subpar support, so I could overlook this if it was Web World's only problem. However, the provider got a terrible score on GTmetrix, and even though its servers are in Ireland, my website took forever to load there.
Features:
Free SSL certificate. Like OVHcloud, Web World Ireland offers SSL certificates at no extra cost, which makes it one of the most affordable local services on my list. The SSL isn't active by default, but you can easily switch it on from the dashboard.
Free domain name. This is another perk that you don't normally get with Irish hosts. But beware: the free registration is only available for .xyz domains. If you want a .com or .ie domain name, you'll have to pay for it.
WordPress auto-updates. Your WordPress core software and plugins can be patched for you. But while Hostinger and InterServer provide this service for free, Web World makes you pay extra.
Weebly website builder. Several other Irish hosts include a site builder in their plans, but none of them have a top product like Weebly. If you're looking for an easy, fast way to get online, this is it.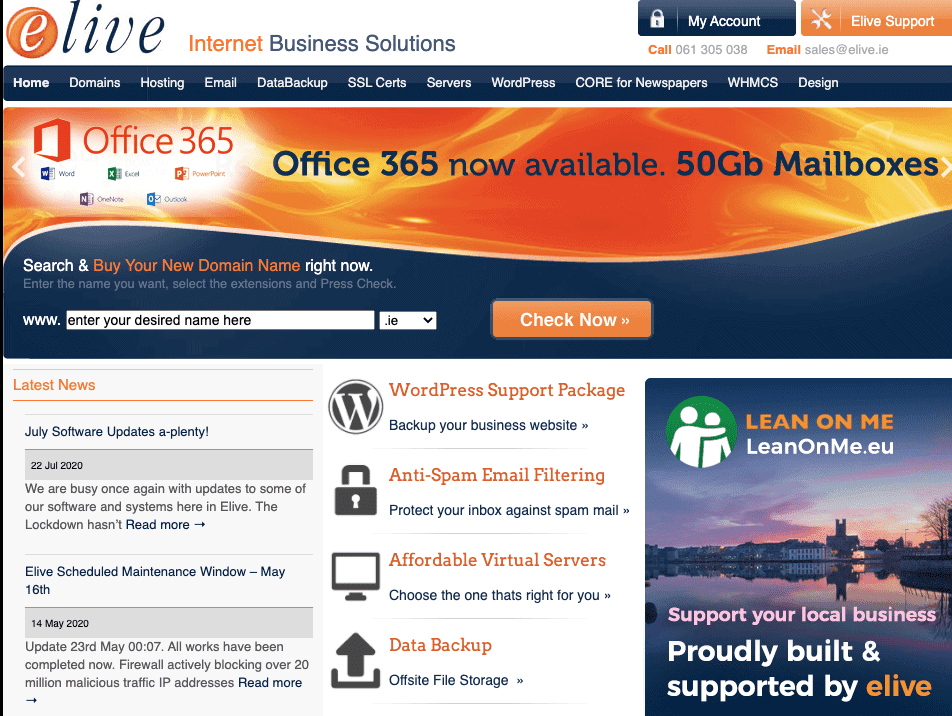 Elive has some great features, but its performance and customer support leave much to be desired. During several months of testing, Elive had nearly perfect uptime, but I was disappointed to see that loading speeds varied wildly.
At times, my website loaded in under a second. But there were also times (too many, I'm afraid) when it took almost ten seconds! I tried to ask customer support for help with speed optimizations, but they actually suggested that I should pay for assistance. Honestly, I've tested dozens of hosts, and this has never happened to me before.
Otherwise, Elive offers a decent service. Storage and bandwidth caps are a wee bit stingy, but at least you get a free SSL certificate and a premium control panel.
Features:
Plesk control panel. Compared to cPanel, Plesk has a more modern look and is easier to use. Essential functions are in plain sight, so you don't have to sift through dozens of icons to find what you need.
WordPress support. This includes backups, software updates, malware scanning, specialized support, and other managed WordPress features. But…it isn't free. In fact, depending on the plan you choose, this can easily triple the price.
Outstanding uptime. This is one of Elive's strongest pros. In three months of testing, my website was offline for less than a minute every month. Few hosts, local or international, are this reliable.
Basic website builder. It isn't much, but if you want to launch a website quickly, Elive's drag-and-drop site builder may be useful. A basic version is included for free with all plans.
Top Hosts for Ireland – Full Comparison
Curious to compare these providers? Here's each host's entry-level features at a glance:
Our Testing Process in Detail
This was probably the biggest web hosting comparison we've ever done at Website Planet. If you want to find out more about how we rated these top hosts for Ireland, keep reading. Otherwise, you can skip straight to my conclusion and recommendations.
Features
To rank hosts in this category, I've looked at storage space, bandwidth, email hosting, CMS auto-installers, SSL certificates, automatic backups, caching, and more.
All providers on my list provide enough storage space and bandwidth on their entry-level plans for a couple of standard websites. It's very unlikely you'll need more than 10GB of storage, even with loads of HD photos. As for bandwidth, Elive's 10GB cap is a bit stingy, but the other hosts are fairly generous in this respect.
I didn't expect so many local hosts to make me pay for an SSL certificate. Only three of the seven Irish services on my list offer free SSLs, and that's an absolute shame. If you don't want browsers to flag your website, you'll need an SSL. And if it's not offered for free, it can double or even triple your costs.
Ease of Use
Even if you've never hosted a website before, it should be easy to sign up, connect your domain, install a CMS, and manage your account. Whenever a host made this process more complicated than necessary, I removed points.
For example, OVHcloud did particularly poorly here. I had to click through multiple screens before I could finally buy a plan, and the order summary page was a mess. I also had to contact OVH to move my account to an Irish server, even though I had been promised that my website would be hosted there to begin with.
The dashboard didn't make things better. The layout kept malfunctioning on a smaller screen, and I had to wait for the control panel to reload whenever I switched to a new tab. All other hosts had smoother interfaces.
Performance
My test website was a landing page similar to what you might create for a small business or personal blog. I included a theme, several HD images, a contact form, and a bunch of other standard features to give you an accurate picture of how each host will really perform. Then, I tested them using GTmetrix, Sucuri Load Time Tester (for global performance), and UptimeRobot.
I also looked at each international provider's data center locations. InterServer is the only provider on the list that doesn't have EU servers, but I used its NY data center for my test website and loading speeds in Western Europe were excellent.
Support
Most hosts promise "expert" customer support, but I wanted to test this claim for myself. To rank each one, I considered its support channels, availability, and helpfulness.
Some providers, like Nexcess, FastComet, and LetsHost did very well – agents were helpful and readily available. But most local hosts offered support only during weekday working hours, and agents sometimes avoided my questions or tried to make me pay extra for services I didn't really want.
Pricing
Headline prices can be deceiving. In most cases, there are extra fees (like paid-for SSL and backups) that will increase the final tally by a lot. I also considered whether or not you can pay on a monthly basis and still get a good deal.
International hosts like Hostinger and InterServer had a clear advantage in this category. Their plans were not only cheaper, but they also included SSL certificates and automatic backups for free. With a few exceptions, local hosts made me pay extra for these must-have features.
Which Web Host Should You Choose for Your Irish Website?
Of the dozens of hosts that we've tested, these are the ones that stood out for their performance in Ireland with blazing-fast loading speeds or outstanding uptime. Others offered incredibly low prices and lots of value features.
But which of these hosts is best for you? These are my recommendations.
Hostinger is not the best choice for high-traffic websites. It focuses primarily on shared hosting, so it's most suitable for personal blogs, business pages, professional portfolios, and other similar projects.
If that's what you need, Hostinger is perfect. Its UK data center scored very highly in terms of performance, and its proprietary control panel is very easy to use. It boasts the lowest prices in the industry as well.
InterServer doesn't have an EU data center, but my tests found its performance was excellent across Western Europe. Its Standard plan comes with unlimited websites, storage space, and bandwidth,  so if you have several low-traffic sites, it's a great setup. Best of all, you can pay monthly and still get a great deal.
There are two situations where I think Nexcess is a good fit. First – if you have a high-traffic site or online store, Nexcess can give you a level of performance and stability that few other hosts can match. Second – I recommend it if you want a hands-off, carefree hosting experience where real experts take care of performance and security optimizations for you. It's expensive, sure, but you get a lot of value for money.
FastComet is one of the few low-cost hosts that offer complete account isolation on all plans. Your account will be better secured, and you'll always have access to enough RAM and CPU, so you can expect consistent loading speeds. The UK data center ensures your Irish audience will be able to load your website quickly.
There are lots of things to like about LetsHost, from its generous amount of storage space and bandwidth to  its solid backup policy. But what impressed me the most was the outstanding customer support. It's only available during working hours, but support agents are knowledgeable and helpful. If this is your first time hosting a website, LetsHost is a good option.
FAQ
Which is the best host for Ireland?I'd love to give you a clear-cut answer, but I'd be lying if I did. In my experience, Hostinger is the best option for most website owners. For an incredibly low price, it gives you all the features you need to safely host your site, and its performance is very good for a personal blog or a business landing page. That said, if you have a high-traffic website or online store, I'd recommend Nexcess. It's more expensive, but you're paying for real experts to take care of software updates, security, and performance. Irish company LetsHost is also worth considering. It performs reasonably well in Ireland, and its customer support is super-helpful. Unfortunately, you'll have to pay extra for an SSL certificate, and that can increase your costs by a big margin. If none of these providers feels like the right fit, you can find more options in our list of the best web hosting services.Is it better to choose a local host or an international host?Normally, I'd recommend a local host because an Irish data center should theoretically give you better performance for your target audience. However, according to my tests, several international hosts offer faster loading speeds in the region. Hostinger and Nexcess are just two examples. In addition, most Irish hosts may look affordable, but they are often more expensive than you think. Essential features like SSL certificates, automatic backups, and domain names aren't included in their plans, and these can end up costing a small fortune.Which host is the best for e-commerce websites in Ireland?You could host a small online store with Hostinger or FastComet, but if you have an e-commerce website with decent traffic, Nexcess is a better option. Its WooCommerce plan is packed with useful features, and it comes preconfigured with loads of handy performance and security plugins.Which is the cheapest web host in Ireland?The cheapest web host with servers in Ireland is OVHcloud. It also includes a free SSL certificate, plus automatic backups on every plan, so you won't have to pay extra for must-have features. Be warned, though: OVH is not the most user-friendly platform. Before you make a decision, make sure to check our coupons page for the latest deals.Do all web hosting companies offer .ie domain names?No, but you don't need to register your domain name with the same company you use for web hosting – and in the beginning, it is advisable to keep these services with separate companies as it can make it easier to switch web hosts quickly if want to. Irish registrars like Hosting Ireland are authorized to provide domain name with the .ie extension, and if you switch web hosts, you'll simply need to change the nameservers behind your domain name to the ones provided by the new host.