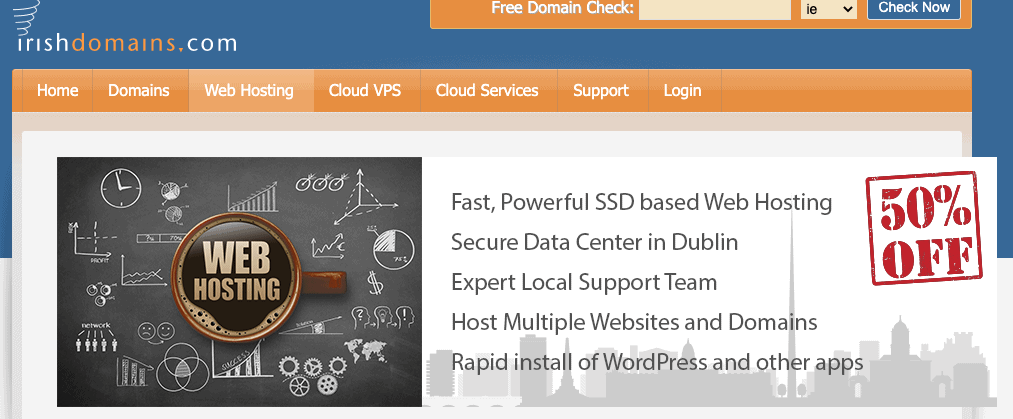 No-Frills Hosting That Struggles to Stand Out
Since there are few international hosting companies that actually have data centres in Ireland, it makes sense to look to smaller, local companies like Irish Domains if your website visitors are mainly located in this region. But can Irish Domains compete with its international rivals on performance, features, and customer service? That's what I set out to discover when I began testing this provider for myself.
My experience was very mixed. It was incredibly reliable with regards to uptime, and its performance was okay – but there were some things I really didn't like and you should know about them before you sign up.
Irish Domains has a single data centre, located in Dublin, and offers shared and cloud VPS hosting. It's worth noting that its shared hosting plans are advertised as "cloud hosting," but this isn't strictly true. I'll explain more about this in the features section below.
Compared to the competition (both international and Irish), Irish Domains provides a fairly basic service. It's very much a no-frills host that can give you most of the essential features for getting your website online. Not everything is included in the plan prices, however, so you may end up racking up some extra costs.
For this review, I purchased the Cloud SOHO plan (the lowest-priced option) and spent over three months running performance tests, checking out features, and engaging with the support team, to give you a full report about what hosting with Irish Domains is actually like.
If I had to summarise my experience, I'd tell you Irish Domains isn't terrible to host with, nor is it particularly great. It's an average host, with average features, that will allow you to get your website online – but there are definitely other options that may better suit your needs. Before you make any final decisions, you should check out Hostinger's latest deals.