Not many VPS hosting providers offer unlimited bandwidth, and many of the ones that do don't offer very good value otherwise. This makes finding a decent bandwidth-unlimited VPS host like finding a needle in a haystack. But never fear – I've taken the guesswork out of the process for you.
At Website Planet, my colleagues and I have signed up for and tested all the most popular VPS hosts around the world. I've examined our results and there are only three hosts that offer unlimited site traffic that are actually worth your money.
Because there are only a few decent options out there, I've also included some VPS hosts that won't give you unlimited bandwidth, but that do give you enough to manage a lot of visitors per month.
So which VPS hosting provider is right for you? Read on to find out.
What We Look For in the Best Unlimited-Bandwidth VPS Hosts
The top criterion is pretty obvious, but beyond unlimited or very generous bandwidth, here's what it took for a VPS hosting provider to make our list:
Generous "other" resources. The number of CPUs, the gigabytes of memory (RAM), and the volume of storage a host offers can make a difference to the performance and scalability of your site(s).
Speed and reliability. Your site's loading speed and reliability is critical to visitor engagement. You shouldn't have to sacrifice performance for unmetered site traffic.
User friendliness. Even if you're a developer or experienced user, some VPS hosting providers' platforms are easier to use than others. The ones on our list fit that bill.
Plenty of features. Some VPS hosts offer unlimited bandwidth, then limit the number of features included. We looked for hosts that include the features you want and need for free, or at least make them available for a reasonable price.
Solid security. Your host should provide enough protection to help prevent attacks, and on the off chance your site is compromised, it should be able to help fix the issue without causing you too much stress.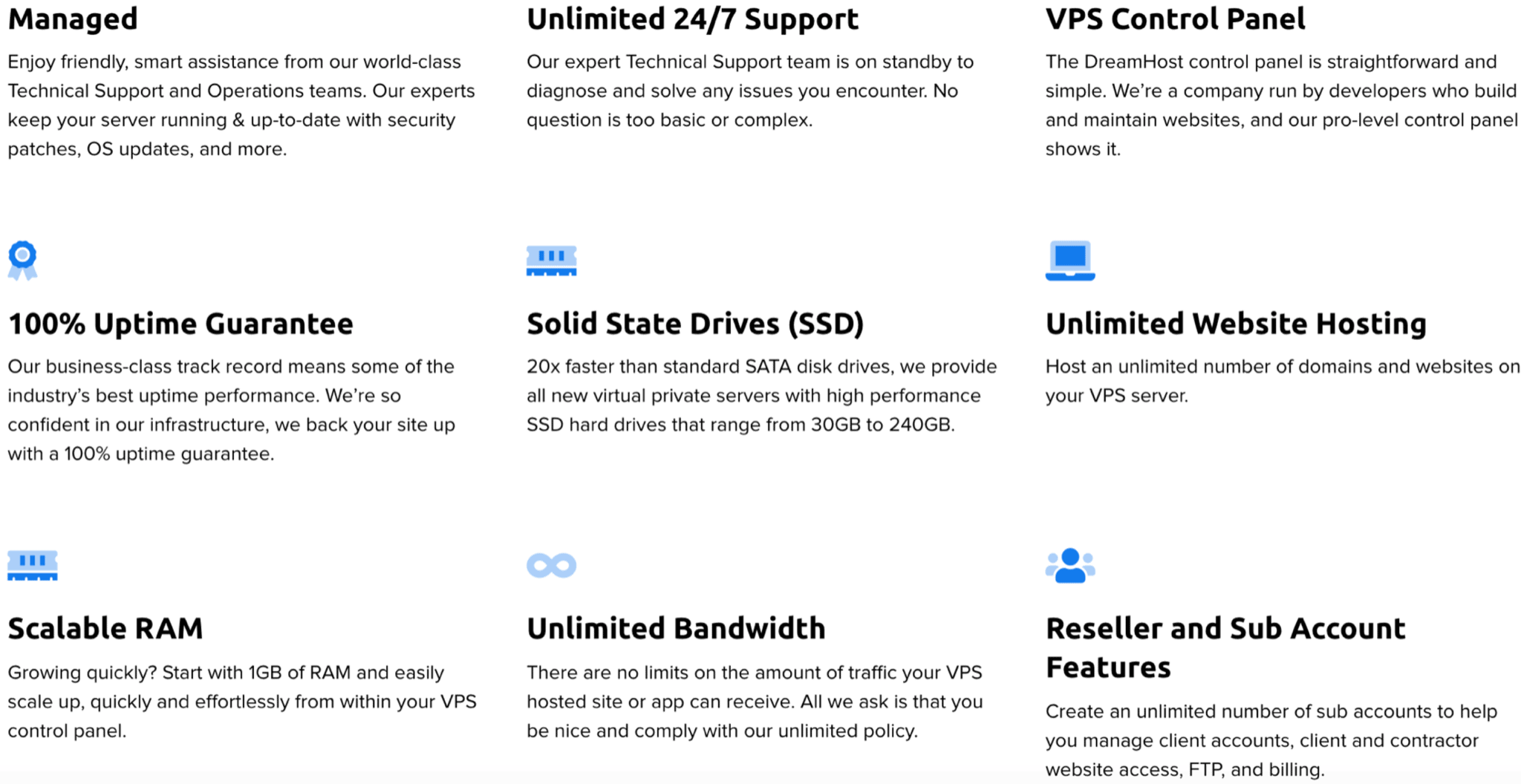 DreamHost provides relatively inexpensive managed VPS hosting. With managed hosting, DreamHost will take care of things like server maintenance, updates, and security patches, so you can focus on your website and your business operations.
The entry-level VPS Basic plan gives you 1GB of RAM and 30GB of SSD storage, but you can easily scale up your resources to 8GB of RAM and 240GB of SSD storage.
In addition to unlimited bandwidth, all DreamHost managed VPS plans give you unlimited websites and email accounts, as well as free SSL certificates. I appreciate free SSL, because it's important to avoid having your site(s) flagged as insecure by browsers, and not all hosts offer it for free.
One thing that sets DreamHost apart is its 100% uptime guarantee. But while that level of reliability is great, my colleague experienced slow loading speeds during his tests. If you want better loading speeds, you may want to consider Kamatera, Hostinger, or Liquid Web, though all three do limit monthly bandwidth.
DreamHost panel. A straightforward, user-friendly, custom control panel is just one feature that makes DreamHost's VPS service one of the easiest to use.
One-click application installer. It takes only a click of your mouse to install popular web hosting apps, like WordPress, almost instantly.
Unlimited sub-accounts. With an unlimited number of sub-accounts in your main hosting account, it's easier to manage your client accounts and contractor access.
US-based. With its data centers in the USA, DreamHost VPS is ideal if your target audience is in the States, but less ideal if you want to reach a global market.
Eco-friendly data centers. DreamHost's data centers use renewable energy and a high-efficiency cooling system to help reduce its carbon footprint, which in turn helps you reduce yours.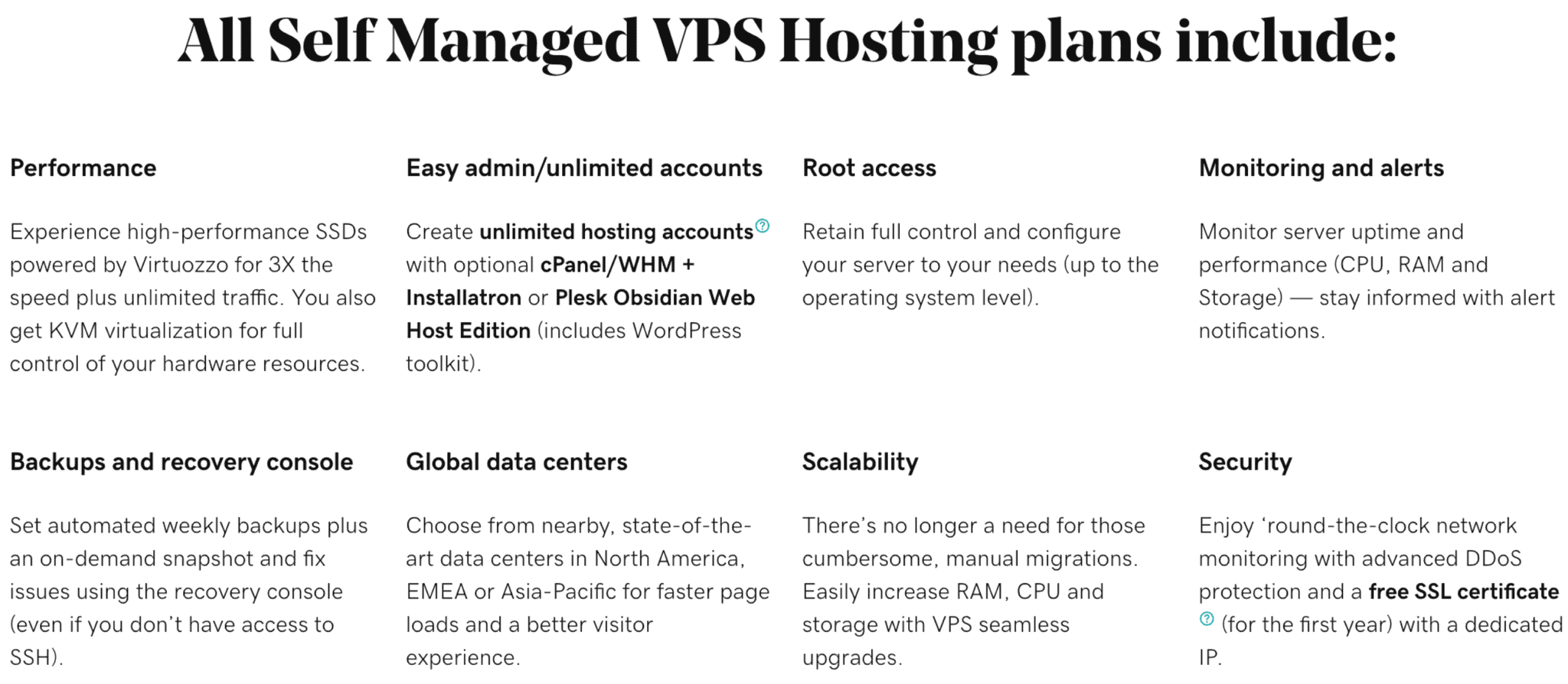 GoDaddy's standard VPS hosting is self-managed, and its prices are quite competitive. It also offers managed VPS, but at some of the highest prices on the market. If you're a developer or advanced user and can manage your own server, GoDaddy is a good option. If you need a managed service, you may want to look elsewhere.
One thing GoDaddy does that others don't is give you more plans to choose from. There are eight self-managed and eight managed VPS plans on offer, all based around the number of CPUs and the amount of RAM you get.
Standard RAM plans start at 2GB and go up to 16GB, and High RAM plans start at 4GB and go up to 32GB. This is quite a bit more than you can get with DreamHost. Also, both sets of plans offer from 1-8 vCPUs.
GoDaddy provides a decent amount of free features, including DDoS protection, a dedicated IP address, and a free SSL certificate for one year, but you have to pay extra if you want advanced security or a control panel license.
Additional dedicated IPs available. If you need additional IP addresses, you can add them for free. You can get as many as three additional IPs with top-tier plans.
Global data centers. With servers in the US, Europe, and the Asia-Pacific, GoDaddy covers more of the globe so you can choose a data center nearer to where most of your site visitors are.
Automated weekly backups. Weekly snapshots are included with all GoDaddy VPS plans, and will help protect you from the repercussions of corrupted data, hardware failure, or malware infections. You can schedule your backups or create them on demand.
cPanel or Plesk. Aside from on the entry-level plan, which doesn't provide enough RAM to run a control panel, you can decide whether to use cPanel or Plesk, though the licence for either incurs an extra monthly fee.

OVHcloud offers cheap, self-managed VPS hosting that comes with fewer features and slightly more limitations than the top two on our list.
OVHcloud is a host based in France with data centers all over the world. It provides unlimited monthly bandwidth through most of these data centers but does have per-second bandwidth limitations with each of its plans (ranging from 100Mbps to 2Gbps).
If your data center is in Sydney or Singapore, in addition to per-second caps you'll also face monthly bandwidth limits, though you can still get up to 4TB, which allows for around 800,000 visits per month.
When my colleague tested OVHcloud, he recorded great loading speeds but not-so-great uptime, well below its 99.9% commitment. He also found the OVHcloud control panel difficult to use and didn't get a lot of help from customer support.
But OVHcloud provides a solid set of resources, including up to 32GB of RAM and 640GB of SSD NVMe storage, and it gives you good value for money, if you're able to manage all aspects of your server.
Very scalable. Unlike many hosts that require you to upgrade to a different plan when you need more resources, OVHcloud lets you add what you need when you need it, so you're only paying for what you'll actually use.
More OS and control panel options. You can choose from a number of included Linux versions, control panels, CMSs, and other hosting-related apps. You can pay a bit more to use Windows Server or the cPanel or Plesk control panels.
24/7 monitoring and intervention. Even though you're in charge of your own security and server management, OVHcloud will keep tabs to make sure you're safe from attacks.
Optional backups. They're not included in the base price, but you can add manual or automatic backups, as well as point-in-time snapshots, for extra protection and security for your site.
Dedicated global IPs. You can attach up to 16 geolocated IP addresses from several countries to one VPS.
6 VPS Hosts with Generous (but Not Unlimited) Bandwidth
Because there are so few VPS providers that offer unlimited traffic and are actually worth your money, I've included some other VPS hosts worth checking out. They don't provide unlimited bandwidth, but will give you enough to deal with a lot of traffic. Worth noting: 5TB of bandwidth will allow for around 1,000,000 visitors per month.

Kamatera's VPS plans give you 5TB of monthly bandwidth with additional GBs for a very low fee. When it comes to other resources, you have the flexibility to scale up or down to pay for the exact configuration you need on a per-minute basis. So you should never be stuck paying for resources you don't use.
Kamatera is also one of the best VPS hosts on the market for performance and reliability. My colleague gave it a perfect five out of five for performance due to its solid load times and the 100% uptime he recorded during testing.
You can get both self-managed and fully-managed VPS hosting, though Kamatera's managed service costs quite a bit more. Kamatera's security is solid, though backups cost extra. And support is good, but not great.
You can also get a 30-day free trial, which is something most other VPS hosts do not offer.
Flexibility and scalability. Add and remove resources at will, scale up with resource caps higher than any other VPS host out there, and only pay for what you use.
Customizable server dashboard. Configure your main server management dashboard the way you want it to give you a quick glance at the information that's most important to you, like resource usage and traffic.
Thorough redundancy. In the event of a hardware failure in any component, a backup instance will automatically deploy. And as with most providers, diesel generators are ready and waiting in the event of a major power outage.
30-day free trial. You can give Kamatera a 30-day test drive with no commitment, and while you only get one cloud server, 1TB of storage, and 1TB of bandwidth, you do get a designated account manager.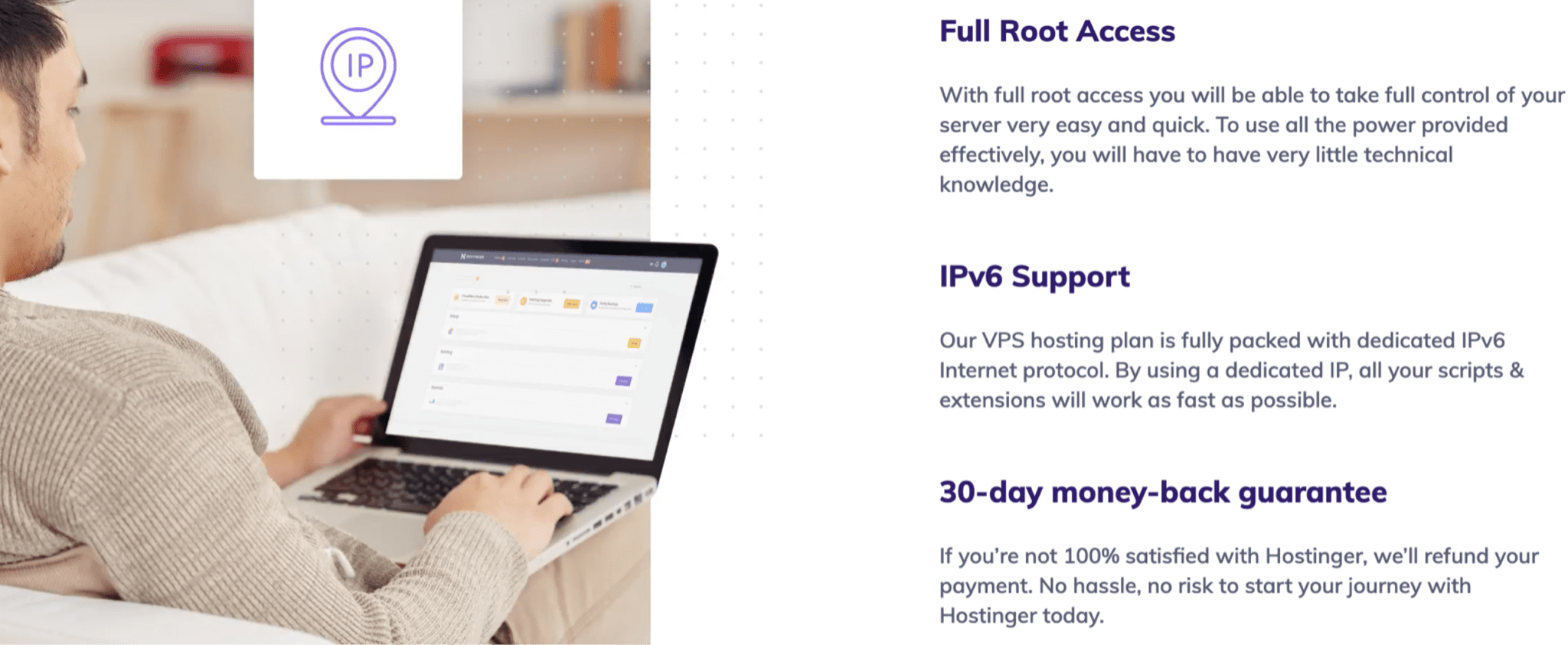 Hostinger will give you up to 12TB of bandwidth with its top VPS hosting plan, along with 16GB of RAM and 250GB of SSD storage. Hostinger's VPS plans are unmanaged, so it's not a great option for beginners.
But the price is right with Hostinger, as the regular price for its top VPS offering is about the same as the discounted price for an entry-level managed plan with GoDaddy. And when you factor in the multi-year loyalty discounts, costs are reduced further.
With Hostinger, you also get superior overall performance, more features, and better reliability than with all three unlimited-bandwidth providers above.
24/7/365 live chat. Dedicated, in-house live chat support will answer any VPS-related query you may have, even if it's about one of its unmanaged features or services.
Dedicated IP. Every Hostinger VPS plan comes with a dedicated IP address.
Full root access. Even though Hostinger manages several aspects of your server, you get full root access so you can control your server over SSH.
Developer-friendly auto-installer. With just one click, you can install almost any Linux version or an all-in-one LAMP instance, and you can start up a WordPress site, a VPN server, or a Minecraft server.

You can get between 2TB and 8TB of bandwidth from FastComet. Other resource levels are also more than ample, with as much as 16GB of RAM and 320GB of SSD storage available with its top-tier plan.
FastComet isn't cheap, but you're paying for managed cloud VPS hosting with high-level performance and a decent set of features, including unlimited websites.
When my colleague ran his tests, FastComet delivered solid loading speeds and 100% uptime. You can't beat that. And despite a fairly high price tag, it's still much cheaper than GoDaddy… and a much better VPS hosting service overall.
Free backups. Many hosts charge extra for backups, and some that give you free backups only do it once a week. FastComet provides free daily backups as well as free restoration with all its VPS plans.
Free website and domain transfers. Here's another service FastComet includes for free. Sure, many others include this too – but that doesn't make it any less valuable if you need to move your site(s) from another host.
Extensive security tools. Your server is protected by default with brute force and malware protection, and firewalls at the network and web application levels.
Quick response support 24/7/365. No matter what the issue and when, FastComet will reply within 10 minutes or less and provide whatever maintenance and support you need, even for your infrastructure and apps.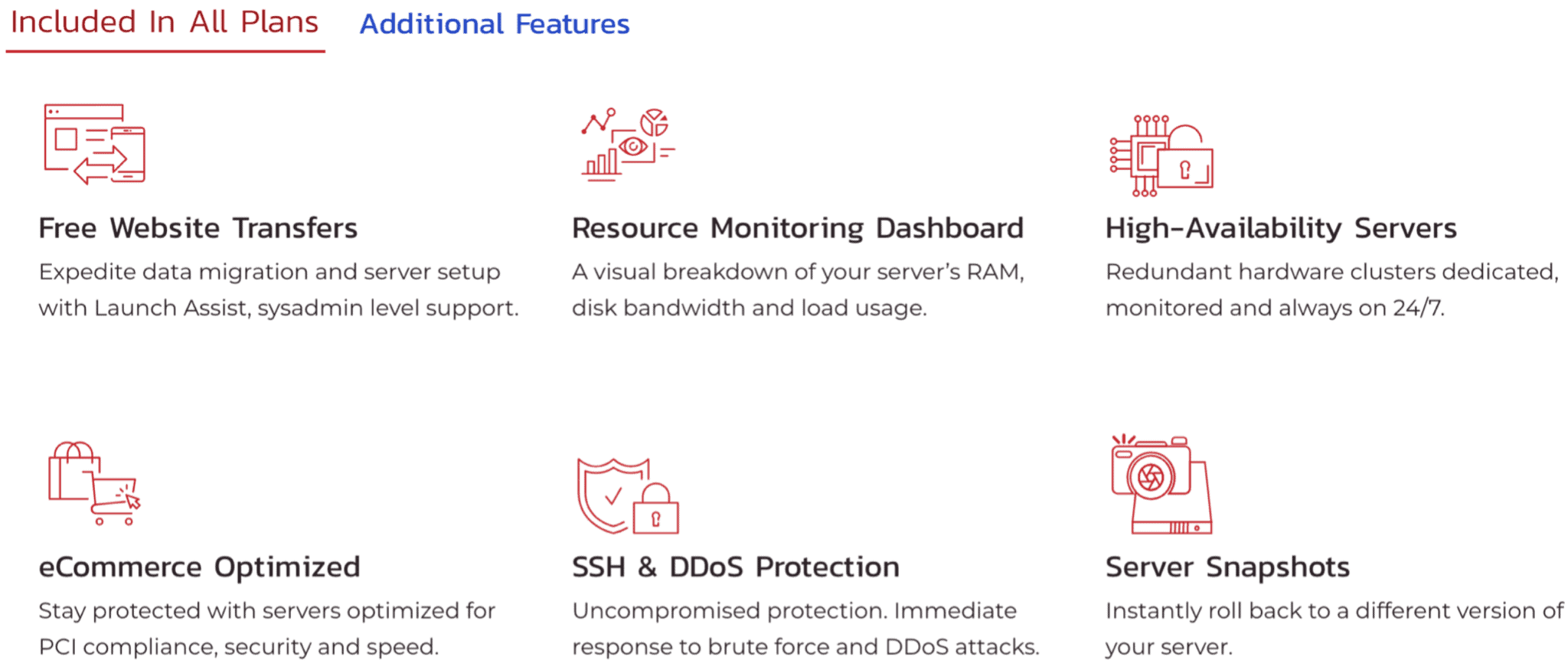 InMotion Hosting gives you 4TB of bandwidth on its entry-level plan, which is more than most other VPS hosts, though its top-tier plan is relatively less competitive. But it's still a well-rounded host that provides a respectable stable of features.
This is a great choice for e-commerce, as InMotion Hosting's servers are optimized for PCI compliance and top-level security, not to mention fast loading speeds and solid uptime.
InMotion Hosting's data centers are US-based, as are its support teams. So even though you can use a CDN to expand your reach, InMotion Hosting is ideal for a US-based target market.
Drag-and-drop website builder. With over 200 professional templates to choose from, you can build WordPress websites quickly and easily with no coding skills required.
Server snapshots. Save point-in-time backups of your server and instantly roll back to them if you need or want to.
Launch Assist. A solutions expert will help you set up, configure, and optimize your new server, as well as transfer your websites from your old host.
90-day money-back guarantee. This is one of the most generous money-back guarantees you'll find. Most hosts only allow for 30 days.

InterServer has a number of things going for it. It offers a lot of resource flexibility, and the most bandwidth (up to 16TB) of any host that limits site traffic.
It has 16 plans – aka "slices" – to choose from, so resource allocation may not be fully customizable, but it is easy. And as my colleague found out during his tests, performance is rock solid.
It's also one of the least expensive VPS hosts on the market. This is unmanaged hosting, so you'll have to manage every aspect of your server. If you buy four or more slices, you'll get "managed support" for help with maintenance issues. Otherwise, you'll have to pay extra for help beyond the basics.
This is not a host for complete beginners, but if you don't mind managing a server, InterServer's VPS service offers great value.
"Self-healing hardware." This refers to an AI system that detects hardware failures and automatically redirects traffic to another node to compensate.
Multiple backup options. You can create free manual backups of your server at any time – these will last 60 days. Or, you can pay a little – not a lot – for automatic backups to a remote location.
Webuzo available. Webuzo is a control panel that simplifies server configuration on LAMP stacks. Install web servers, databases, or content management systems like WordPress, and manage all aspects of your server.
Web hosting control panel options. For web hosting deployments, you can use the free DirectAdmin control panel, or pay to upgrade to cPanel or Plesk.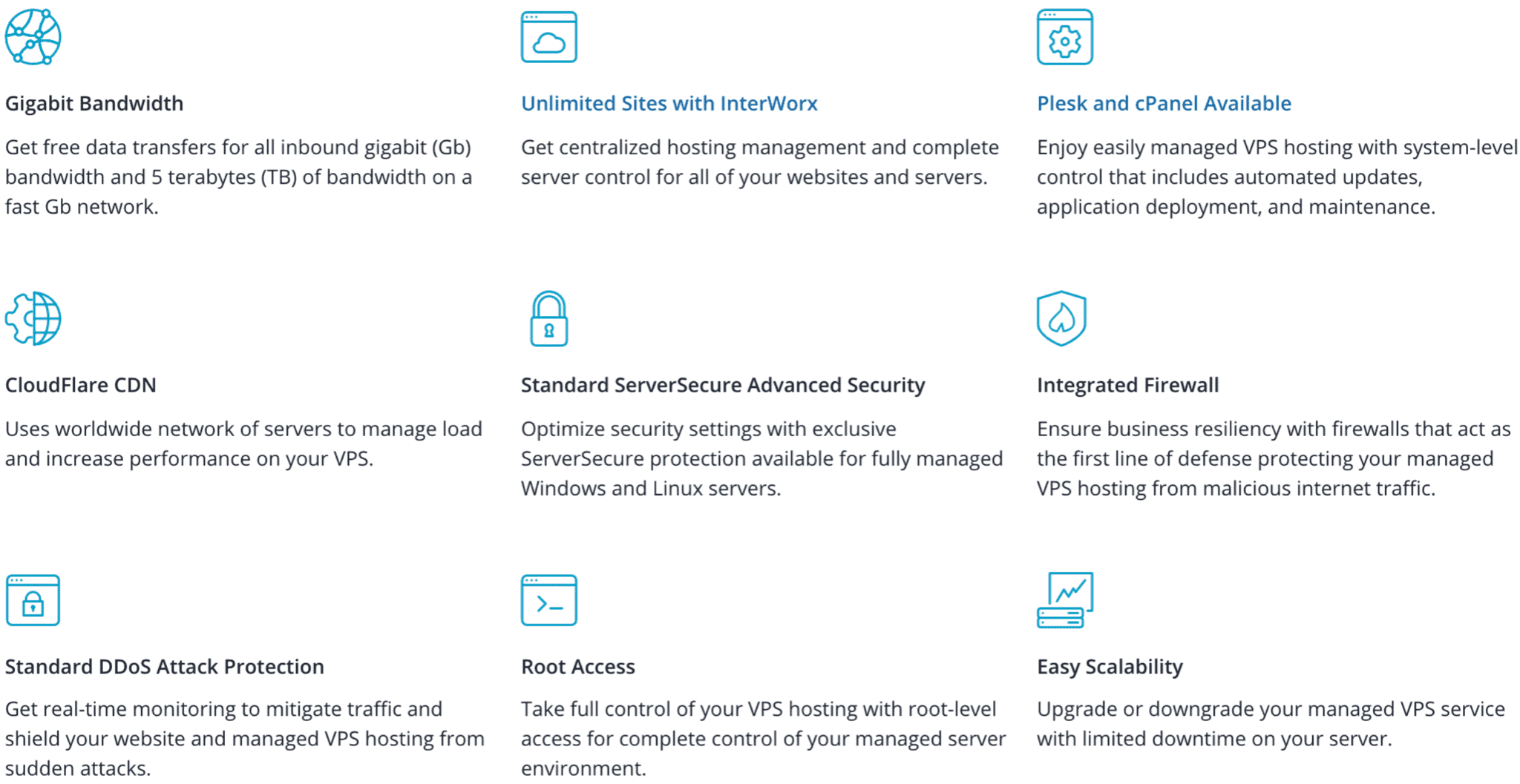 Every Liquid Web VPS plan gives you a generous 10TB of bandwidth, including the entry-level. Besides InterServer and the three providers with unlimited plans I covered earlier, 10TB is more bandwidth than any other host on this list offers, even on premium plans. But the other resources you get from Liquid Web are middle-of-the-pack.
Liquid Web offers managed VPS hosting with a reasonable base price. It's slightly more hands-on than other managed hosts, but if you're after solid performance, it's a great option. Our tests resulted in consistently good loading speeds and perfect uptime. Seriously. We saw 100% uptime, and that's Liquid Web's guarantee, too.
There are a decent number of features on offer, but you have to pay for a lot of them, and some basics, like backups, are only free for new customers.
What Liquid Web really does well is provide outstanding support and security, with fast, helpful live chat and ticketing and constant server monitoring. But you do have to pay extra for the highest level of security.
Linux or Windows. You can choose from four Linux plans or three Windows offerings. Resources increase from plan to plan, but features don't vary much unless you spring for a more expensive Value Bundle.
Three control panel options. InterWorx gives you unlimited accounts and real-time hot-fixes. cPanel Admin gives you five accounts, with more available at a higher price. Plesk Web Pro starts at 30 domains, but comes at an additional cost from the beginning.
100% network and power uptime SLAs. Let's talk about the 100% uptime guarantee a bit more: it's a 100% guarantee on your server power and network access, but it's up to you to keep your site online beyond that, of course.
Root access. If you want to be more hands-on, Liquid Web gives you root access to your server so you can manage it from the command line.
Don't Be Limited By "Unlimited"
The promise of a VPS with unlimited bandwidth may sound great in theory, but to get it you may have to sacrifice in other areas.
DreamHost offers unlimited bandwidth and a lot of unlimited features, as well as a 100% uptime guarantee and low managed hosting prices, but its loading speeds are relatively slow.
You get a bunch of plans to pick from with GoDaddy and a decent amount of included features, but while its unmanaged plans are cheap, managed plans are very expensive.
OVHcloud gives you cheap, unlimited-bandwidth VPS, but it actually limits your per-second bandwidth, and was found to have uptime trouble.
If you're okay with having a (very high) limit on your monthly bandwidth to get better VPS hosting, here are my recommendations:
For top-tier performance and maximum scalability, try Kamatera.
Want low-cost, managed VPS hosting? Hostinger is a great choice for great value at the lowest price.
FastComet will add a bunch of solid features to any VPS plan. And you get e-commerce optimization with InMotion Hosting.
Liquid Web offers the most bandwidth on an entry-level plan and excels in support and security, and InterServer provides the highest limited level of bandwidth while delivering superior flexibility and scalability.
FAQ
What's the difference between VPS and shared hosting?Both shared and VPS hosting use shared servers, but VPS hosting is "virtually private" because it gives you an account with guaranteed, dedicated resources. It's also often more flexible and scalable than shared hosting. VPS hosting costs quite a bit more, but you'll find some great VPS hosting deals on our coupon page.What projects does VPS hosting suit best?VPS hosting is great if you have multiple large or high-traffic websites, a medium-sized business or online store, or if you're doing things like developing and testing code. It's overkill for a blogger, unless you have extraordinary site traffic.Is DreamHost's VPS hosting worth it?If you want unlimited bandwidth, Dreamhost is the best VPS host on the market. Its prices are low, you can get managed or unmanaged services, and it offers more unlimited features than any other unlimited-bandwidth VPS hosting provider. However, it didn't make our list of the best web hosting providers in October 2021.Does DreamHost have a free trial for VPS hosting?No. It's prices are pretty low though, starting at just $15.00 per month for managed VPS hosting. If you want a free trial, Kamatera gives you 30 days to try out its service before you buy. But it doesn't offer unlimited bandwidth.