Not many VPS hosting providers offer unlimited bandwidth, and many of the ones that do don't offer very good value otherwise.
This makes finding a decent bandwidth-unlimited VPS host like finding a needle in a haystack. At Website Planet, my colleagues and I have signed up for and tested all the most popular VPS hosts around the world. I've examined our results and
there are only three hosts that offer unlimited site traffic that are actually worth your money.
But they do exist – especially if you widen your search to VPS hosts that offer a ton of monthly bandwidth to the point it's
nearly
unlimited, like Kamatera. If you stay open-minded about this prospect, you may find yourself a host that can give you a lot more than just unlimited bandwidth.
We tested the most popular VPS hosts with unlimited or otherwise high bandwidth limits.
After reviewing the results I managed to cut it down to the top five.
But which one is right for you? You'll have to read on to find out.
Short on time? These are the best unlimited bandwidth VPS hosts for 2023:
Kamatera

– Highly customizable with the best performance

Scala Hosting

– Affordable managed VPS with a great set of features

1&1 IONOS

– Lowest prices for unmanaged VPS
What We Look For in the Best Unlimited-Bandwidth VPS Hosts
The top criterion is pretty obvious, but beyond unlimited or very generous bandwidth, here's what it took for a VPS hosting provider to make our list:
Generous "other" resources. The number of CPUs, the gigabytes of memory (RAM), and the volume of storage a host offers can make a difference to the performance and scalability of your site(s).
Speed and reliability. Your site's loading speed and reliability is critical to visitor engagement. You shouldn't have to sacrifice performance for unmetered site traffic.
User friendliness. Even if you're a developer or experienced user, some VPS hosting providers' platforms are easier to use than others. The ones on our list fit that bill.
Plenty of features. Some VPS hosts offer unlimited bandwidth, then limit the number of features included. We looked for hosts that include the features you want and need for free, or at least make them available for a reasonable price.
Solid security. Your host should provide enough protection to help prevent attacks, and on the off chance your site is compromised, it should be able to help fix the issue without causing you too much stress.

Let me make something clear straight away – Kamatera doesn't offer
unlimited
bandwidth.
Instead, you'll get a generous 5TB free monthly bandwidth
. While you can go over this amount freely, you'll incur a small overage fee for every GB of bandwidth over 5TB. 
So, why is this number one? Because Kamatera is one of the most reliable and best-performing VPS hosts
. In addition to this, it's also one of the most customizable. You can build your server from the ground up, setting the exact RAM and vCPU you need. You can also scale these resources instantaneously at any point when you're up and running.
The generous 5TB monthly bandwidth will likely cover most users' needs on its own – and Kamatera's relatively low prices means that even if you incur overage fees you'll still be getting a good deal.
Features
Self-managed with full management available

– By default, all of Kamatera's servers are self-managed with full root access. For a monthly fee, you can purchase managed support for server maintenance and other time-consuming tasks.

Customizable server dashboard. Configure your main server management dashboard the way you want it to give you a quick glance at the information that's most important to you, like resource usage and traffic.
Thorough redundancy. In the event of a hardware failure in any component, a backup instance will automatically deploy. And as with most providers, diesel generators are ready and waiting in the event of a major power outage.
30-day free trial. You can give Kamatera a 30-day test drive with no commitment, and while you only get one cloud server, 1TB of storage, and 1TB of bandwidth, you do get a designated account manager.
See Kamatera's performance test results for yourself in our Kamatera review
.
Managed VPS?
Yes, optional
Data center locations

3 in the US, 2 in Europe, 1 in the Middle East, 1 in Asia

Uptime guarantee
99.95%
Starting price

$

4.00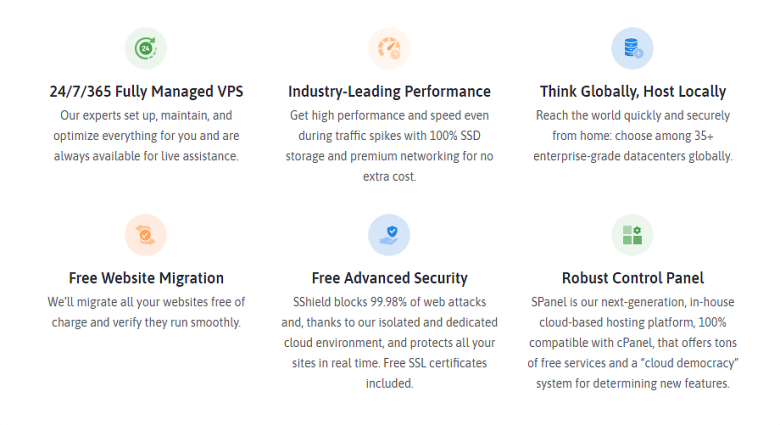 If you'd like unmetered bandwidth paired with a managed service, you may be interested in Scala Hosting
. As part of its managed VPS packages, Scala Hosting will take care of your server setup, maintenance, and optimization for you. In addition, you'll benefit from daily backups and snapshots.
Despite this nice set of features,
Scala Hosting offers some of the lowest prices on the market today for quality managed VPS
. It also offers unmanaged solutions, but there are little in the way of entry-level options. The lowest-tier unmanaged offering is a server with 4vCPU cores and 8GB RAM – and it isn't cheap.
With a managed server, you can start with a respectable 2 vCPU cores and 4GB RAM. However, unlike Kamatera, you'll have to pay up front for three years to get the best value. This is a significant commitment, even for the cheapest server.
A free domain name is included with some hosting plans from Scala Hosting
Features
Feature-filled control panel

– Scala Hosting offers a proprietary control panel called SPanel. It allows you to connect an unlimited number of sites at no extra cost, and it comes with a WordPress site manager you can use to oversee multiple sites. If you'd prefer to use cPanel, you can add it to your server for an additional monthly cost.

Robust security solution

– The SPanel control panel comes bundled with SShield security. This employs AI technology to detect and block web attacks. It also informs you of any potential vulnerabilities, with suggested fixes.

Free unlimited migrations

– Scala Hosting's support team will freely migrate all of your websites to its platform. They'll verify everything works as it should before completing the migration. 

30-day money-back guarantee

– While most VPS hosts lack a guarantee, Scala Hosting guarantees a full refund if you cancel within the first 30 days of your contract.
To learn more about Scala Hosting, check out our detailed review
.
Managed VPS?

Yes, optional

Data center locations

4 in the US, 4 in Europe, 1 in India, 1 in Asia

Uptime guarantee

99.9%

Starting price

$

20.00

Tight budget?
1&1 IONOS offers the cheapest VPS with unlimited traffic on this list
. The VPS S is available for just
$
2.00
 per month – and this price doesn't rise at renewal time. Despite these low prices, you'll still get access to plenty of features, including a customizable firewall and free temporary snapshot backups.
However, this server is very light on resources. With just 512MB RAM and 1 vCPU core, you'll struggle to run anything beyond a static site. Theoretically, you could run a basic WordPress site, but I'd recommend choosing the VPS M in that case – it offers 2GB RAM and 2 vCPU cores while remaining highly affordable.
That said,
while traffic is unlimited, per-second bandwidth is not – this is capped at 400mbp/s
. If your site becomes hugely popular, 1&1 IONOS may not work for you. 
A free domain name is included with some hosting plans from 1&1 IONOS
Features
Dedicated personal consultant

– Every 1&1 IONOS customer gets a dedicated adviser. All support queries will be put through to this single point of contact, who can then develop an understanding of your needs in order to provide more useful support.

Premium support available

– 1&1 IONOS' VPS is unmanaged. However, you can call 1&1 IONOS to negotiate paid support for a wide range of topics, including troubleshooting third-party applications, server configuration, and more. If your request is feasible, you'll be offered a quote.

Optional secure cloud backups

– If you're willing to pay a bit extra, you can purchase cloud backup storage at any time. The cloud storage comes with ransomware and malware protection, along with heavy encryption.

Manage your hosting on the go

– 1&1 IONOS is one of the few major hosts that let you manage your hosting via a dedicated mobile app. You can manage your VPS products, monitor performance, and handle invoices, all from your phone.
For more details, read our comprehensive 1&1 IONOS review.
Managed VPS?

No

Data center locations

1 in the US, 3 in Europe

Uptime guarantee

99.99%

Starting price

$

2.00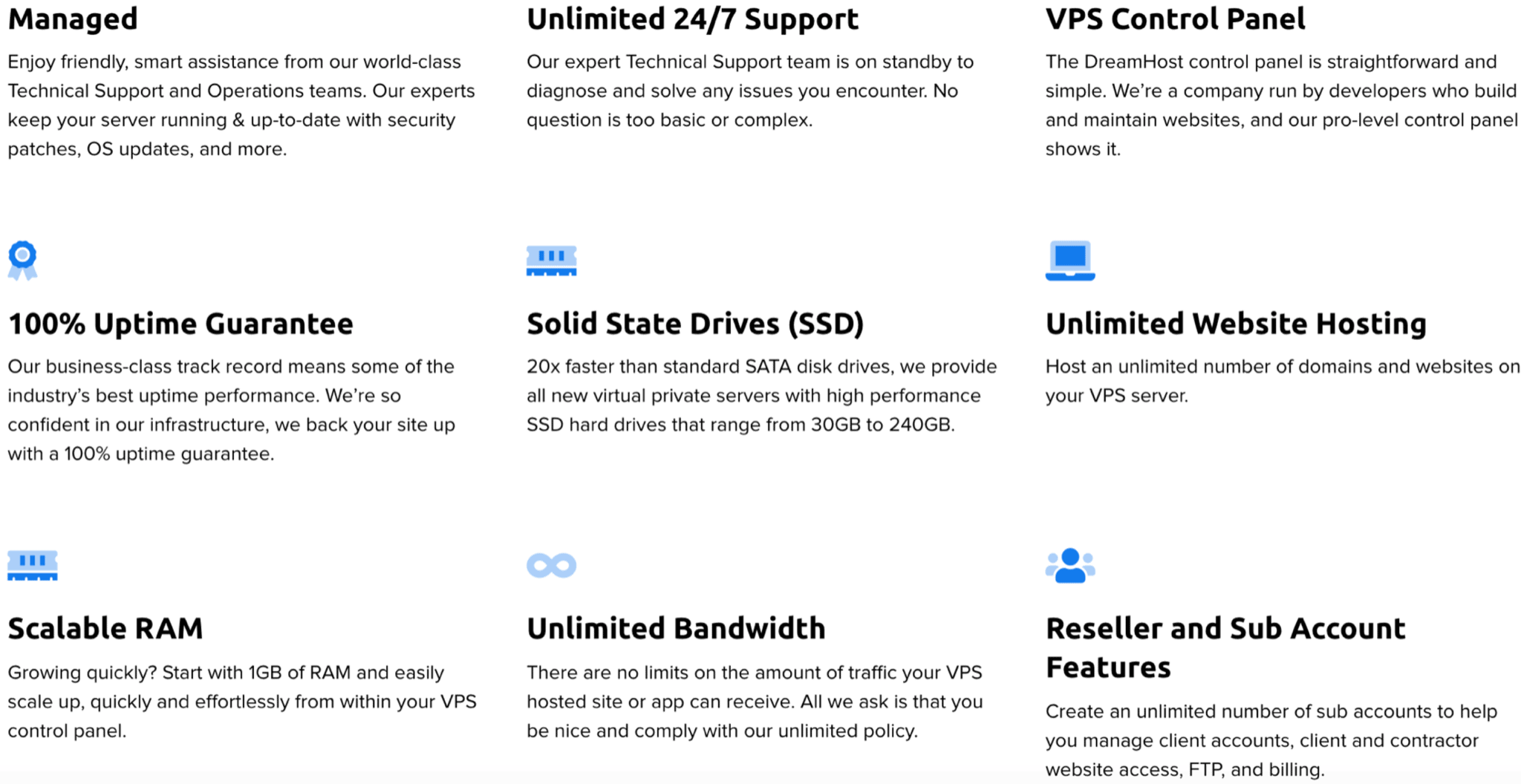 DreamHost provides relatively inexpensive managed VPS hosting. With managed hosting, DreamHost will take care of things like server maintenance, updates, and security patches, so you can focus on your website and your business operations. The entry-level
VPS Basic plan
 gives you 1GB of RAM and 30GB of SSD storage, but you can easily scale up your resources to 8GB of RAM and 240GB of SSD storage. In addition to unlimited bandwidth,
all DreamHost managed VPS plans give you unlimited websites and email accounts, as well as free SSL certificates.
I appreciate free SSL, because it's important to avoid having your site(s) flagged as insecure by browsers, and not all hosts offer it for free.
One thing that sets DreamHost apart is its 100% uptime guarantee.
But while that is a superb level of reliability, our performance tests found page loading speeds to be somewhat slow.
A free domain name is included with some hosting plans from DreamHost
DreamHost panel. A straightforward, user-friendly, custom control panel is just one feature that makes DreamHost's VPS service one of the easiest to use.
One-click application installer. It takes only a click of your mouse to install popular web hosting apps, like WordPress, almost instantly.
Unlimited sub-accounts. With an unlimited number of sub-accounts in your main hosting account, it's easier to manage your client accounts and contractor access.
US-based. With its data centers in the USA, DreamHost VPS is ideal if your target audience is in the States, but less ideal if you want to reach a global market.
Features
Check out our expert DreamHost review for more information

.
Managed VPS?
Yes
Storage capacity

2 in the US

Uptime guarantee
100%
Starting price

$

15.00

One of the biggest advantages of OVHcloud is the great value for money. If you commit to a two-year plan, you can get a solid VPS with 2GB RAM and 1vCPU core for just

$

4.76
 per month. This also comes with 40GB SSD NVMe storage – a storage solution that's even faster than standard SSD.
OVHcloud is a host based in France with data centers all over the world.
It provides unlimited monthly bandwidth through most of these data centers but does have per-second bandwidth limitations
with each of its plans (ranging from 100Mbps to 2Gbps). If your data center is in Sydney or Singapore, you will encounter monthly bandwidth limits in addition to per-second caps. However, you can still receive up to 4TB, which accommodates approximately 800,000 visits per month.
However, it isn't all good news. In our performance tests for OVHcloud, we recorded great loading speeds but not-so-great uptime, well below its 99.9% commitment. We also found the OVHcloud control panel difficult to use and didn't get a lot of help from customer support.
A free domain name is included with some hosting plans from OVHcloud
Features
More OS and control panel options. You can choose from a number of included Linux versions, control panels, CMSs, and other hosting-related apps. You can pay a bit more to use Windows Server or the cPanel or Plesk control panels.
24/7 monitoring and intervention. Even though you're in charge of your own security and server management, OVHcloud will keep tabs to make sure you're safe from attacks.
Optional backups. They're not included in the base price, but you can add manual or automatic backups, as well as point-in-time snapshots, for extra protection and security for your site.
Dedicated global IPs. You can attach up to 16 geolocated IP addresses from several countries to one VPS.
For all the details, take a look at our OVHcloud review.
Managed VPS?
No
Data center locations

1 in Canada, 5 in Europe, 1 in Asia, 1 in Australia

Uptime guarantee
99.9%
Starting price

$

4.76
How To Calculate How Much Bandwidth You Need
While there is
some
math involved (I'm sorry), it's easy to estimate how much bandwidth your site needs in order to serve your expected audience. Follow my quick step-by-step guide below to work out your monthly bandwidth requirements:
1.
Estimate your average page size.
To do this, I'd recommend using online tools such as GTmetrix.com's performance analyzer. This gives you the total page size of any URL you enter. Simply test some or all of your site's pages, starting with the homepage, and calculate the average size in kilobytes. 2.
Estimate your average monthly visitors.
If you already have a site running, find out how many visits are made to your website every month, and how many pages these visitors usually access. All of this information can be found with a site analytics tool, such as Google Analytics. If you don't have a site running already, just guess. 3.
Calculate monthly bandwidth usage.
Multiply your average page size by the number of monthly visitors. Then, multiply this number again by the average number of pages each visitor accesses (it's often only one page, depending on the type of site). Remember, 1,000 KB is 1 GB, and 1,000 GB is 1 TB. 4.
Add redundant bandwidth.
Increase your final result by 50% to 100%, giving you a redundant amount of bandwidth to fall back on during traffic spikes. That said,
Kamatera offers 5 TB to start
,
so you probably won't have to worry about going over the limit if you're just starting out.
Which Unlimited-Bandwidth VPS Host Is Right for Me?
With the hosting providers in this article, you should never have to worry about traffic limits or reaching a monthly bandwidth cap, and still benefit from quality VPS hosting. Best of all,
these hosts all offer affordable starting points
. 
But which one is right for you? That depends on your particular needs. If you're stuck, here are my recommendations. 
If you require a highly customizable environment with great performance to back it up, I'd go with Kamatera
. Total bandwidth is technically unlimited, but you will have to pay small overage fees if you go over your 5TB monthly allowance.
For a fully-managed solution with no traffic limits, check out Scala Hosting
. You can get a respectable amount of RAM and CPU power, along with full management, for a far lower price than the competition.
Looking for the best deal on an unmanaged VPS? 1&1 IONOS keeps costs low and traffic unlimited
. You'll still save money over the majority of competing hosts even if you choose to pay monthly, but the best prices come with a 12-month commitment. 
For a quick comparison of all these vendors, check out the table below.
Standout Feature
CPU
RAM
Starting Price
Kamatera

Highly-customizable cloud VPS with great performance

1 – 104 vCPU cores

1GB – 512GB

$

4.00

Scala Hosting

Cheap managed VPS with a good set of features

2 – 24 vCPU cores

4GB – 128GB

$

20.00

1&1 IONOS

Lowest prices for unmanaged VPS with unlimited traffic

1 – 8 vCPU cores

512MB – 24GB

$

2.00

DreamHost

Managed support with 100% uptime guarantee and unlimited resources

4 vCPU cores

1GB – 8GB

$

15.00

OVHcloud

Best long-term value for unmanaged VPS if you commit

1 – 8 vCPU cores

2GB – 32GB

$

4.76
FAQ
What's the difference between VPS and shared hosting?
Both shared and VPS hosting use shared servers, but VPS hosting is "virtually private" because it gives you an account with guaranteed, dedicated resources.

That said, VPSs generally demand a higher price, though there are affordable options. If you're willing to settle for cheaper shared hosting, check out

our list of the top web hosts in 2023

.
What projects does VPS hosting suit best?
If you're new to web hosting and you're just looking to run a simple site,
check out our complete guide to hosting a website in 2023
to learn how.
Which is the best unlimited-bandwidth VPS host?
I'd recommend Kamatera. You're given a free allowance of 5TB monthly bandwidth, which should be plenty for most sites. That said, you can freely exceed this limit – though you will need to pay a nominal overage fee. 
In addition, Kamatera offers great performance and customizability – read more about it in my Kamatera overview.
Does Kamatera have a free VPS trial?
Kamatera offers a 30-day free trial
 for all new customers. You'll get a $100 credit to try out the service, along with a dedicated account manager who can answer any queries and help you explore the platform.