simply replacing HDDs with SSDs is by no means a guarantee of top speeds and zero downtime.
Sure, SSDs are a significant improvement in many ways over drives with failure-prone moving parts, but there's
so
 much more you need for great website hosting. With the right tech and optimizations in addition to SSD storage, you
can
 get several times more speed and better reliability. But how are you supposed to know which hosts take that extra step? That's where I come in.
I've personally tested as many SSD-based VPS hosts as I could to deliver you the best eight out there.
 Read on to find out which of them best suits your needs.
Short on time? These are the best providers for SSD-based VPS hosting:
Kamatera – fully customizable and scalable cloud VPS
A2 Hosting – robust SSD-based tech with great speeds and reliability
Liquid Web – 100% uptime guarantee with impressive global performance
What We Look For in the Best SSD-Based Hosting Providers for VPSs
High performance.
If your VPS is delivering mediocre page loading speeds, you may as well be on a shared hosting plan. Every host below offers your site or app the performance it requires.
Reliability.
Every second of downtime is costly. I've picked hosts that take reliability seriously, providing near-perfect uptime and tight measures against data loss.
The latest in SSD tech.
 A standard SSD is fine and dandy, but it could be even better. With NVMe protocols and a RAID array, you could enjoy the latest in drive performance and reliability. Hosts that offered the best in SSD technology earned lots of extra points.
Easy scalability.
If you hit a traffic spike that you cannot serve with your current resources, you need to scale immediately – not in a few hours. I chose hosts that will allow you to increase your resource limits easily, seamlessly, and instantaneously.
Robust backup solution.
Data loss can be devastating. Hosts that provided particularly safe and convenient backup solutions got my attention.
Optional managed service.
 A managed service can remove all the headaches of running your VPS, freeing up your time to run your business. I tried to include hosts who offer reasonably-priced managed VPS plans.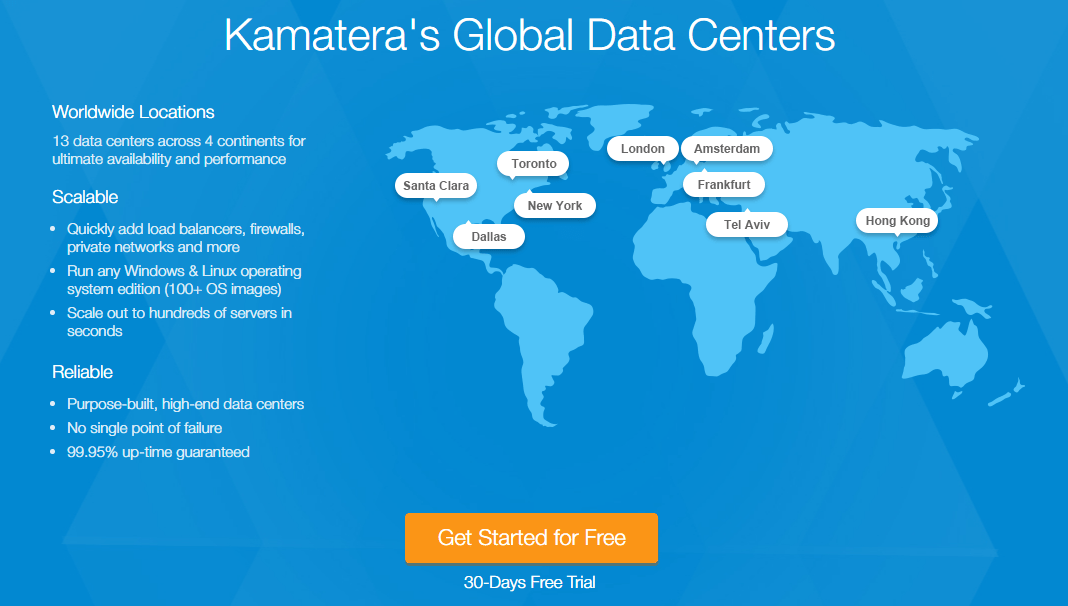 Kamatera specializes in fully-customizable cloud VPS services.
You can build a VPS with the exact set of resources you need for your site or app to run reliably.
 It's also incredibly easy to scale your resource levels up or down whenever you need to. This flexibility sets Kamatera apart from the other hosts on this list. It also uses a pay-as-you-go system, so no matter how much you scale your service,
you'll only ever be paying specifically for the resources you use
. Prices start very low, so if you just need a single vCPU you won't need to spend a lot of money. Kamatera's servers are hosted on some impressive hardware.
With Intel Xeon processors and SSD SAN arrays, you'll benefit from enterprise-class speed and reliability.
Kamatera does offer a managed service, but it incurs an expensive monthly fee with a minimum 3-month commitment. Kamatera offers the best value as an unmanaged VPS host – and obviously, this requires technical know-how.
Extended automatic daily backups. For a small monthly fee, Kamatera will automatically back up your server to an external storage array, daily. You can perform full or partial restorations as needed.
Several data centers. Kamatera offers a total of 13 data centers around the world, allowing you to serve your audience with high speeds regardless of where they are located.
Premium add-ons. There are plenty of add-ons available to further enhance your VPS. These include load balancers, firewalls, block storage, and more. These are all reasonably priced.
Generous free trial. Lasting 30 days, the free trial gives you access to a single cloud VPS instance with $100 of service credit. You can customize as you please as long as your total service cost remains under the credit limit. You even get access to a designated account manager for the duration of the trial.
Data center locations
New York, Dallas, Santa Clara (California), Toronto, Amsterdam, Frankfurt, London, Hong Kong, Petach Tikva, Rosh Haayin, Tel Aviv, Jerusalem
Uptime guarantee
99.9%
Money-back guarantee
30-day free trial
Starting price

$

4.00

While it may appear to be a simple budget host at first glance, A2 Hosting's VPS service offers very good tech specs.
 Even the cheapest unmanaged VPS plans deliver excellent performance and reliability.
High-tier plans include A2 Hosting's Turbo Servers, which use AMD EPYC processors and NVMe SSD drives.
This upgrade in hardware performance is expensive, but the gains may be worth the investment if you have a site that gets heavy traffic. The managed plans are even pricier (especially with the Turbo upgrade), but they include the HostGuard Management service. This involves the usual benefits of a managed plan, including automatic core software updates, security patches, and so on. However,
it also includes a particularly generous amount of RAM and data transfer.
Unmanaged plans are much cheaper and are also fully customizable, an easy choice if you're looking for flexibility on a budget. But whichever plan you choose, scaling up can be an issue – you have to contact support to upgrade, which is a slow process.
Free cPanel accounts. Every managed VPS plan comes with at least one free cPanel account. Higher-tier plans include five free accounts.
Extensive scalability. If your site traffic outgrows your VPS, you can seamlessly scale up to a dedicated server.
Developer-friendly. The managed VPS plans support a wide variety of development frameworks, languages, and tools, which can easily be installed with the free Softaculous auto-installer. Also, both managed and unmanaged plans offer root access.
Fantastic refund policy. If you decide to cancel your hosting plan, you are eligible to receive a prorated refund for the unused portion of your contract. Not many other hosts offer this.
Data center locations
Michigan, Arizona, Amsterdam, Singapore
Uptime guarantee
99.9%
Money-back guarantee
30 days
Starting price

$

2.99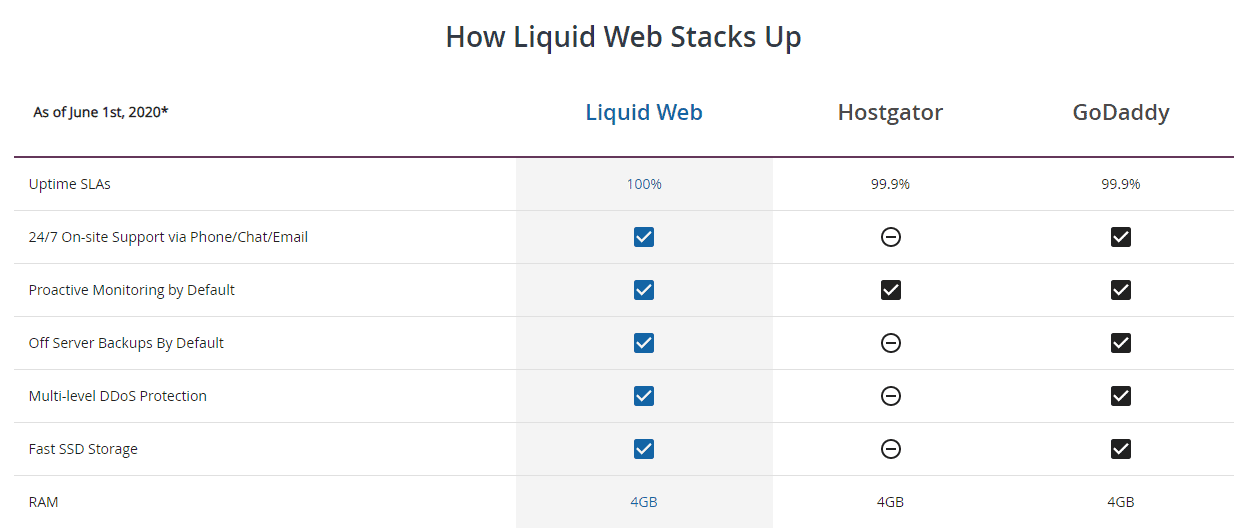 Liquid Web specializes in managed hosting. In fact,
all of Liquid Web's cloud VPS plans are core-managed by default.
 This covers installation of your core operating system, which is kept updated for you automatically. You can pay a small fee each month for full management, which includes expert support and updates for your control panel. What's particularly impressive about Liquid Web is its SLA (service-level agreement).
 It guarantees 100% uptime
 – that's just how confident it is in its infrastructure. It even guarantees minimum response times for its live chat, phone, and ticketing support. If any of these promises go unfulfilled, you may be eligible for service credits.
My tests revealed
that
Liquid Web delivers fantastic performance worldwide, with near-perfect uptime
. My only complaint would be the price. While you can save money if you pay for one or two years up front, prices revert to the regular monthly fees upon renewal. There's no free trial for VPS hosting, either.
Self-managed VPS. While every plan comes with some degree of management for free, you can choose to self-manage your VPS. This still includes a 24/7 monitoring service from Liquid Web.
InterWorx control panel. With the InterWorx control panel, you are able to create an unlimited number of user accounts for free. It's also WHMCS compatible. You can use cPanel or Plesk if you prefer, but each of these allow for a limited number of accounts.
Free security features. Every plan includes multi-level DDoS protection, an integrated firewall, and Liquid Web's proprietary ServerSecure, which can be used to harden your server.
Cloud backups. All backups with Liquid Web are made off-server by default. However, only account-level backups are free – full server backups require the reasonably-priced Cloud Server Backup service, which performs daily automatic backups to physically-isolated storage.
Data center locations
Lansing (Michigan), Phoenix, Amsterdam
Uptime guarantee
100%
Money-back guarantee
None
Starting price

$

15.00

There's a lot to like about Scala Hosting. It offers both managed and unmanaged cloud VPS hosting, both of which start at low prices. The entry-level managed plans are actually the cheaper option for the first payment term on an annual plan. Although this offers very low resource limits,
it's still the cheapest option for managed VPS hosting on this list
. Despite the budget prices,
Scala Hosting includes remotely-stored daily backups along with an automatic daily snapshot of your VPS.
 Both the snapshots and backups are a breeze to restore.
My tests showed
that
Scala Hosting punches well above its weight, delivering competitive loading speeds and uptime
. However, if you want to use cPanel and Softaculous, you'll need to purchase licenses. There is a free proprietary control panel which allows you to install and manage WordPress sites, but it lacks the wide range of apps offered by Softaculous.
A free domain name is included with some hosting plans from Scala Hosting
Customizable cloud VPS. Aside from the available plans, you can custom-build a VPS, setting the exact number of CPU cores and amounts of RAM and SSD space you need. If you need to scale up in the future, it's simply a case of adding on the extra resources.
Lots of data centers. While Scala Hosting has a few of its own data centers in the US and Europe, it also offers plans that make use of AWS's and DigitalOcean's servers. This adds up to a total of 24 data center locations.
Highly redundant. Scala Hosting is very reliable thanks to its 10Gbps redundant networks. It also keeps your data on three different servers. In the event of hardware failure your traffic is automatically sent to a healthy node.
SShield security. Managed plans include the robust SShield security solution. It claims to block 99.998% of cyberattacks using AI to detect malicious attempts. It also automatically notifies you if a hack is attempted and helps you fix potential vulnerabilities.
Data center locations
Dallas, New York, San Francisco, Toronto, London, Amsterdam, Frankfurt, Sofia, Bangalore, Singapore
Uptime guarantee
99.9%
Money-back guarantee
30 days
Starting price

$

20.00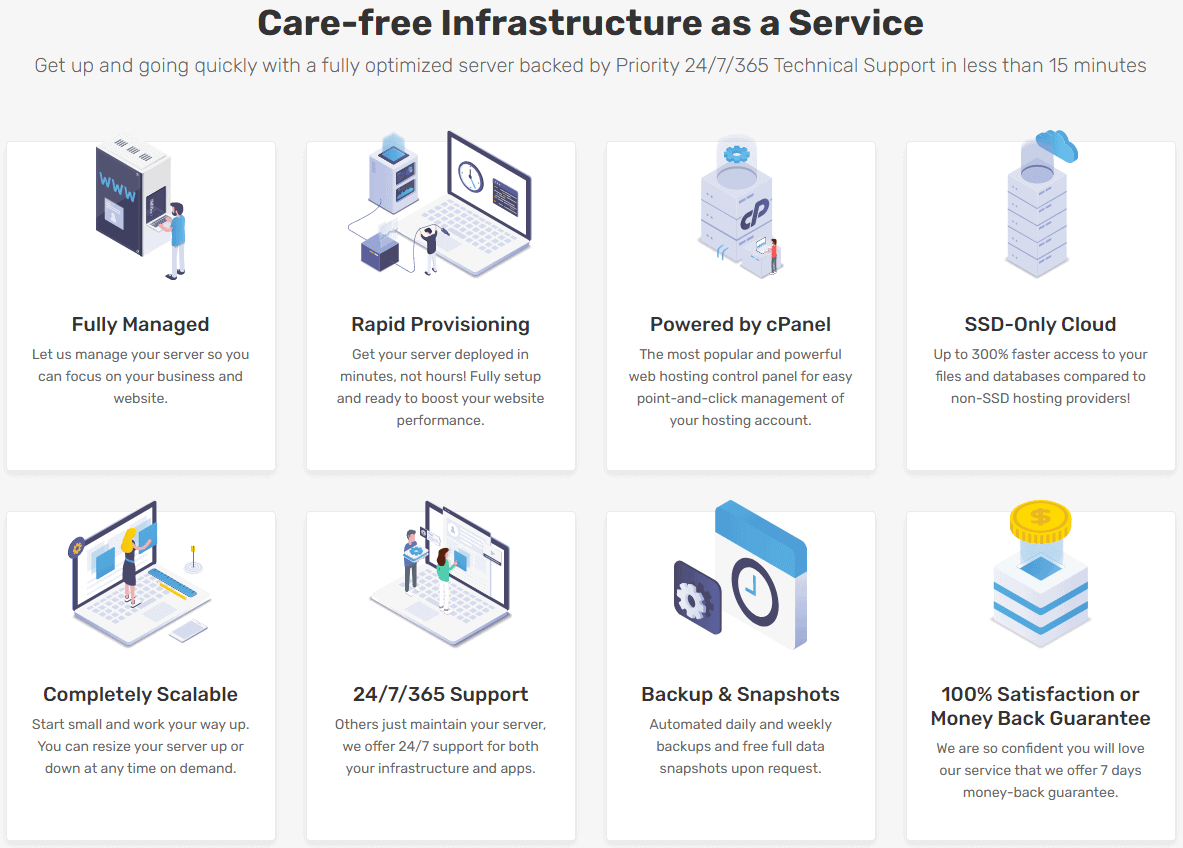 If you're looking specifically for managed cloud VPS, you'll be in good hands with FastComet.
Plans include
 all the usual benefits of a managed service, along with responsive support that goes above and beyond for its customers
. Seriously, bring an issue to this team and they'll do their best to help whether it's with a third-party app or to help you clean your site after a hack.
FastComet backs up your VPS daily and weekly, with snapshots available upon request.
There's also an extensive free security solution,
which protects you against malware, DDoS, and brute force attacks. FastComet proved to be highly reliable
after several days of testing
. I didn't record a single instance of downtime. But the speeds were nothing special, which is disappointing, given the relatively high prices.
cPanel and Softaculous. All plans include cPanel and Softaculous for free, allowing you to install a wide variety of apps and development frameworks.
Performance optimizations. Every plan comes with the RocketBooster hosting environment, which includes LiteSpeed web server as well as static and dynamic caching with Varnish and OPcode cache.
Real-time monitoring. The Observer monitoring dashboard allows you to track uptime, network activity, and resource usage, and to view Apache and MySQL stats.
Free domain. Included with every plan is a free domain for the first year of hosting, saving you a little bit of money.
| | |
| --- | --- |
| Data center locations | Chicago, Dallas, Newark, Toronto, London, Amsterdam, Frankfurt, Sydney, Singapore, Tokyo, Mumbai |
| Uptime guarantee | 99.9% |
| Money-back guarantee | 7 days |
| Starting price | $50.95 |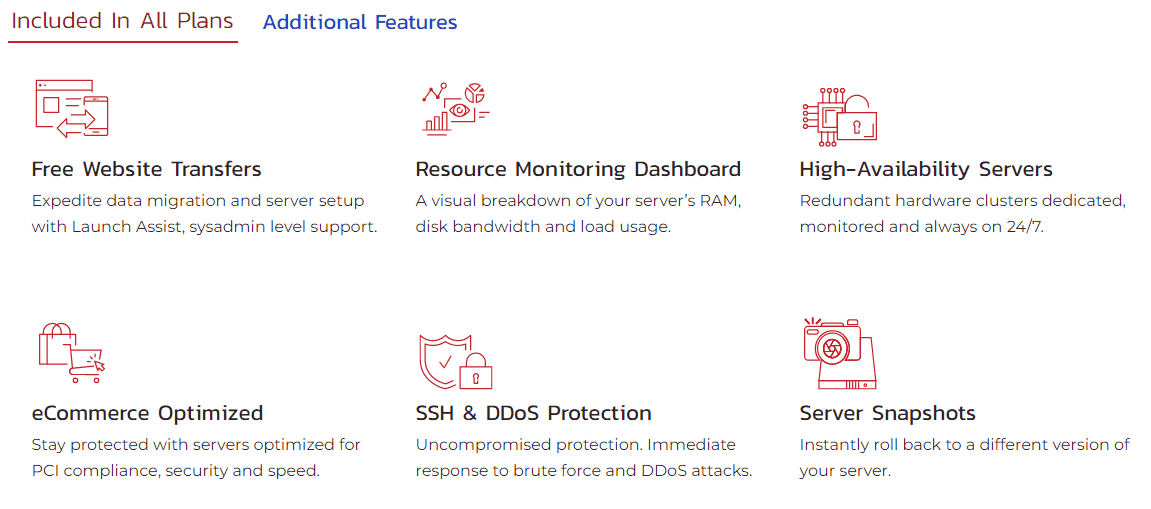 Like other hosts on this list, InMotion Hosting offers both managed and unmanaged
VPS hosting services
.
 However,
its 90-day money-back guarantee stands out.
 If you think you'll need more than the usual 30 days to try out a VPS risk-free, InMotion Hosting is likely your best bet. InMotion Hosting's managed VPS plans are expensive, but you'll be getting good value –
even the cheapest plan includes 4GB of RAM and 4TB of bandwidth.
 Every managed plan also comes with multiple dedicated IPs and free SSL certificates, as well as cPanel and WHM accounts.
You also get two hours' free access to the convenient Launch Assist service
, which is like having your own IT team on standby. Simply tell the team what you need – a site transfer, a domain setup, or server optimization – and they'll take care of it. Unfortunately, InMotion Hosting was a bit disappointing performance-wise – speeds were wildly inconsistent
in our tests
. What makes this worse is there's no legal uptime guarantee.
Free VPS snapshot. You are able to take a full snapshot of your VPS at any time. This will be stored for a maximum of seven days, but you can pay a small fee to keep it for longer.
Full root access in managed plans. The managed plans allow you full root access. This makes it a great choice if you'd like all the benefits of a managed service with the ability to jump in and configure your server settings.
Scale with zero downtime. If you find that you need more RAM or storage, you can easily upgrade your plan via the account panel. Changes occur instantly, with no downtime.
Free Ansible control node. Your first unmanaged VPS with InMotion comes with an Ansible control node and a curated Playbook to help you get your server configured. Ansible allows you to automate otherwise time-consuming tasks, such as defining security protocols, installation of apps like WordPress, and more.
Data center locations
Los Angeles, Herndon (Virginia)
Uptime guarantee
None
Money-back guarantee
90 days
Starting price

$

24.99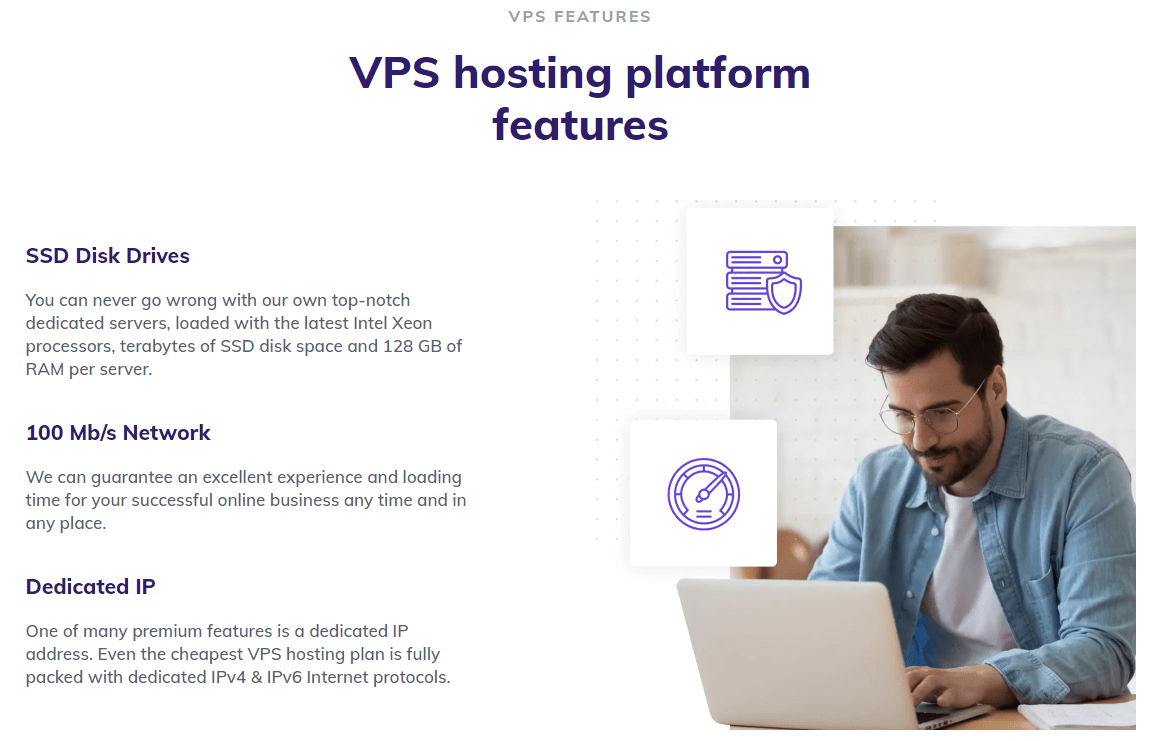 On a budget?
Hostinger's VPS plans are the cheapest on this list
by a significant margin,
 and you'll still be getting good performance and near-perfect uptime. The plans are described as semi-managed, meaning that you'll be responsible for the setup and upkeep of your server, but Hostinger's support is happy to offer advice if you get stuck. There's a good amount of features on offer too, such as automatic weekly backups, the ability to create VPS snapshots, and a dedicated IP.
Setting up your server is easy – it's simply a matter of installing your OS and control panel of choice via a predefined template.
 Many control panels are available at no extra cost. As you'd expect, the cheapest plans contain a meagre amount of resources to work with. However, Hostinger allows you to increase your resources in real-time with a few simple clicks.
A free domain name is included with some hosting plans from Hostinger
BitNinja security. All of Hostinger's servers are protected using BitNinja, which protects you against malware and the usual methods of cyberattack.
SSD RAID. Hostinger's SSD drives employ double RAID protection – meaning there's very little chance of data loss.
VPS management tools. Many aspects of your service can be controlled through Hostinger's VPS Control Panel. You can reboot your server, install a new OS, access stats, and much more.
Extensive knowledge base. As the VPS plans are only semi-managed, Hostinger has created a wealth of resources to help those new to VPS hosting. There's plenty of articles and guides available covering the basics.
Data center locations
The US, the UK, the Netherlands, Lithuania, Indonesia, Singapore, Brazil
Uptime guarantee
99.9%
Money-back guarantee
30 days
Starting price

$

3.99

InterServer likes to keep things both cheap and simple.
Rather than offering multiple plans with varying degrees of support and management, InterServer just lets you buy "slices" of a VPS.
 Each slice includes a set amount of resources and you can purchase as many as you need. Once you purchase four slices or more, you gain access to managed support. While the speeds of many hosts tend to fluctuate,
my tests showed
that
InterServer provides consistently good speeds
. It has also proved to be reliable, with no downtime across multiple days of testing. Your data is safe with InterServer too, as
its SSD drives use a RAID-10 configuration
 – you can't get a better failsafe than that. InterServer doesn't have it all though. You can only pay via monthly billing, with no savings for longer-term plans. As such, there's no money-back guarantee or free trial.
Remote backups on the cloud. InterServer offers a flexible cloud-based backup solution. All backups are stored off-server and you can perform full or partial restorations. This isn't free, but it's a pretty good deal for the features you get.
Webuzo control panel. You can purchase a VPS with Webuzo preinstalled, allowing you to easily install and manage a wide range of CMSs, development frameworks, and web scripts.
WordPress-specific plans. InterServer has VPS plans for WordPress. These are priced exactly the same as the standard VPS plans, but your server will come pre-configured and optimized to work with WordPress.
Cheap Windows VPS. If you prefer to work with Windows, you usually have to pay a high price. This is easily the best deal you can get on this list for Windows VPS hosting.
Data center locations
Los Angeles, Secaucus
Uptime guarantee
99.9%
Money-back guarantee
None
Starting price

$

6.00
Which SSD-Driven VPS Hosting Provider is Right for You?
With so much choice out there, it can understandably be difficult to find the perfect SSD-based VPS plan for your needs. However, the hosts on my list are the best of the best, offering the greatest value, performance, and features. Unsure which might be best for you? Here are my recommendations: If you're looking for full customizability,
Kamatera
allows you to fine-tune and control your VPS and its resources
. Alternatively, if you can afford the asking price,
I can't recommend A2 Hosting's powerful Turbo Servers enough.
If you're specifically looking for managed hosting,
Liquid Web
 provides a brilliant managed service with a guarantee of 100% uptime
. On the other hand,
FastComet
's managed VPS is backed by a support team that always gives a little extra.
Scala Hosting provides superior speed and reliability with a very good backup solution
, whereas 
InMotion Hosting sports a lengthy 90-day money-back guarantee
. If you're on a tight budget,
Hostinger
and InterServer are the cheapest of the bunch while still providing decent speed and reliability.
Standout Feature
SSD Storage 
Automatic Backups Included?
Starting Price
Kamatera
Fully-customizable VPS with pay-as-you-go pricing
20GB – 4000GB

✘

$

4.00

A2 Hosting
Turbo servers include AMD EPYC processors and NVMe SSD drives
150GB – 450GB

✘

$

2.99

Liquid Web
100% uptime guarantee with superb performance worldwide
40GB – 200GB

✘

$

15.00

Scala Hosting
Cheap managed VPS with amazing speeds and uptime
20GB – 320GB

✔

$

20.00

FastComet
Support that goes the extra mile, plenty of features
50GB – 320GB

✔

$50.95
InMotion Hosting
Ample resources with a 90-day money-back guarantee
25GB – 640GB

✘

$

24.99

Hostinger
Incredibly cheap VPS with an easy-to-use control panel
20GB – 160GB

✔

$

3.99

InterServer
Consistent performance, great reliability with RAID-10 SSD
30GB – 480GB

✘

$

6.00
FAQ
Do I need VPS hosting?
A VPS gives you dedicated server resources at a lower price than a fully-dedicated server, making it a great choice for high-traffic and e-commerce sites. If you're only looking to run a basic or low-traffic site, shared hosting may be a cheaper and more appropriate option. Many of the hosts in our list of the best web hosting providers for 2023 offer shared hosting plans with great value.
Does Kamatera have managed VPS hosting?
Kamatera does offer managed services as a premium add-on, but it's quite expensive. If you're looking for fully-managed VPS hosting, try FastComet or Scala Hosting, which offer similar services and features for lower prices.
Which is the cheapest hosting service?
Hostinger is the cheapest VPS host on this list. Plans include plenty of features, along with good performance and reliability. If you're looking to save even more money, there are some great deals for 2023 on our coupon page.
Why do you recommend VPS hosting for ecommerce?
Ecommerce sites tend to require more resources because they have more images, and because plugins like WooCommerce are so resource intensive. If your site slows down (or worse, goes down) while your visitors are shopping, your sales are going to take a devastating hit. A VPS is an affordable solution that offers much greater speeds and reliability than a shared hosting plan.