There isn't a host out there that gives you everything under the sun for a bargain-basement price, and not all hosts define "managed" in the same way.
 So how are you supposed to find one that's right for you? At Website Planet,
we've tested all the most popular VPS hosts in the world to see which ones take care of things like updates, security, and optimization
 so you can focus on your site and business. I've compared our results and narrowed them down to a list of the best eight. Managed VPS hosting can be a heckuva lot more expensive than unmanaged, but all the hosts on our list provide solid value. Some are stronger in certain areas than others, so read on to discover the one that meets your needs and budget.
Short on time? These are the best managed VPS hosting providers for 2023:
Kamatera – Unbeatable flexibility and scalability with pricing you can control
Liquid Web – Multiple managed VPS levels and market-leading support
A2 Hosting – Fast loading speeds and "anytime" money-back guarantee
What We Look For in the Best Managed VPS Hosts
Just because VPS hosting is "managed" doesn't mean it's managed well, or that it will give you everything you need. Here's what we looked for:
Amount of managed service. Some VPS plans provide a greater degree of management than others, so we found hosts that take care of most of the dirty work so you can spend more time building your content and your customer base.
Enough resources and scalability.  VPS hosting plans come in all shapes and sizes, but should give you what you need to run your site while making it easy to scale up as you grow.
High-level performance. Fast loading speed and reliable uptime are critical. With a superior managed VPS host, you should never have to worry about either.
Generous features. Every host offers something a bit unique, but the best ones give you a solid set of base features and have options to pay for more.
Bulletproof security.  Not literally – but your managed VPS host should have top-tier security features in place to protect your site and your users' data, starting with basics like free SSL.
Value for money. When you weigh up the cost of managed VPS hosting against the things I mentioned above, you should be getting the quality of service you need at a price that fits your budget.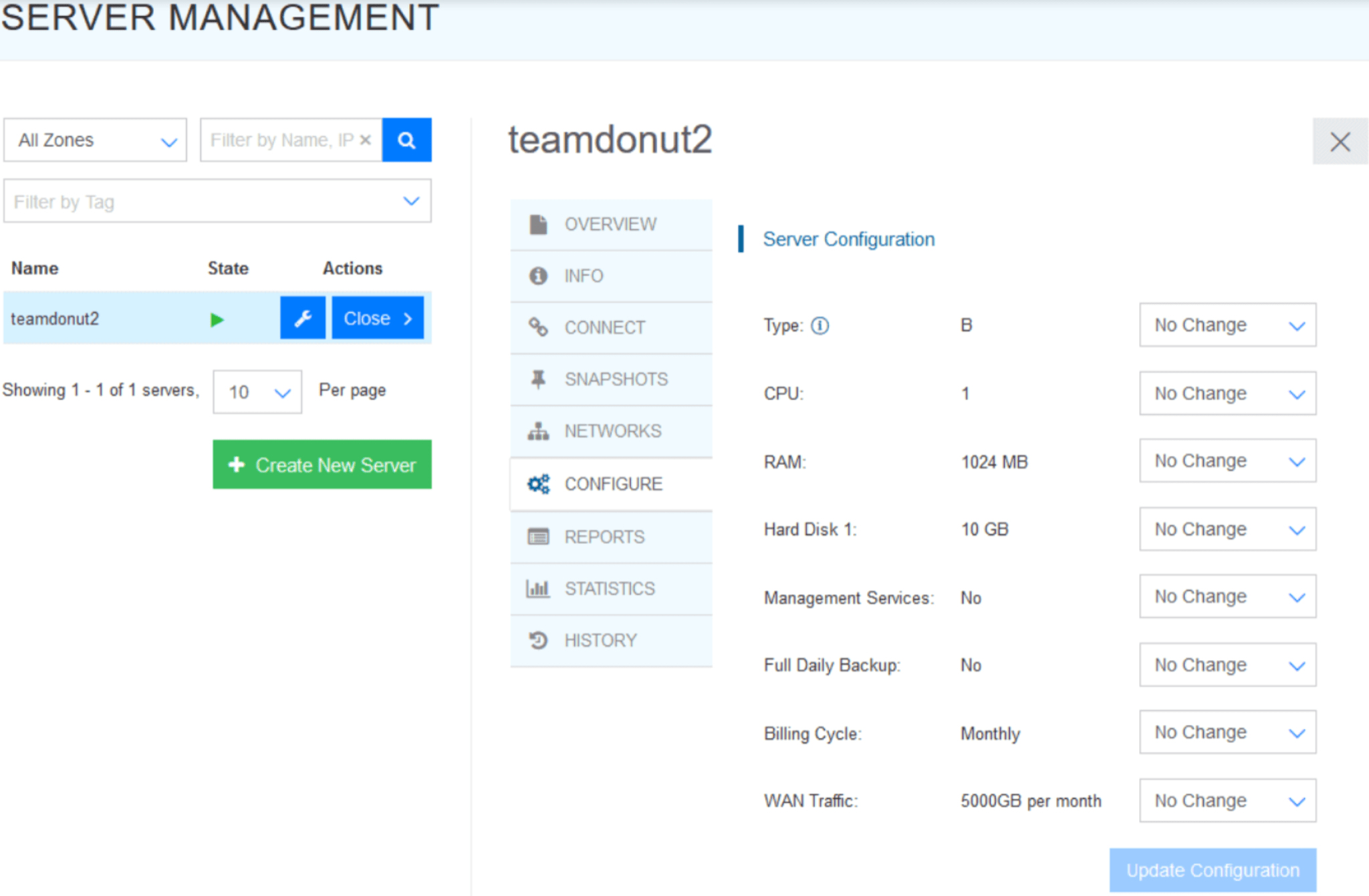 What sets Kamatera's cloud-based, managed VPS hosting apart from others is this: while you don't have to manage and maintain your servers, you do have total control over configuration.
You can instantly scale any resource up or down to suit your needs.
 And you can easily add more servers, firewalls, or load balancers. Unlike most managed VPS hosts, changing configuration doesn't mean changing plans. With Kamatera you just pick, use, and pay for what you need. And
what you pay is on a per-minute usage basis
,
 not daily or monthly, so you should never be stuck paying for unnecessary resources. When my colleague
tested Kamatera
, he recorded
100% uptime and rapid loading speeds
, earning it a perfect five-out-of-five for performance. But the account interface is not the easiest to use, support is just OK, and backups cost extra. But
if you want managed VPS hosting that gives you unmatched flexibility, scalability, and solid performance, Kamatera is the best on the market.
 And it's great for businesses of any size, from startups to large enterprises.
Cloud-based hosting. Standard hosting uses the resources of a single server to power a given website, but Kamatera uses resources from a cluster of servers, offering reliable and scalable performance in the event of traffic surges.
Generous resources. Kamatera has higher maximum limits on most resources than any other managed VPS host. You can have up to 104 virtual CPUs, 512GB of RAM, 40TB of block storage, and 5TB of bandwidth.
Instant scalability. Adjust any individual resource up or down whenever you want and pay for exactly what you need. While most other managed VPS hosts offer just a few set plans, Kamatera gives you as many as 1,174 various configuration setups.
Cloud load balancer.  Another benefit of being cloud-based, the load balancer improves loading speeds and system stability during peak usage, or if a server fails, so your users won't see any lag or downtime.
30-day free trial.  Kamatera's free trial offers 30 days of service with no commitment. You get 1TB of storage, 1TB of bandwidth, all of the features, and even a designated account manager.
Cloud-based?
Yes
Bandwidth
1TB – 5TB
vCPU
1 – 104
RAM
256MB – 512GB
Storage capacity
5GB – 40TB SSD block storage
Free SSL?
Yes
Free backups?
No
Uptime guarantee
99.95%
Starting price

$

4.00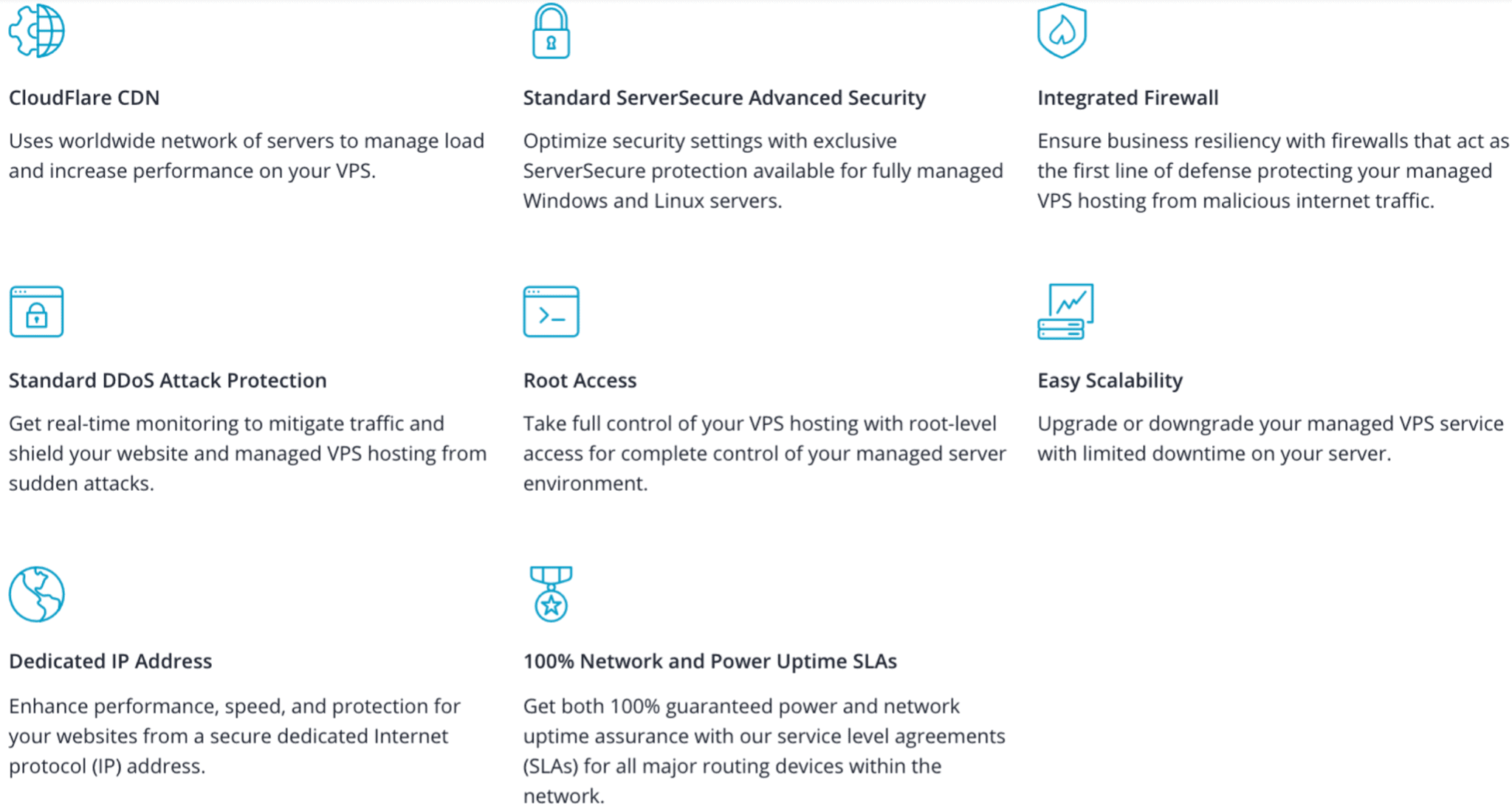 Liquid Web is another cloud-based solution.
It offers two levels of managed VPS hosting: fully-managed or semi-managed
, which it calls
core-managed
. With fully-managed, Liquid Web will take care of all aspects of your server setup, maintenance, and support. With
core-managed
, you run your own server but can get support now and then when needed. The
support from Liquid Web is some of the best we've tried
, no matter which level of managed VPS hosting you choose. Live chat is quick and helpful, and even its ticketing system returns fast and effective responses.
You get great flexibility with Liquid Web and can configure most resources individually.
Performance is above average – my colleague got good loading speeds and perfect uptime
during his tests
. Apache web servers are installed by default, so to maximize performance on WordPress sites you can upgrade to LiteSpeed. Similarly, the standard included features are passable, but to get the best functionality and security out of Liquid Web you need to buy add-ons.
Linux and Windows servers. Not all managed VPS hosts offer Windows servers. Liquid Web does, with Plesk as your only control panel option.
Multiple web hosting management panel options.  The three main control panels you can pick from when using a Linux OS are cPanel, Plesk, or InterWorx, but most plans also support DirectAdmin, Webmin, and CentOS.
100% uptime guarantee.  You're guaranteed to have 100% server power and network access for all major routing devices in your network.
Free daily backups.  Every plan comes with 100GB of free daily backups, and free backups is not something all managed VPS hosts offer.
24/7 server monitoring.  Liquid Web automatically monitors your server for problems, but if you want the support team to fix any problems for you, you'll need a fully-managed plan.
Cloud-based?
Yes
Bandwidth
10TB
vCPU
2 – 8
RAM
2GB – 16GB
Storage capacity
40GB – 200GB SSD
Free SSL?
Yes
Free backups?
Yes
Uptime guarantee
100%
Starting price

$

15.00

A2 Hosting is the first host on our list that doesn't use cloud technology. But
our tests
proved that it
provides performance and features in line with both Kamatera and Liquid Web.
A VPS plan from A2 Hosting means you still get all the benefits of added security and dedicated resources, but there's less flexibility here –
if you want to adjust your resource configuration, you'll need to change plans.
 Although the top-tier plans, with better performance and more features, still offer reasonable value at a higher price.
All managed VPS plans come with 1-5 cPanel licenses, Softaculous Premium, free site migration, and a 99.9% uptime guarantee.
It's an easy host to use, but if you do run into issues, you'll find support is the one area where A2 Hosting struggles. Live chat isn't always available when it says it will be and the "gurus" are actually well-intentioned yet outsourced non-experts.
Unlimited domains.  A2 Hosting allows for as many websites, subdomains, and add-on domains as you want. Just make sure you choose a plan with enough resources to support them all.
"Turbo" servers. It costs more, but A2 Hosting's Turbo servers give you a proprietary set of caching technology and NVMe storage, allowing you to handle up to nine times more traffic.
Advanced security.  24/7 network monitoring protects you against all types of security threats, and a host of security measures – like automatic daily Linux kernel updates, reinforced DDoS protection, dual firewalls, and brute force protection – does the rest.
Pro-rata refund.  You can get a full refund within 30 days, and on plans that are prepaid for six months or longer, you are reimbursed for the remaining part of your contract no matter when you cancel. No other managed VPS host does this.
Cloud-based?
No
Bandwidth
2TB – 4TB
vCPU
2 – 8
RAM
4GB – 32GB
Storage capacity
150GB SSD – 450GB NVMe
Free SSL?
Yes
Free backups?
No
Uptime guarantee
99.9%
Starting price

$

2.99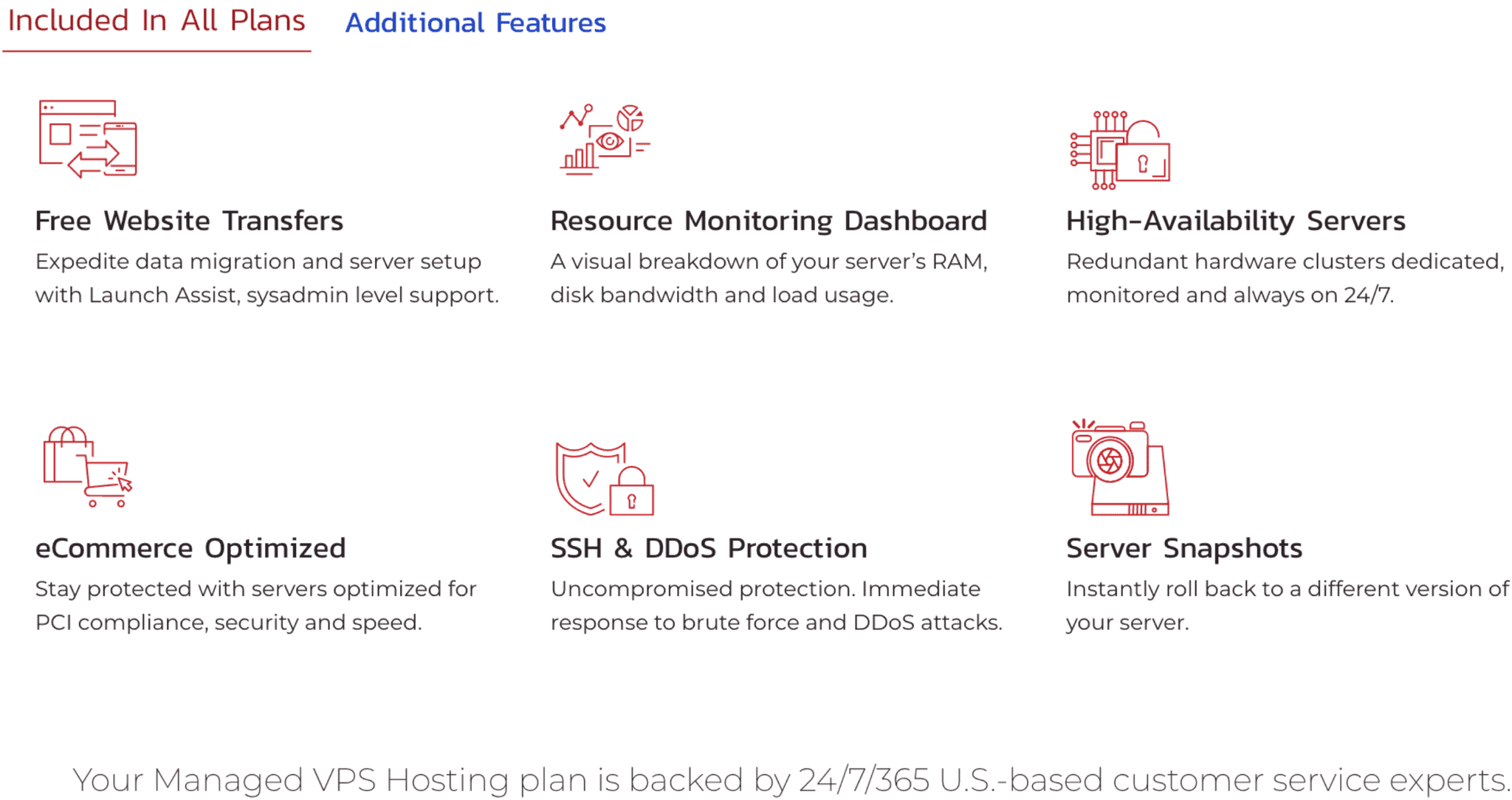 InMotion Hosting's managed VPS gives you enough bandwidth to easily get between 500,000 and 1,500,000 visitors to your site per month.
It's optimized for ecommerce, not only with fast loading speeds but also with PCI compliance and top-notch security.
The top-tier plans have lower resource caps than most other managed VPS hosts,
 but InMotion Hosting is designed to accommodate all sizes of business and high-traffic websites. Across the board, InMotion Hosting's included features, ease of use, and support is solid but not spectacular.
When my colleague tested its performance, he recorded good loading speeds and uptime rates of nearly 100%,
 but support told me the uptime guarantee is only 99%, which is 0.9% lower than most providers. This means you could see hours of downtime each month and still fall within the guaranteed range.
InMotion Hosting's data centers are in the US,
and all its support is US-based as well. So even though you can use a CDN to help give a global audience better site performance, InMotion Hosting is best suited to sites for the American market.
Snapshots. Easily backup and restore your entire server, including processes, for protection against things like malware and ransomware.
UltraStack.  A proprietary infrastructure configuration that uses custom caching to optimize page loading speeds and uptime for consistently peak performance.
Drag-and-drop website builder. Building a WordPress site doesn't get easier than dragging and dropping, and the BoldGrid site builder comes with 200-plus templates to choose from.
90-day money-back guarantee.  With the exception of A2 Hosting's pro-rata refund, InMotion Hosting's 90-day money-back guarantee is the most generous around.
Cloud-based?
Yes
Bandwidth
4TB – 7TB
vCPU
2 – 8
RAM
2GB – 8GB
Storage capacity
45GB – 140GB SSD
Free SSL?
Yes
Free backups?
No
Uptime guarantee
99%
Starting price

$

24.99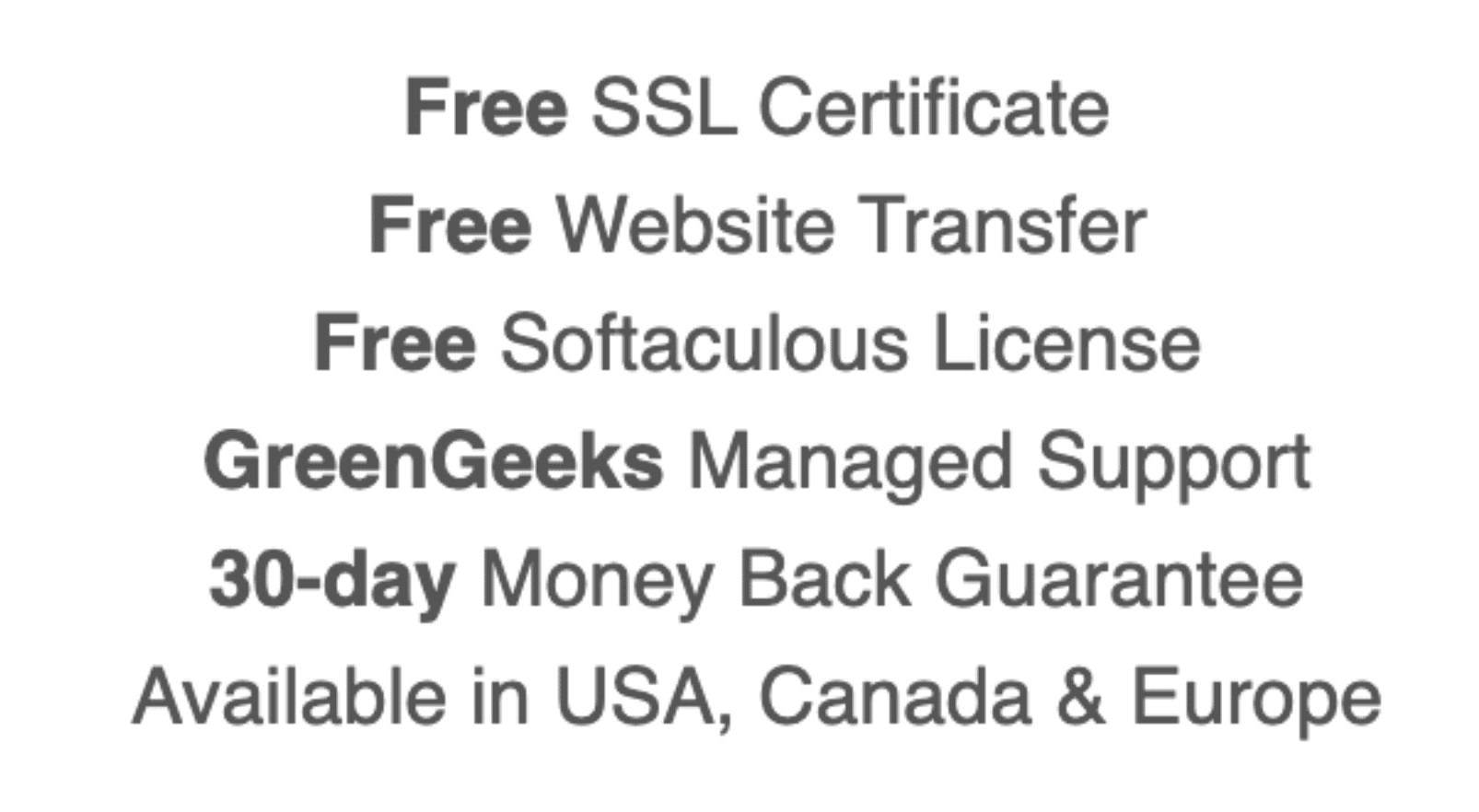 GreenGeeks is the most environmentally-friendly managed VPS host on the market, hence the word "green" in the name. For every megawatt hour of electricity it uses, it puts three times as many renewable energy certificates (RECs) back into the energy grid. And for every new hosting account, it plants a tree. It also has
some of the lowest regular prices available on managed VPS plans.
 You won't get the same resource levels you get from hosts like Kamatera or A2 Hosting, but
the combination of resources and features can provide solid value for small- to mid-sized businesses.
GreenGeeks is user friendly thanks in large part to the inclusion of cPanel and simple WordPress installation, and
its managed support is some of the best we've used.
The features included with every plan won't blow you away, but you get some good things for free, like SSL, site transfers, and Softaculous. We experienced better than 99.9% uptime
in our tests
, but got very average loading speeds, even using LiteSpeed's web server.
A free domain name is included with some hosting plans from GreenGeeks
cPanel/WHM pre-installed.  Configured and optimized for performance and security straight out of the box, with one cPanel Solo Licence included.
Proactive protection. Real-time scanning helps identify and prevent potential problems before they start, with a live team fixing any detected issues.
Free cPanel migrations.  If you're already with another VPS host and want to switch, GreenGeeks' support team will transfer your websites over, pro bono.
10TB of bandwidth.  All plans get 10TB of bandwidth, which is enough for around 2,000,000 monthly visitors.
Cloud-based?
No
Bandwidth
10TB
vCPU
4 – 6
RAM
2GB – 8GB
Storage capacity
50GB – 150GB SSD
Free SSL?
Yes
Free backups?
No
Uptime guarantee
99.9%
Starting price

$

39.95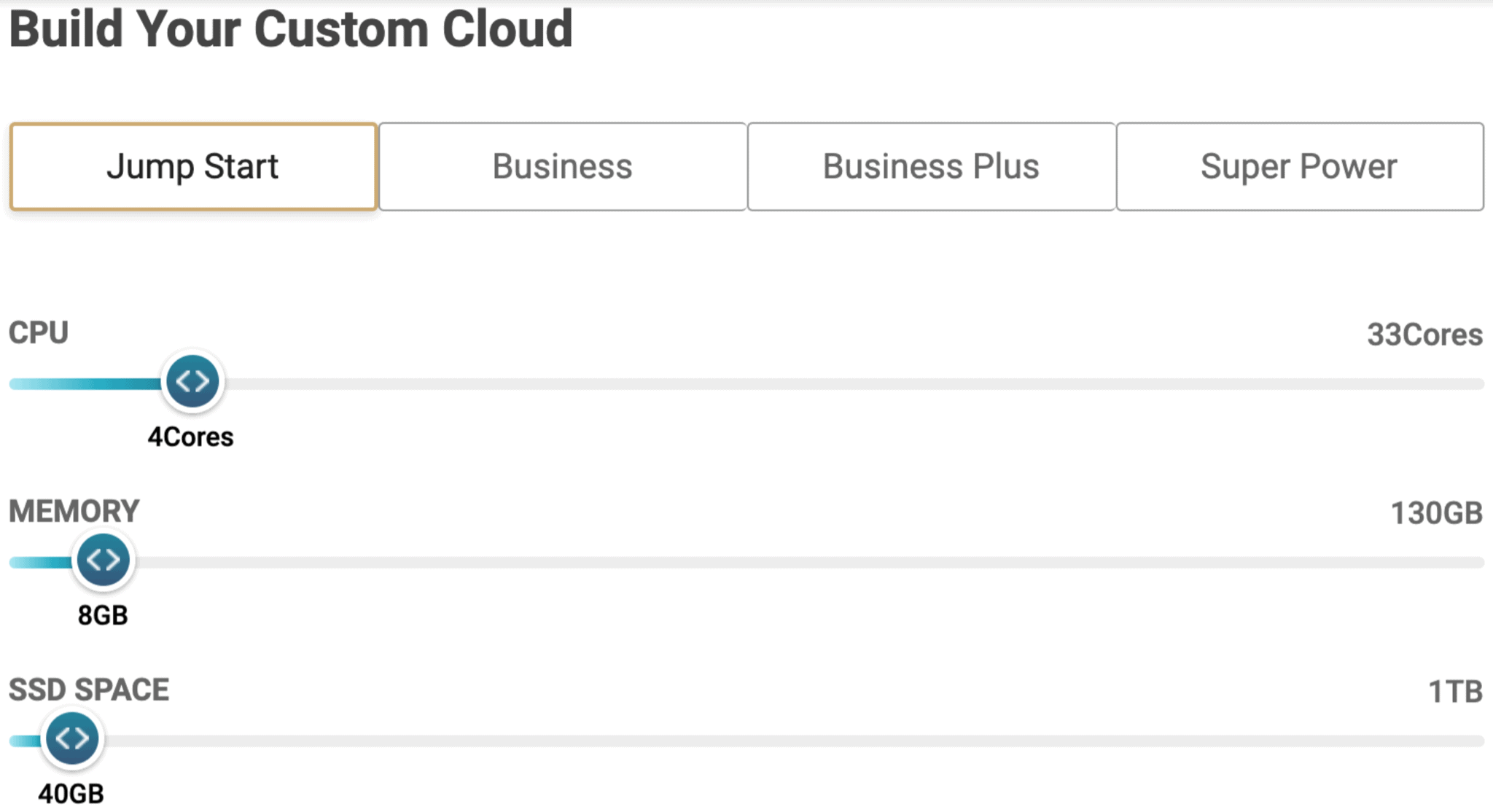 SiteGround doesn't offer VPS hosting, but its managed cloud hosting is pretty much the same thing.
With managed cloud hosting you get a private container with dedicated resources, and your website is served via a cluster of virtual servers.
But cloud infrastructure also costs more.
SiteGround's managed cloud hosting
 has some of the highest prices on our list,
 especially if you scale up your resources beyond the set plans offered. Is it worth it? Yes, if you want advanced technology with high speeds, reliability, solid security, and a decent set of features. No, if you don't have the budget, or if you want prompt support – which we didn't get
during our tests
. If you need it, you can
easily customize your resources at sign up by configuring your cloud with simple click-and-drag sliders.
 And that's not the only thing about SiteGround that's easy to use – it also has a proprietary control panel that's streamlined and efficient.
A free domain name is included with some hosting plans from SiteGround
Google Cloud Platform. SiteGround uses SSD persistent storage on Google's virtual machines, which means your site will have consistently-reliable uptime.
Wide global network. With data centers in North America, Europe, Asia, and Australia and Cloudflare's CDN network, your target audience will get fast loading speeds no matter where they are.
Distributed, redundant daily backups.  When your account is backed up each day, SiteGround creates multiple copies of your site files and data and stores them in various secure locations to ensure you can restore any part of your site if it is somehow compromised.
NGINX Direct Delivery.  On top of dynamic full-page caching, SiteGround uses NGINX caching technology to serve static items on your site, like images, more quickly.
Cloud-based?
Yes
Bandwidth
5TB
vCPU
4 – 33
RAM
8GB – 130GB
Storage capacity
40GB – 1TB SSD
Free SSL?
Yes
Free backups?
Yes
Uptime guarantee
99.9%
Starting price

$

100.00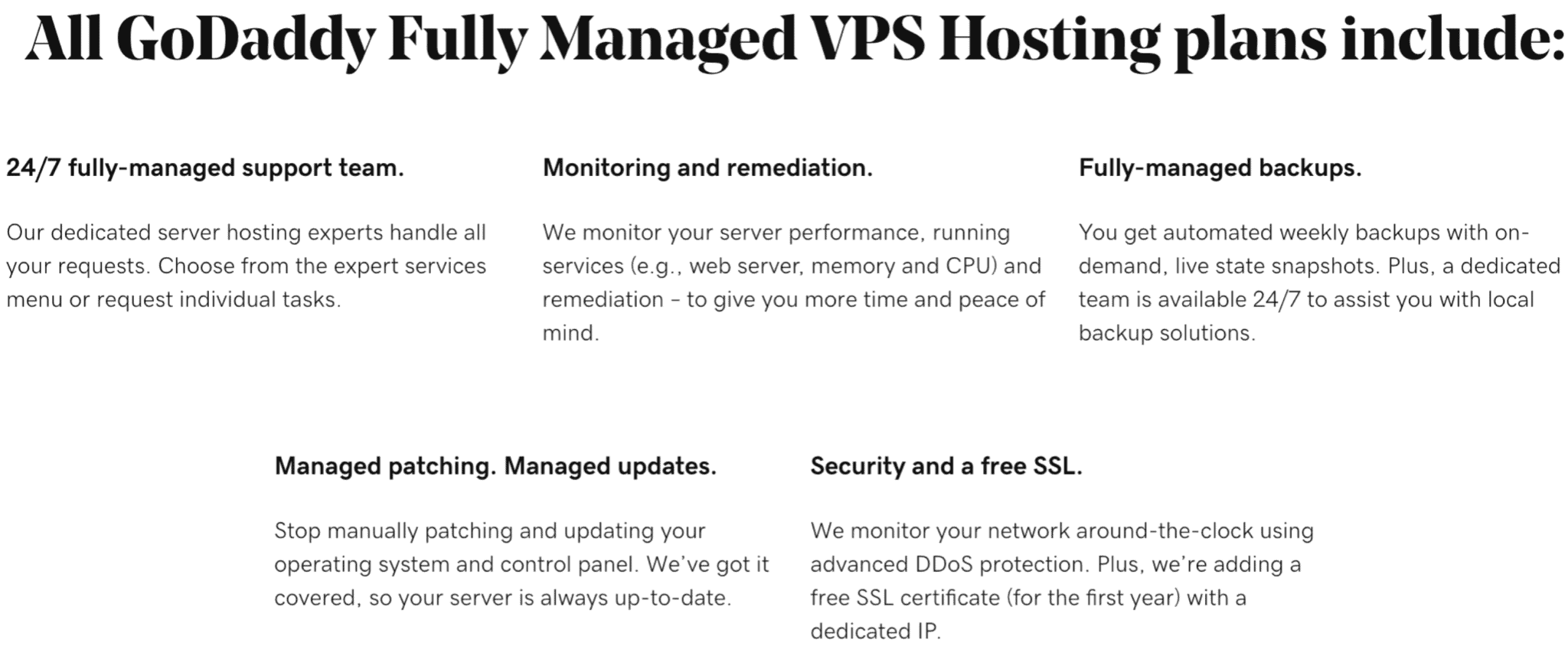 There aren't many managed VPS hosts that offer unlimited bandwidth
with
 a good hosting service, but GoDaddy is one that's worth considering. With its managed VPS
you get a range of Standard RAM and High RAM plans that will give you up to 8 vCPU, 32GB of RAM, and 400GB of SSD storage, as well as uncapped site traffic.
GoDaddy not only manages your server fully, it also backs up your server(s) weekly,
with a team dedicated to configuring additional backups on your request. It provides at least two dedicated IPs with every VPS plan, but you have to pay extra for advanced security.
Managed VPS hosting from GoDaddy is some of the most expensive on the market
 – an almost ridiculous increase on its unmanaged VPS hosting. There is definitely better value out there, but if you need unlimited bandwidth and you have the budget, GoDaddy is a solid managed VPS hosting option.
Unlimited bandwidth. Worth mentioning again because unlimited bandwidth means there's no cap on the amount of visitors you can have to your site(s) per month as long as you do not violate GoDaddy's policies. Very few VPS hosts worth mentioning offer this.
Add more IPs. Every plan has the option for at least two dedicated IP addresses, and you can have up to four with top-tier plans.
DDoS protection.  Although advanced security is a paid add-on, GoDaddy includes 24/7 monitoring of all of your servers and sites to ensure a DDoS attack won't overwhelm any of them.
OS and control panel options. Linux or Windows, cPanel or Plesk, GoDaddy lets you decide which operating system and control panel is right for you (although the entry-level plan only has enough resources to support Linux).
Cloud-based?
No
Bandwidth
Unlimited
vCPU
1 – 8
RAM
2GB – 32GB
Storage capacity
20GB – 400GB SSD
Free SSL?
Yes (one certificate for one year)
Free backups?
Yes
Uptime guarantee
99.9%
Starting price

$

4.99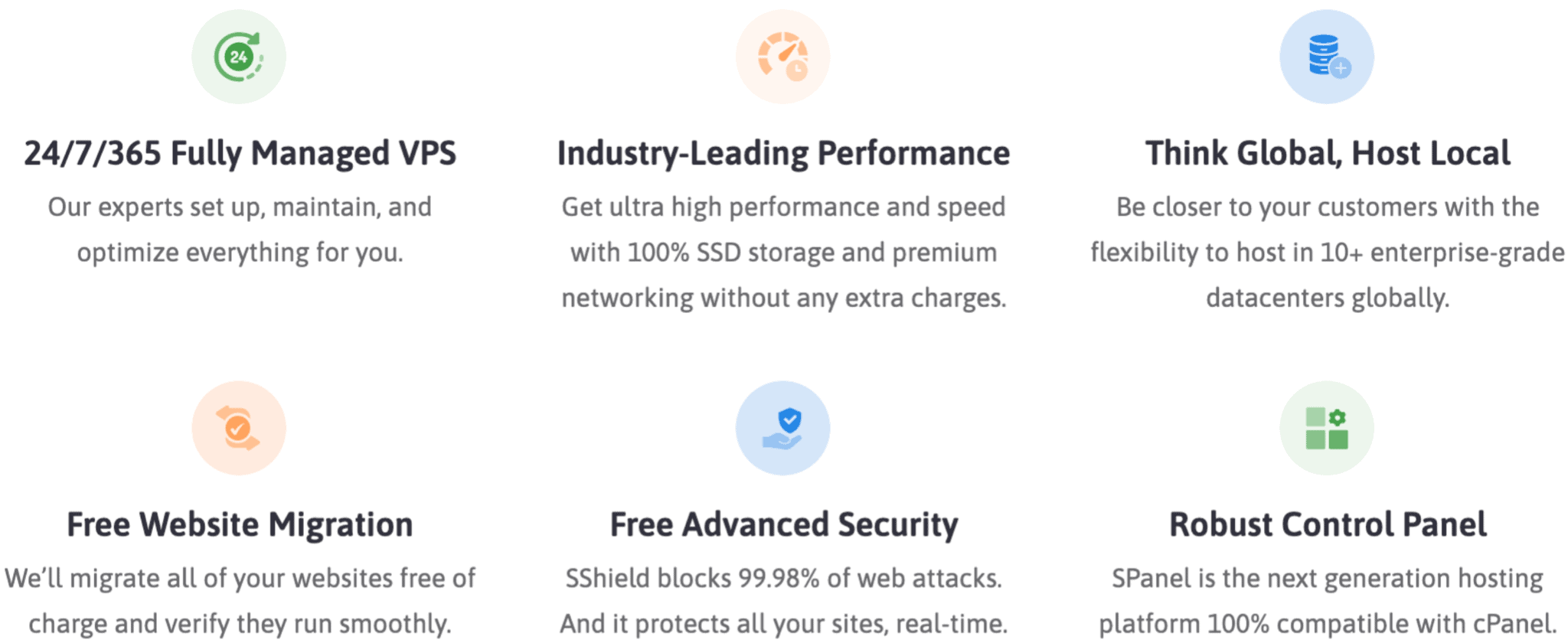 Scala Hosting has by far the lowest entry-level price of all managed VPS hosting providers.
 And its proprietary SPanel control panel is super-easy to use. So if you're new to VPS, or have a startup or small business, it's a great place to begin your journey. With Scala Hosting's entry-level
Start
 plan you get 1 CPU, 2GB of RAM, and 50GB of SSD storage, as well as unmetered bandwidth.
My colleague got
excellent loading speeds and 100% uptime
during his tests
. And all plans come with a bunch of good stuff for free, like SSL, daily remote backups, and site migration. Another great thing about Scala Hosting is – somewhat like Kamatera –
you can adjust some individual resources so that you only pay for what you need.
 But on set plans, the price for a mid-to-upper-tier plan is more expensive and more in line with competitor pricing. And to get the very best out of this managed VPS, you'll need to upgrade your features.
A free domain name is included with some hosting plans from ScalaHosting
One-click WordPress install.  Installing WordPress is quick and easy, and you can install as many instances as you want and access them all in one place with SPanel.
SShield advanced cybersecurity. Scala Hosting claims this proprietary security software blocks 99.998% of web attacks. It will notify you if an intruder somehow gets through.
Cloud-powered scalability. Scala Hosting's cloud infrastructure allows for on-demand tweaking of services, whether on its own servers, or with DigitalOcean or Amazon Web Services (AWS).
Pick your location. You can have your site hosted in Scala Hosting's data centers in the US or Europe, or just about anywhere else in the world with DigitalOcean and AWS.
Cloud-based?
Yes
Bandwidth
Unmetered
vCPU
1 – 8
RAM
2GB – 16GB
Storage capacity
50GB – 320GB SSD
Free SSL?
Yes
Free backups?
Yes
Uptime guarantee
99.99%
Starting price

$

20.00
Which Managed VPS Host Is for You?
Choosing the perfect managed VPS hosting provider means finding a balance between your budget and needs. You shouldn't pay too much for resources and features you won't use, but on the other hand, it might be beneficial to spend a little more if you have significant resource needs to meet. If you're still wondering which host to choose, here's what I'd recommend:
If you have the budget and want excellent performance with unmatched flexibility and scalability, pick Kamatera.
Got the chops to do more yourself?
Liquid Web
 offers the best VPS support available
 and offers both fully-managed and semi-managed (cheaper, more hands-on) plans.
A2 Hosting gives you the best money-back guarantee
and solid overall performance. You'll get
great ecommerce optimization with InMotion Hosting
 for sites with between 500,000 and 1,500,000 visitors per month.
GreenGeeks will help you save the planet while you save money;
 with some of the lowest regular pricing on the market, it provides a solid value. It's not technically a VPS provider, but
SiteGround
 gives you cloud hosting that offers similar benefits to VPS and lets you scale up with ease
 – though it does hit the wallet hard. You'll
get unlimited bandwidth with either GoDaddy or Scala Hosting,
 but while Scala Hosting has the cheapest entry-level managed VPS hosting plan on the market, GoDaddy's prices are some of the highest.
Cloud-based
vCPU
Storage
Starting Price
Kamatera

✔

1 – 104
5GB – 40TB

$

4.00

Liquid Web

✔

2 – 8
40GB – 200GB

$

15.00

A2 Hosting

✘

2 – 8
150GB – 450GB

$

2.99

InMotion Hosting

✔

2 – 8
45GB – 140GB

$

24.99

GreenGeeks

✘

4 – 5
50GB – 150GB

$

39.95

SiteGround

✔

4 – 33
40GB – 1TB

$

100.00

GoDaddy

✘

1 – 8
20GB – 400GB

$

4.99

Scala Hosting

✔

1 – 8
50GB – 320GB

$

20.00
FAQ
What's the difference between VPS and shared hosting?
Many VPS hosts use shared servers, but VPS is "virtually private" because you don't have to split resources – like CPU, RAM, and storage – with others. VPS hosting can also be more flexible, especially when it's cloud-based and your resources are spread across a cluster of servers. Interested in web hosting beyond VPS? Take a look at our best web hosting providers for 2023 to see what's right for you.
Why is managed VPS hosting so expensive?
Having dedicated resources, a server that's fully looked after by your host, and the highest tier of support commands a high price. Some hosts, like Liquid Web, offer different levels of managed service, so you can pay less if you do more of the server upkeep yourself. You may also find some great deals for 2023 on managed VPS hosting on our coupon page.
Is Kamatera's VPS hosting worth it?
There's no other managed VPS hosting provider that gives you the flexibility, instant scalability, or top-end level of resources that Kamatera does. Its pricing is also the most controllable, as you can set individual resource levels and pay for exactly what you need. And it's fast and reliable. Kamatera isn't the cheapest managed VPS out there, but it arguably provides the best value.
Does Kamatera have a free trial for VPS hosting?
Kamatera is one of the only managed VPS hosting providers – and the only one on our list – that offers a free trial. You can give it a test run for 30 days with no commitment to buy, and while you'll only get 1TB of bandwidth and storage, you do get all the features Kamatera has to offer and a dedicated account manager.