Social media ads are fantastic for helping your small business to grow,
but it can be hard to find the time to make a great ad when you're spinning so many other plates. Hiring an online social media ad creator can take some of the pressure off.
Plus, hiring an expert doesn't have to break the bank.
With some creators offering
their services for as little as $5
, you can hire someone to help new customers find your products without breaking your budget.
Jump down to learn my secret for hiring a social media ad creator for a fantastic price.
5 Best Social Media Ad Creators for Small Businesses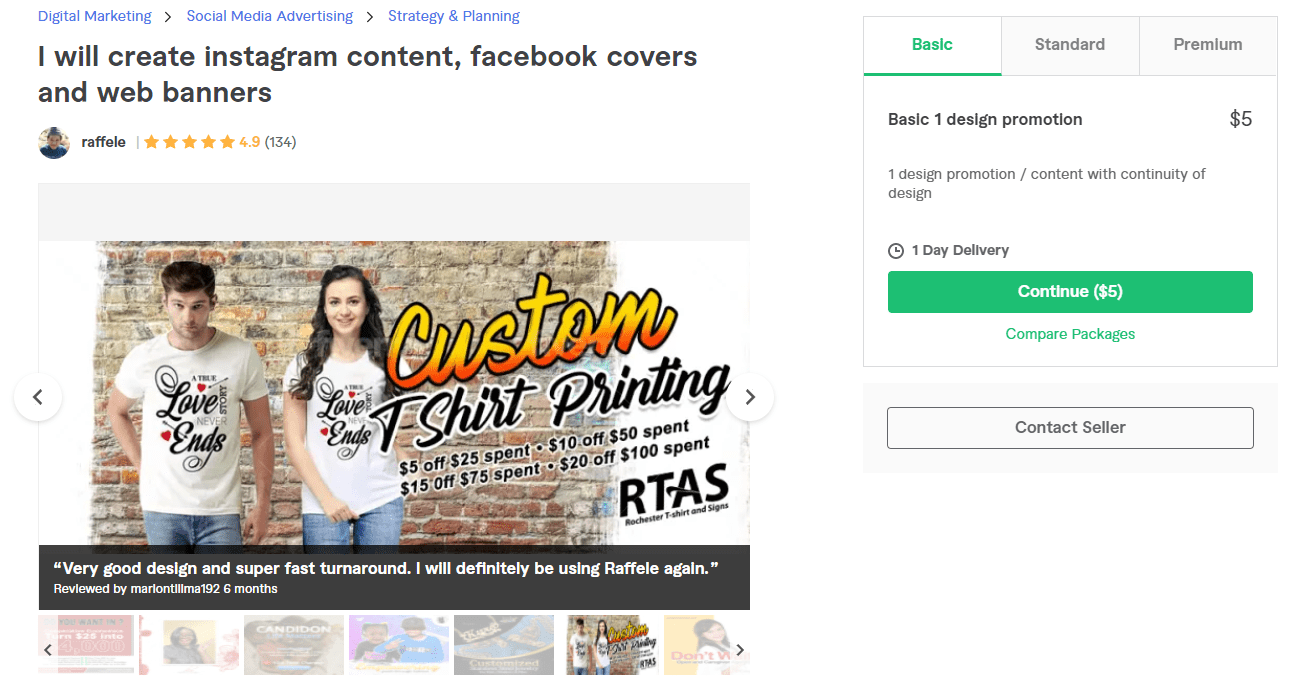 If you're looking for a fast, reliable designer to create custom social media promotional banners, look no further than Raffele.
For only $5, they'll deliver a custom design within 24 hours.
With a 4.9-star rating from well over a hundred happy clients, you're sure to get a promotional design you love. Plus, they offer discounts for bulk orders – you can get three designs for $10, or six for $20, perfect if you manage accounts on multiple platforms.
They also offer logo and business card design services if you love their banners.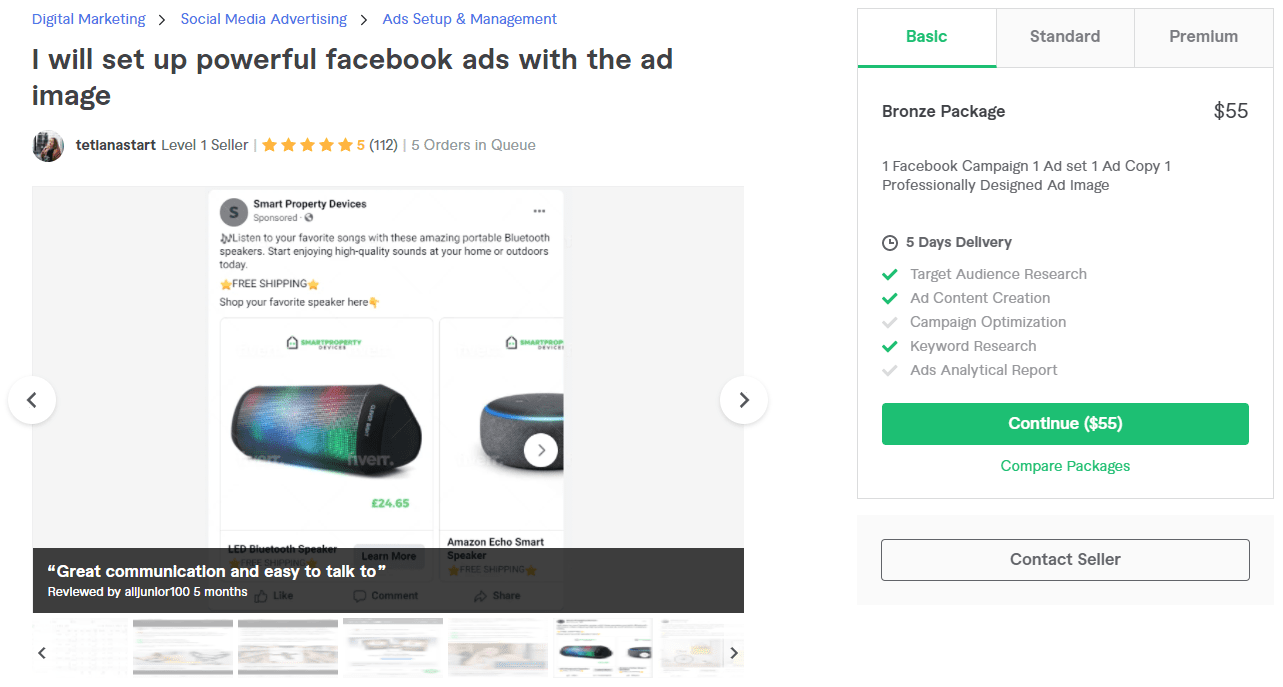 One of the reasons why I like hiring from Fiverr is that there's a professional to suit every budget. If you've got a bit more cash to spend on your social media ads, then check out Tetlanastart.
For $55, you'll get one Facebook campaign consisting of one ad set, one image, and professional copy
delivered within five days. Tetianastart has over 100 5-star reviews, with reviewers talking about this seller's
professionalism, great communication, and quick turnaround times
. They're also fluent in English, Dutch, Russian, and Ukrainian, making them a great choice if you want to run Facebook ads internationally.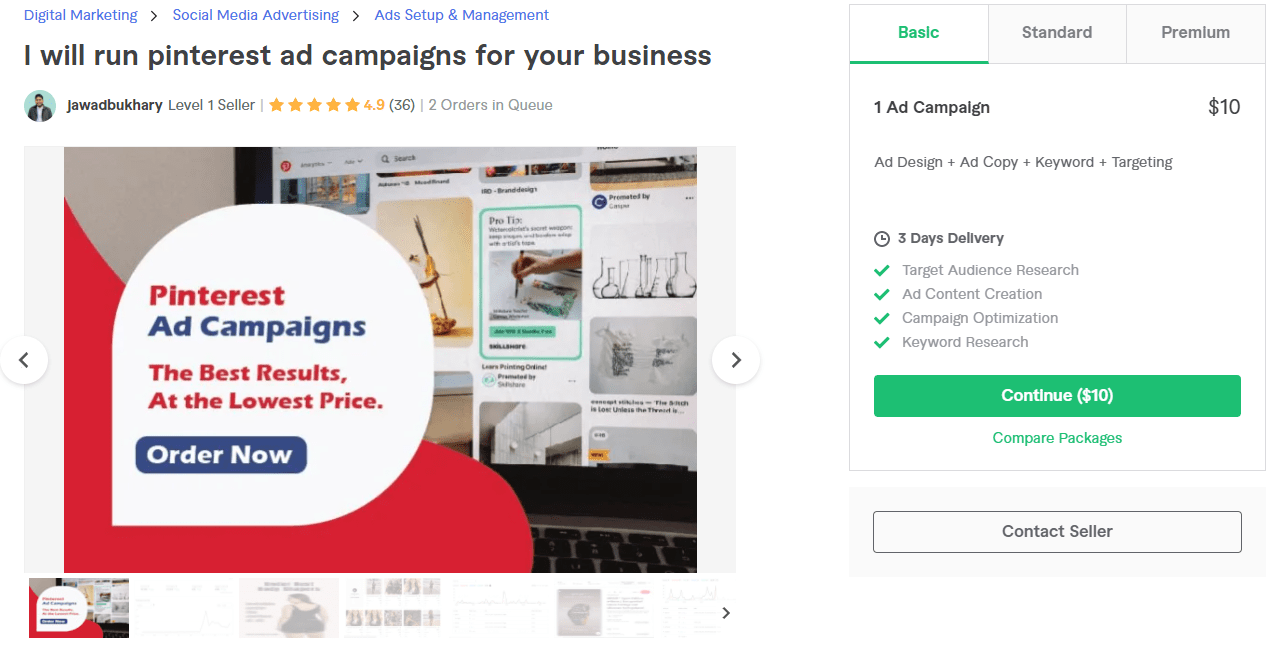 If your social media ad campaign focus is on using Pinterest, check out Jawadbukhary on Fiverr – they'll create
one ad campaign for Pinterest for only $10.
This includes audience research, keyword research, and optimization. They'll help you to set up a business Pinterest account too if you're not familiar with the platform. This seller also offers services in Facebook marketing management, Instagram advertising, and graphic design, so they'll cover a lot of different bases for you if you want to expand the ads you're running to other platforms later.
Reviewers are praising this seller for his insight into Pinterest,
quick responses to questions, and patience with helping his clients.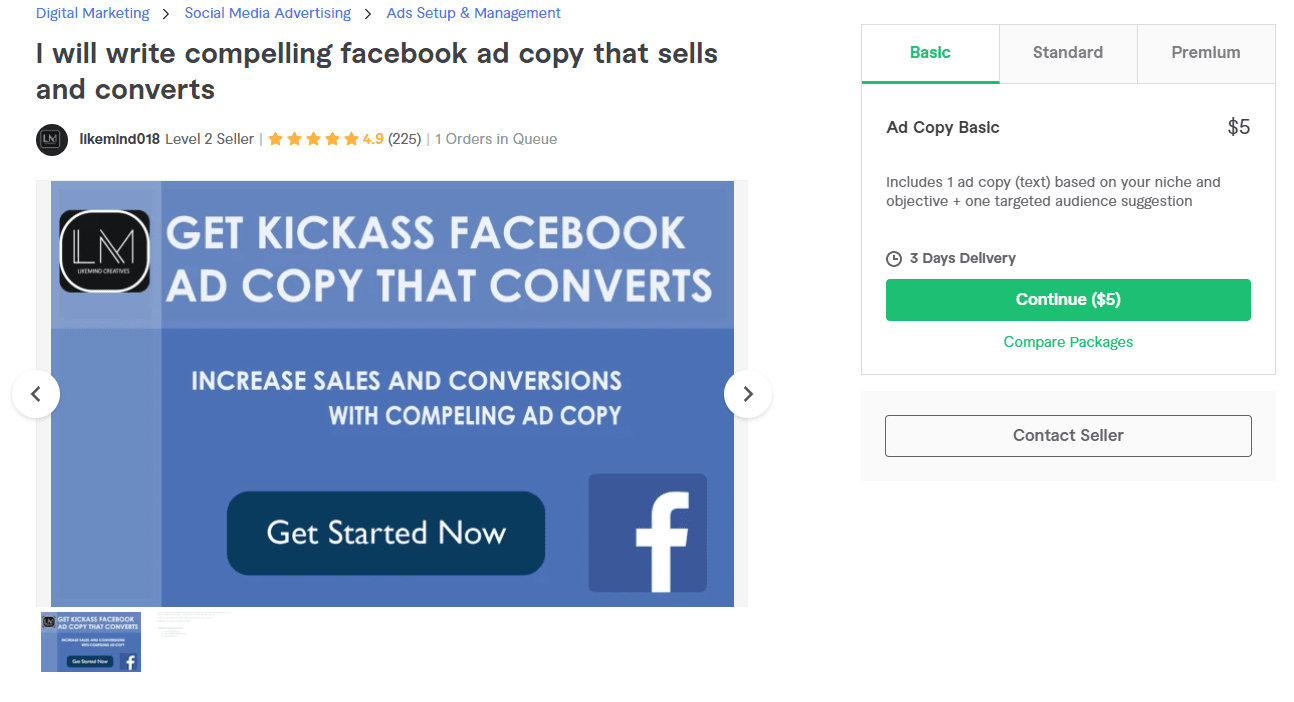 If you're comfortable with the design and management of your Facebook ads but want a little help making your copy convert, consider Likemind018. They are
a two-person copywriting and social media ad agency and offer basic Facebook ad copywriting for only $5.
They'll also suggest an audience you should target, which makes this gig a bargain. The Standard and Premium gig tiers will secure you copy for several ads plus audience suggestions, as well as an analysis of a competitor's ad text.
Plus, for an extra $5 on any tier, Likemind018 will research keywords or your target audience for you
, saving you a ton of time.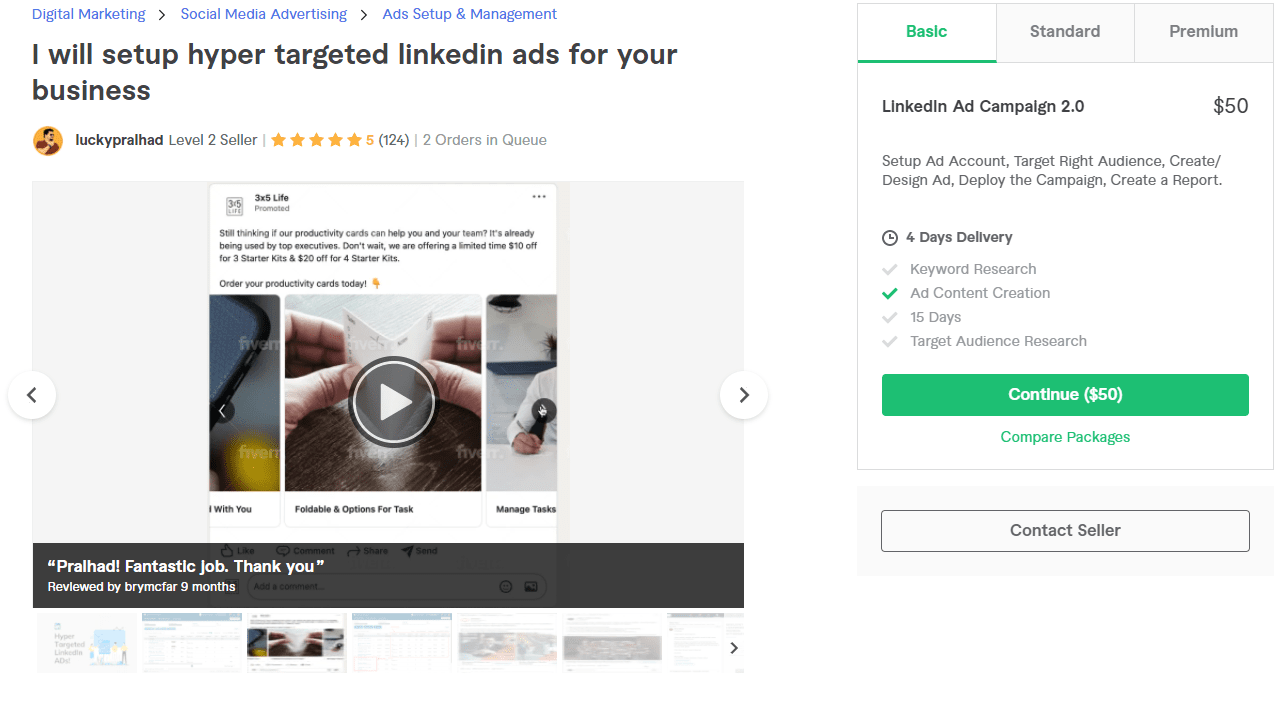 Luckypralhad is a Level 2 seller, which means they've delivered at least 50 orders and maintained a minimum of a 4.7-star rating across those orders. This creator will
design, deploy, and report on your LinkedIn ads for only $50.
You can even add on a video setup guide to show you how to use LinkedIn ads for an extra $20, which is super helpful, particularly given that this ad platform is relatively new compared to the other platforms out there. It's a bit more expensive than your typical Fiverr gig, but Luckypralhad offers a ton for your money.
On the higher tiers, they offer ad management, A/B testing, and ongoing optimization.
With over 1,000 5-star reviews across all of their social media advertising gigs, you can trust them to make your LinkedIn ads irresistible.
How to Hire a Budget-Friendly Social Media Ad Creator
When I'm looking to hire a professional on a budget, Fiverr is always my first port of call.
If you've never heard of Fiverr before, then, first of all, I'd like to welcome you to a hiring platform you won't turn back from! Fiverr is well-known for offering professional creative services for as low as, well, $5. And although they branched out from
only
offering services for $5 a while ago,
it's still easy to find creators – including social media ad professionals – for a bargain price.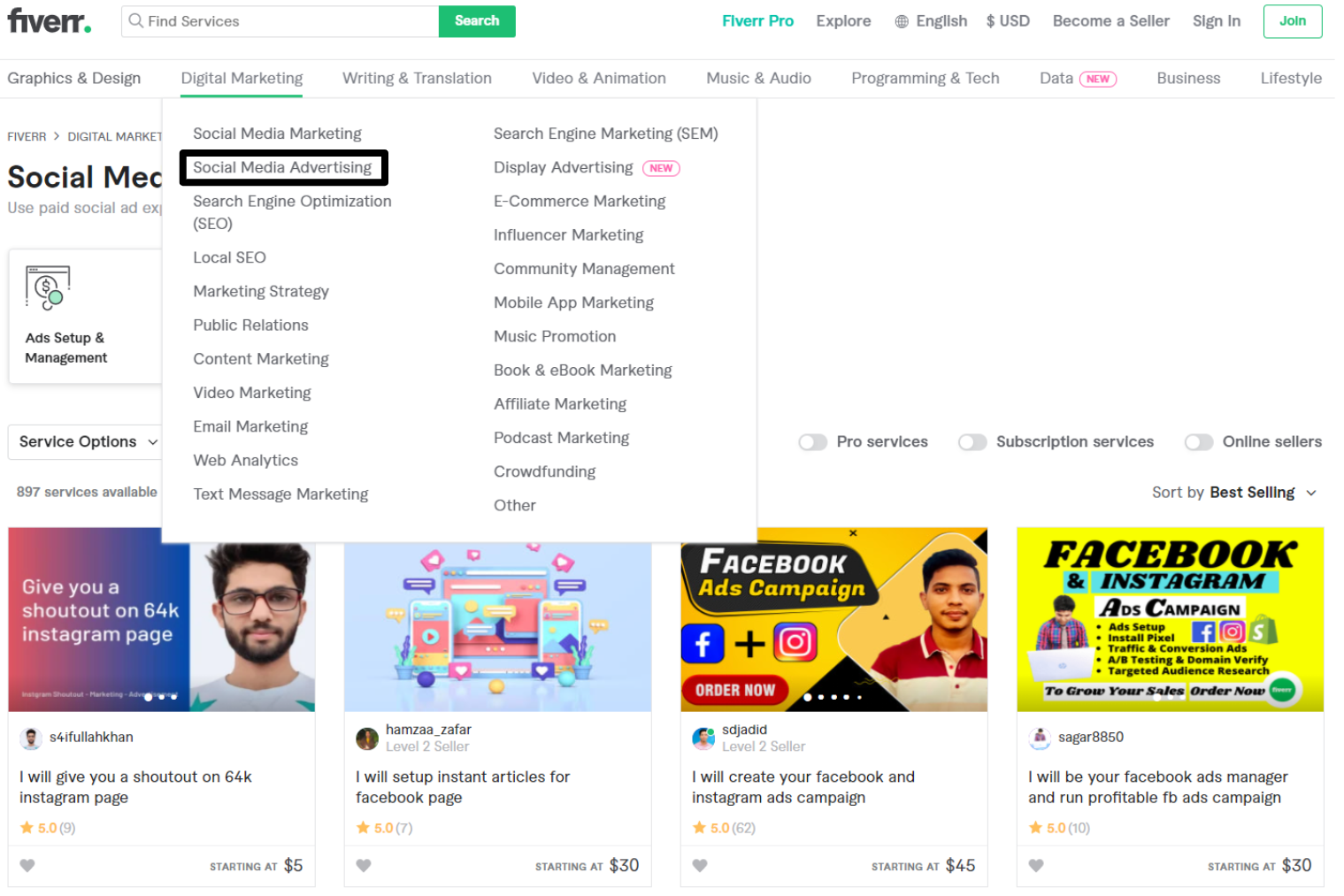 To find the ad professionals for this list, I went to the
Social Media Advertising
section of the
Digital Marketing
category umbrella. Thankfully, the team behind Fiverr has made it super easy to filter the freelancers on the platform so you can find the perfect ad creator for your business.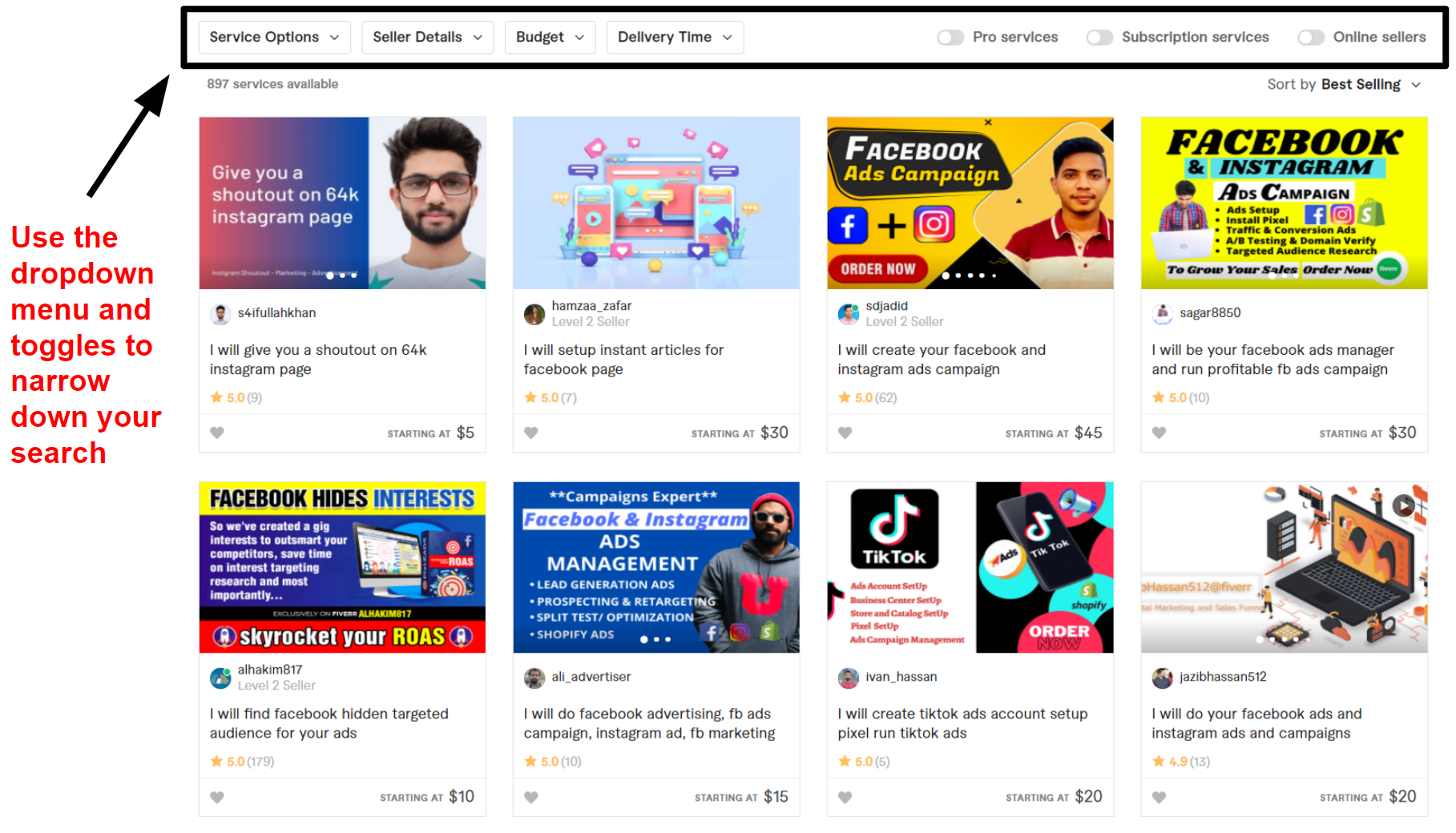 Once you've found a gig you like the sound of, you can click to see all of the options the seller provides, as well as more information about the seller and what they specialize in. Fiverr sellers typically offer three levels of service for each gig, which are labeled as
Basic, Standard,
and
Premium.
Click on each of these tabs to see what's included and how long the service will take.
Most sellers on Fiverr also have additional services you can pay for along with each gig.
In the case of social media ad creators, these are usually things like rush delivery, ad management, or keyword research for your ad. To see the full list of additional services, click on one of the gig options. All you need to do after that is confirm your order and enter your payment information, and you're ready to go! I use Fiverr as my freelance platform of choice because
sellers earn badges to demonstrate their reliability.
There's a huge variety of sellers, from people who are relatively new to their chosen discipline to Pro Verified freelancers. With ratings displayed on the main search page, you can also quickly sift through gigs to find someone who's reliable.
Fiverr's Top Features
Let me be clear on one thing, Fiverr isn't my top recommendation just because it's cheap. It's got a lot of impressive features that make me come back to it time and time again. Besides, there's a reason it scored
4.9
out of 5 in
our Fiverr review
. If you don't have time to read the full review, these are the top features you need to know about:
Clear review system: Quickly see a breakdown of seller ratings on each gig page, along with any attached photos that help you get a feel for each creator's work.
Free to use: Only pay a service fee when you've picked a creator to work with.
Payment escrow: Fiverr won't release payment to the seller unless you're happy with the ad you've ordered.
Quick turnaround times: Most Fiverr sellers offer a turnaround time of under 48 hours for small jobs, and some will deliver work even faster for an extra fee.
3 Tips For Creating Your Social Media Ad
The first thing you need to remember if you're creating your social media ad yourself is that each platform is different. And
the type of ad that performs well on each platform will be different.
With that in mind, here are the top 5 things you need to be aware of when creating social media ads.
1. Social Media Ad Image Sizes
If you get the size of your ad image wrong, almost every platform will automatically resize your ad for you.
You should also aim for each image and/or video to be as high-resolution as possible.
Here are the social media ad sizes, in pixels, that you need to stick to for images and videos:
Twitter: Min. 440 x 227, max 1024 x 512
Facebook: 1,200 x 628, or 600 x 600 for carousel ads
Instagram: 1,080 x 1,080 for Feed images, or 1,080 x 1,920 for a Story
LinkedIn: 1,080 x 1,080
Pinterest: 1,000 x 1500
You should also note that you'll have a character or word limit for your ad copy, which is listed here in characters:
Twitter: 280 (same as organic posts)
Facebook: 40 for headlines, 30 for link descriptions, 125 for body text (note that these are recommendations and not limits – text over these lengths may be truncated)
Instagram: Same as Facebook, plus 2,200 characters for image captions
LinkedIn: 300
Pinterest: 100 for pin titles, 500 for descriptions
While Facebook no longer enforces the "20% rule" – where less than 20% of your ad image should consist of text
–
it's still recommended to
keep image text to a minimum.
Even on platforms like Pinterest that have more image space to work with, this is a good rule to remember.
2. Know Your Audience
Social media platforms attract different audiences,
so you need to know how to address them in your ad. Here's how to cater your messages to what your audience is looking for on use each platform:
Twitter: Quick updates, customer service, and single product or sale CTAs
Facebook: Customer stories and news, can be chatty and informal depending on your business. My colleague has rounded up their top recommendations for Facebook Ads experts if you know you want to focus on this platform. And we've also put together some tips on how to improve your Facebook Ads conversions. You're welcome.
Instagram: Ideal for sharing inspirational content and stylized product/service photos and videos, it offers an informal and highly visual approach.
LinkedIn: Formal language for connecting with other businesses and like-minded professionals
Pinterest: Visual content with a focus on inspiring the audience to share and store your ad on a Board
3. Check Each Platform's Guidelines
Just like traditional advertising,
you need to know what's acceptable and what isn't on each platform.
Most of the time this is common sense with blanket bans on videos and imagery that use violence, hate speech, or that infringe on someone else's copyrighted material. In other cases, this might not be as obvious.
For example, Pinterest doesn't allow you to advertise the sale of marijuana or associated accessories
even if you're based in a state where recreational marijuana use is legal and you only advertise to people in those areas. Not knowing these guidelines ahead of time can result in you purchasing a stellar social media ad and being unable to run it because of platform restrictions, so
make sure you check these before creating an ad or hiring someone to do it for you.
If it feels a little too complicated and time consuming, you could always
hire one of these top social media managers
who can help you manage the whole process.
Wow Your Followers With Stunning Social Media Ads
Of course, there's a lot more to building engaging social media ads than I've got time to share with you today.
You'll often need a different strategy for each platform
, and not every platform will work for your business.
Before you get started, I recommend looking into your current social media analytics to see where your business is already thriving
. Then, when you know which platforms work best for your business,
you can find a professional ad creator or social media ad agency on Fiverr.
With professionals offering everything from fully managed social media ad campaigns to blocks of copy and image design, there's something for every budget and need.
FAQ
How much does a social media ad cost?
That depends on what you're looking for. On Fiverr, you can find someone to write copy or design an image for as little as $5. Social media video ad creators will typically have a higher rate, depending on how long you want your video to be. Combined packages with copy, design, research, and management will often cost upwards of $50.
How do I create a social media ad?
There are free tools like Canva that can help you create images for ads. However, if you want to save time and maximize return by using a professional to design your ad for you, you can find a specialist in social media ad creation on Fiverr.
How much does a social media ad creator cost?
Ad creators will charge different rates depending on their experience. You can expect to find new ad creators charging around $5-$10 on Fiverr for small jobs. If you want to hire a Top Rated or Pro Verified ad creator, you can expect to pay hundreds of dollars.
What should I look for in a social media ad creator?
I recommend reading the reviews to make sure the professional you're interested in is easy to communicate with and available to answer any questions. You should also check the gig page for previous social media ad examples, or ask to see them before you hire them, to make sure their design and/or writing style works for your business.