Sure, some website builders initially seem to be free… until all the hidden costs start to add up. The builders on this list are not only free, but they each offer something extra for your wedding website: event calendars, beautiful gallery layouts, and other small tools that make all the difference.
I'm married myself, so I know what pre-wedding stress feels like – and I'm going to share a few secrets to finding a simple, genuinely free wedding website builder. Without having to waste any of your very limited time, you'll be able to find a website builder that makes you both want to say, "I do."
The wedding countdown clock is already ticking, so let's dive right into our top five picks!
Our Top Picks for Free Wedding Website Builders
Wix – The all-around winner for custom wedding sites and integrated event management
SITE123 – Multi-language site building, great for multilingual couples
WordPress.com – A guestbook feature to allow guests to congratulate you online
Weebly – Modern-looking themes with add-on apps to make your site a vital part of your wedding plan
SimpleSite – A great choice for a super-quick, easy-to-build wedding website
What We Look For in the Best Wedding Website Builders
There are tons of website builders out there; some are great (and were tested and compared by my colleague), many are not. More importantly, you want your wedding website to be just as unique as your journey, and not all site builders offer the tools you need to really personalize it. To find the ones that give you exactly what you need, I checked for these key features:
Free plans: You'll be spending more than enough on the dress, the cake, the venue, the catering…so I've chosen website builders with good free plans (plus paid upgrades, in case you decide to go all out).
Wedding-specific templates: Weddings are unlike any other event, and your site should reflect that. Our top wedding site builders offer unique wedding templates – and they're mobile-friendly, which means that your site will look great on any device.
Ease of use: No one's busier than a bride-to-be! The website builders on this list are super-easy to use, giving you more time for all those other items on your to-do list.
Personalization: In a world of cookie-cutter wedding announcements, your new website should stand out. These site builders let you personalize your website with different colors, fonts, layouts, animations, page styles, and more.
Wedding-planning features: Why stop at announcing your wedding? With some extra add-ons, you can use your new website for RSVPs, gift registries, and a lot more.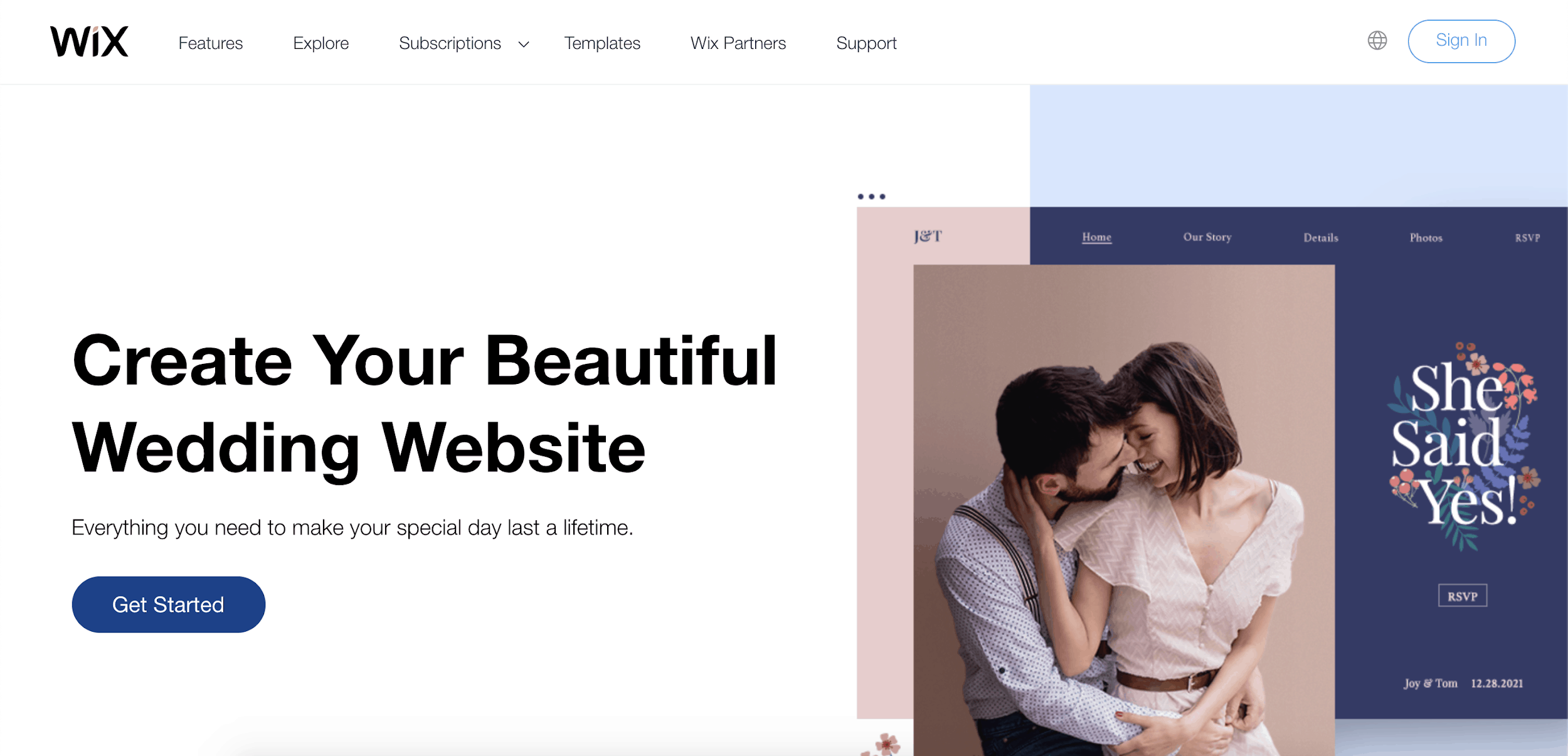 Wix is one of the biggest names in website builders, so it's no surprise that it's popular for wedding websites. With 25+ free wedding templates available, you'll definitely be able to find one that suits your "couple vibe" – whether that's lux, elegant, low-key, or fun.
Once you've selected a template, you can use Wix's easy drag-and-drop editor to personalize each and every element of your site. You can:
Choose from hundreds of fonts for any title, paragraph, or button.
Change the color palette to match your wedding theme colors
Pick your favorite gallery layout to showcase the best moments of your relationship.
Share your favorite videos with your wedding guests.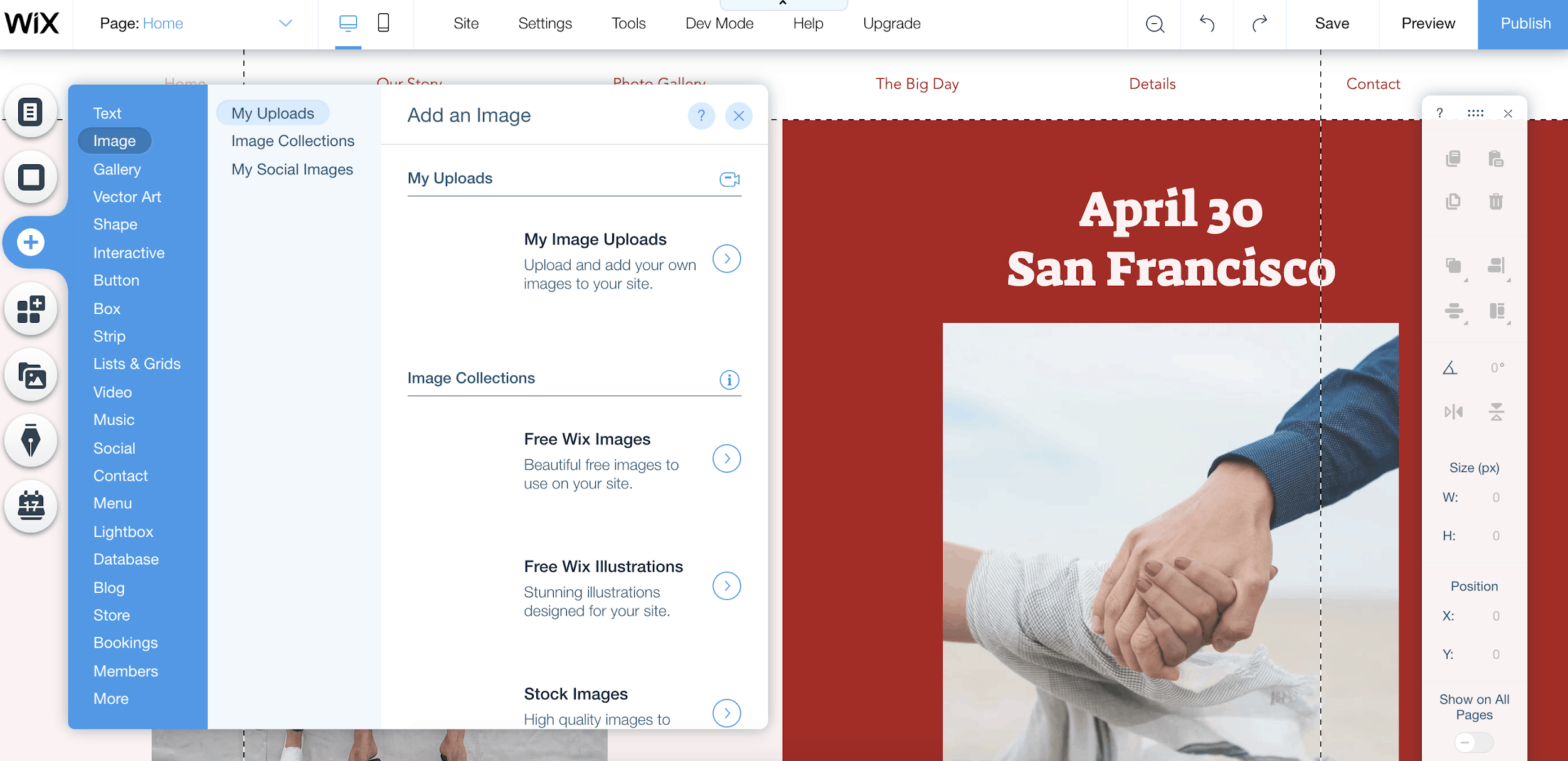 If you want a little more help, you can let Wix ADI (Artificial Design Intelligence) generate a website for you, based on your answers to a series of questions. This does mean less design freedom –  you won't be able to place the different elements wherever you want on the page – but you will be able to personalize your site within a professionally-designed structure.
Wix ADI also lets you automatically import images from your social media accounts. This awesome feature can save you a lot of time, letting you immediately feature the photos you love.
The Wix editor makes it easy to add new pages, change your website's navigation, upload photos, and more. Beyond these standard customizations, Wix really stands out for eye-catching features that make your wedding website shine:
Showcase your photos as a happy couple with dozens of image gallery styles: grids, geometric shapes, spheres, or sliders.
Use Wix Logo Maker to create a memorable wedding logo and seamlessly upload it to your site.
Create a button to link to your gift registry.
Add a contact form to collect RSVPs and guest questions.
Add password protection so that only invited guests can view your wedding website.
If you really want to take your site to the next level, you'll find all kinds of options in the Wix App Market. For example, Wix Events helps you plan your big day with automated email invites, event calendars, RSVP tracking, and more. (Many of these apps are free, but some are paid.)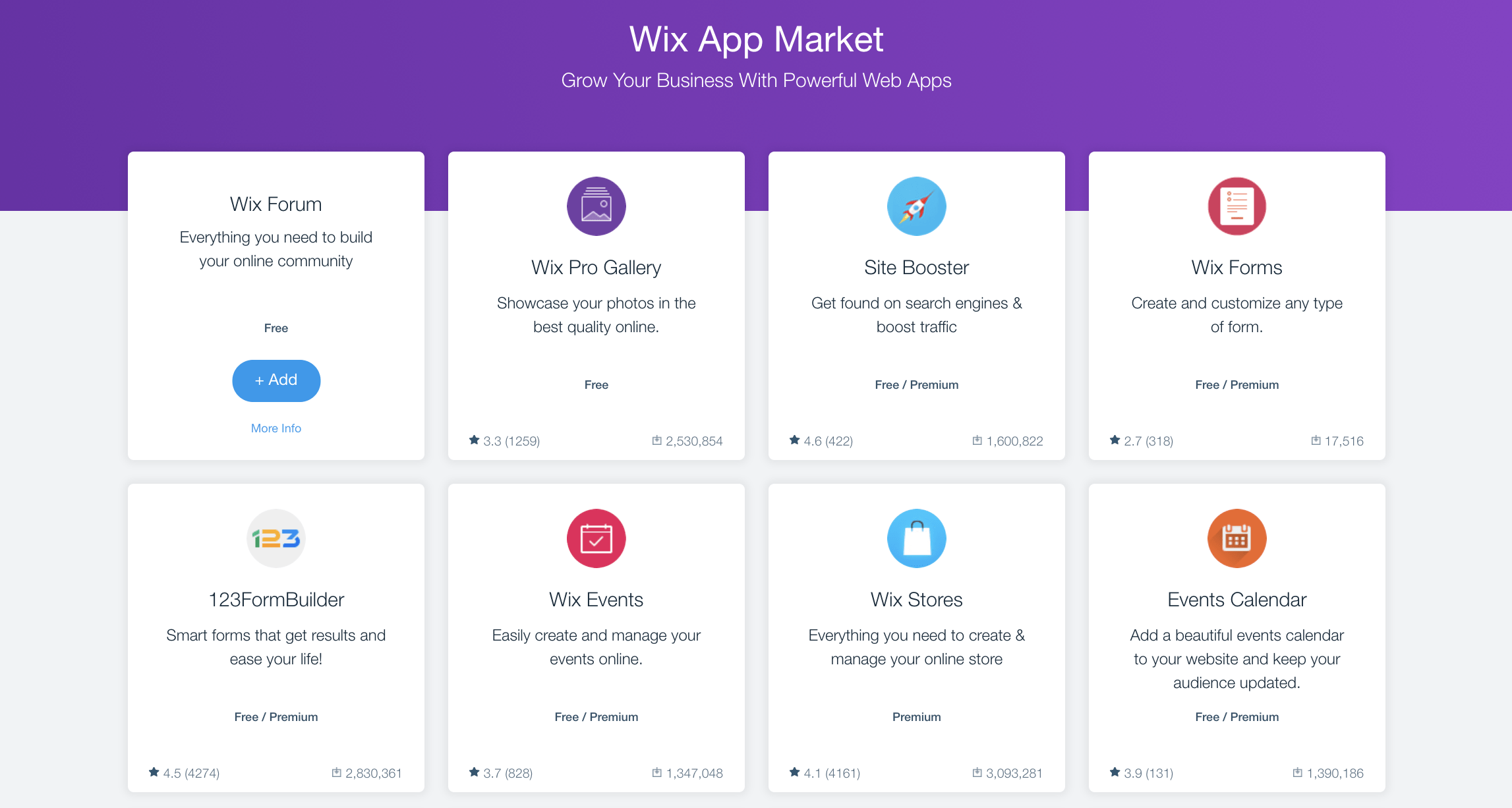 Wix's free plan includes 500 MB of storage and 500 MB of bandwidth – more than enough for most wedding announcement websites. However, if you want to remove Wix ads, get a custom domain, and have enough space to upload videos from your big day, you'll have to pay a small fee to upgrade your plan. (Get the latest info about Wix pricing here.)
The bottom line: Wix is not only incredibly easy to use, but also offers a ton of handy features for guest management, and other important wedding to-dos. You'll get a great-looking site and save yourself stress in the process.
If you want to learn more, read our full Wix review.
Beginner-friendly?
Yes
Number of free templates available
500+ in total; 25+ wedding-specific
Mobile-responsive?
Templates are mobile-friendly by default, and you can edit your mobile version separately to make sure it looks great on all devices.
What do I get if I upgrade to a paid plan?

Custom domain (without .wixsite.com)
Removal of Wix ads
More storage and bandwidth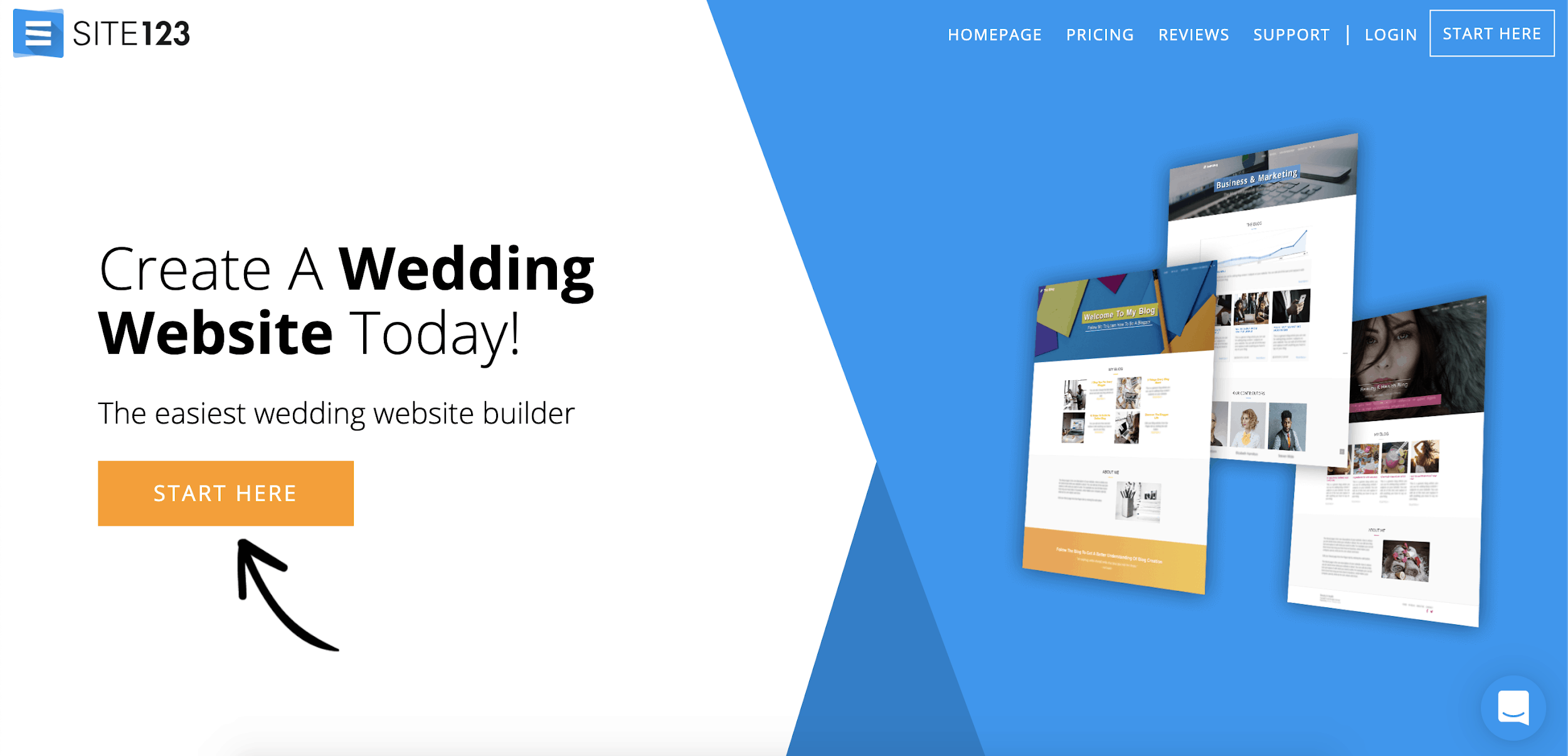 SITE123 has more than 100 website templates, though only a few are specifically wedding-themed.
With its clean, uncluttered interface, SITE123 is especially beginner-friendly. As soon as you open the editor, you'll get a mini "guided tour" that shows you exactly how to use the editing tools. Unlike Wix, however, SITE123 does not have a drag-and-drop interface. Instead, you can add different elements to the page by clicking them on the sidebar on the left of the editor.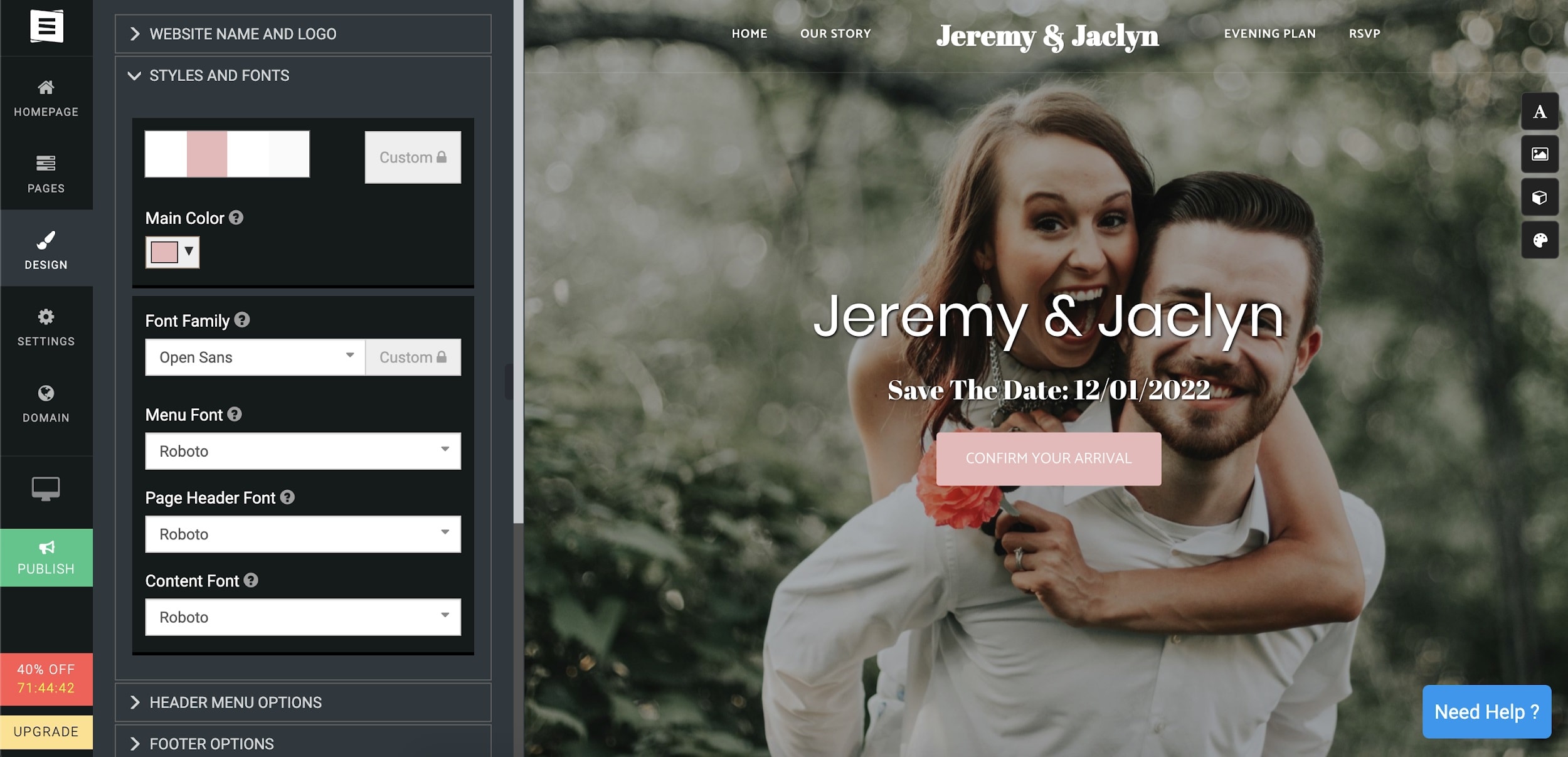 Just keep in mind that many of the finer editing options are reserved for paid users. For example, you'll have to pay in order to apply a custom color palette or access the full font library. Fortunately, the free templates do look good out of the box, so if there's one that really works for you as is, you won't have to pay a penny.
Even with the free plan, there are plenty of wedding-related features to love. You can:
Choose between a single-page website to conveniently display all your information in one place, or a multi-page website that includes special features and surprises for your guests.
Add a gallery page to share your engagement/event photos using attractive grids or sliding carousels. You can choose if you want to display square or rounded images.
Use the contact form to collect RSVPs and have them sent directly to your email address.
Set your website to auto-translate to any language.
SITE123's free plan includes 500MB storage and 1GB bandwidth, which should be plenty for a classy and stylish wedding announcement site.
The bottom line: Compared to other website builders on this list, SITE123 offers fewer personalization options in the free plan. But having fewer choices isn't necessarily a bad thing when the templates look so good, and the three-step builder is so easy to use.
Check out our expert SITE123 review to see whether it's right for you.
Beginner-friendly?
Yes
Number of free templates available
100+ in total; just a few wedding-specific
Mobile-responsive?
Yes
What do I get if I upgrade to a paid plan?

Custom domain (without .site123.me)
Custom color palettes, more fonts, and more advanced website structures
Removal of the SITE123 branding box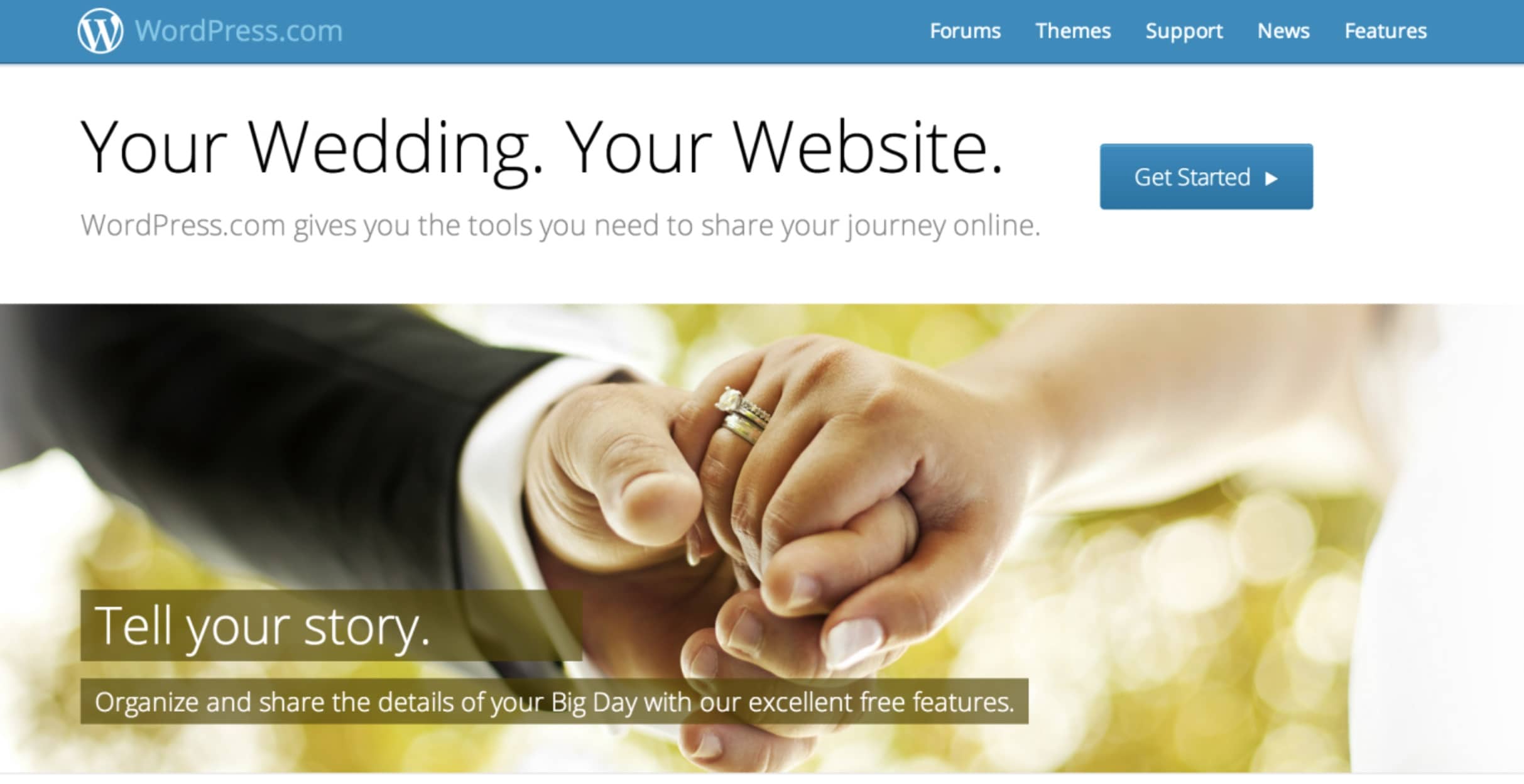 Since WordPress.com started out as a blogging platform, it offers the best tools for you to share your love story with the world or keep your friends and family updated about the wedding preparations. Compared to the other site builders on this list, it gives you even more power and flexibility to customize your site.
WordPress.com has 100+ free themes available. Only a few of them are dedicated to weddings specifically, but you can customize any theme to fit your wedding theme and personal taste. You can edit just about every design element – from color palettes to fonts and gallery layouts.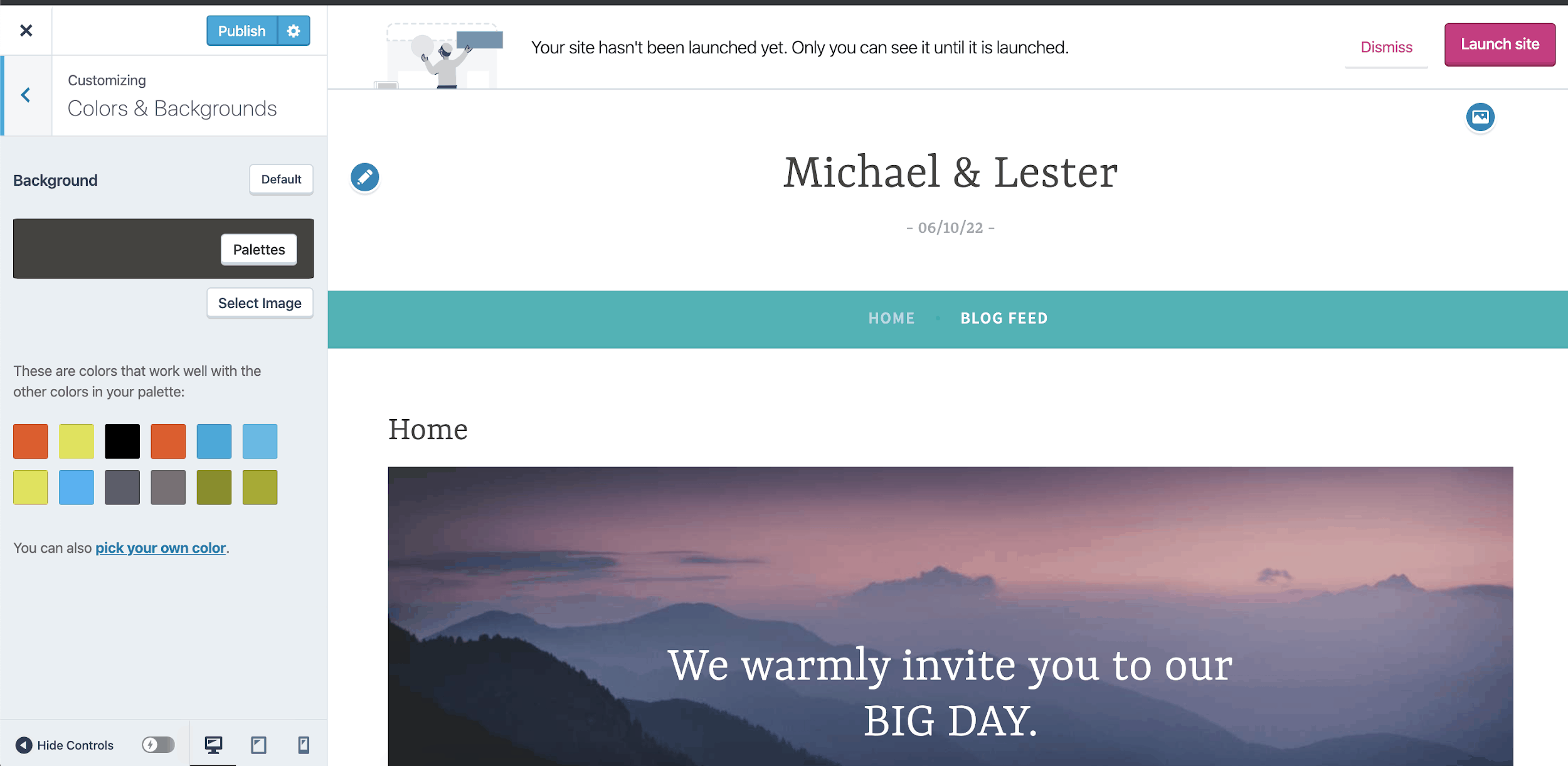 And since WordPress.com is so loaded with features, there's almost no limit to the perks available for your wedding website. You can, of course, add your own media, edit your site navigation, and add new pages, but that's just the beginning. You can also:
Add a guestbook page for friends and family to leave well wishes.
Allow guests to sign up for email notifications about your big day.
Customize a contact form to collect RSVPs from guests.
Add a map or weather widget to provide helpful information about the venue or any special plans in case of rain (even though it will NOT rain!!).
Create a wedding logo through WordPress.com's partnership with Looka. (Click here to learn how Looka works.)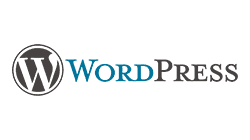 Get WordPress Premium for Only $8.00
This offer is valid when you sign up for the annual plan
2141 users used this coupon!
WordPress.com's free plan gives you access to a wide variety of themes, plus 3GB of storage. If you want wedding-specific templates and/or more advanced customization options, it would be worth paying the low monthly price for an upgraded subscription.
The bottom line: WordPress.com is one of the most flexible and customizable website builders, making it perfect for couples who don't want to make any compromises on aesthetics or functionality. It's not quite as beginner-friendly as other site builders on this list, so be prepared to spend some time learning the platform.
Find out more in our in-depthWordPress.com review.
Beginner-friendly?
Yes
Number of free themes available
100+ in total; just a few wedding-specific
Mobile-responsive?
Varies by individual theme, but the majority are.
What do I get if I upgrade to a paid plan?

Custom domain (without .wordpress.com)
Removal of WordPress.com banner
More storage
Email and forum support
Advanced design customizations and plug-ins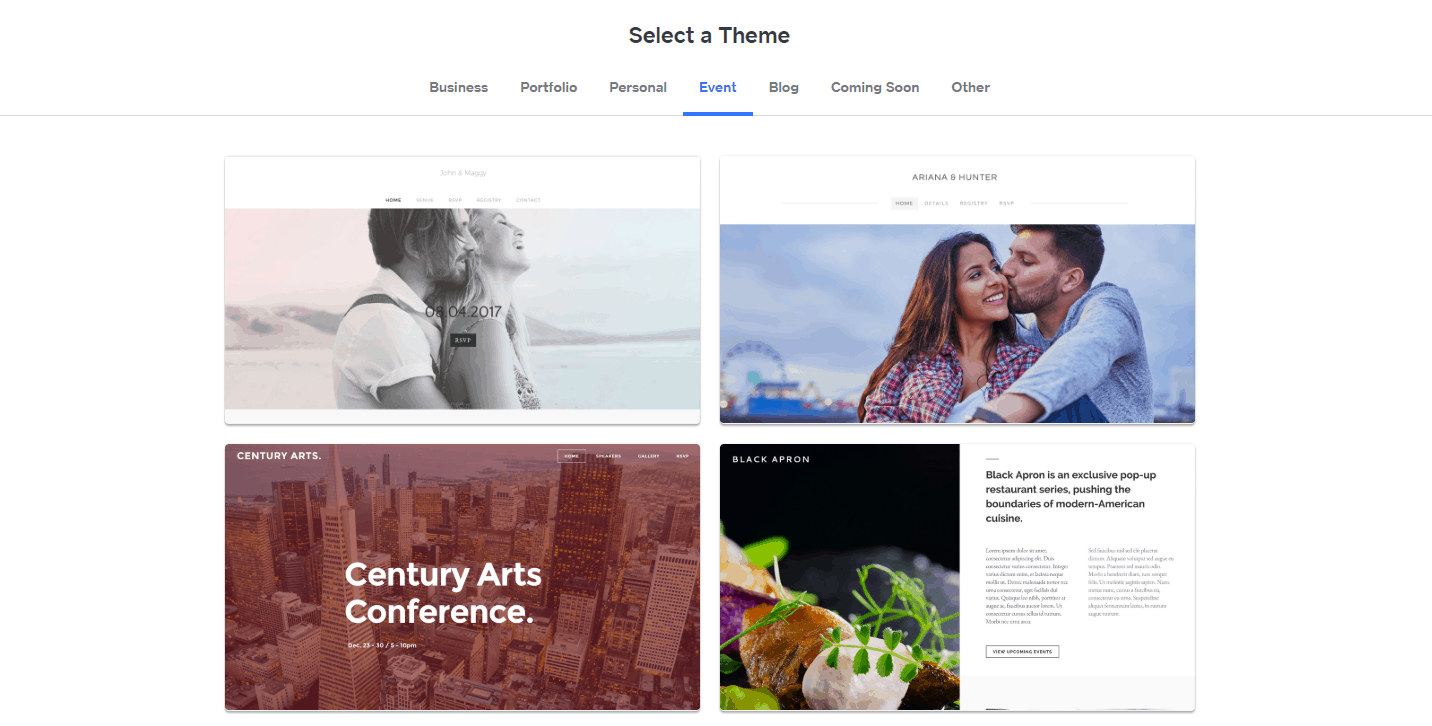 Weebly feels like a combination of the first two site builders on this list, offering the design flexibility of Wix along with the ease-of-use of SITE123. You can personalize your template of choice by changing the color scheme, choosing your own fonts, and even switching between full-width and a narrower layout of the site.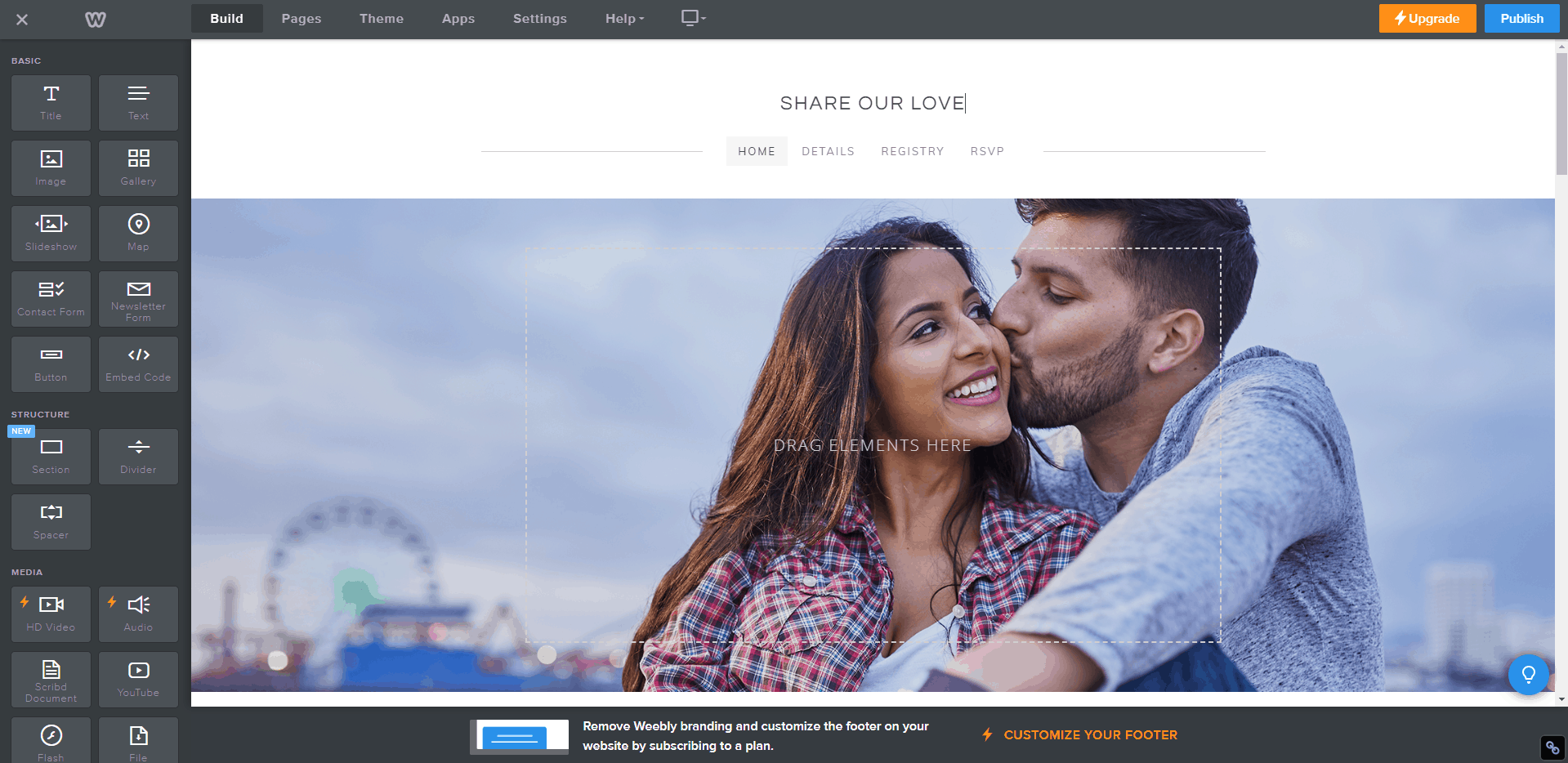 There are 60+ free website themes, and most of the design options are available to free users.To get the most out of your wedding website, you can:
Add an RSVP form to manage your guest list and get email updates.
Use a survey form to get guest opinions on meal choices, or gather info to make a fun trivia game for the reception.
Create a guestbook for loved ones to leave comments before or after your big day.
Feature a gallery or slideshow to show off your happy couple pictures.
To add even more functionality to your site, don't miss the Weebly App Center. You can make use of a variety of apps: Stay22 for hotel booking, Countdown to show the time left until the big day, or Automailer for hassle-free email updates to the wedding party (the last one is a paid app).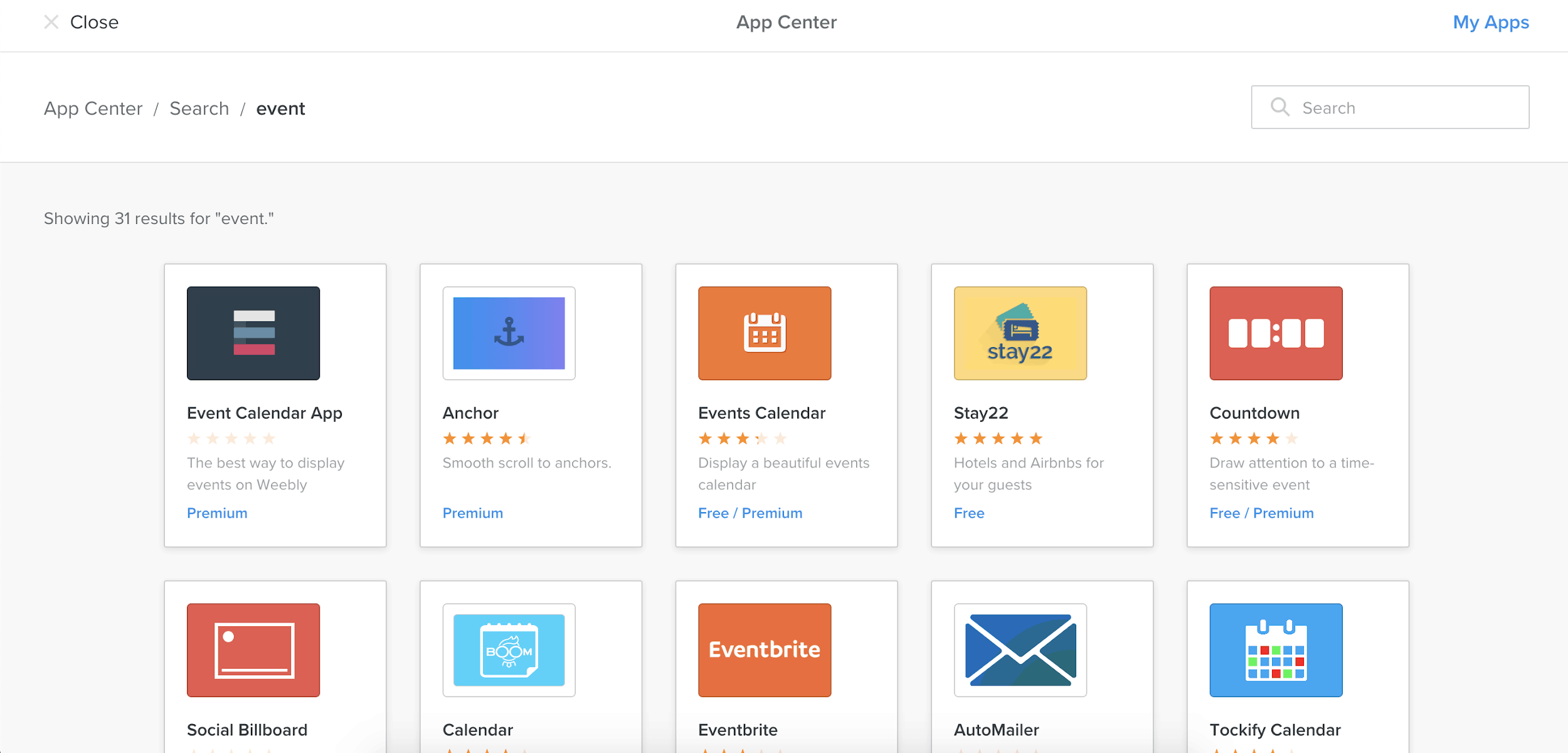 With Weebly's free plan, you'll get 500MB of storage, which should do nicely for your wedding website. However, if you'd rather not display your gorgeous engagement photos next to Weebly branding, you'll want to upgrade to a monthly subscription.
The bottom line: Weebly is very user-friendly and offers pretty much everything you'd want for a wedding website. It's not quite as customizable or robust as Wix or WordPress.com, but it offers more flexibility than SITE123. And the Weebly App Center does add some great functionality.
Explore Weebly more by jumping over to our expert Weebly review.
Beginner-friendly?
Yes
Number of free themes available
60+ themes in total; just a few wedding-specific
Mobile-responsive?
Yes
What do I get if I upgrade to a paid plan?

Custom domain
Removal of Weebly branding/ads
Unlimited storage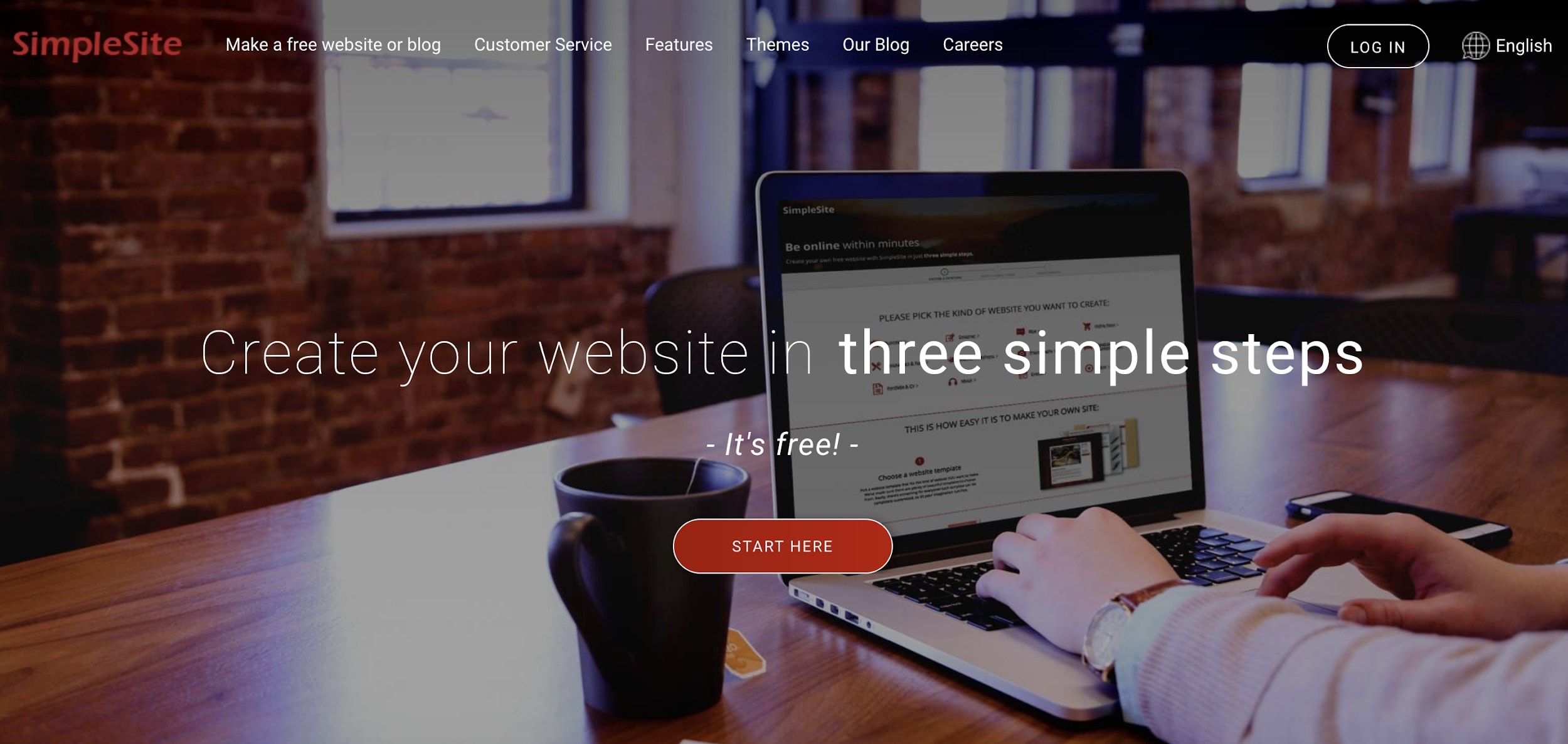 SimpleSite works completely differently from any other site builder on this list. While the other services offer a library of templates for you to browse, or AI building like Wix ADI, SimpleSite…doesn't do either of those things. You just enter your site name and upload an image. And poof – you have a website.
This design process definitely restricts your personalization options, but the upside is that it's very easy and very fast. Anyone could use this platform to create a wedding website in just a few minutes.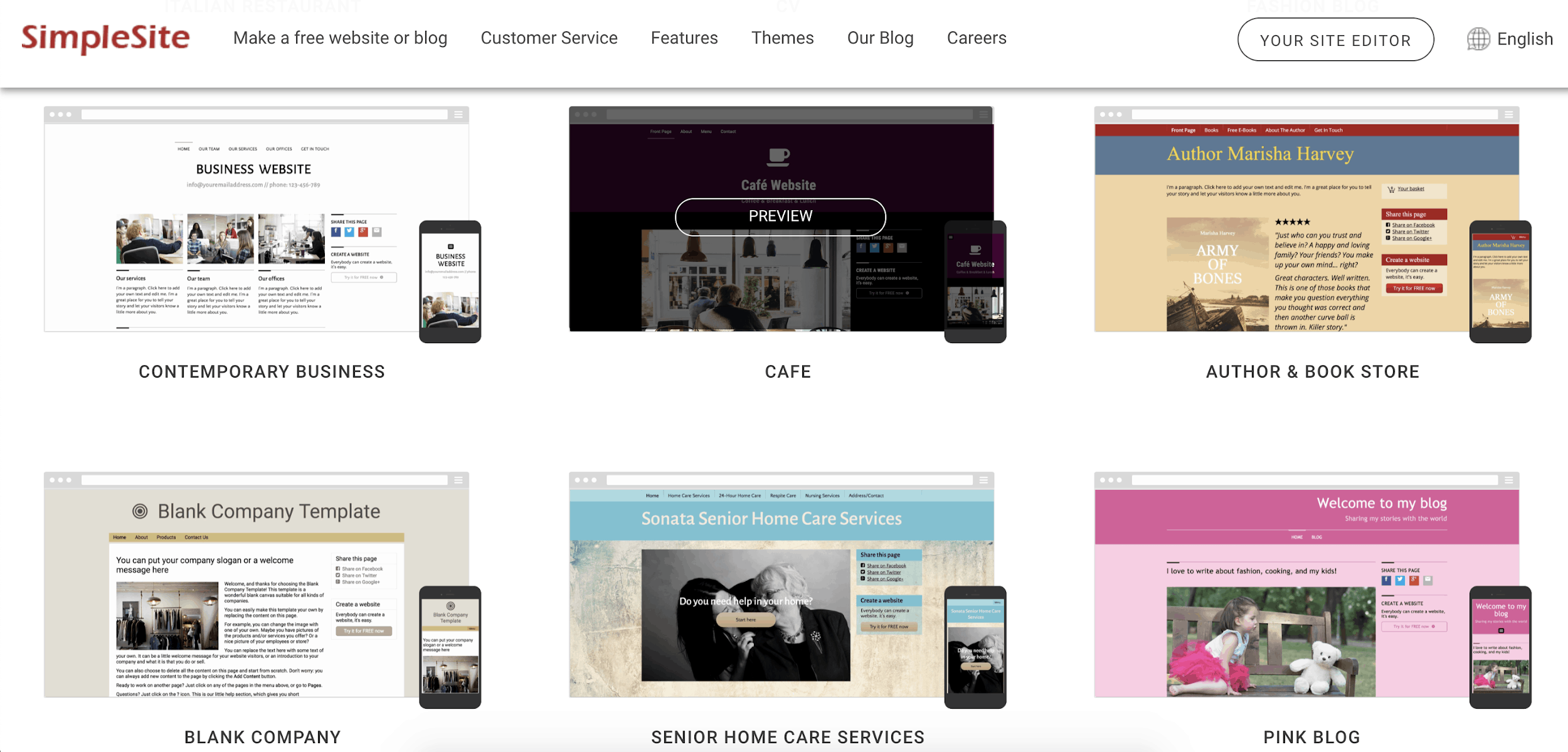 As long as you don't mind SimpleSite's limited customization possibilities, there are a few notable features for a wedding site:
You can choose from creative animated backgrounds, like snowflakes, fireflies, or clouds.
You can enable comments on pages, so that guests can leave notes of congratulations or ask questions about the wedding schedule.
SimpleSite's website builder interface is available in 17 languages. So if you're more comfortable in Greek or Russian than English, you won't have any trouble creating your wedding website. (And you won't have to rely on Google Translate!)
The SimpleSite free plan includes 15 website pages in total, which will be more than enough for a full-featured wedding site.
The bottom line: True to its name, SimpleSite is incredibly easy to use…and that means very limited editing options. With no template library and few editing options, this website builder gives you the bare minimum for a clean, attractive site. The big plus is that you can have your site up and running in no time.
Still not sure about SimpleSite? Read more in our expert SimpleSite review.
Beginner-friendly?
Yes
Number of free templates available
No template library, but around 15 different layouts depending on the startup options you choose
Mobile-responsive?
Yes
What do I get if I upgrade to a paid plan?

Custom domain (without .simplesite.com)
Removal of SimpleSite ads
More fonts and colors
Unlimited website pages
Start Building Your Perfect Wedding Website Today
So there you have them – my top five recommendations for free website builders to create your perfect wedding announcement site. Whether you're looking for a basic online wedding announcement or a more dynamic site to help with event planning, you'll find the right website builder for you somewhere on this list.
As long as you're okay with ads and generic domains, each of these website builders is 100% free to use. On the other hand, the prices for premium plans start so low that you might want to go ahead and upgrade. Removing website builder ads will definitely class up your site, and it's great to have a unique, memorable domain for your one-of-a-kind day.
Whether free or paid, here's what I would recommend:
If you want a website builder that's great for novices but also offers handy features that can take off some of the stress off planning your big day, go with Wix. The beautiful templates, drag-and-drop builder, and Wix App Market make this platform both easy and powerful, a winning combination any day.
If you want the most robust customizations (and are willing to spend some time perfecting your wedding site), you really can't beat WordPress.com.
If you do decide to purchase a premium plan, all of these website builders offer monthly, annual, or biennial subscriptions, with at least a 14-day money-back guarantee.
I've thrown a lot of information at you, so here's a quick summary of the pros and cons of each free plan.
| | | |
| --- | --- | --- |
| | Biggest Pro | Biggest Con |
| Wix | Wix has the most user-friendly advanced editing interface, the largest variety of wedding-specific templates, and the most robust app market (both free and paid). | Wix sites cannot be transferred off the Wix platform. If you change your mind before the big day, you'll have to make a new website elsewhere. |
| SITE123 | You can have your site up and running in minutes, even if you're a complete beginner. | Many of the most creative design options are reserved for paid users. |
| Weebly | Especially if you have some web development experience, you can make almost unlimited design changes to your wedding site. | The learning curve is a bit longer than with other website builders, so you'll have to dedicate more time to creating your site. |
| WordPress.com | The templates are stylish and modern, and most of the website design options are open to free users. | The themes and app center are a bit more limited than what you'll find on platforms like Wix. |
| SimpleSite | You can design your website in 17 languages and finish in minutes. | The websites tend to look somewhat generic and outdated, and you'll have very few design options. |
Your to-do list will only get longer as the big day approaches…so the sooner you check "announcement website" off that list, the better! Use any website builder on this list, and your site can be publish-ready today.