You're getting married! Congratulations! Now it's time to let the world know about your big day. If you're like many in today's age, you want to put up a stunning wedding announcement website so people can easily access all the information about your ceremony.
Of course, there are many places where you can build your website, so which is best? The best website builders will allow you to create an amazing wedding announcement website equipped with all the tools and features needed to inform your guests about your big day and provide the info they need to plan ahead.
Wix
Wix gives you a pair of options for creating a stunning wedding announcement online. You can build your own website using their proprietary drag-and-drop builder, or you can use one of their pre-configured weddings or celebrations templates.
Wix even has multiple webpages dedicated to helping you design a wedding announcement page. Examples of available templates include Upcoming Wedding, Floral Wedding Invitation, and Wedding RSVP.
If you choose to build your webpage, you can add apps from the App Market to customize it.
Wix Events helps you create and plan your wedding
Wix Photo Albums allows you to put up engagement photos or event photos after the wedding
Wix Weather can keep your guests informed of expected weather on the big day
For the best results, you probably want to stick with the Unlimited plan or higher. The Connect Domain webpage has only 500MB of storage and 1GB of bandwidth. It also forces ads on your webpage. The Combo plan is a bit better, but you're still limited in storage and bandwidth.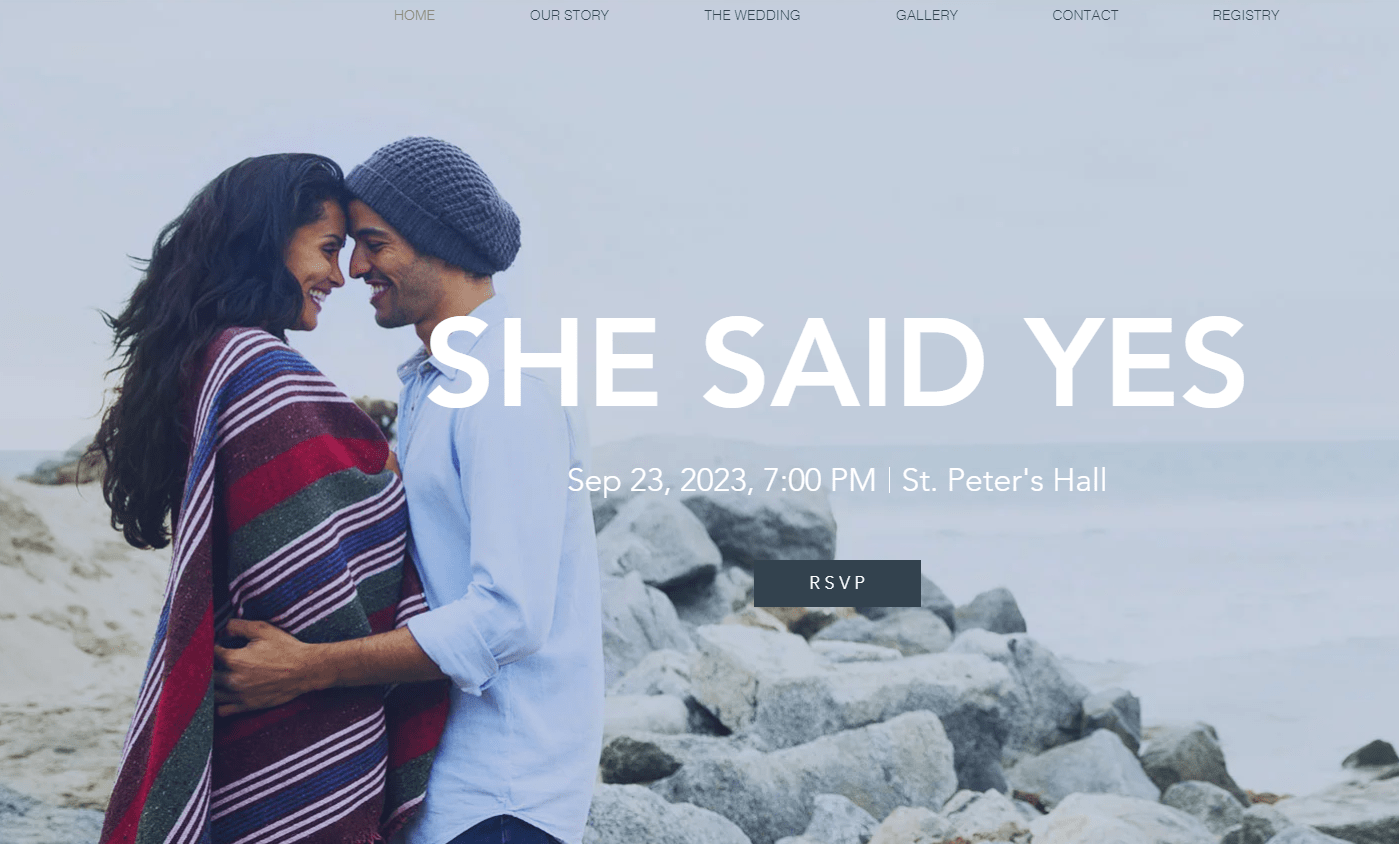 Site123
Site123 is another simple website builder that gives you the ability to create a website. Like Wix, they have some templates for creating wedding announcements, but their library of templates is nowhere near as robust.
However, if you choose to build using Site123, you do get the following features that can help you create your website:
Schedule booking to let guests RSVP from your website
Image galleries to add photos of your engagement and wedding
Personal blog to keep your guests updated about the upcoming wedding and make any special announcements
Responsive web design to let your friends and family access your website from their mobile
What I like best about Site123 is their multilingual option. If you have family in other countries or who are non-native English speakers, you can automatically translate your webpage to other languages to keep them informed.
You want to go all out for this website, so pick the Premium plan over the free. Otherwise, you won't have enough storage space or bandwidth.
WordPress.com
If you're looking for ideas for wedding webpage templates, then you should at least give WordPress a look. WordPress easily has the most robust selection of wedding announcement templates in the world. They offer both free and premium templates with fantastic features that include:
RSVP webpages
Event planner webpages
Gift registry section
Wedding party sections
Venue and event schedules
Photo and video galleries
Responsive design
The downside to using WordPress is that it does involve more hands-on creation and design than most other website builders. Even with the templates, you'll have to do some configuring. There are no drag-and-drop builders with WordPress.
Also, unless you have a cheap Premium template or find a free template that works for you, your best bet would be to use the Premium plan for your website. The Free plan is limited in templates and design customization. The Personal plan does not include premium templates. You have unlimited premium templates with the Premium plan.
Weebly
Weebly is similar to Wix in that you can create your wedding webpage using either a drag-and-drop editor or via one of their customizable wedding announcement templates. Weebly also allows you to have beautiful video backgrounds where the happy couple can be featured along with things such as the wedding venue.
Weebly also offers several helpful apps for your wedding webpage. Below are a few of the most beneficial:
Stay22: Give your guests options for hotels and Airbnb
Countdown Timer: Give a countdown timer to the big day
Bablic Translation: Translates your website for non-English-speaking guests
Form: Create custom forms for guests to register or RSVP
Again, forego the free plan on Weebly due to storage and ad concerns. However, with unlimited storage and bandwidth, the starter plan is more than enough to handle your website needs.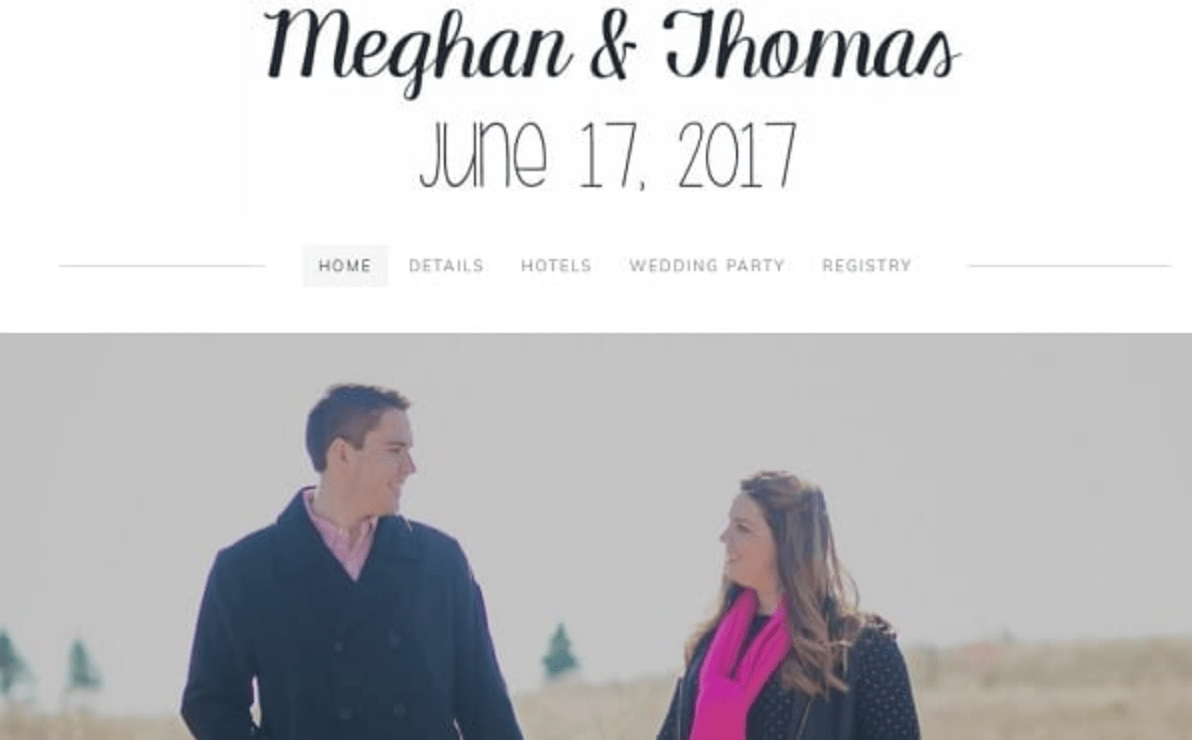 SimpleSite
SimpleSite does offer the ability to create website announcement webpages, but out of all the web builders on this list, they are the most limited regarding design features. They offer customizable templates, but the selection is lacking compared with other builders, and the templates may be a little too simple for the tastes of some.
That said, there are a few features that may prove advantageous to those who prefer to design their website or find a template that suits them. First, you get unlimited images and unlimited video minutes on SimpleSite. This is perfect for creating a media-rich wedding webpage.
Next, you can sell products on your website. If you plan on using a venue that requires an advance purchase by your guests, or you would like to give them a simple way to send you a gift through your website, you can list up to five store products on it.
Go with the Pro plan if you use SimpleSite. The free plan doesn't offer many of the features I previously mentioned.
Jimdo
Jimdo is one of those website builders that make up for its lack of certain features with some fantastic tutorials. While they do offer an intuitive website builder and wedding announcement templates, they don't offer anything in the way of app or plug-in libraries.
What they do offer is some extensive support in regard to adding features to your website. They provide a complete tutorial webpage on how to create your website, including how to add the following features:
Story webpage
Registry
Hotel and travel info webpage
Event details
RSVP
Wedding and engagement photo galleries
They also offer tutorials on how to install widgets onto your website to add additional functionality such as Pinterest boards, social media sharing, photo sharing, and more.
The downside is that adding many of these features requires a more hands-on process than what would be required for other website builders. However, Jimdo does a great job of walking you through it all. Overall, they provide more support for building a wedding announcement website than any other web builder listed here.
If you choose Jimdo, you'll be fine to stick with their Pro plan. The free plan is too basic and doesn't have enough storage. You can get a year of Pro service for about the cost of a tux rental.
Start the Next Chapter of Your Life Off Right With a Stunning Wedding Website
You've got a lot on your plate in preparing for your wedding, so why not make things easy on yourself by creating a fantastic wedding announcement website? That way, your guests will be fully informed about the upcoming event, and you can give them the tools they need to respond to invites, pick their spot on the gift registry, and make plans for attending.
When you build a wedding announcement website using one of the builders above, you save time and stress which will allow you to focus more on planning and executing the perfect wedding.