Several free website builders will let you design a decent site – but the one thing none of these builders will give you is a custom domain. If you want your site to look unique (and keep in tone with your wedding), you need a paid plan. As far as I'm concerned, Squarespace is my absolute favorite. It has the best-looking templates around, and even its cheapest plan includes a free custom domain plus unlimited storage.
Squarespace has a 14-day free trial
, so you can test all of its features before you buy.
Sure, some website builders initially seem to be free… until all the hidden costs start to add up. The builders on this list are not only free, but they each offer something extra for your wedding website: online RSVPs, event calendars, beautiful gallery layouts, and other small tools that make all the difference.
I'm married myself, so I know what pre-wedding stress feels like – and I'm going to share a few secrets to finding a simple, genuinely free wedding website builder. Without having to waste any of your very limited time, you'll be able to find a website builder that makes you both want to say, "I do."
The wedding countdown clock is already ticking, so let's dive right into our top six five picks!
Short on Time? Here Are the Best Wedding Website Builders in 2022:
Wix –

The all-around winner for custom wedding sites and integrated event management.

Squarespace –

An intuitive builder for visually striking designs.

Zyro –

Beginner-friendly builder with helpful AI features for your wedding site.
What We Look For in the Best Wedding Website Builders
There are tons of website builders out there; some are great, but many more are not. You want your wedding website to be just as unique as your journey, and not all site builders offer the tools you need to really personalize it. To find the ones that give you exactly what you need, I tested popular website builders for weddings for these key features:
Free plans. You'll be spending more than enough on the dress, the cake, the venue, the catering…so I've only chosen website builders with good free plans (plus paid upgrades, in case you decide to go all out).
Wedding-specific templates. Weddings are unlike any other event, and your site should reflect that. Our top wedding site builders offer unique wedding templates – and they're mobile-friendly, which means that your site will look great on any device.
Ease of use. No one's busier than

a couple

in the throes of wedding planning

! The website builders on this list are super-easy to use, giving you more time for all the other items on your to-do list.
Personalization. In a world of cookie-cutter wedding announcements, your new website should stand out. These site builders let you personalize your website with different colors, fonts, layouts, animations, page styles, and more.
Wedding-planning features. Why stop at announcing your wedding? With some extra add-ons, you can use your new website for RSVPs, gift registries, and a lot more.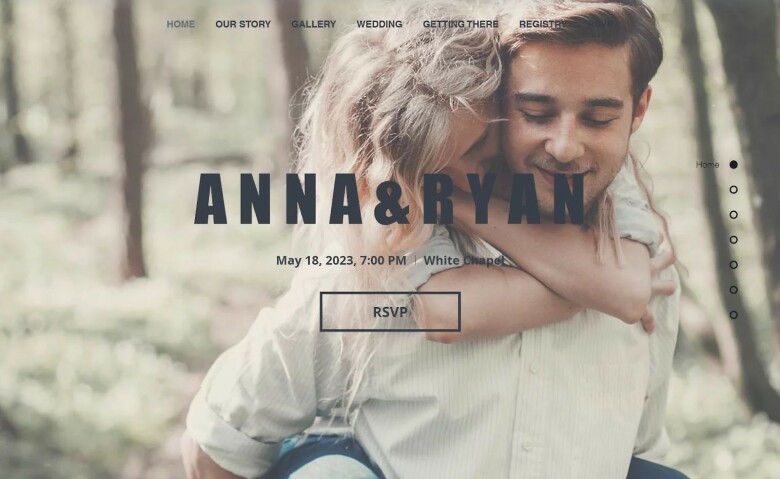 When it comes to website builders, Wix is one of the biggest names, so it's no surprise that it's popular for wedding websites. With 25+ free wedding templates available, you'll definitely be able to find one that suits your "couple vibe" – whether that's lux, elegant, low-key, or fun.
Once you've selected a template, you can use Wix's easy drag-and-drop editor to personalize each and every element of your site. It's easy to add new pages, edit your website's navigation, upload photos, videos, and more. Naturally, you can also change the color palette to match your wedding theme and choose from hundreds of fonts for headings, text, and buttons.
If you really want to take your site to the next level, you'll find all kinds of options in the Wix App Market. For example, Wix Events helps you plan your big day with automated email invites that match your website's theme, event calendars, RSVP tracking, and more. (Many of these apps are free, but some are paid.)
Wix's free plan includes 500 MB of storage and 500 MB of bandwidth – more than enough for most wedding announcement websites. However, if you want to remove Wix ads, get a custom domain, and have enough space to upload videos from your big day, you'll have to pay a small fee to upgrade your plan.
Features
Pro gallery options.

Highlight your favorite photos/videos as a happy couple with dozens of fully responsive gallery

 styles: grids, geometric shapes, spheres, or sliders.

Built-in tools let you enhance photo contrast, color, and sharpness

Custom wedding logo. Use the Wix Logo Maker to 

create a memorable wedding logo

and seamlessly upload it to your site

.
Add a gift registry.

Most Wix wedding templates have a registry section built in. It's easy to add one or more gift registries, with buttons that link to each registry. You can also add store logos and link to your registries that way.

Password protection. Add password protection so that only invited guests can view your wedding website.
If you want to learn more, read our Wix review.
Beginner friendly
Yes
Free templates
800+ in total; 25+ wedding-specific
Mobile Responsive?
Templates are mobile-friendly by default, and you can edit your mobile version separately to make sure it looks great on all devices.
Starting Price

$

16.00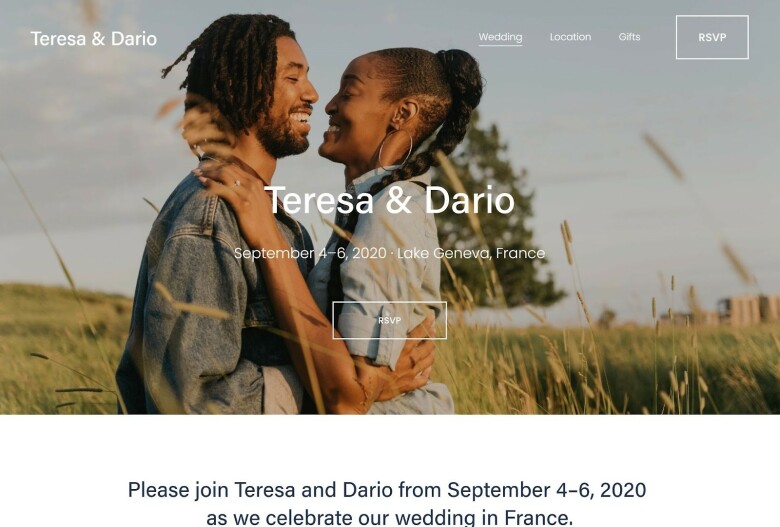 If you're looking for a strikingly simple and moving website, there's no better choice than Squarespace. Squarespace offers over 140 high-quality, award-winning templates. There are only 15 in the wedding category, but the editor gives you enough creative freedom to turn any template into a wonderful wedding website.
Squarespace places its focus on big, attractive images. Everything from the text to the interactive elements complements the visual aspects and makes them "pop." So it's perfect if you want to showcase your engagement photos to the world.
While Squarespace might not be as flexible as Wix, its grid editor gives you plenty of customization tools, making it easy to create a site that looks good and reflects your style. You'll also be able to include things like RSVPs, an FAQ, and a page for event details.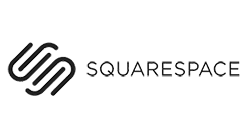 Get 25 % Off Squarespace's Personal Plan
Save 25 % when you sign up for Squarespace's annual plan
561 users used this coupon!
Features
Unlimited storage space.

Upload your most cherished photos and videos without fear of running out of space.

Showcase options.

Tell your story using image slideshows, videos, animations, and interactive elements.

Amazing image editor.

Your favorite photos aren't always from a professional photoshoot. Ensure that all your memories look great with the fantastic built-in image editor.

Integrated registry. 

It's easy to create a customized cash registry or integrate one or more traditional gift registries. You can even add a Zola registry block to allow guests to browse and purchase gifts from your website.
Get more info in
our expert Squarespace review
Beginner friendly

Mostly. A small learning curve.

Free Templates

140+, 15 wedding specific designs

Mobile Responsive

Yes

Starting Price

$

14.00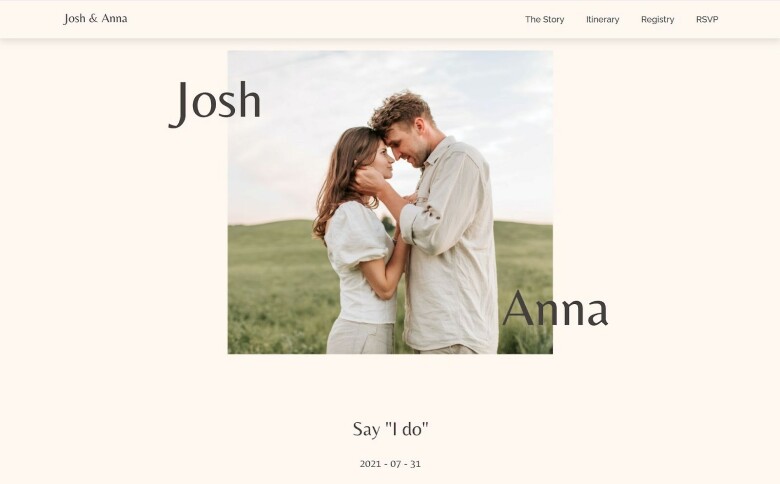 If you're completely at a loss for where to start, Zyro might be the best builder for you. Thanks to a simple drag-and-drop editor and tons of AI integrations, Zyro is remarkably simple to use.
To build a site using Zyro, all you have to do is choose from the 100+ available templates (7 of which are wedding-specific) and start editing. If you want to add content to the page, simply drag it from the menu and place it wherever you want.
There's also Zyro's one big selling point: the AI functionalities. Sure, you might not need an AI-designed logo for your wedding or a custom tagline, but there's plenty that you can use. The AI content-generator can help you create compelling announcements. And the AI heatmap can tell you which parts of your site capture the eyes.
For a simple, engaging, and beautiful wedding announcement website, Zyro can be an amazing tool. 
Features
AI content generator.

 Zyro's AI Writer can help you with anything – from an announcement to what to include in your event information, it's

there for you anytime you're just out of ideas.

Unlimited bandwidth and storage.

Upload any kind of content to your heart's content. You won't have to worry about running out of space.

Maps integration.

 Show everyone exactly where the wedding ceremony and other event venues will be, as well as how to get there.

Useful apps.

You can use apps to add guest-friendly features like a detailed event calendar, a music player, and more.
Learn more in our in-depth Zyro review.
Beginner Friendly

Yes, super beginner-friendly

Number of free templates available

152 in total, 7 wedding-specific designs

Mobile Responsive
Yes
Starting Price

$

2.61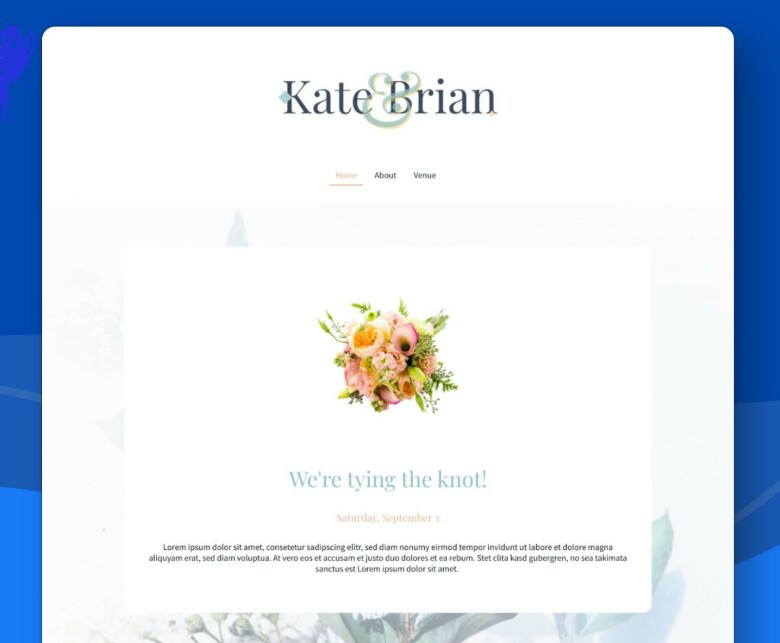 If you're looking for a simple wedding site, IONOS could be a good fit. Its MyWebsite Now is one of the easiest builders out there. True, you'll trade design flexibility and advanced features for convenience, speed, and price, but the end result is still a wedding announcement you can feel good about.
While there's just one wedding-specific template, you can personalize the design with pre-set layouts, color palettes, and font pairs to make it suit your wedding theme. Adding pages, sections, and galleries is all done with a click. 
If you want more choice, design flexibility, and features with IONOS, you can upgrade your builder.  An upgrade to MyWebsite Creator gets you advanced options, including custom color themes, multi-language websites, social media integration, and more – and it's still an incredibly affordable option.
Features
Automatic image optimization.

IONOS automatically optimizes the photos you upload so they always look their best.,

Personal website domain.

Choose your free custom wedding website domain, one that's memorable and easy for guests to find. It should include both your names.

Online RSVPs.

Your plan includes an email address that matches your website's domain. You'll be notified each time a guest responds so you're always up to date.

Individual support.

Even with a user-friendly builder you may have questions, especially if your wedding announcement is your first website. Having a personal support consultant (available during business hours) is a big plus.
Read our expert IONOS review to learn more.
Beginner Friendly

Yes

Free Templates

18 in total, 1 wedding specific

Mobile Responsive
Yes
Starting Price

$

1.00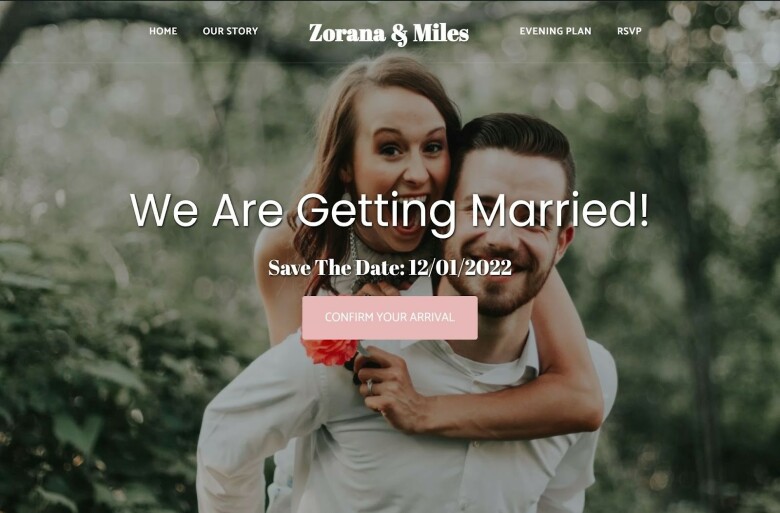 SITE123 has more than 100 website templates, though only a few are specifically wedding-themed. While some of the finer editing options are reserved for paid users, even the free plan has plenty of wedding-related features to love.
With its clean, uncluttered interface, SITE123 is especially beginner-friendly. As soon as you open the editor, you'll get a mini "guided tour" that shows you exactly how to use the editing tools. Unlike Wix, however, SITE123 has a point-and-click editor rather than a drag-and-drop editor.
Compared to other website builders on this list, SITE123's free plan offers fewer personalization options. But having fewer choices isn't necessarily a bad thing – especially when the templates look so good and the three-step builder makes it so easy to build a classy and stylish online wedding announcement.
Features
One-page or multi-page website. Choose between a single-page website design to conveniently display all your wedding information,

or a multi-page website that can include special features and surprises for your guests.

Photo gallery options.

Add a gallery page to share your engagement/event photos using attractive grids or sliding carousels. You can also choose if you want to display square or rounded images.

Online RSVPs.

Couples can customize the contact

 form

and use it

to collect RSVPs.

SITE123 will send responses

directly to your email address

, making it easy to manage your guest list.

Multilingual wedding website

. With a paid plan, you can set your website to auto-translate any

 language, including right to left languages.
Is SITE123 right for you? See our expert review for more.
Beginner Friendly
Yes
Free Templates
180+ in total; just a few wedding-specific
Mobile responsive
Yes
Starting price

$

12.80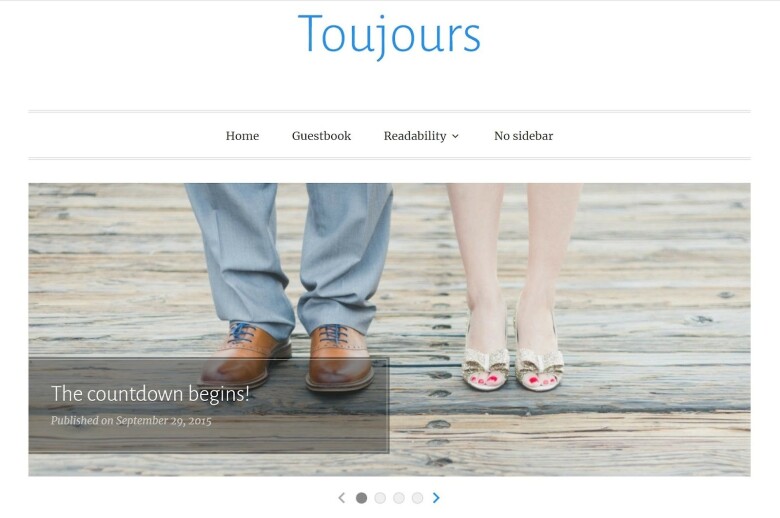 WordPress.com's strong blogging platform offers the best tools for you to share your love story with the world, or keep your friends and family updated about the wedding preparations. Compared to the other site builders on this list, it gives you even more power and flexibility to customize your site.
WordPress.com has 100+ free themes available. Only a few of them are dedicated to weddings specifically, but you can customize any of these themes to fit your aesthetic and personal taste. You can edit just about every design element – from color palettes to fonts and gallery layouts.
And since WordPress.com is so loaded with features, there's almost no limit to the perks available for your wedding website. You can add your own media, edit your site navigation, and create new pages. Still, it's not as beginner-friendly as other site builders on this list, so be prepared to spend some time learning the platform.
WordPress.com's free plan gives you access to a wide variety of themes, plus 3GB of storage. If you want wedding-specific templates and/or more advanced customization options, it would be worth paying the low monthly price for an upgraded subscription.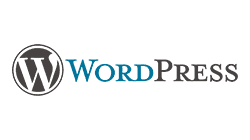 Get WordPress Premium for Only $8.00
This offer is valid when you sign up for the annual plan
2141 users used this coupon!
Features
Guestbook page

. Adding

 a

guestbook page lets

friends and family

leave well wishes, and share photos and memories.

Online RSVPs

. You can customize a contact form to collect RSVPs. You can also allow guests to sign up for email notifications about your big day.

Travel tools

. Add a map block or weather widget to provide helpful information about the venue locations or any special plans in case of rain (even though it will NOT rain!).

Create a wedding logo.

Through WordPress.com's partnership with Fivver and helpful AI tools, you can design your very own wedding logo.
Our full WordPress.com review has more details.
Beginner Friendly
Yes
Free Themes
100+ in total; just a few wedding-specific
Mobile Responsive
Varies by individual theme, but the majority are.
Starting Price

$

4.00
Here Are the Best Free Website Builders For Weddings to Announce Your Big Day
So there you have them – my top six recommendations for free website builders to create your perfect wedding announcement site. Whether you're looking for a basic online wedding announcement or a more dynamic site to help with event planning, you'll find the right website builder for you somewhere on this list.
If you want a website builder that's great for novices but also offers handy features that can help plan your big day, go with Wix. The beautiful templates, drag-and-drop builder, and Wix App Market make this platform both beginner-friendly and powerful – a winning combination any day.
Couples that have a ton of media to share may find Squarespace is the best option for image-heavy websites. You'll also have plenty of handy integrations and planning tools, including RSVP/guest management and registry options.
If you're short on ideas and uncertain how to begin, Zyro's helpful AI tools make it the best option.
If you do decide to purchase a premium plan, to eliminate ads and get a free custom domain, all these website builders offer monthly, annual, or biennial subscriptions, with at least a 14-day money-back guarantee.
I've thrown a lot of information at you, so here's a quick summary of the pros and cons of each free plan.
Free Plan
Best Feature
Best For
Starting Price
Wix

✔

The templates, tools, and user-friendly editing for one-of-a-kind wedding websites

Couples who want robust customization and wedding planning features

$

16.00

Squarespace

✘

Beautiful templates for visually stunning wedding websites

Couples who want all the tools and have tons of visuals to share

$

14.00

Zyro

✘

AI tools and a beginner-friendly editor for easy wedding website design

Couples who may need a helping hand with content and design

$

2.61

IONOS

✘

Simple and attractive wedding announcements

Couples looking for a straightforward builder with basic features

$

1.00

SITE123

✔

Quick and easy wedding website design

For total beginners looking for stress-free  personalization (with great support)

$

12.80

WordPress.com

✔

Flexible website builder with tons of design options for

free users

Couples who are

familiar

with website builders and want full customization

$

4.00
FAQ
What are the best builders for free wedding websites?Wix and SITE123 are the best free website builders for wedding announcements. Wix offers the most generous free plan, with dozens of beautiful wedding templates and all the functionality you could ask for. Squarespace is also one of the easiest builders for a free wedding website.How do you make a good wedding website?The best wedding website captures what's special about you as a couple. It also makes it easy for your guests to find all the information they need about the ceremony and other event venues. Not just the when and where, but also other helpful details, like an itinerary, suggested accommodations, and a detailed FAQ. If your wedding announcement is your first website, our in-depth guide to how to build a website in 2022 can help.Is Wix the best free website builder for weddings?Wix takes top marks for free wedding website design. It offers a generous free plan, built-in features for planning and guest management, and an app market you can use to add even more functionality.  That said, you can't go wrong with Zyro's AI capabilities, which include a heatmap and advanced AI content generator. If you're still weighing your options, our review of the best website builders for 2022 can help you decide.When should you publish your wedding website?You should plan to have your online wedding announcement six months to a year in advance so your guests can save the date and share in your passion and joy. Earlier is better if you're planning a destination wedding because you'll want to give your guests ample time to make travel and hotel arrangements.