The old-school way of selling real estate is just not practical anymore. Homebuyers want instant information and access to your listings, even at 3am in the morning. That's why it's crucial that you have a professional real estate website to promote your business.
Of course, most real estate companies don't have the staff to build a website, so finding a website builder that's easy to use and that has the features you need to promote your business is important. Luckily for you, the best website builders give you the tools necessary to build and promote your real estate business.
Wix
One reason that Wix remains popular is that it offers a wide variety of features perfect for most any website or business, including real estate agents and companies. It features an excellent selection of 14 templates specifically designed for real estate, the most of any builder on this list.
Just using the templates, you'll have most any feature you need to show off your business and listings, including photo and listing portfolios, contact webpages, Google Maps integration, social media integration, and more. If you want more control, you can build your website from scratch using its drag-and-drop website builder.
Wix also allows you to add functionality to your website via its App Market. On the App Market, you can add the following features and more to your real estate website:
Wix Events (for open houses)
Wix Forms (for a wide variety of forms, including contact forms, loan pre-qualification, etc.)
Wix Video (to add video walk-throughs of homes, or a personal introduction)
Wonder Search (to allow visitors to search for specific properties on your website)
Live Chat (to allow visitors to speak with you or a representative directly on your website)
You can go with the free plan, but some features such as video functionality will be unavailable. You'll also have limited storage and bandwidth, which may make it tough to showcase homes in the way you wish.
For real estate business, I recommend the Unlimited plan, as it offers 10GB of storage, unlimited bandwidth, one hour of video, a free domain, and $300 in ad vouchers. The commission of one sale will pay for years of Wix service.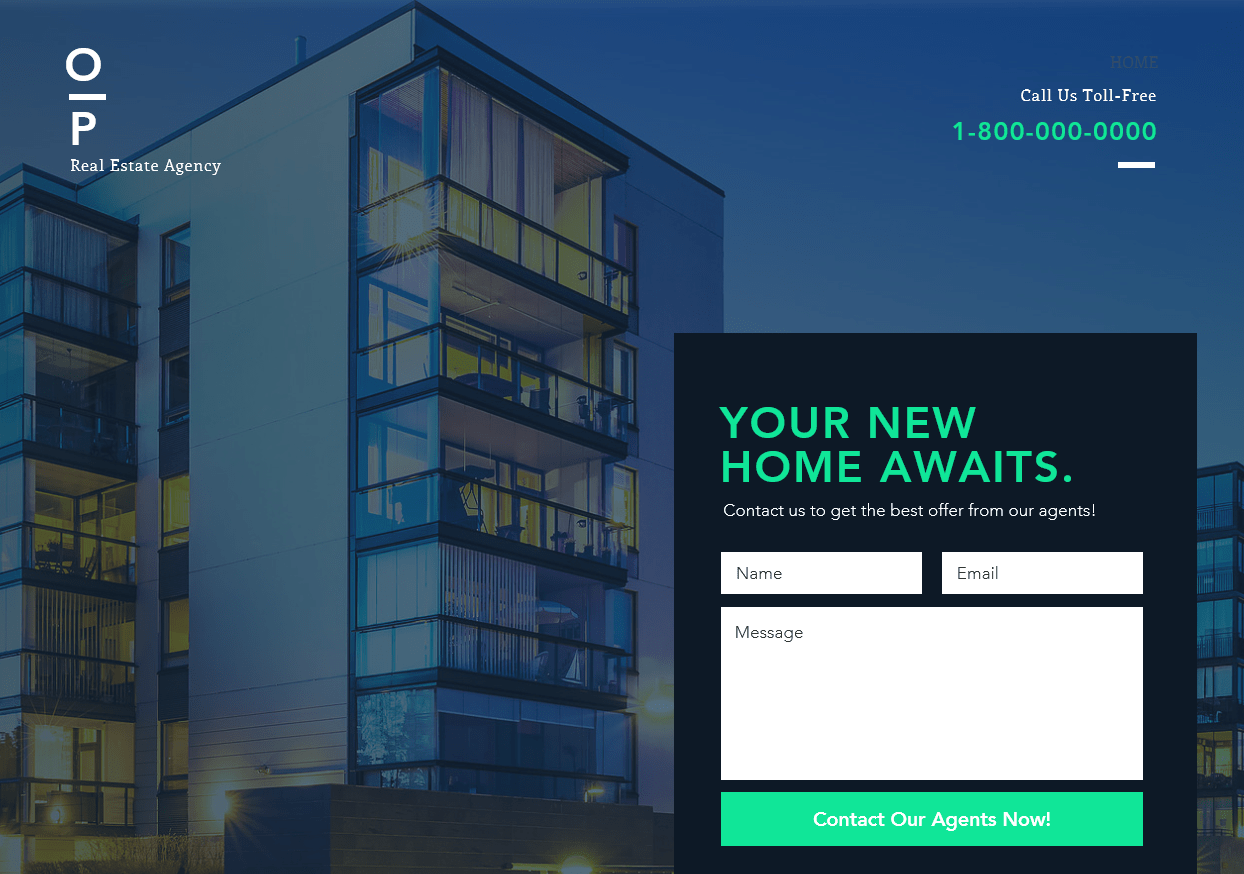 Site123
Site123 is another option for creating a real estate website, but be forewarned that it doesn't offer much in the way of pre-configured templates for real estate businesses. It does have an excellent selection of business templates that you can easily modify to work for your company, so don't let that worry you. Personally, I liked the Premium Lodges template, but there are plenty to choose from.
For real estate business in large cities or multilingual communities, Site123 is going to be one of your best options, as it allows you to build your website in over 80 languages and to make your website multilingual without the addition of any specialized software or plugins. By default, you should be creating both an English and Spanish website, plus add any additional languages relevant to your region.
Site123 also has its own App Market that allows you to add functionality to your website. Some of the apps include:
Google Analytics
Twitters Conversion Tracking
Pure Chat Live Chat Support
JotForm
Huzzaz Galleries
Site123's free plan is very limited with just 500MB of storage, and you're forced to use a subdomain. You also can't make your website multilingual. Its Professional plan is the best option, as you get 90GB of storage and your own domain, and you can convert your website into three languages. If you only need to translate your website into a single language, you can choose Advanced instead, but the difference in price is minimal.
WordPress
Out of all the website builders on this list, WordPress is probably the most comprehensive, but that functionality comes at the cost of convenience. Unlike the other website builders listed, you'll have a bit of a learning curve, and you'll have to code some of the features to optimize your website.
That said, WordPress has the largest template selection in the world with templates that are perfect for real estate. Also, with more advanced plans, you can incorporate custom themes. That way, if you find a WordPress real estate template elsewhere that works for you, you can install the template, and you're ready to start building.
One advantage of using WordPress is that you can install most any plugin you can imagine. The catch is that not all plugins are free. Some require a license. You can find free plugins for most basic features such as photo galleries, contact forms, and even basic booking functions.
The other big catch with WordPress is that you'll have to go with either the Premium or Business plan to unlock most functionality. The Free plan is very basic, although it does offer an impressive 3GB of storage.
The Personal plan is a bit better, but you're still stuck with basic design features and no access to premium templates. If you want to install custom themes or third-party plugins, you'll have to go with the Business plan.
WordPress is not for those who don't know how to code or don't have the time to learn to code.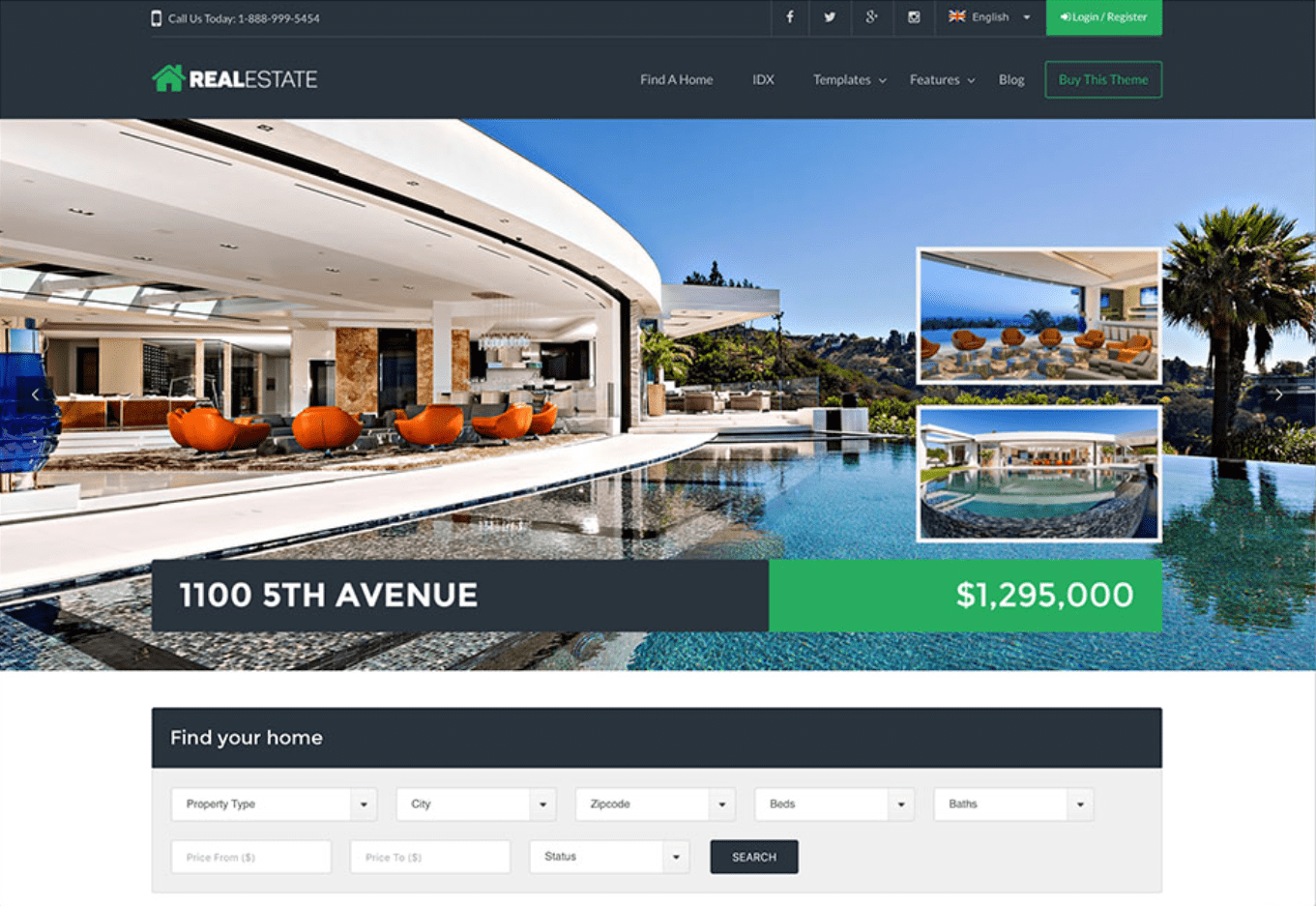 SimpleSite
Out of all the builders on this website, SimpleSite offers the fewest design choices. Instead of templates, SimpleSite provides a selection of pre-configured themes. The biggest drawback to SimpleSite is that your website is going to look somewhat generic if you don't do a lot of customization. Fortunately, you can customize options, for instance by adding forms, photos, videos, live chat, and most anything else you need to make your website functional.
Why recommend this website then? One reason: SimpleSite is the only website builder on this list that offers unlimited multimedia on all premium plans. If you want to showcase every home you're selling, you can do so with video, HD photos, and more.
If you go basic, you won't get these options. Also, your website is limited to just 15 webpages and few design options. SimpleSite's Pro plan is affordable and unlocks all the necessary features.
Weebly
Weebly is famous for helping people create e-commerce websites, but it's perfectly fine for real estate businesses. While its standard templates don't include real estate designs, you can easily modify the business templates to meet your needs. Weebly templates on average are on another level over most other builders on this list, and they're easy to use and modify.
A ton of tools come standard with paid plans, and they stand out over other builders. Weebly offers Parallax & Reveal for advanced animation effects, as well as a professional-level image editor to help make the photos of your listings look fabulous. Weebly also offers an App Center that provides a wide variety of tools to help you increase the visibility of your listings.
One thing Weebly offers that nobody else on this list does is its own real estate content management system (CMS). Weebly Cloud for Real Estate provides a complete solution for building and managing your real estate network. This solution is more suitable for companies wanting multiple websites, such as those that need websites for rental properties separate from their home sales or their apartment or condo rentals. This solution requires that you contact Weebly directly for a quote.
Another option that makes Weebly stand out is the ability to customize the CSS and HTML of your website. Most builders lock down the code, making it tough to do custom tweaks and impossible to add third-party plugins.
Your best bet with Weebly is to go with the Pro plan, as it offers unlimited storage, HD video and audio, website search, and more. The free plan isn't going to cut it, as you're stuck with limited storage and few advanced features.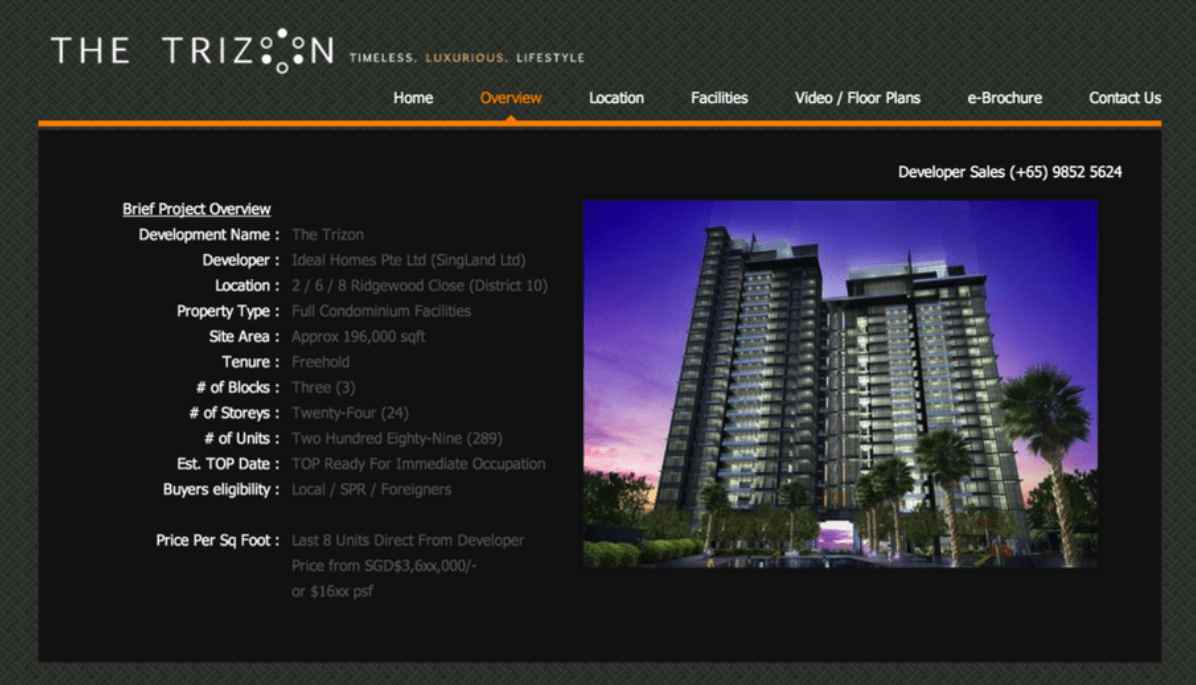 Squarespace
Out of all the website builders on this list, Squarespace has some of the most stunning templates available. You can search for templates or go by category. When I searched for real estate templates, it gave some fantastic recommendations, with the Bryant template being a perfect fit.
One thing I really like about Squarespace is that you can install several templates and work on several layouts of your website at once. This is great for those wanting to mix things up from time to time, or those needing unique designs for events or to showcase special properties.
Squarespace also helps you focus on marketing your business. You can send email campaigns, set up blogs for your listings, showcase social media from your website, offer a calendar of events or showings from your website, and more.
Squarespace doesn't offer a free plan, but its Personal plan is affordable and more than adequate for most real estate websites. For just a few bucks more, you can upgrade to the Business plan, which does allow for complete customization of your website through both CSS and Javascript.
Sell More Homes With a Professional Real Estate Website
Whether you're a large real estate company with an extensive portfolio of homes to sell, or a small company looking to sell a home in your small town, a professional real estate website will help you get more leads and ultimately help you sell more homes. When you use one of the website builders listed above, you get what you need to showcase your properties and give your potential buyers important information that will help them make one of the most important decisions of their lives.