Google Cloud, Amazon Web Services, and Microsoft Azure all run on crazy powerful hardware.
All of these providers (even Azure) make it possible to build your app or website on a Linux operating system.
But these platforms are incredibly complex
to anyone who hasn't spent a good part of their career learning about servers and how the cloud works. Plus,
not everyone in the Linux community trusts "the big three"
– so it's nice to have other options. That's why
we went through the best cloud hosts we could find to pick the ones that'll just let you spin up a server easily.
A couple of them do make use of Google or AWS hardware, but most use their own data centers, and all offer their own software platforms to make launching a server easier. No matter what your individual requirements are, there's a little something here for everyone. Note: If you're a Linux newbie, there are some beginner-friendly options, but this whole article is going to be a
little
nerdy.
Short on Time? These Are the Best Cloud-based Windows Hosts in 2023
Kamatera – The best all-rounder, offering power, flexibility, and lots of Linux flavors at decent prices.
Scala Hosting – Another great all-rounder. Offers competitively-priced managed hosting.
Liquid Web – A truly fully-managed experience with dedicated account support agents.
What We Look For in the Best Cloud Hosts for Linux
Linux hosting is, you know,
everywhere
, so it can be hard to choose from so many options. These are the qualities we look for in a Linux-based cloud host to narrow things down for you (and for us):
Security. Half the point of using Linux is greater security, right? That's why we like hosts that offer some help in that area, especially if they also throw in some extra security tools for free.
Good support. Everyone needs help sometimes, even if only to spot that missing semicolon in a config file. The best cloud hosts have trained teams ready to help.
Convenience. Fun as it is to go full nerd with a server, there are times when you don't need to make life harder for yourself. That's why we look for control panel options, managed hosting options, and other ease-of-use features.
Easy scalability. What's the point of cloud hosting if you can't scale it up at a moment's notice? All of the hosts on this list will let you scale quickly and easily when you're ready to do so.
A wide variety of Linux distributions.* The very best cloud hosts will provide you with a number of options to choose from. Some of the beginner-focused options will stick to one, though.
* For newbies, a Linux Distribution (or "distro") is a customized version of Linux built to the creator's liking, and usually for a specific purpose. There are hundreds of these, but only like 30 of them are actually any good.
1.

Kamatera: The Best of the Best for Linux Cloud Servers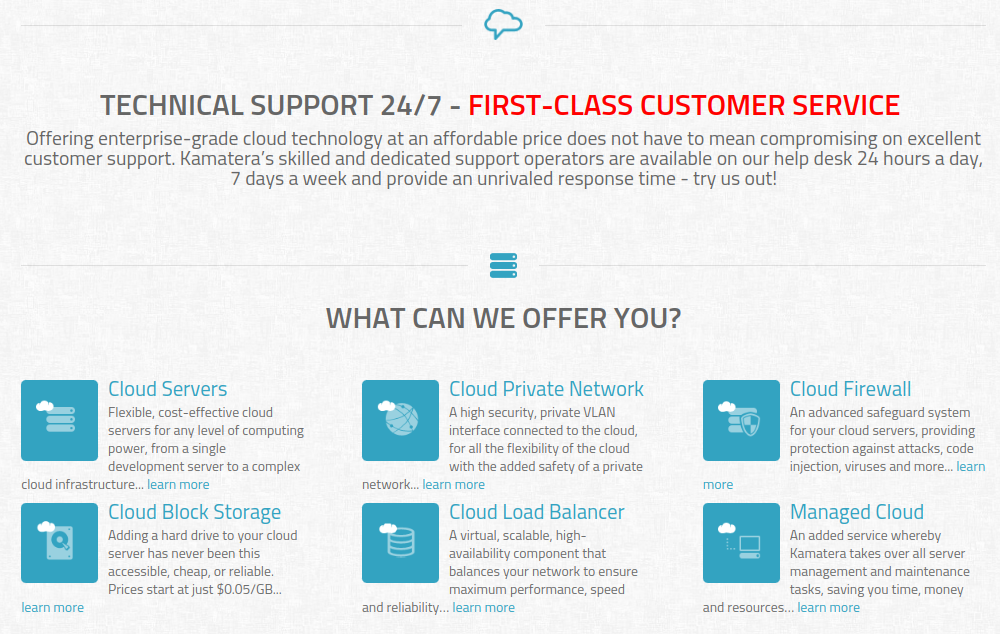 Kamatera is reasonably priced
, offering a great deal on Linux cloud hosting. Although clearly targeted at enterprise customers, it's affordable enough for just about any small business, as long as you know your way around a virtual server.
My experience was that it's also fast, reliable, and generally a joy to use.
The combination of simplicity and customizability, along with the per-second pricing, puts Kamatera at the top of my list.
Fine-tune your own server plan, choose from 13 different data centers, and get started with the OS of your choice
. I'd like to point out that Rocky Linux isn't listed first here because I like it so much, but because it was first in the dropdown menu.
Distros:
Rocky, Alma, CentOS, CloudLinux, Debian, TrueNAS, FreeNAS, openSUSE, Ubuntu.
Bonus:
FreeBSD for the Unix fans.
Features
Control panel options. cPanel and Plesk are both available as paid add-ons. Hey, not everyone wants to know what SSH is.
Extended daily backups. You get regular backups as a matter of course. Just note that if you want to be able to restore older versions of specific files, directories, and storage, you'll need to pay extra.
Multiple IPs. Use them for extra security, organization, or to flex on everyone who only has one IP. It's up to you.
Fully-managed option. Pay extra to have pros manage all of your server's updates and general maintenance for you.
Read our expert Kamatera review for more details
.
Custom plans?

✔

Support
Email, phone, chat, ticket
Managed hosting option?

✔

Starting price

$

4.00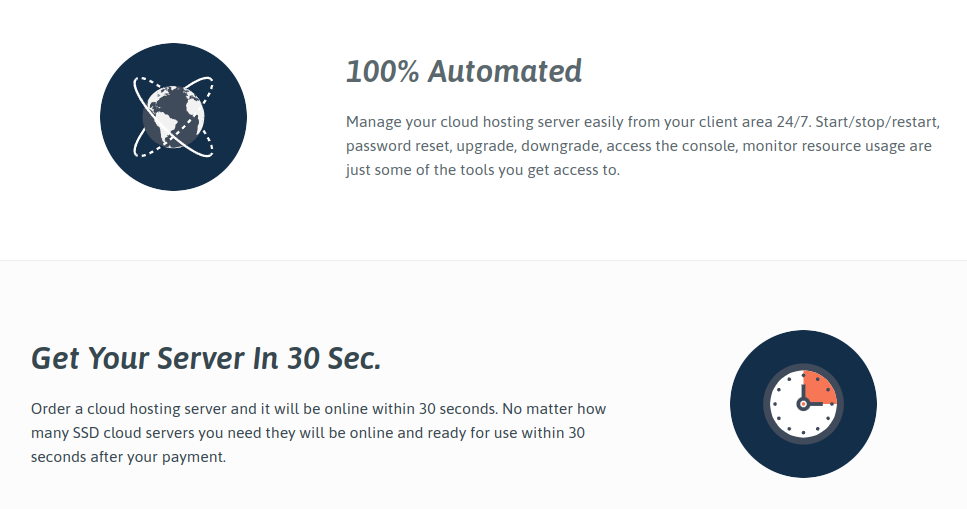 Like Kamatera, Scala Hosting offers decent prices on cloud hosting for those who want managed servers and for those who want to manage their own. The self-managed option is a bit more expensive in general, but
the entry-level managed options are very competitively priced,
and this is why you might choose Scala Hosting over Kamatera. Furthermore,
the managed hosting service gives you the option of having your cloud server on Scala Hosting's own infrastructure, or on AWS or Digital Ocean.
Whereas the self-managed servers are, as you'd expect, all on Scala Hosting's hardware.
Distros:
Rocky, Alma, CentOS 7, Debian, openSUSE, Ubuntu.
A free domain name is included with some hosting plans from Scala Hosting
Features
LiteSpeed server software. Want to use your cloud server for some old-fashioned PHP hosting? You can install the LiteSpeed web server during setup and enjoy some surprisingly fast PHP performance – which is nice if you're planning to launch WordPress-based sites, for example.
Control panel options. You can use the custom-made SPanel for free. If you want to do a bit of reselling, cPanel/WHM licenses are available for up to 1,000 accounts on the self-managed service.
Backup storage addon. It costs extra, but you can get as much backup space as you think you'll need at a good price.
Automation. If you decide to go for self-managed cloud hosting, there are still quite a few automated tools to help you out. Not least of which is the one that'll set up your server in 30 seconds.
Read our expert Scala Hosting review for more details
.
Custom plans?

✔

Support
Email, phone, chat, ticket
Managed hosting option?

✔

Starting price

$

20.00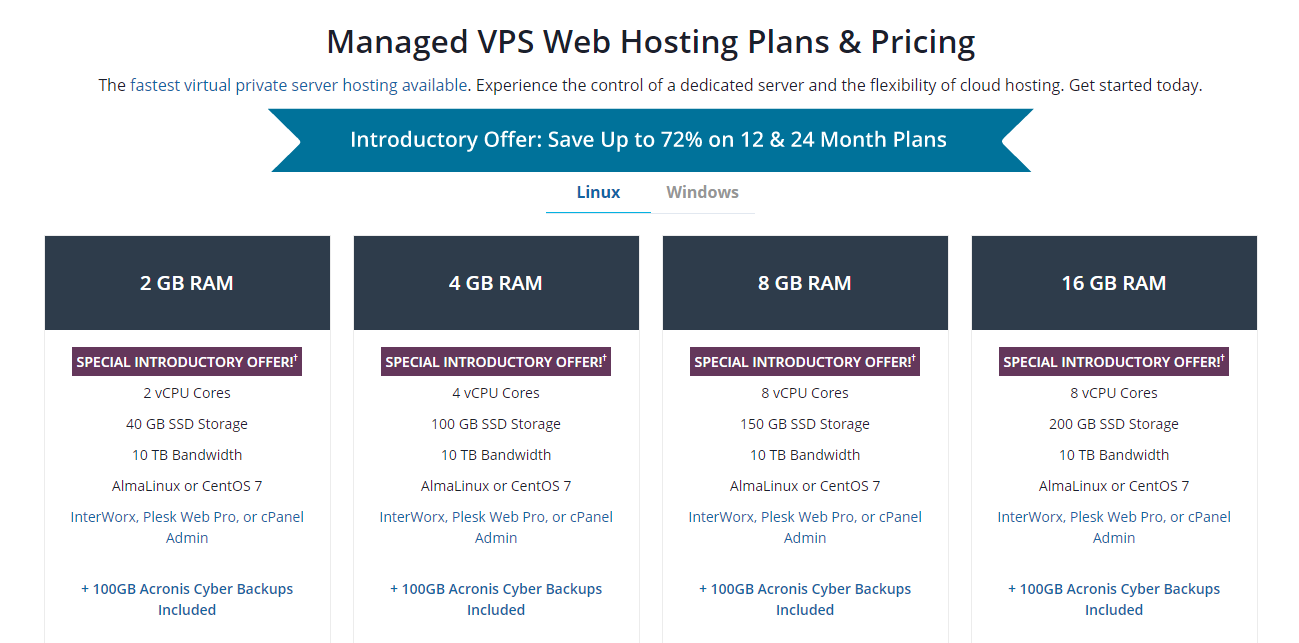 Liquid Web offers a variety of cloud-based VPS-style hosting plans. On the downside, that means a more rigid pricing structure. On the upside,
those VPS-style plans are reasonably priced
, and come in varieties suited to everyone
from small businesses to enterprise-level organizations. These plans come with a free backup plan from Acronis, and pretty good resource allocation.
Each plan also includes a slightly more expensive "value bundle" version
that can include things like Cloudflare Pro, the Premium Business Email Service, and automatic threat detection. If you want more customizability with more available Linux distros, you can go with Liquid Web's dedicated cloud plans, but they are significantly more expensive.
Distros:
CentOS, Alma Linux.
Features
Managed VPS hosting. Never update your own software again if you don't want to. These cloud VPS servers are fully managed. Or they can be, if you pay a little extra.
Control panels. If you ever get tired of the command line (NEVER!), you have options. InterWorx, Plesk Web Pro, and cPanel Pro are all available to you.
Off-server backups by default. All backups are automatically put on separate hardware. Gotta love it.
Real time hotfixes. If you go with the InterWorx option, hotfixes and new features are added to the control panel and server without any downtime.
Read our expert Liquid Web review for more details
.
Custom plans?

✔

 (on dedicated cloud plans)
Support
Chat, ticket
Managed hosting option?

✔

Starting price

$

15.00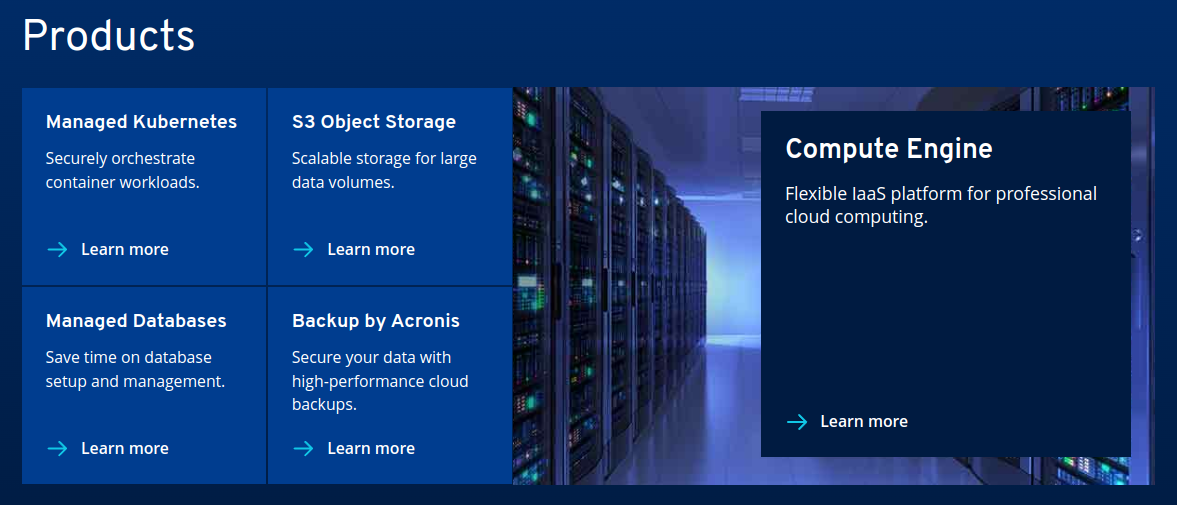 1&1 IONOS offers highly-customizable cloud hosting
on ten truly massive data centers around the world. And hosting is only part of the equation, with 1&1 IONOS offering cloud solutions for data processing, storage, load balancing, DDoS protection, and more.
You can even design your own cloud hosting solution with the Data Center Designer,
which allows you to pick your hardware resources, storage, preinstalled OS and security software, load balancers, and more. You can
use it to host a site, or integrate some of its specialized services into your existing infrastructure
. You can even get Database as a Service, to power those
really big WordPress sites
. (Okay, most people are fine with WordPress, but I just made a subset of nerds
incredibly mad
.)
Distros:
Alma Linux, Arch Linux, CentOS, Debian, Fedora, Fedora CoreOS, Rocky Linux, Ubuntu, Vz.
Bonus:
FreeBSD and OpenBSD
Features
Resource-based pricing. 1&1 IONOS keeps it loose with a pay-what-you-use pricing model and no fixed contracts. If you only want a server for a week, you can do that.
Professional consulting. If you have an idea of what you want to do, but aren't sure how to do it, talk to the (free) cloud consultants first. They can help you figure out the details.
Backups and S3 object storage. The S3 storage is a reasonably-priced paid addon, but 1&1 IONOS gives you plenty of options for backing up your data. As it should.
Live scaling. If you need more power, there's no delay, and no downtime. Just click the button to pay.
Read our expert 1&1 IONOS review for more details
.
Custom plans?

✔

Support
Chat, email, phone
Managed hosting option?

✔

Starting price

$

4.00
5. Cloudways: Fully-Managed Linux Cloud Hosting, in Every Way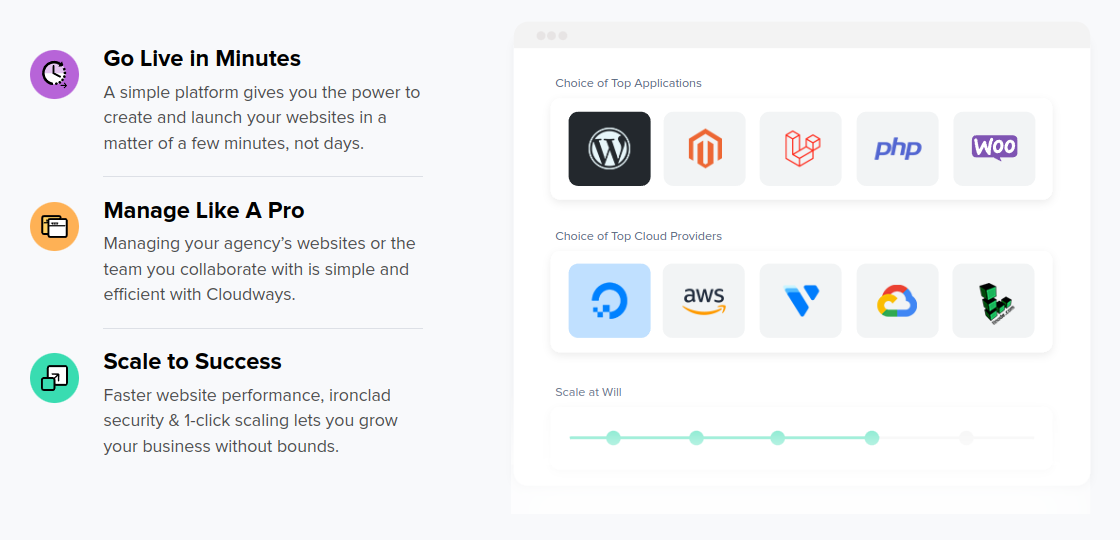 With cloud hosting, most customers are looking for an environment they can control completely.
If you'd rather just put up your website and be done, but on a Linux cloud server, Cloudways is the simplest option
on this list. Everything about the server is handled by the Cloudways team, and
everything about handling your website is designed to be beginner-friendly
. You don't even get root access. Now, that might be a dealbreaker for some, but if you'd rather not deal with the nitty-gritty, Cloudways makes Linux easy.
Distros:
Debian
Features
Massive server infrastructure (sort of). Cloudways delivers its hosting management service on third-party hardware. This means you can use Digital Ocean, Vultr, Linode, AWS, or Google Cloud without all the usual hassle.
Easy to manage. Cloudways uses its own custom control panels to simplify… everything. There are even one-click installers for various popular web platforms.
Single-click scaling. Need more server power, and fast? The name of this feature should tell you everything you need to know.
Highly-optimized by default. All of the servers are pre-configured for use with WordPress and other PHP-based applications. Just about every optimization you could think of is applied from the start.
Read our expert Cloudways review for more details
.
Custom plans?

✘

Support
Live chat, phone
Managed hosting option?

✔

Starting price

$

11.00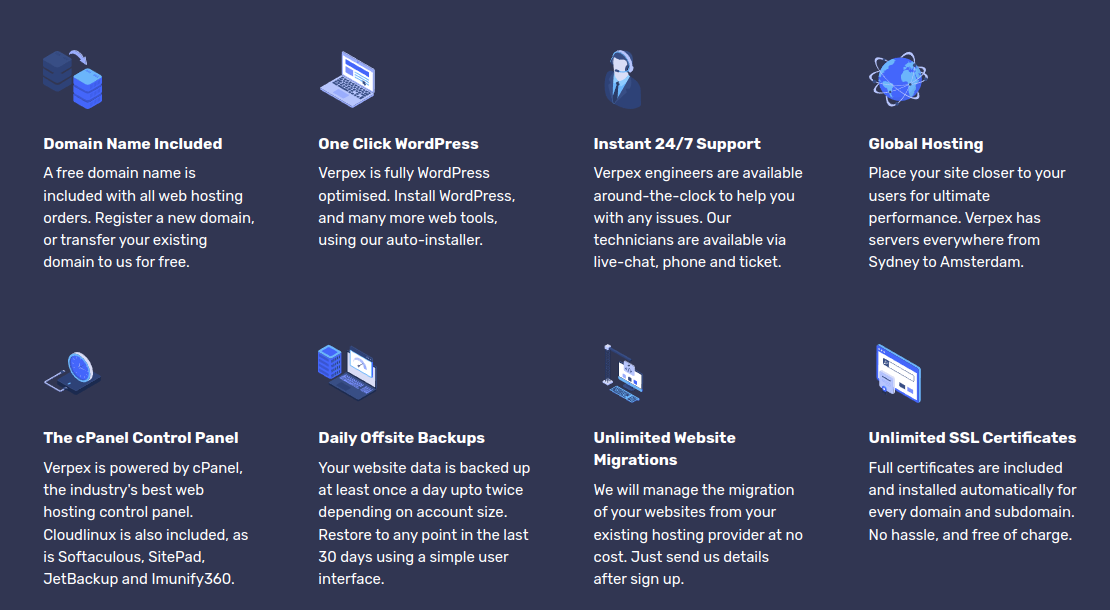 Verpex is a provider that, a bit like Cloudways, is designed to provide a simple solution for cloud hosting. However,
it's pretty squarely aimed at mid-sized businesses and the e-commerce market
, and it's designed to provide familiar tools.
If you want to build an online store on a Linux-based cloud platform, build it with Verpex
.
Specifically, Verpex is optimized for PHP, and you can
choose between the very-familiar Apache server software, or go with the newer and faster LiteSpeed server option
. There are also built-in mail channels for those who want to send newsletters. Distros: CloudLinux.
Features
Monitored and managed hosting. On Verpex, all the cloud servers are managed, and your server is constantly monitored for problems. You can just let your site run.
Daily backups. You never have to worry about your website or e-commerce app going down for long. Hurray for backups.
PCI compliant. This means Verpex is officially considered secure enough to handle credit card information. A lot of that security is handled by the well-regarded Imunify360 suite.
Familiar tools. Every plan comes with cPanel, the Softaculous app installer, and built-in WordPress optimization. It's like the hosting you already know, only more powerful.
Read our expert Verpex review for more details
.
Custom plans?

✘

Support
Chat, email, phone
Managed hosting option?

✔

Starting price

$

69.00
The Best Linux Cloud Hosting for You
Sure, you could go for one of "the big three" cloud providers. Or, you could
make things easier on yourself by letting one of the many Linux-loving cloud hosting providers listed above handle your needs
.
Kamatera leads the pack with its fully-customizable cloud hosting service.
You are billed by the second, and only for what you use, but you'll need expertise to handle this self-managed service unless you want to pay extra for managed support.
Scala Hosting provides reasonably-priced managed hosting
with the option to use its own data center, AWS', or DigitalOcean's.
Liquid Web is the way to go
for anyone who wants it all done for them, with dedicated account managers and resource-based pricing. Here's a helpful table summarizing the Linux cloud hosting options I recommend:
Standout feature
Custom plans?
Managed option available?
Starting price
Kamatera
Per-second pricing

✔

✔

$

4.00

Scala Hosting
Competitive pricing on managed hosting

✔

✔

$

20.00

Liquid Web
Superior managed support

✔

✔

$

15.00

1&1 IONOS
Data Center Designer

✔

✔

$

4.00

Cloudways
Ease of use

✘

✔

$

11.00

Verpex
E-commerce specialists

✘

✔

$

69.00
FAQ
Is cloud hosting worth it?
That depends entirely on your needs. It's best used for websites and applications that need to scale resources up and down on a regular basis. If you're a website-building newbie who ended up here because someone told you to "Just get cloud hosting!" maybe have a look at our guide to building your first website instead. Or go with a managed option like Liquid Web.
Which Linux distribution should I choose?
That's a big question, with a long answer. Debian is fantastic for stability. "Distros" like Alma Linux, Rocky Linux, CloudLinux, and openSUSE are also stable, but updated a bit more often. I do not, at this time, personally recommend Ubuntu, though many other nerds swear by it.
Which is the best Linux cloud host?
The best cloud host in general, in my opinion, is Kamatera. While there are plenty of alternatives, Kamatera offers the greatest degree of customizability and per-second billing so that you only pay for what you use. Not to mention the great performance and the managed hosting option for very reasonable prices.
Is Linux the best OS for hosting?
Usually, yes. Some companies require Windows or something closer to Unix (like FreeBSD) for very specific reasons, but Linux is the operating system with the biggest community, the most support (in one form or another), and most of the internet runs on it. Plus, the licensing is cheaper…as in free, in most cases – which reduces the price of hosting overall.