only a handful of hosts manage to offer a truly impressive platform that lets you enjoy the full functionality of Linux.
After all, Linux is open-source, flexible software. You don't want a host that limits what your application or site can do. Additionally, Linux is free to license, unlike Windows. While some hosts use this as an opportunity to raise their profit margins, others offer
feature-packed plans at budget prices
. To find out which Linux web hosting services are worth your money,
I've tested dozens and focused on performance, features, reliability, and price
. Only seven web hosts made the cut – read on to see which one is best for your particular needs.
Short on Time? These Are the Best Web Hosts for Linux in 2023:
Hostinger– Affordable Linux hosting with fantastic speed and reliability.
InterServer– Unlimited resources for Linux shared hosting.
Kamatera– Unmanaged cloud VPS that's versatile and perfect for developers.
What We Look For in the Best Linux Hosting Services
To place on my list, the web host needed to score exceptionally well in these areas:
Performance and reliability. Great speeds and reliable uptime mean greater visitor retention. If your website is always slow or routinely unavailable, people are going to bounce off your site and never return. The hosts I've picked are both fast and reliable.
Great value for your money. Quality hosting doesn't need to be expensive. I've prioritized hosts with packed plans at affordable prices.
Helpful and responsive support. Good support can be critical to your site's success. That's why I took a special interest in hosts with support services that go above and beyond.
Strong security features. While Linux is quite secure, you'll still be at risk without a strong security solution. The hosts below all take the security of your site seriously.
Flexibility and access to developer tools. Linux is a great platform for experts and developers to build on open-source software. Hosts that provide plenty of developer tools earned some extra points.

Hostinger's Linux-based shared hosting plans are easily the cheapest option on this list, starting at just

$

1.99

 per month
. And if you commit to a four-year plan, the monthly cost is ridiculously low. Despite the low price,
Hostinger manages to provide powerful hosting plans
. You'd think that a budget host would perform terribly, but that's hardly the case for Hostinger. My colleague performed several in-depth speed tests and monitored uptime over the course of several months.
Test results showed fantastic speeds and near-perfect uptime.
Hostinger doesn't skimp on security features either –
its servers are protected by BitNinja, which includes a firewall, malware scanning capability, and more
. Hostinger also uses Cloudflare's DNS firewall to mitigate any DDoS attacks.
Developers will be happy to see Git integration on the cheapest shared hosting plan
, along with access to phpMyAdmin, Cronjobs, Curl, and the latest PHP versions. Unfortunately, SSH access isn't available unless you upgrade to the Premium plan.
A free domain name is included with some hosting plans from Hostinger
Features
Linux-based VPS plans. If you need more resources than Hostinger's shared hosting plans – but on a budget – you're in luck. There are four affordable Linux-based VPS plans (all under $20 per month), and you can get up to 4 vCPU cores, 4GB of RAM, and 80GB of SSD storage.
Proprietary control panel. You can choose a plan with cPanel, but I'd recommend using Hostinger's own hPanel instead. I found it to be very user-friendly, and it has an auto-installer for over 100 apps and content management systems (CMSs).
Optimized WordPress hosting. Hostinger's WordPress hosting includes automatic installation of WordPress, along with automatic updates of its core software and plugins. It also comes with the powerful LiteSpeed Cache plugin, which gives your site a significant speed boost.
Weekly automatic backups. Every shared hosting plan comes with weekly automatic backups. You can find your backups in hPanel, and restoration is simple and fast.
To learn more about Hostinger's plans, see our expert review
.
Resources on cheapest Linux-based plan

Single shared hosting plan includes 1 website, 30GB SSD storage, 100GB bandwidth, and 1 email account

Data center locations

US, UK, Netherlands, Lithuania, Indonesia, Singapore, Brazil

Money-back guarantee
30 days
Starting price

$

1.99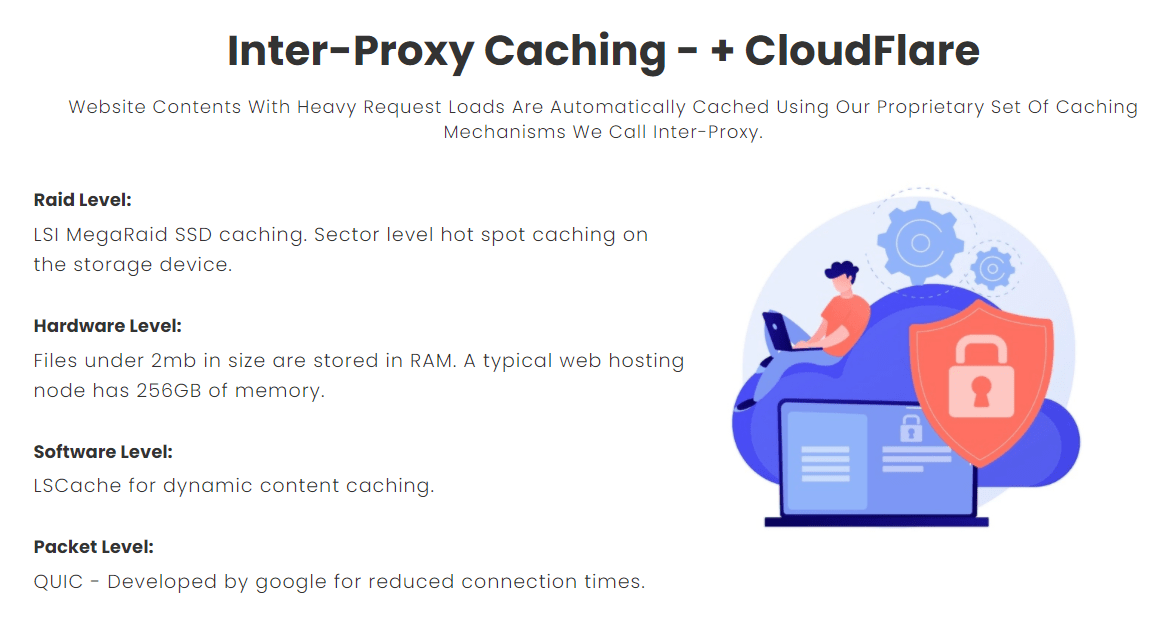 InterServer has one Linux shared hosting plan, and it has a lot to like. Starting at

$

2.50
 per month, it's not too far behind Hostinger in terms of affordability.
However, InterServer offers the most value to those who prefer to pay monthly – its monthly plan is one of the cheapest in the industry.
InterServer's flexible Linux hosting plan has it all
: unlimited websites, storage space, and data transfer. There are also weekly automatic backups and InterShield security, which uses a next-generation machine-learning firewall and an in-house malware database to keep your site secure. Although there are only two server locations in Los Angeles and Secaucus,
InterServer's loading speeds are great in the US
, and not bad in western Europe, thanks to global content caching. It's also highly reliable, with my tests showing great overall uptime.
Features
Developer-friendly. InterServer features SSH access and support for plenty of popular development frameworks and languages, including Ruby on Rails, Python, node.js, and more.
Inter-Proxy caching. The proprietary Inter-Proxy caching technology is designed to deliver your content fast and at every level. You'll get SSD caching, LSCache, and more. Cloudflare CDN is also included.
LiteSpeed Web Server. InterServer makes use of the powerful LiteSpeed technology, which brings you a significant boost in speed.
Cloud VPS. If you need a little bit more power, InterServer also offers powerful cloud VPS, sold by the "slice." Each slice is made up of 1 CPU with 1024MB memory and 30GB SSD storage. Buying more slices gets you access to better speeds, more resources, and managed service.
For more details, read our full InterServer review
.
Resources on cheapest Linux-based plan

Standard shared hosting plan includes unlimited websites, SSD storage, data transfer, and email accounts

Data center locations
US
Money-back guarantee
30 days
Starting price

$

2.50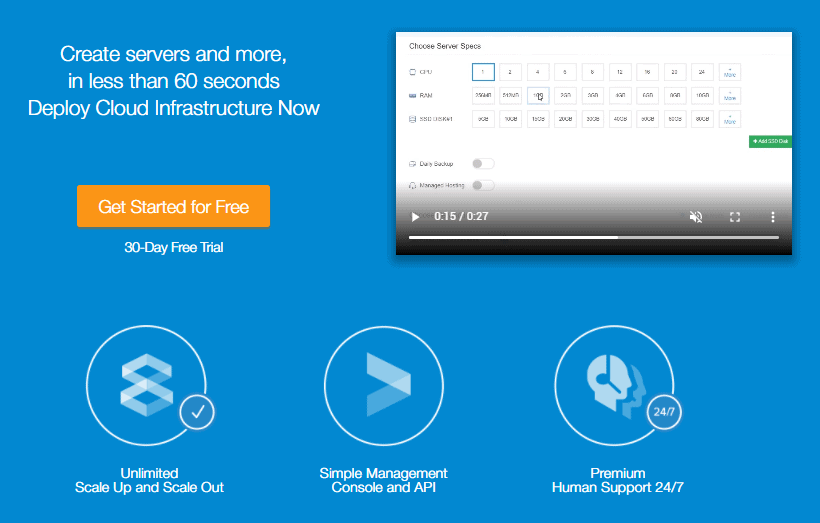 If you're a programmer or developer looking for a powerful,
completely customizable Linux environment
, Kamatera may be the right choice for you. It offers cloud VPS plans, which can be tailored to your exact specifications.
This means that you only pay for precisely what you need.
These cloud VPSs are by default unmanaged, giving you full control over your server.
This includes root and SSH access, along with the ability to install whatever development frameworks or tools you'd like. Kamatera also offers multiple Linux distributions, including CloudLinux, Debian, Ubuntu, CentOS, and more.
Kamatera's servers are powered by speedy Intel Xeon processors
, so performance shouldn't be an issue. But Kamatera isn't for everyone. It isn't beginner-friendly and lacks comprehensive support unless you pay extra. That said, if you're an experienced developer looking to work with Linux in a flexible environment, Kamatera may be a good fit.
Features
Cloud firewall add-on. For an extra monthly fee, you can purchase a cloud firewall for your server. You can manage the firewall rules to fit your needs, and you'll be able to set up virtual private networks.
Optional managed service. If you don't want to spend time and effort maintaining your server, you can pay Kamatera to do it for you. This includes automatic OS updates, security patches, server monitoring, and more.
Extended automatic daily backups. You can have your server's data automatically backed up every day for a low monthly fee. These backups are kept in an external storage array and can be restored at any time.
30-day free trial with $100 value. Kamatera offers a generous free trial with no commitment. You get a fully customizable cloud VPS with $100 credit and help from support to decide what VPS configuration is ideal for your needs.
For more information, read our comprehensive Kamatera review
.
Resources on cheapest Linux-based plan

Cheapest cloud VPS configuration includes 1GB RAM, 1 shared vCPU, 20GB SSD storage, 5TB monthly bandwidth

Data center locations

US, Canada, the Netherlands, Germany, UK, Israel, and Hong Kong

Money-back guarantee
30 days
Starting price

$

4.00

Liquid Web specializes in managed hosting
and has several types of plans, including shared hosting, VPS, and dedicated servers. Its managed WordPress plans are delivered through its subsidiary company, Nexcess. These plans aren't exactly the cheapest, though. However, Liquid Web justifies its price with a long list of powerful security and optimization features, including
daily automatic backups, speedy NGINX web servers, automatic SSL, image compression, and more.
The entry-level Spark plan is packed with useful features, including the iThemes Sync and iThemes Security Pro tools.
iThemes Sync lets you manage multiple WordPress sites with a single dashboard. iThemes Security Pro keeps your site safe by monitoring your core files 24/7 for unauthorized changes. Automatic daily backups are retained for 30 days. After testing its performance, I can safely say that Liquid Web doesn't disappoint.
My WordPress site had decent speeds worldwide, with a near-perfect uptime
. If you don't mind paying a premium, Liquid Web is one of the most hassle-free ways to run WordPress with Linux.
Features
Git, SSH access, and more. Each managed WordPress plan has SSH access and WP-CLI. Git integration is also fully supported.
Plugin monitor. Liquid Web takes the guesswork out of managing your themes and plugins. With its performance monitor, you'll get real-time site performance assessments so you can determine whether a new plugin or theme change is affecting your audience's website experience.
Support response time guarantee. Liquid Web takes its support service seriously, promising a minimum response time for live chat (59 seconds), phone (59 seconds), and support tickets (59 minutes). You can receive service credits if these promises are unfulfilled.
14-day free trial with no credit card. While the amount of time to try out the service is shorter than other hosts on this list, Liquid Web's trial doesn't require a credit card to sign up. It's completely risk-free.
Take a look at our Liquid Web review for more on features
.
Resources on cheapest Linux-based plan

Spark managed WordPress plan includes 1 site, 15GB storage, 2TB bandwidth, unlimited email accounts

Data center locations

US, Netherlands

Money-back guarantee

14-day free trial, no credit card required

Starting price

$

15.83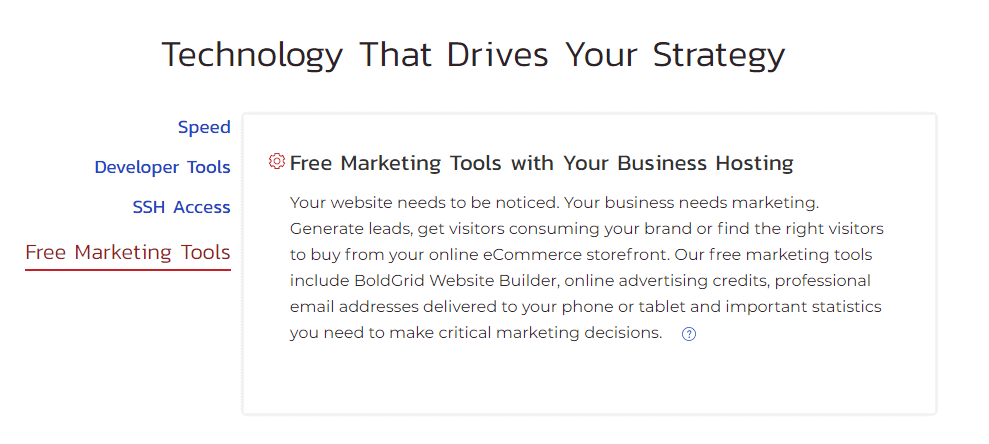 If marketing is crucial to the success of your website, InMotion Hosting may be a good choice for you. My favorite perk is
InMotion's offer of $150 in free advertising credits
, included in its shared and WordPress hosting plans (with the exception of the entry-level Core plan). This extra boost in outreach isn't offered by many other hosts, especially on basic plans.
Marketing certainly seems to be a focus with InMotion Hosting, as it also offers visitor analytic tools for free with every plan.
There's also a very strong backup solution available, which offers customizable automatic backups to offsite storage. While it isn't free, it's affordable and well worth the price. However, it isn't all good news –
there's no legal uptime guarantee unless you upgrade to the Pro plan
. On this plan, you'll be able to claim credit on any downtime that exceeds InMotion's 99.999% uptime guarantee.
InMotion Hosting Web Hosting
Features
Developer tools. InMotion is a pretty good host for developers. SSH access and support for Ruby, PHP, PostgreSQL, and MySQL are available for all plans.
Shared hosting plans with unlimited resources. InMotion's Launch, Power, and Pro plans offer unlimited websites, bandwidth, and email accounts. There's also unlimited storage through high-performance NVMe SSD storage.
Google apps integration. If you find yourself working with Google Apps, InMotion Hosting lets you integrate them into your workflow with ease.
90-day money-back guarantee. InMotion allows you to try out its services for 90 days, three times longer than the industry standard. You can get a full refund if you cancel within this time period, no questions asked.
Read our InMotion Hosting review for more information
.
Resources on cheapest Linux-based plan

Core shared hosting plan includes 2 websites, 100GB SSD storage, unlimited bandwidth, 10 email addresses

Data center locations
US
Money-back guarantee

90 days

Starting price

$

3.29

A2 Hosting brings some powerful benefits at low prices. Not only are performance and uptime excellent, but
A2 Hosting also has strong security features
. Along with the basics, security protocols include daily security updates with no downtime, a sophisticated hack-scan tool that protects your site 24/7, and advanced DDoS protection. You won't make it far on A2 Hosting's site before you see the words "Turbo Server." This refers to LiteSpeed Web Server tech, which is available on the Turbo Boost and Turbo Max plans.
LiteSpeed is much faster than Apache and provides a significant speed boost to your website.
A2 Hosting's refund policy is also unique
–
if you cancel, you'll get a prorated refund for the unused portion of your contract
. Not many hosts offer something like this. You get plenty of flexibility if you change your mind down the road.
Features
Optimized CMSs. One of the ways A2 Hosting achieves great speeds is with its optimization plugins. Popular CMSs such as WordPress, Drupal, and Joomla are preconfigured and fully optimized upon installation.
Git & SSH access. Even the low-cost StartUp plan includes support for Git integration and SSH access. There are also plenty of supported development languages, including Ruby, PERL, and Python.
Scalability. A2 Hosting has better scalability than most hosts. It lets you scale your account from shared hosting all the way up to a dedicated server.
Site restoration. If you opt for the Drive, Turbo Boost, and Turbo Max plans, automatic backups are included for free. If anything happens to your site, you can easily restore it from an earlier version right from your control panel.
See how well Turbo Servers performed in our review
.
Resources on cheapest Linux-based plan

Startup shared hosting plan includes 1 website, 100GB SSD storage, unlimited data transfer, and unlimited email accounts

Data center locations

US, Netherlands, Singapore

Money-back guarantee
30 days
Starting price

$

2.99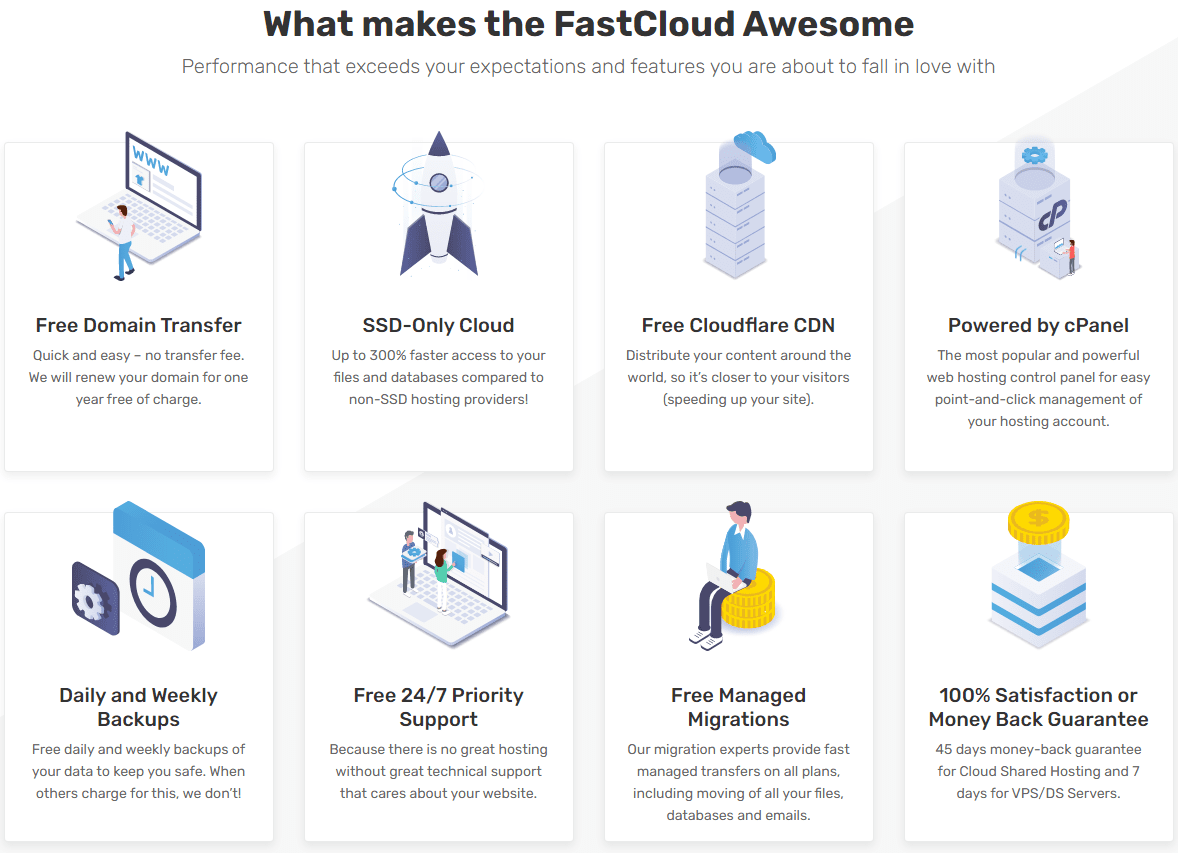 FastComet offers budget hosting plans with a lot of free features.
These range from essentials like free automatic daily and weekly backups and an extensive security solution to nice little extras, such as a domain for a year and a free CDN with CloudFlare
.
What really makes FastComet stand out for me is its support.
My interactions with FastComet's support agents have always been a pleasure
. When I had trouble connecting to my MariaDB database, the live chat agent did their best to get me connected in minutes. It's great to know that they have your back, especially if you're a beginner. FastComet has some nice features for developers.
It supports plenty of popular development frameworks, Git integration, SSH access, and more.
If you'd rather leave the coding to the pros, you can grant partial account access to your developer through cPanel or phpMyAdmin.
Features
FastGuard security. In addition to offering a free Let's Encrypt SSL certificate, FastComet supplies a range of advanced security measures. These encompass a robust AI firewall, an extra web application firewall, as well as Cloudflare DDoS and DNS protection.
Caching optimizations. FastComet helps to deliver your static content fast. In addition to free Cloudflare CDN, you'll get plenty of other minor optimizations, such as browser caching, lossless data compression, and JavaScript bundling.
Managed migrations. On FastCloud Plus and FastCloud Extra plans, FastComet will migrate up to three sites for you, at no charge. This number also includes internal migrations from one plan to another.
Long money-back guarantee. FastComet has a longer money-back guarantee than most. You get a full refund if you cancel within 45 days.
Read our in-depth FastComet review for more features
.
Resources on cheapest Linux-based plan

FastCloud shared hosting plan includes 1 website, 15GB SSD storage, 25000 monthly visitors, and unlimited email accounts

Data center locations

US, Canada, UK, Netherlands, Japan, Singapore, Germany, India, Australia

Money-back guarantee
45 days
Starting price

$

2.74
Which Linux Web Host Is the Best for YOU?
The right Linux hosting service for you depends on your individual needs.
For cheap hosting with great speeds, go with Hostinger
.
This host is my top pick for Linux-based hosting because of its affordable plans packed with speed-friendly optimizations and security features.
Want to grow your WordPress site? Choose LiquidWeb.
Liquid Web's managed WordPress plans will make sure your site truly stands out.
If you're more hands-on, you should consider Kamatera
.
This host features completely flexible and customizable plans that are great for developers.
InterServer offers flexible budget hosting
with unlimited resources, which makes it an ideal host for almost any type of website.
And if you want to avoid paying up front for several years of hosting, InterServer offers the cheapest monthly billing plan on the list. 
Are you still unsure? Check out the table below for a comparison.
Standout Feature
Linux Hosting Plans
Uptime Guarantee
Starting Price
Hostinger

Incredibly cheap shared hosting plans with impressive performance and reliability

Shared, WordPress, VPS

99.9%

$

1.99

InterServer

Plans with unlimited resources

Shared, cloud VPS, WordPress VPS

99.9%

$

2.50

Kamatera

Fully customizable cloud VPS with good global speeds

Cloud VPS

99.5%

$

4.00

Liquid Web

Managed WordPress hosting and guaranteed support response times

Managed WordPress, Managed WooCommerce, Managed Cloud VPS

100%

$

15.83

InMotion Hosting

$150 in advertising credits and free marketing tools

Shared, WordPress, VPS

99.999% (on Pro plan only)

$

3.29

A2 Hosting

Budget host with strong  security

Shared, WordPress, VPS

99.9%

$

2.99

FastComet

Affordable host with excellent customer support

Shared, WordPress, WooCommerce, cloud VPS

99.9%

$

2.74
FAQ
What is Linux hosting?
Linux hosting refers to any kind of web hosting where Linux serves as the OS. It's a popular choice among web hosts because it's open-source software and free to license. This means web hosts can provide budget hosting that offers a lot of versatility and flexibility. If you're new to website building, Linux-based control panels can also be very user-friendly.
Can I get Linux hosting for free?
You should always be wary of any web host that advertises free Linux hosting. There's always a major downside, such as slow performance, intrusive advertising, or limited resources – which could turn your site's visitors away for good. Instead, it's better to make good use of trials and money-back guarantees. All of my top Linux hosts offer a free trial or money-back guarantee. You can also find some great deals on our coupons page for cheap, quality hosting.
Why is Linux hosting cheaper than Windows?
Linux hosting tends to be cheaper than Windows hosting thanks to the fact that Linux itself is completely free. Windows is expensive to license, which naturally bumps up the price. Another factor is that Windows uses more resources than Linux, meaning that you'd need to pay extra for servers with more resources.
Which is the best host for Linux hosting?
That depends on what you're looking for! Many tend to go for GoDaddy Linux hosting, but that would be far from my first choice. If you're looking for cheap but powerful shared hosting, you should instead go with Hostinger. Hostinger has much better performance than GoDaddy at cheaper prices. You can also check out our list of the best web hosting providers in 2023 for more suggestions.
Does WordPress run on Linux hosting?
It sure does! WordPress is supported by all of my top web hosting picks. Many of these hosts provide one-click installations of WordPress too, along with other security and performance features that can help your site to thrive. In particular, Liquid Web's impressive managed WordPress plans can really elevate your WordPress site.