if your blog takes too long to load, no one is going to hang around long enough to see those mouth-watering photos
. And you don't want to waste time troubleshooting website errors when you should be writing and formatting your recipe or review content.
That's why choosing a quality web host is integral to your food blog's success
. To save you time, I've tested as many web hosts as I could and cut it down to the top six for food-related blog sites. Read on to find out which of them is best for you.
Short on Time? These Are the Best Web Hosts for Food Blogs in 2023:
Hostinger – Great performance at affordable prices
Nexcess – Managed WordPress hosting that lets you focus on content
InterServer – Unlimited sites and storage, perfect for several small blogs
What We Look For in the Best Web Hosts for Food Blogs
In narrowing down my list, I looked for the specific features below. If a host didn't make the cut for any one of these points, it didn't make it onto my list.
Prompt page loading. Food blogs that load faster will tend to outperform those that don't. The faster your blog's pages and images load, the greater your visitor retention and overall engagement.
Reliability. If your site goes down, you'll be serving no one for an indeterminate amount of time. For affiliate marketers, this can be a huge hit to revenue, but in any case it will deter visitors from bookmarking your pages.
User-friendly interface. You don't want to be stuck fiddling around with your site's technical settings – you want to deliver that hot new recipe! I've chosen providers with easy-to-use back-end interfaces. Some even offer automated maintenance tasks.
WordPress support. WordPress is the most popular blogging platform, thanks to its user-friendly interface, customizability, and extensibility. I've focused on web hosts that provide a WordPress-optimized hosting environment.

Hostinger offers a great price-to-performance ratio
. While its WordPress plans are cheaper than those of most other budget hosting companies, it delivers far speedier loading times – in fact, our performance tests revealed it to be
the
fastest out of hosts within a similar price range. This makes it a great choice for beginner cooking bloggers looking to save money without sacrificing performance. In other words, your sumptuous recipe photos will load quickly for your site visitors. Hostinger provides free email accounts with all of their plans, so you can have a professional domain-based email your fans can use to contact you. Also, upgrading to any other plan from the entry-level option will get you unlimited bandwidth, so your audience can grow with your site. The only real downside is that Hostinger tends to upsell fairly heavily, frequently showing pop-ups within its control panel to push you into upgrading. It's the hidden cost of such low prices.
Hostinger WordPress Hosting
A free domain name is included with some hosting plans from Hostinger
Features
Highly-optimized hosting platform. Hostinger's performance for WordPress sites is due to its implementation of the Litespeed web server coupled with the LiteSpeed Cache plugin for WordPress. This will deliver superb WordPress performance for your blog visitors.
WP Starter wizard. All WordPress plans include the WP Starter site building wizard. This helps establish the framework for your site quickly by helping you choose a theme, configuring key functionality (such as a blog!), and installing necessary plugins.
Easy-to-use platform. Hostinger uses a proprietary control panel called hPanel. It's easy to navigate and use, enabling you to configure any aspect of your hosting space.
Extensive knowledge base. If you find yourself stuck, Hostinger has plenty of documentation to help you through any issue. Hostinger's knowledge base is filled with detailed tutorials and guides for all the web hosting basics.
Check out our Hostinger review to learn more
.
Money-back guarantee

30 days

Data center locations

1 in the US, 3 in Europe, 2 in Asia, 1 in South America

Backup frequency

Weekly backups in Single WordPress and Starter WordPress. Daily backups in higher-tier plans.

Starting price

$

2.99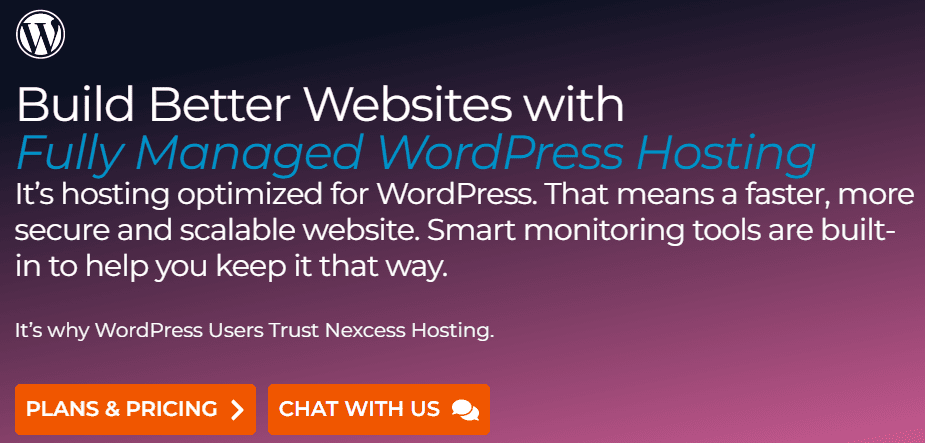 Nexcess offers reasonably-priced managed WordPress hosting
. It's one of the top choices if you wish to automate much of the busywork that comes with any kind of website hosting. For example,
Nexcess offers AI-driven automatic plugin updates
. While WordPress can automatically update your plugins, it does so with zero regard as to whether these updates actually work on your site. Nexcess uses a proprietary Visual Comparison Tool to test plugin updates before running them on your live site. Nexcess also provides access to Edge CDN, its content delivery network with 20+ points of presence around the world. This helps your blog's content – high-quality recipe images in particular – to load more quickly in more locations, even if visitors are far from your chosen data center. This can be handy if you're running a blog with ethnic recipes that are of interest to people in an originating country as well as, say, the US or the UK. These premium features don't come cheap. But while Nexcess is more expensive than most shared hosting providers, it is still less expensive than most competing cloud-based hosts.
Features
Free auto-scaling. If your blog gets a traffic surge that is too much for your current hosting resources to handle, Nexcess' cloud-based network will automatically scale your resources so that your site doesn't slow down. This feature can be used freely for a maximum of 24 hours per month, beyond which you will be asked to upgrade to a plan with more resources.
iThemes Security Pro. This usually-expensive plugin is available for free with Nexcess' managed WordPress hosting plans. You can keep your blog safe by blocking automated attacks, monitoring for malicious activity, and scanning for malware.
One-click site staging. If you're making extensive changes to your blog, Nexcess lets you create a copy of your site to work with. When you're done testing, you can seamlessly push the changes to your live site.
14-day free trial. Nexcess is the only host on this list that offers a free trial with no credit card information required. If you're not sure whether your blog would benefit from the premium features of Nexcess, you can try it to find out for yourself.
Take a look at our detailed Nexcess review for more information
.
Money-back guarantee

30 days, optional 14-day free trial

Data center locations

4 in the US, 3 in Europe, 1 in Australia

Backup frequency

Daily

Starting price

$

21.00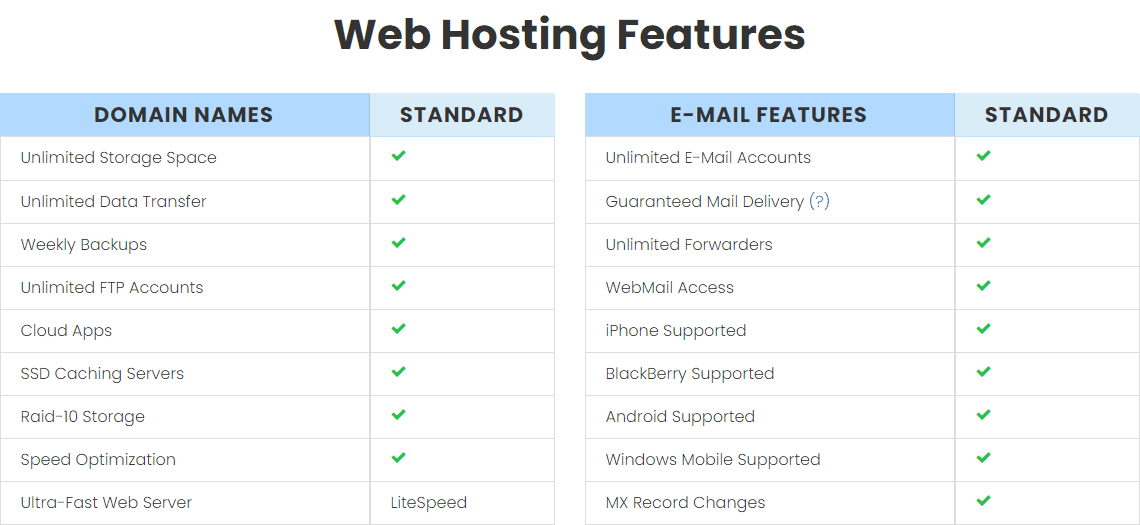 Food blogs tend to be image-heavy, and after some time, all those high-quality photos on your recipe pages begin to add up. It's not uncommon to have to upgrade your hosting plan just to get some extra storage, as well as bandwidth to serve all that great content to your hungry visitors. If you find that your blog is quite resource-greedy,
I'd try InterServer, which offers hosting without resource limits.
SSD storage, data transfer, email accounts, and even total sites – all of it is unlimited with InterServer's Standard shared hosting plan. This grants you a lot of flexibility to grow, even if you're developing several blogs for different genres of cooking all at once.
While it isn't as cheap as some of the other budget shared hosting options on this list, InterServer remains affordable
. Furthermore, the reasonable monthly rate is available without having to commit to multiple years of hosting.
Features
Great performance in the US and western Europe. InterServer delivers loading speed that is comparable to Hostinger in the USA, and isn't too far behind in Europe. LiteSpeed web servers also mean optimal performance for WordPress-based cooking blogs.
Free repair services. If your blog is ever hacked or compromised, InterServer will get you back up and running as soon as possible. They'll also take extra measures to prevent similar occurrences in the future.
Reliable SSD storage. When you're storing critical data for one or more blogs, the storage solution had better be reliable. InterServer has minimized the risk of data loss by mirroring your data across several SSD drives. If one fails, your data will be safe on another.
Softaculous app installer. While InterServer offers the DirectAdmin control panel instead of cPanel, it's easy to install WordPress for your blog site(s) with the Softaculous installation tool.
Read through our expert InterServer review for more details
.
Money-back guarantee

30 days

Data center locations

2 in the US

Backup frequency
Weekly
Starting price

$

2.50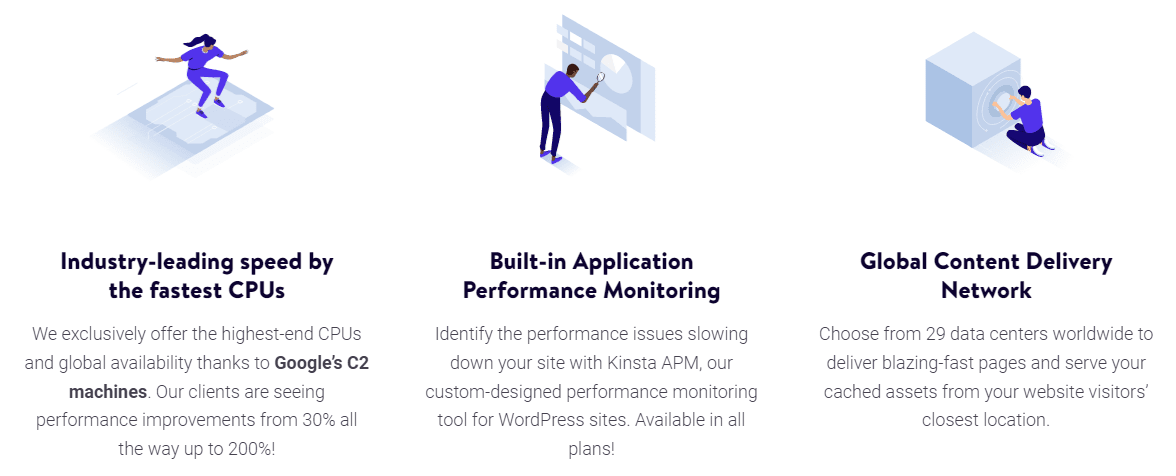 Kinsta offers the best WordPress performance on this list, period
. It managed to beat Hostinger by a significant margin, and it also provided 100% uptime during our four months of testing. Even better,
Kinsta's extensive network of 29 data centers is powered by Google Cloud
, and supported by a premium content delivery network (CDN). Wherever your target audience might be, Kinsta ensures your blog will load fast. Kinsta's plans are expensive, and the entry-level plans tend to be resource-limited. If you're looking to launch a range of very busy cooking or restaurant review blogs, you'll have to pay for a higher-end plan to accomodate more sites. That said, if you want the best in performance (and you can afford it), Kinsta is definitely worth considering.
Features
Proactive uptime monitoring. Kinsta performs uptime checks every two minutes. If it detects problems, Kinsta will automatically try to bring your blog back online. Failing that, Kinsta's engineers will investigate and resolve the issue for you.
Automatic daily backups. Your blog content – recipes, photos, and everything else – will be backed up every day. Each backup is retained for 14 days, meaning you'll always have two weeks' worth of backups to fall back on.
Premium migration service. Kinsta offers a limited number of free hands-on migrations for WordPress sites with every plan. No matter how large and complex your food-oriented blog site is, Kinsta's experts will be able to handle the move without issue.
Security guarantee. In the event of any security breach, Kinsta will work with you for free to repair your site. The security team will work with you for as long as necessary to restore your foodie blog to its former glory.
Take a look through our Kinsta review for all the details
.
Money-back guarantee

30 days

Data center locations

7 in the US, 2 in Canada, 7 in Europe, 2 in Australia, 9 in Asia, 2 in South America

Backup frequency
Daily
Starting price

$

24.00

InMotion Hosting offers some of the best solid state drive (SSD) tech available with all of its WordPress plans
. The NVMe SSDs that InMotion Hosting provides will perform several times better than standard SSDs (or the older HDDs sometimes included with budget plans). This is particularly important for recipe-based blogs with lots of high-quality images and galleries – the quicker these files can be accessed from the drive, the lower the load times will be for your visitors, and the better your site will perform overall.
InMotion Hosting also boasts a 90-day money-back guarantee
. While InMotion Hosting offers a very good platform, the hosting dashboard can be difficult to navigate. If you find that to be a dealbreaker, you can easily cancel and get a refund.
InMotion Hosting WordPress Hosting
Features
Free advertising credits. Every plan gets $150 in free advertising credits. This can be a nice boost in outreach for a new blog.
Built-for-you WordPress site. If you'd like to skip the initial development of your blog, you can pay InMotion Hosting a fee to build a one-page WordPress site for you. This is tailored to your specifications and only takes a few days.
Free domain name. Unlike the other hosts on this list, InMotion Hosting offers free domain name registration for a year, even with the entry-level WordPress plan. This makes InMotion Hosting a very good budget option for the first year.
Automatic malware protection. InMotion Hosting regularly scans your site for malware. If a possible vulnerability is found, it'll automatically patch it up. This will keep your blog secure against common malware without any effort required on your part.
Read our comprehensive InMotion Hosting review for a full breakdown
.
Money-back guarantee
90 days
Data center locations

2 in the US

Backup frequency

Only with WP Launch plan and higher. Backups are set on your own schedule.

Starting price

$

4.99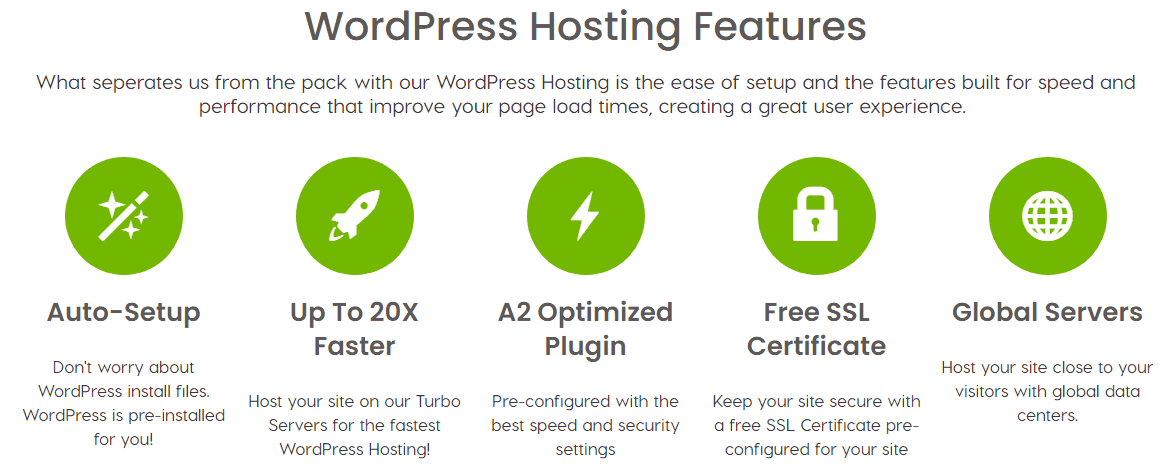 A2 Hosting offers shared and managed WordPress hosting.
The shared WordPress plans are available at competitive prices,
and perform almost as well as Hostinger's. Nonetheless, the controlled WordPress plans rely on A2 Hosting's "Turbo Servers", featuring speedy NVMe SSD storage, WordPress-tailored LiteSpeed web servers, and an increase in processing capacity. These plans are expensive, yet they can provide a big and bustling food blog a performance advantage. Regardless of the type of hosting you choose, you'll be able to take advantage of
A2 Hosting's flexible money-back guarantee
. You can expect a full refund if you cancel in 30 days – but even if you cancel after this period, you can get a refund for the unused portion of your contract.
A2 Hosting WordPress Hosting
Features
High security. A2 Hosting makes use of multiple security solutions to keep your blog safe. There are multiple firewalls and other robust protections against various methods of online attack.
"A2 Optimized" plugin. All WordPress plans come with a proprietary optimization plugin. This includes premium image optimization and a variety of powerful caching and compression functions.
WordPress tools. Managed WordPress plans come with the WordPress Toolkit Deluxe. This is a management solution that lets you manage backups, update plugins, enable site staging, and more, all from an easy-to-navigate interface.
Unlimited hands-on site migration. If you have multiple food blogs, A2 Hosting's migration team will transfer all of them from another host at no extra charge.
For more detail, check out our A2 Hosting review
.
Money-back guarantee
30 days
Data center locations

2 in the US, 1 in Europe, 1 in Asia

Backup frequency

Daily, with all plans except Startup shared hosting

Starting price

$

11.99
Which Is the Best Web Host for Food Blogs?
If you know where to look, you'll find plenty of great options for food bloggers. Whether you publish recipes or cook-throughs, or review restaurants or kitchen implements, all these choices will provide your food blog with the performance, reliability, and features necessary for success. If you're just starting out with a new food blog site, and you're looking for good performance at a low price,
I'd choose Hostinger
. It's the best budget host on this list. For the best managed WordPress option,
go with Nexcess
. Its security, scalability, and automatic plugin update testing allow you to focus solely on producing excellent-quality content for your foodie fan base. If you have several small blogs covering different food-related niches, like recipes from various cultures,
you'll find the best deal with InterServer
. With unlimited storage and bandwidth, and the ability to launch as many sites as you wish, you can get your food blog network off the ground without coming up against any resource limits. Check out the table below for more comparison points.
Standout feature
SSD storage
Data transfer
Starting price
Hostinger

Low prices, great performance

30GB – 200GB

100GB – unlimited

$

2.99

Nexcess

Premium cloud-based WordPress hosting

15GB – 800GB

Unlimited

$

21.00

InterServer

Unlimited sites, storage, data transfer

Unlimited

Unlimited

$

2.50

Kinsta

Best performance on the list

10GB – 250GB

25,000 to 3,000,000 unique monthly visits

$

24.00

InMotion Hosting

Speedy NVMe storage at budget prices

NVMe; 100GB – unlimited

Unlimited

$

4.99

A2 Hosting

"Anytime" money-back guarantee with prorated refunds

NVMe; 100GB – unlimited

Unlimited

$

11.99
FAQ
Which is the best web host to use for food blogging?
It depends on your individual needs. If you're looking for affordable shared hosting, Hostinger is worth looking into. Those with a bigger budget and loftier ambitions may benefit from a premium solution such as Nexcess. If you're just getting started with blogging in general, read our complete guide to building a website in 2023 for everything you need to know.
Is Wix good for food blogs?
While a content management system (CMS) such as WordPress offers a lot of flexibility, it can be daunting for beginners. Wix is an easier solution that allows you to build a blog site with simple drag-and-drop functionality – no technical knowledge required. It offers plenty of high quality templates, with many themed around food and cooking. Wix has a forever-free plan if you'd like to try it out.
How much traffic can shared hosting handle?
It depends on the host, but generally, even budget shared hosting should be able to handle a few thousand unique visitors per day once your food blog gains some traction. If you're expecting more visitors than this, you may need to think about upgrading to one of Nexcess or Kinsta's higher-end plans.
Is GoDaddy good for a food blog?
While GoDaddy could certainly host any kind of cooking or food-related blog, it isn't among my top choices. GoDaddy's service can be both slow and unreliable, and this could cost you visitors. Many of the hosts in our list of the best web hosting services for 2023 offer far better features and performance.