Most entry-level shared hosting plans have enough resources to support a small, personal website.
The problem is that some providers pack these plans with unnecessary tools as a way to increase the price.
For instance, why should you pay extra for fancy e-commerce features if you have no intention of selling products on your site, or for a bunch of advanced developer tools you might never use?
I tested dozens of web hosting services to find affordable options that not only offer great value for money but also provide plenty of user-friendly tools to get you started.
Whether you're starting your first blog, building a portfolio site, or thinking of selling products online, you can use any of these hosts to get your website up and running quickly.
What We Look For in the Best Web Hosting for Personal Sites
I've spent the past few weeks testing some of the most affordable hosting platforms in the industry. During my tests, I prioritized these features:
Pricing. You don't want to spend a fortune on a personal website, but you don't want to get stuck with a subpar service, either. The web hosts on my list are affordable, but their entry-level plans pack a lot of value.
One-click installers. Whether you want to set up WordPress or add new functionalities to your personal site, these tools can help you do it quickly.
Website builders. Even if you've never built a website before, you can easily build a beautiful one from scratch. In addition to WordPress installations, the hosts on this list offer website builders with dozens of design templates and beginner-friendly interfaces – no coding involved.
Step-by-step guides. From setting up WordPress to connecting your domain and building your website, a host's help center should cover everything. The hosts on my list provide excellent guides and tutorials.
Outstanding customer support. It's nice to know that someone's always there to provide professional help if you need it. I looked for hosts with support teams that are knowledgeable, polite, and quick to respond.

InterServer keeps things very simple with a single, affordable shared hosting plan.
The Standard plan
 includes unlimited storage space and bandwidth in addition to an impressive kit of user-friendly features.
Additionally,
InterServer is one of the few hosts to offer affordable monthly billing
. With many other hosts, you'd have to commit to multi-year contracts just to get a good deal. When you're just starting out, it may make more sense to stick with InterServer's cheap and simple monthly billing.
You even get automated WordPress updates and backups, which most hosts don't usually include for free.
Features:
One-click installer for over 400 scripts. Softaculous is a fantastic tool you can use to install WordPress, any other popular CMS, or hundreds of functional plugins for your website. If, for instance, you want to add a photo gallery to your personal site, all you have to do is to open Softaculous and install Piwigo (or a similar script).
SitePad website builder. If you don't like WordPress, you have other options. InterServer's Standard plan comes with the SitePad website builder, a simple drag-and-drop interface with dozens of themes to choose from.
Unlimited email. If you opt for the Standard plan, you don't have to pay extra for email hosting. You can create an unlimited number of email accounts with your own domain name, and you get InterServer's built-in spam protection to boot.
Managed security. InterServer keeps your website safe for you. All plans come with the InterShield security suite, which includes a web application firewall, a malware scanner, and email protection. Even if your site gets hacked, InterServer's tech support team will clean it up for you.
For a full list of features, read
our in-depth InterServer review
.
If you're on a tight budget, Hostinger should be at the top of your list. If you sign up for a three- or four-year plan,
you can score an incredible deal for a price that is far lower than the industry average,
 even after renewal. So, what's the catch? My colleagues tested Hostinger over three months, and as it turns out, there isn't one.
Hostinger is one of the fastest and most reliable web hosts out there, and its plans are more than decent in terms of features.
Single Shared Hosting plan
, but the 10GB of space and 100GB of bandwidth should be more than enough for most personal sites. If you plan on hosting a lot of videos or high-resolution images and you need more space, you can easily upgrade to one of the other two plans.
As for ease of use, you can install WordPress with just a couple of clicks, and there are plenty of user-friendly tools to get you started.

Features:
A simpler control panel. Hostinger uses a proprietary control panel rather than the more traditional cPanel. All the essential functions are still there, but the interface is less cluttered and easier to navigate.
Excellent loading speeds. Hostinger is the fastest shared hosting service we've tested. It excelled in all our performance tests and had an average load time of only 1.56s.
Extensive knowledge base. Hostinger doesn't have the most responsive customer support, but there's a well-organized collection of guides and tutorials that you can use to set up your account and design your website, step-by-step.
Free domain for the first year. With Hostinger you can cross out the cost of domain registration from your list of expenses.
You can learn more about Hostinger in
our in-depth review
.
A2 Hosting has a proven track record of high uptime and consistent speeds, despite the fact that its shared hosting plans are pretty cheap.
Turbo Boost and Turbo Max plans
. This may be more than you need for a personal website, but if you plan to monetize your site through paid content or an online store, it might be worth the investment.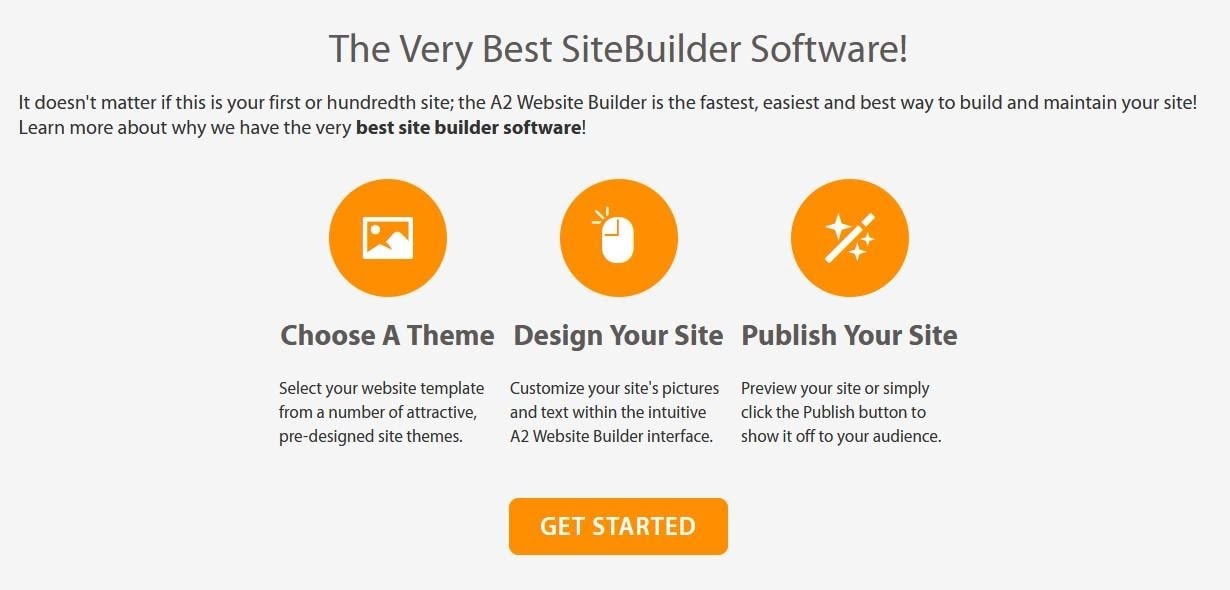 For a simple site, the Startup plan is more than sufficient.
 You get 100GB of storage space, unlimited bandwidth and email, as well as A2's security suite and proprietary optimizer for WordPress.
Features:
Versatile App Installer. A2's installer includes over a dozen different content management systems. I especially like the WordPress + Elementor package. Elementor is a WordPress plugin that provides a drag-and-drop interface, making it much easier to build a WordPress site.
A2 Optimized Apps. WordPress is great for many types of sites, but it isn't adjusted for performance or security by default. With A2 Hosting, you don't have to make any of the settings yourself. By the time you log into your account, WordPress will already be optimized for you.
Free security tools and SSL. An SSL certificate is a must these days, and A2 gives you one for free on all plans. The Perpetual security suite keeps your site safe from hackers and other online threats.
Anytime money-back guarantee. Even after the first 30 days of hosting, you can ask for a prorated refund for the remainder of your term. In other words, you can end your contract with A2 at any point in time without losing any money.
For a full list of features, read
our in-depth A2 Hosting review
.
Although building a website is easier than it was in the past, this doesn't mean things can't still go wrong.
If this is your first time setting up a website, a beginner-friendly host like HostPapa might be the best solution for you.
After all, why should you waste time trying to fix a problem you're not familiar with, when you can just pop open a live chat bubble and get help from an expert right away?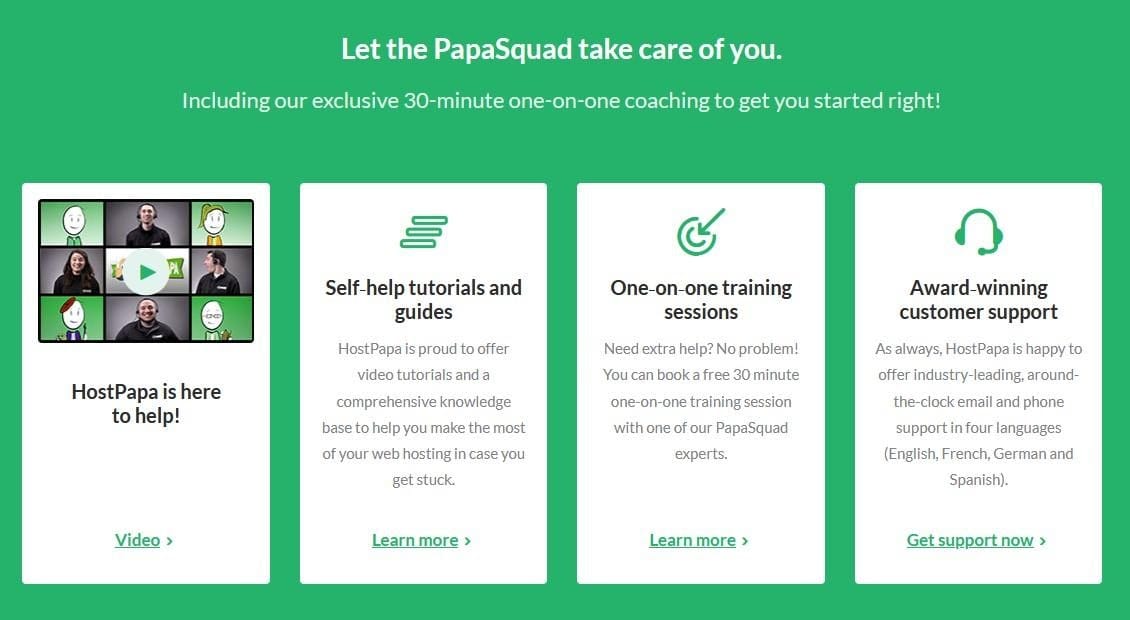 HostPapa's Starter plan
 is fairly affordable, and it comes with all the regular features. You get a generous 100GB of storage, a free domain for one year, the Softaculous one-click installer, and 100 email accounts.
HostPapa's premium website builder is also included, with dozens of themes for you to choose from.
 The builder is free for just two pages – if you need more, you'll have to pay for an upgrade.
Features:
QuickStart wizard. You're not alone when you're building a website with HostPapa. The QuickStart wizard is there to guide you through essential tasks like connecting a domain or starting a new website.
Video tutorials. HostPapa has an extensive knowledge base designed for beginners. Most tasks are also exemplified in video tutorials, which can make it easier for you to create your first site.
Great customer support. If you ever run into trouble, you can count on the PapaSquad to provide swift and effective support through live chat, tickets, or phone.
One-on-one training with an expert. As a new client, you get a 30-minute training session with one of the HostPapa experts. You can discuss a wide range of topics, from navigating your HostPapa dashboard to building and securing your website.
For a full list of features, read
our in-depth HostPapa review
.
If you want to use WordPress to build your personal website, SiteGround is a great place to start.
 Its
feature-rich managed WordPress plans
 cost the same as regular hosting, which is a big plus when you're on a budget.
Most importantly, SiteGround is very easy to work with, regardless of your level of experience.
 Just activate the WordPress Starter wizard when you first log into your account, and you'll have an easy to follow, step-by-step guide to building your first website.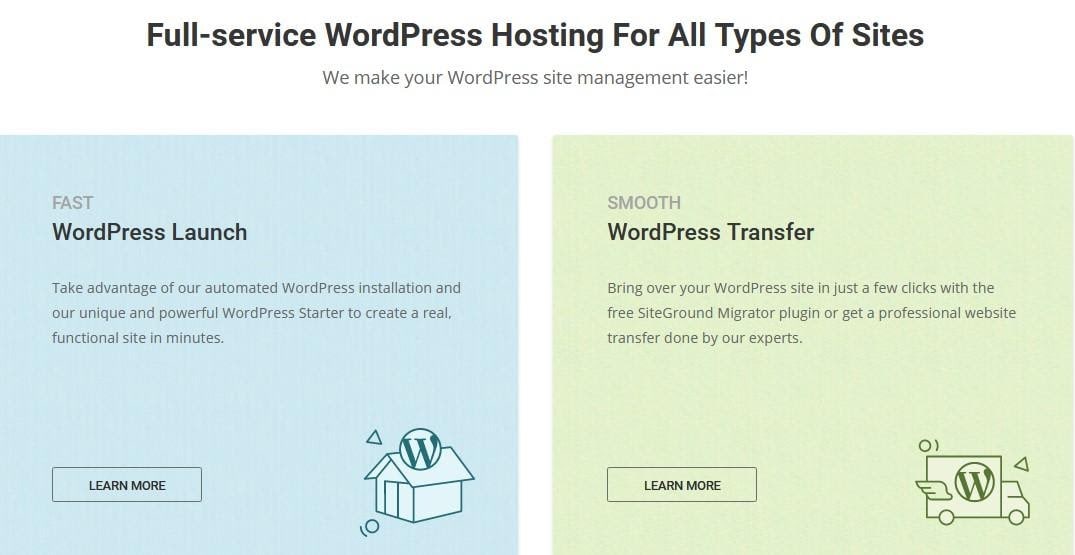 Features:
Site Tools. SiteGround's proprietary control panel is excellent for beginners. All the essential tools are neatly integrated into a menu on the left-hand side of the dashboard. Here, you'll find your domains, email, WordPress installation, site statistics, speed optimizations, SSL certificate, and more.
Managed WordPress. The CMS is preinstalled and optimized for speed during checkout. You also get automated WordPress updates, a server stack that is built specifically for this CMS, and several premium themes for your site.
Specialized WordPress support. Tech support from most web hosts is limited to platform issues. With SiteGround, you can get help with WordPress debugging, which can be useful if you've never worked with WordPress before.
Daily automated backups. Even on the entry-level StartUp plan, you can sleep easy knowing that your website is safe. If, for some reason, you lose your data, SiteGround will quickly restore it for you.
To learn more about SiteGround, read our expert review
.
GoDaddy is a great option if you want an easy way to manage all of your website-related services in one place.
 From web hosting to domain registration and email, GoDaddy offers everything you might need to create and launch your personal site.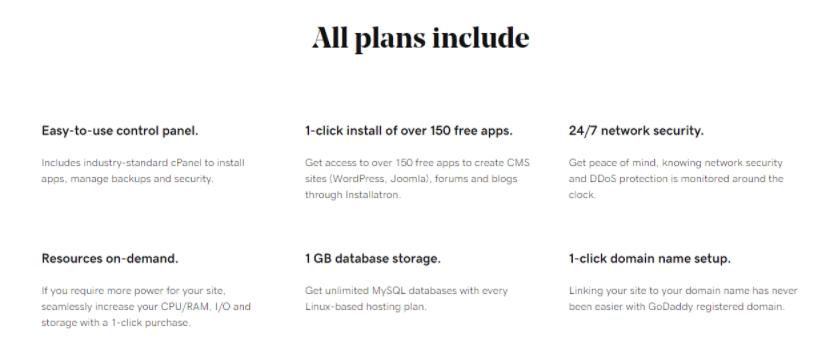 The trouble with GoDaddy is that you'll have to pay extra for some essential features that other hosts give you for free. For example, the
entry-level Economy shared hosting plan
 doesn't include a free SSL certificate, nor does it come with built-in security or a website builder.
If you're using WordPress for your site, I recommend the Basic WordPress hosting plan instead.
 It's just slightly more expensive, but includes basic security, site backups, and thousands of WordPress themes from GoDaddy.
Features:
A clean interface. GoDaddy has a neat, user-friendly dashboard where all the important options are prominent and easy to find. It's also very simple to add new services to your account because GoDaddy takes care of the backend setups for you.
Pre-installed plugins. You'll find Beaver Builder (a page builder for WordPress), Ninja Forms, Contact Widgets, and other useful plugins already installed on your account when you first log in.
Prebuilt WordPress websites. If you opt for one of GoDaddy's WordPress hosting plans, you'll be able to choose between dozens of prebuilt websites to get started. You can then edit your site using an intuitive, drag-and-drop interface.
WP101 video tutorials. Also pre-installed on your account, this useful plugin comes with about an hour's worth of short WordPress tutorials. These are designed for WordPress beginners who are building their first website.
To learn more about GoDaddy, check out our in-depth review
.
Scala Hosting's Mini plan gives you all the tools you need to create an effective personal site, and it's fairly cheap too.
You get a generous amount of storage space, a one-click installer for your favorite CMS, unlimited email, a free domain for one year, and several security features to keep your site safe.
That said, Scala's best-value offer is its managed VPS hosting.
 You may not need VPS if you're building a small personal website, but if your blog or online store quickly gains popularity, it's good to know that you can easily upgrade your hosting. Scala Hosting's
 basic VPS package is definitely worth considering, especially since it's so cheap.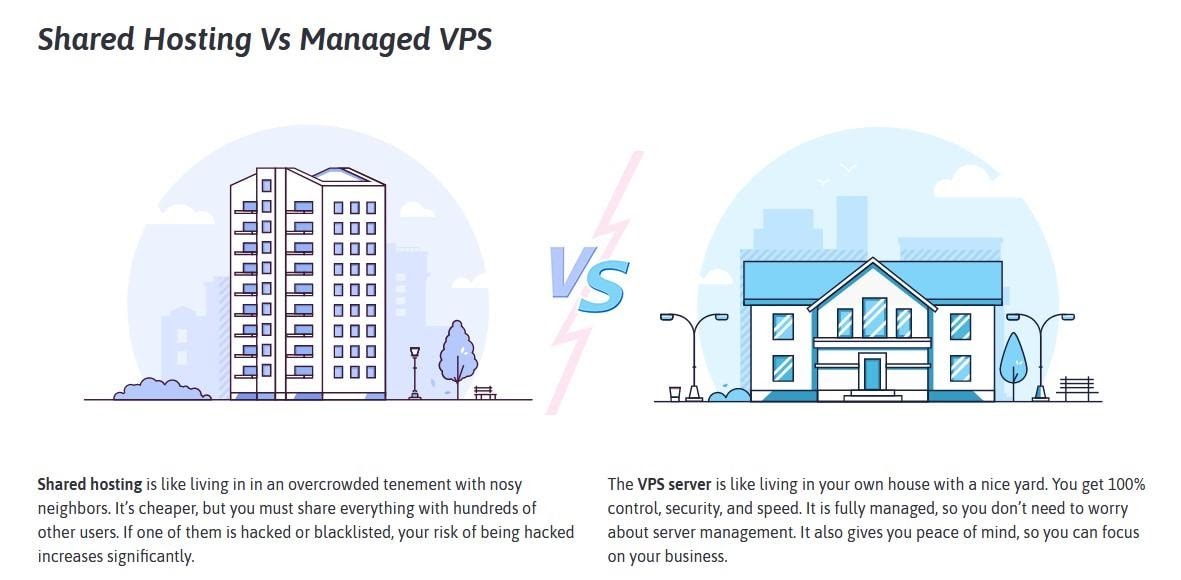 Features:
Free website migration. If you already have a personal site but you're unhappy with your current host, you can ask Scala's tech support to move your website for you. No fuss, and no downtime.
SShield Protection. Hackers don't just target large websites and businesses, so even if you only have a small site, you should think about security. SShield provides round-the-clock monitoring and currently has a 99.96% success rate.
One-click site staging. Making big changes that could break your site? Test them out first with Scala's free one-click site staging tool. If everything goes well, you can then update your website to match the new design.
Integrated Cloudflare CDN. If you work remotely with clients from around the world, this feature will ensure that they can access your website quickly. The CDN is integrated straight into your dashboard, so it'll only take a couple of clicks to turn it on.
To see Scala Hosting's full list of the features,
check out our in-depth review
.
Which Web Host Should You Choose for Your Personal Site?
Each provider on my list has its strengths, but your decision should ultimately depend on your specific needs.
If you want a simple web hosting solution that doesn't require a big upfront commitment, InterServer is your best option.
You get everything you need to design a beautiful website, all on a simple and cheap monthly billing cycle. 
If performance and reliability are at the top of your list, Hostinger is the perfect choice.
The best part? You'll be hard-pressed to find a cheaper provider with similar features. Still considering your options? Check out the table below for a side-by-side comparison of the best web hosts for personal sites:
FAQ
1. Which web host should I use to host my personal website?
Any of the providers included on my list could be a good web host for a personal site, but to make the best choice, you have to consider your needs and your level of experience. For instance, InterServer is a great option if you don't want to pay up front for several years of hosting just to get a decent price – you'll be billed on a monthly basis with no long-term commitment. Hostinger is another excellent choice

 if you're on a tight budget but you don't want to compromise on performance. 

For more options, you can always check out our list of the best web hosting services.
2. Will hosting my personal website be expensive?
Not necessarily. Shared hosting has become increasingly cheap over the years, and with hosts like InterServer or Hostinger, you can get a personal website running for pocket change. I also recommend you look over our coupons & deals to make sure you get the best possible price for your hosting.
3. What is the best website builder for my personal site?
It depends. If you want to keep things as simple (and as cheap) as possible, your best option might be to use the website builder provided by your web host. For example, InterServer's SitePad builder comes with dozens of gorgeous themes, and an easy to use drag-and-drop interface. For a WordPress website, you'll need a WordPress site builder like Elementor or BoldGrid. Both can be used for free, and it only takes a few clicks to set them up. Otherwise, if you want to give your personal site a more premium look, check out our list of the best website builders. Wix is an especially versatile tool that lets you fully customize your theme to reflect your personal brand.
4. Is InterServer good for bloggers?
Yes, it is. In fact, I recommend InterServer for personal and travel blogs because it's both cheap and super convenient to use. On the Standard shared hosting plan, you can install WordPress with just a few clicks, and you're ready to go. You don't have to worry about things like WordPress updates, backups, or security either, because InterServer takes care of everything for you.