You want to hire a professional architect to make sure your home is in safe hands, but you don't want the price tag that normally comes with it.
Thankfully, there are alternatives. But how can you be sure a freelancer will deliver high-quality blueprints and designs? And what happens if you're not satisfied with the result? Take a deep breath – these are reasonable questions. Rest assured, you
can
hire skilled architects online, and
with the right website, you can be confident you're working with a professional. All for a fraction of the price you'd pay through a firm.
I spent quite a bit of time hiring freelance architects on multiple websites and platforms, and I can now confidently say that not all of them are created equal.
On Fiverr, for example, I managed to complete several projects within just a few days
– and the quality of work often exceeded my expectations. Other websites weren't as impressive. If you're considering hiring a freelance architect online but don't know where to look, you've come to the right place – I've done all the research for you!
Short on Time? These Are the Best Freelance Websites for Hiring Architects in 2023
Fiverr – High-quality architectural and interior designs at the most competitive prices (and, in some cases, with an unbeatable, speedy turnaround).
Upwork – Great option for establishing long-term relationships with freelance architects.
99Designs – Ideal for commissioning custom 3D architectural renderings to bring your designs to life.
What We Look For in the Best Websites for Hiring Freelance Architects
I hired freelance architects for a wide variety of projects using some of the most well-known freelance websites. The ones that made this list offered standout service and ticked all the right boxes. The final ranking was determined based on the following criteria:
Cost. We're all familiar with how expensive architectural projects can get when hiring professionals through established firms – websites should be able to offer better deals. I've only included platforms that won't break the bank.
Range and quality of services provided. Traditional building blueprints differ from modern 3D home models, and remodeling a home isn't the same as creating a design from scratch. All the options listed here offer all kinds of solutions, varying in scope, without compromising on quality – even for the smallest of projects.
Rating system and vetting procedures. Online platforms can be hard to navigate, especially when you're sifting through hundreds of profiles. I've only included websites with a decent rating system and vetting procedures that ensure only qualified professionals make the cut.
Ease of use. Your time is valuable, and no one wants to waste time trying to figure out how a platform works. My recommendations all have intuitive interfaces and easy-to-navigate menus that streamline the hiring process.
Payment security. Hiring professionals online can be tricky, and you can't be sure you'll always get exactly what you ordered. I've handpicked websites and platforms that will stand by you if something doesn't go as planned.
Note: Be extra vigilant when hiring architects online! Although many websites claim they offer architectural services, some don't perform regular checks to ensure users meet certain criteria. There's a reason architects spend as many years in college as doctors, and you want to make sure your projects are managed by professionals who are fully qualified.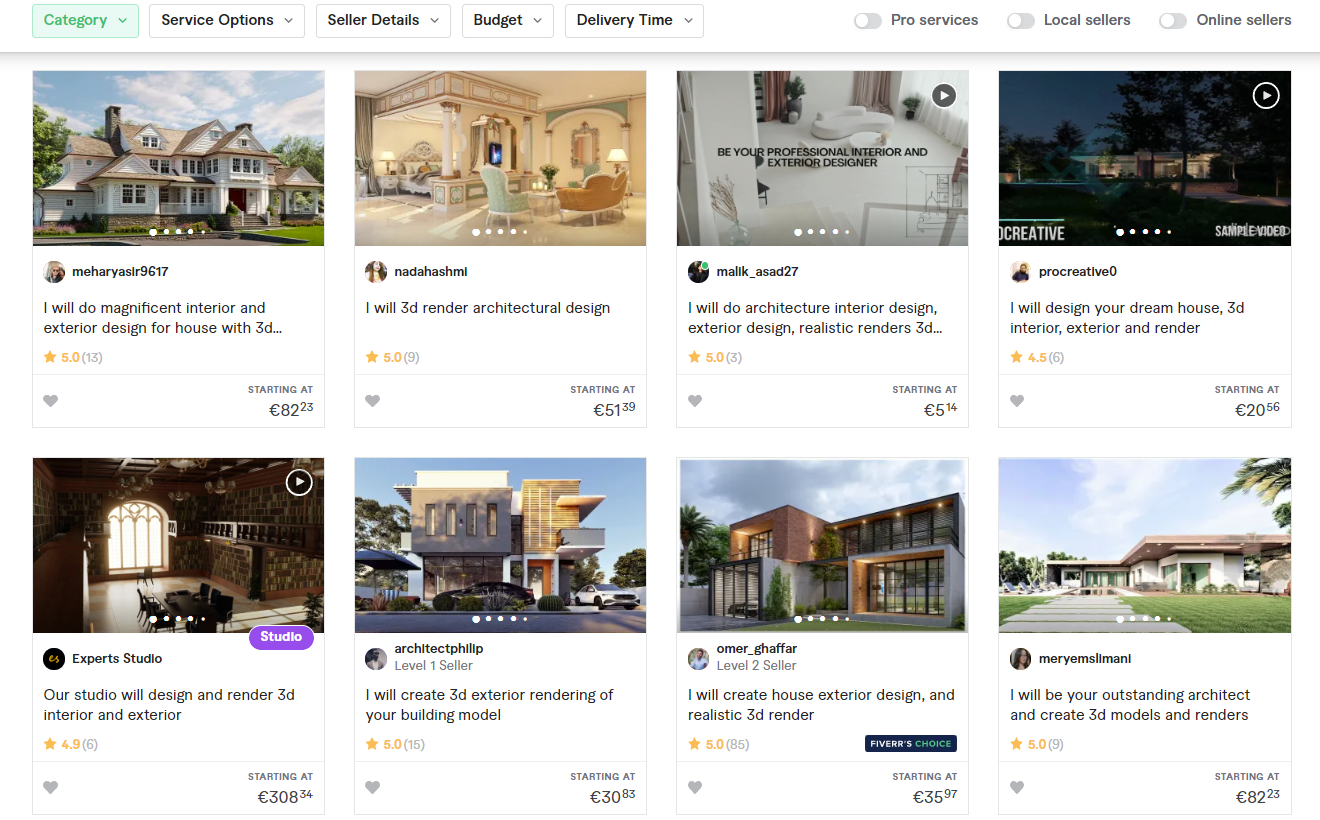 If you've already done some research online, you'll almost definitely have stumbled across Fiverr. As well as being one of the biggest and most well-known freelance platforms, Fiverr stands out for all the right reasons.
Fiverr's hiring process couldn't be more straightforward.
I love how I can simply log in to my account, perform a quick search, and quickly find skilled professionals to hire in just a few minutes.
It's also one of the cheapest options for hiring freelance architects online.
I found more than a thousand active gigs for architectural projects, most below $50. Yes, the prices you see on the first few pages sometimes seem suspiciously low
(Fiverr's $5 deals are still a thing)
, but don't let that discourage you – cheap doesn't always equal bad. In the case of Fiverr, it's just a matter of experimenting with its advanced filters until you find the perfect match.
Features
Advanced rating system. Fiverr operates on a complicated, double-layered rating system that works surprisingly well. Every seller is assigned a level based on their experience on the platform plus a zero-to-five star rating based on their overall performance. These ratings are clearly displayed below each gig.
Many available categories. Fiverr's filtering tool is one of the best on the market. From the category dropdown menu, you can pick from interior designs to 2D floor plans, 3D models, and other designs.
Extra-fast delivery. Most architects complete their projects within a few days, but you can expedite the process with the one-day delivery option – which costs extra and is available with most gigs. Considering how technical and complicated architectural projects can get, this came as a huge surprise!
Safety net. Fiverr protects buyers in several ways. You can easily cancel orders if your seller doesn't deliver. And if you're not satisfied with the result and can't work out a solution, you can file a dispute – even after an order has been completed.
Head to our expert Fiverr review to learn more about the platform's features
.
Available categories

2D drawings and floor plans
3D rendering
3D modeling design
Architectural design
Product design
Virtual staging
Diagrams and mapping

Rating system
Seller level + star rating
Payment security
Easy dispute and payment resolution
Starting Price

$

5.00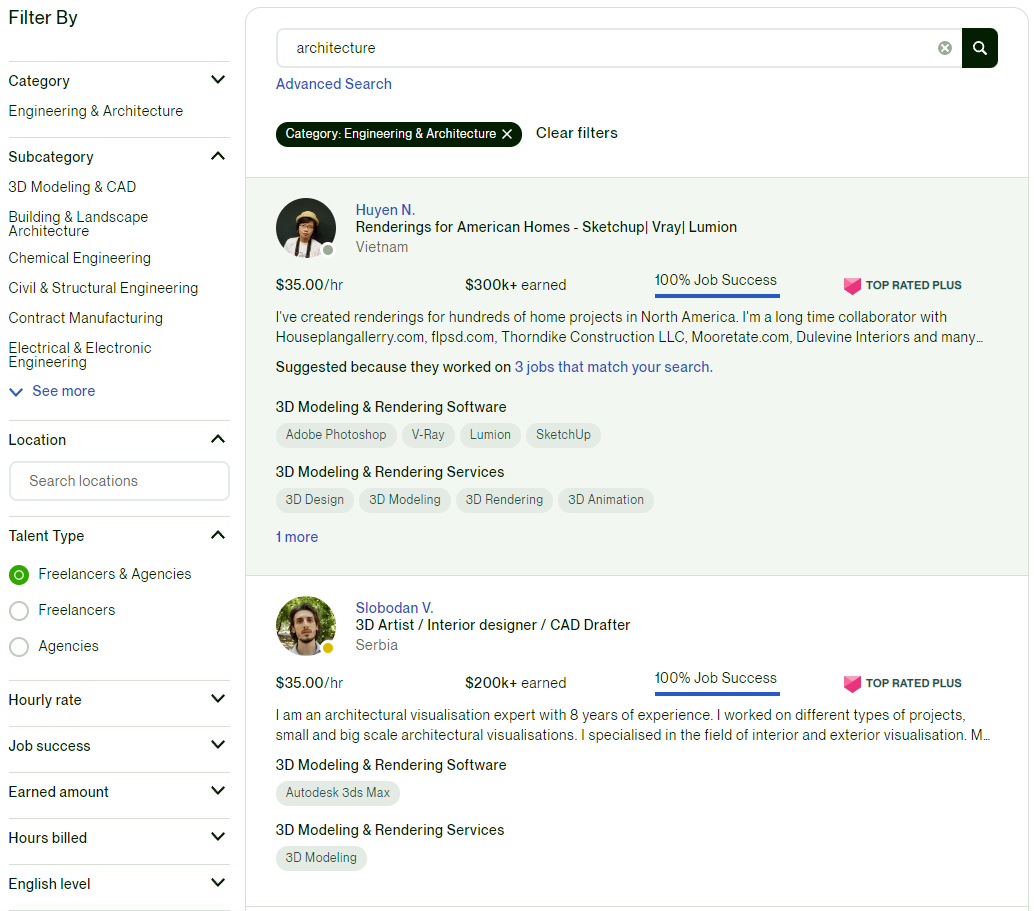 Upwork is another big name in the online freelance industry, but it does things a bit differently than its competitors.
Instead of focusing on short-term projects, Upwork encourages long-term relationships
and even provides users with useful on-platform work tools. The truth is that most architectural projects comprise different parts and take time to complete.
Upwork incentivizes long contracts with reduced freelance fees, making it easier to find an architect that will see your bigger projects through
. You could, for example, work with a qualified architect to create your home's initial 2D floor plans and hire them again to help you with 3D rendering and interior design a few weeks later.
Upwork's intuitive interface
will guide you through the hiring process, helping you write up and publish your first job posting. Candidates will see your job posting, and you can begin interviewing them right away.
Thousands of architects are active at any given time, making it possible to find a good fit in less than an hour.
Features
Different ways to hire. You can find freelance architects through the traditional job posting/interviewing procedure or use the "Discover" feature to find talent based on your project's needs – much like Fiverr.
Detailed freelancer profiles. Freelancer profiles on Upwork work a lot like resumes. All the crucial information an employer would require from an applicant (such as education, work experience, sample projects) is available at a glance.
Work tools. All freelancers use the platform's own diary to track their time, making it easy for you to know exactly what they're working on at any given time.
Secure payments. Filing a dispute on Upwork is straightforward, although you'll need to move quickly if you're on an hourly contract – you only have a few days to review each week's work diary. Funds on fixed-price projects are only released when you approve the submitted work.
Read our comprehensive Upwork review to learn more about its unique features
.
Available categories

3D modeling and CAD
Building and landscape architecture
Chemical engineering
Civil engineering
And more!

Rating system
Job success + top rated status
Payment security
Easy dispute and payment resolution
Starting Price

$

0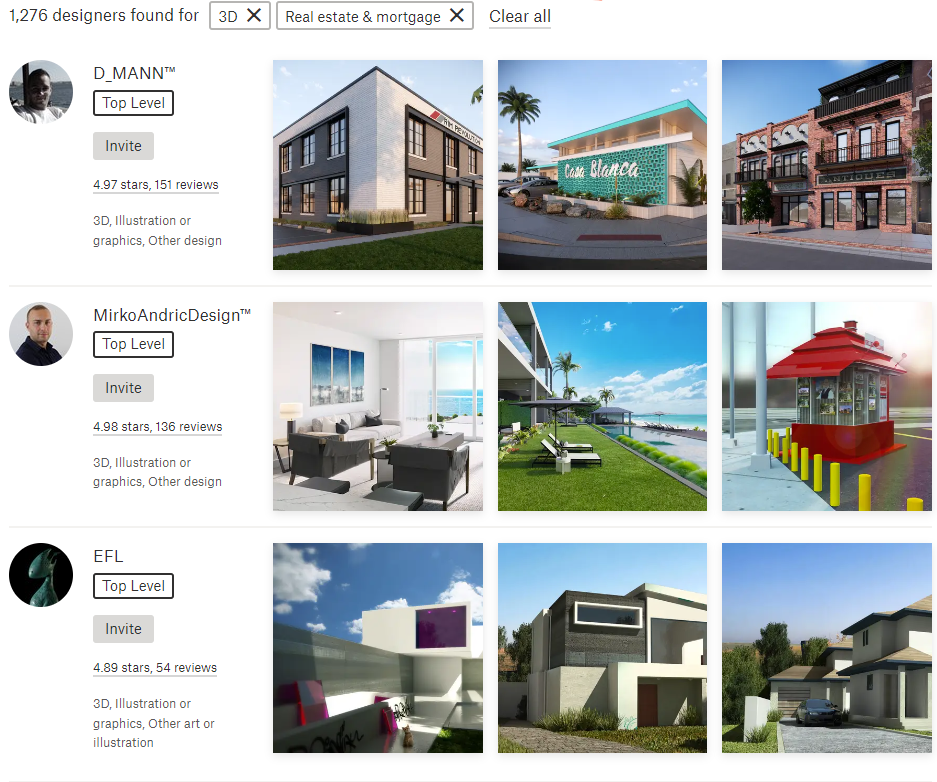 99Designs specializes in logo, web, and app design, but they also offer custom 3D architectural renderings.
It's certainly not the cheapest choice, but the talent pool is huge, and the quality of work is high
– especially on the Gold and Platinum packages.
Hiring a professional on 99Designs is pretty straightforward.
You
fill out a form on the 99Designs website
describing the design you need in as much detail as possible, and you'll be connected with a qualified freelancer in no time. Alternatively, you can r
un a contest or use the search function to browse profiles and find a match on your own.
Read our 99Designs review to learn more about the platform
.
Features
Contests. Contests allow you to reach wider audiences without the grunt work. You can open your brief to 99Design's entire design community, review concepts, and pick the one that best meets your requirements.
Money-back guarantee. If your contest hasn't yet entered the final round, you can get all of your money back – no questions asked. Note, however, that this doesn't apply to 1:1 projects (where you contact a freelancer directly through the search function).
Quick turnaround. Once you submit your brief, you can expect to receive submissions within 24 hours.
Active community. 99Design's forum is very active and I found it was a really great source of inspiration. It's also a helpful way to connect with freelancers who might be interested in your architectural projects.
Available categories

3D rendering
3D modeling design
Architectural design
Product design

Rating system
Star rating + level (top level only available with the Gold and Platinum packages)
Payment security
Money-back guarantee for contests
Starting Price
$449 for 30 design concepts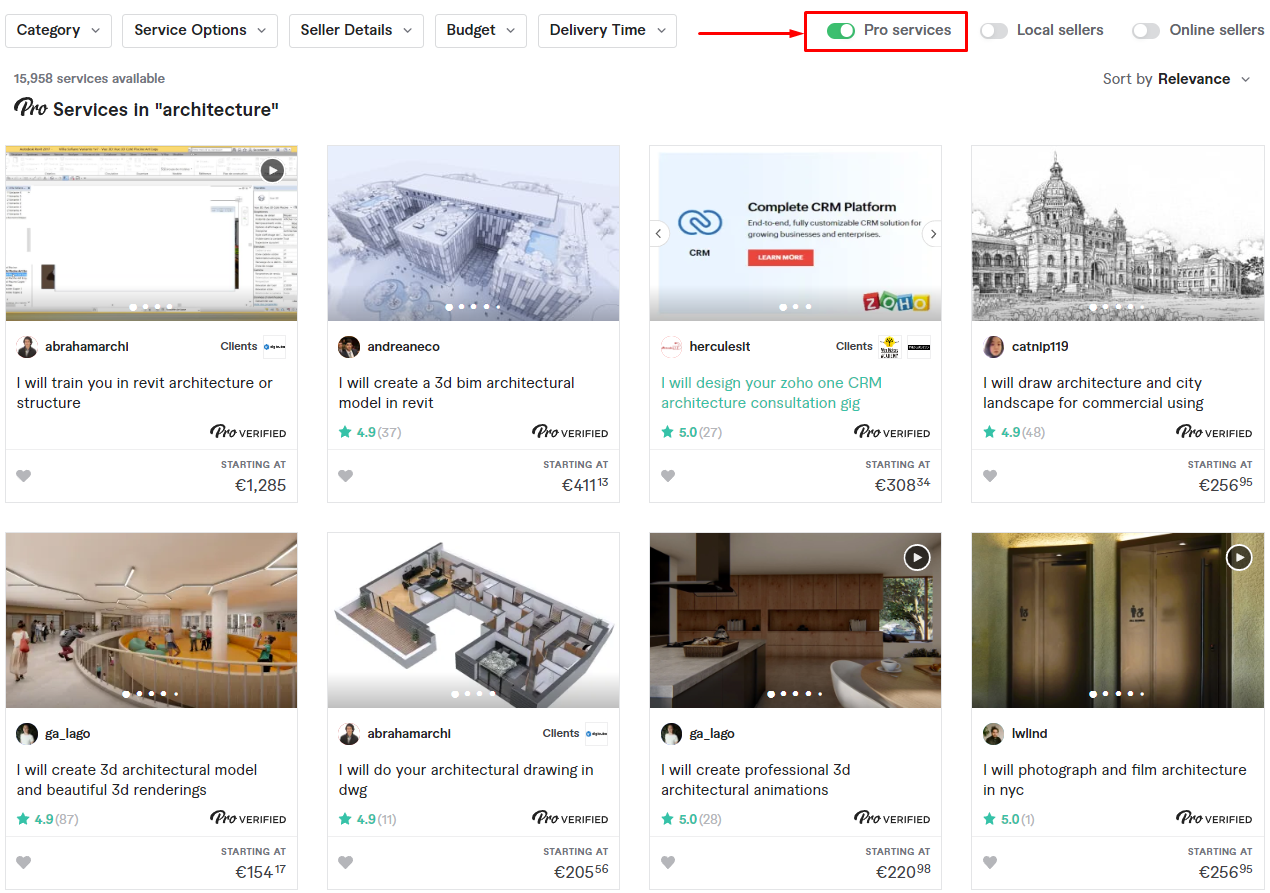 Wait, what? Isn't Fiverr already on this list? Well, yeah, but we're talking about a completely different experience here.
While there isn't a different platform or website to navigate, you will occasionally spot the "Pro Verified" badge during your searches on Fiverr
– or you can also view
"Pro-only" services
by sliding the corresponding switch on. What's the difference, you ask? Unlike regular Fiverr sellers,
Pro sellers need to apply and prove their skills before they're accepted into the program
. Essentially, hiring a Pro seller on Fiverr ensures you'll get top-quality 3D renderings, blueprints, or designs – for a price. Learn more about the
differences between Fiverr and Fiverr Pro in our
updated guide
.
Features
Easy browsing and automatic filtering of low-quality gigs. Look, I'm not saying that all $5 gigs are bad, but it sometimes takes a lot of work to find out which gigs are worth your time. I don't know of many architects that work for $5 – paying a bit extra for better quality designs is definitely the way to go. Fiverr Pro makes our lives a little bit easier by automatically filtering out cheap, low-quality gigs and leaving only the best sellers to compete against each other.
Strict criteria. While we don't know the exact criteria with which Fiverr accepts sellers into the Pro program, they say that only 1% of applicants earn the Pro badge. Think of it as an extended job interview someone else has completed for you.
Access the 1%. I performed a few searches for architectural designs, 3D CAD modeling, and rendering. I found that Pro profiles only make up a small fraction of the total freelance profiles, proving that the Pro badge doesn't come easy.
Portfolio. Some Pro profiles include a portfolio feature, which makes it easy to see precisely what your freelancer can do before you hire them.
Available categories

2D drawings and floor plans
3D rendering
3D modeling design
Architectural design
Product design
Virtual staging
Diagrams and mapping

Rating system
Pro badge + seller level + star rating
Payment security
Easy dispute and payment resolution
Starting Price
Around $70
5. Houzz Pro: A Great Choice for Homeowners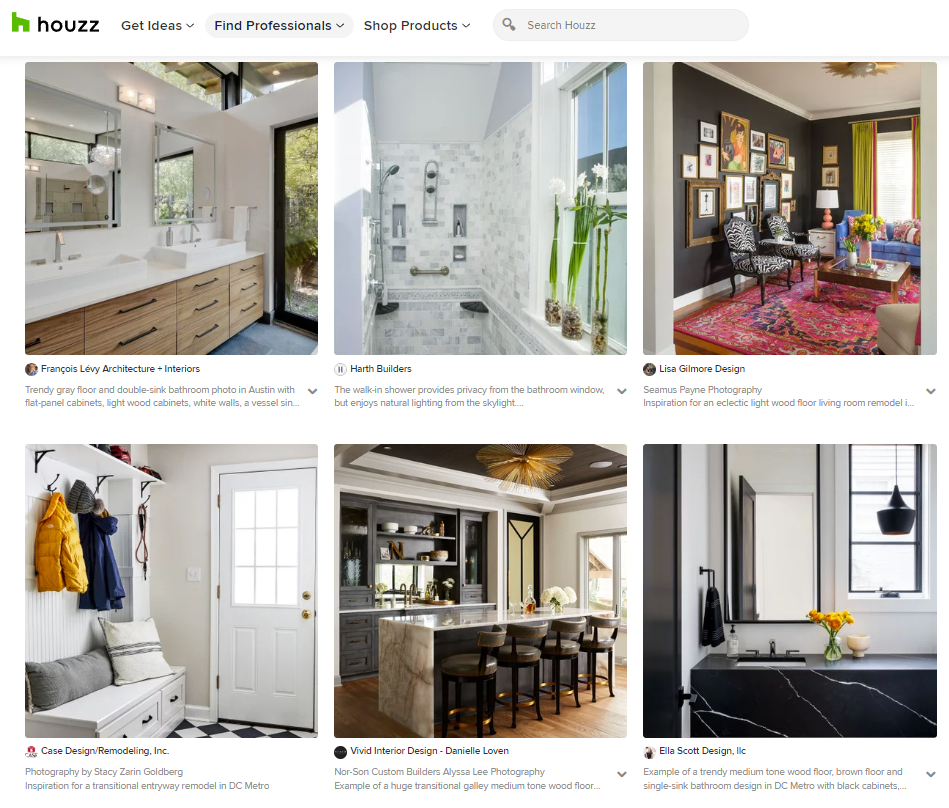 As its name suggests, Houzz is all about home. This platform can help you
find a designer to remodel your house and connect you with local builders who will carry out the plan for you.
I was particularly interested in the "Find Pros" search feature. After answering a few questions about my project's scope, budget, and location, the software came up with tons of relevant suggestions.
I could quickly contact any professional via phone or through their website.
Houzz's biggest weakness is its rating system.
That doesn't come as a surprise since Houzz operates more like an advertiser and less than an actual freelance platform like other options on this list.
All architects and building designers seem to have only 5-star reviews, which I found a bit suspicious.
Features
Connect with architects and designers for free. Home experts pay Houzz to feature their profiles on the website. For that reason, it's difficult to trust the rating system – but it does mean you can hire professionals without the costs associated with freelance platforms that handle payments.
Design ideas. If you're just looking for ideas or are already working with a designer, Houzz can be a lifesaver. The website is home to millions of photos you can use to get inspired.
Online shop. Houzz is also a retailer, allowing you to purchase home furniture and decor directly from the website's online shop. They're able to match – and sometimes even beat – the prices of other home retailers.
Active community. Houzz regularly posts guides and design-related content. There's also an active community on the forum that's always eager to help with your design dilemmas.
Available categories

Architects and building designers
Design-build firms
Contractors
Home builders
Interior designers and decorators
Landscape architects
And more!

Rating system
Star rating + verified license badge
Payment security
N/A
Starting Price
Depends on the project
6. Cad Crowd: Top Talent for Larger Design Projects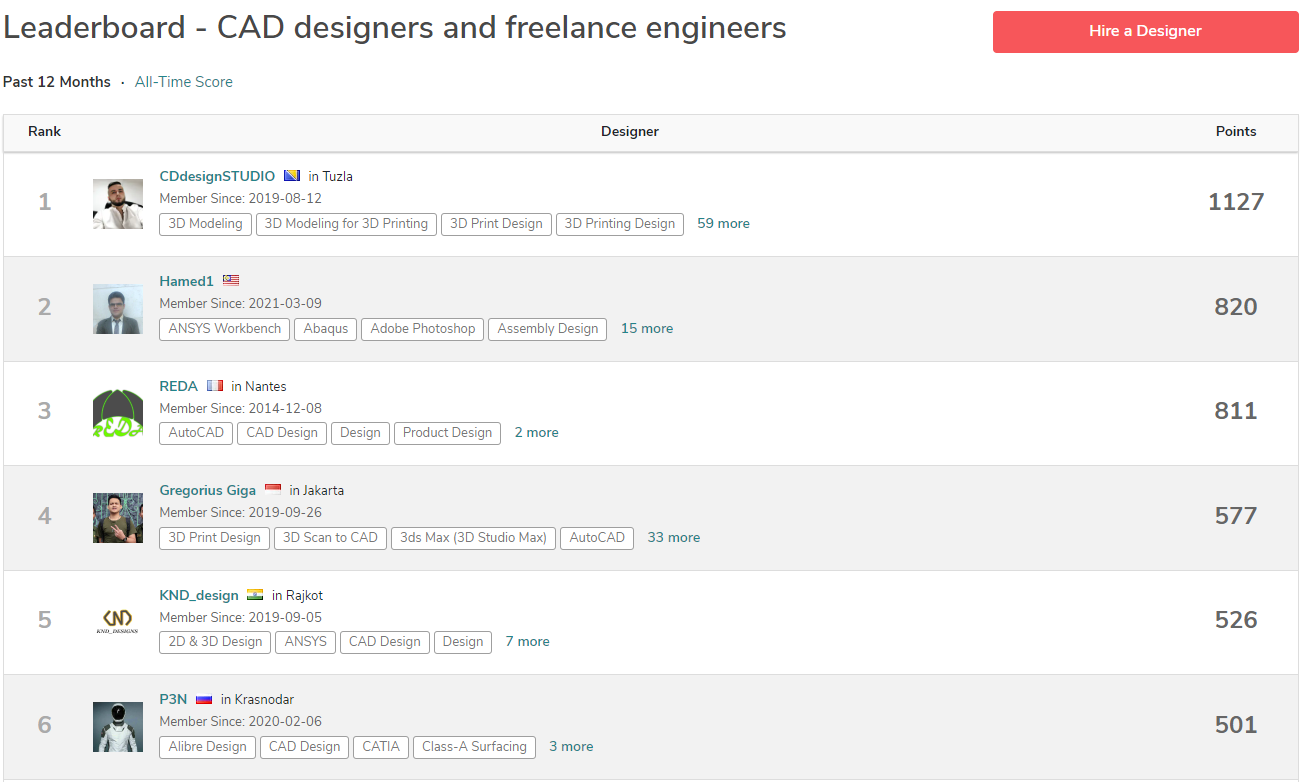 Cad Crowd claims it can meet any architectural need, but it specializes in 3D CAD design.
The hiring process is a little different than I'm used to, but it works surprisingly well – especially if your budget can handle higher costs. You submit a brief with your project requirements, then Cad Crowd connects you with a pre-qualified expert.
The quality of work on Cad Crowd is very high,
and you can always communicate worries and concerns before you pay a contractor.
Expect to pay a bit more than you would on other freelance platforms – but it'll still be cheaper than hiring through a traditional architecture firm
.
Features
Search function and leaderboard. Although Cad Crowd can help you find the best professional for your project, you can also browse profiles on your own through the "Browse" function. There's even a leaderboard that ranks designers and freelance engineers based on their overall performance.
Vetted contractors. Freelance architects need to meet specific criteria before being accepted onto the platform. It's preferred that freelancers have a BA in drafting, engineering, or a closely related field, and they have to pass all Cad Crowd's tests and trials.
Design contests. With Cad Crowd, you can post a design brief and have multiple designers work on concepts for your project. You then pick (and pay) the designer with the best idea. You can also keep working with them through the platform.
NDAs for private projects. If you want to take extra steps to protect your confidentiality and intellectual property, you can request a custom NDA for all private and 1:1 project services.
Available categories

3D modeling design and rendering
Architectural design
CAD design
Engineering
Metaverse/3D NFTs/VR
Product design

Rating system
Leaderboard + designer rank
Payment security
Payment only released when the project is complete
Starting Price
$25/hr for hourly contracts, $300 for contests
Are You a Freelance Architect Looking to Sell Your Services on Fiverr?
If you're new to the online freelance world and want to sell your designs and blueprints,
Fiverr's easy-to-use platform
 is a great place to start. It takes less than 5 minutes to sign up, and you can complete your profile and set up your first gig in less than an hour. There are many reasons why Fiverr is the go-to online platform for those who prefer freelance architecture jobs:
It will provide you with some extra cash. And while it's true that, originally, Fiverr grew in popularity due to its $5 gigs, if you can build a reputation and acquire a few five-star reviews, you might be able to apply for the Fiverr Pro program. This unlocks a lucrative badge that showcases your expertise and should bring more high-paying clients your way.
It's super easy to navigate. Fiverr has made remote architecture jobs easy. If you get stuck, you can head to the help center, which is filled with thousands of helpful articles. There's even an active community ready to answer your questions on the website's forum.
It's huge. There are thousands of architecture gigs on Fiverr. That can seem demoralizing at first, but you'll surely find success if you can narrow down the scope of your gigs, zeroing in on specific niches/industries.
You can see exactly how your gigs are performing. Fiverr's analytics show how many impressions/clicks your gigs are getting, offering tips on how to improve. Tweaking the headline or switching up a word or two in your description can make all the difference.
How to start selling on Fiverr
Step 1:
Head to the
Fiverr homepage
 and click on the "Join" button. You can use your email or automatically connect through Facebook, Google, or Apple.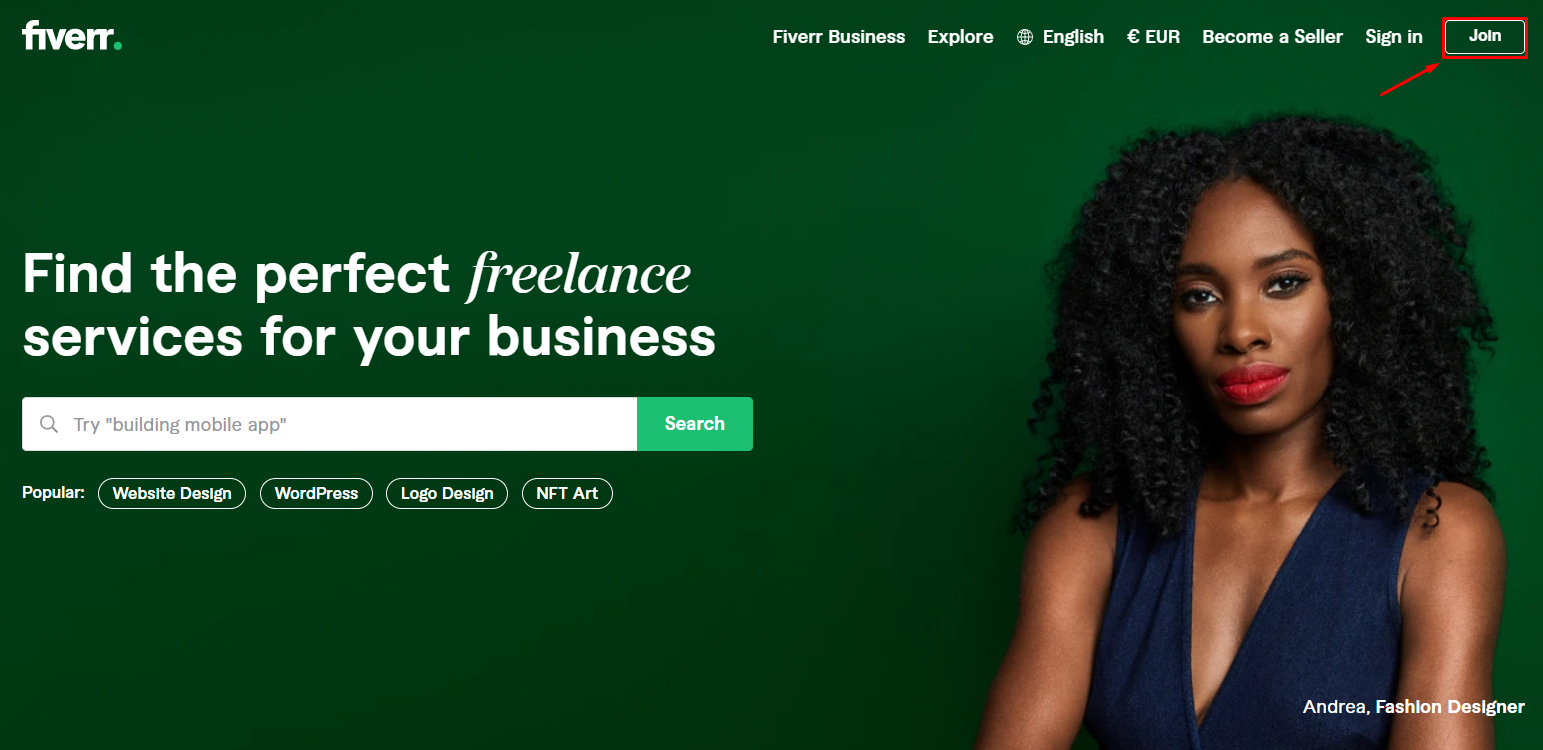 Step 2:
Choose a username and a password. Note that your username will be visible to clients, so make sure it's something you don't mind others seeing.
Step 3:
Activate your account by clicking on the activation link in your email inbox.
Step 4:
Click on your profile icon and select "Become a Seller."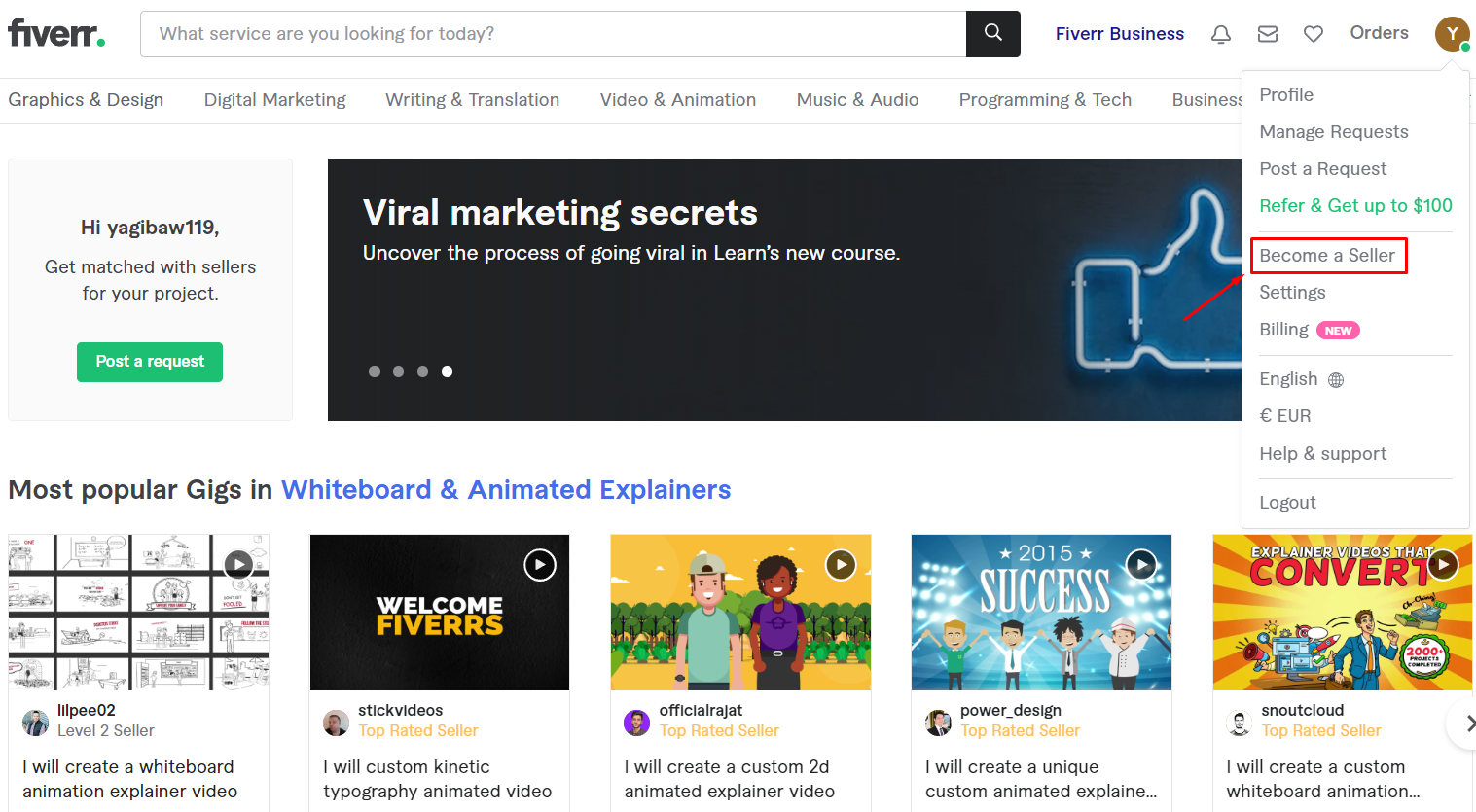 Step 5:
Fill out your personal info in as much detail as possible. Make sure to include your education and experience as they could potentially set you apart from the competition. Try to achieve a profile completion rate of 100% before setting up your first gig.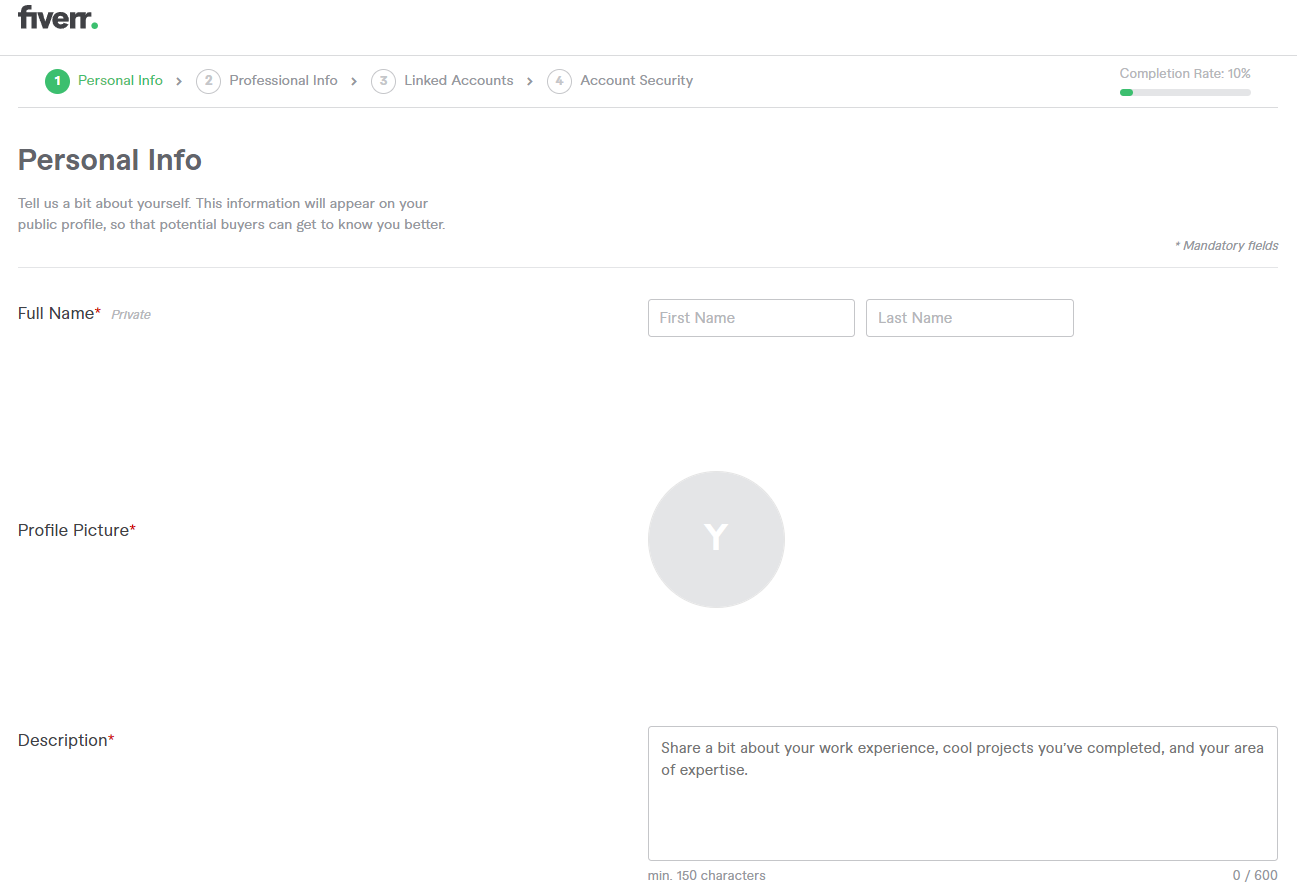 Step 6:
Click on the "Create a new gig" button from your profile page and wait for the work to start rolling in!
The Best Websites for Hiring Freelance Architects
Hiring freelance architects online doesn't have to be complicated. And finding a professional who'll get the job done for a fraction of the price you'd pay a traditional firm certainly feels nice.
But to get the best deals, you need to know where to look.
If you're on a tight budget but don't want to compromise on quality,
I recommend you check out Fiverr
.
There are thousands of architecture categories to choose from, the prices are excellent, and payments are secure. You do need to spend a bit more time searching for the right candidates, but Fiverr's advanced filters have simplified the process as much as possible. If you're working on bigger projects and would rather establish long-term relationships with freelance architects,
Upwork is the place to be
.
The platform offers detailed profiles, and there are even tools to help you manage your contracts and track the hours worked. If you're specifically looking to renovate/redesign your home,
Houzz Pro points you to available professionals.
The Houzz website includes information about local architects, engineers, and builders. There's also a gallery where you can get inspired by millions of home design ideas. Let's quickly recap all the websites we've looked at so far:
| | | | | |
| --- | --- | --- | --- | --- |
| | Pricing | Best Feature | Best For | |
| Fiverr | $ | Great designs at the best prices | Simple, one-off architectural projects | |
| Upwork | $$ | Detailed profiles | Long-term/ongoing architectural projects | |
| 99Designs | $$ | Money-back guarantee for design contests | Smaller projects that are still in ideation | |
| Fiverr Pro | $$$ | Vetted and experienced professionals | Demanding architectural projects | |
| Houzz Pro | N/A | Free contact information of thousands of local architects | Home renovations/redesigns | |
| Cad Crowd | $$$ | Leaderboard with the best of the best | More complicated architectural projects | |
FAQ
What is the best website to hire freelance architects?
It depends on what you're looking for. If you're on a budget and want to get the job done as quickly as possible, I recommend Fiverr. Upwork is a great option for ongoing projects, while Fiverr Pro offers the best quality overall. Check out our updated list of the 7 best freelance websites for more options.
Is Upwork better than Fiverr?
Again, it depends on your specific needs. Generally, I recommend Fiverr over Upwork as it's a little bit cheaper and considerably easier to navigate. That said, Upwork wins when it comes to contracts and long-term relationships with freelance architects.
Is Fiver legit?
Yes, Fiverr is 100% legit. It might be hard to believe that you can get quality work done for just $5, but you need to remember that Fiverr has widened its scope and pricing range over the past few years. Fiverr Pro, for example, proves that the platform values top-quality work as much as it does affordable $5 gigs.
Is Fiverr good for architects?
Fiverr is a great platform to start your online freelancing career. You can set up your account in just a few minutes and begin accepting orders in a few hours. To be successful, you need to make your gigs as niche as possible (by avoiding overly generic descriptions, for example). You should also make sure you keep your seller rating high by consistently delivering high-quality work. When it comes to hiring architects, Fiverr is my go-to choice for rough 2D plans. However, due to the highly technical nature of most architectural designs, I actually prefer Fiverr Pro for projects that have moved past the ideation stage – there's only so much you can get done for $5.