After extensive research on the best deals for VPS, I've run into many of these "free VPS hosts." Each and every one turned out to be completely fake.
Now, here's the good news:
I found some high-quality VPS hosting services that offer free trials.
But even then, some hosts like to make cancellation a real headache, or severely limit your capabilities until you take out your wallet. To find out which trials are worth your time, I signed up to as many as I could and tested them thoroughly, cutting it down to the top five.
Scala Hosting came out on top thanks to its highly customizable, but easy-to-use service.
It's also the only host to offer both an unconditional 30-day money-back guarantee
and
an "anytime" money-back guarantee for all unused services.  
However,
all of the following hosts offer top-quality VPS hosting and will let you freely try a powerful VPS solution without risk.

So keep reading to find the best option for you. Or, if you can't wait to get started, sign up with Scala today.
Short on time? These are the best web hosts with free VPS trials in May 2023:
Scala Hosting – Managed VPS with an intuitive control panel & "anytime" money-back guarantee
Kamatera – 30-day free access to a cloud VPS with $100 credit and some nice extras
IONOS – Cheap unmanaged VPS you can try risk-free for 30 days
What We Look For in the Best Free VPS Hosting Services
Easy cancellation – Some hosts like to entice you into a free trial, only to make the cancellation process as difficult as possible. I chose hosts that let you cancel your account easily.
Long trial length – A short trial isn't going to give you enough time to properly evaluate a host's services. That's why most of the free trials on this list are at least 30 days long.
Flexibility – A VPS is highly customizable and your needs can be highly individual. The VPS trials on this list allow you to try out multiple configurations and features without imposing too many limits.
Fast server setup – Wasting the first few days of your trial waiting for the server to be set up and made available isn't fun. Hosts which can provide a quick set up of your server earned some extra brownie points.

Scala Hosting offers customizable managed VPSs with an impressive "anytime" money-back guarantee
. This means that you can request a refund at any time, and you'll get money back for the unused portion of your contract. You can also cancel within the first 30 days to get a full refund, giving you plenty of time to test Scala Hosting risk-free.
A free domain name is included with some hosting plans from Scala Hosting
You'll get the usual perks of VPS management. A support team will set up your VPS, optimize its performance, update it with the latest patches, perform daily remote backups, monitor its uptime, and scan for malware. All of this means that you can fully focus on testing Scala Hosting. Just keep in mind that
the managed plans only offer Rocky Linux or Alma Linux as the OS
.
Scala Hosting also has a proprietary control panel called SPanel
, although you do have the choice of paying for the popular cPanel if you wish. However, SPanel is a great alternative. It makes VPS management a breeze and you can have unlimited accounts without incurring an extra cost. All in all, Scala Hosting is perfect for beginners – it's easy to work with and you can get a refund at any time.
Features:
Scalable resources – You can scale your resources up or down at any time. However, this does require a reboot of your server.
Self-managed VPS – There's also the option of unmanaged VPS. While you lose all the benefits of managed VPS, you do gain root access, allowing for a lot more customizability.
SShield security – If you choose the free SPanel, you also get SShield security for free. This is an AI solution that monitors your server, blocking web attacks and notifying you of any vulnerabilities.
Unlimited website migration – With managed VPS, Scala Hosting will migrate an unlimited amount of websites to its hosting service.
Read more about Scala Hosting's features in our expert review
.
Length of free trial
30 days (money-back guarantee)
Data center locations
Dallas, New York, and Sofia (Bulgaria)
Beginner-friendly?
Yes, if you choose the managed plan
Starting price for cheapest VPS plan

$

20.00

Resources
Fully customizable, up to 1-24 vCPUs, 4GB-64GB RAM, 50GB-2000GB NVMe SSD, unmetered bandwidth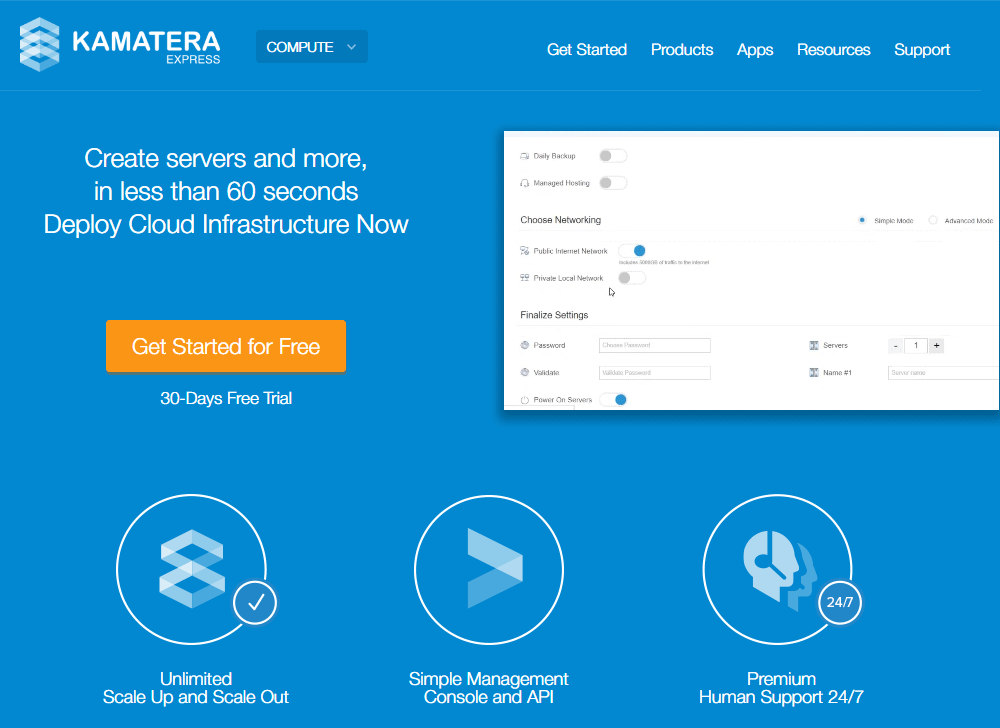 Kamatera offers a powerful cloud VPS hosting solution, where rather than hosting your site on a single physical server, you have access to a cluster of cloud servers across the world. This comes with many benefits, including the ability to scale your resources instantly. With such highly customizable servers, I was worried that Kamatera's free trial may be tightly-controlled, but that wasn't the case.
The 30-day free trial is generous
, giving you access to a single cloud VPS with $100 credit for the month. Even after the trial, the prices are very affordable.
if you do end up accidentally going over the $100 credit, you will be charged for the excess.
But as long as you don't go too crazy, you should be able to get a real taste of the powerful cloud VPS Kamatera offers without paying a dime.
Features:
Great performance – Kamatera's cloud VPS use powerful Intel Xeon Platinum processors, providing your site with impressive speeds.
Designated account manager – During the length of the trial, you'll get access to a designated account manager who will answer any questions you may have about Kamatera's service. You even get technical advice about the ideal VPS configuration for your needs.
Fast server setup – Upon signing up, your server will be set up and available within a minute.
24/7 technical support – The free trial includes access to Kamatera's technical support team, which is available through phone, email, and tickets.
Read more about Kamatera's features in our expert review
.
Length of free trial
30 days
Data center locations
New York, Texas, California, Illinois, Florida, Toronto, Amsterdam, Frankfurt, London, Italy, Sweden, Spain, Hong Kong, Petach Tikva, Haifa, Rosh Haayin, Tel Aviv
Beginner-friendly?
 No
Starting price for cheapest VPS plan

$

4.00

Resources
Fully customizable, up to 104 vCPUs, 512GB RAM, 4000GB SSD storage, 5000GB bandwidth per month

If you're looking for one of the cheapest self-managed solutions on the market, IONOS offers VPS plans starting at just

$

2.00
. Even with such a small entry-fee, you'll still benefit from a 30-day money-back guarantee. While IONOS is certainly a budget solution, it still offered good performance and uptime in our tests. In addition, you'll get some nice premium features: you can create temporary snapshots of your VPS at any time, and
all customers are assigned a dedicated personal adviser to help answer any queries
. That said, it can be hard to get in touch with your adviser at times, and they won't help you manage your server. To get the most value out of IONOS, you'll need to know how to configure, optimize, and maintain a VPS server.
A free domain name is included with some hosting plans from 1&1 IONOS
Features:
Unlimited traffic – All IONOS servers allow for unlimited traffic – you'll never reach a cap or have to pay overage fees.
Secure cloud backups – For an added fee, you can purchase cloud backup storage with integrated malware protection and robust encryption. You can take full or incremental backups.
Premium support available – You can call IONOS support for help with advanced tasks, such as installing or troubleshooting server software. You'll have to pay a fee for this service.
Manage your VPS on-the-go – IONOS is one of the few VPS hosts with a responsive and functional mobile app. You can manage your servers, monitor performance, pay invoices, and more.
Learn more about IONOS in our comprehensive review
.
Length of free trial
30 days (money-back guarantee)
Data center locations

United States, United Kingdom, Germany, Spain

Beginner-friendly?
No
Starting price for cheapest VPS plan

$

2.00

Resources

1-8vCPUs, 512MB-24GB RAM, 10GB-240GB SSD storage, unlimited traffic

Rather than providing web hosting services on its own servers, Cloudways instead acts as a management service for some of the biggest cloud hosts, such as Google Cloud and Amazon AWS.
You then benefit from the top performance of these hosting companies without needing to know how to configure a virtual server yourself
. Despite being a third-party, you can purchase a variety of hosting plans from multiple vendors directly through Cloudways. You'll never need to actually work with the company providing the infrastructure – and you can use the user-friendly Cloudways platform to manage your server instances. Cloudways does offer a 3-day free trial – it's
very
short, but no credit card is required to sign-up. Outside of the trial, prices can be comparable to Scala Hosting, but this depends on the infrastructure provider you choose. Choosing DigitalOcean, Linode, or Vultr will cost you less, whereas Google Cloud or Amazon AWS will cost you more.
Features:
Easy WordPress installation – Cloudways has software that can automatically install multiple instances of WordPress for you on a single server. From there, you'll get Cloudways' pre-optimized hosting stack for top WordPress performance.
Dedicated staging environment – You can launch a dedicated staging area to test site changes and new plugins without affecting your live site. Once you're ready, you can push these changes to the live site with a single click.
Premium CDN – All Cloudways plans benefit from the premium Cloudflare Enterprise CDN, which significantly increases the performance of your site across the globe. This includes image and mobile optimization as well as an additional layer of security.
Guaranteed response times from support – Cloudways Standard support guarantees a response within 12 hours to a support ticket, or 3 hours for a high-priority ticket. If Cloudways doesn't meet these promises, you'll be entitled to service credits.
For more information, read our Cloudways review
.
Length of free trial
3 days
Data center locations

65+ data centers across all major continents

Beginner-friendly?
Yes
Starting price for cheapest VPS plan

$

11.00

Resources

1-4vCPU, 1GB-16GB RAM, 20GB-256GB SSD storage, 2GB-5TB bandwidth

GreenGeeks only offers three managed VPS plans – but each of them gives you great managed service and technical support.
Thankfully, you can try GreenGeeks out with a 30-day money-back guarantee before you commit. All GreenGeeks VPSs are optimized and secured for you, and include ongoing maintenance. Also included is a cPanel Solo license so you can start setting up sites immediately.
GreenGeeks' technical support truly stands out
. While they won't touch custom software or your site's code, they'll do their best to help you with all the basics – even going so far as performing technical tasks for you. My colleagues have had GreenGeeks support install WordPress, configure optimization plugins, and more. This can be
incredibly
helpful for a beginner to VPS.
A free domain name is included with some hosting plans from GreenGeeks
Features:
Softaculous included – The free cPanel license includes the useful Softaculous app installer. This lets you install over 350 applications, each with a single click.
Proactive 24/7 monitoring – As part of its managed service, GreenGeeks will monitor your server for issues. If an issue is detected, the support team will automatically jump in to solve it.
RAID-10 SSD – GreenGeeks' SSD storage is kept in a highly redundant RAID-10 array. With this configuration, your data will be mirrored across multiple drives to prevent loss.
Free dedicated IP – Every GreenGeeks VPS plan comes with a free dedicated IP. All IPs are blacklist-checked beforehand to ensure you're given a clean address.
To read about our tests of GreenGeeks' support, check out our detailed review
.
Length of free trial
30 days (money-back guarantee)
Data center locations

Chicago, Montreal, Amsterdam

Beginner-friendly?
Yes
Starting price for cheapest VPS plan

$

39.95

Resources

4-6vCPU, 2GB-8GB RAM, 50GB-150GB SSD, 10TB data transfer
Finding the Best VPS Trial for You
So, which free VPS trial is best for you? It depends on your needs.  If you're looking for a beginner-friendly and customizable VPS, you can't go wrong with Scala Hosting. Its proprietary SPanel makes VPS hosting intuitive and you get an anytime money-back guarantee for all unused features.
On the other hand,
if you're a developer who needs fully customizable servers that can be scaled up or down on short notice, I recommend Kamatera.
I
t offers a flexible 30 day trial with $100 free credit. 
If you're looking for the cheapest option for unmanaged VPS,
check out IONOS
. You'll get 30 days to try it out, and if it meets your expectations, you'll pay less than you would with many other alternatives.
Still unsure? You can check out the table below for a side-by-side comparison.
Trial Length
Good for Beginners?
Standout Feature
Starting Price After Trial
Scala Hosting
30 days
Yes, if you choose a managed plan
Fully-managed VPS with an easy-to-use control panel & anytime guarantee

$

20.00

Kamatera
30 days
No, Cloud VPS is completely unmanaged

Fully-customizable Cloud VPS with great performance

$

4.00

IONOS
30 days

No, VPS is completely unmanaged

Cheapest option for unmanaged VPS

$

2.00

Cloudways
3 days

Yes, Cloud VPS are fully managed

VPS management for the biggest cloud platforms

$

11.00

GreenGeeks
30 days

Yes, VPS are fully managed

Beginner-friendly managed VPS with helpful technical support

$

39.95
FAQ
What is the best VPS service?
The best VPS service for you depends on your particular needs. Are you a beginner to VPS? In that case, I'd recommend Scala Hosting or Cloudways – both offer managed service with good support. However, if you're a developer, Kamatera would be a better fit due to its customizability.
How can I get a free VPS without a credit card?
Cloudways lets you sign up for its 3-day trial without a credit card. That said, you won't be able to find a host that offers "forever-free" VPS hosting that isn't a scam, or limited to the point that it's almost useless. Many of the options I cover above are affordable to those on a tight budget, and also offer free trials and guarantees.
Why is VPS so expensive?
VPS is a more sophisticated technology than shared hosting, offering greater levels of control and performance. This leads to an increase in price. However, VPSs don't have to be expensive – IONOS offers VPS instances at very low prices
. Or, if you'd prefer cheaper shared hosting,
check out our list of the top web hosts in 2023
for some alternatives.
How is VPS hosting better than shared hosting?
VPS allows for a lot more customization and flexibility. You can scale your resources to your exact needs and install whichever OS and software best suits your needs. VPS is also generally more secure and reliable, as you're kept isolated from other users of the same server. Not certain if a VPS suits your needs? Every VPS on this list provides an opportunity for a completely risk-free trial. A few of them even grant free usage for a span of 30 days, affording you ample time to personally evaluate their performance.