If you're searching for a forever free VPS, I have some bad news: you aren't going to find one that isn't a scam. I've done hours of research on the best deals for VPS and I've run into many of these "free VPS hosts." Each and every one turned out to be completely fake.
Now, here's the good news: I found some high-quality VPS hosting services that offer free trials. But some free trials are better than others. Some hosts like to make cancellation a real headache, or severely limit your capabilities until you take out your wallet.
To find out which trials are worth your time, I signed up to as many as I could and tested them thoroughly, cutting it down to the top five. All of the following hosts let you freely try a powerful VPS solution without risk.
Short on time? These are the best web hosts with free VPS trials in January 2022:
Kamatera – 30-day free access to a Cloud VPS with $100 credit and some nice extras
DigitalOcean – 60-day trial period with $100 credit for its Cloud VPS and various other developer-oriented services
Hostinger – Super cheap beginner-friendly VPS with a 30-day money-back guarantee
What We Look For in the Best Free VPS Hosting Services
Easy cancellation – Some hosts like to entice you into a free trial, only to make the cancellation process as difficult as possible. I chose hosts that let you cancel your account easily.
Long trial length – A short trial isn't going to give you enough time to properly evaluate a host's services. That's why most of the free trials on this list are at least 30 days long.
Flexibility – A VPS is highly customizable and your needs can be highly individual. The VPS trials on this list allow you to try out multiple configurations and features without imposing too many limits.
Useful support – Hosting your website on a VPS can be difficult if you don't have the technical knowledge. That's why I've paid special attention to beginner-friendly hosts that provide extensive support for their VPS.
Fast server setup – Wasting the first few days of your trial waiting for the server to be set up and made available isn't fun. Hosts which can provide a quick set up of your server earned some extra brownie points.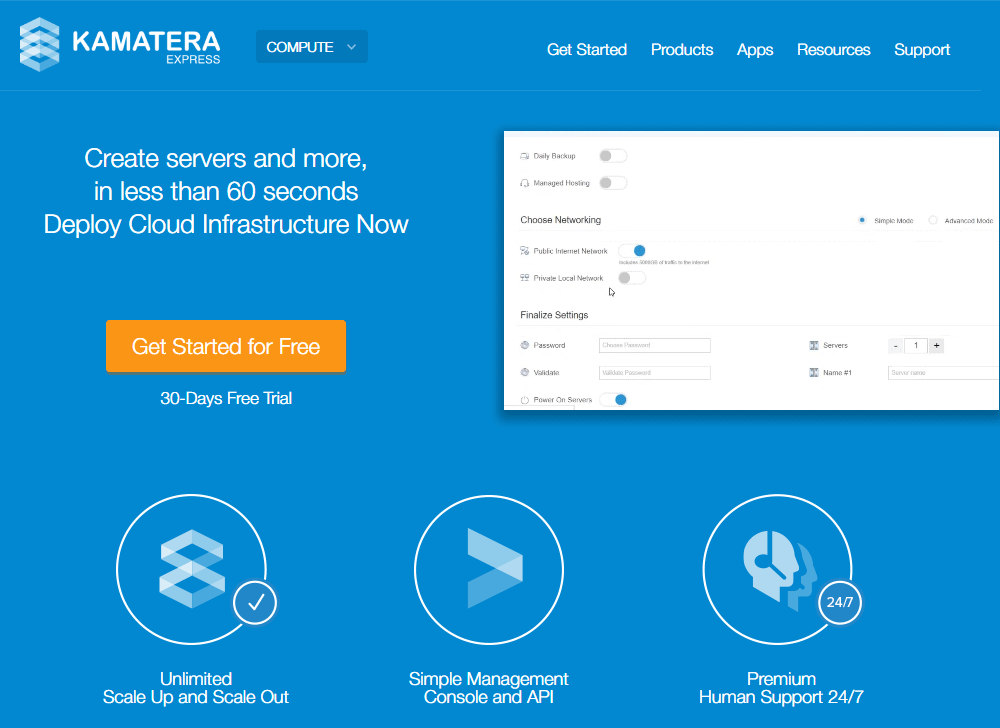 Kamatera offers a powerful Cloud VPS hosting solution, where rather than hosting your site on a single physical server, you have access to a cluster of cloud servers across the world. This comes with many benefits, including the ability to scale your resources instantly.
With such highly customizable servers, I was worried that Kamatera's free trial may be tightly-controlled, but that wasn't the case. The 30-day free trial is generous, giving you access to a single Cloud VPS with $100 credit for the month. Even after the trial, the prices are very affordable.
As long as you stay under this $100 limit, you can scale your resources as you please, and even add or remove optional features such as firewalls, load balancers, and so on. A word of warning though – if you do end up accidentally going over the $100 credit, you will be charged for the excess. But as long as you don't go too crazy, you should be able to get a real taste of the powerful Cloud VPS Kamatera offers without paying a dime.
Great performance – Kamatera's Cloud VPS use powerful Intel Xeon Platinum processors, providing your site with impressive speeds.
Designated account manager – During the length of the trial, you'll get access to a designated account manager who will answer any questions you may have about Kamatera's service. You even get technical advice about the ideal VPS configuration for your needs.
Fast server setup – Upon signing up, your server will be set up and available within a minute.
24/7 technical support – The free trial includes access to Kamatera's technical support team, which is available through phone, email, and tickets.
Read more about Kamatera's features in our expert review.
Length of free trial
30 days
Data center locations
New York, Texas, California, Toronto, Amsterdam, Frankfurt, London, Hong Kong, Petach Tikva, Rosh Haayin, Tel Aviv, Jerusalem
Beginner-friendly?
 No
Starting price for cheapest VPS plan

$

4.00

Resources
Fully customizable, up to 72 vCPUs, 512GB RAM, 4000GB SSD storage, 5000GB bandwidth per month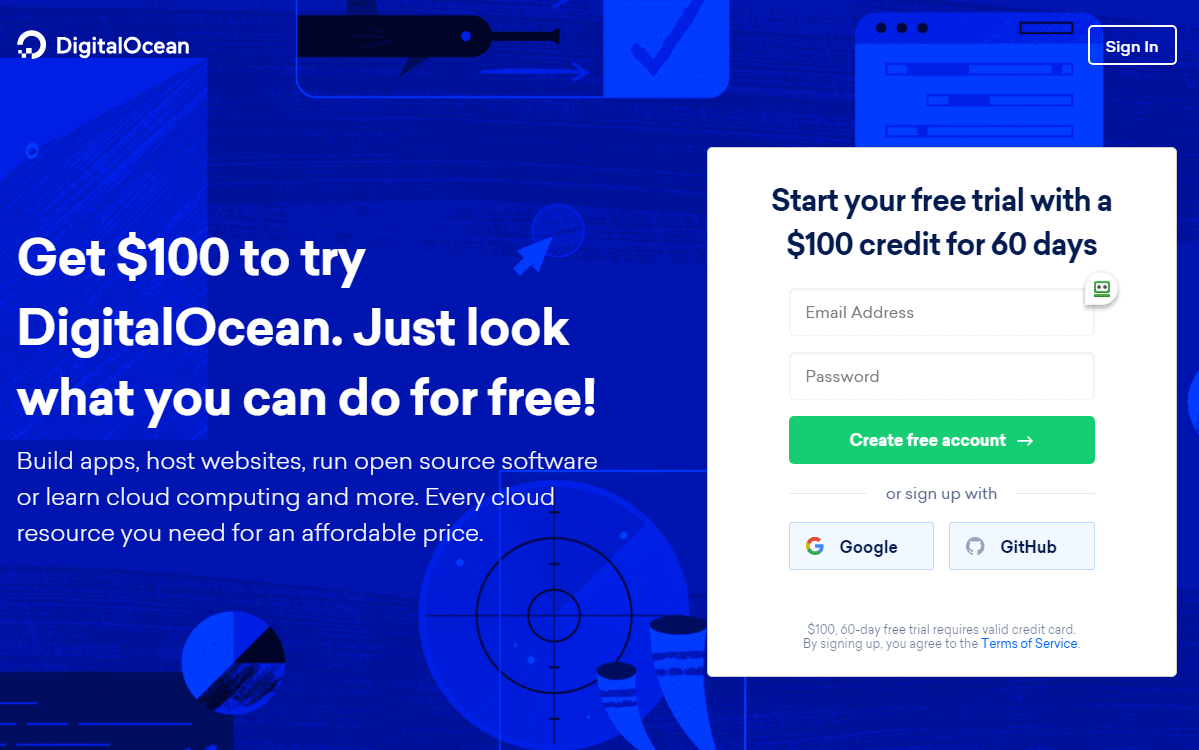 Like Kamatera, DigitalOcean is also in the Cloud VPS game. It offers a wide array of services, but what we're interested in is its fully customizable Cloud VPS, which DigitalOcean refers to as Droplets. The free trial is very impressive, giving you $100 credit for a 60-day period. After that, the pricing depends on your server setup.
With this credit, you have a lot of freedom – you can set up up to ten different VPS, create a Kubernetes environment, run up to 20 static sites on DigitalOcean's App Platform, and more. While this is all great for developers, beginners will likely struggle with DigitalOcean. The VPS is unmanaged, leaving you with the full responsibility of maintaining your VPS.
Additionally, DigitalOcean only offers slow ticketing support unless you pay a premium monthly fee. If you're new to VPS, I'd advise taking a look at the more user-friendly options in this list. But if you know what you're doing, this can be a great way to try out powerful Cloud VPS for free.
Keep three static sites for free – After the trial period has ended, you can continue to host up to three static sites free of charge. (A static site is created with HTML files, delivering fixed content to all visitors.)
Powerful open-source software – During the trial period, you can try up to seven different open-source software applications on a Droplet. These include VPNs, Minecraft, and more. You are limited to trying one per week.
Cloud firewall – The free trial includes access to a cloud firewall. Your server will also be constantly monitored and you will be notified if any performance issues are detected.
Extensive app marketplace – DigitalOcean has its very own app marketplace, filled with one-click installations of popular control panels and CMS, along with developer tools and frameworks such as Laravel and Node.js.
You can read more about DigitalOcean in our expert review.
Length of free trial
60 days
Data center locations
New York, San Francisco, Toronto, London, Amsterdam, Frankfurt, Singapore, Bangalore
Beginner-friendly?
No
Starting price for cheapest VPS plan

$

5.00

Resources
Fully customizable, up to 40 vCPUs, 256GB RAM, 2400GB SSD storage, 12000GB bandwidth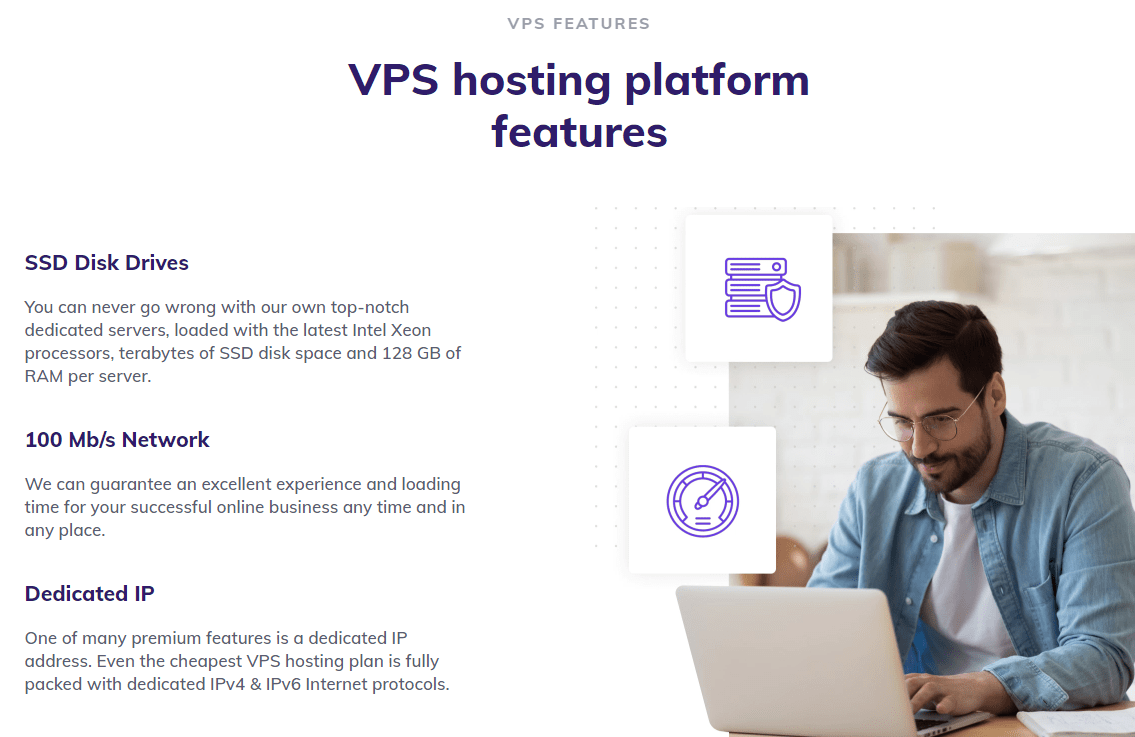 If you're looking for a budget VPS with a good trial, Hostinger may be the right choice for you. With the company's 30-day money-back guarantee, you can try Hostinger's VPS plans risk-free. Best of all, Hostinger offers some of the cheapest VPS plans available today, with the most basic plan only costing $3.95 a month.
Hostinger also boasts great performance overall. My performance tests showed it to deliver some of the fastest speeds I've seen from a budget host, along with a near-perfect uptime rate.
Hostinger describes its VPS plans as semi-managed. While they won't directly manage the security and maintenance of your VPS, the support team is available 24/7 and happy to help with any queries you may have, regardless of how technical. It also has a fantastic knowledge base, filled with in-depth tutorials to help get you started in the world of VPS.
Fast refunds – If you find that Hostinger isn't the right host for you during the first 30 days, you can cancel your account through cPanel. You should then receive a full refund.
Choice of Linux OS – You get to choose between a variety of Linux-based operating systems, including CentOS, Ubuntu, Debian, Fedora, and Suse.
Developer friendly auto-installer – An easy to use auto-installer for OS templates and popular web scripts is included with all VPS plans.
Reliable and simple backups – Backing up all your files and data is simple and quick to do. As the VPS is cloud-based and the SSD has double RAID protection, there is no risk of data loss.
Length of free trial
30 days (money-back guarantee)
Data center locations
US, UK, Netherlands, Lithuania, Indonesia, Singapore, Brazil
Beginner-friendly?
Yes
Starting price for cheapest VPS plan

$

3.95

Resources
1-8 vCPUs, 1-8GB RAM, 20GB-160GB SSD storage, 1-8TB bandwidth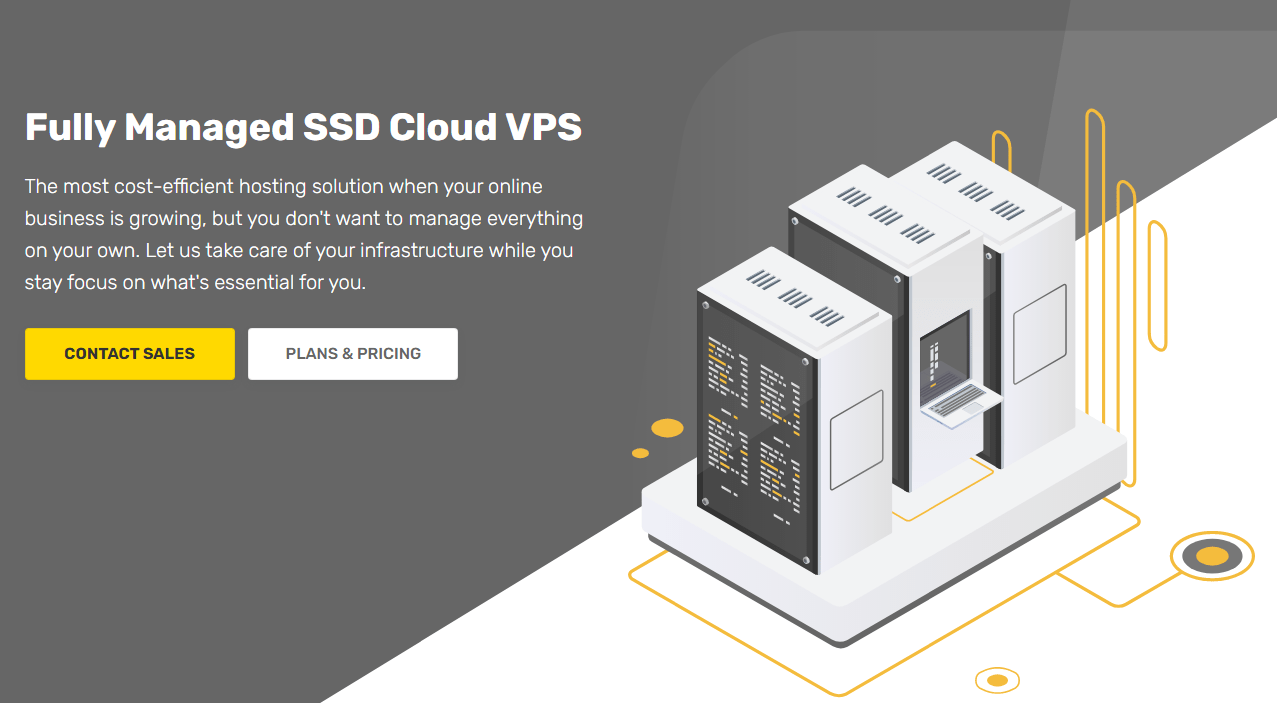 If you're looking to see whether managed Cloud VPS hosting is right for you, FastComet may make a good choice. It offers a fully managed service, which includes the initial setup of your server, along with keeping it optimized and patched with the latest security updates.
You also get access to amazing 24/7 support which goes a step further than most, offering technical help with third-party apps, SEO plugins, and more.
If you're interested to see if this managed service is right for your needs, you won't have much time to find out – the free trial only lasts for seven days. Server setup is relatively fast, taking only 15 minutes at the most, but it's still a very short period.
However, as everything is managed, you will be able to spend the short trial period testing the features and power of FastComets servers. Keep in mind that its Cloud VPS plans are costly, with the cheapest plan priced at $47.95. Be sure that you cancel before the trial period ends if you don't want to get charged!
Automatic backups – Every FastComet plan includes automatic backups, on a daily and weekly basis.
FastGuard security – FastComet features robust security, including a web application firewall, DDoS protection, brute force protection, malware scanning, and server monitoring.
LiteSpeed and NGINX support – FastComet features many speed enhancements, including support for both LiteSpeed and NGINX web server technology.
Knowledgebase – Along with the server management, FastComet also provides a basic knowledge base filled with tutorials to help you along.
Read more about FastComet's features in our expert review.
Length of free trial
7 days
Data center locations
Chicago, Dallas, Newark, Toronto, London, Amsterdam, Frankfurt, Sydney, Singapore, Tokyo, Mumbai
Beginner-friendly?
Yes
Starting price for cheapest VPS plan

$

47.95

Resources
1-6 vCPUs, 2GB-16GB RAM, 50GB-320GB SSD storage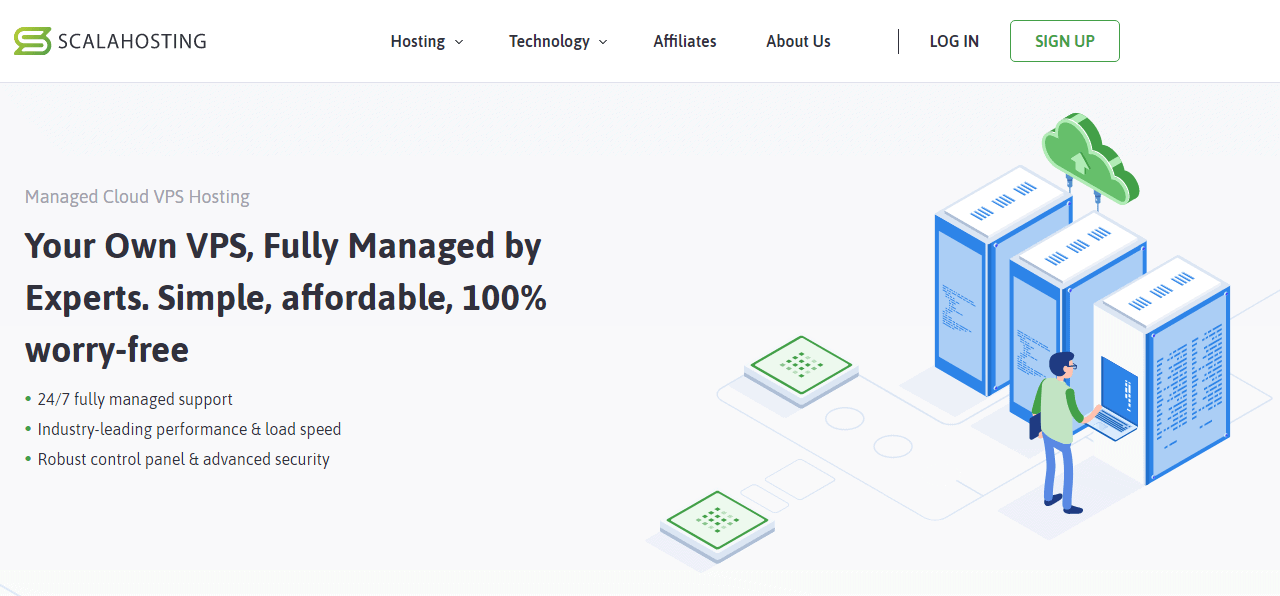 Scala Hosting offers a budget managed Linux VPS plan at just $14.95 a month, along with a 30-day money-back guarantee. If you find that this host isn't lining up with your needs, you can cancel within the first 30 days and receive a refund, no questions asked.
A Free Domain is included when purchasing any hosting service from Scala Hosting
The management of your VPS brings with it the usual perks. A support team will set up your VPS, take care of any installations, optimize its performance, update it with the latest patches, perform daily remote backups, monitor its uptime, and scan for malware. All of this means that you can fully focus on testing Scala Hosting's service during the trial period. Just keep in mind that the managed plans only use CentOS 8 as the operating system.
Scala Hosting also has a proprietary control panel called SPanel, although you do have the choice of paying for the popular cPanel if you wish. However, SPanel is a great  alternative. It makes VPS management a breeze and you can have unlimited accounts without incurring an extra cost. All in all, Scala Hosting may be worth looking at if you are searching for cheap beginner-friendly VPS.
Scalable resources – You can scale your resources up or down at any time. However, this does require a reboot of your server.
Self-managed VPS – There's also the option of unmanaged VPS. This is a little bit cheaper than the managed plans, costing $10 for the cheapest option. While you lose all the benefits of managed VPS, you do gain root access, allowing for a lot more customizability.
SShield security – If you choose the free SPanel, you also get SShield security for free. This is an AI solution that monitors your server, blocking web attacks and notifying you of any vulnerabilities.
Unlimited website migration – With managed VPS, Scala Hosting will migrate an unlimited amount of websites to its hosting service.
Read more about Scala Hosting's features in our expert review.
Length of free trial
30 days (money-back guarantee)
Data center locations
Dallas and Sofia (Bulgaria)
Beginner-friendly?
Yes, if you choose the managed plan
Starting price for cheapest VPS plan

$

14.95

Resources
Fully customizable, up to 1-24 vCPUs, 2GB-128GB RAM, 20GB-2000GB SSD storage, unmetered bandwidth
Finding the Best VPS Trial for You
So, which free VPS trial is best for you? It depends on your needs. If you're a developer who needs fully customizable servers that can be scaled up or down on short notice, I'd advise you to try Kamatera or DigitalOcean. Both offer flexible and long-lasting free trials.
However, if you're a newcomer to VPS, I'd say you should check out Hostinger or Scala Hosting. They both have a 30-day money-back guarantee that you can take advantage of and there's much more support on offer.
If you find Hostinger and Scala Hosting lacking in the level of support you need, FastComet's support team goes above and beyond. The trial is short, but it still allows you to get a good taste of its VPS services.
Still unsure? You can check out the table below for a side-by-side comparison.
Trial Length
Good for Beginners?
Standout Feature
Starting Price After Trial
Kamatera
30 days
 No, Cloud VPS is completely unmanaged.
Fully customizable Cloud VPS with various managed plans, ranging from basic to extended support

$

4.00

DigitalOcean
60 days
No, Cloud VPS is completely unmanaged
Scalable Cloud VPS with many other useful services for developers, including Kubernetes, the App Platform, and more

$

5.00

Hostinger
30 days
Yes, VPS plans are semi-managed and there is an extensive  knowledge base
One of the cheapest VPS plans available today, with good performance and reliability

$

3.95

FastComet
7 days
Yes, VPS plans are fully managed
Managed VPS with fantastic support

$

47.95

Scala Hosting
30 days
Yes, if you choose a managed plan
Fully managed VPS at budget prices

$

14.95
FAQ
What is the best VPS service?The best VPS service for you depends on your particular needs. Are you a beginner to VPS? In that case, I'd recommend Hostinger. FastComet, and Scala Hosting are also relatively beginner-friendly. However, if you're a developer, Kamatera or DigitalOcean would be a better fit. You can also check out our article on the six best cheap and reliable VPS hosting services for more information.How can I get a free VPS without a credit card?While you may be able to find "hosts" online who may advertise such a thing, I wouldn't recommend signing up for any of them. I've taken a long look into these hosts myself and found them to be completely untrustworthy. While the trials outlined above do require credit card information, they are still the much safer option. Keep an eye on our coupon page for big discounts on some of our top VPS hosts, too.Why is VPS so expensive?VPS is a more sophisticated technology than shared hosting, offering greater levels of control and performance. This leads to an increase in price. However, VPS doesn't have to be expensive. Budget VPS plans are also available, such as Hostinger, which offers a quality paid option at shared hosting prices.How is VPS hosting better than shared hosting?VPS allows for a lot more customization and flexibility. You can scale your resources to your exact needs and install whichever OS and software best suits your needs. VPS is also generally more secure and reliable, as you're kept isolated from other users of the same server. For example, in our recent tests, Kamatera scored a perfect 100% for uptime. Compare that to shared hosting (even with some of the hosts on our list of the best web hosting providers) and you can really see the difference between shared hosting and VPS hosting.