WordPress
,
almost all web hosts provide the basic requirements
. What was left was to find a hosting company that provides its services for free. But how can free hosting even work? A hosting company needs to pay for servers, panel licenses, and upkeep, and still make a profit. Well, it turns out there are other ways to generate revenue. Whether through ads, limited resources that push you to upgrade, or features hidden behind a paywall, free hosting does exist.
This list includes three completely free Magento hosting companies and two that are as close to free as can be
. Read about what they offer, try the platform out, and see if it works for you. You can always migrate later.
What We Look For in the Best FREE Magento Hosting Providers
With all companies on this list, you can expect:
Free service – Free means free, and I wasn't joking. Three companies are honest-to-god free services, while two are ridiculously cheap.
No advertisements – There's nothing that says "I'm not serious about this website" like a phishing pop-up ad. Worry not, because the hosts I recommend make their money when users decide to upgrade. That's why all plans are completely ad-free.
Magento support – Magento and its successor, Magento 2, run on PHP and MySQL. All companies on this list provide these technologies, and their services support Magento and Magento 2 hosting.
Hosting management panel – Free hosting isn't of much use if it requires you to code your way through it. These hosts provide cPanel, one of the most popular panels for point-and-click server management.
Upgrade options – Free hosting is mostly for testing purposes, as it's usually limited to subdomains, few resources, and no support. After you've finished testing your Magento website, these hosts will let you upgrade to paid hosting—which provides better performance across the board.
Community approval – Googling "free hosting" will net you a long list of websites claiming to offer such services. Sadly, a lot of them prey on the unknowing and actually contain phishing scams and other threats. The hosts on this list were vetted by real users who submitted positive Magento hosting reviews.
Without further ado, I present to you the best free Magento hosting providers: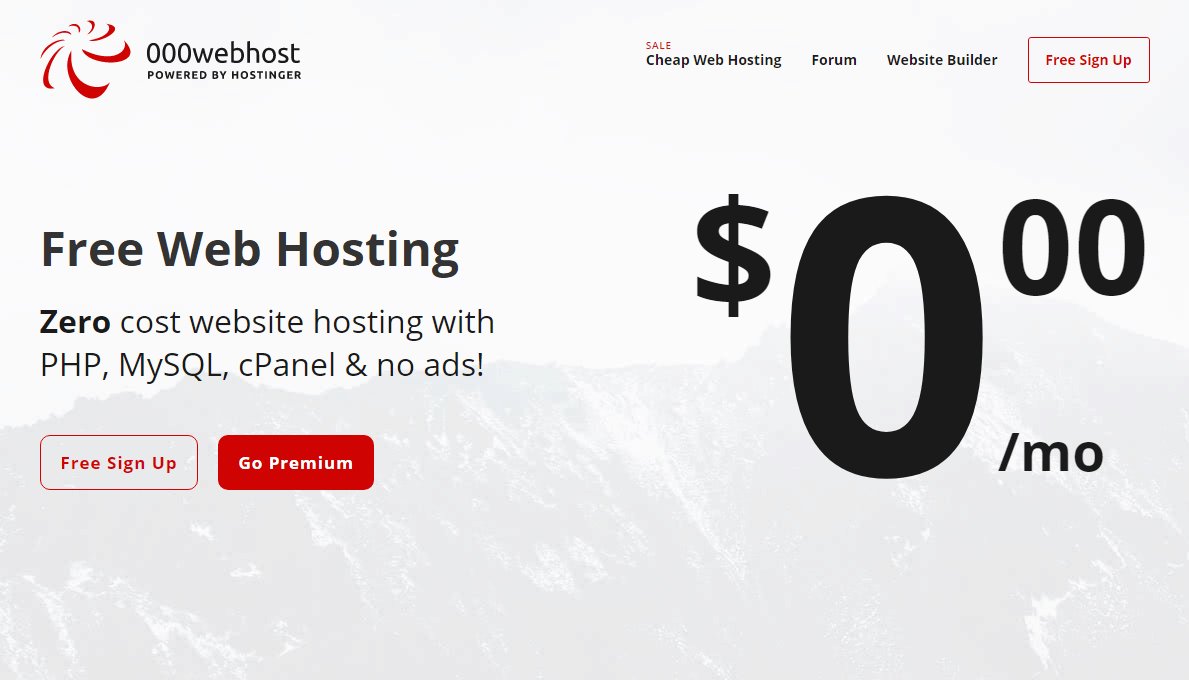 The list of features with 000webhost seems too good to be true:
Full hosting that supports all Magento requirements, no ads, and completely free
. Moreover, the company advertises 99% uptime, a figure that a lot of paid services struggle to achieve. In addition, you'll get full FTP access to manage your files, dedicated resources for two separate websites, an advanced firewall, and full DDoS (distributed denial of service) protection. Is there a catch? Well, of course.
000webhost is meant to be a gateway into Hostinger's paid services
, which we'll touch on when we get to #4 on our list. The servers are prone to slowdowns, and there are no backups or email services included.
Decent resources – 1 GB of storage space and 10 GB of bandwidth are not a bad place to start your Magento experiment. You'll be able to install the platform, play around with it, and upload quite a few products.
Customized domain name – You won't be getting a .com domain for free here, but 000webhost does allow you to use your free hosting with a domain you already own. If you don't have a domain, you can either purchase one or use a subdomain.
Manual Magento installation – 000webhost comes with an automatic WordPress installer, but you'll have to install Magento yourself. That means setting up the databases, configuring users and permissions, and connecting it all.
Easy upgrade – Free accounts with 000webhost are upgraded directly to Hostinger accounts. Hostinger provides some of the most consistently reliable plans around and can be a fantastic home for your full-fledged Magento site.
Want to know more about 000webhost? Don't miss our
expert review
.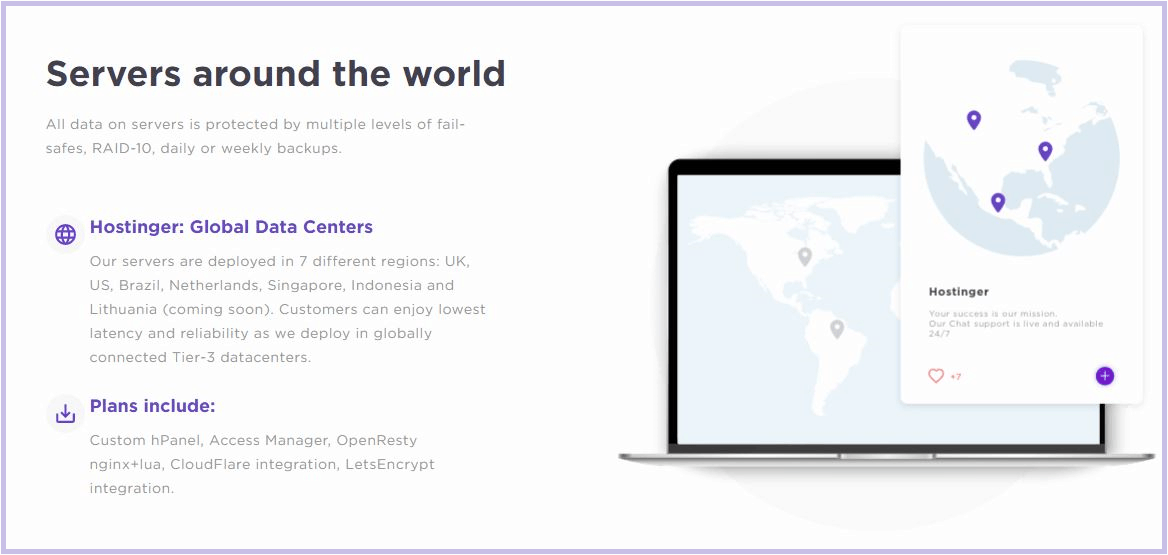 Hostinger is where you're sent when you upgrade from 000webhost's free Magento hosting, but you might want to consider it from the get-go.
The company's prices are a steal, with the basic plan available for just a few bucks a month
. What will you get when upgrading to Hostinger? First of all, full access to the complete hosting panel, which offers everything from advanced DNS (Domain Name System) configurations to mailboxes. Second, your site's performance will be significantly better. That's better loading speeds and better uptime (99.9%), along with the Magento platform running much more efficiently.
24/7 support – You get round-the-clock support through live chat. Agents are responsive, usually replying in less than a minute, and very eager to help. Ask them about installations, configurations, setups, or optimizations—they will know the answer.
100 GB bandwidth – Compared to the free hosts, it's a whole new ball game. Easily serve around 30,000 visitors a month.
Weekly backups – Have a recent backup of your site ready to go, in case of any disaster that might hit. The free hosting providers do not provide backups, meaning you're always at risk of losing your website.
Git integration – The best Magento hosting plans provide ways to keep track of the changes you make to your site, and Git is one of the most popular tools to do so.
For more information about Hostinger, check out our
expert review
.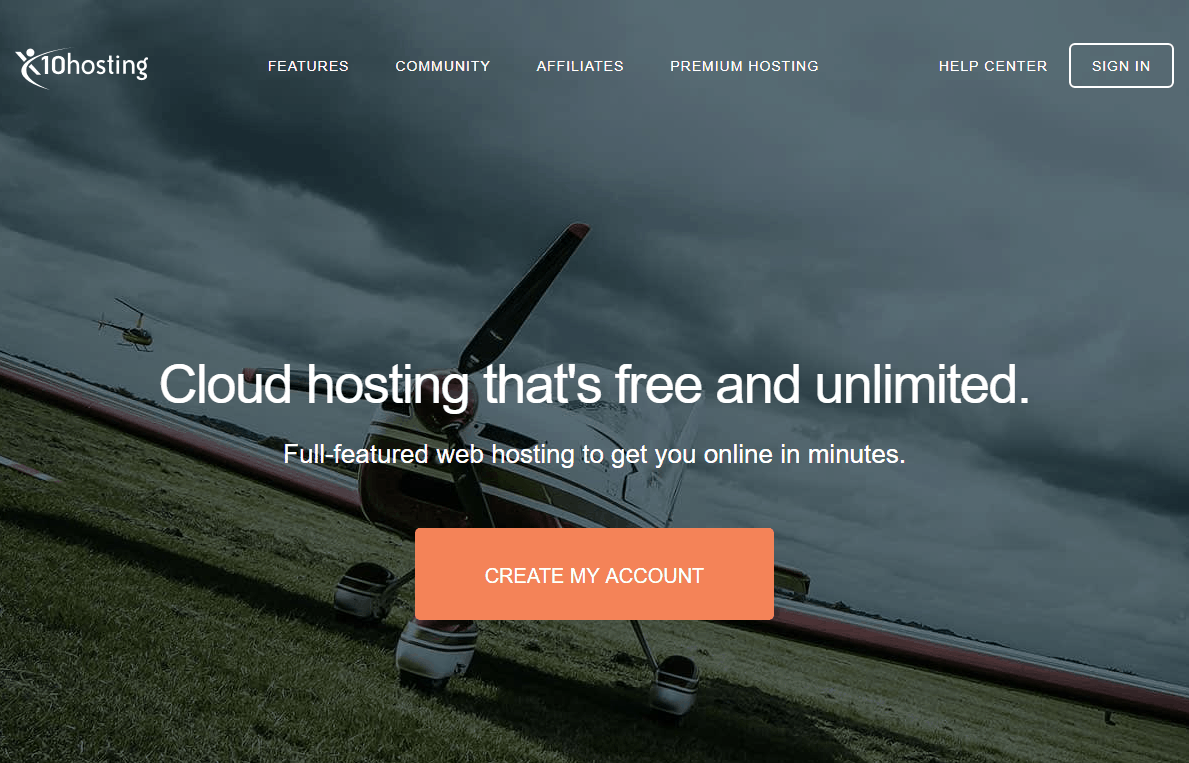 With more than ten years in the free hosting business, x10Hosting's business model seems to be working just right: users start with a
free, no-ads hosting plan
 and move on to premium services when they require additional resources. How good is the free plan? x10Hosting gets positive Magento hosting reviews, and it readily advertises its support of the platform. Independent benchmarks have also shown the service to be surprisingly able in terms of speed and reliability, at times even beating out well-known hosting companies.
The main drawback with x10Hosting, apart from the generally weaker server, is the lack of support on the free plan
. As a result, common issues that are easy to fix can take a long time, sometimes over a week, to get a solution.
Unlimited space and bandwidth – While you start off with 512 MB of disk space, you can contact x10Hosting after seven days of use and ask for the limitation to be lifted. If the company agrees to do so, you'll get unlimited space and bandwidth for your site.
Automatic installation scripts – x10Hosting provides easy, one-click installations, even for Magento. Just log into your cPanel, enter your project's details, and you'll be up and running in no time.
SSD – x10Hosting uses SSD servers, the drive technology that's replacing HDD. This results in faster response times and better performance, both for you and your visitors.
Email inboxes – x10Hosting provides email management through your hosting's cPanel, allowing you to connect your outside domain and configure email addresses.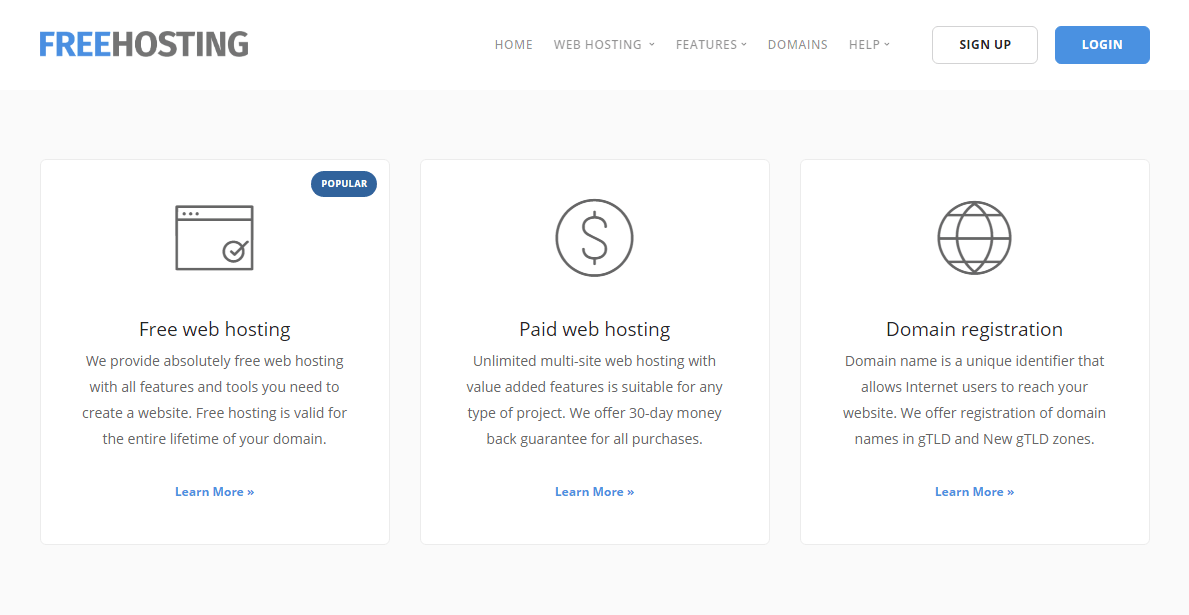 A "host without cost," as the company so eloquently puts it, FreeHosting is another suitable home for your free Magento website.
Boasting full support for PHP and MySQL and with 10 GB of storage space on the free plan
, FreeHosting offers quite a bit of room to grow. Additionally, you'll get unmetered bandwidth, as long as you stick to the terms of use agreement. The company is actually quite picky about the websites it hosts and frequently cracks down on any site suspected of malware, phishing, or other malicious activities.
Due to an increased number of malicious websites hosted by users from Brazil, Cuba, Iran, Sudan, Syria, and Vietnam, FreeHosting was made unavailable to the entirety of these countries
. If you're hosting from elsewhere, you won't have a problem.
Automatic Magento installation – All plans include automatic installation scripts, allowing you to one-click your way to a working Magento installation.
One-time billed add-ons – With FreeHosting, you don't need to upgrade to a monthly plan the moment you run out of resources. Various add-ons, like additional mailboxes, databases, SSL, or shell access, are available for a one-time fee.
Connect your domain – FreeHosting enables you to connect your custom domain, whether you purchased it from the company or from another provider. Sadly, no subdomains are available, so you'll have to pay for your domain.
Blacklist prevention – One of the dangers of shared hosting, and especially free hosting, is the company you keep. Your website shares the server with hundreds of other, and if they're sketchy, the whole server might be blacklisted. FreeHosting actively works to remove any websites that compromise the server's integrity.
Read more about FreeHosting in our
in-depth review
. All right. The last two providers on our list aren't technically free, but they sure come close. For the price of a cup of coffee, or even less, you can enjoy some of the best Magento hosting available today.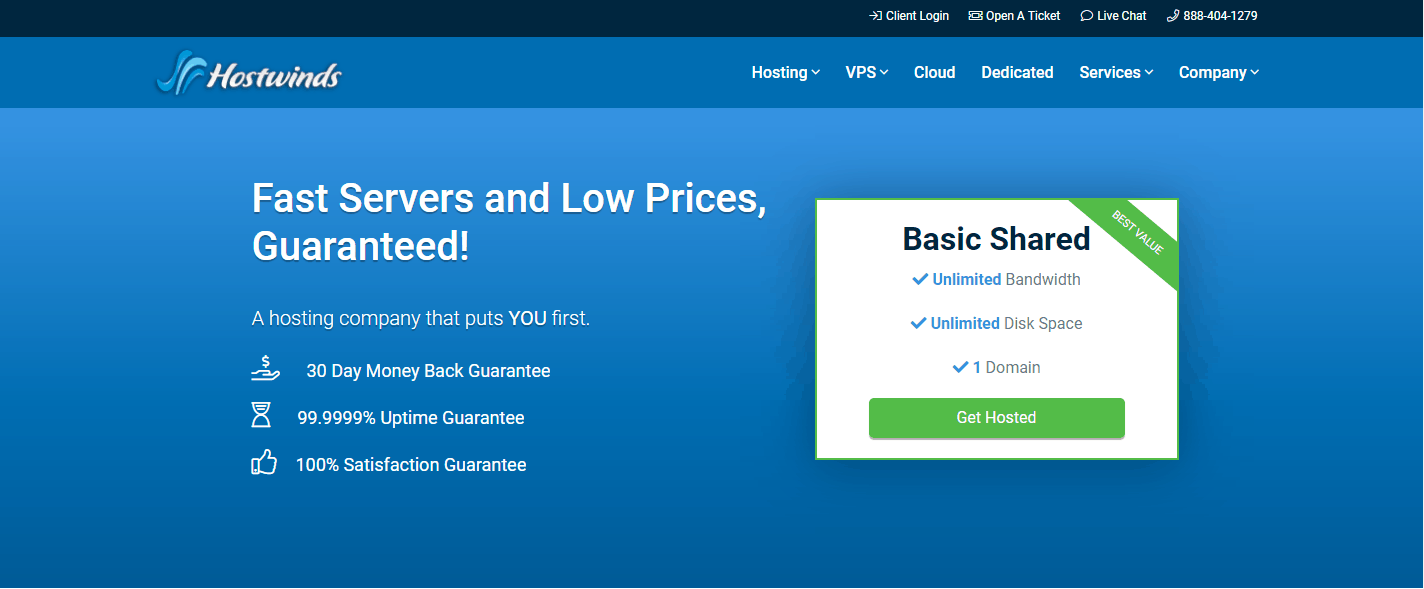 Slightly more expensive than Hostinger but still very affordable. Starting with its most basic plan, Hostwinds provides
unlimited storage, bandwidth, and databases
, allowing you to build any Magento store, no matter how big. You'll also have access to great extras, like an SSL security certificate, server monitoring services, backups, and automatic Magento installations. In terms of value for money, you'll be hard-pressed to find many worthy competitors.
Fast speeds and exceptionally high uptime – Hostwinds consistently scores as one of the fastest hosts around. Additionally, the company guarantees an unusually reliable uptime – going for no less than 99.9999%.
24/7 support – Available all year round, you can contact the representatives through phone, chat, and tickets. They're all English speakers and well-versed in the art of hosting.
Free domain – When purchasing a hosting plan for 12 months or longer, get a free custom domain name for the first year.
Free website transfer – While you might not choose Hostwinds as the starting point of your Magento adventure, it could definitely be where you decide on settling. Just ask support to move your website from any other host, and they'll do it quickly—and for free.
To learn more about Hostwinds, read our
expert review
.
You Can Host Magento for Free, but You Might Not Want To
I came across three remarkable free services that effectively hosted a functional Magento website. As a prudent entrepreneur, you might be considering that this implies bidding farewell to paid hosting indefinitely. Well, I'm not sure that's the case. While I definitely recommend giving the free hosts a shot and testing your ideas on them,
a fully functioning site might be better off with paid hosting
. Even x10Hosting, which provides unlimited space and bandwidth, allots your website only a teeny amount of RAM and CPU power. A metaphor for that would be getting a lot of raw material to work with, but very little manpower to actually do the work. As a result, your free site might struggle when hit with a lot of visitors. It may become unavailable, or just
really
slow. Additionally, you risk getting blacklisted. Think about Google not ranking you, or your newsletters going directly to spam. No good. Paid hosting solves all of that, and as I've shown with Hostinger and Hostwinds, it can also be remarkably cheap.
I recommend you try Magento on one of the free hosts, then move on the big leagues
.
Use this table for a quick comparison:
Price
1-Click Installer
24/7 Support
Storage Space
000webhost

$

0

✘

✘

1 GB
Hostinger

$

1.99

✔

✔

30GB
x10Hosting

$

3.95

✔

✔

Unlimited
FreeHosting

$

0

✔

✘

10 GB
Hostwinds

$

6.47

✔

✔

Unlimited
FAQ
Which host is best for Magento?
The best host for Magento depends on your needs. For a very small web store, you can run Magento on free hosts like 000webhost, but there are a lot of limitations. Hostinger is our top recommendation for all kinds of hosting, including Magento – when we put it to the test, it delivered really great performance. Our list of the best web hosting providers has plenty more hosting recommendations, too.
When should I pay for Magento hosting?
Free hosting for Magento is really only a temporary solution. Once your web store starts getting a lot of visitors, with free hoisting your website will become really slow or, even worse, completely unavailable. Since Hostinger and Hostwinds both offer low-cost hosting for Magento, I'd really recommend starting out with paid hosting. Our coupon page has some great offers to make paid hosting for your Magento website really affordable.
Which is best, Magento or WordPress/WooCommerce?
Magento has a lot more e-commerce features compared to WordPress with WooCommerce. It's a better choice if you have a large online store, but it's much less beginner-friendly than WooCommerce. WooCommerce is definitely easier to use, and you can also get managed WooCommerce hosting that's great if you're a beginner. Our guide to managed WooCommerce hosting has all the details. Ultimately, when deciding between Magento and WordPress with WooCommerce, the best option depends on the size of the store you want to create and how familiar you are with web development. If you're a beginner or don't need a huge store, WooCommerce is the best choice. But if you want to build a big store or want more advanced features, Magento is for you.