Shopify
and
Magento 2
, you're well on your way. They're two of the most popular options, and for good reason. It's no wonder that you can find thousands of highly successful stores that use either platform.
But which one is better for you?
That depends on your technical experience, budget, store size, and more. To save you time, I've done all the research you need. Before you spend hours setting up your e-commerce store, read this detailed, easy-to-follow comparison of Shopify and Magento. You'll quickly learn about the most important differences that will help you decide which is the best platform for you.
Magento Cost Can Be Hard to Estimate – Shopify Prices Are More Predictable
The pricing for either Shopify or Magento depends on multiple factors. Some stores on either platform cost only a few dollars a month to run, while others cost tens of thousands. How much you'll pay will depend on what you actually need. Let's find out.
Shopify Plans and Pricing
The total cost of Shopify isn't exactly simple, but it's more consistent across stores of similar sizes. The cost largely depends on five factors:
Plan cost
Payment processor
Transaction fees
Paid or free theme
Paid apps
Yes, there are fees like a domain name and shipping costs, but you'll have those with any type of store. A paid theme is optional and will cost you at least $140, and most paid apps are only $5-$10 per month. So, the
bulk of the cost comes from the plan and selling fees.
Here's a summary table of the main costs associated with each Shopify plan:
| | | | | |
| --- | --- | --- | --- | --- |
| | Basic Shopify | Shopify | Advanced Shopify | Shopify Plus |
| For… | New businesses | SMBs | Large Businesses | Enterprise |
| Price | $29/month | $79/month | $299 month | Custom |
| Shipping Discount | Up to 64% | Up to 72% | Up to 74% | Custom |
| Payment Processing Fees | 2.9% + $0.30 | 2.6% + $0.30 | 2.4% + $0.30 | Custom |
Note that the
payment processing fee goes down as your store grows
and you upgrade to higher plans. This can save you a lot of money, and it's the best argument for using Shopify for large stores. In addition, Shopify offers significant discounts if you pay up front for a long-term plan. Now what about transaction fees
?
Shopify doesn't charge transaction fees
if you use Shopify Payments,
which is the payment processor Shopify offers, powered by Stripe. But if you do use a different payment processor, you'll have to pay additional transaction fees (another small percentage) on each sale. To learn more about Shopify pricing, check out our
detailed guide
.
Magento Pricing
Exactly what
is
Magento in the first place? It might not be clear the first time you visit its site. There are two versions of Magento available.
Magento Enterprise is designed for huge stores.
It comes with support, performance improvements, and more. Unfortunately, pricing starts at several thousand dollars per year, and you also pay an additional fee based on your revenue. I'm going to assume that's a bit out of your budget.
The
Magento Community Edition is completely free;
there are no "plans." It's open-source software that anyone can download, but it doesn't come with customer support. You can install it on a server you manage, or on a hosting account you own. We'll talk more about getting started later. However, you still have to
pay for certain themes, extensions, and of course
…
processing fees on sales.
Let's look at how much each part will probably cost you.
| | |
| --- | --- |
| | How Much it Costs? |
| Hosting | This can range from $5 per month for shared hosting, to hundreds of dollars per month for dedicated hosting. Don't be too cheap; small stores should spend at least $10-$20 per month for decent-quality hosting. |
| Themes | Like Shopify, a paid theme is optional. If you do want one, it will usually cost $50-$200 depending on where you buy it from. |
| Extensions | You may not need them, but if you do need one or more extensions, most cost $100 or more up front, and they may have a service fee as well. |
| Processing Fees | This depends entirely on the payment processor you use; Magento itself doesn't charge any processing fees or transaction fees. |
For a brand new store, it's possible to get Magento running for pretty cheap. A final consideration is that
you might need to hire a developer,
especially if you're uncomfortable dealing with servers and code. Developers aren't cheap, and this can be a significant extra cost to keep in mind.
And the Winner Is…
Magento, by a bit. If budget is a big consideration for you, at least for now, a Magento store can usually be made and run for a bit cheaper.
For most stores, the cost is going to be pretty comparable between Shopify and Magento.
The only potential big difference is if you can't use Shopify Payments and have to pay an additional transaction fee on sales.
Shopify Holds Your Hand – Magento Throws You in the Deep End
The easier it is to make and maintain your store, the less time you'll need to spend on it, and the less frustration you'll face. Let's look at how easy it is to use each platform.
How Easy Is It to Use Shopify?
Most reviewers agree
that this platform is as easy as it gets. Shopify understands that most of its customers don't want to see or touch code, and they likely have little experience building online stores. From the moment you create an account (which takes seconds), you're prompted every step of the way to add your first products and customize your site.
The account menu is clearly laid out and labeled. Even if you've never used it, it's intuitive to find where to add products, or change settings.
How Easy Is It to Use Magento?
Magento 2 is a
huge
improvement over Magento 1. But… it's still
harder to use than Shopify.
To see why, we have to start with the process of installing the software on a server or hosting account
.
You'll need to spend time setting up your server or finding a web host you like
(
here are some good ones we recommend
)
, and creating an account. It can potentially take hours before you even see Magento itself. The good news is that since Magento is written in PHP (which all hosts support), and is so popular,
most hosts have an auto-install script for Magento.
You won't need to actually download it and figure out the technical details yourself. In that case, it's no more difficult than WordPress to get installed.
The dashboard is much cleaner than it was in Magento 1. But still, it's far from intuitive.
Because Magento has so much flexibility, there are tons of options and settings within each section of its backend.
I've been building websites for over a decade, and the first time I used Magento, I still had to search for help on basic things like installing a theme. Even once you know how to do something, it's not always simple or efficient. For example, to install a theme,  you'll need to transfer the files manually to your host (there's no convenient upload button in the Magento backend). So while the new Magento looks pretty,
it's just not intuitive.
Eventually, you'll get used to everything and it will seem
"easy,"
but if you haven't used Magento before, expect to spend at least 5-10 hours (not necessarily all at once) learning the ins-and-outs of the platform.
And the Winner Is…
Shopify is
much
easier to use and create a store with. There's virtually no comparison. If you're fairly new to building an online store, this should be one of, if not
the,
most important factor in your decision.
Magento vs Shopify: Do You Want Your Store to Look Unique?
You can customize the look of your website on either Shopify or Magento by installing a theme. Both platforms offer themes in their own marketplaces, but you can also buy them on third-party websites.
Shopify Theme Options
Shopify currently has just over 70 themes in its theme store. Of these, ten are free.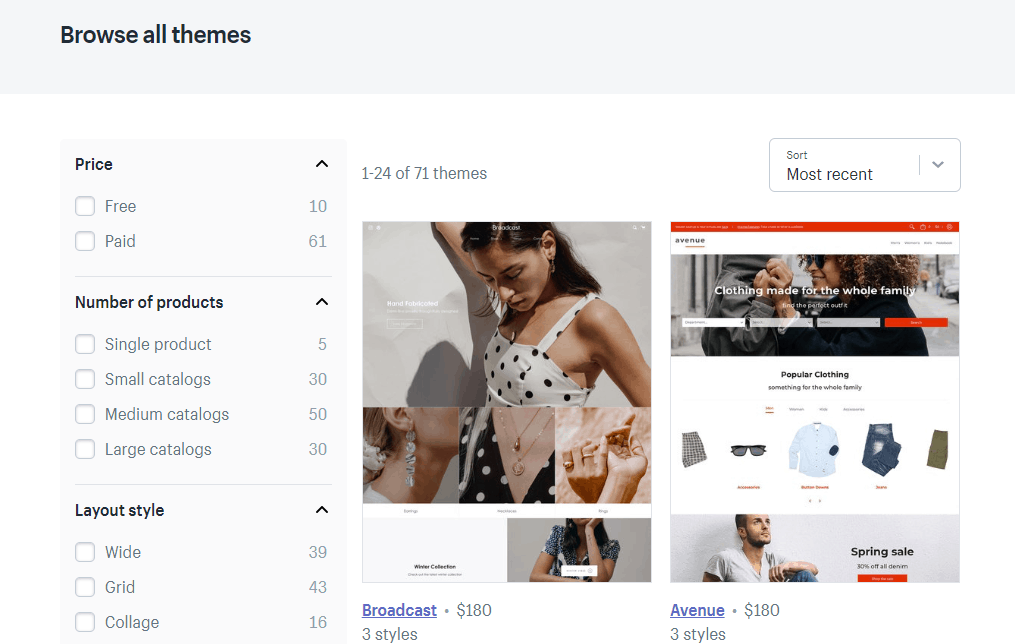 All themes are very high-quality, and many are
designed by Shopify's developers themselves.
But if you choose a free theme, the drawback is that your store will look just like thousands of other Shopify stores. If you want to stand out, you'll need to buy a premium theme, which typically costs just under $200.
Alternatively, you can find Shopify themes on theme marketplaces like TemplateMonster or ThemeForest.
These are usually a bit cheaper (around $100), but you'll need to spend more time making sure you choose one from a reputable developer.
Magento Theme Options
Magento offers some paid themes on its marketplace as well, but there are only 14 to choose from: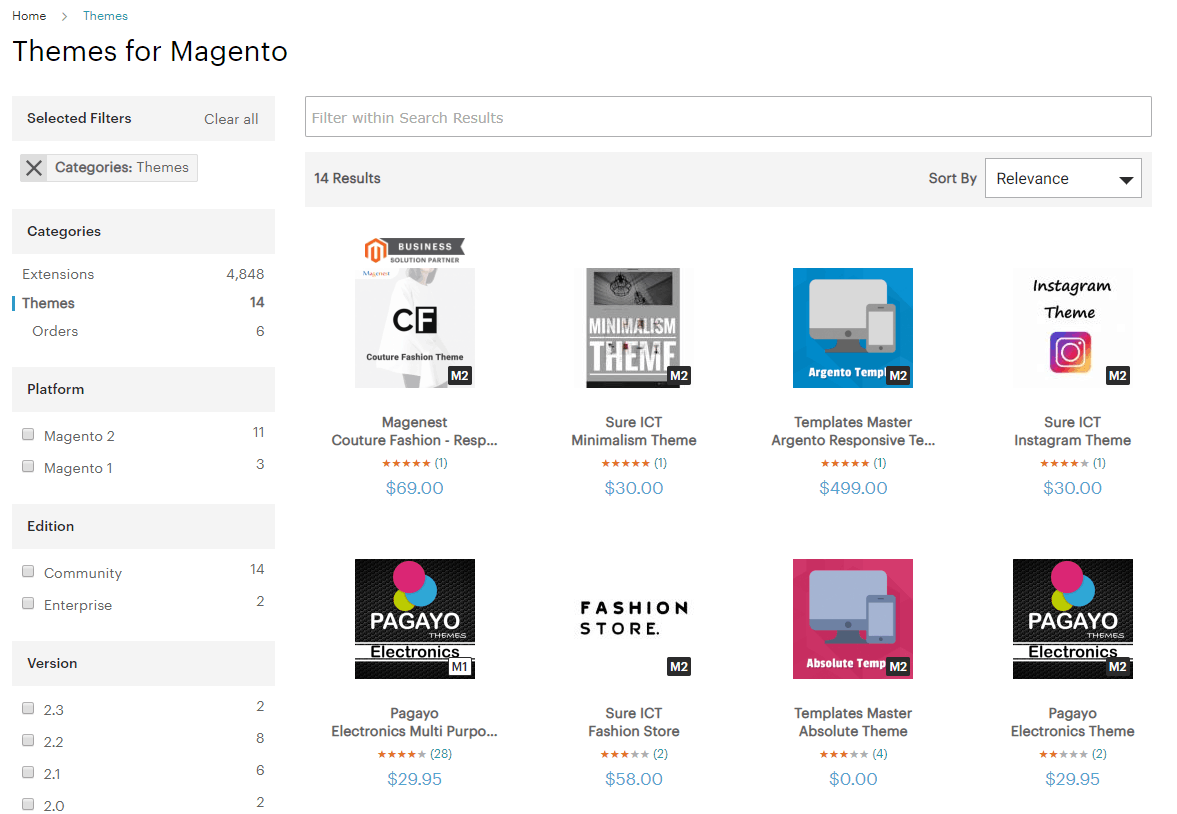 If you're looking for a new theme, you'll almost certainly have to buy one from a site like TemplateMonster or ThemeForest. Wondering which theme giant is right for you? Don't miss our
in-depth TemplateMonster review
, or
click here to learn more about ThemeForest
.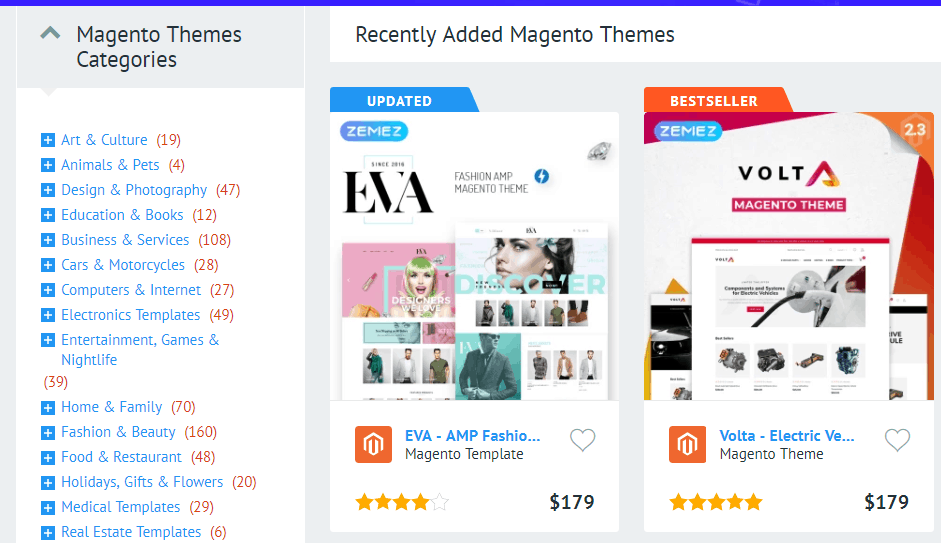 There are tons out there. For example, there are about 500 Magento themes on TemplateMonster (which also has about 700 Shopify themes). The cost varies quite a bit for Magento themes.
On average, they cost around $50-$200.
And the Winner Is…
Shopify
, by a
small
margin. On third-party sites, there are hundreds of themes to pick from for either platform. The only real difference, which I think is significant, is that Shopify's own theme marketplace has many more themes than Magento's. These are themes that you
know
are high-quality — without your having to do additional research.
Both Make Inventory Management Easy, but Magento Has More Options
Shopify and Magento have a lot in common when it comes to adding products and managing inventory. But there are some minor differences that may influence your decision. Let's take a quick look at inventory management on either platform.
Shopify Inventory Management
You can either import a CSV of product information, or create them one-by-one in your Shopify account. There are quite a few fields that you can customize for each product. These include:
Product name
Product description
Images
Category
And more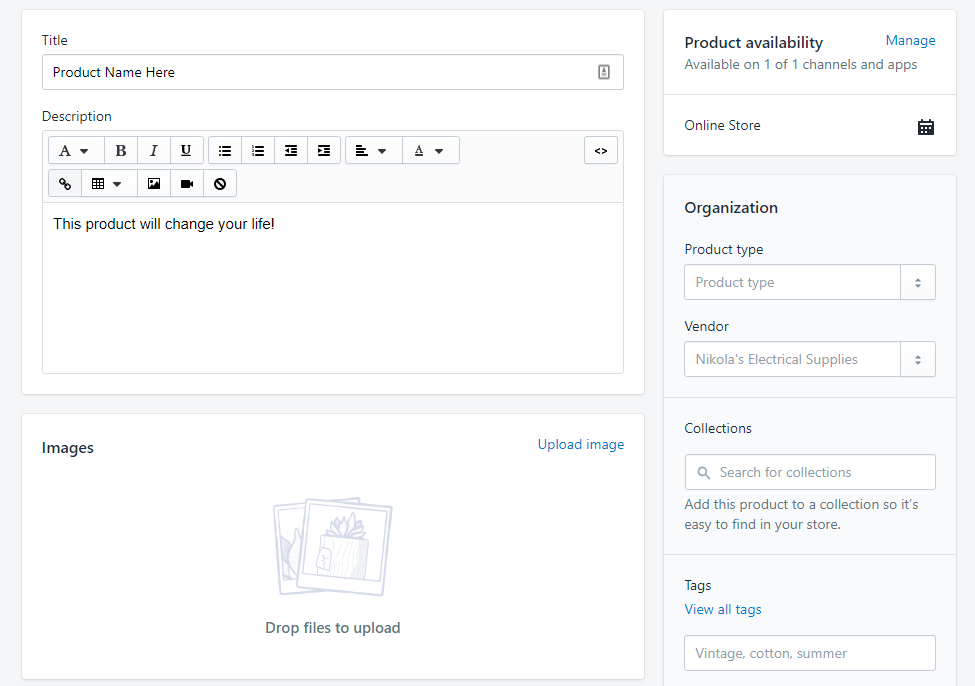 If you scroll down on the page, you'll see
detailed inventory and shipping options.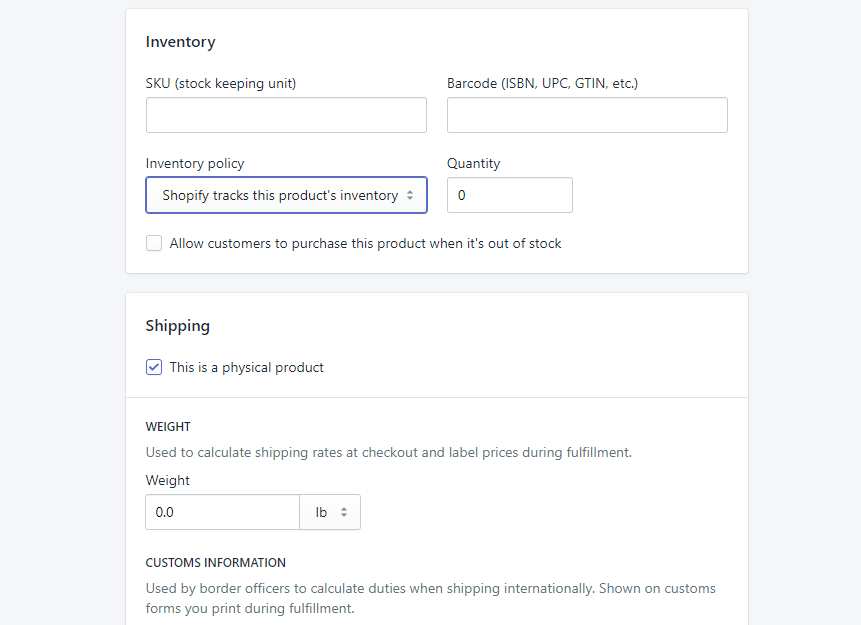 All the essentials are there, and if you ever need something unusual, you can probably find an app for it (more on this later). In the products section of your account, you can see an overview of your inventory.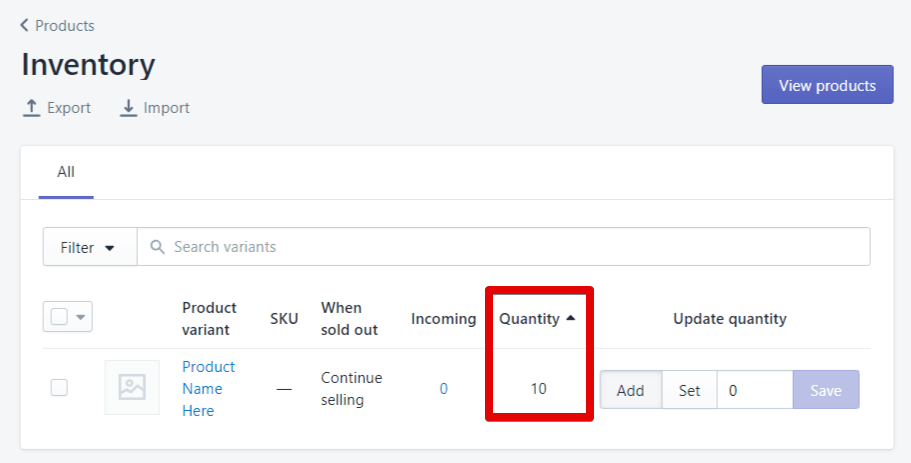 Most of the time, you'll just have Shopify automatically manage inventory for you. But when you need to, you can change inventory for products here very easily.
Magento Inventory Management
Adding products in Magento isn't
too
much different. Again, you can import product information in bulk, or add a product manually.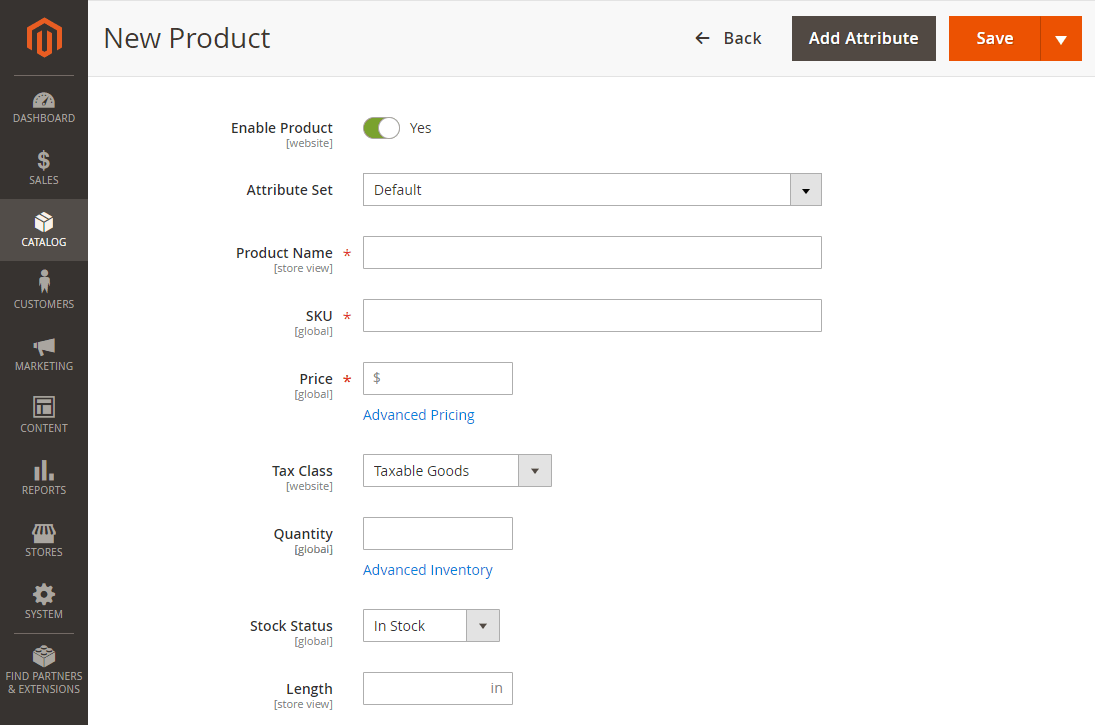 Most of the same options are available. However, when you scroll down on the new product page, you get a decent number of extra options.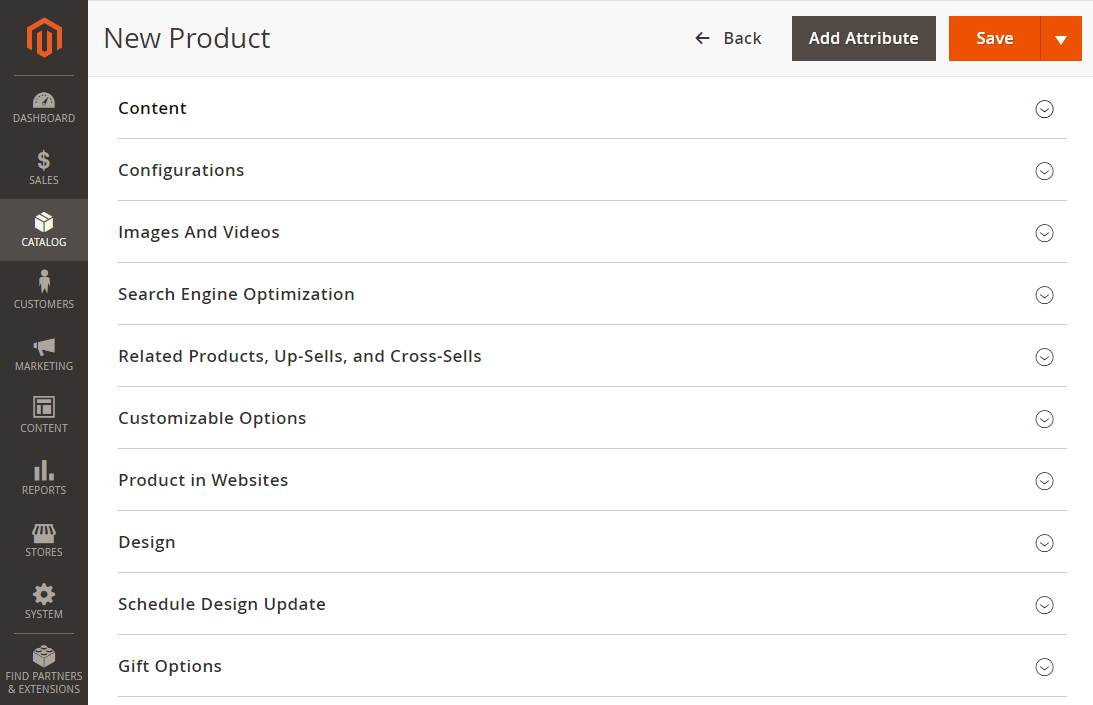 You can easily add multiple configurations (variations) of products, add videos, set advanced search engine optimization options, and more.
Many store owners won't need these extra options, but it's nice to have them built-in just in case. Magento offers a similar basic table to view and manage inventory like in Shopify.
And the Winner Is…
Magento, by a little bit. It's easy to add products and manage inventory on either platform.
However, Magento has quite a few extra product options built-in that could be quite handy.
There are workarounds on Shopify through apps if you need more functionality, but it's extra work, and may cost you more.
Shopify Has Slightly More Add-Ons to Choose From
Apps, add-ons, extensions…
Whatever you call them, you can install them on either Shopify or Magento to add extra functionality. Years ago, Magento had
way
more, because anyone could easily make and publish extensions. But now, it's different. Shopify has grown up a lot, and now has a fantastic API for developers, and plenty of extensions. So, let's take a look at what add-ons look like
today
for Magento and Shopify.
Shopify App Selection
In Shopify's App Store, you'll find
over 3,000 apps.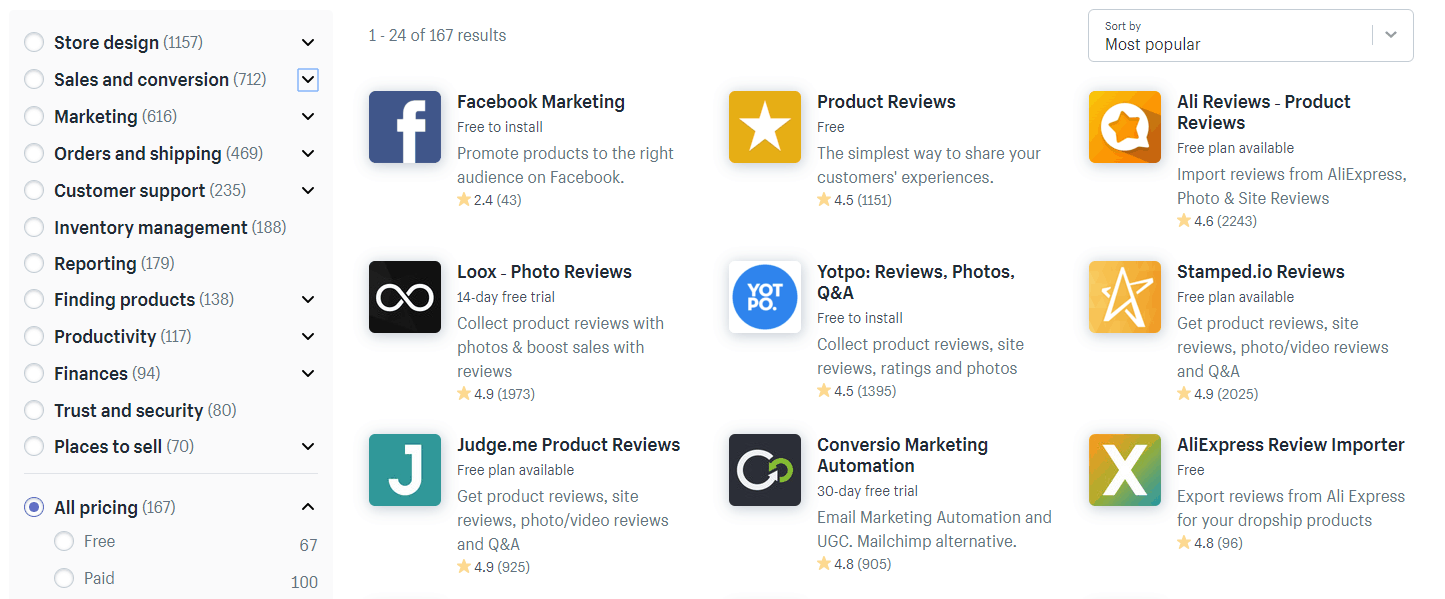 These apps cover just about every possible e-commerce functionality you could think of, including:
Email marketing integrations
Social media marketing integrations
Product review widgets
Live chat widgets
Printing on demand
Dropshipping fulfillment
A handful of the apps are free or have a free plan, but
most come with a monthly fee.
The cost varies quite a bit; some apps cost close to $100 per month, but most cost $5-$20.
Magento Add-On Extensions
Because Magento has been open-source from the start, extensions have always been a big part of its ecosystem. Extensions on Magento can be made to add virtually any feature you'd like. You're a bit less likely to need one using Magento compared with Shopify because Magento generally has more "extras" built-in already, but when you do, head to the Magento extension marketplace.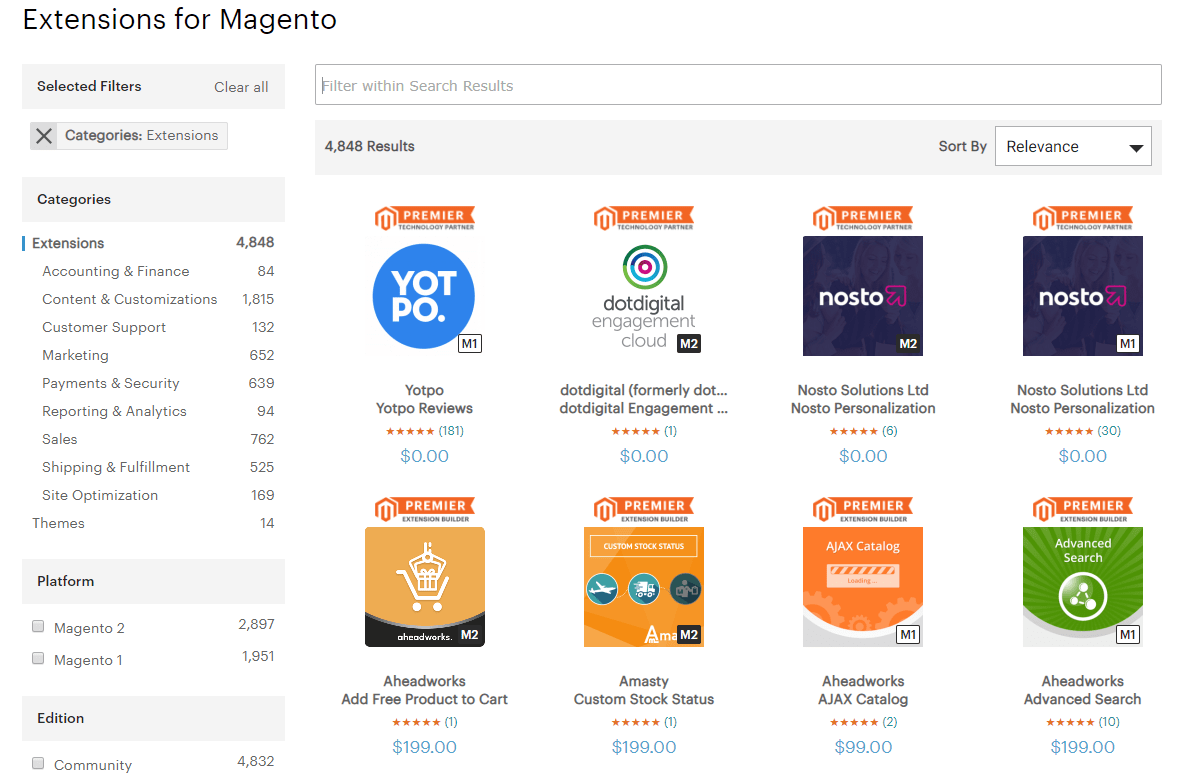 As of now, there are just under 3,000 extensions for Magento 2 —
Shopify actually has more now
. Past a certain point, it doesn't really matter. You just get more competing extensions that are
slightly
different from each other, but that have the same main functionality. Just to give you a few more ideas about what these extensions can offer, here are some popular types for Magento:
Advanced site search
Social media widgets
Frequently bought together widgets
Abandoned cart emails
CRM integrations
Most cost about $100 up front, with an optional paid installation service. Some also offer an optional
paid service agreement if you want ongoing support
(which you typically do). Adding all this together, Magento extensions usually cost more than Shopify extensions, but not by too much. The final thing to mention is installing a Shopify app only takes a few clicks. But on Magento, you'll need to download an app, transfer the files to your hosting account, and then make sure there are no conflicts with other extensions you have. It's a bit of a pain, especially if you're not a developer.
And the Winner Is…
Shopify, by a small margin. Both platforms have an amazing selection of extensions. You can find one for just about any feature you're looking for.
However, Shopify makes it much easier to install extensions, and it usually ends up being a bit cheaper as well.
Magento Gives You More Freedom over Payment Processors
The payment processor you use will affect the fees you'll have to pay on each sale. There are a few important differences between Shopify and Magento when it comes to payment processors.
Shopify Payment Processor Options
Shopify makes it easy to choose from Shopify Payments (powered by Stripe) and PayPal: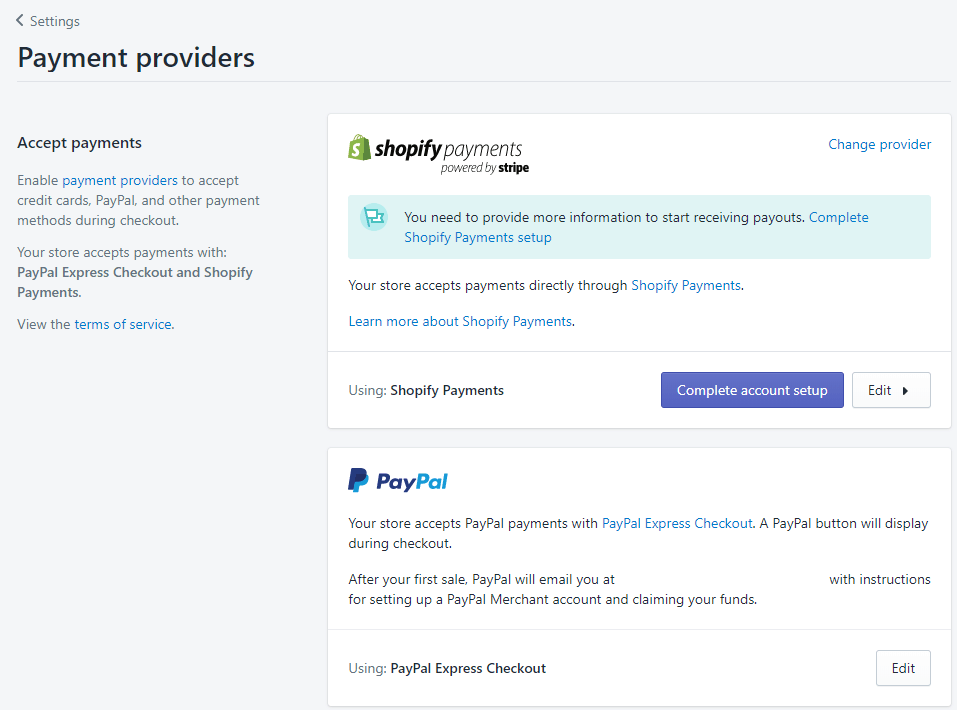 However, you're really pushed toward Shopify Payments, because then you'll pay no transaction fees. If you use PayPal (or another processor), you'll have to pay its processing fees,
plus transaction fees.
Most stores can use Shopify Payments, but that depends on where you live. For now, your business must be in one of these countries:
United States (except for Puerto Rico)
United Kingdom
Australia
Canada
Germany
Hong Kong SAR China
Ireland
Japan
New Zealand
Singapore
Spain
Magento Payment Processor Options
Magento makes it painless to connect to common payment processors like PayPal and Stripe.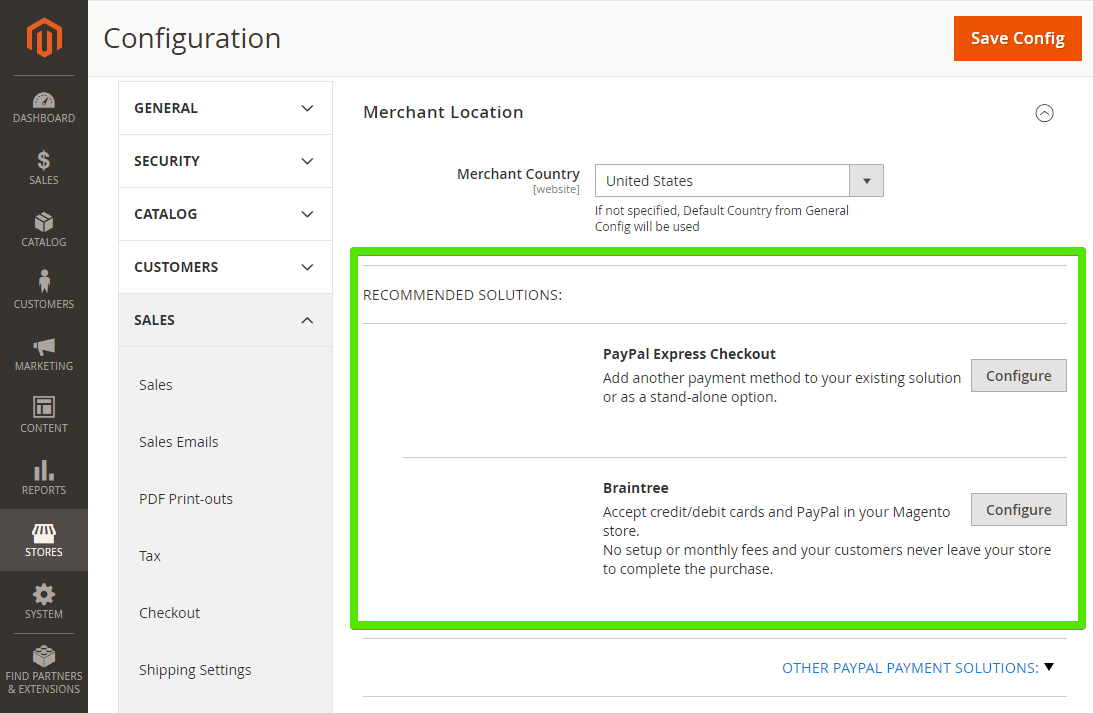 But there are over 140 payment integration extensions in Magento's marketplace. So, if you want to use any other processors, there's likely to be an extension for it, although you'll have to pay for it.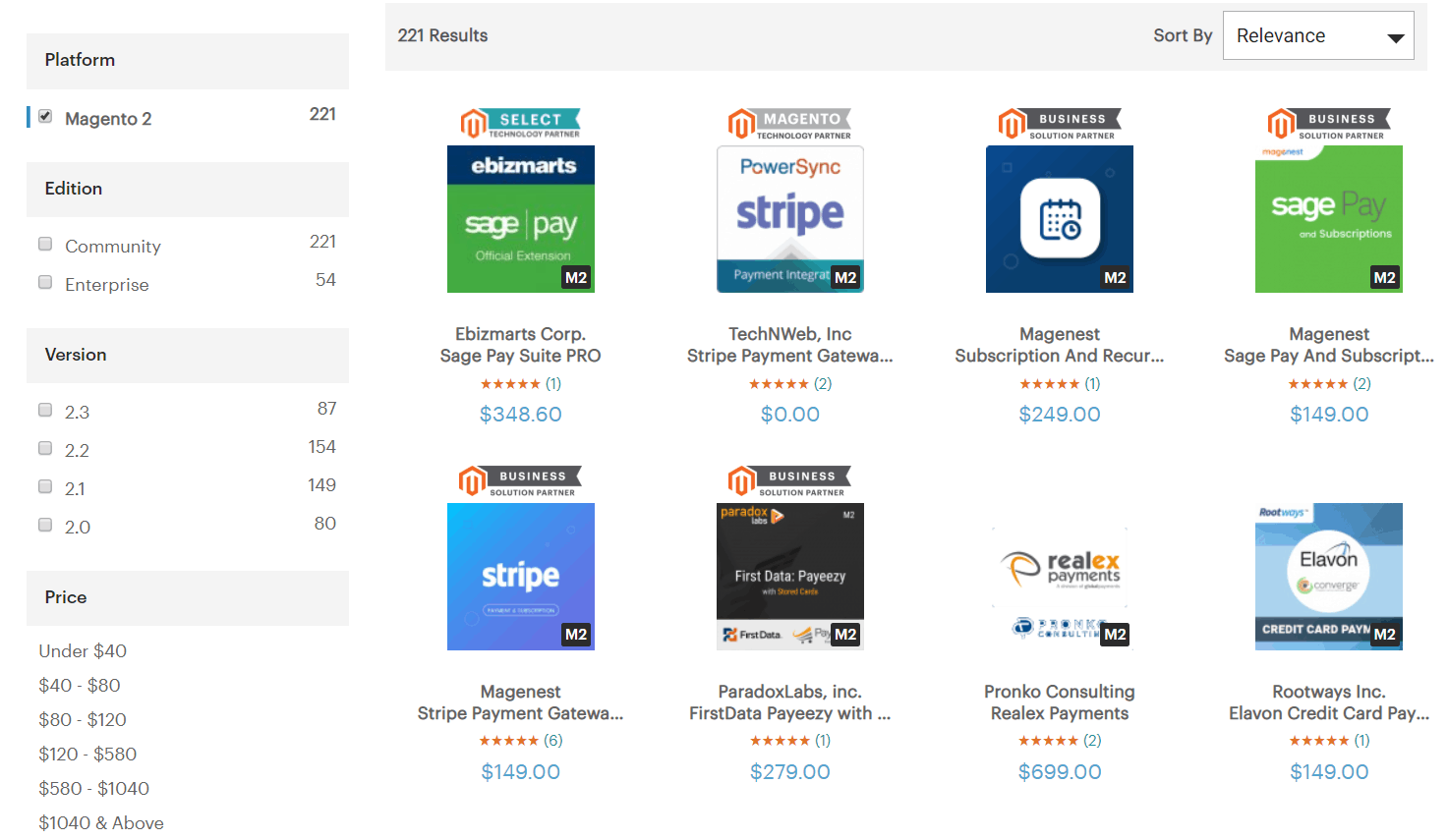 You'll pay whatever processing fees your provider charges, but Magento doesn't take a cut or charge transaction fees.
And the Winner Is…
Magento, as it easily connects to all major payment providers with no hidden fees.
While Shopify Payments is a great payment provider, offering discounts for high-volume sellers, it's not always an option. If Shopify Payments is not available to you, you'll have to pay significant transaction fees on each sale.
Shopify Offers a Lot of Support – Magento Doesn't
Online stores are fairly complex, and chances are high that you'll need some guidance or help at some point.
Shopify Support
Shopify is amazing when it comes to support.
It has a dedicated support team that's available 24/7.
You can choose from live chat, email, and phone support.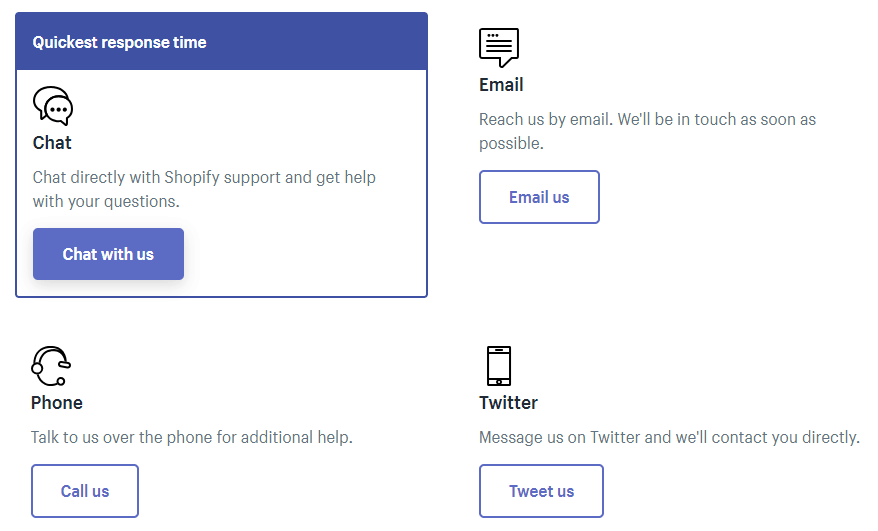 On top of that, Shopify has an extensive knowledge base, and a very active community forum: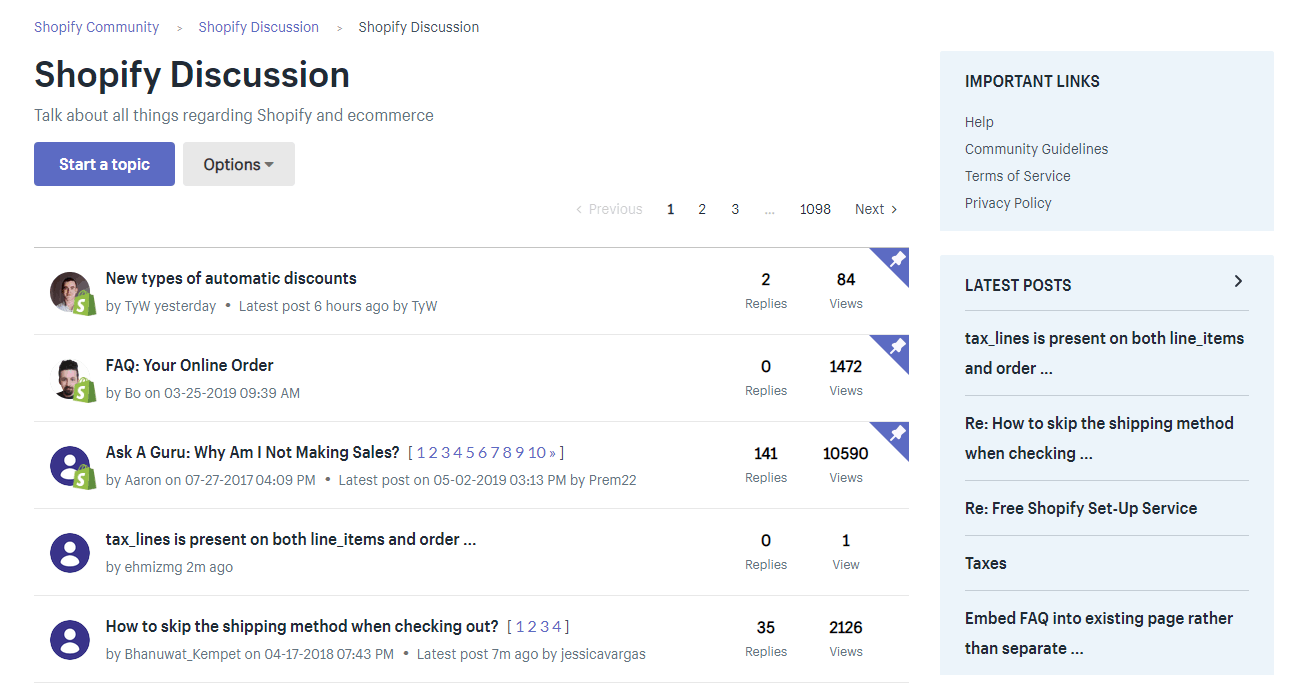 Magento Support
Unless you buy the Enterprise edition of Magento, there's no support team you can contact when you run into an issue. There's a decent knowledge base, but the articles aren't quite as good as the ones on Shopify, and they're often technical (by necessity) in nature.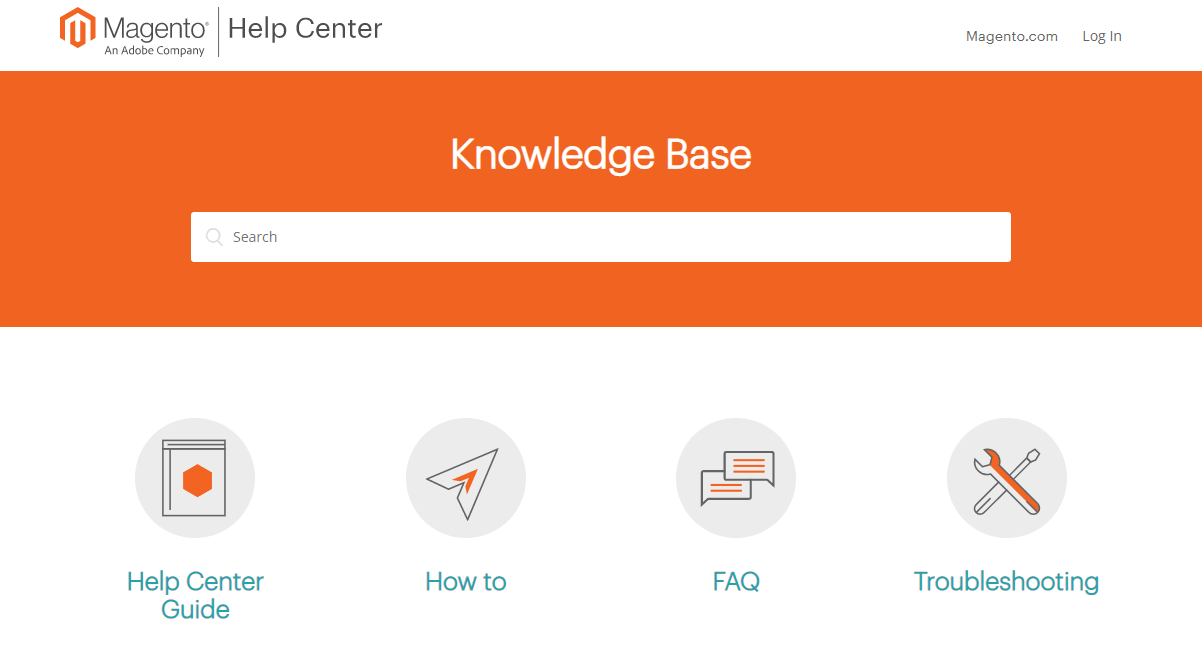 If you're not a developer, you'll often be overwhelmed. Magento does have an awesome community, though. If you run into a problem, that's the best place to turn to.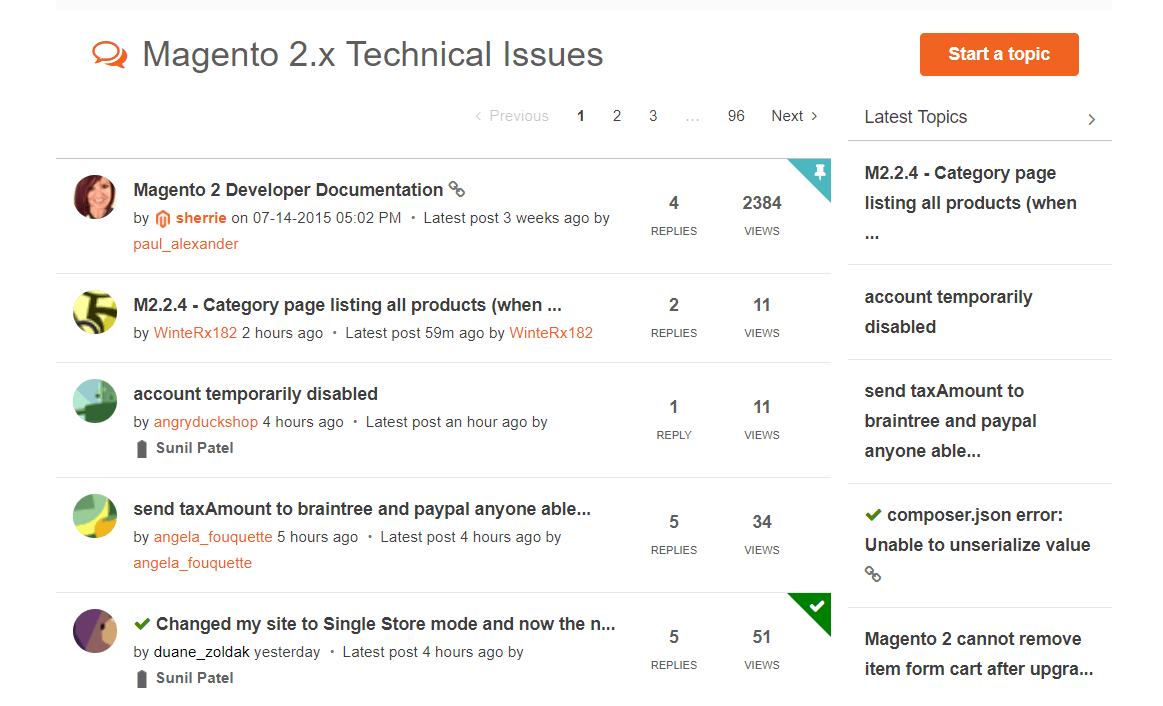 The forums are very active, and you can
usually
get some guidance at the very least, even if you can't get a solution. The alternative is to hire a Magento developer, but that's an expense most stores don't want to add.
And the Winner Is…
Shopify, and it's not even close. Not only does
Shopify
offer support, but it also has great support options. Magento has a solid community, but it's just not a reliable option when you really need help.
Shopify vs Magento: Shopify Is the Best Choice for Most Stores
It's funny how both platforms are meeting in the middle over time. Shopify is adding more functionality, while Magento is trying to become more user- friendly. Both are great platforms, but
Shopify is better for most stores.
If you're going to be building a large store that will likely need unique functionality, Magento is the better choice. But unless you're a developer
(and even then)
it's a pain compared with how easy Shopify makes everything. To learn more about Shopify,
check out our expert review
. Or, if you're ready to start selling on the platform, click the button below. Here's a summary table of everything we've looked at, which may help you make your final decision:
Feature
Shopify
Magento
Winner
Cost
Monthly plan cost
Payment processing fees (lower for high volume)
Transaction fees (waived if using Shopify Payments)
App Store if you need extra functionality
Paid themes (optional)
Monthly hosting cost
Payment processing fees
Extensions if you need more functionality
Paid themes (optional)
Magento. You can usually make a store for a bit cheaper if budget is really an option. In general, they cost a similar amount.
Ease of Use
Intuitive to get started with and use.
Installing takes longer, and it's not exactly intuitive for new users.
Shopify. It's easy to use, even if you've never built a website.
Theme Options
Over 70 in the Shopify Theme Store
Hundreds on third-party marketplaces
Just 14 on the Magento Marketplace
Hundreds on third-party marketplaces
Shopify. It's always nice to be able to buy from official stores that have themes from reputable developers only.
Inventory Management
Just over 3,000 apps; easy to install.
All basic product options, plus some more, and easy to manage inventory.
Magento. Both are good for basic stores, but Magento has more advanced product options included.
Add-ons
You're pretty much forced to use Shopify Payments (Stripe).
Just under 3,000 extensions; not the easiest to install.
Shopify. It has a great support team, which is part of the reason that Shopify is paid software, while Magento is "free."
Payment Processors
You're pretty much forced to use Shopify Payments (Stripe).
You can use any popular payment processor with no hidden fees.
Magento. Shopify Payments is great if you can use it, but Magento is better for any other payment processor.
Support
Live chat (24/7)
Phone (24/7)
Email
Knowledge base
Forums
Shopify. It has a great support team, which is part of the reason that Shopify is paid software, while Magento is "free."