Adobe Commerce (formerly Magento) is a highly customizable platform, suitable for tech-savvy users or businesses with a dedicated development team
. It lets you manage multiple brands and create tailored experiences for your customers. Also, it seamlessly integrates with other software from Adobe's suite of products, so it could be a good option if you're looking to scale (and have the budget for it).
Shopify, on the other hand, works well for any type of retail-oriented business, large or small, which makes it my top choice
. It's not nearly as customizable as Adobe Commerce, but it's incredibly easy to use and has efficient built-in tools to help you streamline your operations. Also, unlike Adobe Commerce's quote-based system, Shopify offers transparent (and much more affordable) pricing. You can try Shopify for free, or read on to learn more about why it came out on top in my comparison.
A Quick Note on Terminology
Magento is an open-source e-commerce platform that was acquired by Adobe in 2018. Following the acquisition, it was rebranded and now it's officially known as Adobe Commerce. However, there are several versions of the software available: Magento Open Source (free to use and written in PHP), Adobe Commerce (paid, on-premises version), and Adobe Commerce (paid, cloud version). In this article, I'll be discussing the cloud version of Adobe Commerce.
Templates
Shopify Has (Many) More Templates and Versatile Designs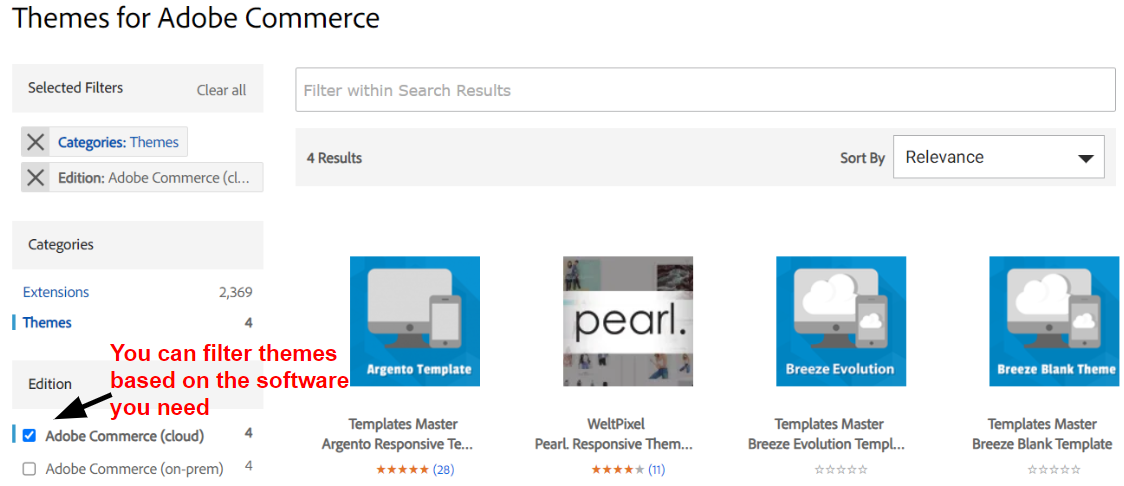 Adobe Commerce offers a fairly limited selection of 4 templates (which it calls themes), 2 of which are free
. All templates are mobile-responsive and lean toward minimalism, with a clean look and prominent CTA buttons. They also include handy features such as built-in checkout, contact, and post-purchase Thank You pages. Adobe Commerce lets you customize your site's content and layouts using a drag-and-drop editor. However,
if you have technical knowledge, you can make drastic changes to your theme's design, as you get full access to the core code
. Alternatively, you can hire Adobe's expert developers to execute your vision.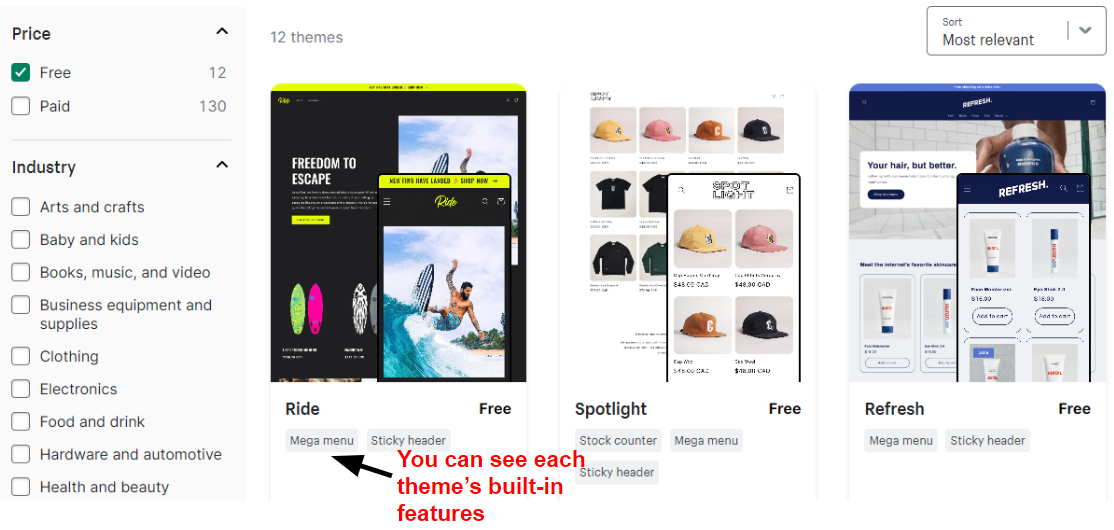 Meanwhile,
Shopify's 140+ themes (including its 12 free options)
provide much more variety off the bat
. These are categorized by industry, layout, and design style, so it's easy to find something that matches your brand. Shopify has modern, mobile-responsive themes that come with useful built-in features, such as product pages, slideshows, mega menus, and social media integrations. Shopify lets you modify your theme's fonts, colors, layouts, and code but unlike Adobe Commerce, you can only edit the layout and content of your homepage. If you need more options, you can import third-party themes or hire a developer to create a custom design for you. Overall, I found
Shopify provides a wider theme selection and more versatility out-of-the-box
. Though Adobe Commerce offers more advanced customization options, Shopify lets you choose between minimalist and content-rich layouts. At the same time, it gives you the option to access code (to a degree) or hire experts to design your store for you.
Features and Ease of Use
Both Are Powerful, but Shopify Is Easier to Use
You can use Adobe Commerce's basic editor to add pages and content elements such as images, product descriptions, and product catalogs. If you prefer to work directly with HTML code, you can easily change modes by clicking the
Show/Hide Editor
button.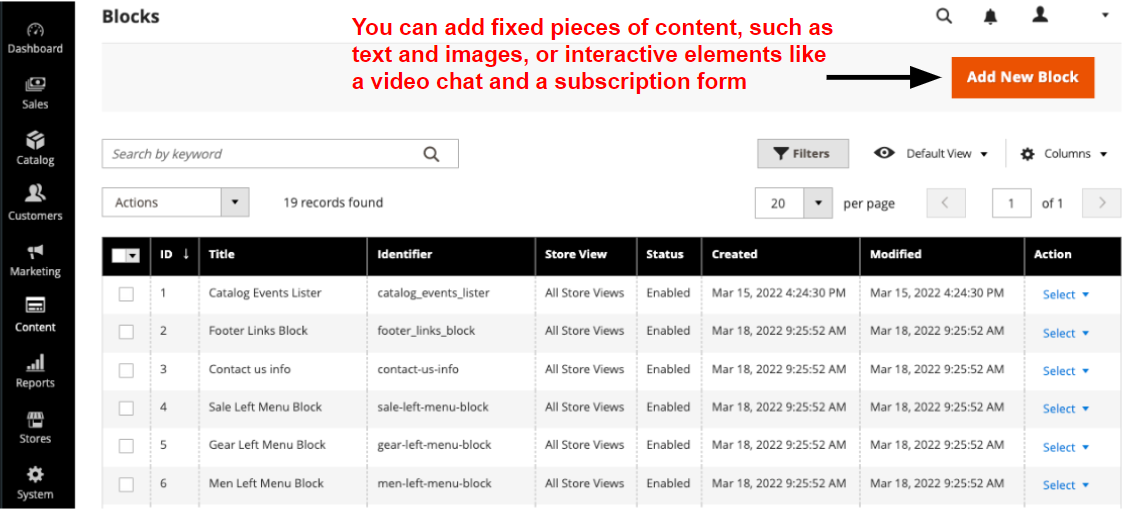 You can also access Adobe Commerce's Page Builder for more advanced content tools
. For instance, you get greater control over your page layouts with the ability to add elements like rows, columns, and dividers. Also, the Page Builder offers a wider selection of media elements including videos and sliders and dynamic content blocks such as product promotions. However,
the sheer amount of features results in an interface that feels clunky at times
. Also, there's very little hand-holding from the app itself, so you'll likely be consulting the knowledge base often.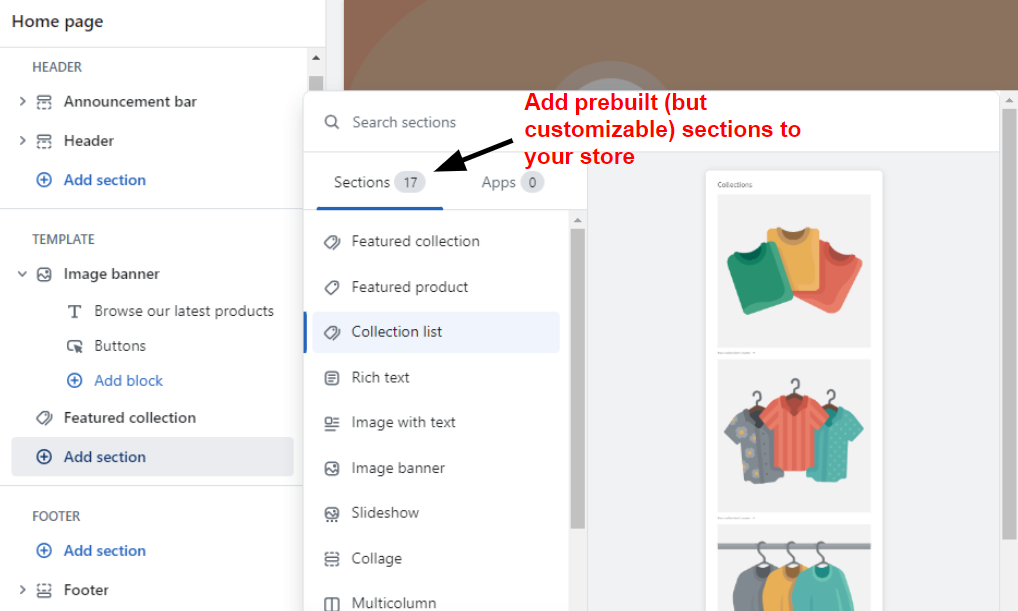 By comparison,
Shopify's drag-and-drop editor lacks more advanced customization options, but it's also much easier to use
. You can add and customize template sections like collages, collection lists, and slideshows. You also get in-app tutorials to guide you through the entire process of setting up your store. While Adobe Commerce relies mostly on its customization abilities and extensions,
Shopify has ready-made features to save you time (but without skimping on quality
). For instance, Adobe Commerce lets you add a blog to your store only through integrations, while Shopify has a built-in blog editor. Also, Shopify has in-house shipping and fulfillment tools which require third-party apps on Adobe Commerce. To sum up, while Adobe Commerce is more customizable,
Shopify is easier to use and has excellent built-in tools to help you set up and run your store
.
Apps
Adobe Commerce (Magento) Has Its Perks, but Shopify's Huge App Store Is Hard to Beat
Adobe Commerce has a rich app marketplace with 2,000+ free and paid options.
The apps are divided across categories such as Site Optimization, Payments & Security, and Customer Support. Adobe Commerce also belongs to Adobe Experience Cloud, which counts over 20 standalone software you can easily integrate to extend your store's functionality. For instance, you can connect your store to Adobe Experience Manager (a CMS platform) to create engaging site content, or Adobe Journey Optimizer to run and analyze personalized marketing campaigns.
Still, while Adobe Commerce provides a respectable number of integrations,
Shopify's extensive app store
 has over 8,000 free and paid apps
. There's a tool for virtually everything, including dropshipping apps, loyalty programs, currency converters, and plenty of other useful stuff. I also appreciated that you can access all apps regardless of which Shopify plan you sign up for.
E-Commerce
Adobe Commerce Has Advanced AI Features, but Shopify Has More Built-in Tools
When it comes to e-commerce features,
Adobe Commerce has an innovative set of AI-powered tools to ensure a smooth shopping experience
. For instance, the Live search feature delivers faster and personalized search results for B2B and B2C shoppers, based on AI algorithm rules. Also, with the Product Recommendations tool, AI automatically suggests relevant products based on your customer's behavior. Shopify may not have the most advanced AI features, but it offers Shopify Magic – an AI tool that creates compelling product descriptions. Plus, you can upload product GIFs and 3D images to present your items effectively.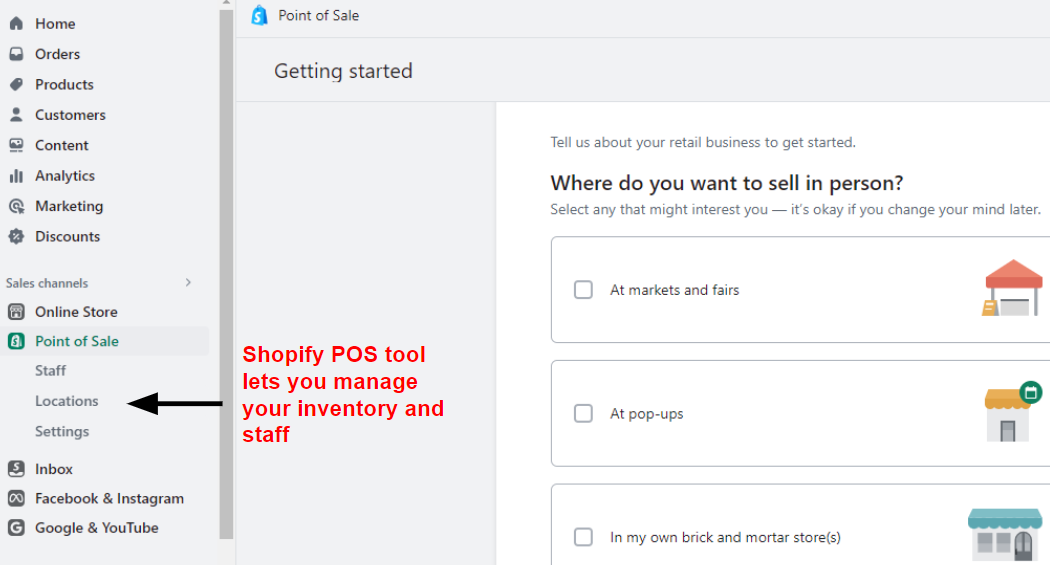 Shopify also has a wider set of built-in payment tools than Adobe Commerce
. For example, Shopify has its own POS system, which lets you sync up your physical and online stores. Also, while both platforms have native payment processors (Shopify Payments and Payment Services for Adobe Commerce), Shopify Payments is available in more countries and it accepts a wider variety of payment methods.
Marketing
Both Offer Multiple Sales Channels, but Shopify Has Better Email Marketing
Both Adobe Commerce and Shopify have solid marketing tools that allow you to offer discounts, promotions, and gift cards, and sell on various channels, such as Facebook, Instagram, and Amazon.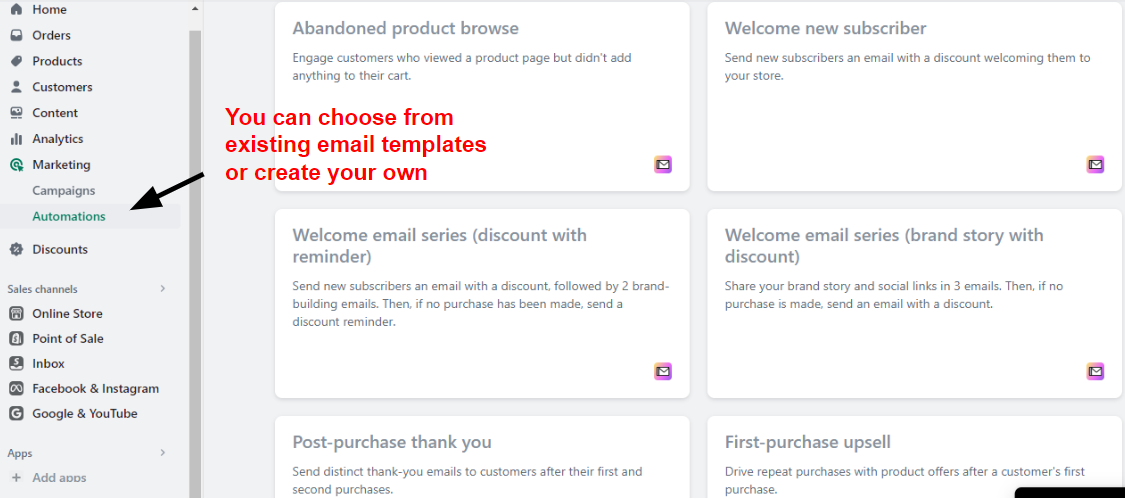 Adobe Commerce's email marketing tool offers basic email templates, such as discount and order confirmation emails, but I found Shopify's to be more robust.
Shopify Email lets you choose from a wider selection of prebuilt email templates, such as newsletters, product collections, holidays, and more
. Your logo, products, and store colors are automatically applied to the templates to ensure brand consistency. You can also use Shopify Magic to generate subject lines and speed up the copywriting part. Best of all,
Shopify Email allows you to send up to 10,000 emails a month for free
.
Pricing
Shopify Provides Transparent Pricing and It's Much Cheaper Overall
Adobe Commerce (Magento) offers two pricing packages: Adobe Commerce Pro and Managed Services. There is no free trial available, but you can contact its sales team to get a free tour of the platform. In contrast,
Shopify has a 3-day free trial
to let you test all of its features before making a commitment
. Then, you can choose from three paid plans: Basic, Shopify, and Advanced. The Adobe Commerce Pro package includes features such as image optimization, automated data backup, and core application support. The Managed Services plan gives you access to more advanced features, including custom site monitoring and dedicated escalation management.
Adobe Commerce doesn't disclose its pricing upfront
, so you'll have to contact them directly to get a personalized quote based on your business needs.
Still, the prices typically start from $10,000+ per year
, which makes it unsuitable for small businesses on a budget. That said, Adobe Commerce could be a worthy investment for large businesses looking to scale even further and requiring a highly customizable platform.
Shopify's pricing is much more straightforward and affordable.
In fact, many of its advanced tools are available on lower-tiered plans
.
For example, Shopify's Basic plan includes features like multilingual sites, multi-channel selling, and abandoned cart recovery, which will likely be enough for online stores of any size. Shopify also provides in-house payment tools that Adobe Commerce makes available only via integrations. This makes it a much cheaper option that still provides great value.
Extra Fees to Consider
With both platforms, it's important to pay attention to hidden fees.
In addition to the license fee, using Adobe Commerce involves development expenses for both the initial build and future upgrades
, depending on how much customization you require. Also, the price may go up depending on how many integrations you plan to use. Similarly, with Shopify, the overall cost can pile up depending on how many apps you use.
Unless you use Shopify Payments, you'll have to pay a fee for every transaction you make
– 2%, 1% or 0.5% for Basic, Shopify, and Advanced plans, respectively. Here's a closer look at the entry-level plans by Adobe Commerce and Shopify:
Adobe Commerce
Shopify
Starting Price
Price on request (typically start at $10,000+ per year)

$

29.00

Unlimited products

✔

✔

Automated tax calculation

✔

✔

Abandoned cart recovery

✔

✔

Built-in shipping and fulfillment services

✘

✔

POS system

✘

✔

24/7 customer support

✔

✔
Support
Shopify Offers More Accessible Customer Support
Both Adobe Commerce and Shopify offer extensive knowledge bases with articles and tutorials on all stages of online store building, as well as engaged community forums. When it comes to direct support,
Adobe Commerce offers two support plans: Expert and Ultimate
. Both involve 24/7 live chat, email, and phone support, but the Ultimate plan provides personalized and prioritized online and phone support. You also get a team of experts to monitor your Adobe Commerce site.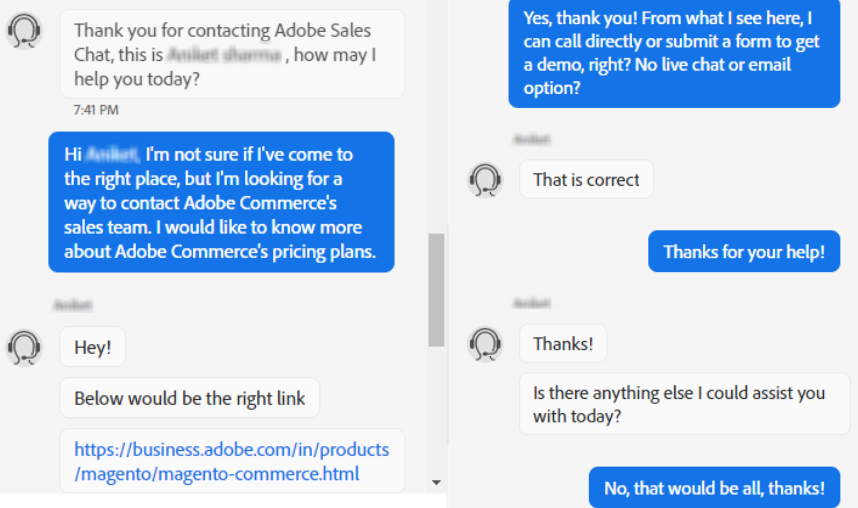 Still, if you just need information about the product, it can be difficult to get in touch with Adobe Commerce's sales team. Aside from asking for a quote, your only option is to call them directly, and the phone lines may be busy.
Shopify also offers 24/7 live chat, email, and phone support.
Live chat replies arrive quickly, while email replies can take up to 24 hours.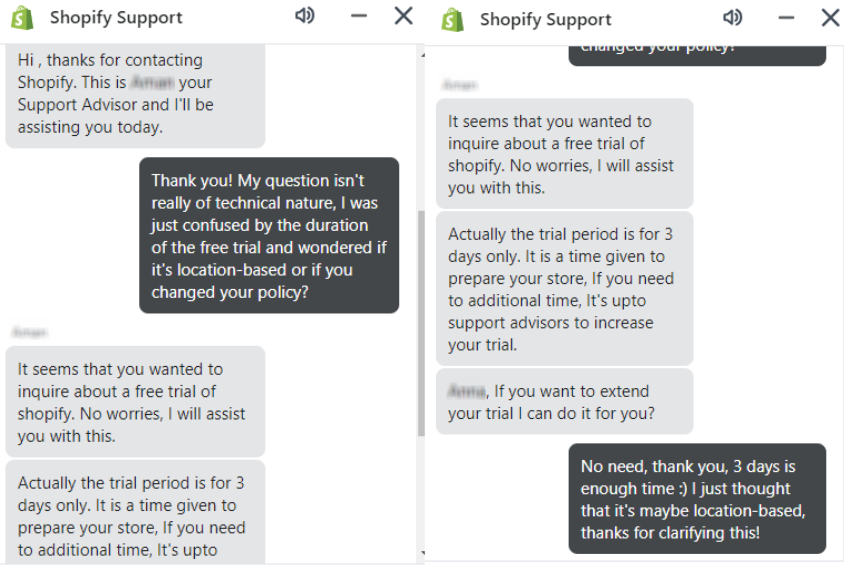 When I tested out live chat, I got a reply within minutes, and Shopify's customer support agent was friendly and helpful. Even though both platforms provide 24/7 support,
I give a slight edge to Shopify for being accessible even before you decide to commit to the product
.
Shopify Excels In Every Area, but Adobe Commerce Could Still Be Worth It
Shopify's simplified setup
, built-in tools, and straightforward pricing make it a great choice for beginners and small to mid-sized businesses. That said, larger stores shouldn't rule out Shopify either, as the platform's powerful apps can handle growth quite well.
Overall, Shopify caters to a much larger potential customer group than Adobe Commerce
. However, if you have a very specific vision for your store and you plan on scaling very quickly, Adobe Commerce (Magento) might be the right choice for you. Its ultra customizable nature can power large, rapidly growing online stores – provided you have technical and financial resources to handle it.
Features & Ease of Use
Flexible drag-and-drop editor, full access to code
Simple and intuitive drag-and-drop editor
E-Commerce
Innovative AI tools tailored to B2B and B2C customers
Wider range of built-in POS, shipping, and payment tools
Marketing
Solid set of built-in and third-party tools
Robust email marketing tool
Pricing
Custom pricing based on quote
Free trial and three paid plans that provide great value
Support
Help center
Community forum
Live chat support
Email support
Phone support
(all available 24/7)
Help center
Community forum
Live chat support
Email support
Phone support
(all available 24/7)
FAQ
Is Adobe Commerce better than Shopify?
Whether Adobe Commerce is "better" than Shopify really depends on your unique needs. If you've got the resources and the technical know-how, Adobe Commerce's unrivaled customization can make your store a standout. However, if you're after an easy-to-use, powerful platform that's also affordable, you might find Shopify to be the more appealing option.
Is Magento now called Adobe Commerce?
Yes, Magento was acquired by Adobe in 2018. It was recently rebranded and is now officially known as Adobe Commerce. The change reflects the platform's integration into the broader suite of Adobe services, offering a more unified e-commerce solution.
Do any big businesses use Shopify?
Absolutely, many big businesses trust Shopify for their online operations. Household names like Gymshark, Heinz, and Penguin Books all run on Shopify. The platform's scalability and robust feature set make it a reliable choice not just for small businesses, but for large, well-established brands as well.
Why move from Magento to Shopify?
Making the move from Magento (now Adobe Commerce) to Shopify could be driven by a few factors. If you're finding the technical demands of Adobe Commerce a bit overwhelming, Shopify's user-friendly approach is a breath of fresh air. Plus, Shopify's predictable pricing and excellent built-in tools can streamline your processes, letting you focus more on growing your business.