In many cases, this is nothing more than an attempt to capitalize on its popularity by offering an ordinary shared hosting plan with the WooCommerce name attached.
Hosting plans specially tailored to WooCommerce will include an optimized WordPress platform, generous resource allocations, and easy scalability.
Choosing a host with some or all of these features will put you a step ahead of your competitors.
I tested as many hosts as I could find for optimal WooCommerce experiences. I've narrowed it down to six of the very best. Read on to find out which is right for your particular online shop.
Short on time? These are the best hosting providers for WooCommerce:
A2 Hosting – Low prices with lots of resources and features
Kinsta – Amazing performance and reliability with 24/7 uptime monitoring
Nexcess – Flexible free automatic scaling, along with powerful ecommerce plugins
What We Look For in the Best Hosting Providers for WooCommerce
Great performance. No customer is going to shop on your website if every image takes a century to load. High performance is a requirement of ecommerce sites – that's why I've only chosen hosts that provide impressively fast loading speeds.
Fantastic reliability. If your site is down, you will lose customers – and money. I've only included hosts with near-perfect uptime.
Plenty of resources. Ecommerce sites are often resource-intensive. If your hosting package doesn't offer much to work with, you could find yourself paying overage fees. I've favored hosts that offer a comfortable amount of resources, even with their cheapest plans.
Scalability. As your business grows, so will your resource needs. Hosts that make it easy to add bandwidth, storage, memory, and processing power earned lots of bonus points.
Managed WooCommerce. With a managed solution, you won't have to spend time updating and optimizing WooCommerce and WordPress. I paid special attention to hosts that handle the background stuff for you, so you can focus on running your shop.
Robust security. Your storefront needs to be protected from cyberattacks – especially if you plan to store customer data. The hosts below include SSL certificates and the latest in security technology.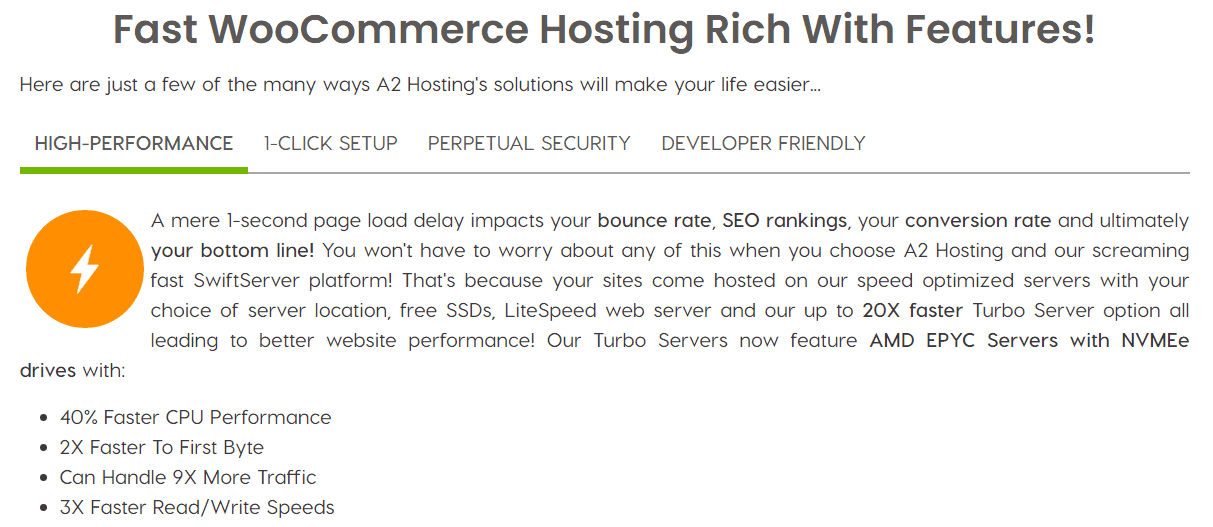 A2 Hosting offers impressive value with WooCommerce hosting, even if you're on a budget.
It's one of the cheapest options on this list
, yet it includes a great deal of resources and some powerful features that are well-suited to ecommerce sites.
The entry-level Startup plan includes a generous 100GB of SSD storage
, unlimited data transfer, and unlimited email accounts. All plans include a WordPress installation that is fully optimized and preconfigured for speed. Adding WooCommerce involves a simple one-click installation. While A2 Hosting provided excellent page loading speeds and uptime
during my tests
, there are a few areas where it falls short. Its support service seems to be outsourced – it never really provided me with the help I was looking for. Additionally, scaling up can be a slow process, as it must be done with the help of that same support team.
A2 Hosting WordPress Hosting
First-rate security. A2 Hosting offers a wide array of free security features. You get an SSL certificate, a dual firewall, reinforced DDoS protection, malware scanning capability, and much more.
"Turbo" servers. If your ecommerce site requires even better performance, you can choose either the Turbo Boost or the Turbo Max plan. These include a massive upgrade in tech and a variety of powerful speed enhancements and optimizations.
Notifications of WooCommerce updates. Whenever WooCommerce gets an update, you'll be notified by email. You can then easily apply this update through the control panel at a convenient time.
Generous refund policy. If you decide to cancel your hosting after the money-back guarantee expires, you will still be able to receive a prorated refund for the remaining time on your contract. Not many other hosts offer this!
Money-back guarantee
30 days
Data center locations
2 in the US, 1 in Europe, 1 in Asia
Uptime guarantee
99.9%
Starting price

$

11.99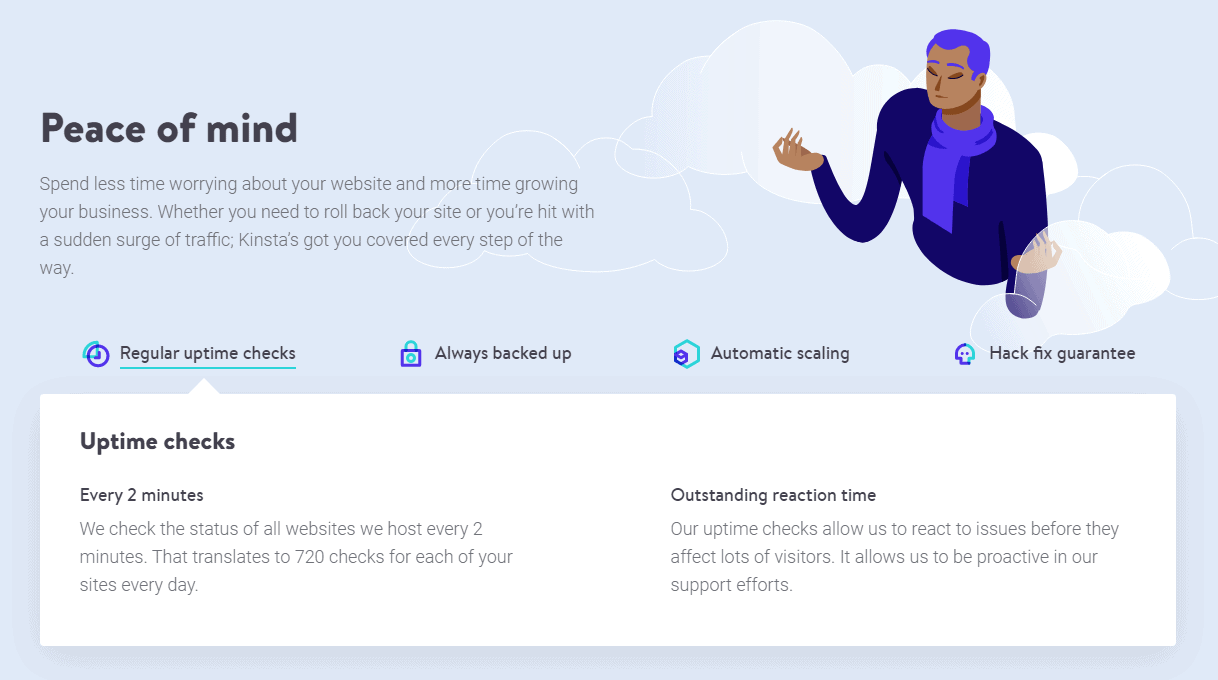 If you're looking for a premium managed solution, Kinsta is definitely worth considering. Features include automatic security patches for WordPress, daily automatic backups, and a relentless uptime monitoring service.
Your site is checked every two minutes – if it's down, measures are taken to solve the issue
 as rapidly as possible. Kinsta offers 25 data centers around the world with a content delivery network (CDN) to deliver your site at blazing fast speeds. All of this adds up to phenomenal performance worldwide –
my testing revealed
 some of the fastest speeds I've ever seen, along with perfect uptime over four months
. This makes Kinsta a great choice if you are a medium-to-large online shop looking to serve an international customer base. Sadly, the best in performance and reliability doesn't come cheap, as Kinsta is the most expensive host on this list. [Insert Pricing Table – Kinsta (Web Hosting)]
Optimized WooCommerce. Every plan comes with an in-house plugin that caches full pages on WordPress and WooCommerce sites and includes access to the Kinsta CDN.
Easy hosting upgrades. Changing or upgrading your hosting plan with add-ons takes only a few clicks in your account dashboard. Your site should endure no downtime.
Auto-scaling. Sudden traffic spike? If you exceed your current resources, they will be temporarily scaled up to serve the increased traffic without a loss in performance. This incurs nominal fees which are added to your next bill.
Premium migration service. Every hosting plan includes at least one premium migration credit, meaning Kinsta's support team will migrate a site from another service for you. Without credits, this service costs extra.
Money-back guarantee
30 days
Data center locations
7 in the US, 1 in Canada, 7 in Europe, 1 in Australia, 8 in Asia, 1 in South America
Uptime guarantee
99.9%
Starting price

$

35.00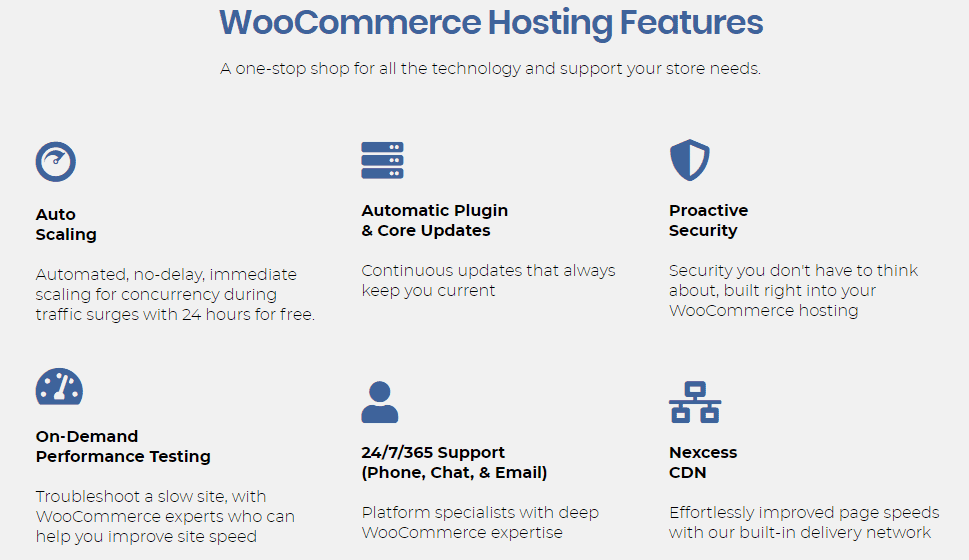 While many hosts don't include any ecommerce-specific features in their WooCommerce plans,
Nexcess offers managed plans with server and software optimizations specifically for WooCommerce
. Nexcess servers have high levels of processing power, allowing your store to process many orders simultaneously without impacting performance. And
Nexcess' Custom Order Table for WooCommerce plugin optimizes your database, speeding up page loading times.
Like Kinsta, if you exceed your plan's resources due to a traffic surge, additional resources will be provided to deal with the surge in customers. But
this service is actually free for 24 hours each month, meaning that for short-lived traffic spikes, you won't need to pay any extra
.
Nexcess also includes many premium add-ons
 in its plans, ranging from iThemes Security Pro to keep your WordPress site safe, to the WooCommerce Redirect Thank You plugin to create custom checkout experiences for your customers. My only complaint is the price – while Nexcess is a bit cheaper than Kinsta, it's still very expensive overall.
Nexcess WordPress Hosting
Automatic WooCommerce updates. As part of its managed service, Nexcess will update WordPress, WooCommerce, and all of your plugins, automatically.
StoreBuilder wizard. If you're looking for help creating an online shop, you can take advantage of Nexcess' StoreBuilder Intelligence Engine. With answers to a few questions about your business, it will generate a professional storefront personalized to your needs.
100% uptime guarantee. Nexcess promises 100% uptime. If it fails to fulfill this in any given month, you may be due service credits as compensation.
Unlimited site migrations. Nexcess will migrate as many sites as are included in your plan, free of charge, with minimal downtime. You can also test your site(s) in a staging area before going live.
Money-back guarantee
14-day free trial
Data center locations
4 in the US, 3 in Europe, 1 in Australia
Uptime guarantee
100%
Starting price

$

12.67

InMotion Hosting brings some unique offerings to the table.
All plans
 come with $150 in search engine advertising credits
 – this can give you a small promotional boost, which can be useful if you are just starting out.
You also get access to the WooCommerce-compatible BoldGrid website builder
, which allows you to create your website with simple drag-and-drop functionality. Then, the EasySEO plugin helps you to optimize the content of your site for search engines. Additionally,
every plan includes a 90-day money-back guarantee
. This is three times the industry standard, and more than enough time to decide whether InMotion is the right host for you. A slight concern is the apparent lack of a legal uptime guarantee – though uptime was reliable in
our performance tests
.
InMotion Hosting WordPress Hosting
Free domain. You won't need to pay for domain name registration during the first year of hosting, whether you register a new domain or transfer an existing one.
Managed service. All WooCommerce plans include managed services, such as automatic updates for WordPress and your plugins. If an update breaks your site, it's easy to roll back to a previous version.
200+ WordPress themes. Every plan includes access to over 200 professional WordPress themes, all of which are designed to be responsive for mobile.
Unlimited bandwidth and email. You get unlimited bandwidth and an unlimited number of email accounts, even with the cheapest plan.
Money-back guarantee
90 days
Data center locations
2 in the US
Uptime guarantee
None
Starting price

$

4.99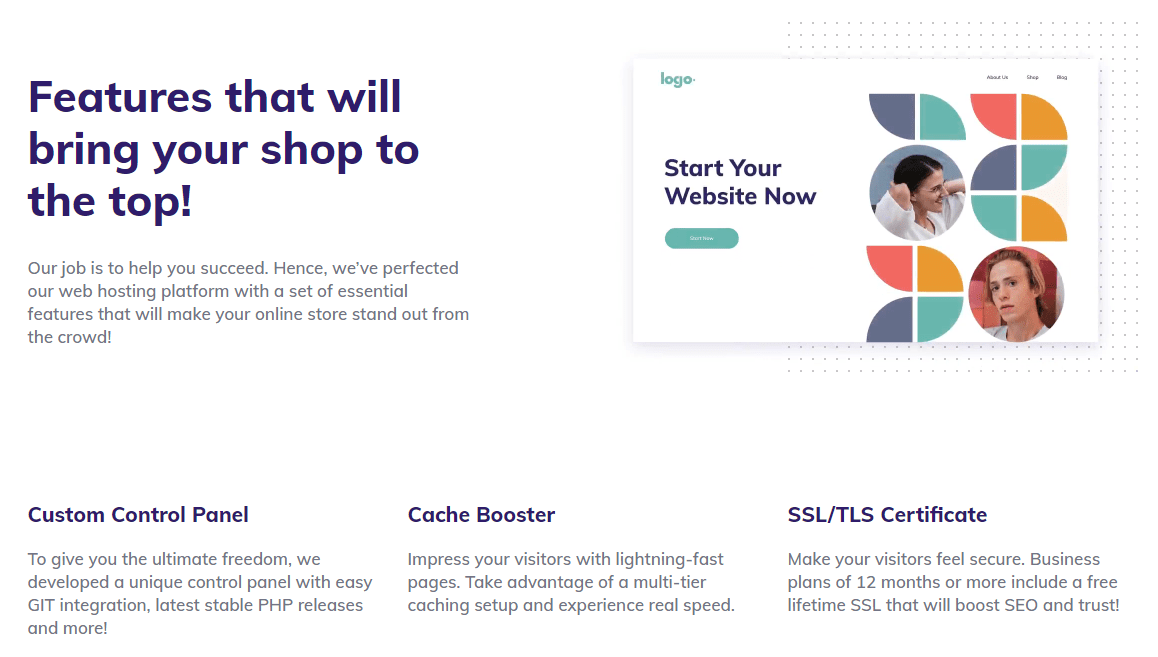 There's a lot to like about Hostinger. Its
WooCommerce plans
are fairly cheap and include plenty of resources. Interestingly, Hostinger allows for a huge number of sites, with even the entry-level plan supporting up to 100.
WordPress' multisite feature is also supported
, which allows you to build and manage a network of similar sites from a single installation. Hostinger's LiteSpeed-based web servers allow you to use the LiteSpeed Cache for WordPress plugin.
This plugin speeds up the WooCommerce shopping experience by selectively caching any content that doesn't change.
Hostinger's WooCommerce plans include managed auto-updates
, so you never have to worry about your software becoming out of date and potentially insecure. While Hostinger offers good value for money, it lacks some of the premium features you'd receive from the more expensive hosts on this list.
Hostinger WordPress Hosting
A free domain name is included with some hosting plans from Hostinger
hPanel. Hostinger has a proprietary control panel that offers many of the same features cPanel does, but is more user-friendly. For example, scaling your plan is a breeze – the entire process only takes a few clicks.
Google Ads credit. All plans include Google Ad credits for a small promotional boost. The actual amount you receive varies depending on the location of your billing address.
Free site migration. Hostinger's support team will transfer your site for free from another web host, no matter how large or complex it may be.
Extensive security. You get a free Let's Encrypt SSL certificate, Wanguard DDoS protection, and a web application firewall (WAF) on every server.
Money-back guarantee
30 days
Data center locations
1 in the US, 3 in Europe, 2 in Asia, 1 in South America
Uptime guarantee
99.9%
Starting price

$

1.99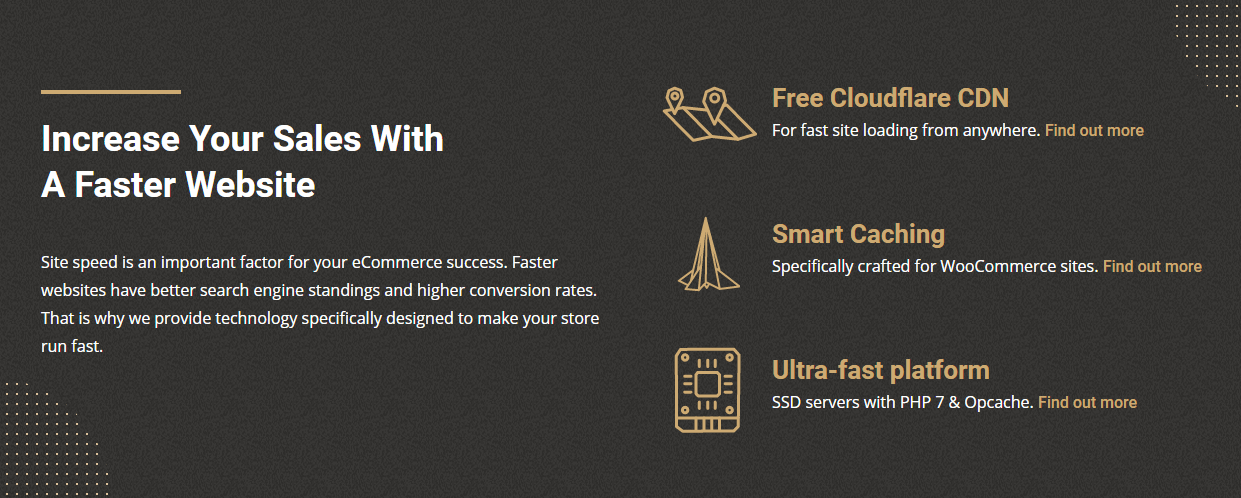 If you'd like your ecommerce site to be backed by an above-and-beyond support team, SiteGround may be the right choice for you.
In all of my tests
, support agents have been incredibly helpful
, actually solving my issues rather than just pointing me elsewhere.
WooCommerce plans from SiteGround include the powerful SG Optimizer plugin
, which enables various caching and file compression options that speed up both WordPress and WooCommerce.
SiteGround's proprietary control panel is an absolute joy to use.
 It's beginner-friendly, and all its functions are easy to find. I have two issues with SiteGround, however: its renewal fees are relatively high, and it is less generous with resources than other hosts.
SiteGround WordPress Hosting
A free domain name is included with some hosting plans from SiteGround
Automatic daily backups. Even the cheapest plan includes automatic daily backups, and every backup is retained for 30 days.
Strong security solution. SiteGround uses a custom web application firewall (WAF) to protect against web attacks, along with an AI-based anti-bot system, which blocks bots and attackers before they affect your site.
Storefront theme. The popular Storefront theme is preinstalled on all WooCommerce plans. This fully-customizable theme was developed and is managed by core WooCommerce developers.
Site migration tool. – With the SiteGround Migrator plugin, you can easily transfer an unlimited number of WordPress sites to your hosting account.
Money-back guarantee
30 days
Data center locations
1 in the US, 3 in Europe, 1 in Australia, 1 in Asia
Uptime guarantee
99.9%
Starting price

$

1.99
Which WooCommerce Hosting Provider is Right for You?
A successful ecommerce site must deliver better performance than a standard promotional site. Too many web hosts will brand regular shared hosting packages as "WooCommerce plans." You don't need to worry about that with any of the hosts on my list – it's just a matter of working out which one is the best fit for your particular needs. If you're still unsure which one to go for, here's a quick breakdown.
A2 Hosting is the cheapest option, and it manages to provide a great deal of features and resources.
On the other hand,
Kinsta is a premium option that delivers some of the best performance and reliability available.
If you're looking for flexibility,
Nexcess
 includes free auto-scaling, and a number of premium ecommerce plugins as a bonus.
Experimenting with a new ecommerce site?
I'd choose InMotion Hosting to take advantage of its advertising credits and generous 90-day guarantee.
Hostinger makes for a budget option that is suited to hosting multiple smaller sites,
whereas
SiteGround
 is particularly suited to beginners thanks to its helpful support agents and user-friendly control panel.
Standout Features
SSD Space
Auto-Scaling?
Starting Price
A2 Hosting
Cheapest option, featuring plenty of resources with good features
100GB – unlimited

✘

$

11.99

Kinsta
Best performance and 24/7 uptime monitoring for maximum reliability
10GB – 250GB

✔

$

35.00

Nexcess
Free auto-scaling service, premium ecommerce plugins
30GB – 800GB

✔

$

12.67

InMotion Hosting
Free advertising credits and marketing tools with a 90-day guarantee
50GB – 200GB

✘

$

4.99

Hostinger
Low prices, LiteSpeed WPCache, and support for multiple sites
100GB – 250GB

✘

$

1.99

SiteGround
A good choice for beginners thanks to a helpful support team and easy-to -use dashboard
10GB – 40GB

✘

$

1.99
FAQ
Which is the cheapest hosting service?
A2 Hosting is the cheapest WooCommerce-specific option. Despite the low prices, you won't be losing out when it comes to performance, reliability, or features. And if you're looking to save even more money, check out the great deals for 2023 on our coupon page.
Does hosting affect the speed of your website?
Your choice of web host will have a significant effect on the overall loading speed of your website. Some hosts provide thoroughly optimized WordPress and WooCommerce software on top-grade web servers, while others are content to let your site run on standard (or even outdated) technology. The hosts I've featured above are among the former, as are the hosts that make up our list of the best web hosting providers for 2023.
How easy is it to transfer a website to another host?
It depends on the complexity of your website, and the host you are transferring to. Every host on my list offers a website migration tool or managed services at no extra charge, in most cases. For example, SiteGround includes a proprietary migration tool that will work for WooCommerce-based sites.
Can you cancel A2 Hosting and get a refund?
If you cancel your A2 Hosting plan within the first 30 days, you will be eligible for a full refund. If you cancel past this point, you will still be able to receive a prorated refund for the remaining time on your contract.