But if you use the more flexible and secure Drupal, it can be difficult to find a hosting solution that suits your particular needs.
In fact, I came across this same problem recently. Although virtually all hosts are capable of supporting CMSs, they don't necessarily offer the resources – or system requirements – you'll need to run your site smoothly.
And once your site is ready for its debut, your host's performance and uptime (or lack of) will be just as important as its features.
That's why I decided to take a close look at the top web hosts to see which of them can best serve your Drupal website. I tested as many hosts as I could, eventually cutting it down to the best six.
Whether you're a seasoned developer or just getting started with Drupal, I've found a hosting solution that will be the best fit for your needs.
Short on Time? These Are the Best Web Hosts for Drupal in 2023:
Hostinger – Great global loading speeds and cheap shared hosting plans suitable for Drupal
InterServer – Security-focused host with automatic Drupal updates and backups
Kamatera – High-end Cloud VPS plans that can be scaled to your exact specifications
What We Look For in the Best Drupal Hosting Services
While ranking the best web hosting services for my Drupal site, I looked for these features.
Performance and reliability. One of my top priorities was choosing hosts with fast loading speeds and reliable uptime. After all, a site can't be very useful if it takes too long to load or isn't available.
Security. While Drupal is more secure than WordPress, it's still experienced some major vulnerabilities in the past. That's why I've picked hosts with extra strong security features.
Drupal-specific support. Drupal isn't the easiest CMS to work with, especially for those unfamiliar with PHP or MySQL/MariaDB. I looked for hosts that provide extensive help with Drupal, both through support and tutorials.
Developer tools. Drupal is a highly flexible and customizable CMS, which is a big draw for developers. I paid special attention to hosts that provide a flexible set of development features and tools.
Scalability. If you're creating a large project with Drupal, you will need a host with scalable resources. The hosts on my list provide a way to easily upgrade your plan and increase your allotted resources.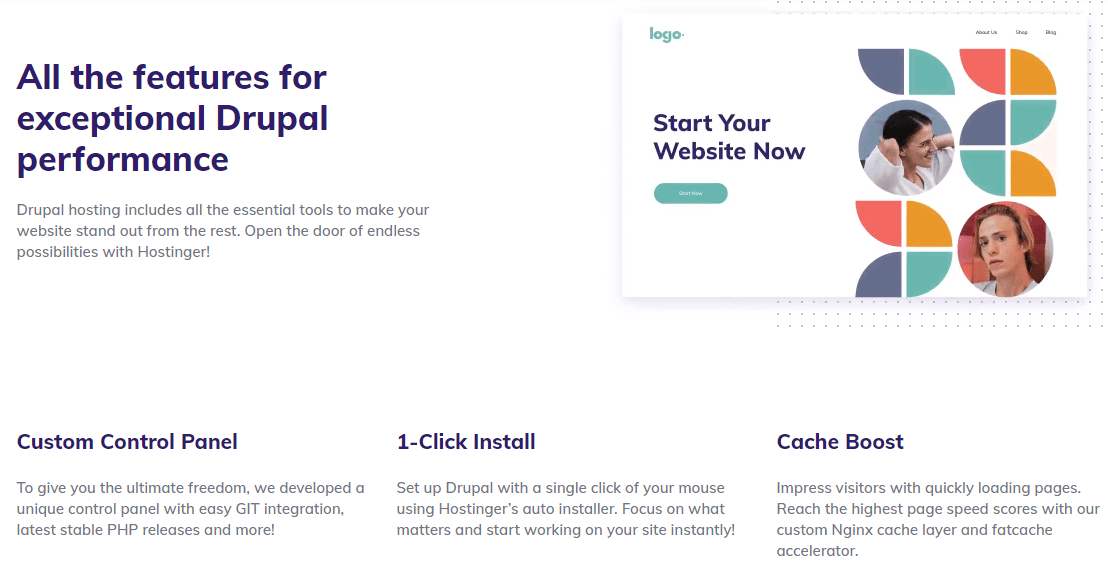 Starting at only
$
1.99
per month,
Hostinger has one of the cheapest shared hosting plans
 available today. What's even better is that even on the most basic plan,
Hostinger features some of the fastest loading speeds I've seen in the shared hosting business
, along with a near-perfect uptime. While Hostinger does advertise Drupal-specific hosting, these plans share many similarities to its shared hosting plans – including price. Considering that
the basic plan comes with everything you'd need to start your Drupal-based website
(2 MySQL databases, phpMyAdmin, and the latest PHP version support), this isn't a bad thing at all. If you find that the basic plan is a bit too limited for your needs, you can upgrade at any time. This removes many of the limits on your resources and gives you some nice features, such as SSH access, more RAM, daily backups, and a further performance boost. Regardless of which option you choose,
you'll have access to Hostinger's own auto-installer, which allows you to install Drupal with a single click
.
A free domain name is included with some hosting plans from Hostinger
Features
Optimized servers. With HTTP/2 protocols and the latest stable PHP and MariaDB versions readily available, Hostinger ensures that your Drupal site will perform at its optimal speed.
Website transfer. Every plan comes with one website migration. Hostinger's support team will help you migrate your Drupal site for free.
Proprietary control panel. Instead of cPanel, Hostinger uses its very own control panel called hPanel. hPanel is incredibly easy to use and this is where you'll find its Auto Installer. If you want more control, you can also manually install Drupal through hPanel.
Grant access to collaborators. Through Access Manager, you'll be able to grant access to developers and collaborators without giving full rights to your account. And if these uses already have an existing Hostinger account, they can access your account through their own login.
For more on Hostinger's speeds, read our expert review
.
Data center locations

US, UK, Netherlands, Lithuania, Indonesia, Singapore, Brazil

Security highlights

SSL certificate, FTP over SSL, SSH access, CURL SSL, advanced security modules for servers, DDoS protection, 2-factor authentication, weekly backups

PHP versions available

5.2 to 8.1

Starting price

$

1.99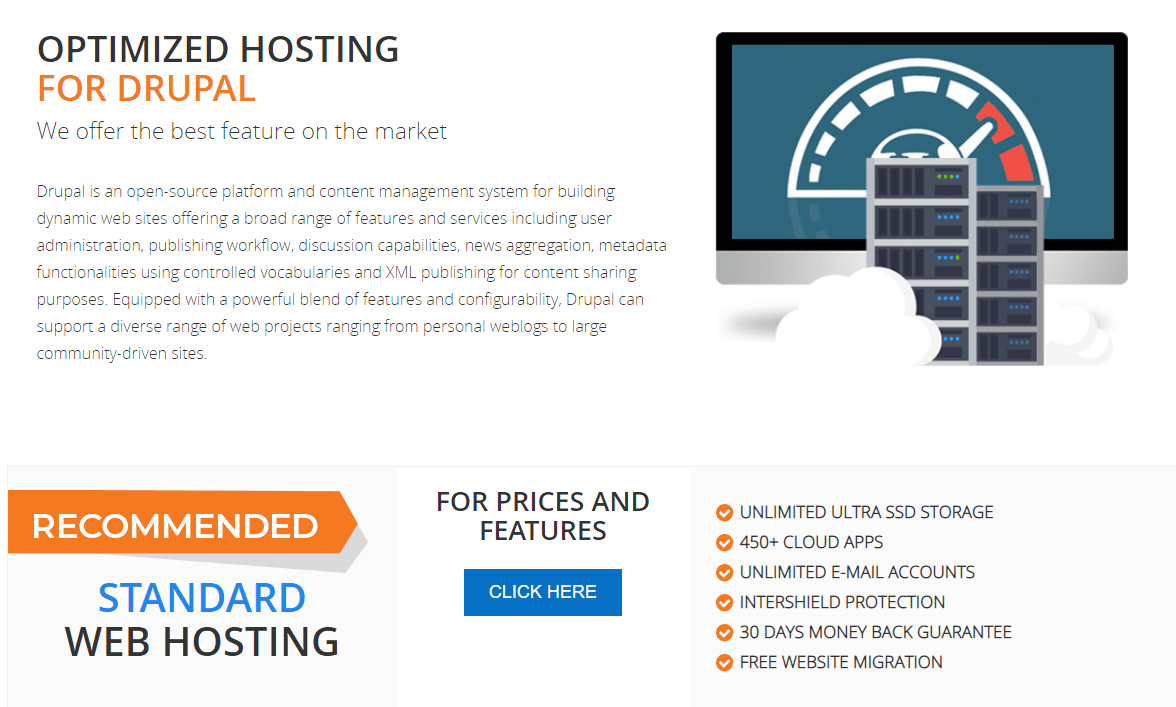 InterServer is primarily known for its budget shared hosting plans for both Linux and Windows
, which have a generous set of resources, including unlimited storage, bandwidth, and supported domains. This makes it a solid host for your Drupal website. The Linux plan gives you access to the Softaculous app installer, where you can install Drupal and many other popular apps with one click. Once you have Drupal installed,
InterServer will automatically update your Drupal core
 and any plugins you have – no more worrying about out-of-date versions and security holes.
This is a nice feature to have that's usually reserved for managed hosting plans. InterServer has reliable uptime and good speeds throughout the US. When it came to performance, my Drupal-based website often exceeded my expectations, and page loading times averaged 1 to 2 seconds.
Features
InterShield security. InterServer's proprietary security solution blocks web attacks, scans for viruses, and features a machine-learning firewall and an in-house malware database. Also included in every plan is a free Let's Encrypt SSL certificate.
Fast loading speeds for everyone. LiteSpeed Web Server technology, designed to boost performance through server-level caching, is included in all plans. You'll also get Cloudflare integration, which is beneficial if you have a lot of web traffic outside of the US.
Daily backups. Unlike many web hosts, daily backups are included in all of InterServer's plans. InterServer will keep up to 30 versions of your backups.
Reduced connection times. The QUIC protocol is designed to reduce latency in connection times, and InterServer offers this in its Inter-Proxy suite of site performance tools.
Read our expert InterServer review for more details
.
Data center locations
US
Security highlights

Free SSL certificates, Inter-Insurance (includes restoration of compromised websites), and Inter-Shield (advanced firewall, virus scanner, in-house malware database)

PHP versions available

5.5 to 8.1

Starting price

$

2.50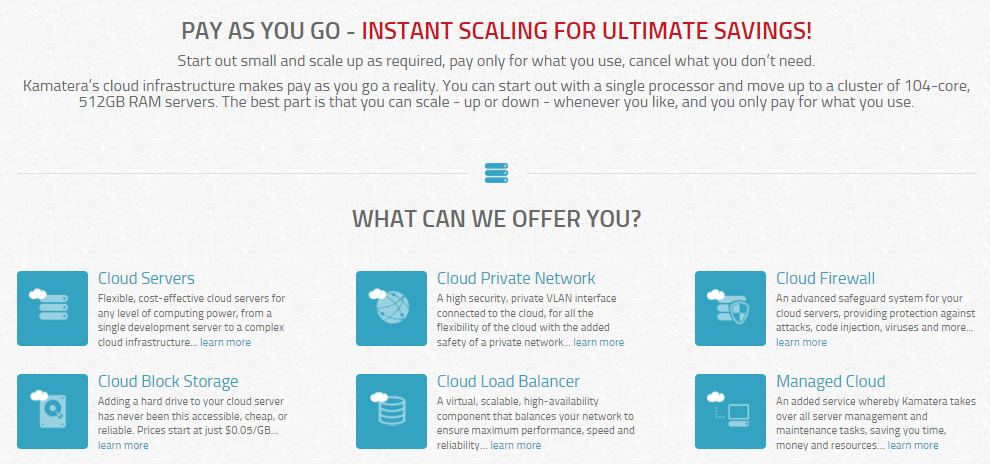 Kamatera offers customizable Cloud VPS hosting
that is completely scalable to your exact specifications. Unlike most hosts, you'll be able to choose just how much you need from one resource without having to upgrade to a whole new plan – which is great when you need more SSD storage but not the computing power of 4vCPUs. Cloud VPS comes with many benefits, including a very low risk of downtime and the ability to instantly scale your resources.
Kamatera also uses speedy Intel Xeon Platinum processors, meaning that you should have no problems when it comes to performance.
To get started quickly,
you can choose to have Drupal installed on your VPS during initial set up.
But while Kamatera offers an impressive solution, keep in mind that running a Cloud VPS can be very difficult if you don't have the technical knowledge. There are optional managed services available, but there's an additional monthly cost per server. If you need reliable, custom servers for your Drupal site or you're a developer who needs the powerful benefits of Cloud VPS, Kamatera may be a good choice.
Features
Premium cloud firewall. Since Kamatera is fully unmanaged (unless you opt for the managed service), your security is basically up to you. If you want to give your server some extra protection, you can add a customizable cloud firewall to your server.
Extended daily backups. You can pay an extra few dollars a month for an extended daily backup service, which backs up your server's data to an additional external storage array.
Deploy a server in minutes. Kamatera's Express service is designed to let you build a custom server in seconds (we'll say minutes here in case you get stalled choosing between an Ubuntu or CloudLinux server). You can also easily clone your server as many times as you need.
Free 30-day trial. Kamatera offers a 30-day trial with about $100 in credit. You get access to one Cloud VPS, 1000GB of cloud block storage, 1000GB of traffic, and technical advice regarding the ideal VPS setup for your needs.
Curious about Kamatera? Read our full review for more
.
Data center locations

US, Canada, Netherlands, Germany, UK, Israel, Hong Kong

Security highlights

FTP over SSL, SSH access, Cloud Firewall add-on (includes protection against DDoS, brute force, spyware, trojans and SQL injection)

PHP versions available

All versions

Starting price

$

4.00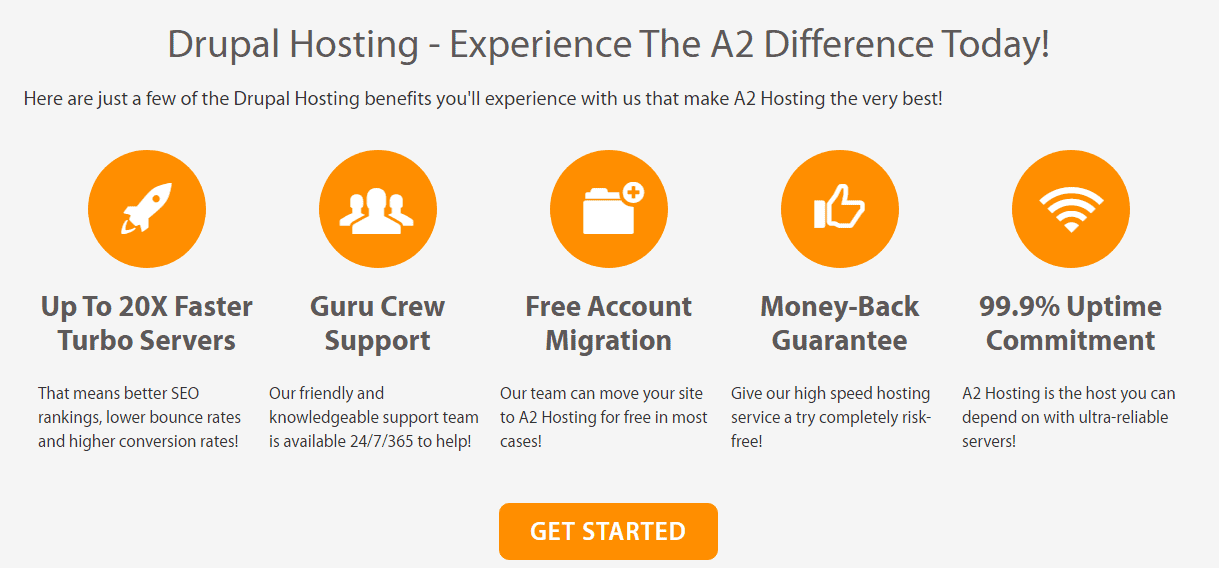 A2 Hosting offers multiple shared hosting plans for Drupal
, and while they have a lot in common with the regular shared hosting plans, there are some Drupal-specific features included. For example, your server will come with Drupal pre-installed and ready to go, saving you a little bit of time. Here comes the truly exciting part:
Drupal will come fully configured
 – and with some extra speed optimizations
, like block and core caching, cache clearing, minimization of database logging, and more. Also, you'll get automatic Drupal updates.
A2 Hosting also offers extensive security options.
Its free Perpetual Security solution includes a dual firewall, DDoS protection, brute force attack protection, hack and virus scanning, server hardening, 24/7 server monitoring, and daily kernel updates. The downside is that A2 Hosting's support was a hit-or-miss in my tests, so I'd recommend this host if you have prior experience using Drupal.
Features
Turbo servers. If you sign up for the more expensive Turbo Boost or Turbo Max plan, you get access to A2 Hosting's Turbo servers. These feature the performance-enhancing LiteSpeed Web Servers, which are faster than the Apache servers on the entry-level plans.
PHP optimizations. A2 Hosting's pre-configured caching solutions include OPcache/APC and Memcached, which are designed to speed up PHP requests. You'll need to sign up for the Turbo Boost or Turbo Max plan to get these features.
Site staging. If you're in the process of implementing custom or contributed modules, A2 Hosting's site staging will set up a clone of your website for testing. You can anticipate any conflicts or module incompatibilities without compromising your current setup.
Developer-friendly features. If you're a Drupal developer, A2 Hosting has you covered. All plans come with the latest versions of PHP, MySQL 5.6/MariaDB, PostgreSQL 9.6, Node.js 12, SSH access, and more.
Read our full A2 Hosting review for more on features
.
Data center locations

US, Netherlands, Singapore

Security highlights

Free SSL certificates, Hackscan protection, KernelCare, Patchman security, DDos protection, hosting firewall, brute force defense, auto-heal hosting protection, virus scanning, 24/7/365 security monitoring, 2-factor authentication

PHP versions available

4.4 to 8.1

Starting price

$

2.99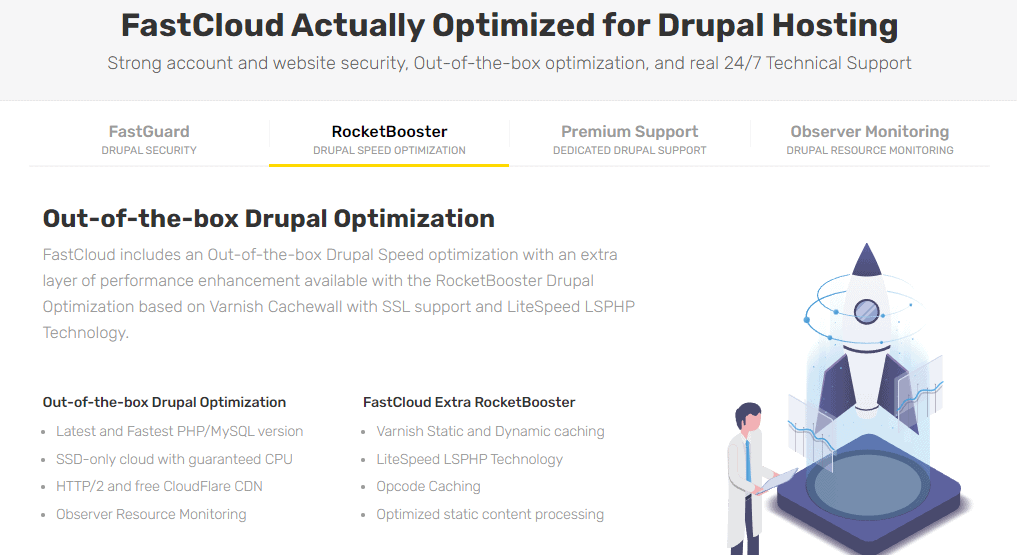 FastComet prides itself on its technical support, which is included across all of its shared hosting, VPS, and dedicated server plans. And this includes support for Drupal, as
FastComet provides a managed Drupal hosting solution
. So, what does this mean exactly? Well, regardless of which type of hosting you choose,
you're entitled to extensive Drupal-specific support
. If you choose to go with a VPS or a dedicated server, FastComet's support team will automatically update, maintain, and optimize your server as an extra bonus.
Basically, FastComet will install Drupal onto your server and provide any technical help you may need.
You'll also get daily backups, Drupal Web Application Firewall from Sicuri, and server monitoring for performance and resources. If anything goes wrong with your site, the helpful techs can also restore your site from an earlier backup.
Features
FastGuard security. All plans include FastGuard security, which comes with DDoS protection, firewalls, account isolation, and free automatic daily backups. It also throws in a Let's Encrypt SSL certificate for free.
Free domain and website transfer. You can migrate your Drupal website for free with no downtime. You can also transfer your domain for free, with a complementary one-year renewal.
Performance-enhancing solutions. Your Drupal site will benefit from several out-of-the-box optimizations like HTTP/2, CloudFlare CDN, dynamic caching, LiteSpeed technology, and Opcode caching.
Resource monitoring. If you enjoy working with numbers, you'll discover FastComet's Observer Monitoring console to be highly beneficial. It allows you to effortlessly monitor your site's resources, disk usage, and performance using user-friendly graphs and charts.
For more on plans and pricing, read our FastComet review
.
Data center locations

US, Canada, UK, Netherlands, Japan, Singapore, Germany, India, Australia

Security highlights

Free SSL certificates, Imunify360 server security, network/web application firewall, malware scans, brute-force protection, hotlink and password protection, CageFS security, account isolation, 2-factor authentication, SPAM protection, 24/7/365 server monitoring, daily backups

PHP versions available

5.6 to 8.1

Starting price

$

2.19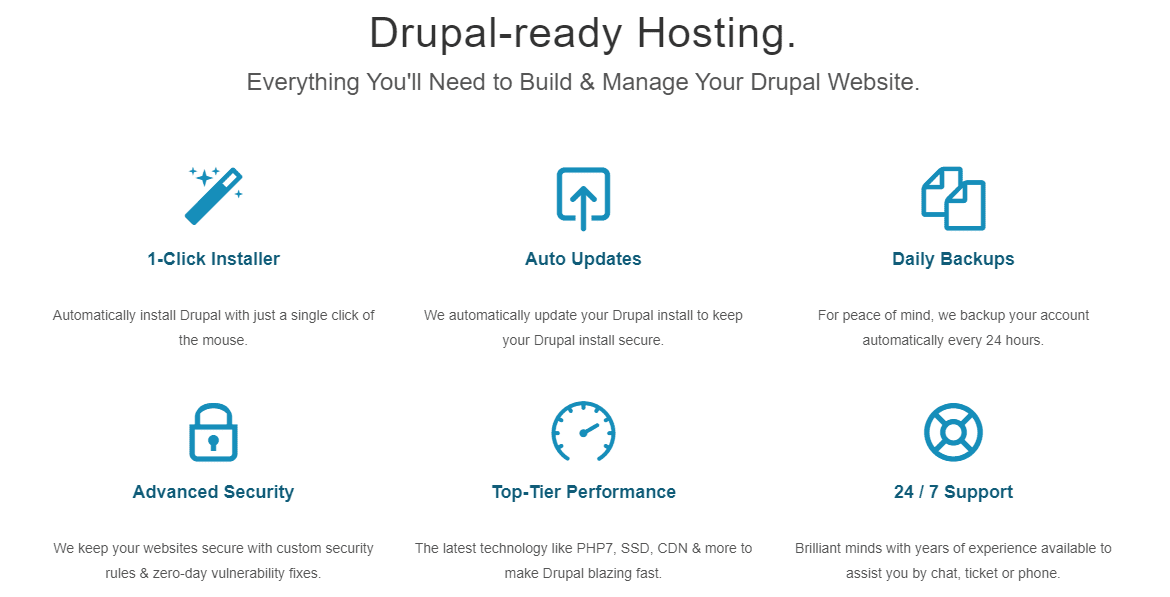 If you're environmentally conscious and need a solid host for your Drupal site, GreenGeeks could be a good fit.
What's unique about GreenGeeks is that they run on fully renewable energy sources
, even donating some extra power back into the grid.
GreenGeeks has three Drupal hosting plans
, all of which include one-click Drupal installations through Softaculous. Additionally, GreenGeeks will update Drupal automatically, so you never need to worry about vulnerabilities and insecurities that can arise from out-of-date versions.
GreenGeeks also features incredibly helpful 24/7 support
, which can be reached through live chat, phone, and ticket support. Support is happy to provide technical help for Drupal and there are also some nice tutorials available on the subject.
A free domain name is included with some hosting plans from GreenGeeks
Features
Faster loading speeds. Your Drupal pages will be delivered quickly thanks to HTTP/3 with QUIC, which can deliver HTTP requests concurrently and speed up connection establishments. This protocol is available for every GreenGeeks plan.
Advanced security. In addition to security measures like account isolation and malware and DDoS protection, GreenGeeks also offers proactive security solutions, including server monitoring, real-time security scanning, and malware cleanup.
Free nightly backups. Many hosts reserve this for premium plans, but not GreenGeeks. Free nightly backups are included in every shared hosting plan.
30-day money-back guarantee. You can try out GreenGeeks completely risk-free for the first 30 days of your contract.
Just how great is support? Read our GreenGeeks review for more
.
Data center locations

US, Canada, Netherlands

Security highlights

Free SSL certificate, SSH and Secure FTP Access, hosting account isolation, server monitoring, real-time security scanning, automatic app updates, DDoS protection, SPAM protection, nightly backups

PHP versions available

5.2 to 8.0

Starting price

$

2.95
These Are the Top Drupal Web Hosts, but Which One Will You Choose?
Choosing the right host for you depends on your needs. If you're new to Drupal and might need a lot of support,
FastComet's managed Drupal hosting is a great choice
. On the other hand, if you're a developer looking for a scalable and flexible hosting solution for your latest Drupal project,
Kamatera is probably your best bet
. Want a low-budget host with big budget features?
Hostinger's prices are by far the best
, and your website's performance certainly won't suffer from this wallet-friendly option. Even if you opt for one of the mid-tier plans, you'll still get a ton of resources for your Drupal website for less. If you're looking for the most secure option for your site, I'd go with InterServer.
You'll get automatic Drupal updates with InterServer
, along with automatic backups and InterServer's suite of security solutions. It also doesn't hurt that on the basic shared hosting plan, you'll have unlimited resources. Still struggling to decide? Take a look at the table below for a side-by-side comparison.
Standout Feature
Customer Support
Uptime Guarantee
Starting Price
Hostinger

Affordable Drupal hosting with fast global loading speeds

24/7 live chat, email, and support ticket

99.9%

$

1.99

InterServer

Automatic Drupal updates

24/7 live chat, Facebook chat, email, support ticket, phone

99.9%

$

2.50

Kamatera

Completely scalable and customizable Drupal servers

24/7 email, support ticket, and phone

99.5%

$

4.00

A2 Hosting

One-stop shop for Drupal hosting: have it pre-installed, configured, and  optimized on your plan

24/7 live chat, email, and phone

99.9%

$

2.99

FastComet

Managed Drupal hosting with technical support and tutorials

24/7 live chat, email, support ticket, and phone

99.9%

$

2.19

GreenGeeks

Automatic Drupal updates and free nightly backups

24/7 live chat and email, phone (9 AM-12 AM EST)

99.9%

$

2.95
FAQ
Which is the best Drupal hosting provider?
It's hard to say which Drupal hosting provider is the absolute best, as that depends on your particular needs for building a website. Plan resources, performance, and security should be at the top of your list. But you might also want to consider beginner-friendly tech support for Drupal or a high availability of developer tools, depending on your level of experience. If you're not sure which host is right for you, I'd recommend you check out our list of the best web hosting providers in 2023. Many of them support Drupal and could be a good fit for your site.
How much does Drupal hosting cost?
As hosts commonly include Drupal for free, the overall price depends on the type of hosting you choose and the host itself. If you're looking for a wallet-friendly option, InterServer offers Drupal hosting for as little as

$

2.50

a month.
Which is the fastest Drupal hosting provider?
If you have the technical knowledge to properly configure and optimize a Cloud VPS, Kamatera will likely give you the fastest speeds. On the other hand, if you're a beginner on a budget, Hostinger is one of the fastest shared hosting providers we've tested.
Can you get free Drupal web hosting?
I'd advise against signing up for any free web hosting – there's always going to be a massive drawback, such as unreliable servers, forced ads, or poor security. It's much better to make good use of free trials and search for a budget solution. We've also got some great deals and discounts on our coupons page.