I wanted to find out if more expensive creators always provide better value, or whether you can you get high-quality work from a cheaper gig – some start as low as $5.
To answer this question, I hired three chibi character designers at different price points. Find out which illustrator offered the best value and check out my ist of the top 10 creators below.
Hiring 3 Chibi Character Designers to Test
As I looked through chibi gigs on Fiverr, I found that they followed a common pattern. The most affordable options usually included a single figure without a background, while more expensive gigs came with extras like scenery, a source file, or a faster turnaround time. To test out the value that the various price points offered,
 I hired an inexpensive ($25), a midrange ($50), and a high-priced ($105) illustrator
. I sent them all the same instructions and asked each to create a flower gardener chibi character that I could use to promote a farmers market.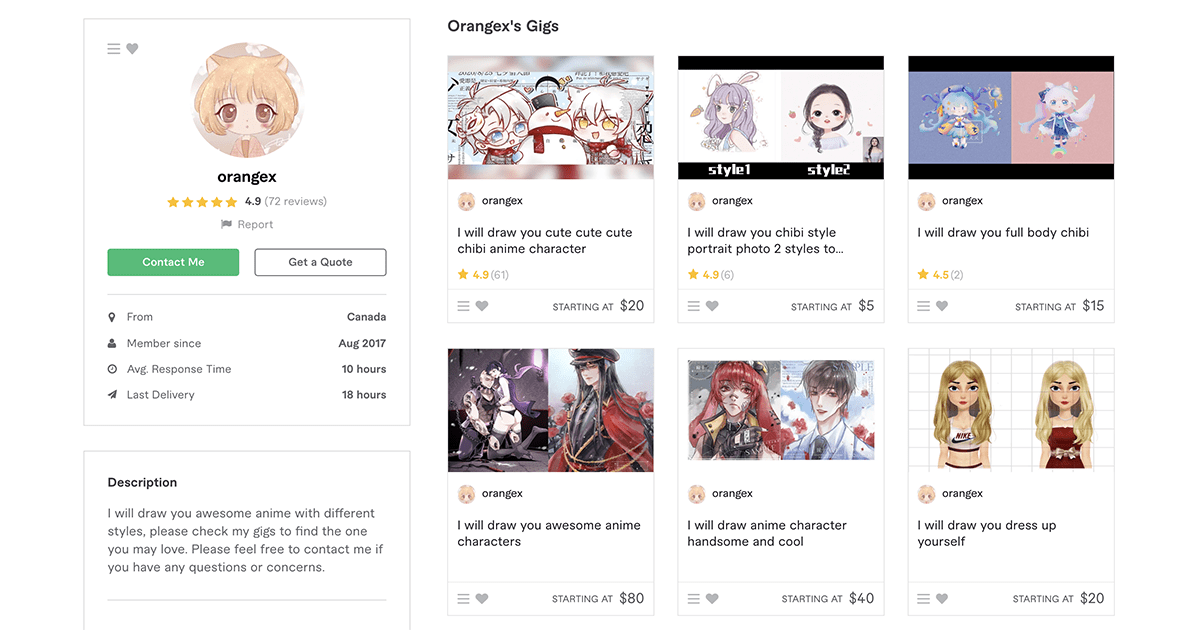 The Fiverr's Choice tag on Orangex's gig grabbed my attention right away, as this label is designed to suggest the best matches for my needs.
 I loved Orangex's super cute style, which incorporated all of the key aspects of chibi characters: oversized heads, huge eyes, and adorable expressions. I also liked that their portfolio featured dozens of examples from happy clients and a 4.9-star rating.
I bought their $20 chibi gig, which included a single character and one revision.
 Because the gig's 10-day turnaround time was pretty long, I added on a shorter 5-day deadline for an extra $5. The total cost was $25.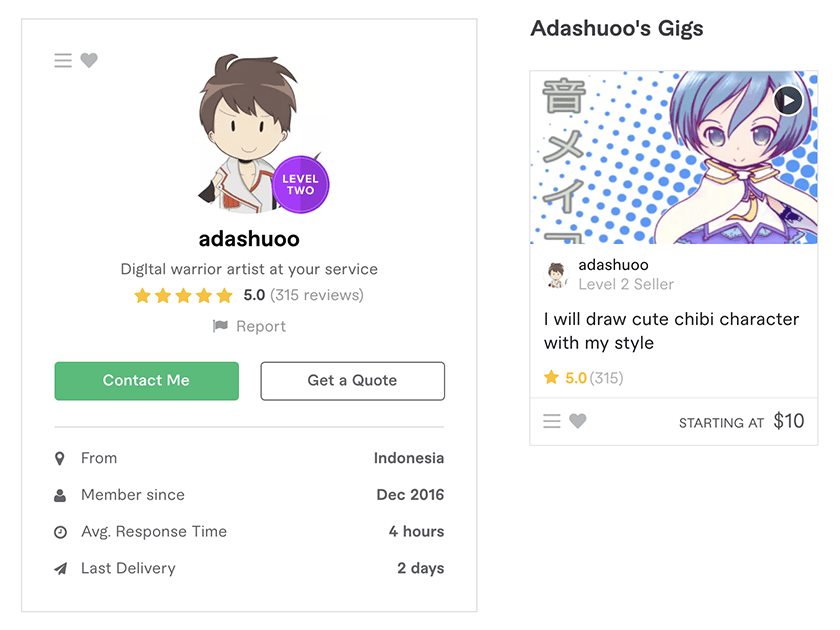 With a five-star rating and over 300 client reviews, Adashuoo looked like an excellent pick for my midrange creator.
 I was glad to see that he had Fiverr's Level Two Seller status, which confirmed that he'd maintained a 4.7 star rating over the course of 60 days as well as achieved a 90% response and order completion rate in the same time. His profile also featured a single gig rather than a range of options, which suggested that he truly specialized in chibi character design.
I purchased his standard $25 gig, which included one character, one revision, and a source file.
Like the least expensive creator, this gig had a really long wait time of 16 days. I paid an extra $25 for a two-day turnaround, for a total of $50.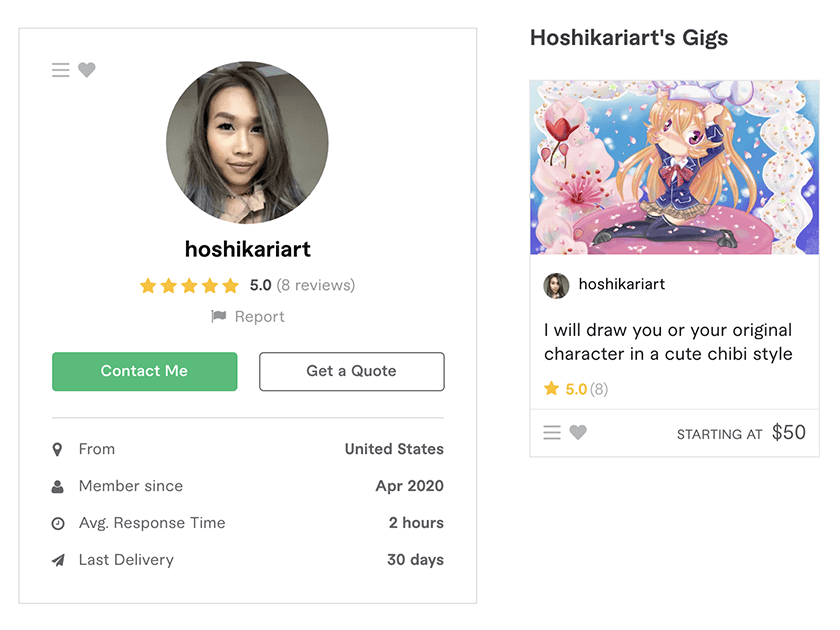 Although Hoshikariart had less than a dozen reviews, her five-star rating and Level One Seller status looked promising. Her portfolio reflected more complex designs than the other creators. They also showed some serious skill, which I hoped would make the higher price worthwhile.
I purchased her standard $45 gig, which included a character, a background, and a single revision.
Their standard deadline was 10 days, so I paid an extra $60 to speed up the process and get the illustration in just six days. The total cost was $105.
My Experience Working With These Fiverr Freelancers
I was happy to find that all three creators were easy to work with and quick to respond. Here's how we started out:
The Inexpensive ($25) Creator – Orangex: I booked the gig right away, without messaging Orangex first. Their requirements for getting started were incredibly simple, as they only asked for reference images.
The Midrange ($50) Freelancer – Adashuoo: I messaged Adashuoo first to make sure he was available to complete my order. He encouraged me to book the gig, and I was happy to find that his onboarding process was also pretty simple. He asked for reference images and a description of the character and her expression.
The Priciest ($105) Seller – Hoshikariart: I also messaged Hoshikariart before booking, and she explained her creative process before inviting me to purchase. It was nice to know what to expect from the process, and I appreciated the good communication. Once we started, she asked for reference images, a description of the character's personality, and colors to include.
Comparing the Final Results
I was really happy with all three chibi characters, and each creator was a pleasure to work with. It wasn't easy to pick a favorite, but ultimately I found that one delivered superior value.
The $25 Chibi Character
Orangex was the only creator I didn't communicate with before purchasing, and I thought they might end up delivering the illustration without any back-and-forth messaging.
I was pleasantly surprised when they sent me a black-and-white sketch of the character for approval. This was a great way to ask for my input and reduce the number of revisions later in the process.
 I approved the sketch and specified that I'd like the final character to have blue eyes. The creator delivered the final illustration shortly after that, nearly 36 hours before the deadline. In addition to the version with the mint green background above, they sent a file with a plain white background for added flexibility. Altogether, this project took 3.5 days to complete, and it was done much faster than the five-day deadline – impressive considering the cost.
The $50 Chibi Character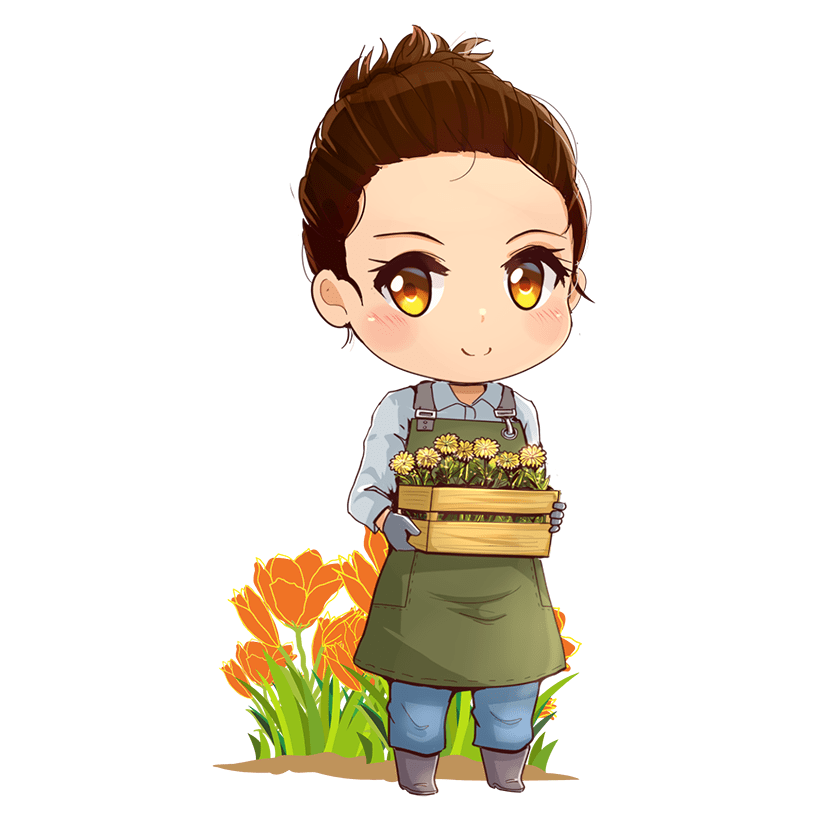 Although Adashuoo didn't ask for feedback during the creation process, he delivered the final illustration quickly and confirmed that he'd make any changes I requested. This chibi character looked the most similar to the reference images I'd provided, so I didn't need to ask for any revisions. However, after approving the delivery, I realized that the image file was really small. I messaged Adashuoo to ask for a larger file, and he responded right away.
Rather than sending just one file, he sent two options showing the same character with different backgrounds. This was totally unexpected and made me feel like I was getting two drawings for the price of one.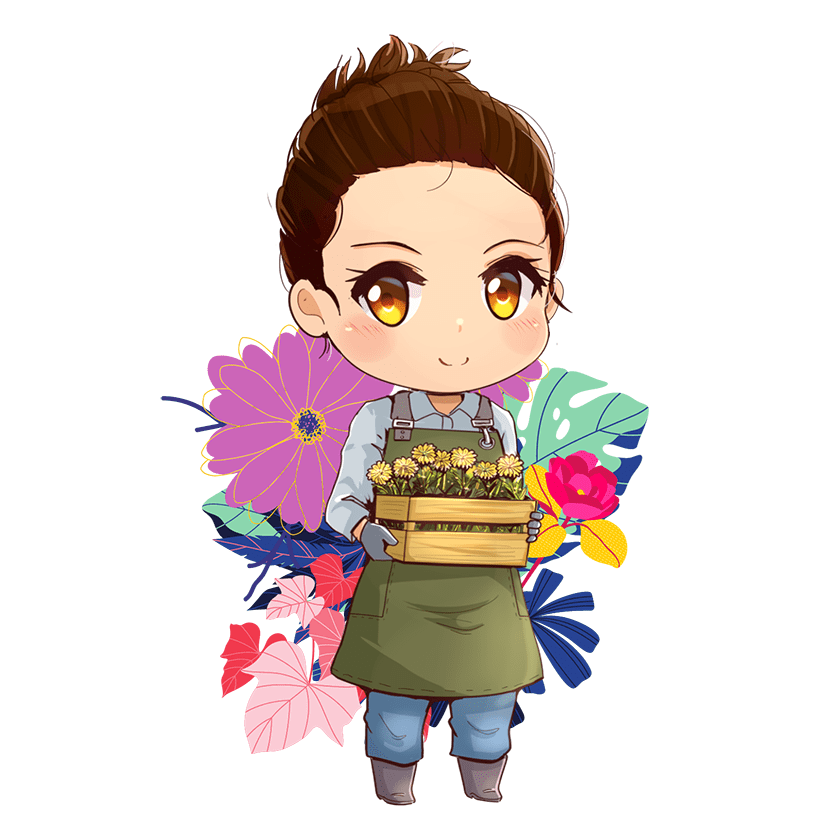 Even though it included extra deliverables, this project was the fastest to complete. It was done in about 36 hours, well in advance of the two-day deadline.
Because of this quick turnaround and the extra character version, I think this midrange gig delivered the best value.
The $105 Chibi Character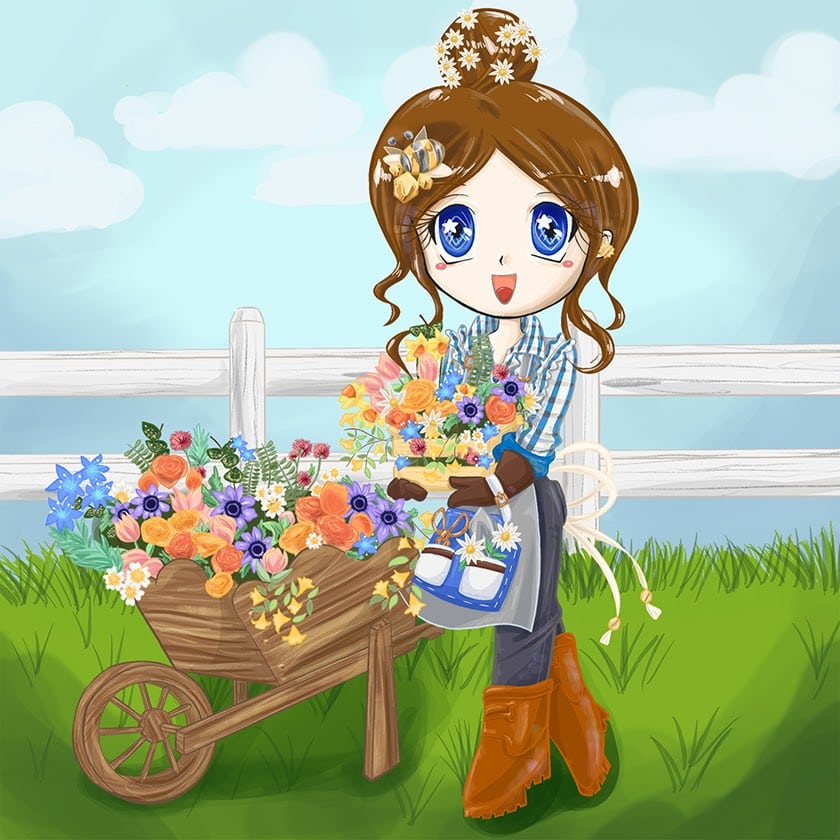 When I messaged Hoshikariart initially, she mentioned that she would be in touch after I purchased the gig. Right away, she confirmed my order and asked what kind of flowers I'd like in the illustration. She also confirmed when I would receive the first draft of the sketch. About a day later, she sent a black-and-white draft as promised and asked which colors I wanted in the final version. More than a day and a half ahead of schedule, she sent the finished artwork.
This gig was more than twice the price of the midrange gig, but I felt that I got what I paid for.
 The background includes a complete scene, and the character has a bunch of extra touches, from the flowers in her hair to the tools in her apron. It really reflects the creator's skill and attention to detail.
It's easy to see that you can get chibi characters from talented artists, no matter the size of your budget.
 I would be perfectly happy with using Orangex's low-priced $25 artwork, which captures the cute chibi style nicely.
If you can afford to spend more, though, I'd recommend purchasing a more expensive gig if you want a shorter deadline or extras like a source file or background scenery.
 However, as my results show, you can get great work even on a small budget.
Hiring a Freelancer for Chibi Character Design on Fiverr
In my experience, hiring freelancers via Fiverr is a pretty seamless process. It's easy to use, and if you feel like checking out
our Fiverr review
, you'll see exactly why it scored
4.9
out of 5. As a platform it offers several helpful benefits which I found made the process even easier:
Freelancers with great reputations: While Fiverr doesn't vet every freelancer in the marketplace automatically, the platform does feature sellers who meet specific requirements. For instance, Level Two Sellers and Top Rated Sellers are highlighted based on their track record of delivering high-quality work, providing excellent customer service, and earning significant revenue on the platform.
Customer reviews: When I'm considering working with a new freelancer, I often rely on referrals, recommendations, or reviews. I've found that Fiverr customer reviews are often incredibly helpful for assessing whether a seller can communicate effectively or deliver work on time. Gig-specific reviews are handy when I want to understand how well they work in a particular style.
Wide price ranges: No matter how much you want to spend, you can find a gig that meets your budget. Fiverr gigs start as low as $5, while others cost hundreds or thousands of dollars. Some of the more expensive sellers are Verified Pros or experienced professionals who can reliably deliver high-quality work.
The 10 Best Chibi Character Designers in 2023
In my quest to find the best character designer, I considered countless chibi artists.
My top choice is
Adashuoo
 because of their cute style, efficient work, bonus deliverables, and excellent value.
 Take a look at the rest of the top 10 chibi character designers I found:
FAQ
Can I get a cheap chibi illustration on Fiverr?
You can hire chibi artists for as little as $5 on Fiverr. A lot of people offer inexpensive options, and many of the more affordable sellers I considered had really cute styles. I was more than happy with the $25 chibi character I received, and I wouldn't hesitate to try a cheaper gig again.
Do more expensive Fiverr sellers produce better quality work?
Purchasing the most expensive gig doesn't necessarily mean you'll get higher quality work. In my test, I think the most expensive seller delivered the highest quality work overall. However, in our Fiverr logo design review, my colleague liked the $5 option best. And while in my test, the expensive seller's result was more detailed, I still thought the midrange option was the best value.
When do you pay for a Fiverr gig?
You pay for Fiverr gigs when you place an order and make a purchase. However, sellers don't receive payment for gigs right away. The platform holds your payment for 14 days before paying the freelancer you hired.
Is Fiverr easy to use?
Fiverr is easy to navigate (just see our Fiverr review), no matter what type of freelancer you're looking for. First, select a category from the main menu or type what you need into the search bar. You can look for anything from common services like social media advertising and content marketing to unusual gigs like celebrity impersonators or tattoo design. When you find the right gig, you can message the seller or place an order right away. Fiverr accepts PayPal and major credit cards.
Which is better – Fiverr or Upwork?
Fiverr and Upwork are two of the biggest online marketplaces for freelancers. We put them head to head in our Fiverr vs Upwork review and overall, I think Fiverr is better because it has a visual interface that's ideal for searching creative gigs. It's also easy to filter results based on price, reviews, or other factors. I also appreciate that although Fiverr doesn't vet all freelancers, it does highlight some of the best options with its Top Rated Seller and Verified Pro credentials.