I went digging for the best Django website hosting services
. While I found some providers that claimed to offer Django hosting, their hardware just couldn't keep up with today's websites and apps. Luckily, some brave hosts have invested in state-of-the-art servers, and they're the perfect match for your new Django project.
After testing the services myself, I can tell you that it doesn't have to be expensive, either.
Some of the Django hosts on this list will let you try the service risk-free, and one even provides a free plan to play around with. Read on to understand the possibilities – and find a Django web hosting service that's right for you.
What We Look For in the Best Django Hosting Services
Shared hosting plans just won't do for hosting Django projects. The setup is completely different and requires that you purchase a fully customizable solution, one that can be configured and optimized according to your project's needs. All Django hosts on this list will provide the following:
Powerful hosting solutions – We're looking for VPS machines, dedicated servers, and cloud environments. A VPS will probably do for most small to medium projects.
Full root access – You'll need full user privileges to install the necessary dependencies and get your Django project up. All hosts on this list provide root access to the Linux operating system.
Backups – A Django project is no WordPress website you can just back up with a plugin. To help out, these hosts either include complete server backups in the plans or provide them as an extra service.
Support and assistance – Be it through human support or knowledge-based tutorials, you might need a hand in getting your Django app going. The hosts on this list have updated documentation and the necessary know-how to put you on the right track.
Fair prices – When looking for advanced hosting solutions, it's easy for the bottom line to get out of control. Not with these guys. Expect affordable, quality service that can still fully support Django.
Ready? Here we go.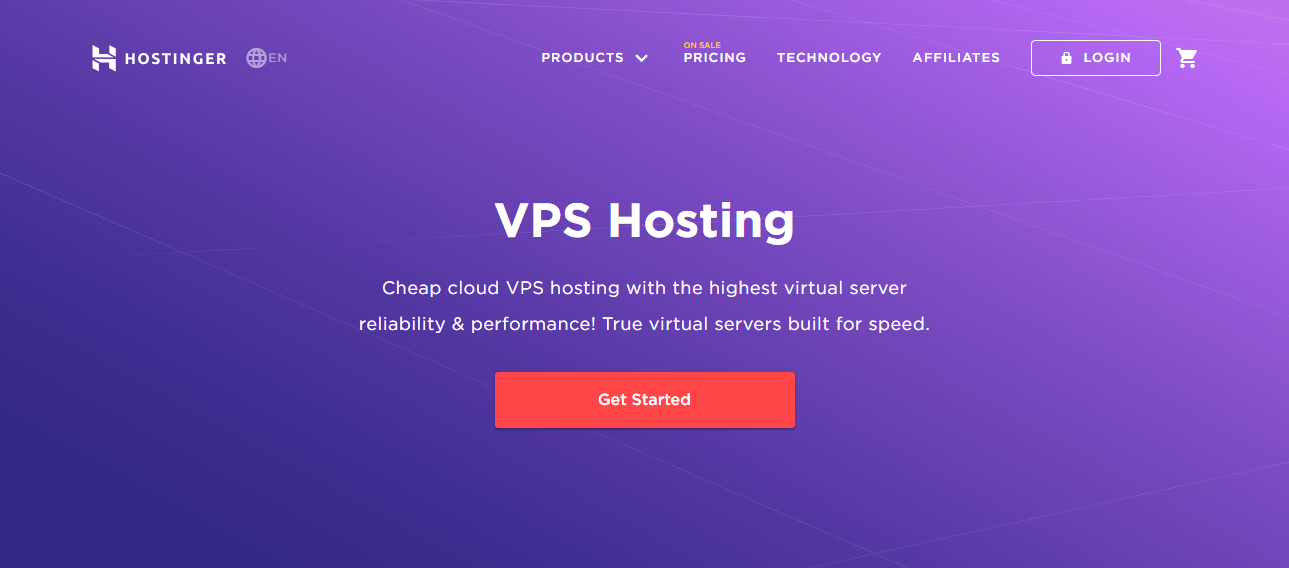 Hostinger may seem like a surprising inclusion in this list, but it has a clear advantage over the other hosts: While its VPS solutions don't make for free Django hosting, they sure come close. Thanks to the
low prices
 of the basic VPS plans – prices similar to what competitors charge for shared hosting – Hostinger can function as a great jumping-off point.
With a minimal investment, you'll get everything needed to build a full-fledged Django app.
Hostinger's performance is nothing to scoff at – in addition to
guaranteed uptime and stability
, you'll have full 24/7 access to Hostinger's support staff. I've always been impressed with their knowledge, and they were happy to guide me with setting up the server.
Unmanaged hosting – Hostinger will not set up and update your server for you – hence the cheap prices – but they can lend a hand. They will take care of the physical server your VPS is located on and every technical issue that might arise with it.
Optional add-ons – During checkout, choose if you want to add daily backups, an SEO toolkit, or premium support.
100 MB/s network– Not the fastest network, as some hosts run on 1 GB/s networks, but fast enough for small-scale projects.
30-day money-back guarantee – If you find out that your project is a bit too much for Hostinger, just cancel and get a full refund.

InMotion Hosting is one of the best choices for American users
, offering powerhouse machines on both coasts of the U.S. The company supports Django on its cloud VPS, managed VPS, and dedicated servers. InMotion's managed VPS lets you focus solely on developing your website or app, while the support team takes care of all configurations and ongoing maintenance. Stack setup, security installations, and server optimizations will all be done for you. With managed VPS prices only slightly higher than unmanaged cloud VPS, I'd say it's an easy win for managed.
Explain your needs and requirements to support, and you'll have a fully operational Django environment waiting for you in no time.
Automatic snapshots – Snapshots can be scheduled up to once a day and contain a complete copy of your server. Play around and make any changes you'd like. You can always roll back.
Free SSLs – Let's Encrypt is supported on all plans, and you'll be able to easily get your padlock on.
90-day money-back-guarantee – Tripling the industry standard, InMotion lets you take your time and make sure the service fits your needs.
cPanel included in the price – Some hosts no longer include cPanel as a basic feature. InMotion still provides the management panel as part of its complete service.

With Hostwinds, there's no choosing between three standard VPS setups.
Ten setups are available,
each with a different allotment of CPU, RAM, storage, and bandwidth. Each setup is available in both managed and unmanaged forms and can be customized to include any number of dedicated IP addresses that are DDoS (distributed denial of service) protected. Hostwinds also provides more-expensive dedicated servers, as well as pay-per-hour cloud instances. I think the best option is VPS plans. Note that Hostwinds' managed service isn't as comprehensive as InMotion's, and
you'll be in charge of setting up your stack, configuring installations, and optimizing the server (so it may also be worth checking out how it fares for ease of use and customer support – because you may need it).
Hostwinds will take care of monitoring, network issues, boot problems, and hardware failures.
Choose your server – Host in the Seattle, Dallas, or Amsterdam data centers, and add or remove services as you please. Backups and cPanel licenses are not included in the prices but are available at a low additional cost.
Firewall – Protect your website or app with Hostwinds' firewall service. Configure advanced rules for blocking or whitelisting specific types of online traffic or IP addresses.
24/7 support – Through phone, live chat, email, and a ticketing system, customer support can assist you with any server- or network-related issue.
Pay with bitcoin – Hostwinds accepts payment in bitcoin and a variety of other crypto coins, through the CoinPayments gateway. If this is a key selling point for you, check out these other web hosts that accept cryptocurrencies like bitcoin.

Liquid Web offers
one of the most comprehensive VPS solutions
 in the industry, boosting its already-generous plans with many useful features. The plans might seem pricey, but
no other company on this list provides basic features that include a Cloudflare CDN (content delivery network), a firewall and security suite, backups, and more.
All Liquid Web VPS plans come with an
unprecedented 10 TB of monthly bandwidth
, and according to independent performance lab Cloud Spectator, they're also the best-performing plans in the market.
Different management levels available – You can choose to go the solo route, but all plans include Liquid Web's fully managed service. Fully managed plans are set up, monitored, updated, and supported by the staff. Installing Django will be your job.
Flexible pricing – Whether you choose the yearly or monthly payment option, there isn't much of a difference price-wise. At least in the beginning, keep things flexible and stick with monthly hosting – there's no money-back guarantee.
Performance-boosting features – Akamai and Liquid Web's Cloud Load Balancer are implemented with all VPS plans, ensuring that your server will always operate at top speeds, and that your Django project will run like the wind.
Meaningful guarantees – Liquid Web provides guarantees for 59-second live chat responses and 100% uptime and will credit you with ten times the amount they missed by.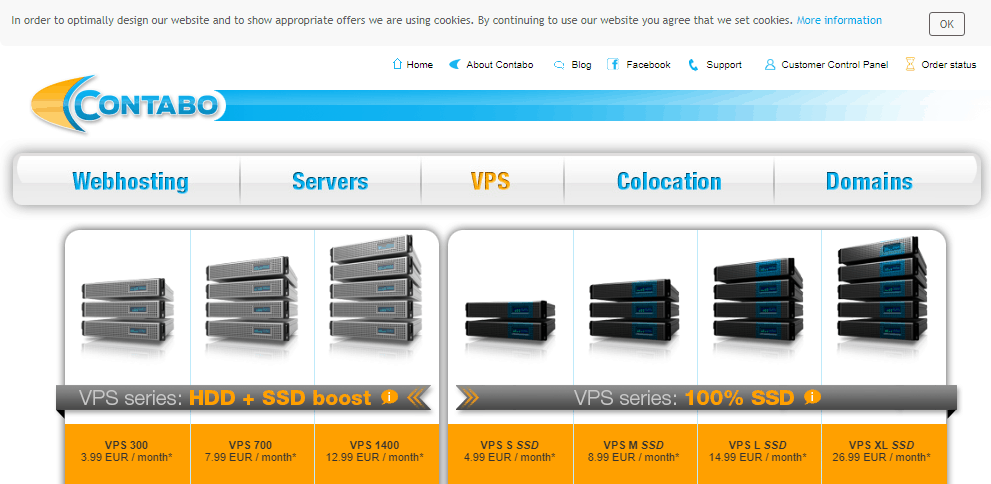 Contabo operates two data centers in its native Germany, one in Munich and the other in Nuremberg. As all other data centers on this list are either in the U.S. or Amsterdam, Contabo is
the number one choice for Django projects in most European countries.
The company provides
affordable VPS solutions
, fully capable of handling even advanced Django projects. Support is available 365 days a year, but only between 8 a.m. and 11 p.m. Central European Time (CET). Still, Contabo's
support staff are extremely professional
, winning first place in CHIP Magazine's yearly comparison.
100% SSD or SSD boost – Contabo offers you a choice between cheaper HDD servers boosted by SSD or more expensive 100% SSD servers. With the HDD kind, you can actually get more storage space for less money.
Unlimited bandwidth – All of Contabo's VPS plans come with unlimited bandwidth. The port speed will vary according to your plan, from 100 MB/s to 1 GB/s.
Server management features – Contabo's management platform lets you reboot your VPS, reinstall the OS (operating system), configure DNS (Domain Name Server) entries, and more.
Snapshots – Included with all 100% SSD plans. One-click snapshot and one-click restore options let you try anything on your server, risk-free.
Alternative Options for Django Hosting

Classic hosting companies still provide the best mix of pricing, support, and simplicity, but there are alternatives.
If you're looking to take your Django project to the next level and are willing to put in the time, money, and effort, DigitalOcean and Amazon Web Services (AWS) are both fantastic options.
By signing up for the service, you have the opportunity to obtain entirely free Django hosting for the initial year with AWS. It is important to note that the free tier comes with limitations on computing hours, database access, and other aspects. However, as you become acquainted with the interface and available options, you will gain a better understanding of the resources your Django project requires, allowing you to pay for them accordingly.
Understand Your Needs, Identify Your Audience, and Choose Accordingly
While all companies on this list can provide you with an excellent Django hosting experience, they're not interchangeable.
If you're looking to host a major Django project, InMotion Hosting and Liquid Web will be your best bet.
For small Django apps and websites, temporary projects, and personal experiments,
Hostinger
's basic VPS plans can function alright. If you're feeling
extremely
adventurous and are looking to dive deep into cloud hosting, do consider DigitalOcean and AWS.
This table should help with making the final decision:
Managed/Unmanaged
Data Center Locations
Money-Back Guarantee
Hostinger
All plans are unmanaged

US, Netherlands,

Singapore

30 days
InMotion Hosting
Managed and unmanaged plans available
US
90 days
Hostwinds
Managed and unmanaged plans available

US, Netherlands

14 days
Liquid Web
All plans include full management

US, Netherlands

No refund or money-back guarantee
Contabo
All plans are unmanaged
Germany
No refund or money-back guarantee
FAQ
Which host is best for Django?
This really depends on your needs. There's no single host that's best for all types of Django websites and applications. If it's a small project, Hostinger's VPS plans are adequate (and cheap). If you prefer a hands-on approach, Digital Ocean is a good choice. You can also get AWS free for 12 months.  If it's a big project, you'll need more resources, so Liquid Web is probably the best option. It's not cheap, but you can find some big discounts on our coupon page.
Where can I host Django for free?
Often, when hosts advertise free hosting, you should be very cautious (you know how people say, "you get what you pay for", well that's true!) However, AWS is the exception to that rule, since you can actually get 12 months free. The downside with this is that it is kind of limited, but it's a good place to start, and when you do need to start paying, you only pay for what you use. Other hosts offer money-back guarantees so you can try them risk-free – InMotion Hosting has a 90-day money-back guarantee!. Alternatively, Hostwinds offers really affordable VPS hosting suitable for Django. Hostinger is another budget choice that performed really well in our tests.
How can I make Django faster?
To get the best experience with Django, you need a web hosting plan that can handle the demands of Django. If you start experiencing performance issues, it may be time to upgrade to a more powerful plan. With most hosts, you can upgrade your VPS hosting plan quickly and easily – without any disruption to your service. Digital Ocean also has a huge range of configurations that you can customize for the best performance for your Django website or application. You can find more top hosting choices in our guide to the best web hosting providers for 2023.