Duplicating data to the cloud is one of the safest ways to ensure its security
, especially since NAS devices can be easily destroyed or corrupted. But finding an online backup solution that has the capabilities for you to back up your device can be challenging.
Not every storage solution caters to NAS users – even though many of them claim to.
And since NAS devices can store sensitive data, getting a cloud storage solution that provides excellent security is very important. Testing various cloud backup services isn't viable for everyone, especially with the abundance of services on the market. That's why I've done the hard work for you and
reviewed the top cloud backup services to determine which ones are the best for NAS compatibility
– and which ones fall short of the mark.
Short on Time? These Are the Best Cloud Backup Services for NAS in 2023:
IDrive – Ideal for users who want apps tailored to their specific NAS systems, namely Synology, QNAP, Netgear, and Asustor.
Backblaze – Great for small businesses that have moderate to large storage needs.
Acronis – Best for cybersecurity and data protection, especially for enterprises.
What We Look For in the Best Cloud Backup Services for NAS
In my quest to find the top five best NAS-compatible cloud services, I kept an eye out for a few specific features:
Multi-layer security protection. If you've ever had a security breach, you know how time-consuming and expensive it can be. Each service on this list has multiple layers of security, like the option to set up a private encryption key or two-factor authentication.
Ease of use. Your cloud backup service should have all the features you need to safeguard your data, but it shouldn't be complicated. You don't have to be tech-savvy to use any of these services and you'll be able to use their apps with no problem.
International privacy law compliance. I focused on services that comply with multiple international and regional data privacy laws. If you have users in different countries or specific sectors, this is a very important consideration.
Extensive support options. It happens to the best of us – sometimes you'll run into a technical glitch (or two) and will need to contact support. I made sure that every service on this list has responsive customer support and a great help center.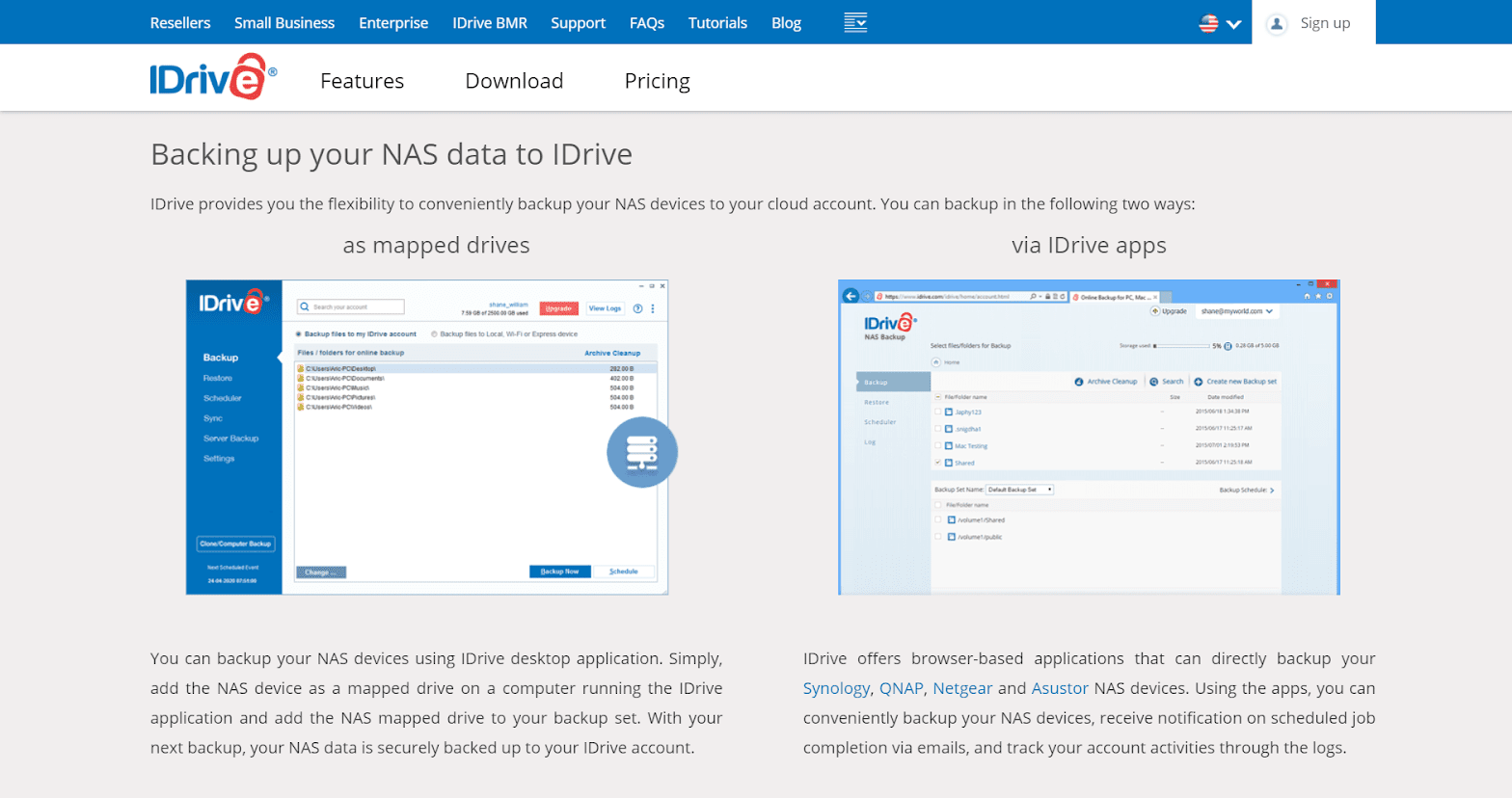 IDrive has many great features, and not least is its app options for NAS.
If you use Synology, QNAP, Netgear, or Asustor, you can access a personalized desktop app for your individual system.
To use the dedicated app, just sign into your device, activate the download, and you'll be able to quickly connect your device and begin backing up your data.
You can also use IDrive's desktop app, which has one of the most user-friendly interfaces I've come across.
Both the desktop and web apps are easy to navigate, and running backups is a very simple and straightforward process.
You can back up your NAS through any IDrive plan, even the free one
– but you'll only have access to 5GB of storage if you stick with this option. Since most NAS systems are used for significant data storage, a paid plan with more storage space is likely your best bet. You can also use a physical courier service to expedite your backup. It's free to use once a year for the Personal plan, and three times a year for the Business plan.
Features
Clone your computer. IDrive is one of the rare cloud storage providers with no file type restrictions, which means you can clone all the files on your device, including temporary files, system files, and virtual hard drives.
Pick up where you left off. With multi-device syncing, you can access, edit, and save your files from any connected device.
File recovery. Snapshots is a data recovery feature that lets you access up to thirty point-in-time captures of your data. This is especially useful if your files have become corrupted or you're the victim of ransomware.
Hybrid backups. With this type of backup, you can save certain files to a local drive (hard drive, external drive, or shared drive) in addition to the cloud – making backup and restore times much faster. Files are transferred via 256-bit encryption with optional private encryption key.
For more on features, take a look at our expert IDrive review
.
Security

256-bit AES encryption, optional private encryption key, two-factor authentication

Privacy Compliance

GDPR, HIPAA, SEC, GLBA, FINRA, FIPS, SOX

Support

24/7 email, ticket, and chat support, limited phone (Monday – Friday, 6:00 AM to 11:30 PM PST)

Starting Price

$

0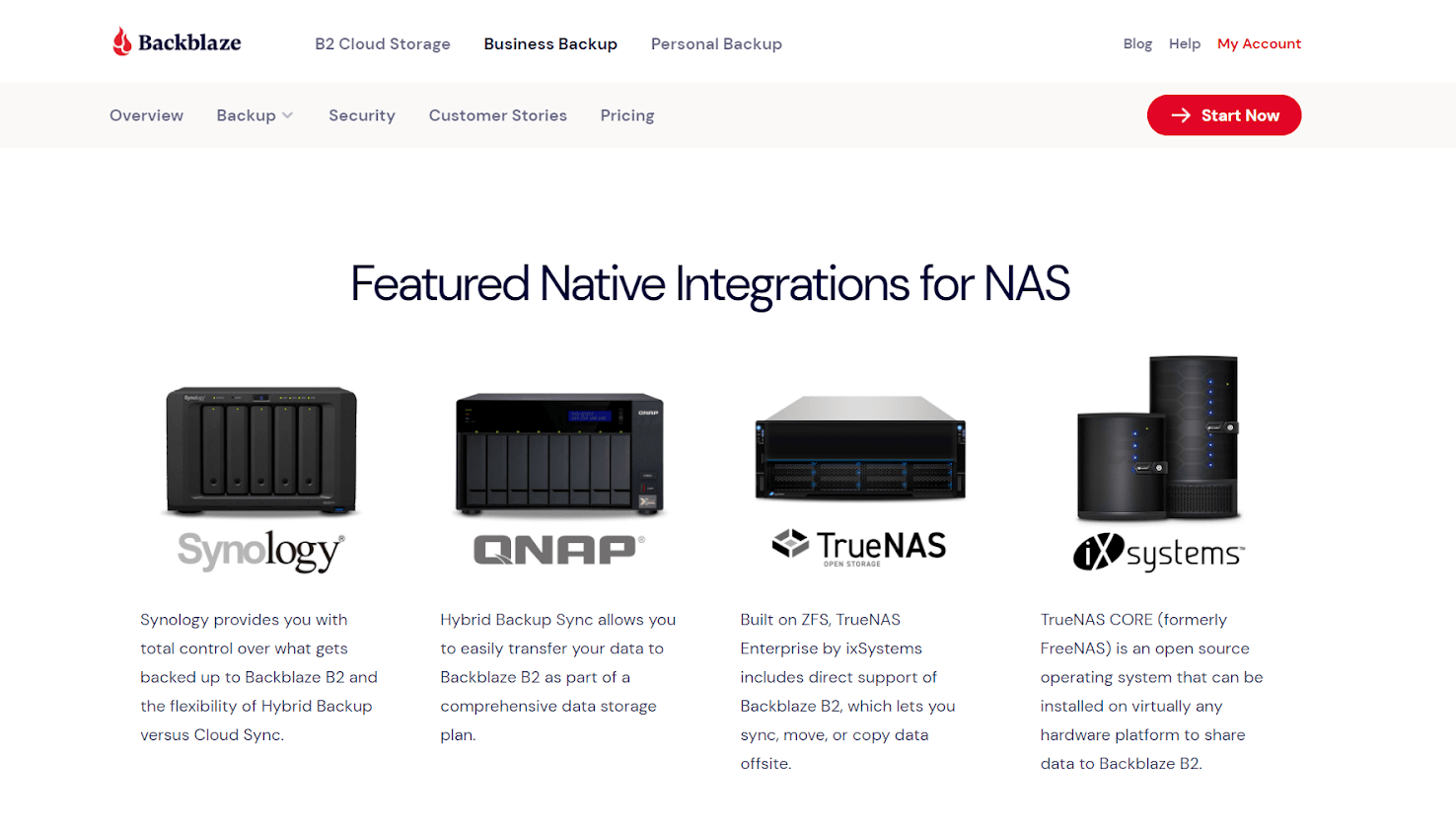 Backblaze is a great cloud storage option if you run a small business and need
an affordable cloud backup for NAS
.
It has native integrations for Synology, QNAP, TrueNAS, and TrueNAS CORE, among others.
You can simply choose the integration that matches your NAS system and, from there, easily connect and back up your device. The caveat is that
you'll only be able to back up your NAS with the B2 Cloud Storage or Business Backup plan
. But that's not necessarily a bad thing – Backblaze has some of the most business-friendly and cost-effective plans on the market. You can use the estimation tool on the website to gauge how much your plan will cost (which can easily amount to less than US$100 per year, depending on your storage needs).
Backblaze also has 99.9% uptime SLA – meaning you'll basically always have access to your data, no matter what
. When you combine these features with Backblaze's quick and reliable customer support, you can easily see why it's a top contender for small business owners.
Features
Free cloud storage. Personal and Business plans are eligible for 10GB of free cloud storage, with up to 1GB of free downloads per day. From here you can send files via link sharing.
Over 70 integrations and growing. Enhance your B2 Cloud storage experience with third-party app integrations compatible with Mac, Windows, and mobile. There are apps for syncing, media management, WordPress, and much more.
Try it out first. Unlike IDrive, Backblaze doesn't offer a free plan, but it does have a free 15-day trial period so you can test out its features before making a commitment.
Reliable customer service. Although Backblaze doesn't offer phone support, its live chat and ticket support channels are more than enough to get your issues resolved – in fact, Backblaze promises to respond to tickets within 24 hours.
Check out our in-depth Backblaze review for more
.
Security

256-bit AES encryption, optional private encryption key, two-factor authentication

Privacy Compliance

GDPR, CCPA

Support

Support ticket, limited chat (Monday – Friday, 9:00 a.m. – 12:00 p.m. and 1:00 p.m. – 5:00 p.m. PST)

Starting Price

$

7.00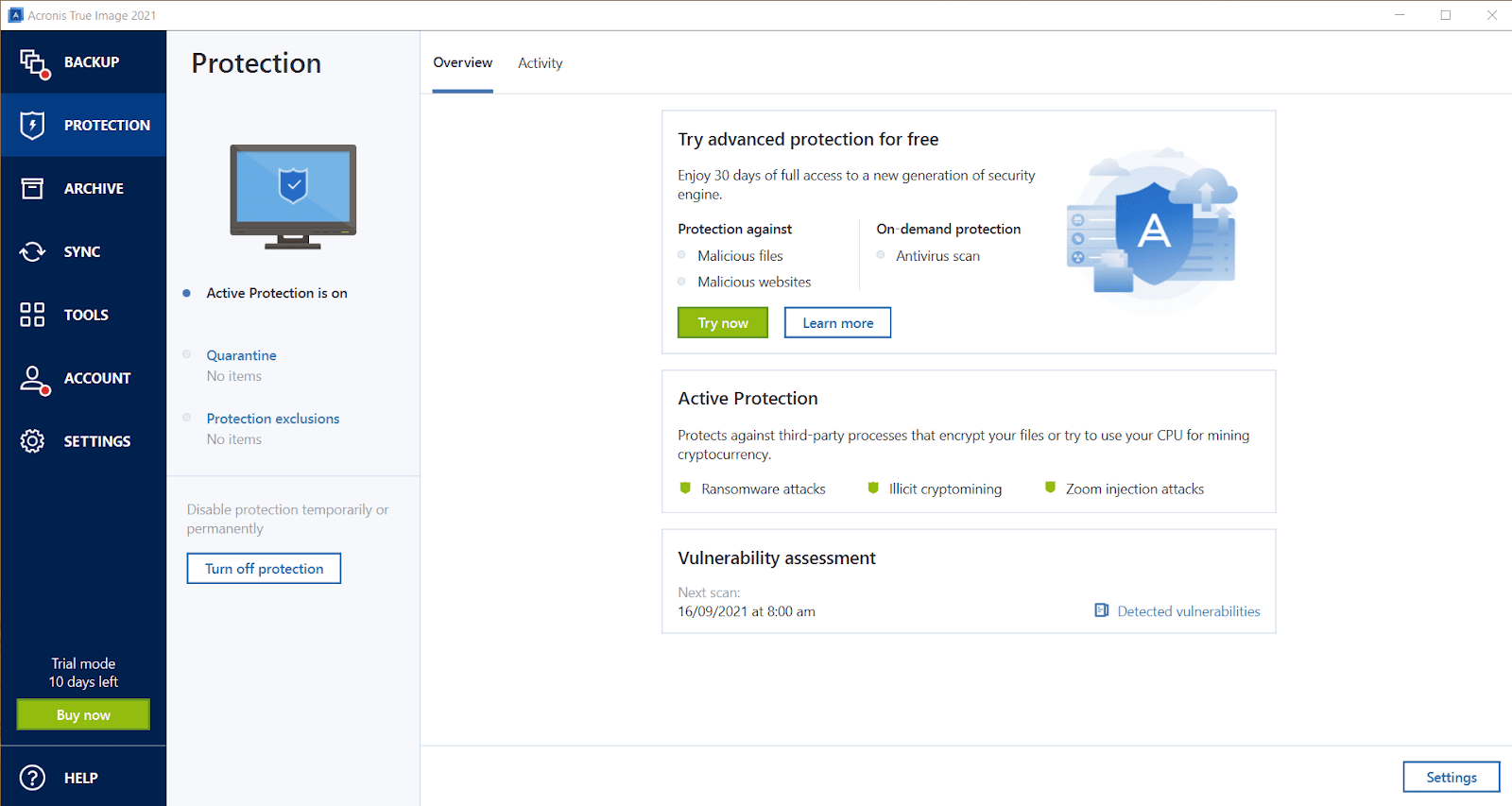 Acronis is a powerful cloud storage solution with multiple practical features, like file versioning and full-image and file-level backup. But disaster recovery is where Acronis truly shines, especially for enterprises or customers who store incredibly sensitive data. Both
the Home Office and Cyber Protect plans
 allow NAS backups
, but there's a limitation with the personal plan: you can only back up individual files, which can be a painstaking process. With a business plan, on the other hand, you can comfortably backup your entire NAS at once. If you don't mind backing up individual files on your NAS, then Acronis Cyber Protect Home Office might be the plan for you. However, if you prefer to be able to back up your data in bulk, then Acronis Cyber Protect is likely a better option.
You'll also get added data security features such as exploit prevention, global threat monitoring and smart alerts, and a Data Protection Map.
Features
Software security. Acronis' Cyber Protect plan has a multi-functional management portal that keeps track of your software updates. Create full system backups before installing updates that may be faulty or incompatible, and roll out software patches on-demand or through a schedule.
999 versions. Acronis doesn't offer unlimited file versioning, but with 999 versions, you'll be able to keep a pretty comprehensive archive if you choose to do so.
Access files remotely. Do you have a lot of collaborators who work remotely? With Cyber Files, you can safely sync files on different platforms like file servers, NAS, SharePoint, and more. Integration with Microsoft Office (even on the mobile app) lets you work directly on the Acronis interface.
Eliminate Windows-to-Mac incompatibilities. Files Connect allows Mac users to easily search and access files from any server or NAS running a Windows environment.
See how well Acronis performed in our comprehensive tests
.
Security

256-bit AES encryption, optional private encryption key

Privacy Compliance

GDPR, HIPAA, PIPEDA, EU-US and Swiss-US Privacy Shield Frameworks

Support

Support ticket, live chat, and phone (limited to US, Canada, the UK, Belgium, Singapore, and Australia)

Starting Price

$

72.72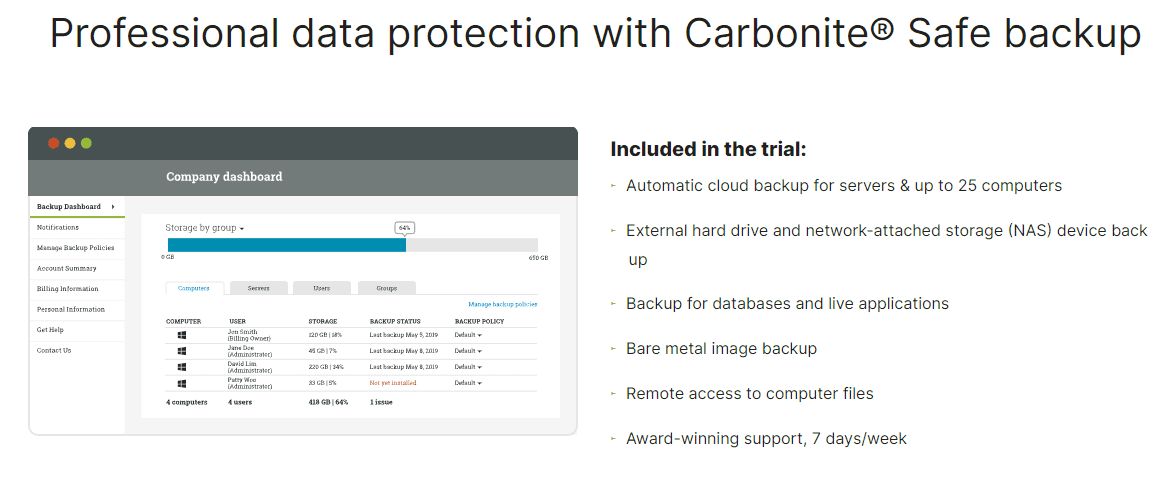 Carbonite is one of the few online backup solutions that offer unlimited backups, even for basic plans.
If you want to back up your NAS, though, you'll need to opt for one of the Safe Pro plans or any of the offered business plans. Carbonite's mid-tier Safe Backup Pro plans come with 250-500GB of cloud storage, up to 25 supported computers, automatic backups, and advanced encryption to keep your data safe. The business plans have a variety of backup solutions, such as Carbonite Backup for Microsoft 365, Carbonite Server, and Carbonite Recover. It isn't immediately clear which plans can back up a NAS device and which ones can't. I had to contact Carbonite's customer service quite a few times to clarify plan features and NAS compatibility. The help center is very useful for technical help, but
you'll want to use the phone or email support
if you want a fast response
. (Unfortunately, I wasn't always able to connect to the live chat.) A possible downside? Carbonite isn't very feature-heavy. In fact, its desktop app is one of the simplest that I've come across. But
if you're looking for a straightforward backup solution for NAS, then Carbonite's pricing and plan options will serve your needs.
Features
Free installation. If you sign up for one of its business plans, you can request a full remote installation by one of Carbonite's experienced technicians.
Protect endpoint data from theft. Carbonite's Endpoint plan has several contingency solutions for disaster recovery. One of its unique features is the ability to perform a remote wipe on any stolen device.
Real-time scans. Most plans include free Webroot SecureAnywhere AntiVirus, a light-weight malware and antivirus program with advanced detection techniques.
Longer retention period for business plans. While personal plans have a 30-day file retention period, business plans have 60.
Read our full Carbonite review for more information
.
Security

128-bit AES encryption, optional private encryption key, two-factor authentication

Privacy Compliance

GDPR, HIPAA, PIPEDA, GLBA, FINRA, FERPA, EU-US and Swiss-US Privacy Shield Frameworks

Support

Email, limited phone and chat support (Monday to Friday, 9:00 a.m. – 8:00 p.m. EST)

Starting Price

$

5.00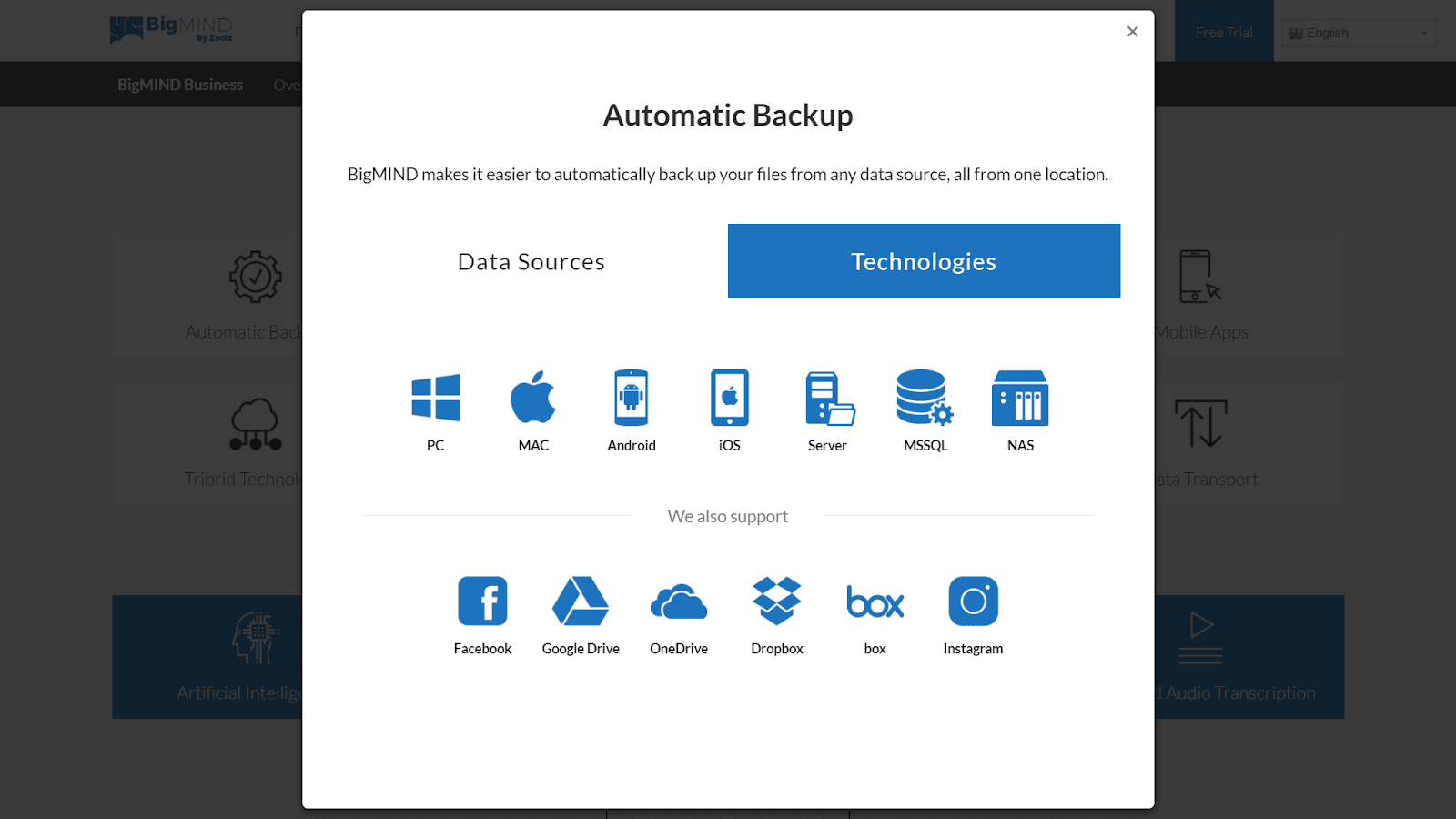 Like IDrive,
all of Zoolz's business and personal plans allow NAS backups
. You can
comfortably choose from any of its plans
 without worrying about whether you can include your NAS in your backups. I appreciate Zoolz for its modern and simplistic user interface. While a modern UI might not be essential for everyone, if you favor a clean and sleek appearance, Zoolz certainly delivers on that front. Additionally, Zoolz proves to be an excellent resource for individuals with a higher level of technical expertise, as some aspects of its diverse product range may demand advanced technical knowledge. Zoolz offers a free 14-day trial for its plans, plus a 30-day money-back guarantee.
There aren't free plans available, so you'll need to invest in a plan once your free trial ends.
Although it's one of the more costly services on this list, its many features and functionalities are well worth the price.
Features
Store files indefinitely. With Zoolz's low-cost Cold Storage option, you can store unused files for a lifetime – and also easily move them out of retirement if you need them. Your files will be stored redundantly across several locations for extra security.
Save files locally. Although it sounds counterintuitive to save files to a local server during a cloud backup, having a copy of your files stored locally will speed up recovery if the time comes. This option can be enabled on any account.
Advanced search functions. Thanks to advanced content and photo recognition, you'll be able to search your backed up files by several criteria, including keyword, file size, tag, date created, and more. OCR makes it possible to search PDFs too.
Securely share files. Easily share files via link, and secure them by adding an expiry date and password. You'll also be notified whenever someone downloads your shared files.
Read our expert Zoolz review to see why we recommend it
.
Security

256-bit AES encryption, optional private encryption key, two-factor authentication

Privacy Compliance

GDPR, HIPAA, GLBA, FERPA, HITECH, ITAR, My Number Act, Privacy Act (Australia and New Zealand)

Support

Email, support ticket, and live chat

Starting Price

$

2.99
Services That Didn't Quite Make the Cut
Google Drive – Although you can get 15GB of free Google storage, it's shared across Gmail, Google Photos, and Google Drive. If you'd like dedicated storage for your NAS, you'll need to invest in a paid plan, which doesn't offer many of the features (like private encryption keys) that other services do.
Apple iCloud – iCloud only has full functionalities for Apple users and, although you can sync your NAS, you're capped at 2TB of storage unless you also invest in Apple One.
Microsoft OneDrive – Unfortunately, OneDrive doesn't encrypt data at rest – and it also doesn't allow private encryption keys – so your most sensitive data is more vulnerable to cyberattacks and hacking.
Amazon Drive – While you can back up your NAS with Amazon Drive, you'll have to upload folders and files individually, and there's a file size limit of 2GB.
So Which Cloud Backup Service for NAS Should You Choose?
While all my recommendations are equipped to safely and reliably back up your NAS, you might have noticed by now that their features and functions can be quite different.
My top recommendation, IDrive, offers unlimited device backups
 at a fraction of the competitors' costs
.
You can back up your NAS device on any of its plans – even the free one – so you won't have to upgrade to get the job done. You can also do a mirror-image backup, which is not something a lot of cloud backup services offer. If you have a lot of data, including media, then I'd suggest Zoolz. While it's one of the more expensive options on my list,
Zoolz's hybrid storage options
 and advanced search functions
make it worthwhile.
It's hard to find a cloud backup service that handles security as well as Acronis.
And even on its Home Office plan, you'll be able to back up your NAS device. With multiple levels of cybersecurity, your data is in safe hands.
Take a look at the summary table for a highlight of these cloud backup services.
Cloud Storage
Standout Feature
Scheduled Backups Available
SLA
Staring Price
IDrive

Apps for Synology, QNAP, Netgear, and Asustor

✔

✔

$

0

Backblaze

Unlimited storage (for each device registered) and no file size limits

✔

✔

$

7.00

Acronis

Global threat monitoring and smart alerts

✔

✔

$

72.72

Carbonite

Supports all file and photo types

✔

 (only on Windows)

✘

$

5.00

Zoolz

Advanced photo recognition, including facial

✔

✔

$

2.99
FAQ
What is the best NAS cloud backup?
While the "best" NAS will be the one that meets all your needs, my top recommendation is IDrive. It has affordable plans for both business and personal users and its plans have many of the top features that you'll want in a cloud storage service, such as private key encryption and unlimited device backups. 
How do I back up my NAS to the cloud?
You can connect your NAS to your computer as a network mapped device. Then, either through your cloud storage's desktop app, web app, or a dedicated NAS app, you can back up your data. This may take some time since NAS devices generally hold quite a lot of data.
Do I need to back up my NAS to the cloud?
While a NAS device is a great way to physically store data, it isn't a foolproof method. These systems are vulnerable to damage and corruption and may cause your data to be permanently lost. By backing up your data to a cloud storage service, you help to ensure that your data is safe and secure from damage, theft, and hackers. Take a look at our list of best cloud storage services in 2023 to see the most trusted services we recommend.
Can Backblaze back up NAS?
Yes! Through Backblaze's B2 or Business Backup plans, you'll be able to back up your NAS. Backblaze is affordable and is one of the few services with unlimited backups and no file size restrictions. You can also use any of Backblaze's native NAS integrations from Synology, QNAP, TrueNAS, and TrueNAS CORE.