An All-in-One Solution… But Be Sure to Read the Fine Print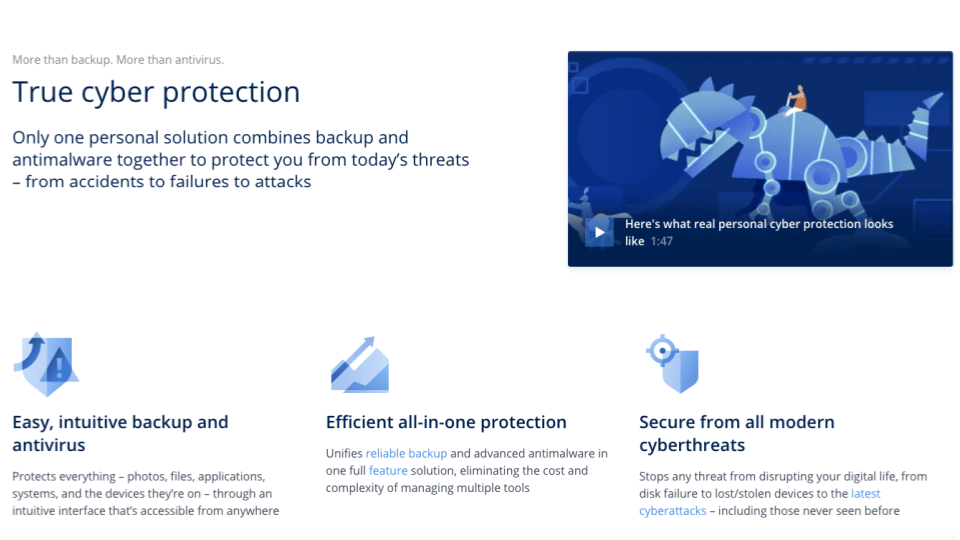 At first glance, this product seems to have it all and, for the most part, that impression holds up. Acronis True Image 2021 is a one-stop solution for online backups and strong cybersecurity.
As a backup service, it offers backups for mobile devices, external drives, and social media, plus it has syncing and sharing options. As a cybersecurity solution, it offers real-time protection from malware that can harm your system, applications, or data.
Acronis is arguably the most powerful backup-as-a-service on the market today. But due to its high price, it may not be suitable for personal users who won't need all of its features. On the other hand, power users and small-business owners may find that it's the answer to their hefty backup demands.
Also, Mac users beware: There are quite a few discrepancies between what you get when using the service on a Windows versus a Mac. As a Mac user myself, I was disappointed to learn that I can't utilize Acronis' backup validation or web filtering options.
Before you go running (or clicking) to purchase the software for yourself, consider a few things: Do you need high-level security? What kinds of files will you be backing up? How much storage do you need? What type of device are you using? Are you backing up one or multiple devices?
I sifted through all the sales copy and tested the service myself to help you make the best decision for you.