but the good news is that there are options that offer an even better service than Google Photos
, from more storage space to extra features that will save you time and make working with your photos oh-so-much easier. That said, with so many backup services out there, it can be hard to know which is going to be the best alternative for you. To make your decision easier, I tested all the cloud storage services available. I prioritized cloud storage services that were affordable, easy to use, will sync with all your devices, and provide automatic backups.
Short on Time? These Are the Best Cloud Storage Alternatives to Google Photos in 2023
IDrive – easy-to-use storage that links with an unlimited number of devices
pCloud – useful features for photographers with the most free storage space
Zoho WorkDrive – storage that will help teams work collaboratively
What We Look For in the Best Cloud Storage Alternatives to Google Photos
To come up with the best alternatives to Google Photos, I screened cloud storage services based on the following factors:
Ease of use: Backing up your photos should be easy. The services included in this list require no technical knowledge whatsoever.
Automatic backups: We've all been there – your phone makes its way into the sink or falls out of your pocket. The services included in this list will all automatically back up your photos so that, if the worst happens, you know your memories will be safe.
Secure file sharing: All of the cloud storage services on this list will let you share photos with friends, family, or colleagues without worrying that someone else might gain access to them.
Native apps: I want a simple way to access my photos whether I'm on my laptop or my cell phone. The services I've chosen let you view and share photos across different devices.
Of all the cloud storage options I tested,
IDrive was my favorite. Unlike any other cloud storage provider, you can link up an unlimited number of devices from one account,
no matter which plan you're on. This makes it easy to access your photos whether you're on your PC, Mac, or cell phone.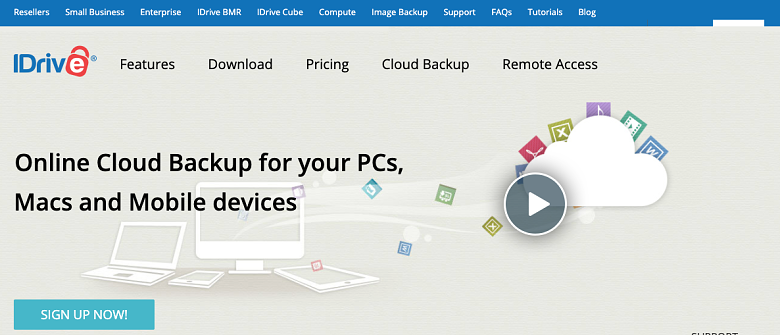 I also found it really easy to use. I had no trouble accessing my photos from my phone or my laptop, and I liked that it worked well on both macOS and Windows.
Setting up automatic backups was also really straightforward.
And if you're serious about your photography, you can set these backups to retain image quality. Plus, IDrive has a
free plan with 5GB of storage!
I was also pleased to discover the IDrive Express service.
IDrive will ship you a hard drive so that you can create backups of large numbers of photos without slowing down your internet.
I can see this being really useful if you've got a load of pictures you want to move over from Google Photos. IDrive also offers some fun features like facial recognition, which will automatically sort your photos by person, or even by pets. You can read about more of
IDrive's features in our expert review.
As an added bonus, IDrive is one of the most cost-effective ways of storing your photos.
While on a Google One paid plan (which you'll be required to upgrade to when you run out of storage on Google Photos) 2 TB of storage space will cost you $99.99 a year, IDrive offers more than twice the storage (5 TB) for about half the cost ($52.12).
Free/Trial Plan?
Yes
Storage on Free Plan
5GB
Storage on Starter Plan
5TB
Starting Price

$

0
Serious photographers will love what pCloud offers.
There's no limit on file size, so you can store huge image files.
It also has a Lightroom plugin that allows easy uploads to the cloud. You can resize images in pCloud itself, and pCloud even supports RAW image thumbnails and previews. There are some other strong reasons to choose pCloud, too.
I loved that it helps free up space on your Android phone or iPhone
by letting you know how many files in your camera roll are already backed up to the cloud. The free plan also stores versions of your photos for up to 15 days (or 30 days on paid plans), so you don't need to worry about losing your original copy of an edited photo. Check out our
expert pCloud review for the full list of features.
pCloud additionally offers a significant amount of free storage
compared to other providers. You'll automatically get 10 GB of free storage,
and the invite program offers a way to extend this. For every person who signs up in response to your referral, you'll get an additional 1 GB of free storage.
Free/Trial Plan?
Yes
Storage on Free Plan
10GB
Storage on Starter Plan
500GB
Starting Price

$

4.99
Zoho WorkDrive is set up with collaborative working in mind.
It even has a project management software called
Zoho Projects
, which you can fully integrated with other Zoho products. The pricing is per team member, and there are some helpful features which make it easy to work with others.
You can share folders with members of your team, send password-protected links, and add clients as users with more limited permissions.
And I loved the WorkDrive Genie app (currently available in beta), which let me edit files on the web using desktop photo editing software.
I tested this using Adobe Photoshop and found it really easy to get started. Plus, since Zoho WorkDrive provides unlimited file versioning, I could still access the unedited versions of my photos. The main downsides I could see to Zoho WorkDrive are that it doesn't offer automatic backups, and that it doesn't offer any free storage – although you can sign up for a
15-day free trial without a credit card.
 It also doesn't currently support RAW file previews, but when I messaged the customer support team, they told me they're planning on adding this in a future update.
Free/Trial Plan?
15-day free trial
Storage on Free Plan
1TB per team
Storage on Starter Plan
1TB per team
Starting Price

$

3.00
Whereas Google Photos has previously had issues with user privacy, Sync takes both privacy and security very seriously.
End-to-end encryption means that Sync can't look at your photos even if they wanted to. Only you can access your data while it's stored in the cloud.
Other features to help keep your photos secure include
two-factor authentication, granular user permissions, and custom passwords.
If your phone or your laptop is stolen, you can also make use of the remote wipe feature to erase your photos on the missing device.
Our expert review has more details about Sync's features.
Sync is more expensive than some other options for photo storage, but if you're a business that needs to be absolutely sure your photos will be secure, Sync could be a good option for you.
You can also sign up for a free trial
 to check out its features risk-free.
I tried out using Sync both on desktop and web, and found both easy to navigate. Using its apps on Android and iOS was also easy enough, and turning on the automatic camera upload feature meant any photo I took on my phone was automatically backed up to the cloud.
You can recover deleted files for up to 180 days – three times as long as Google Photos keeps photos in the Trash.
Free/Trial Plan?
Yes
Storage on Free Plan
5GB
Storage on Starter Plan
200GB
Starting Price

$

0
Zoolz BigMIND Home is loaded with unique, helpful features that use artificial intelligence (AI), setting it apart from both Google Photos and other cloud storage services.
For example, you can search images by the objects in them; I tested this by searching for "lamps," and was excited to see that it returned all of the photos I'd uploaded of lamps.
Similarly, I enjoyed how easy it was to use the smart filters tool, which let me search my photos by location, camera type, and device.
Facial recognition software allows you to organize your photos by individual people.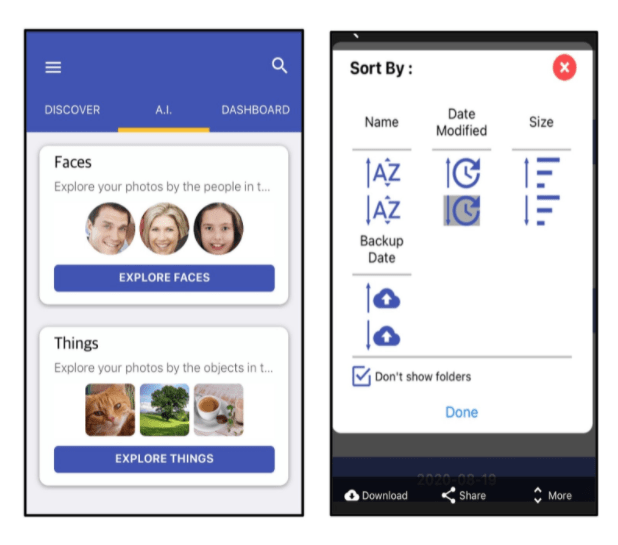 The downside? It doesn't sync between multiple devices. But that's a relatively small drawback compared to all the other features Zoolz offers (check out our expert review for a full account).
It's more expensive
than some of the other options available, but Zoolz is the perfect alternative to Google Photos if you want a ton of features to save on time.
Free/Trial
Yes
Storage on Free Plan
1GB
Storage on Starter Plan
100GB
Starting Price

$

0
Services That Didn't Make the Cut
Apple iCloud: To use photos backed up on Apple iCloud with other programs, you'll need to export them first.
Microsoft OneDrive: Syncing files on OneDrive can take forever, and it's an expensive service that's only available to Windows users.
Amazon Drive: Some security concerns, plus no option for scheduled backups.
Which Alternative Will Serve YOU Best?
IDrive is my top choice for an alternative to Google Photos, but the best cloud storage service for you will depend on your individual needs. If you're looking for an easy-to-use service which will sync with an unlimited number of devices and gives you plenty of storage at an affordable price, IDrive is your best bet. If you want something tailored for photographers with no limit on file sizes, pCloud is a great choice. Looking to collaborate with others? Zoho WorkDrive is great for team working.
Here's a quick summary of the standout features of the cloud storage services I'd recommend:
| | | | |
| --- | --- | --- | --- |
| Cloud Storage | Free Storage | Standout Feature | |
| IDrive | 5GB | Link up an unlimited number of devices and create physical backups of your photos | |
| pCloud | 10GB | No limit on file size and a plugin for Lightroom | |
| Zoho WorkDrive | – | Great for team working, with WorkDrive Genie app and unlimited file versioning | |
| Sync | 5GB | Exceptional security and privacy, plus recover deleted files for up to 180 days | |
| Zoolz Cloud | 1GB | Facial recognition, AI detection and smart filters | |
FAQ
Is Google Photos going away in 2021?
No, it's just changing. Since June 1, 2021, Google only offers 15GB of free storage space for Google Drive, Gmail, and Google Photos combined (not including uploads from before that date). If you take a lot of photos and need a lot of storage space, this might mean you need to look for an alternative cloud storage service. I was definitely relieved to find out that my existing uploads wouldn't be affected, though!
Is free photo storage any good?
The problem with free photo storage is that it's generally unreliable and very limited. Since most devices now take decent quality images with a large file size, this free storage is likely to run out quickly. Instead, I'd suggest using a low-cost cloud storage service like IDrive, which will provide the space you need to store your photos at a low price.
What is the safest way to store digital photos?
A cloud storage service that offers high-end security is the safest way to store photos. For instance, cloud storage services like pCloud, Sync, and Zoolz Cloud offer end-to-end encryption. Sync also offers two-factor authentication, granular user permissions, custom passwords, and remote wipes. Check out our list of the top cloud backup services in 2023.
Can I trust Google Photos?
Using Google Photos is safe in that no one, including Google employees, can view your photos without your permission. However, Google Photos doesn't use very secure encryption. So, if you want better security, a cloud storage service like IDrive or Sync would be ideal.