More Features in One Service Than Its Competitors
| | |
| --- | --- |
| Data Server Locations | California, USA |
| Backup and Restore Options | Daily/weekly/continuous backups, offline backups, idle backups, backup from external drive, multi-device syncing, backup status reports, offline restore option, |
| Limits and Restrictions | Individual file size max 10GB (500MB for continuous backups), no file type restrictions, no fair-use limits, optional bandwidth throttling |
| Applications and Operating Systems | Windows, MacOS, Linux/Unix, iOS and Android apps |
| Encryption Keys | Transfer 256-bit AES encryption, optional private encryption keys |
| File Access | Web, desktop applications, iOS and Android apps |
| File Sharing | ✔ |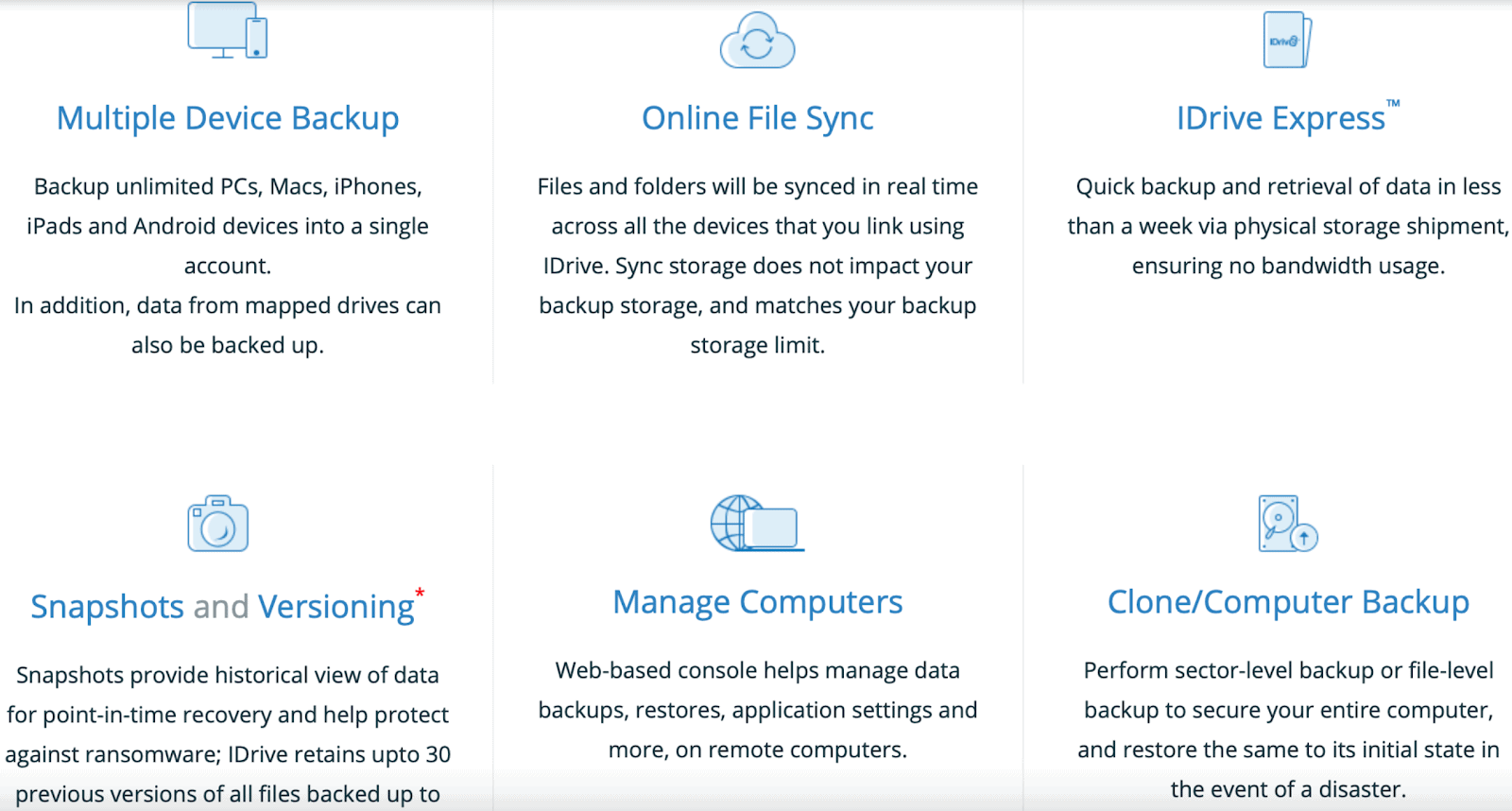 IDrive is loaded with great features, many of which you won't find with its competitors.
Possibly the most useful one is Snapshots, which gives you a historical view of your data and lets you recover your files from any point in time.
Disk cloning lets you back up your computer's drive and system image, including the operating system and applications. And hybrid backups let you encrypt your files and store them to any destination on your local devices in addition to the IDrive cloud.
There's even a feature called IDrive Face that uses facial recognition on your backed-up pictures to help make them easier to organize. So, if you want easy access to that amazing selfie you took last summer at the beach, you got it. And IDrive can also back up your Facebook and Instagram accounts. Not many competitors offer anything like this.
But instead of going in-depth on the bells and whistles, I'll focus my review on the fundamentals.
Backups
With IDrive, you can back up files from all your devices (and users, for Business plans) to one account. You won't get this with any other cloud backup service.
And scheduling backups is easy. You can choose daily or weekly backups and pick what time of day they happen. IDrive also lets you set up real-time, 10-minute, 30-minute, or 60-minute continuous automatic backups.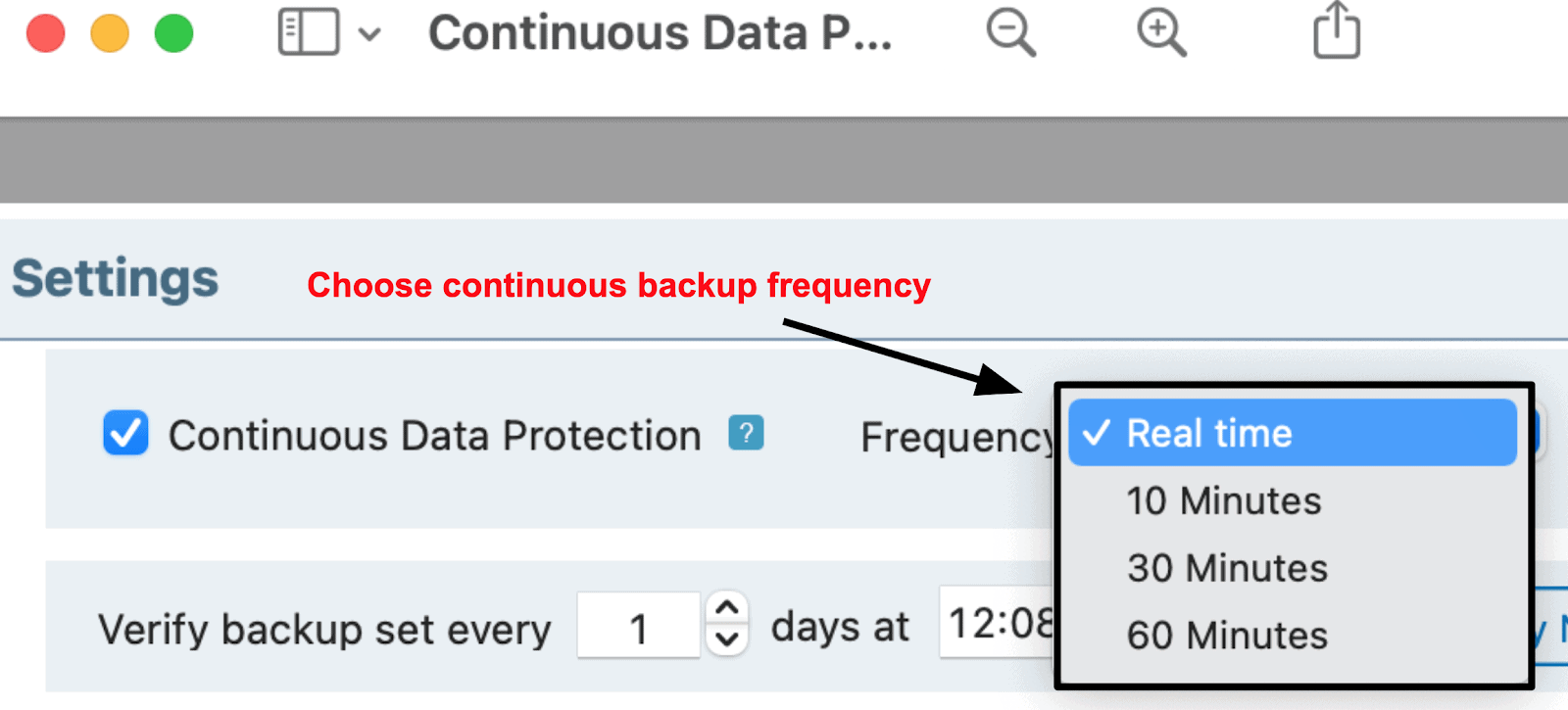 With regular backups, you can back up as many files as you want, up to your plan's quota, but individual files can't be bigger than 10GB. With continuous backups, the quota works the same but your individual files can't be bigger than 500MB.
IDrive Express
One of my favorite features is IDrive Express, an external hard drive the company will ship you so you don't have to clog your internet bandwidth for weeks (or even months!) for big backup jobs. This is especially great for first-time uploads.
While some competitors offer physical backups, IDrive is the only service that offers it for free. IDrive Personal plans get one free IDrive Express backup per year and Business plans get three. You can request additional backups, but each one costs almost as much as your annual subscription. If you live in the US, shipping of IDrive Express is free.
For Business plans, you can also back up Linux machines and SQL, Exchange, Oracle, and SharePoint servers. There isn't a competitor out there who can claim to offer as many business backup options as IDrive.
Restores
You can easily restore your backed-up files from IDrive to any computer or device on your account. You can also restore files from your local drives to any synced device.
IDrive has true archiving, which means your files will stay in your account and are available for restore forever. For paid accounts, any files you back up will stay on your account until you delete them or stop paying your annual fee. For free accounts, IDrive will cancel your account and delete your files after 90 days of inactivity.
It's important to note that IDrive is a true backup service. So, unlike syncing services like Dropbox and OneDrive, IDrive will retain your files on your account even if you delete them from your computer or device. This is great news if you're like me and often realize that in decluttering your desktop you got rid of something important.
IDrive offers a physical courier service for IDrive Express restores, but this is a paid service, and the price can be as much or more than your subscription fee.
Encryption
IDrive uses server-side 256-bit AES encryption, which is the same level approved by the Department of Defense for top secret data. This means you'll have the same level of data security as a secret agent – though I don't think that makes you an actual spy. Even IDrive Express and local backups have 256-bit encryption.
IDrive also gives you the option to create a private 256-bit AES encryption key, so no one but you will have access to your data. You don't get this with syncing services like Dropbox, OneDrive, or Google Drive. Unlike a system-generated default encryption key, you define your private key and it's not stored on the IDrive server, so it's up to you to remember it.
Two-Step Verification and Data Center Security
Two-step verification with IDrive gives you another level of security, which I think is great. You have to enable it on the web app, and then, when you sign in to IDrive, you'll need to enter the verification code emailed to you in addition to your password.
IDrive's data centers are all in California and are custom-designed with a number of state-of-the-art physical security features, including temperature control systems, smoke detection, fire suppression systems, and video surveillance. For network security, IDrive has periodic third-party reviews of its infrastructure to check for known application and service vulnerabilities.
While all IDrive's security measures are great, some competitors go even further. For example, SpiderOak One uses 2048-bit RSA encryption in addition to 256-bit AES, and it also uses blockchain security to remove human intervention from the authentication process.