some of these apps are just not as good or user-friendly as their Mac counterparts
. These cloud backup services aren't built with Windows users in mind. And since syncing and backing up data using a desktop app is usually an integral part of data backups, your desktop app needs to be up to par.
That's why I reviewed several of the top cloud backup services on the market until I found the ones that are best suited for Windows users.
I narrowed this list down to the five top services available and I'll explain the best use for each. In addition to Windows compatibility, each service I've listed also has two-factor authentication, is GDPR compliant, and offers a free trial or free plan so you can test out its features.
Short on Time? These Are the Best Cloud Backup Services for Windows in 2023:
IDrive – Solid cloud storage option for beginners or for those who prefer a simple and straightforward user interface.
Backblaze – Affordable cloud backup solution with unlimited storage, file size, and file retention.
Acronis – Windows-friendly cloud storage service with expert-level cyber protection and disaster recovery options.
What We Look For in the Best Cloud Backup Services for Windows
As I was reviewing Windows-compatible cloud services to find the best ones, I looked for a few key characteristics:
Compatible with multiple versions of Windows. Since not everyone works with the same version of Windows, the services on my list are compatible with at least four versions of Windows.
Good for both personal and business use. I included services that offer plans for both personal and business use, even if they specialized in one over the other.
Backup scheduling options. Scheduling backups is a good practice to keep your files safe and up-to-date, and it's also essential to any good cloud backup service. You can be sure that all the hosts on my list allow scheduled or continuous backups.
Two-factor authentication. I focused on services that offer a range of security, including features like two-factor authentication for added protection.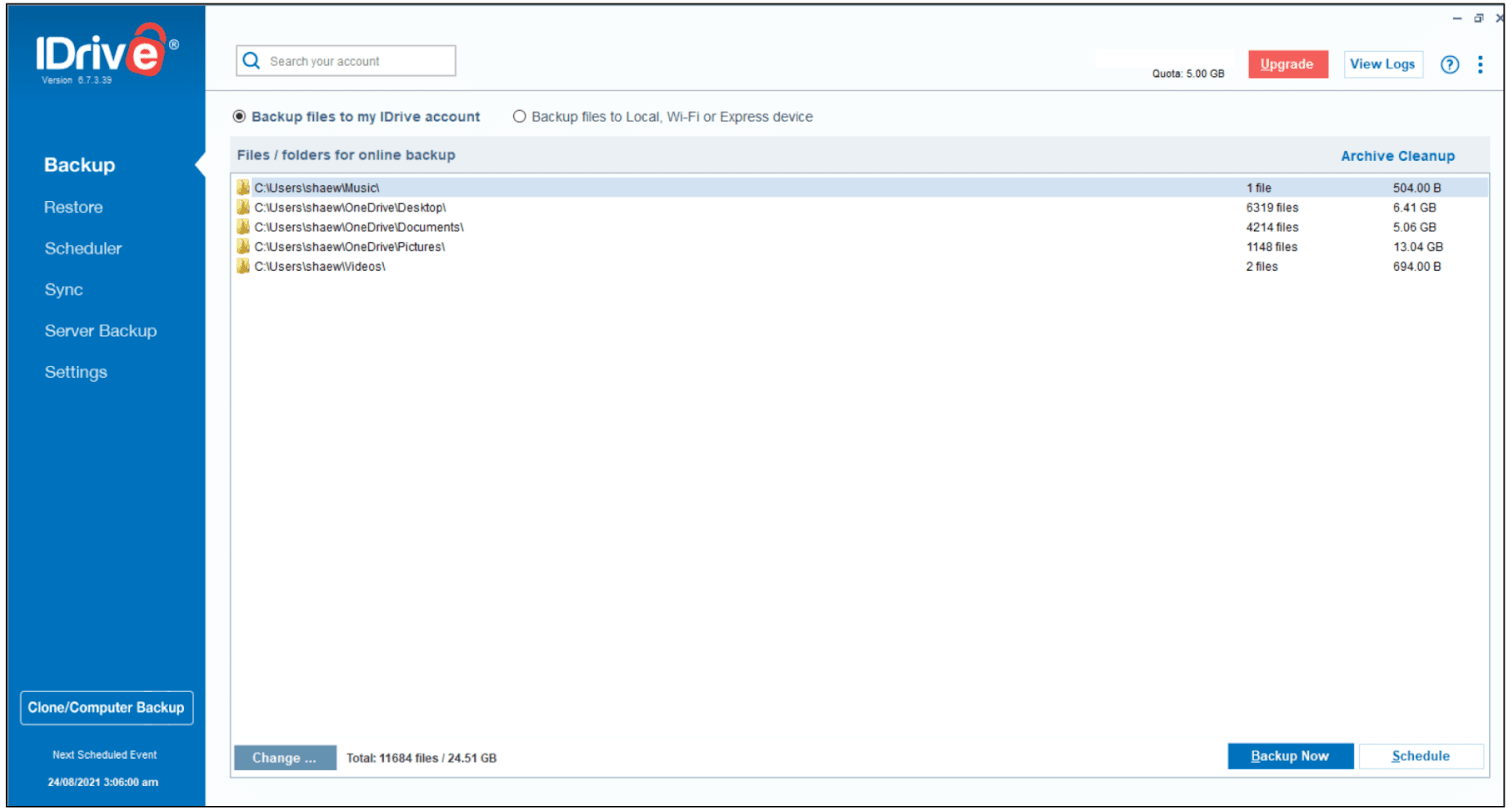 IDrive is a great option for beginners, but not because it lacks any key features.
In fact, it's
one of the most feature-heavy cloud storage
options on the market. From
mirror image
backups to multi-device syncing to remote monitoring, IDrive is a good cloud storage solution for both business and personal use. The user interface is simple to use and I found it easy to navigate both the desktop and website apps. Although they're a bit dated, I was pleasantly surprised by the mobile app's modern design. From here you can back up your contacts, calendar, photos, and SMS and call logs. Backing up and syncing my data via the desktop app was stress-free, and one of the things I really like about IDrive is its scheduling options.
You can choose between daily and hourly backups
, with the ability to set a cut-off time for backups. These options are also available for incremental and differential backups.
Features
Clone your computer. One of my favorite features of IDrive is that you can perform a mirror-image backup of your computer. This includes system files, program files, applications, and the computer operating system.
Retain data forever. IDrive never deletes your files, so even if they no longer exist on your computer, you'll have access to them for as long as your account is active.
Transfer large amounts of data with an external drive. If you have TBs of data but not the days it might take to upload it via the internet, you can back up your data on a physical device that is securely stored by IDrive until you request a data restoration. This can save loads of time on your initial backup.
Edit files from anywhere. IDrive's multi-device syncing means you'll be able to edit and update files in real time, and across multiple devices.
Read our in-depth IDrive review for more features
.
Basic plan storage
5TB
Windows compatibility
Windows 7 and later


Windows 2003 Server (Service Pack 2) and later

Number of devices

Unlimited

File retention

Unlimited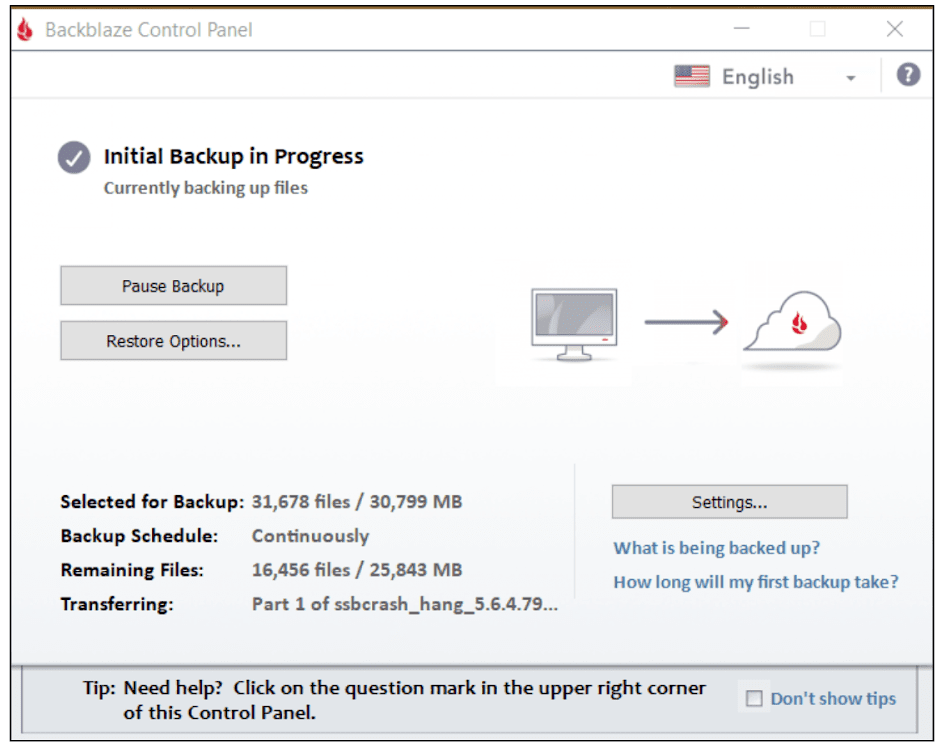 If you need unlimited storage options, Backblaze has you covered.
Unlike many other cloud storage services, Backblaze offers affordable plans that don't carry any storage limits.
Unlimited storage isn't a necessity for everyone, but if your storage needs exceed 1TB, the costs for cloud storage and backup can get expensive quickly.
Backblaze plans don't just offer unlimited storage, they also come with unlimited bandwidth and no file size limits.
This means you can back up large files without worrying about bandwidth throttling or size limitations that you'll find with other cloud services. Compared to the other services on this list, Backblaze's desktop app isn't as flexible. You can control various settings and back up and restore your data via desktop, but you'll have to use the web or mobile app to actually view your stored data.
Features
Free trial. Backblaze doesn't have any free plans, but you can get a 15-day free trial to test out its features before you purchase, whether you're interested in a business or personal plan.
Multiple ways to restore data. If your backup is less than 500GB, Backblaze can send your data as a zip file for free. You can also request a flash drive or a USB hard drive for a refundable fee. And if your files are stored on the B2 Cloud, you can restore up to 10GB of data for free, with overages at a cost.
Flexible business plan. Like the Personal plan, Backblaze only has one Business plan, which is completely customizable. Choose how many licenses you'll need and what type of backups you'll be doing (server, computer, NAS, and Veeam).
More than just online security. With the Locate My Computer function, Backblaze will keep tabs on your computer's physical location and track ISPs. If someone is using your device, you'll also be able to see recently backed up files through your account.
Read our expert Backblaze review for more details
.
| | |
| --- | --- |
| Basic plan storage | Unlimited |
| Windows compatibility | Windows 7 and later |
| Number of devices | 1 (additional fee for more devices) |
| File retention | 30 days (additional fee for 1 year and unlimited) |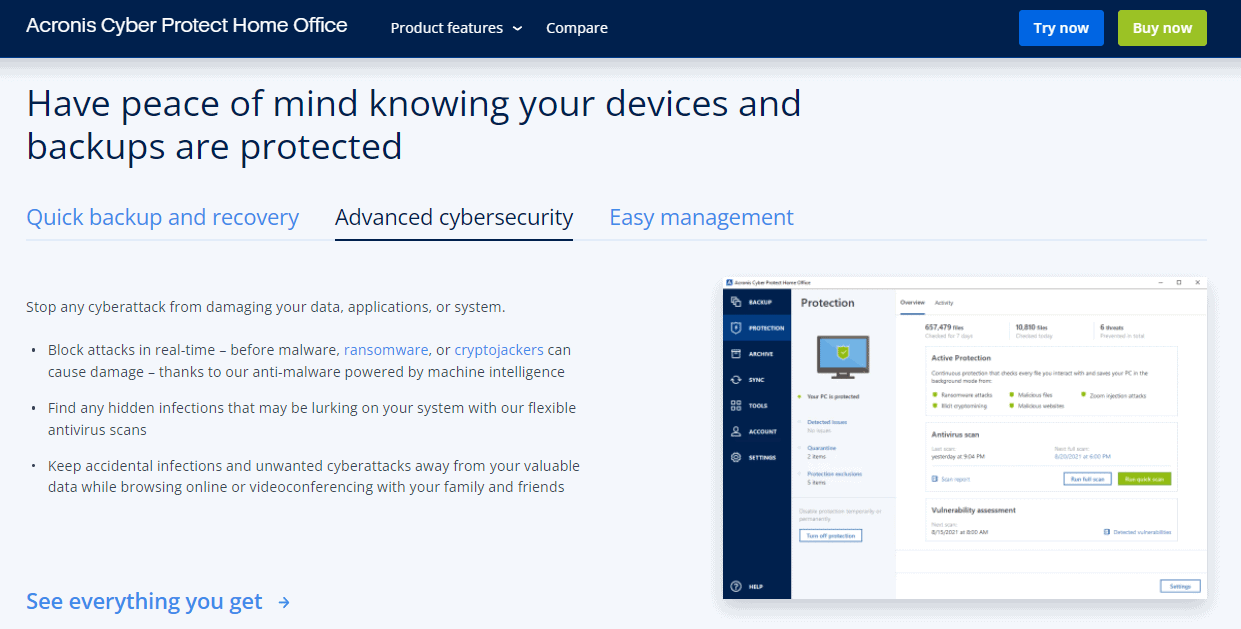 If data protection is important to you, Acronis offers specific data recovery features that ensure your data is never truly lost. In addition to a full system backup,
you can also create a copy of your boot media externally
– so even if your OS crashes, you'll be able to recover everything on your device. Acronis has personal plans but also offers amazing functionalities for small businesses and enterprises. Its web, mobile, and desktop apps can be used to backup and access your data. I found the desktop app much easier to use than the others.
The user interface was modern and well-designed and using it to back up, archive, and sync my data was seamless.
When it comes to data protection,
Acronis is one of the most secure
 cloud storage services on the market.
Along with advanced security features like ransomware protection and real-time antimalware scans, you can also run a system clean up, create private encryption keys, and set event-based backups.
Features
Migrate or restore your system to a different device. Unique to Windows OS, Universal Restore allows you to migrate data to another device, regardless of software differences. Universal Restore will install the required drivers while retaining your files and system information.
Cloud-to-cloud backup. If you sign up to the Premium or Advanced plan, you can back up everything from another cloud to Acronis. This is especially useful if you're using a service like Microsoft 365 and want to safeguard your Outlook and OneDrive files.
Keep your phone data safe. Many cloud backup services don't really provide a comprehensive mobile plan, but with Acronis, you'll get continuous backups that can be sent wirelessly to a local computer. There's also version control for added protection.
Archive large files. With the Archiving function, you can send large files to the cloud and free up space on your device. Use a desktop shortcut to quickly download the file if you need it.
For more on security and privacy, check out our Acronis review
.
Basic plan storage

Unlimited (for up to 5 devices only)

Windows compatibility
Windows Home Server 2011


Windows 7 and later

Number of devices
1 – 5
File retention

Unlimited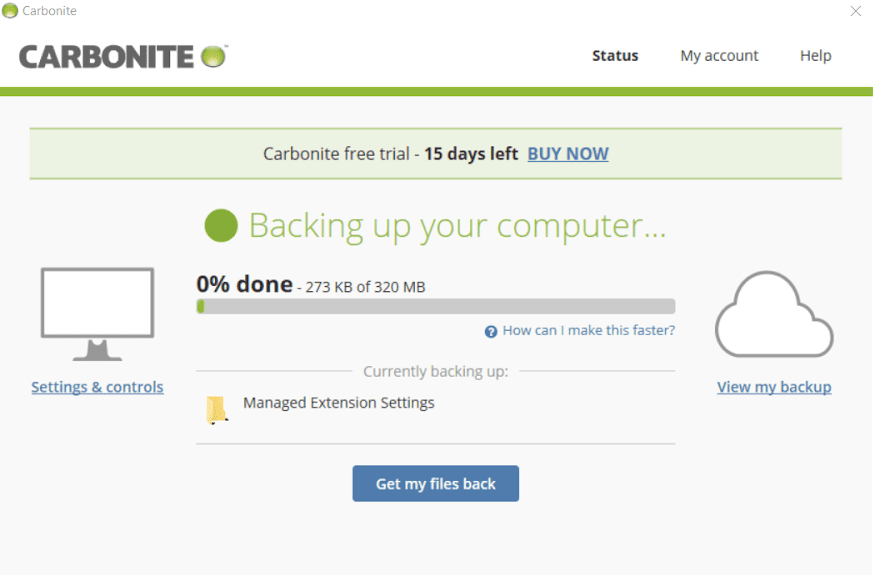 Carbonite is a great cloud storage service if you want excellent security features, but don't need some of the more complex features that other services offer. This cloud service
caters to both personal and business users
 and some plans offer features like external hard drive backups, courier delivery services for physically stored data, and unlimited backups.
If simplicity is what matters the most to you, Carbonite's plans are a great option.
Although Carbonite's support options are a bit lacking (there's email but phone and live chat options are only available on weekdays for non-Pro users),
Windows users can access a dedicated support center that caters to Windows-specific questions
. This includes articles on installing the application and backing up and restoring data.
Features
More features for Windows users. Sorry Mac users, Carbonite currently offers features for Windows that are currently unavailable to you. These include scheduling backups, file versioning, and private encryption key creation.
Access files from anywhere. Carbonite has done away with its mobile apps, but with its Anytime Anywhere feature, you can always access your files through a web browser.
Very affordable basic plan. The basic plan may not be as extensive as Acronis or IDrive, but it does include unlimited backup for one device, and the maximum file upload limit is a generous 4GB.
Free trial. There's no free plan here, but you can try out Carbonite for 15 days before making a commitment (and you won't need to provide your credit card to do so). Free trials don't include video or music backups, though.
For more on Carbonite, read our comprehensive review
.
| | |
| --- | --- |
| Basic plan storage | Unlimited (for 1 device) |
| Windows compatibility | Windows 7 and later |
| Number of devices | 1 – 3 |
| File retention | 30 days |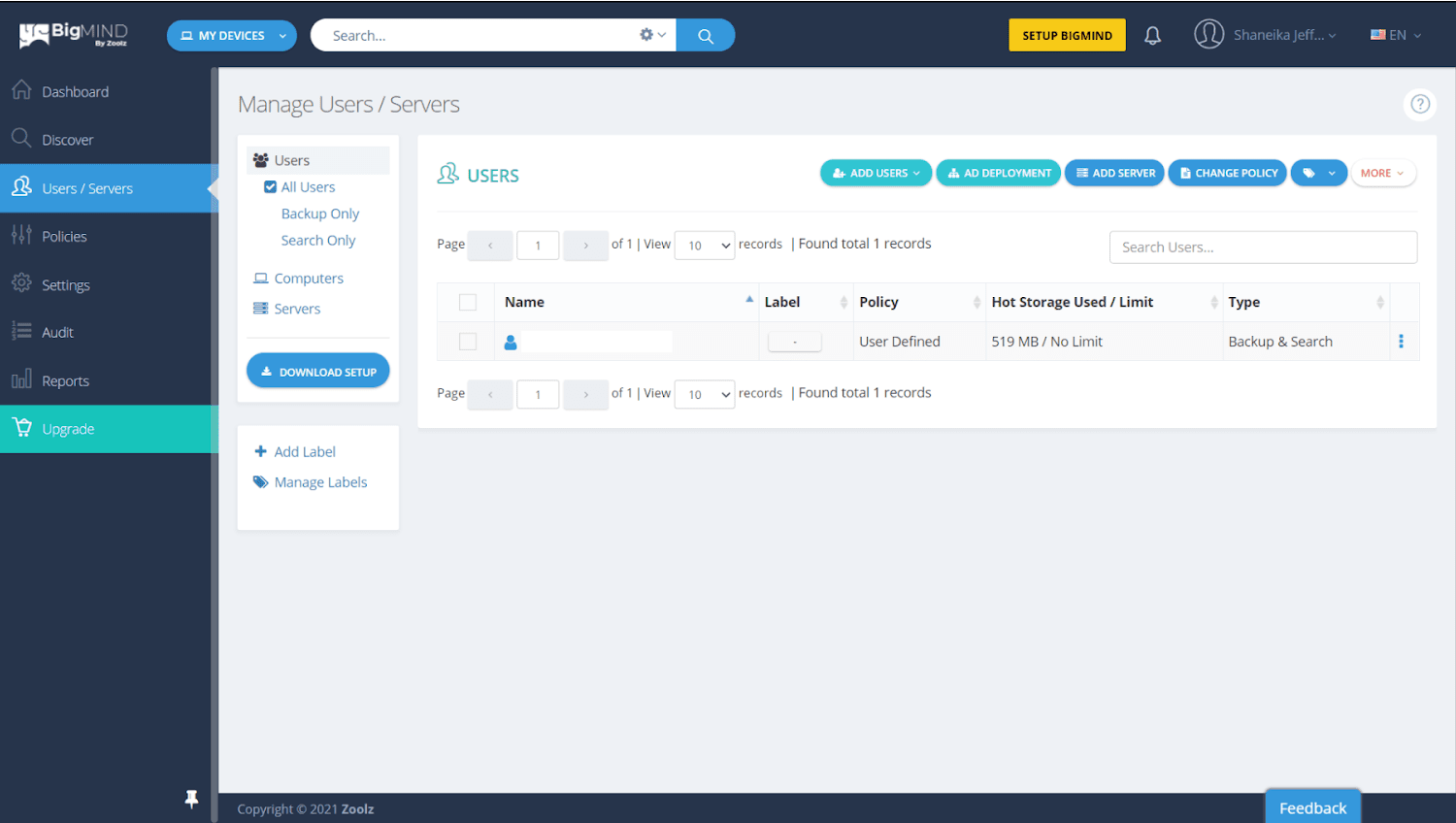 Zoolz BigMIND isn't only designed for business use, but its business plans are what really makes it impressive.
You can choose from a Starter, Standard, or Premium plan, which differ in storage capacity, server allowance, user limit, and, of course, pricing. There's also the Smart Archive plan, which comes with 1TB of cold storage (more on that in the Features section) and is ideal for users with significant data storage needs. In contrast to Carbonite, Zoolz is all about the bells and whistles. Some of my favorite features are
the advanced built-in search functions.
With smart image recognition, Zoolz will automatically assign your photos relevant tags. You'll also be able to search photos by face recognition, camera type, date, size, and more. Similarly, built-in OCR will be able to parse PDF files so you can search by content. Although the user interface may pose a slight learning curve, I appreciate its modern and clean design, especially within the desktop app. If you possess some technical proficiency or can swiftly overcome the learning curve, you'll find that Zoolz BigMIND's functionalities and features are truly outstanding.
Features
3 types of storage. For efficiency (and to cut costs), you can choose from Instant, Cold, and Local Storage. Keep most-used and recent files close with local storage and on-demand files in instant storage, or completely archive files in Cold Storage. All three backup options can be automated.
Quickly transfer TBs of files. With the Amazon Snowball data transport device, you can back up TBs of your data to send to Zoolz's data centers for secure upload. Or if you prefer, you can send in your own hard drives.
Comprehensive phone backups. Files you can back up from your smartphone include photos, videos, contacts, and calendars. Unfortunately, music, messages, and call logs are only available for Android devices. And if you want to completely switch platforms, you can do this easily with the BIGMind app.
Back up more than your computer. In addition to servers and network drives, you can also store files from other cloud platforms like Dropbox, Box, and Drive, and social media accounts like Twitter and Facebook.
To learn more about Zoolz's features, check out our review
.
Basic plan storage
100GB
Windows compatibility
Windows Server 2008 R2 and later


Windows 7 and later

Number of devices

1 – 50 servers

File retention

Unlimited
Services That Didn't Quite Make the Cut
Microsoft OneDrive – Although OneDrive offers plenty of free storage, you can't privately encrypt your data, making it more susceptible to hackers and cybercriminals.
Amazon Drive – Amazon Drive is great for photo and video backup, but isn't ideal for other uses since those are the only files that are automatically backed up.
Apple iCloud – This service is great for Apple users, but the Windows version of its desktop app lacks many of its most useful functionalities.
Google Drive – The free storage limit isn't just for Google Drive – it's shared between Google Drive, Google Photos, and Gmail. Storage usage for photos and email can quickly use up your needed storage space and require you to invest in a paid plan.
Which Cloud Backup Service for Windows Is Right for YOU?
All my recommendations have great Windows functionality (and, in some cases, even better features than what they can offer Mac users), but depending on your budget, needs, and familiarity with cloud backup services, you'll find that not all of them will be right for you.
My pick for the best all-around backup service is IDrive.
With full-system cloning capabilities, syncing across devices, and strong security features, it's a great choice if you're looking for an affordable way to keep your data and devices safe.
If you just need a place to store your personal data, then I'd go with Carbonite.
It has all the basics covered (access your files from anywhere via web browser, schedule backups easily, and set your own private encryption keys), and it's also very easy on the wallet. And if security is your top priority,
Acronis is your best bet
.
Take a look at this summary table for more information on my top cloud backup services for Windows.
Cloud Storage
Standout Feature
File Versioning
Money-Back Guarantee
Staring Price
IDrive

Mirror image and clone backups

✔

30 days

$

0

Backblaze
U

nlimited storage

✔

30 days

(on 1- and 2-year plans)

$

7.00

Acronis

Mirror image and system boot backups

✔

30 days

$

72.72

Carbonite

Wallet-friendly basic plans for straightforward backups

✔

30 days

$

5.00

Zoolz BigMIND

AI photodetection for quickly identifying stored photos

✔

30 days

$

2.99
FAQ
What is the best cloud backup service for Windows?
If you're looking for a cloud storage service for Windows that's great for both personal and business use, is affordable, and offers useful features, then IDrive is an amazing option. You can use this service whether you are a small business, enterprise, or just need personal storage options.
Should you go with Microsoft OneDrive or a separate backup service?
The type of cloud backup service that you choose will depend on your needs, such as budget and plan features. Microsoft OneDrive is one of the more popular backup solutions, but not necessarily due to any standout features – it's simply easy to use since it's already connected to Microsoft accounts. If you don't have major storage needs, then OneDrive may be a good option for you. However, if you are interested in some of the more advanced bells and whistles, like private encryption keys and unlimited storage, you'll need to look elsewhere, like Backblaze or Zoolz BigMIND. These services made it on our list of 10 best cloud backup services in 2023.
What is the best free cloud backup service?
There are cloud backup services that offer free plans, but they're definitely not all made equally. Of the different services I've tried, IDrive has the free plan that I believe beats out all the rest. With this plan, you get 5GB of free storage, which you can access via the web, desktop, or mobile app. You also get access to IDrive's other features like mirror image backups, multi-device backups, file versioning and archiving, and various data retrieval options.
Is IDrive better than Carbonite?
There isn't much of a price difference between the two services, so it may come down to the features and functionalities that you're looking for. IDrive offers features like continuous data protection, unlimited connected devices, and a courier service for physical backups. With Carbonite, you'll get unlimited backups and Webroot computer antivirus with Plus and Premium plans.