focus on services where business-related features are more than an afterthought
. You'll also want to look for excellent security features and flexible file sharing options. But not everyone has the time (or energy) to weed through dozens of services to find the exceptions to the rule. That's why I've taken a deep dive into the world of cloud storage, testing popular backup services that offer business plans. From there, I narrowed down the list to the
top five that provided the best value, features, and security for enterprises and small businesses
. Keep reading to see which services made my list – and to find out which ones didn't (and why!).
Short on Time? These Are the Best Cloud Backup Services for Businesses in 2023:
IDrive – Great for businesses who have team members that are new to cloud storage or aren't overly tech-savvy.
pCloud – Allows for extended file history and file versioning for up to a year.
Zoho WorkDrive – Offers in-app file viewing and support for over 160 file formats.
What We Look For in the Best Cloud Backup Services for Businesses
It's not enough to just
have
a business plan – all the services on my list also passed the test in these categories:
Significant storage capabilities. Businesses, no matter the size, need more than just a few MBs of storage. I focused on services that offer at least 1TB of storage for business plans.
File sharing. Collaboration is essential, especially for large teams. I kept an eye out for cloud storage services that had multiple file sharing options between team members and external collaborators.
Multi-layer encryption. Each service on my list has at least two layers of encryption that protect data, both at rest and during transit. I also looked for services with additional security features like two-factor authentication and auto-logout.
International privacy compliance. If your business stores sensitive client and customer data, local and international compliance are important. I only considered services that complied with (at minimum) two international privacy laws or certifications.
Data recovery. Data can be lost, damaged, or otherwise corrupted and features like file versioning and data recovery are crucial to the preservation of your information. The services on this list all have data recovery and restoration options.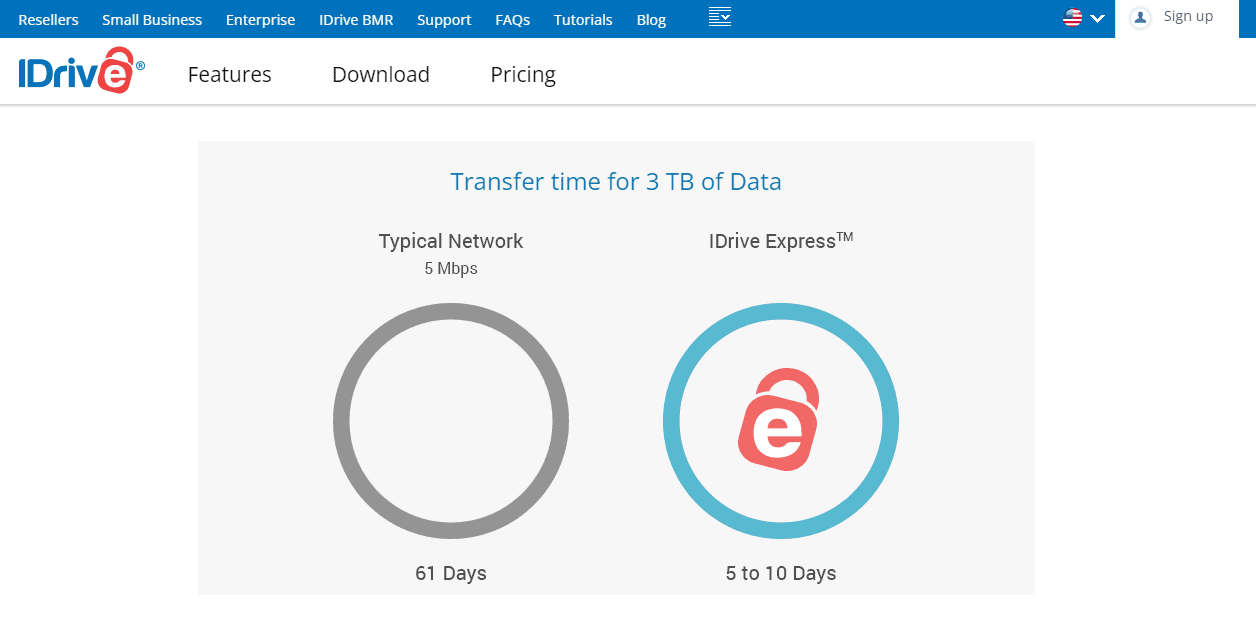 IDrive's cloud storage features cater to
teams, small businesses, and enterprises
, and its plans can be easily scaled to accommodate the size of your business. Although it does have personal plans (one of which is free), its strength truly lies in its added business-related features, especially when it comes to data restoration. Besides restoring files from the cloud,
IDrive offers two other backup and recovery options that use physical drives to upload large volumes of data
. IDrive Express is a free service that Team and Business users can take advantage of three times a year. If you have larger storage needs, IDrive BMR (bare-metal restore) uses a similar device, but can back up multiple computers at once.
One of the major attractions of IDrive is the clone backup feature.
This feature allows you to back up computer drives, operating systems, program files, and system files using the desktop app. Most cloud storage services don't offer clone backups – and if they do, they're an expensive add-on.
Features
Endpoint solutions. If you have a large corporation, you can easily protect your assets with IDrive 360. You'll be able to schedule automatic backups, create clone backups, and recover files across multiple computers.
User-friendly interface. I found the IDrive user interface super easy to navigate, which makes it a great choice for businesses that need a beginner-friendly cloud storage solution. From the dashboard, you can quickly access connected devices, weblogs, and synced and backed up files.
Retain files forever. Your backed up files will stay in your cloud account until you manually delete them.
Restore from previous versions. IDrive retains up to 30 versions of your saved files – but only the most recent version counts towards your storage quota.
For more on IDrive, check out our expert review
.
Storage for business plans

250GB – 50TB

Encryption type

256-bit AES encryption

Privacy compliance

GDPR, HIPAA, SEC, GLBA, FINRA, FIPS, SOX

Starting Price

$

0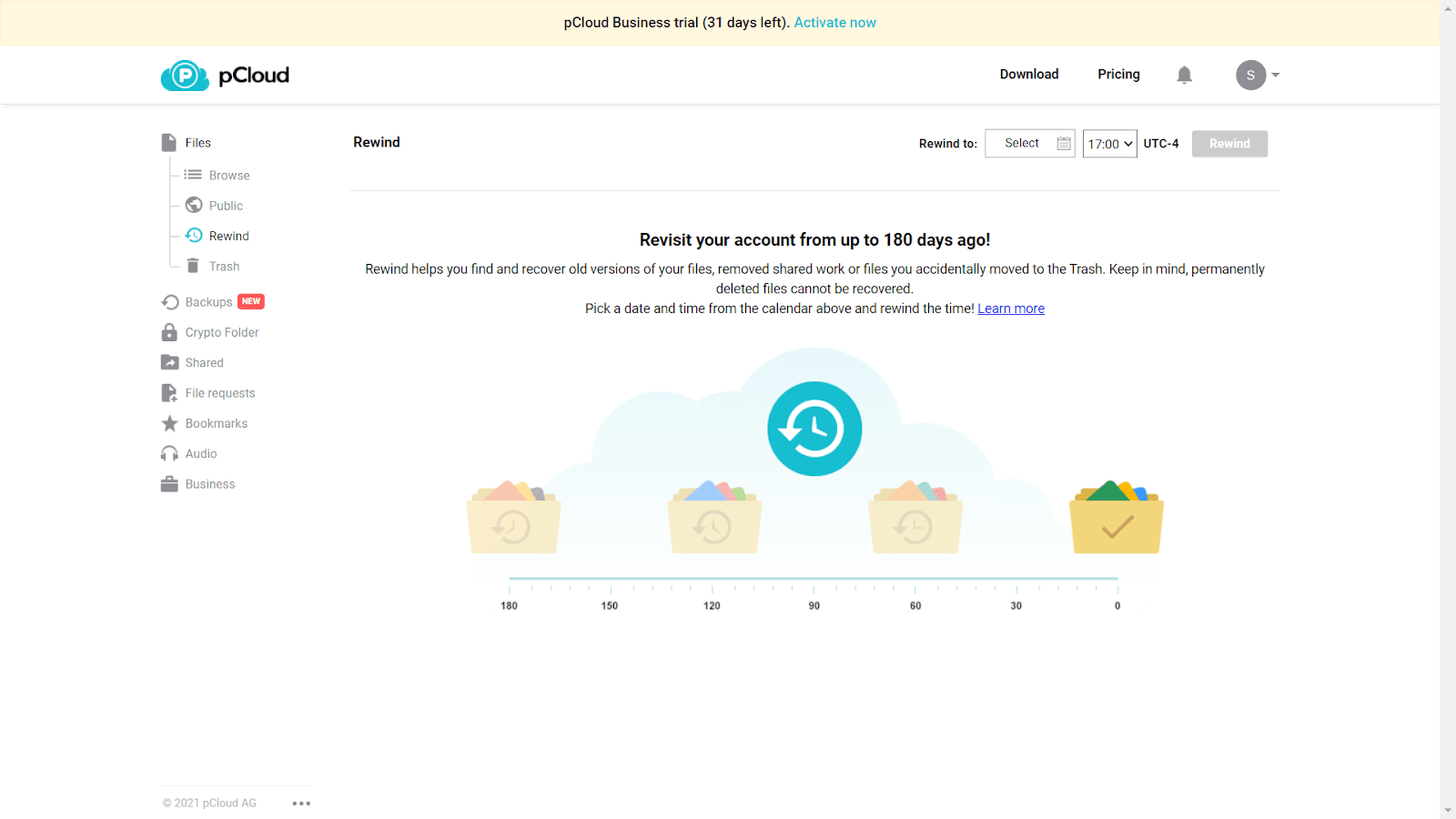 pCloud has just one business plan available, but it caters to both small businesses and larger companies. You can choose between a monthly and yearly subscription, but you'll save money if you opt for the yearly payment. One of the best things about pCloud is
the simplicity of its plan structure
 – you'll only pay for the number of user profiles that your company needs. The ability to have unlimited users is great for businesses that are scaling or anticipating growth.
If your business adds employees, or even decreases in size, you can easily adjust the user quota via the business account settings.
In addition to a generous 1TB of storage per user, pCloud Business comes with a few other key features that make it a worthy investment. For example,
each user has access to the Crypto folder, a secure, password-protected folder
that can be accessed via the desktop, web, and mobile apps. Files are automatically encrypted from the client-side before being transferred to the Crypto folder.
Features
Free branding. Business plans have the option to brand shared links by creating a landing page where viewers can see the linked information on a customized webpage. In addition to the usual logos and images, you'll also be able to add music or other audio.
Keep files for up to 180 days. Accidentally delete a file and need to restore it? You'll have roughly six months to retrieve deleted files before they're permanently purged.
Comment on files. This is a useful feature for any Business plan, and it's made even better here because it's all done in a secure (encrypted) environment.
Share files with everyone. Non-pCloud users will be able to access your shared folders. You can also share links via email, Twitter, or Facebook.
Read our full pCloud review for more details
.
Storage for business plans

1TB per user

Encryption type

256-bit AES encryption

Privacy compliance

GDPR

Starting Price

$

4.99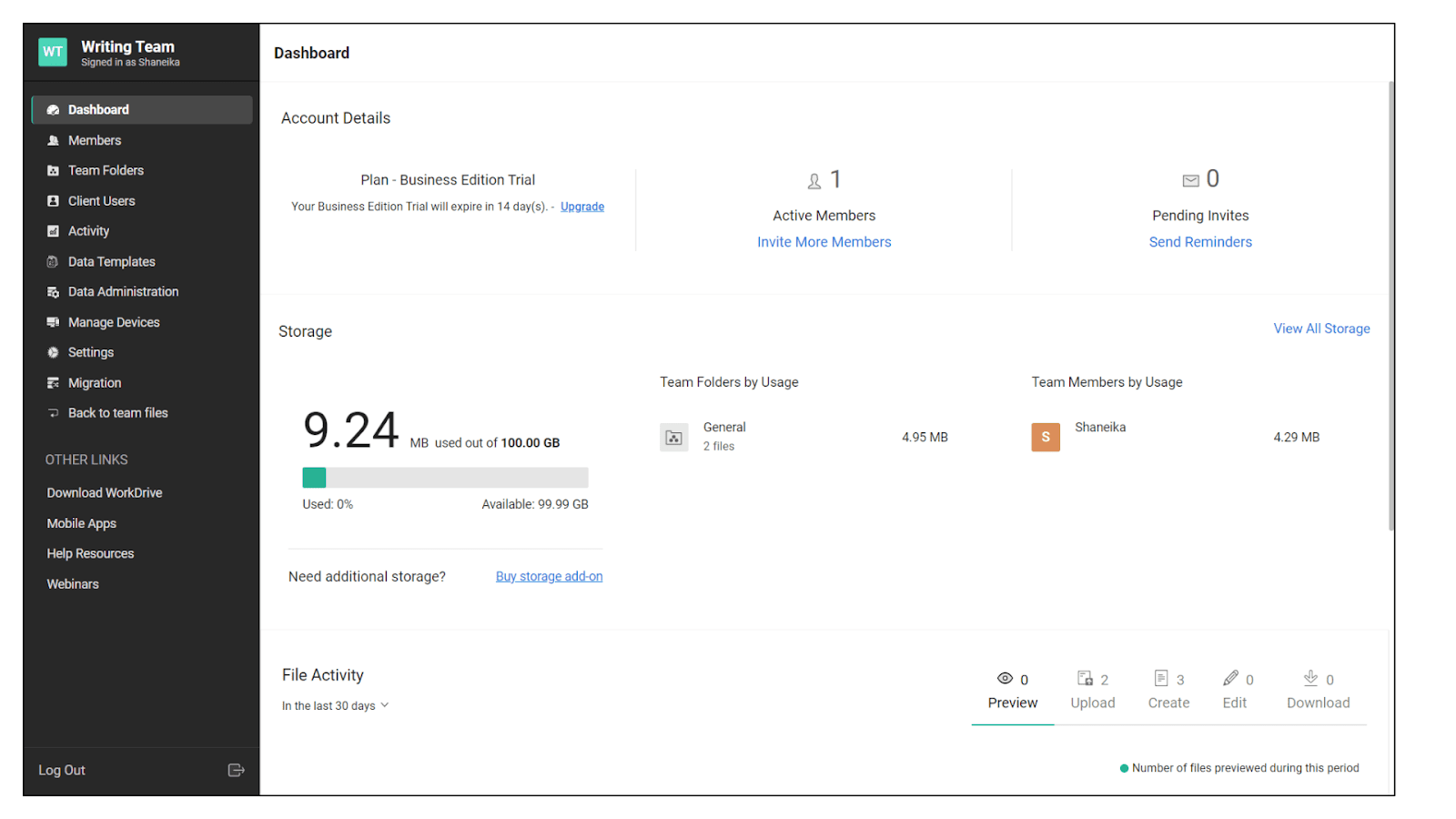 Zoho's storage solution,
WorkDrive, is an affordable cloud backup service
 and file management system with one of the most practical user interfaces I've seen. From the admin console, you can manage team members and keep track of your company's data.
There are several powerful features in the admin console.
You can quickly generate activity reports that can be filtered by specific members or dates. Data templates are easy to customize and make it simple for you or your team to add information to shared folders. And under
Manage Devices
, you can adjust device permissions, including allowing desktop syncing and granting mobile access files. One really useful Zoho WorkDrive feature is the data migration option. If your team has been using another business cloud storage service, such as G Suite, Dropbox, and OneDrive,
you can request to have this data migrated to Zoho WorkDrive for free
. If you've been using a different service, the support team will create a migration tool specifically for you. My only real issue with Zoho WorkDrive is that its
Business plan has 5TB of storage to share between a maximum of 10 users
. After your maximum is reached, additional users are only given 500GB. For an additional cost, you can add 10GB, 100GB, or 1TB of storage to your plan.
Features
Collaborate in the cloud. WorkDrive's strength lies in how easy it is to create, share, update, and manage files online. With Team Folders, you can control all aspects of project management: invite collaborators, see activity reports, restrict downloads and file sharing, and set up to five levels of permissions.
Create files in WorkDrive. Through Zoho's Office Suite, you can create and share documents, spreadsheets, and presentations within WorkDrive. You'll also be able to save these files in a compatible file format for Microsoft Office.
Take your work on the go. If you're looking for a phone app that's just as powerful as the desktop or web app, you've found it here. Both iOS and Android apps have full functionality. You'll be able to receive real-time notifications, access and manage Team Folders, and sync files in the cloud instantly – all from your mobile.
Save room on your drive. WorkDrive's desktop app makes it possible to sync all the files on your desktop. You can select which files to keep for offline use, or sync everything to the cloud to save space.
See our in-depth Zoho WorkDrive review for more on features
.
Storage for business plans

3TB – 5TB

Encryption type

256-bit AES encryption

Privacy compliance

GDPR, HIPAA, PIPEDA, CCPA

Starting Price

$

3.00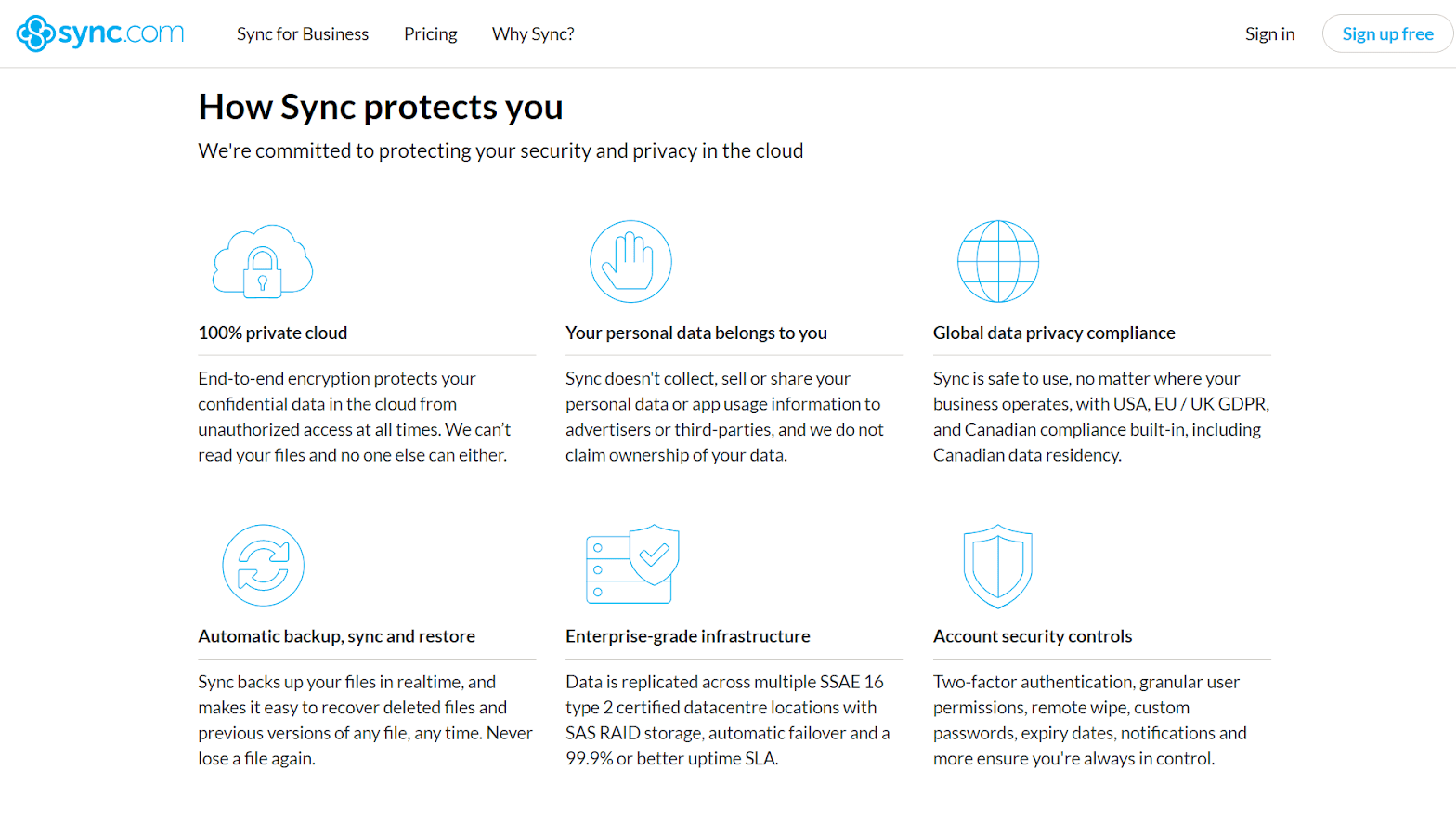 Sync has one of the most affordable cloud storage service options available.
At
$
15.00
per user/per month, the Teams Unlimited plan can be used for teams of any size and offers unlimited storage. Unlimited storage, if it's offered at all, is usually reserved for enterprise plans.
Sync's Teams Unlimited plan
doesn't just have unlimited storage – it also allows for custom branding, phone support (which isn't available with lower-level plans), and
up to 365 days of file versioning and file recovery
. If you don't need unlimited storage, you can opt for the Teams Standard plan, but you'll have to settle for 1TB of storage. On the other hand,
if your company has upwards of 100 or more employees, you'll want to consider the Enterprise plan
, which has custom pricing. With this plan, your team will receive training on how to use Sync's Enterprise UI – a plus for companies with employees that aren't very technical.
Features
Unlimited data transfers. With Sync Business, you'll also benefit from unlimited data transfers. Just like unlimited storage, this feature isn't usually available, even on premium plans.
Strong privacy features. Sync offers end to end encryption, two-factor authentication, and is compliant with global data privacy laws. Restrict shared files and folders with passwords and expiry dates, and remotely wipe any device that has been compromised or stolen.
Archive files without losing them. As its name suggests, Sync not only backs up your files to the cloud, but also syncs them in real time. If you need to retire data, take advantage of Vault, Sync's cloud-only storage.
Professional client portals. Sync's client portals function much in the same way that team or shared folders might. You'll be able to send and receive files, preview documents, activate notifications, and share feedback in a secure, password-protected environment.
Want to learn more? Check out our full Sync review
.
Storage for business plans

1TB – Unlimited

Encryption type

256-bit AES encryption

Privacy compliance

GDPR, HIPAA, PIPEDA, FIPPA, PIPA, PHIPA, ATIPPA, FOIPOP

Starting Price

$

8.00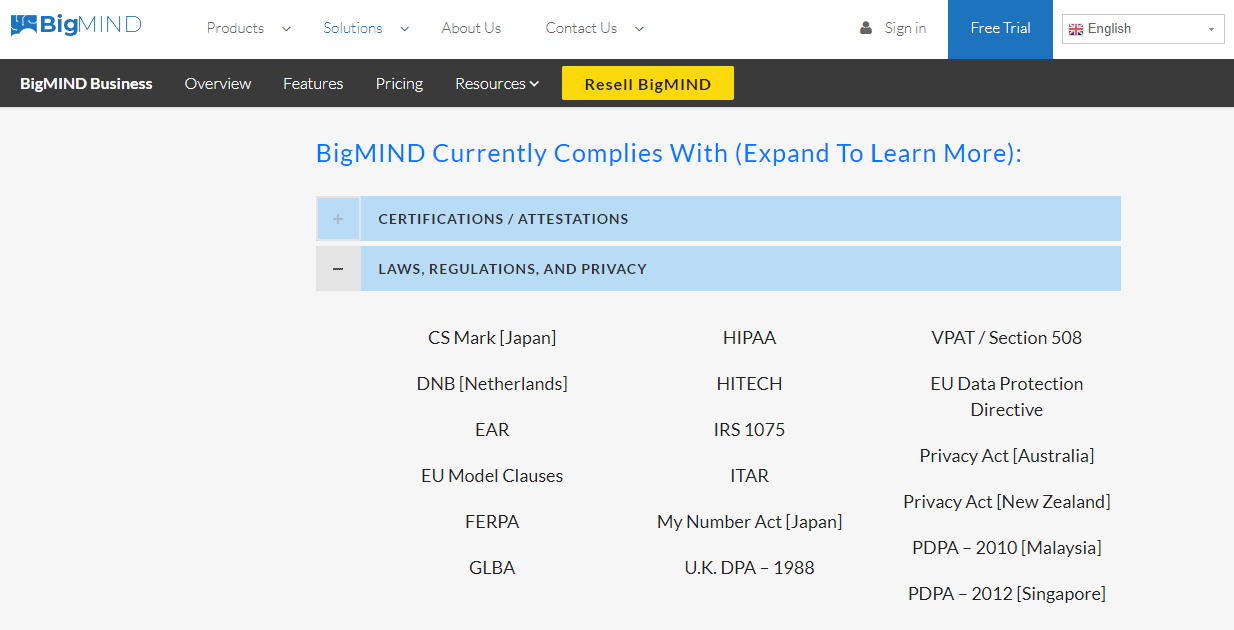 Zoolz BigMIND has many benefits, but one of its strong suits is data privacy compliance. If your company stores and handles client information that requires privacy compliance, your top priority when it comes to cloud storage plans isn't going to be based on fancy features.
Zoolz BigMIND currently complies with data privacy laws from multiple countries
, including Australia (Privacy Act), Malaysia (PDPA – 2010), the European Union (GDPR), and the United States (HIPAA). BigMIND also has an extensive Data Processing Agreement (DPA), which offers an in-depth breakdown of what information the service collects from you and how it is used. While I believe that compliance is BigMIND's strength,
it certainly isn't lacking in features
. BigMIND has cool features like facial recognition that instantly scans and detects the faces in photographs, creating searchable thumbnails for each person.
Smart filters and tagging features also make it simple to locate and access data
, even if you have thousands of files and folders stored.
Features
Comprehensive audits. Generate comprehensive audits of your data: track user logins, files searched and accessed, file shares, file deletions, devices added or removed, video views, and more. This is useful if you store sensitive client data or need to keep records for internal audits.
3 types of storage. With three levels of file access (priority, on demand, and archive), you can split up your data for efficiency. Keep priority files synced to the cloud, while on demand files can be downloaded whenever needed. Rarely used and archived files can be kept in cloud storage for a fraction of the cost.
Back up more than your computer. Servers, network drives, external drives, phones, tablets, and other cloud storage services like Dropbox, Box, and Drive can get the backup treatment from BigMIND. You'll even be able to back up Facebook, Twitter, and Hotmail.
Search across accounts. BigMIND makes it possible to connect your existing accounts (Dropbox, Box, Facebook, and more) and use its advanced image recognition and tagging systems to search across multiple accounts.
Read more about Zoolz BigMIND in our expert review
.
Storage for business plans

100GB – 1TB

Encryption type

256-bit AES encryption

Privacy compliance

GDPR, HIPAA, GLBA, FERPA, HITECH, ITAR, My Number Act, Privacy Act (Australia and New Zealand)

Starting Price

$

2.99
Services That Didn't Quite Make the Cut
Apple iCloud – Using Apple iCloud with a PC limits many of its functionalities and there is no mobile app for Android.
Google Drive – Google Drive doesn't offer as many features as the cloud storage services on this list, like clone backups and customizable links, but it's just as costly.
Amazon Drive – Unlike the other services on my top cloud backup services list, Amazon doesn't have a Linux desktop client, which may limit employee or client access.
Microsoft OneDrive – Some basic cloud storage features, like desktop backups, aren't available with OneDrive's most basic business plan.
Find the Best Cloud Backup Service for Your Business
Choosing the ideal cloud backup service for your business hinges on your company's specific requirements. Additionally, take into account your business's size and whether you favor a collaborative-heavy atmosphere or seek secure and dependable storage for your clients.
pCloud is a great option for a growing company.
Its flexible pricing plan means you only pay per user, and each user receives 1TB of data – which is more than what most cloud services offer
per plan
. You'll also have 180 days of file retention. With a Teams Unlimited plan,
Sync gets my vote as the best value for money
. In addition to unlimited storage, this plan also has unlimited data transfers, a year's worth of file versions, and strong privacy protocols. It also comes with Vault, a secure storage-only folder that can be accessed by the web or mobile app. When it comes to a service that has it all,
my top choice is IDrive
. This cloud backup host features full system backups, comprehensive solutions for endpoints, forever file retention, and a user-friendly interface for all its apps. It also scored
4.6
out of 5 in our
IDrive review
. The best news? Plans start at just
$
52.12
per year. Here's a rundown of my recommended services.
Cloud Storage
Standout Feature
File sharing
File versions
Starting Price
IDrive

Full system cloning

✔

Up to 30

$

0

pCloud

Business plans with 1TB of storage per user

✔

Unlimited for 30 days

$

4.99

Zoho WorkDrive

All-in-one cloud portal for easy team collaboration

✔

Unlimited

$

3.00

Sync

Cost-effective service with unlimited storage

✔

Unlimited

$

8.00

Zoolz BigMIND

Complies with multiple privacy laws

✔

Unlimited

$

2.99
FAQ
Which is the most secure cloud storage?
IDrive wins the award for the most secure cloud storage option, for business and personal use. It has all of the standard security features, like two-factor authentication, and also offers the ability for users to add their own private encryption key.
What is the average cost of cloud storage?
The amount of money you'll spend each month or year on cloud storage largely depends on your storage needs, the features that are most important to you, and how many user accounts you have. Most basic plans start at less than US$10 per month. From there, pricing can go up to hundreds, and even thousands, of dollars each year.
What precautions should you take when choosing cloud-based storage for business?
It's important that the business cloud storage you choose has excellent security features and is internationally compliant with privacy laws, like Zoolz BigMIND and Sync. Features such as file sharing and multi-device syncing should also be considered. You should keep an eye out for cloud storage services with efficient backups, like simultaneous file transfers, for quicker data uploads.
Are free cloud storage providers a good option for SMBs?
Although free cloud storage services are amazing for personal use, these plans are generally too basic for small business needs. Free plans often have around 5GB of storage capacity, which is likely too little, even for a small company. They also usually lack some of the more useful features, like custom branding or the option to set an expiry date for a shared link. Even if you have a small business, investing in a cloud storage plan is definitely the way to go. If you're still weighing your options, take a look at our list of secure and reliable cloud backup services in 2023 for the best services on the market.