Looking for free Java hosting providers won't get you very far – you're much better off going with cheap, quality hosting instead. Still, while cheap plans are almost always superior to free ones, not every cheap server has been optimized to run Java-based apps. It's too easy to make a mistake.
But you're not going to. I simply won't let you. I went searching for the most powerful Java web hosting plans around, looking for that ever-elusive combination of features, performance, and price.
After signing up with the services and putting them to the test, I'm happy to report that there are some excellent options. But I was also surprised by some big names peddling cheap plans that were too weak to even run a WordPress site, but they belong on a different list. Read on for the best, most affordable Java hosting providers around, and make an informed choice.
Our Top Picks for Best Cheap Java Hosting Services
Hostinger – Cheapest plans, detailed articles regarding Java, and optional extras like backups and priority support
InMotion Hosting – Full hands-on support from a human expert, minimal hassle
Hostwinds – Good variety of plans in the US, Europe, and Asia – excellent for tech-savvy developers
A2 Hosting – Fully customizable VPS (virtual private server) plans, down to the exact number of cores or RAM you're looking for
Contabo – Great prices on advanced VPS solutions hosted in Germany
What We Look For in the Best Cheap Java Hosting Services
Plenty of resources – Java is known to be a bit of a memory hog, which is why decent amounts of RAM are in order. In addition to that, we'll need sufficient storage and a good amount of bandwidth.
Java and JVM support – Java programs, whether apps or web servers, run on a Java virtual machine (JVM). All hosts on our list offer VPS solutions with full root access, which you can use to properly install and configure Java.
Easy scaling – You can start with relatively basic Java hosting, but as you succeed and your program becomes more complicated, you'll need to scale up. These hosts all offer easy, one-click scaling to more powerful setups.
Extras – The best Java hosting providers boost their plans with extra features, like a global CDN (content delivery network) for speedy delivery, backups for extra redundancy, and even anti-hacking and DDoS (distributed denial of service) protections.
Price – While they don't offer free Java hosting, they do come close. When you consider the added features and support that some of the hosts on this list provide, the price becomes a real bargain. Plus, you need to consider whether a FREE web host is worth it – could it end up costing you in other ways?
Hostinger – The Cheapest VPS Plans for Java Hosting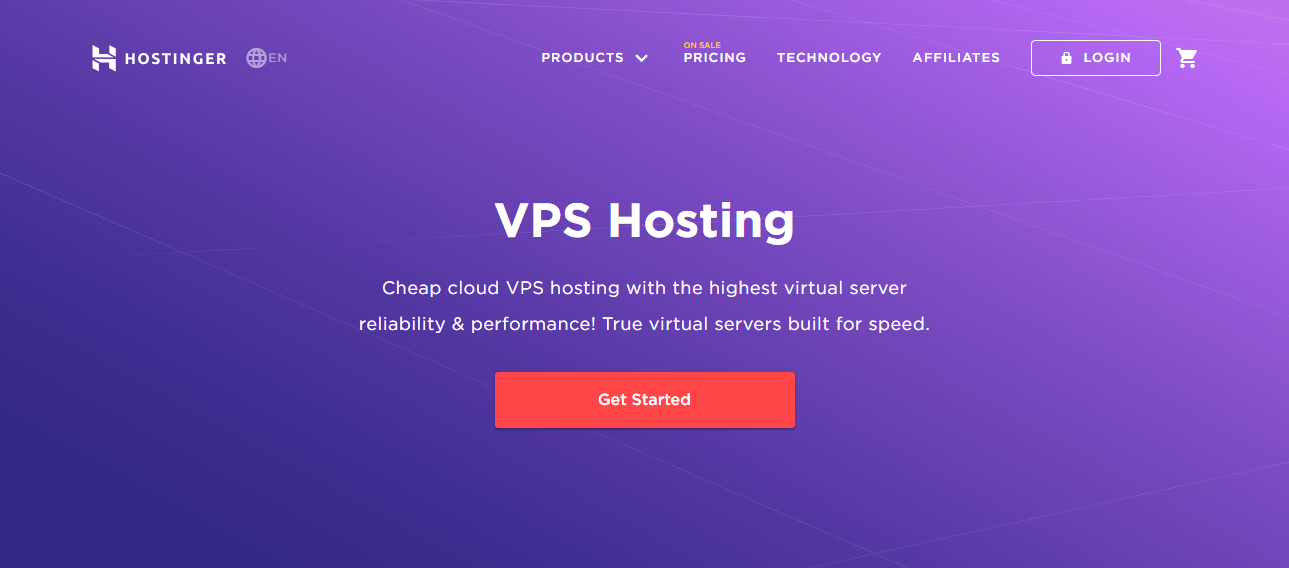 All of Hostinger's VPS plans are Java-ready, and come in either Linux or Windows form. There's a JVM available for pretty much any OS (operating system) in existence, so just pick your favorite one and get to work.
There are six VPS setups available, and the cheapest one can serve as an excellent starting point for your new Java project. All plans are unmanaged, meaning you'll have to take care of the installations yourself, but there's a container auto-installer to make things easier. There's a reason Hostinger scores a dizzying 4.9 out of 5 in our in-depth expert review.
My favorite part of Hostinger is probably the 24/7 support via live chat. Coupled with the comprehensive knowledge base, it's truly a sight to behold. There's even a detailed and updated step-by-step guide to installing Java.
Operating system templates – Hostinger supports a nice variety of Linux distributions, so choose your preferred one and the installer will take care of everything. Templates already contain most of the OS configuration to save you precious time.
100% SSD – Plans run on the newest servers, complete with the latest Intel Xeon processors and blazing fast SSD storage.
30-day money-back guarantee – Try it for a whole month. If you're not satisfied, just ask to cancel and you'll be fully reimbursed.
Add-on features – Daily backups, priority support, and an SEO toolkit are all available for purchase at a low cost.
InMotion Hosting – Excellent US Performance and Hands-On Support

InMotion Hosting is a tad more expensive than the other Java hosting providers on this list, but for good reason. The company provides professional, hands-on support and will actively assist you in setting up your Java project.
This is mainly provided through "Free Launch Assist," in which you'll get two one-on-one hours with an InMotion expert. InMotion is known for its great customer service and rated highly for support when our experts put it to the test.
Notice that this service is provided as part of the managed VPS plans, which also contain cPanel at no added cost. More bare-bones, unmanaged servers are also available, but I truly recommend the managed plans.
Loaded with resources – Starting with 4 GB of RAM, 75 GB of SSD storage, and 4 TB of bandwidth, this is enough to keep a complex, advanced Java web app running smoothly and efficiently.
Server snapshots – You can configure a full-server backup to run automatically, up to once a day, and also perform manual on-demand snapshots.
Unlocked CPU cores – Instead of being limited to a static number of CPU cores, InMotion's load balancing technology will let you access flexible CPU power.
Resource monitoring dashboard – Monitor all important aspects of your Java hosting machine and gain important insights into your visitors' behaviors and resource usage.
90-day money-back guarantee – That's triple the industry standard and more than enough time to understand if all the extras are worth the investment.
If you want to know more about cheap VPS hosting services, like Inmotion Hosting, and whether you can really trust them, check out our blog post all about it.
Hostwinds – Great Variety and Lots of Freedom for Development Pros

If you're a tech-savvy user who feels comfortable taking full control of your server, Hostwinds is an excellent choice. With high-powered servers available in both the US and the Netherlands, you'll be able to efficiently serve visitors from anywhere but East Asia and South America.
VPS and dedicated solutions are available for Java projects, along with pay-per-hour cloud resources. The Linux unmanaged VPS plans are the best option, with ten setups that range from basic to real powerhouses.
Managed VPS plans are also available, but Hostwinds doesn't provide much of a managed service. It mostly includes basic tasks like OS installations and system updates, which you can take care of yourself with minimal effort.
1 GBPS ports – State-of-the-art data centers will provide your project with fast and reliable connections to the outside world. Quality, top-notch hardware is the name of the game with Hostwinds.
Custom ISO – If you'd like to upload a specific OS distribution or any other custom program, you can. You won't be limited to the company's offerings, so feel free to build the exact Java environment you require.
Enterprise firewall – All VPS plans are protected by an enterprise firewall located between the server and the visitors. You'll be able to edit rules, blacklists, and whitelists according to your needs.
Backups and monitoring – These are available at an extra monthly cost. Additionally, you can purchase a cPanel license, dedicated IPs, and DDoS-protected IPs.
A2 Hosting – Lets You Design Your Optimized Java Hosting Solution

A2 Hosting supports Java servers, programs, and applications on its unmanaged VPS and dedicated solutions. The company specifically advertises Java and Tomcat (a popular Java Apache server) hosting, but in the end, it's all the same unmanaged VPS.
You'll be able to enjoy a lot of flexibility, as any plan can be configured to include the exact number of cores, RAM, storage, and bandwidth you require. If you ever find yourself needing more power, there's no need to upgrade to an entirely different plan – just add more of any specific resource.
Customer support is readily available, 24/7, but they won't help much in getting Java installed. Instead, the Webuzo auto-installer can be used to quickly install containers and get you halfway there.
Four data center locations – A2 has two data centers in the US, one in the Netherlands, and one in Singapore. Prices are the same for each data center.
99.9% uptime guarantee – You'll be reimbursed for 5% of your monthly fee for every hour of downtime.
Turbo Boost VPS – Upgrade to LiteSpeed or LiteSpeed with extra caching. The upgrade is costly, but according to A2, it can improve performance by up to 20x. You can find out more about the A2's Turbo servers in our review.
Anytime money-back guarantee – There's no till-death-do-us-part with A2. Anytime you feel like canceling (and for any reason), just contact support and you'll get a pro-rata refund of your remaining subscription.
Contabo –
 

Powerful VPS Machines in Germany for European Users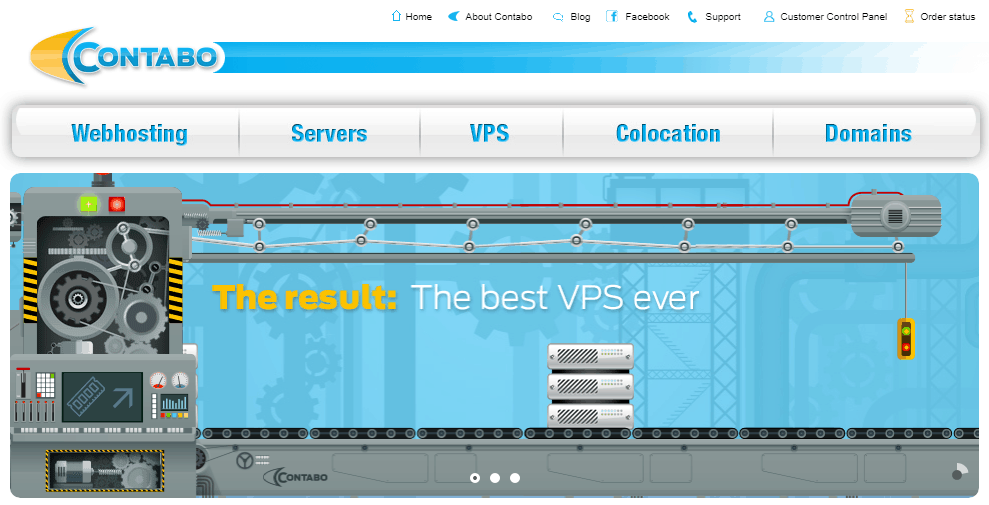 If you're aiming at a Central European or Eastern European crowd, Germany is a fantastic location for hosting. Contabo offers two data centers in the country, one in Nuremberg and the other in Munich. The VPS and dedicated plans that support Java are available with both data centers.
Resource-wise, Contabo is one of the most generous Java hosting providers around. The plans are all extremely affordable, and for just a few euros a month, you can get up to 16 GB of RAM. Storage is aplenty, and bandwidth is unlimited with all plans.
There are no managed solutions offered, and while Contabo's tech staff will ensure the availability and stability of your server – everything else is up to you. In this way, it's similar to Hostwinds, strictly focusing on providing hardware and virtualization of the highest quality.
SSD boost or 100% SSD – Contabo offers you a choice between cheaper HDD-based servers, boosted by SDD, or more expensive 100% SSD hardware. I suggest investing the extra euros and going for 100% SSD.
Advanced management interface – Use Contabo's point-and-click VPS management dashboard to boot and reboot your VPS, install your OS, and configure DNS (Domain Name System) settings.
Snapshots – Available only with the 100% SSD plans, full on-demand server snapshots can be restored with one click.
DDoS protection – All Contabo plans are automatically and permanently guarded by the company's DDoS protection measures.
Cheap Java Web Hosting Providers Are a Great Place to Start
The five hosts on this list all passed our strict testing procedures and ably provide almost-free java web hosting. Still, there are situations where one would be better than the other. Let me explain.
If you're going for a basic Java project and are looking to cut costs while still having room to expand, [VendorReviewUrl vendor_slug="hostinger"]Hostinger[/VendorReviewUrl] is your cheapest and best bet.
For complex US-based projects that could use a guiding hand from a true professional, InMotion Hosting is my recommendation.
European crowds will be happy with either Contabo or Hostwinds, so check your requirements first. Contabo's plans are less customizable but come with more resources.
As you grow bigger and your project's needs evolve, consider some of the other hosts on the market. Sometimes, a minimal increase in price can mean a huge boost in terms of features and performance.
Check out the table for a quick comparison:
| | | | |
| --- | --- | --- | --- |
| | Assistance with Installing Java | Backups | Money-Back Guarantee |
| Hostinger | Documentation and container auto-installer | Paid extra | 30 days |
| InMotion Hosting | Personal assistance | Automatic and on-demand backups included | 90 days |
| Hostwinds | Not provided | Paid extra | 14 days |
| A2 Hosting | Webuzo auto-installer | Paid extra | Anytime |
| Contabo | Not provided | On-demand backups included with all 100% SSD plans | None |