do
allow content that's protected by the DMCA (Digital Millennium Copyright Act),
what matters is their actual reaction when the website takedown notices arrive.
Some hosts will cave in, avoid the legal battles, and just take your website off the air. Another problem is that depending on your content, some DMCA ignored hosts will be less sympathetic to your cause. They might do a good job protecting you against copyright issues but fail to stand up against governments or politically motivated groups.
I signed up with the biggest names in DMCA ignored hosting to test their performance and understand exactly which content they approve.
Don't risk losing all of your hard work! Read on and make an informed decision.
Short on Time? These Are the Best DMCA Ignored Hosting Services
Shinjiru – Any content is accepted. Bitcoin can be used to purchase hosting and domains for complete anonymity.
BlueAngelHost – A huge amount of bandwidth that's protected against DDoS (distributed denial of service) attacks, with locations in Bulgaria, the Netherlands, and Russia.
ProHoster –

Allows you to host up to 10 sites for a very low price
What We Look For in the Best DMCA Ignored Hosting Services
A clear policy – It's not enough for a host to say that it's "offshore" or "DMCA ignored." I've combined my experience, community feedback, and the hosting provider's policy to bring you clear guidelines on what can and can't be hosted.
Offshore server locations – "Offshore" generally refers to outside of the US, but many other countries still fall under the jurisdiction of the DMCA, meaning you'll want to avoid them. The more offshore locations in countries that aren't part of the agreement, the better.
Resources and performance – When you want to protect your site and privacy from international agreements and governments, it's easy to forget about the basics. Worry not. These hosts provide ample resources, steady uptimes, and fast speeds.
Alternative payment methods – Sometimes, paying with your credit card just can't be avoided. Still, if using bitcoin or anonymous transfers is possible, you can further protect yourself from prosecution and privacy breaches.
Security features – Not everybody is going to like your site, and some of them will go to great lengths to bring it down. DDoS attacks are especially harmful, which is why these hosts provide defenses against them and many other dangers.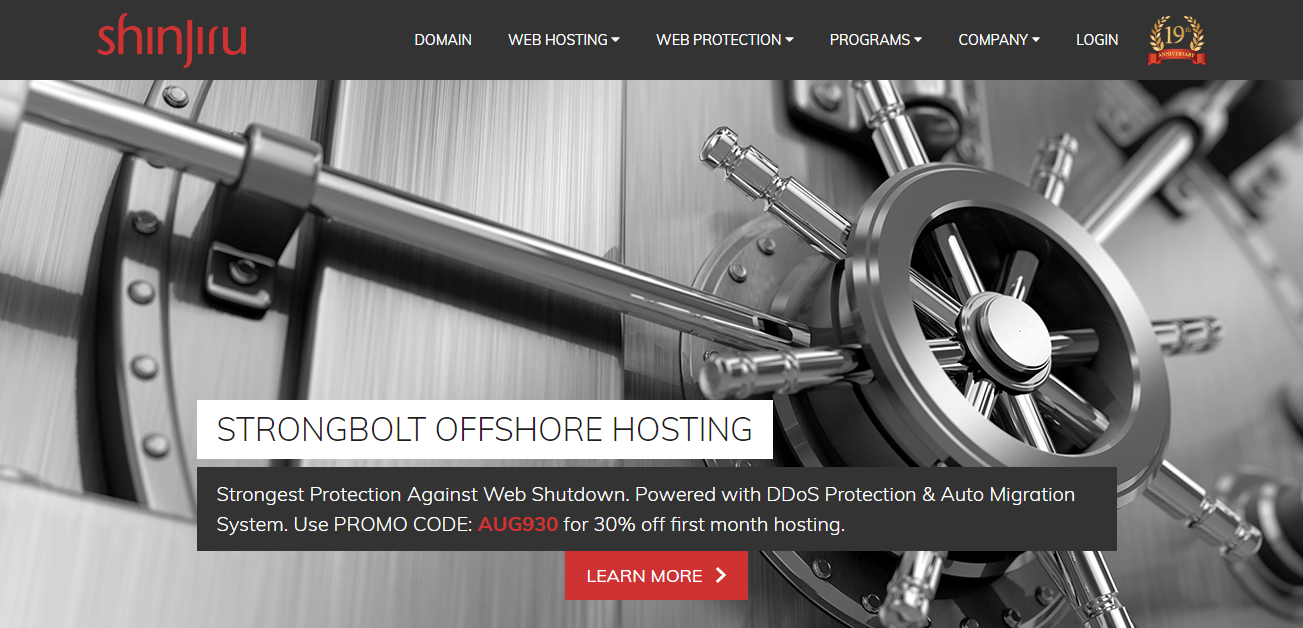 With eight global data centers, all in countries known to ignore DMCA notices, Shinjiru provides you with the best offshore hosting and a wide variety of offshore locations.
It's registered and headquartered in Malaysia, making it completely out of reach for DMCA enforcers. The company has developed its own network to protect clients from DDoS attacks and provides almost any kind of hosting – from shared plans to email hosting, co-location and dedicated servers.
All Shinjiru's hosting services
 are available in each of the eight data centers. Shinjiru mainly advertises itself as an "offshore jurisdiction," not specifying the lengths it would go to, to fight DMCA legal battles. Still, it does promise to ignore DMCA notices, and
if you choose a server in Russia, Malaysia, or Bulgaria, you could probably host any content you desire.
Strongbolt hosting – The company's shared Budget plans are cheaper, but it's with the more advanced Strongbolt plans that you'll get the best protection. Strongbolt plans are completely managed and include anti-DDoS protection, an anti-hacking security suite, and hidden DNS (Domain Name System) and IPs.
Pay with cryptocurrencies – Bitcoin and Ethereum are accepted through the CoinPayments gateway, and a manual bitcoin transfer is also possible. If you choose the manual transfer, account activation could take longer. If Shinjiru isn't quite right for you, these web hosting services accept Bitcoin and cryptocurrencies too.
Anonymous domain registration – Shinjiru also acts as a domain registrar, providing popular options, like a .com domain, and DMCA-protected ones, like .ga and .cc. This makes it the best anonymous web hosting provider around.
Physical offshore address – If your business or ventures require an offshore office for calls, mail, fax, or the address itself, Shinjiru provides such a service. The company will sort all office tasks for you, allowing you to maintain your privacy and discretion.
For more information, read our
full Shinjiru review
.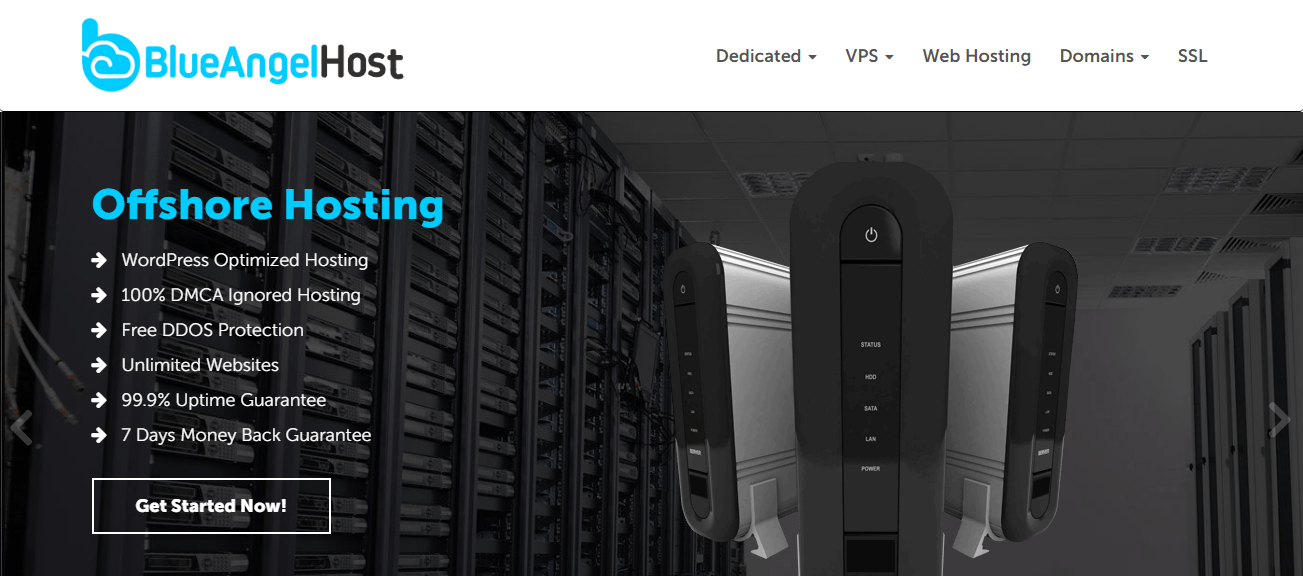 All BlueAngelHost plans are 100% protected against DMCA notices and packed with a huge amount of anti-DDoS traffic.
That means that even if someone was to target a massive DDoS attack at your site, the defenses will be able to stop it. Regular shared hosting is hosted in Bulgaria, where DMCA regulations are hardly ever enforced. I should say that uploading video or audio is not allowed in the shared plans, and for those purposes, you'll have to purchase a VPS or dedicated solution. VPS and dedicated servers are available in the Netherlands, Russia, and Bulgaria, and can be used to upload any file type.
Illegal and fraudulent activities like botnets, hacking, carding, and phishing are strictly prohibited on all plans.
Confirmation process – BlueAngelHost takes its confirmation and verification process seriously, to protect itself AND you from possible prosecution. Because this process is done manually, account activation is not immediate, but you can expect it to be ready within a few hours.
500+ GBPS DDoS protections – This is available on the shared plans and is a staggeringly high amount of protected bandwidth, much higher than some of the other providers on this list. VPS and dedicated plans come with 100 GBPS, but more can be purchased. Our expert BlueAngelHost review shows you all the other features you can expect, including DDoS protection.
Choose between two virtualization technologies – For cheap offshore VPS hosting, go with the OpenVZ plans. For resource-intensive projects, the KVM plans will pack more of a punch – but at a higher price. Both fully ignore DMCA notices.
Accepts cryptocurrencies – Bitcoin, Ethereum, Litecoin, and Ripple are all accepted. Classic payment methods, like PayPal and credit cards, are also available.
BlueAngelHost Web Hosting

ProHoster is very clear about what's prohibited and can't be hosted with its plans: mailing servers, brute force attack servers, carding, phishing, malware, and spam.
The company's site is in Russian, but almost every part has a matching English version. If you're a Russian speaker, this should be right up your alley.
Judging by the online community's experience, it looks like content protected by DMCA regulations will remain online. I would've liked to have seen a more substantial guarantee, but real user experiences are just as telling.
Note that ProHoster's shared hosting plans are available only in the Netherlands, while VPS plans are available in both the Netherlands and Russia.
If you choose to go with a dedicated server, you'll be able to choose between locations in the US (which aren't protected from the DMCA!), Ukraine, and the Netherlands.
Multiple websites – Even on the most basic shared plan you'll be able to host ten websites. The plan comes complete with the necessary databases and FTP accounts. If you have only one domain to work with, the unlimited subdomains are a definite plus.
Website builder – ProHoster is one of the only providers on this list that offers a drag-and-drop website builder. If you're looking to host offshore but aren't a coding wiz, a website builder can go a long way in making your life easier.
Windows offshore hosting – ProHoster offers offshore VPS hosting, even with the Windows Server operating system. Windows VPS plans are available in Ukraine, which is historically known for its very lenient approach toward DMCA.
Multiple cryptocurrencies – Pay with a variety of cryptocurrencies, from bitcoin and Ethereum to EXMO and Ripple. Complete anonymity guaranteed.
For a full list of features, read our
expert ProHoster review
.
A free domain name is included with some hosting plans from ProHoster

If you're looking to host content protected by the DMCA, AbeloHost is not for you.
The company has been known to immediately take sites down after receiving the first legal notice. User reports have been very clear on the subject. Why did I include it on the list then? Because
if you're looking for offshore hosting to build a political, adult, or gambling website, AbeloHost is an excellent choice.
Even the VPS plans are affordable, and the cheap, high-storage plans are a great option if you're willing to compromise on speed – as a budget-friendly option,
all AbeloHost's plans
 include all the standard web hosting features. The company's servers are located in data centers in the Netherlands, and they offer a 99.9% uptime guarantee and excellent speeds throughout Europe.
Full cPanel and Softaculous hosting – Immediately bring your new site online and administer it with ease with this combination. If you're moving your site from another host, AbeloHost will provide free migration services.
Backup services – Backups are available at an added cost. Your website will be backed up to a separate server to provide you with extra redundancy measures. You can perform manual backups or configure automatic ones.
Fair pricing – The prices you see on the plan pages are for monthly payments. If you choose to pay in advance for longer periods, you can get up to 50% off.
Bitcoin, Alipay, and WeChat Pay – AbeloHost accepts bitcoin, but also the super-popular Chinese payment gateways, Alipay and WeChat Pay. It's one of the only offshore providers to do so.
To learn more, read our
full AbeloHost review
.
A free domain name is included with some hosting plans from Abelo Host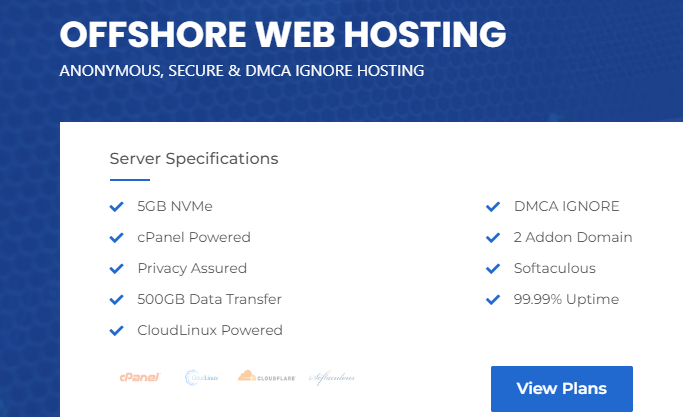 WebCare360 may be at the bottom of my list, but it does offer some unique advantages. First off,
it's the only host on this list to offer NVMe SSD – an advanced storage solution that provides a sizable performance increase
over regular SSD
. 
Furthermore, we store the NVMe SSDs within a RAID array, which duplicates your data across multiple drives. In the event of a drive failure, your data remains secure on an alternate drive. This level of redundancy sets us apart from most other offshore hosting providers.
WebCare360 promises to ignore any DMCA claims, offering data centers in Ukraine and Bulgaria for shared hosting customers. That said, the basic shared hosting plan only offers 5GB of storage and 500GB of bandwidth – and the VPS plans only offer up to 25GB storage – so resources are fairly tight.
cPanel included

–

Every shared hosting plan comes with cPanel. You'll also get the Softaculous app installer and SiteLock Lite, an automatic malware scanner that notifies you if it detects anything malicious.

Anonymous sign-up

–

You can sign up with complete anonymity – all WebCare360 asks for is an email address. Even Shinjiru asks you for more personal information during account creation. 

Dedicated streaming servers

–

If you're looking to stream DMCA-protected content, WebCare360 offers high performance servers that can do just that. These are expensive, but come with unmetered traffic and up to 20gbps bandwidth.

24/7 phone support

– WebCare360 is one of the few offshore hosting solutions to offer 24/7 phone support. If you prefer, you may choose to fill out a contact form – or if you'd like a holiday, you can visit their office in Saint Kitts and Nevis, a Caribbean island.
Want to know more? Check out our WebCare360 review.
Protect Your Website and Privacy without Compromising on Performance
There's an art to DMCA ignored hosting. The best ones know exactly how to avoid the takedown notices, lawyering their way around and making the bureaucracy and red tape work in your favor. Each of the hosts on our list has proven their ability to protect your content, and the final decision depends on your content type and audience location.
If you're looking for complete anonymity and a choice between eight worldwide data centers, Shinjiru would be my recommendation.
There's really no limit to the type of content you can host with it.
If you're aiming mostly at European visitors and are afraid of hackers attacking your site, BlueAngelHost is the way to go.
Just remember that you'll need a VPS plan or higher to host video and audio.
Take a look at the following table to get a better understanding of the options:
| | | | | | |
| --- | --- | --- | --- | --- | --- |
| | Offshore Locations | Allowed Content | Cryptocurrencies Accepted | Security Features | |
| Shinjiru | The Netherlands, Luxembourg, Lithuania, Bulgaria, Russia, Hong Kong, Malaysia, Singapore | Any content | Bitcoin, Ethereum | On the Strongbolt plans – DDoS protection, anti-hacking security suite, hidden DNS and IPs | |
| ProHoster | The Netherlands, Russia, Ukraine, US (not DMCA ignored) | Any content except fraudulent activities | Bitcoin, Ethereum, Ripple, EXMO, more | DDoS protection, an SSL certificate | |
| BlueAngelHost | The Netherlands, Russia, Bulgaria | Any content except fraudulent activities | Bitcoin, Ethereum, Litecoin, Ripple | 500+ GBPS of DDoS protection included with the shared plans | |
| AbeloHost | The Netherlands | Any content except fraudulent activities and DMCA content | Bitcoin | DDoS protection, an SSL certificate | |
| WebCare360 | Ukraine, Bulgaria (VPS and dedicated servers also offer locations in the Netherlands, Sweden, Russia, and Poland) | Any content that does not constitute fraudulent activity | Bitcoin | DDoS protection, Imunify360 security suite, Sitelock Lite malware scanner | |