When you are the fastest hosting service provider with the data to back up that statement, you would think it's time to rest on your laurels.
Balys Krikščiūnas, CEO at Hostinger
tells us how, despite having that coveted status, they never stop developing and implementing the best and newest technologies, features, fixes, and process improvements.
Please tell us a little bit about your background before you joined Hostinger
I started working at Hostinger very early on; in fact, I was like the 4th employee! Since we were such a small team, we did just about everything – customer support, managing websites, and looking after service. When we grew to about 30-40 employees, I managed the support team. After five years at Hostinger, I decided to leave Lithuania and see the world. I went to London, where I worked for another company doing data and system engineering. I was still in contact with the guys at Hostinger, and after three years, I returned to lead the engineering team. About six months later, we decided that I should take over the wheel and lead Hostinger as CEO. At Hostinger, our most important value is understanding our customers and working hard to earn and keep their trust. (
Read what Hostinger users have to say
!) Our "Customer Obsession" is what dictates our decisions, plans, and focus.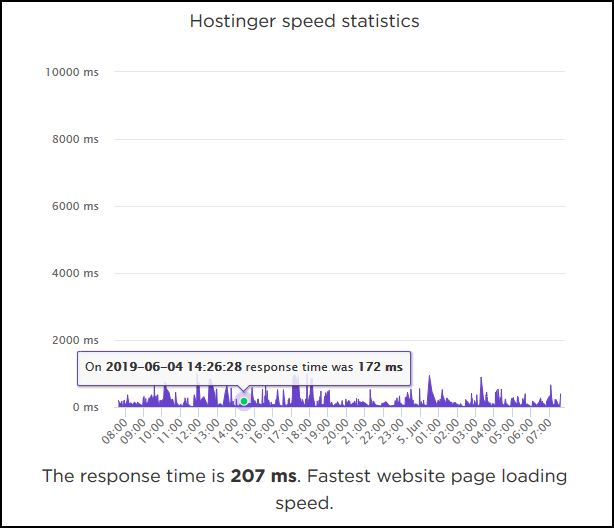 What are the differences between shared hosting, VPS hosting, and cloud?
Shared hosting
is aimed at users who need to get online quickly and economically and have a website without much traffic. The downside of shared hosting is that you are sharing the resources with multiple users hosted on the same server, so if there are a few active sites on the server, they may slow down your service.
VPS hosting
is a
V
irtual
P
rivate
S
erver which uses different virtualization techniques than shared hosting, so you're always guaranteed the same amount of resources, RAM, CPU time, and disk space. This allows you to be more confident as other users cannot affect your website's performance. In addition to websites, a VPS can also host programs, scripts, and APIs. It's a solution for a more professional user that knows how to run commands, handle development, and understands how systems (most of our VPSs are Linux) work.
Cloud hosting
is similar to VPS hosting in terms of experience required from a user. Users should understand how a server is running, how to run commands on the shell, how to create an architecture of the system and implement it. A great advantage to Cloud architecture is that even if one host goes down, you can still access your data through another server. Your container, which is used for computer power, can be spun up on another host and we can reattach the hard drive or the networking disk to another computer, giving you greater availability. It is also more expandable and easier to grow horizontally rather than just vertically. The downside is that users will need more experience. For users without that knowledge, we offer managed cloud hosting where we create and manage the architecture ourselves and provide the panel and its resources to the end-user. This way, they get all the benefits of cloud hosting without the experience it would ordinarily demand.
How are you able to guarantee 99.9%(!) uptime?
We can guarantee 99.9% uptime
because of our Hot Standby architecture. What this means is we have two connections to each rack, so if one goes down, we can reroute traffic dynamically through the standby without interruption in uptime. The 0.1% is for the very unlikely event that the connection goes down at the same time the backup server is down for an upgrade.
What about hosting speed?
Rather than using the industry standard cPanel for the front and back end, we use our own custom-coded architecture, hPanel (Hostinger panel). This gives us greater flexibility to manage and expand our servers since we're not tied to a product from a third-party vendor. We have positioned ourselves as the fastest hosting provider with the data to back that up. We want to become the new industry standard for speed, so we're always developing the best and newest technologies, such as our hPanel. We work by OKRs (
O
bjectives and
K
ey
R
esults – a framework for defining and tracking objectives and their outcomes) in cross-functional agile teams and the pace at which we roll our new features, fixes, and process improvements is much faster than our competitors. It helps us stay on point and relevant at every point we do.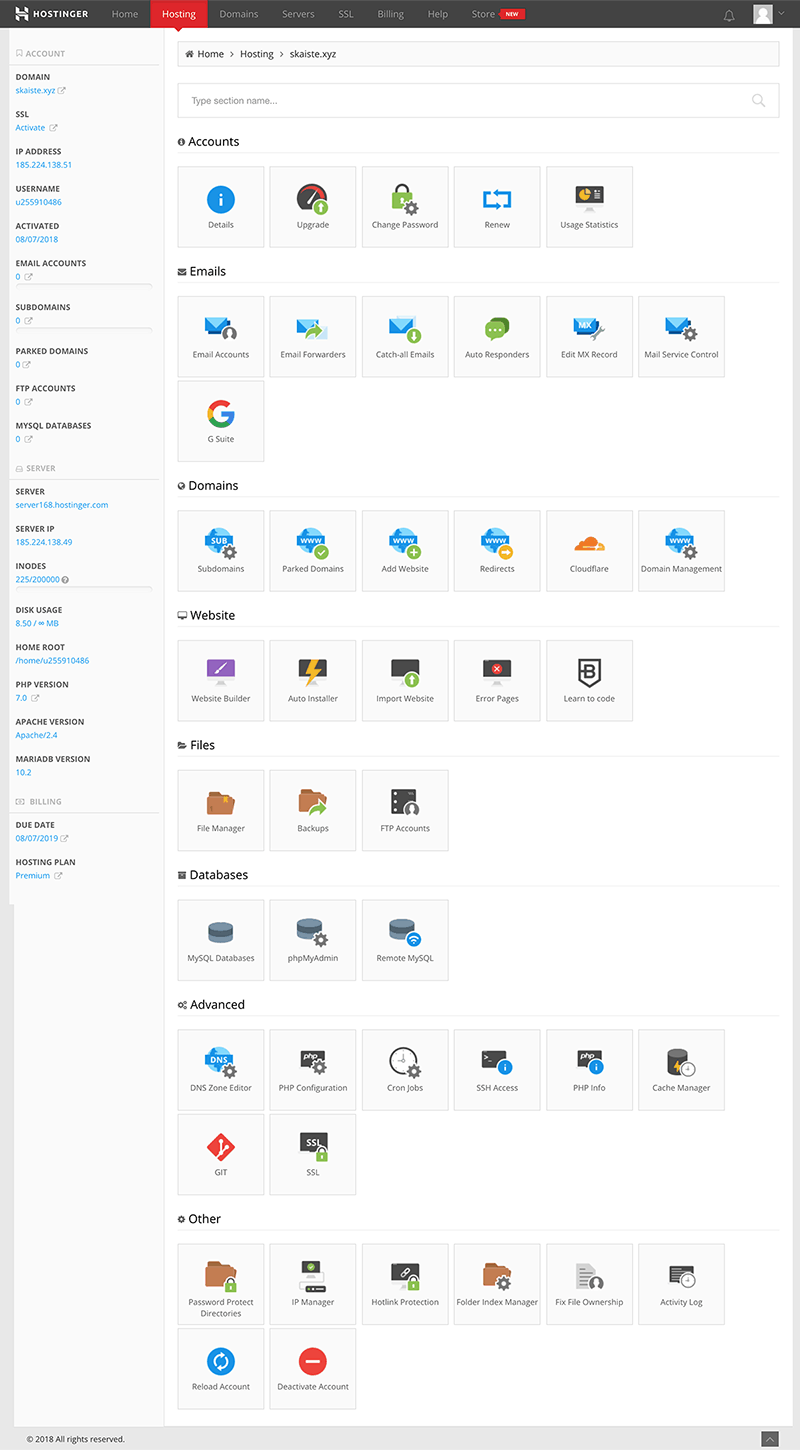 What security do you offer against hackers and other cyber threats?
We have several layers of security protecting our customers. On the network layer, we monitor traffic with our technological bombard. If there's a DDoS attack or another problem, we'll reroute traffic and move out IPs that are receiving malicious traffic. On the server layer, we have a
WAF
(
W
eb
A
pplication
F
irewall)
,
which checks requests coming into the user service and filters out any malicious ones. We can easily recognize hacking requests targeting a WordPress or Joomla site, and we block them. Of course, we have our own scripts which we run regularly to scan the servers to make sure there is no malicious content. When we come across malicious code uploaded to a shared account, it is usually because a hacker found a security breach in a folder from which an inexperienced user inadvertently withdrew the permission set. Aside from removing it, we'll notify and work with the account holder to make sure it does not happen again.
You mentioned WordPress and Joomla. Do you host those and other CMS platforms?
WordPress is the most popular CMS in the world, and our hosting is optimized very well for its users. Soon WordPress users will have even greater freedom with the ability to manage their sites, including disabling/enabling plugins and changing themes through our hPanel without logging in to WordPress. Aside from convenience, this capability is very useful when a modification or update "breaks" WordPress and a user can no longer access their WordPress admin page to "fix" it. While we're working really hard to optimize for WordPress, speed, and technology is always our priority whether a site is built in WordPress, Joomla, Drupal, or another platform.
Do you have services to help your users with SEO?
We know you always want to raise your search ranking position.  If you rank #14, you want to be on the first page of results. Once you're on the first page, you want to be #1! So naturally, we have statistics implemented on our panel providing feedback on how well your site is doing.

We also have SEO plugins that can be enabled on your account to generate a report and recommendations on improving your search ranking. It can be run as often as you like, so you can run a scan, get a report, fix the recommended issues, and then run it again to see how you've improved. For the full picture, most of our users will also upload and add Google Analytics to their websites to complement our service.
What does your website builder offer?
Our website builder uses editable templates with WYSIWYG (What You See is What You Get) and drag and drop technology, allowing you to easily save your site as a draft or publish it live. You can also download, backup, and restore the entire site and even continue editing from the backup. We also offer a great selection of plugins. The most common feedback we receive is how easy it is to create a beautiful website using our builder. We eagerly anticipate releasing our version 2 website builder in the coming months. This updated version will introduce extra features, including the integration of e-commerce functionality. We are excited about these developments and look forward to sharing them with you.
What type of technical support do you offer?
We provide live chat support to assure the best experience for our customers. Help is available for technical or sales issues; should you have an error on your website, need to change your HDX to redirect something, or just need help deciding which hosting package is best for you. Our agents will work with you until your issue is resolved, which is why our support services have a very high satisfaction rate.