Economies and Industries That Got Hit the Hardest
To say that the effects of the coronavirus pandemic were unbalanced is an understatement. While some companies had record years, many were decimated. Here are some of the industries and economies that had the toughest year in 2020 and will struggle to recover.
1. Brick-and-Mortar Retail Is in Decline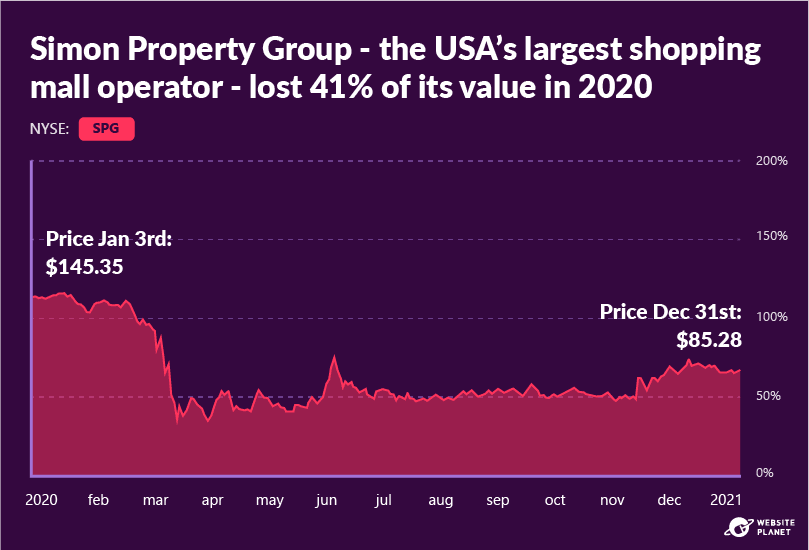 The popularity of physical shops has been declining for years, and many were already pessimistic about their future before the pandemic. COVID-19 increased that pessimism exponentially, and hundreds of thousands of physical shops across the world suffered as countries went into lockdown. Simon Property Group is the largest shopping mall operator in the US. With stock prices down 41% in 2020, it shows typical — if better than average — losses within the industry. Despite some recovery as shops open up and receive government support, things do not look easy for physical stores going forward.
2. Airlines Still Aren't Taking Off

Another obvious loser of the coronavirus pandemic was airlines, losing a total of $35 billion in the US alone. If it was simply a case of the pandemic preventing travel, things might look a little more hopeful for airlines. But with so many people realizing the benefits of cheap and quick Zoom calls over expensive and time-consuming business trips, airlines have likely lost a chunk of their most profitable business for good. The airline industry isn't going anywhere, but it is unlikely to reach the heights it enjoyed before the pandemic.
3. Service and Hospitality Industry Struggling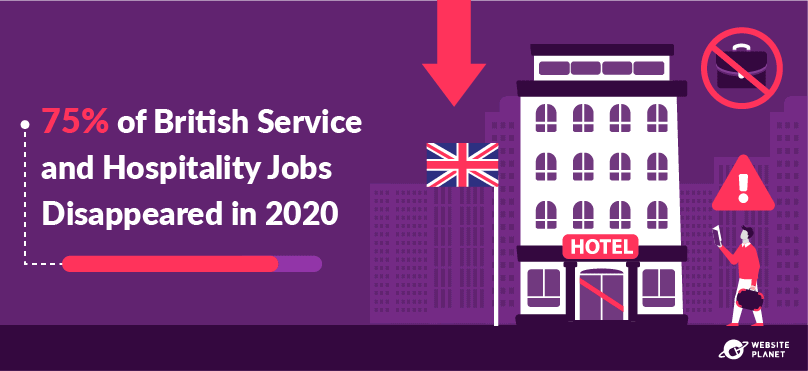 The industry worst hit by COVID-19 will undoubtedly be debated for years to come, but no one can deny that the hospitality sector is right up there as one of the ones that suffered the most. In the UK alone, 1.3 million jobs in the industry were cut — totaling a horrifying 75.1% of jobs lost. However, while this is undoubtedly one of the hardest-hit sectors in many countries, it also is the most likely to bounce back quickly as people rush out to celebrate their freedom and see their friends. It may be the perfect time to get started in the sector as, from party supplies to entertainers, demand is likely going to skyrocket in late 2021.
4. Lasting Damage to Restaurants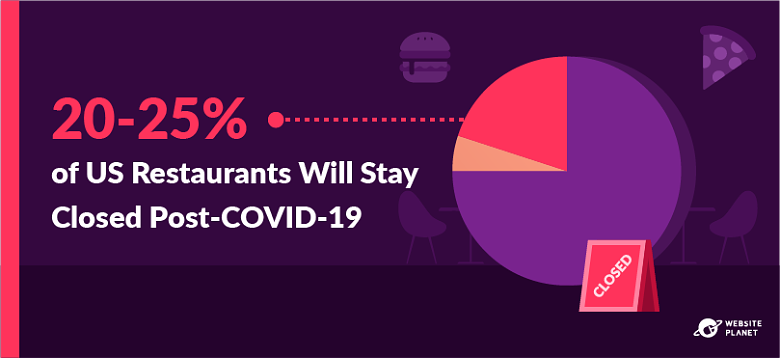 Around 25% of restaurants in the United States will never reopen post-pandemic. COVID-19 lockdowns and social distancing measures have meant a swift end to dining life as we know it, with vastly reduced dining capacities, forced closures, and a lack of adequate government support having a massive impact on restaurants. Between February and September 2020, food service jobs fell by 2.5 million in the US. However damning the current outlook, restaurants are searching for new ways to prosper online. Kitchens are now turning communal spaces into online-only cafeterias called 'ghost kitchens.' And by using delivery services like UberEats and Grubhub, restaurants hope to recoup losses by bringing restaurant food to your front door.
5. European Economies Hit Hard by Lockdown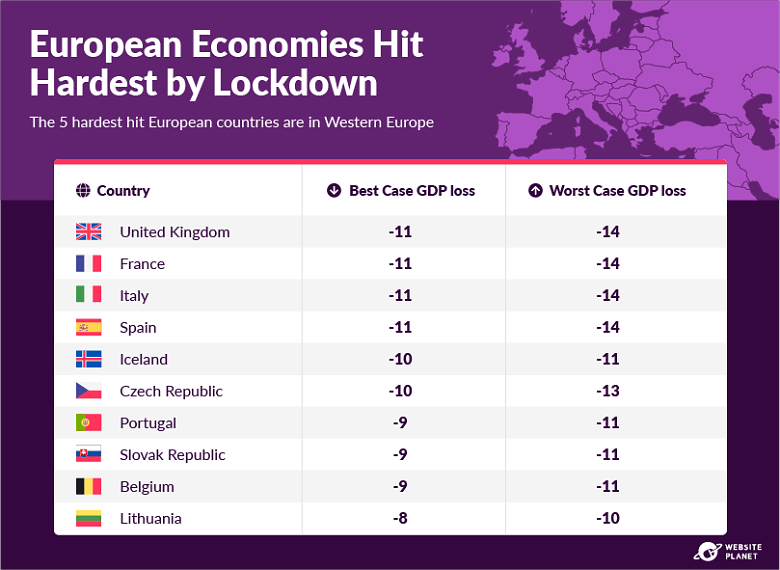 While the world's wealthiest countries suffered crippling losses due to lockdown, they still haven't faced the same level of adversity as lower income nations. These countries don't have the same quality of infrastructure as richer nations. As such, many smaller countries have struggled to contain the coronavirus pandemic along with its broader economic effects. Low-income nations barely survive by selling food and natural resources. International trade stopped completely during the pandemic, and poorer export-heavy economies suffered as a result.
6. Low Income Economies Hit the Hardest

While the world's wealthiest countries suffered crippling losses due to lockdown, they still haven't faced the same level of adversity as lower income nations.
These countries don't have the same quality of infrastructure as richer nations. As such, many smaller countries have struggled to contain the coronavirus pandemic along with its broader economic effects.
Low-income nations barely survive by selling food and natural resources. International trade stopped completely during the pandemic, and poorer export-heavy economies suffered as a result.
7. Arts and Entertainment Took a Huge Blow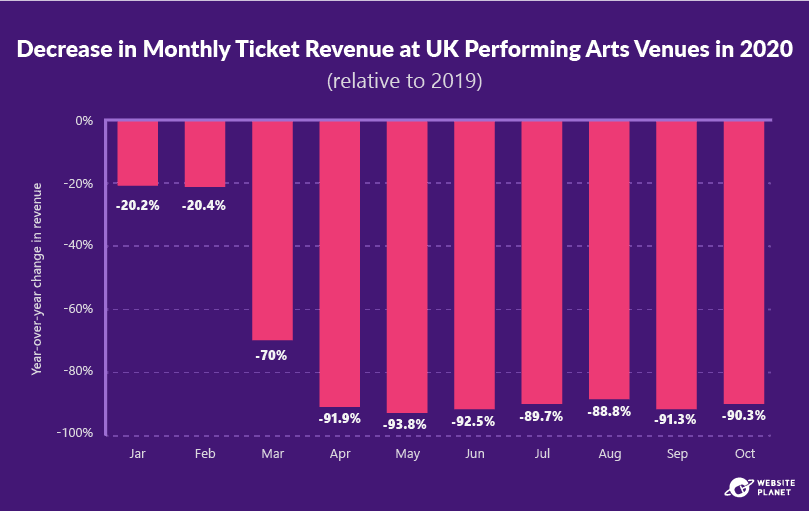 Widespread bans on social gatherings led to a massive reduction in sponsorship money and ticket revenue for live entertainment venues, with sports stadiums, theaters, cinemas, casinos, amusement parks, and live music all severely impacted. In the UK (where the sector makes up a huge portion of GDP), arts and entertainment was the 2nd worst affected industry, with a 44.5% decrease in GVA.* The only sectors to utilize the job retention scheme more were accommodation and food. In total, 76% of businesses in the industry reported poor attendance, as demonstrated by arts venues across the UK.
*GVA stands for 'gross value added.' It's a measure of the value of goods in an industry, sector, or region.
8. Fossil Fuel Demand Hits Rock-Bottom
Global energy demand diminished under the vast economic contraction induced by lockdowns, led by a decline in the demand for fossil fuels. The mining, quarrying, and utility sector (which includes oil drilling, gas drilling, and coal mining) experienced significant damage during the COVID-19 pandemic as a result. Many people worked remotely during lockdowns, staying at home rather than traveling to an office, while other closed businesses limited reasons for travel, public activity, and venue energy consumption. All of these factors combined to reduce the total demand for fossil fuels. The impact of the pandemic on oil, gas, and coal goes hand-in-hand with a global shift towards renewable, green energy sources. While fossil fuels experienced historic lows and overall energy demand decreased, the demand for renewable sources has actually increased.
9. US Dental Spending Fell                       
It may come as a surprise that the COVID-19 pandemic significantly impacted US dental practices. Despite many countries considering dentistry an essential service, dentistry is deemed a high-contact trade in the US, and many practices were forced to close amid increasing transmission of COVID-19. Confined to providing only 'emergency care,' dental offices fired staff, and employment in the US industry dropped 44.6% in April 2020. Dental offices were closed for long periods, but people were also fearful of visiting dentists once they reopened. The American Dentistry Association (ADA) estimates dental care spending could have declined by 38% in 2020, with the effects still being felt in 2021.
10. Construction Ground to a Halt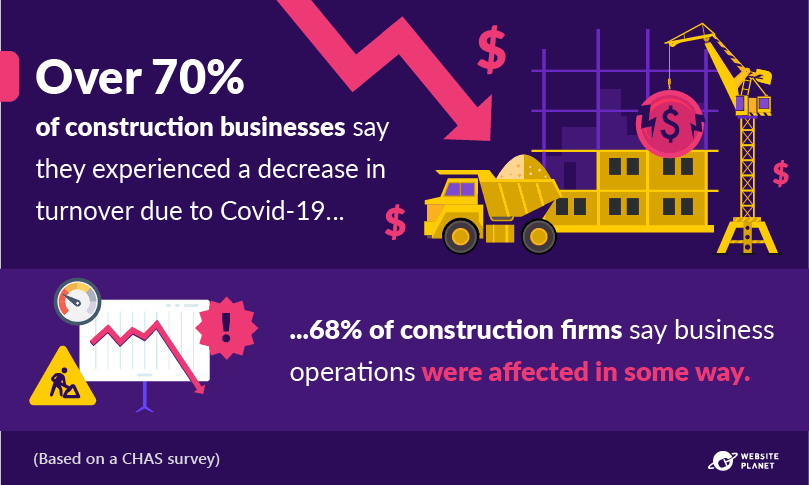 Construction in many countries was discontinued as the world entered lockdown, particularly during Q2 of 2020. Construction work was not initially deemed essential work, and several construction firms were unable to implement adequate safety measures to limit transmission of the coronavirus. Projects were either delayed or canceled altogether, with the vast majority of surveyed construction businesses experiencing a reduction in turnover and activity. A CHAS survey asked construction business owners about the impact of COVID-19 on their business. Almost 20% of survey respondents said they suffered a drop in turnover of more than 50% due to the COVID-19 pandemic.
11. Lasting Impact on Auto Parts and Equipment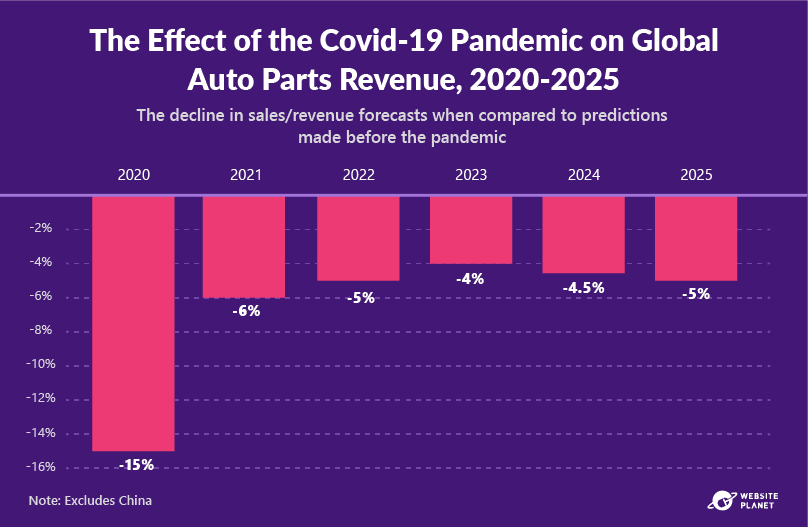 Fewer people drove their vehicles or used public transport throughout the COVID-19 pandemic. This decrease in activity created a decline in demand for auto parts and equipment. That's because there are fewer road traffic incidents and breakdowns, not to mention cutbacks on spending and growth in the market as a whole. After a significant impact on auto parts sales in 2020, the market will generate revenue between 4% and 8% lower than initially expected through 2025.
Thriving Industries
12. Massive Growth in e-Commerce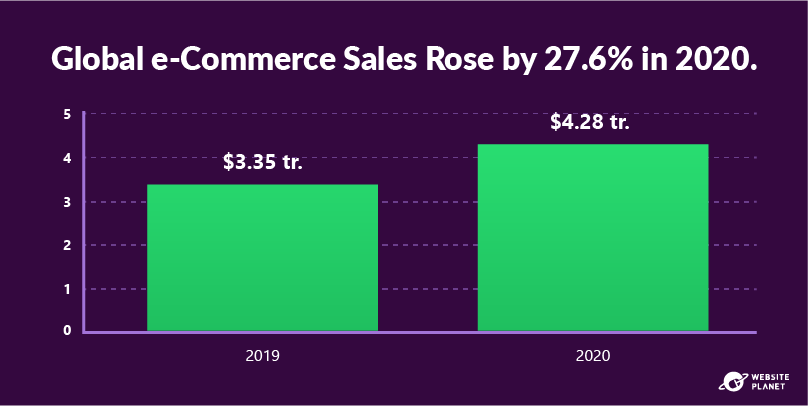 In a year where so many businesses have collapsed, Jeff Bezos and Amazon posted record profits in 2020. Globally, the e-commerce industry rose in value by 27.6%, hitting a total spend of $4.28 trillion. Lockdowns and high street closures have forced customers online during the pandemic. Meanwhile, advancements in logistics solutions and greater consciousness about climate change have also made online shopping a more attractive prospect. Now that customers have a taste for e-commerce, the industry looks like the future for retail. E-commerce also offers low overheads along with substantial profit margins for brands and business owners, and its upward trend potentially spells the end of high street retailers across the world.
13. E-Learning Set for Massive Growth

The pandemic forced schools, universities, and businesses to move lessons, seminars, or skills courses online. While the concept isn't without its limitations compared to face-to-face learning, teachers, lecturers, instructors, and students find that it can still yield results. Personalized learning is the key driver of growth in the e-learning industry, as institutions look for learning solutions tailored to the needs of their pupils or staff. As a result, e-learning is predicted to grow 13% every year until 2024 — a total growth reaching nearly $30 billion.
14. Zoom's Stock Price Quadrupled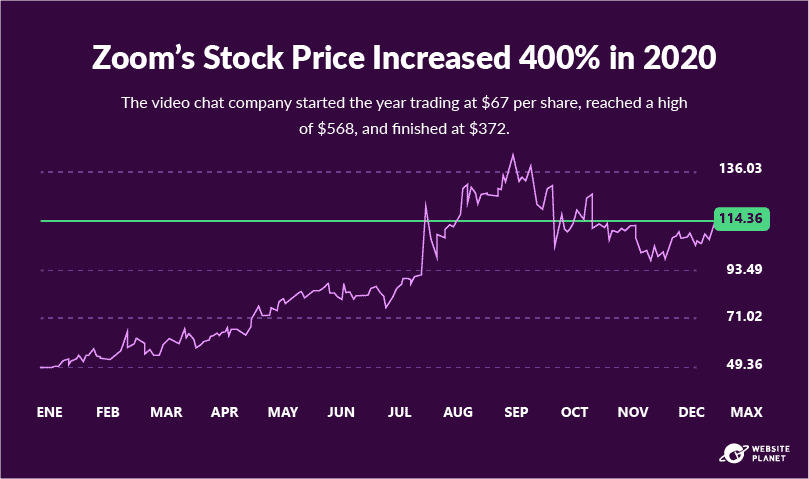 2020 was the year of the video call. From liaising with clients to prepping staff members and conducting meetings, businesses worldwide shifted into a routine of video conferencing during the pandemic. Video conferencing platforms like Microsoft Teams and Zoom have seen an unbelievable boost from all of this extra activity. Nowhere else is this shift more apparent than Zoom's stock price. In 2020, Zoom's stock grew by a staggering 400%, reaching highs of $568 per share.
15. DoorDash Revenue Tripled in 2020                               
Lockdown has meant an already thriving third-party food delivery industry just got bigger. Services like DoorDash, UberEats, and Deliveroo experienced a massive increase in activity as home-bound populations were forced to order food online, instead of eating in restaurants and fast-food establishments. This development can be seen in DoorDash's revenue, which grew to $2.9 billion in 2020. That's three times the figure they posted in 2019. Despite the expectation that revenue and total orders will decline when restaurants reopen, the market for online food delivery is still far better off after the pandemic than it was before.
16. The Marijuana Industry Grew Exponentially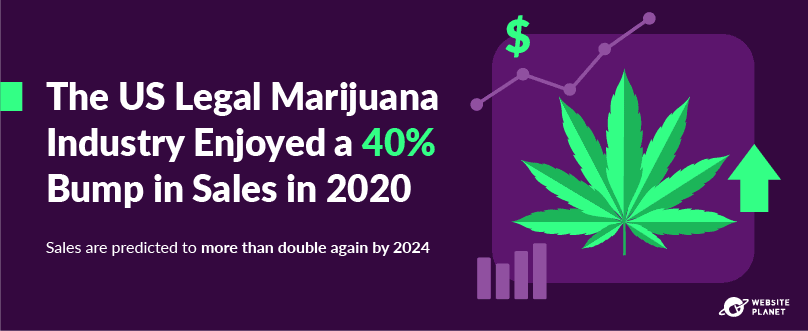 The legal marijuana industry was already a burgeoning market in the US pre-pandemic. When lockdown was imposed in America, stock prices initially fell for companies like Industrial Properties Inc. and Green Thumb Industries Inc. Soon enough, however, the increasing number of people stuck at home led to a huge spike in legal marijuana sales. Industry sales grew to an estimated $20 billion in 2020, up 40% from the previous year. As more states legalize cannabis, the industry is expected to continue to grow. The market is expected to hit $47 billion in sales by 2024 — more than double its revenue in 2020.
17. Home Fitness Equipment Sales Reached $9.5 billion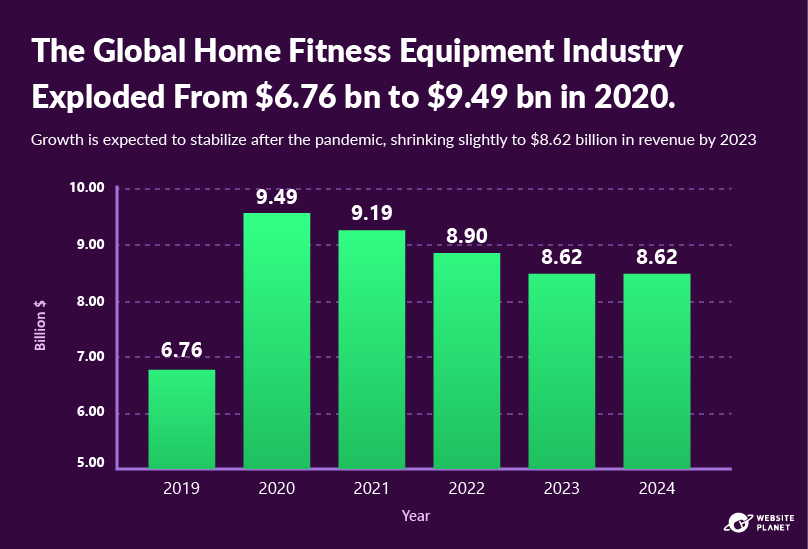 If you've struggled to find gym equipment at any point during lockdown, the next stat won't come as much of a surprise. Whether it's gym fanatics or people just looking to stay in shape while stuck at home, the pandemic has seen a huge increase in people buying home gym equipment. The global home fitness equipment market expanded from $6.76 billion to $9.49 billion in 2020. That's an increase of almost 30%. However, with gyms worldwide reopening post-pandemic, fitness equipment sales are expected to decrease slightly and stabilize to $8.62 billion by 2023.
18. Fiverr's Stock Grew 740% in 2020

More people are freelancers than ever before, and many people are calling this trend the 'freelance revolution.' Like several industries on this list,
online freelancing and remote work
 were on an upward trend before the pandemic — which only accelerated the process. People have moved to platforms like Fiverr and Upwork during COVID-19 for several reasons. Some have lost their job, others have hoped to compensate for salary cutbacks, while offline freelancers have had to take their business online due to social restrictions. Freelancing offers people a flexible and prosperous work schedule without ever having to leave the house. The growing popularity of freelance sites can be seen in Fiverr's stock, which shot up by 740% in 2020. Registrations to the site were up by 50% compared to 2019.
19. Pharmaceutical Companies Are Booming               
Companies developing vaccines and selling them for a profit stand to make eye-watering amounts of money from the pandemic, but — in reality — the whole industry has benefitted. Pharmaceutical companies have been getting involved in any way they can, from the development, manufacture, and distribution of vaccines, to new hygiene products or medical equipment. Sales in the pharmaceutical industry hit an all-time high in 2020, at 1.070 trillion USD. Some companies have vowed to sell their vaccine at a price that only covers the costs, such as Johnson & Johnson. Even these companies look likely to make a net gain, with all of the future opportunities that positive branding will throw up.
20. Paint and Plants Lead a Home Improvement Boom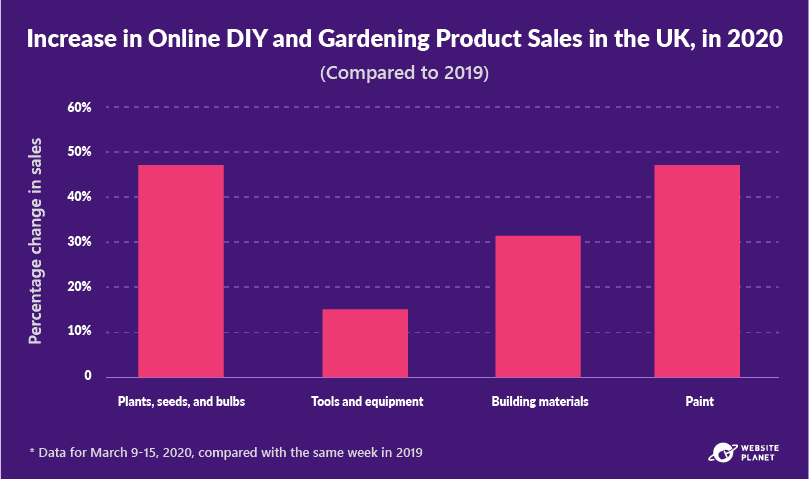 During the COVID-19 pandemic, many people found themselves with an abundance of free time, turning to DIY and gardening as a productive pastime. A quick look at sales in home management products demonstrates a DIY boom, with paint and garden plants experiencing massive growth compared to the same period from 2019.
21. Remote Work Causes Home Tech Takeover                               
The lockdown buying habits of UK residents were revealed in a survey conducted by the Royal Society of Chemistry (RSC). Of all respondents who began remote work during lockdown, almost 50% purchased new IT equipment to help them work from home. The trend can be seen in the vast year-on-year sales growth for top PC brands like HP and Acer, which saw a 17.1% and 23.6% increase in sales, respectively. The investment in home tech didn't end there. A reported 9% of respondents bought TVs or home entertainment systems, while 8.6% bought a game console.
22. Streaming Sites Enjoy All-Time Highs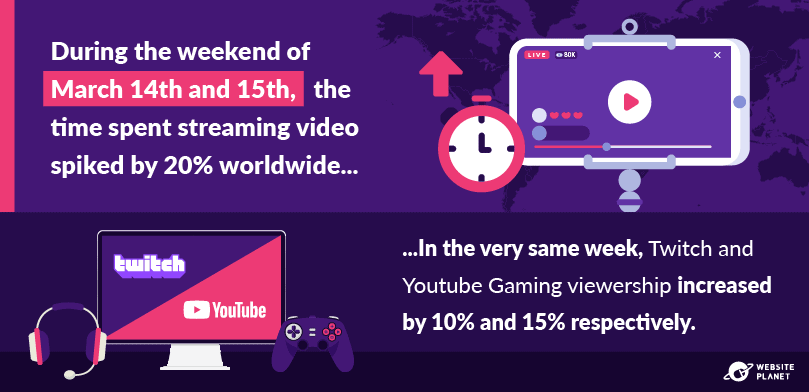 For the same reasons people are investing in home entertainment tech, online video streaming sites have enjoyed staggering numbers during the coronavirus pandemic. 51% of people watched more shows and films on streaming services like Netflix during COVID-19 lockdowns. The same trend can be seen in the huge increases in registrations to streaming sites — Netflix attracted 16 million new subscribers in the first three months of 2020, twice the figure for the same period in 2019. In mid-March 2020, we spent 20% more of their time (on average) streaming video, with eSports streaming seeing a huge increase in viewership.
People's Perspectives and Attitudes Have Changed
It will come as no surprise that facing a global pandemic, unprecedented financial insecurity, and being in lockdown for months led to some pretty huge shifts in what we value. These changes have caused a massive acceleration in some trends and also created entirely new ones. They will affect who we are, how we want to work, and what we want to buy for years to come.
23. People Are More Concerned Than Ever with Their Ecological Footprint

When much of the world went into lockdown in March 2020, we were flooded with countless pictures, videos, and articles about how decreased human activity affected local ecosystems. This, combined with reduced emissions from the drop in travel, led many to reflect on how they could do more to help the planet. The numbers evidencing the change are overwhelming. In the UK, for example, 81% became more concerned with environmental issues, to the point that on average, people are willing to spend 12% more on a product for increased sustainability.
24. Consumers Are Looking for Companies with Environmental Messages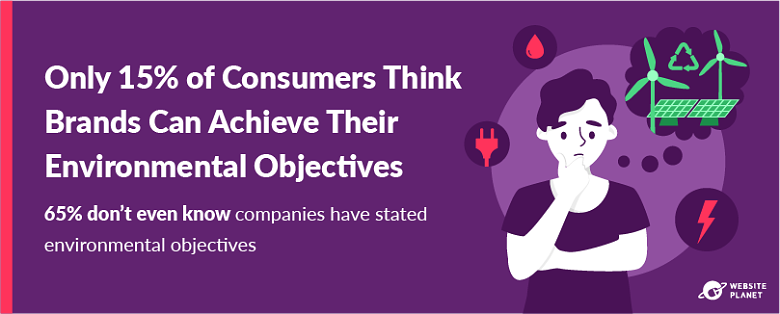 Despite an increased drive to do more for the planet, people are mostly interested in how companies are tackling their impact on environmental issues. Sticking to the UK, 65% of consumers are unaware of big brands' environmental goals. Of those who were aware, just 43% believed these goals are achievable. These two points together show a vast disconnect between the desire of people to help the planet and their confidence in companies to deliver. There's a clear gap that environmentally-focused businesses can fill in 2021.
25. Local Businesses Are Enjoying a Revival

Although millions of people have had to tighten their budgets and have seen a surge in e-commerce, support for local businesses has also grown. 64% of respondents said that they want to buy locally where possible. Many local online services have been capitalizing on this. For example, the Open Food Network UK — a software platform that allows local farmers to sell directly to customers — saw a 10,000% increase in sales in the initial wave of the pandemic, and has stayed high even with in-person farmers markets returning.
26. Most People Want to Stay Working from Home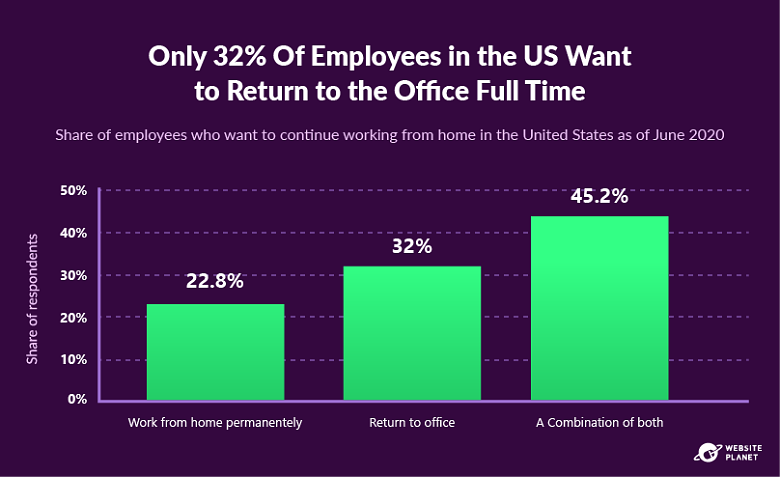 Only 32% of employees surveyed in the US want to return to the office full-time when COVID-19 is under control. It seems that much of the growth in the industries providing the infrastructure to allow working from home is here to stay.
27. Freelancing Is More Popular Than Ever Across the World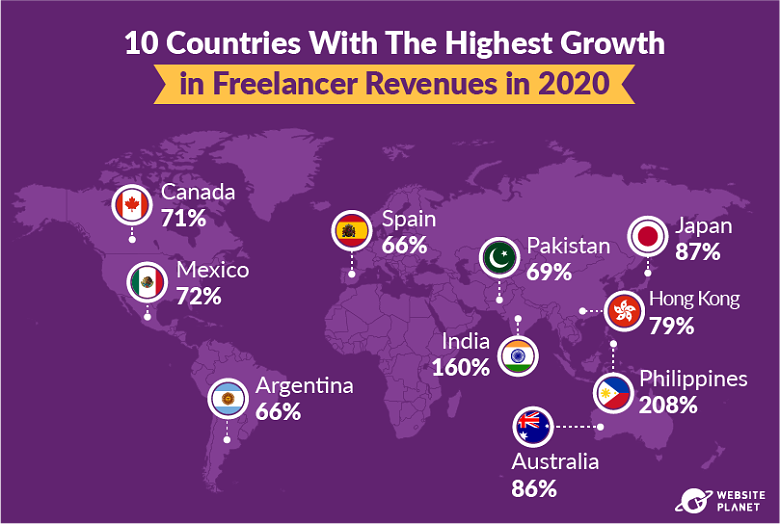 As we've already mentioned, huge growth in freelance work across the world demonstrates an increasing acceptance of this career path. Another change in perspective has been building for years and simply accelerated in 2020 with millions out of work. We see absolutely no reason for this market to shrink going forward. We can expect more growth in 2021 as more and more people look for the freedom that freelancing provides in a world where they no longer feel tied to an office.
28. Side Hustles on the Rise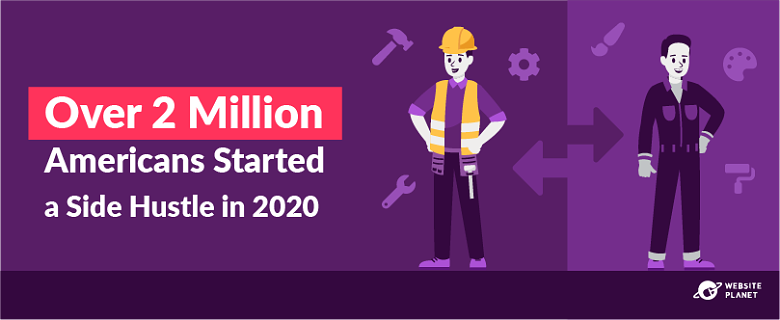 The pandemic has encouraged even more people to create additional revenue streams alongside their regular job. As a result, in 2020, more than 2 million Americans started a side hustle. Outside of traditional freelance roles (such as graphic design, copywriting, or web development), people are exploring new ways to make money, like:
Teaching online: everything from a second language to business coaching, and even anti-racism courses.
Creating video content: video can be monetized in numerous ways, including social media marketing content, YouTube content, Twitch, vlogging, or becoming an influencer.
Selling arts and crafts: on websites like Etsy and Artfire.
Delivering food: working on apps like Deliveroo and UberEats.
Becoming a blogger: writing and monetizing content on sites like WordPress and Squarespace.
Becoming an affiliate marketer: getting paid to promote products and services online, usually via content marketing.
Completing tasks on TaskRabbit: getting paid to do odd jobs.
Becoming a mystery shopper: getting paid to evaluate services online.
Washing and detailing cars: which can be profitable with car washes closed.
Starting and monetizing newsletters: for journalists, bloggers, influencers, and local businesses, this is a growing trend.
Starting a business: both online and offline, more people are taking more control of their work and creating their own businesses.
This list is just a tiny sample of the possibilities for starting a side hustle in 2021. The popular blog Side Hustle Nation has
over 120 ideas
to inspire creative businesses, from selling onions to renting mobile hot tubs.
29. Social Justice Is More Important Than Ever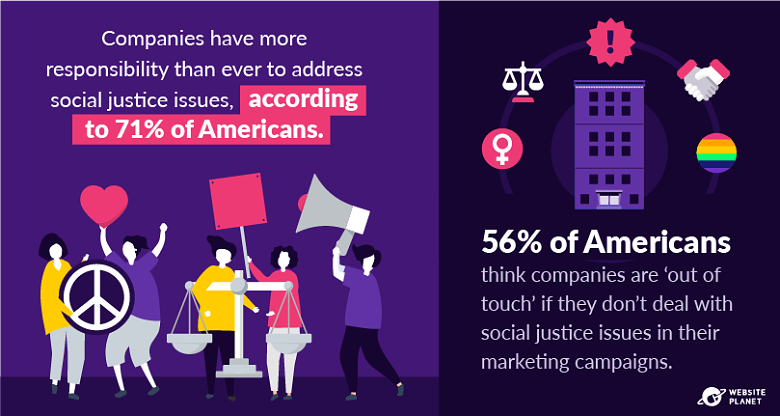 Engaging with social justice issues became more important than ever for businesses following the COVID-19 pandemic. The pandemic gave a lot of people time to reflect on social issues, while the murder of George Floyd sparked protests across the world in 2020. Other issues (such as women's rights) also came to the fore during the pandemic, and this has led to a swathe of marketing campaigns from brands addressing social issues. Most consumers believe brands have a responsibility to represent them and highlight ways to help achieve social reform. Failing to do so could result in a bad brand image, with businesses seeming 'out of touch.'
30. A Greater Appreciation for Nature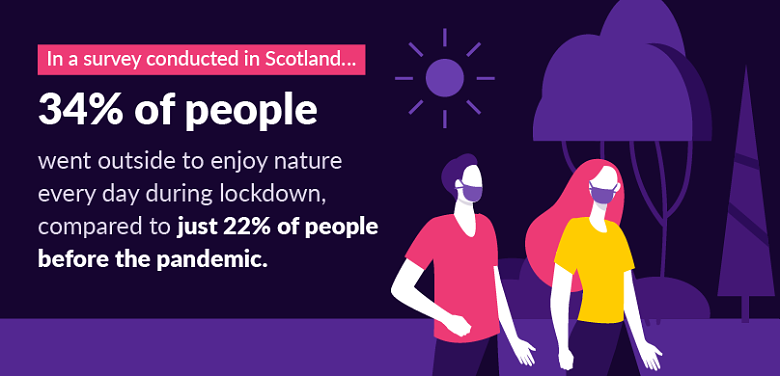 The downtime caused by lockdown has undoubtedly increased many people's appreciation for the great outdoors. People looking to get out of the house went on daily walks, visited nearby natural attractions, and generally enjoyed the natural splendor of their local area — citing stress relief and exercise as key benefits. The majority of surveyed people say they expect to continue experiencing the outdoors in the future, which opens up plenty of potential business opportunities. In the US, rural Airbnb bookings increased by 25% in June 2020, with many people seeking nature to reduce stress and escape the city. In the UK, camping was the only subsector of accommodation to see a growth in turnover.
31. Greater Importance on Personal Health and Hygiene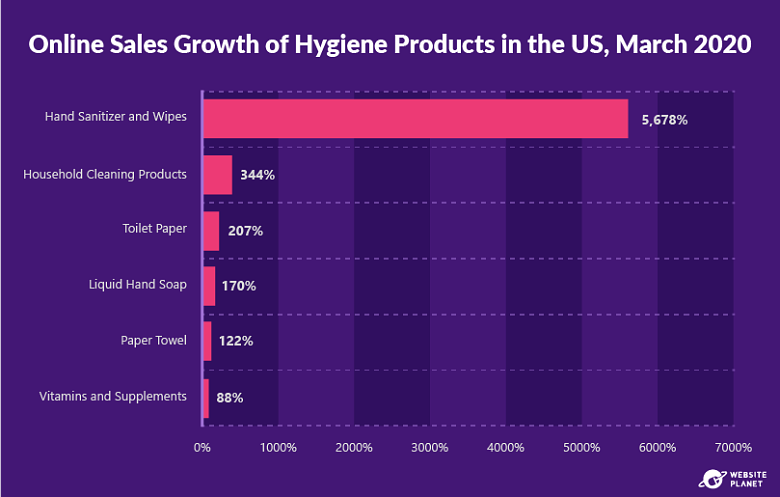 COVID-19 has drastically changed the way many people think about their hygiene. In fact, 65% of people say they are now more likely to think about their health on a day-to-day basis. Businesses must pay attention to the value people are placing on personal hygiene, with hygiene marketing a key trend during the coronavirus pandemic.
32. People Refocused on Their Values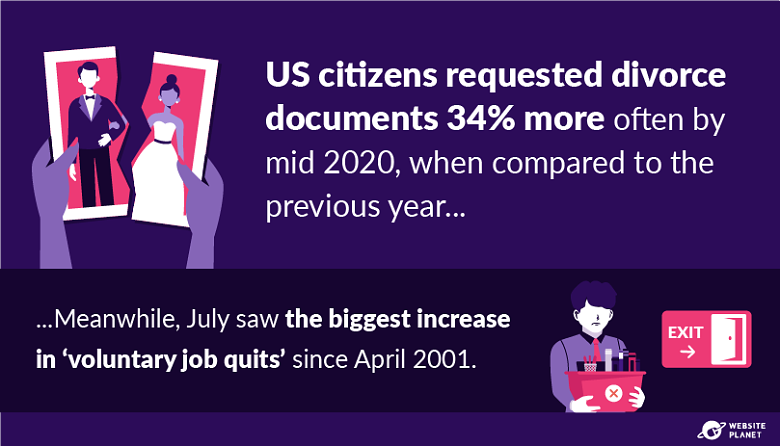 The pandemic has been a time for contemplation, and many people are making significant life changes. The stress of the pandemic has been a huge factor, as incompatible relationships were strained under the added weight of coronavirus. People have also been forced to face up to the reality of their careers and relationships. With no other external distractions during lockdown, any clash of values became painstakingly obvious. While jobs and relationships suffered, friendships were lost too, as people realized who and what was really important to them.
33. People Want to Feel Part of a Community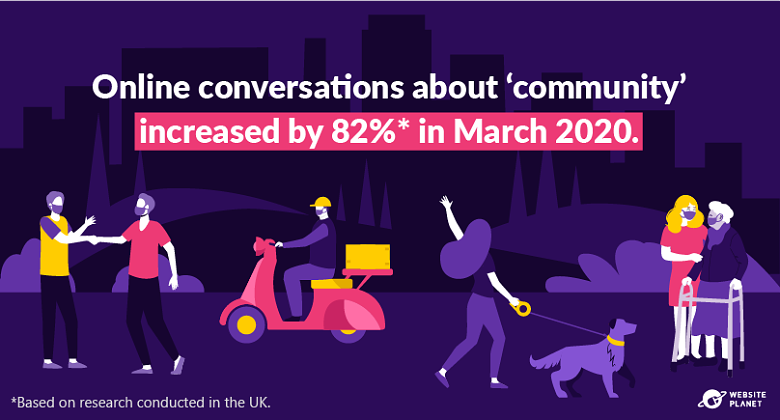 The COVID-19 pandemic prompted people to rally together and find ways to bond with their neighbors. Public acts of kindness were celebrated, people volunteered to provide support to the elderly and vulnerable, local businesses have been supported, and people have done whatever they can to limit the transmission of coronavirus. In Spain, 84% of people said it was essential to take personal measures that ultimately relieve pressure on healthcare systems. While in several countries, clapping for healthcare services became a show of respect. All in all, people are more aware of their role in the community now than they were pre-pandemic. Businesses have been chiming in, too, providing benefits to healthcare staff in a show of unity that elevates brand image.
34. Greater Awareness of Inequality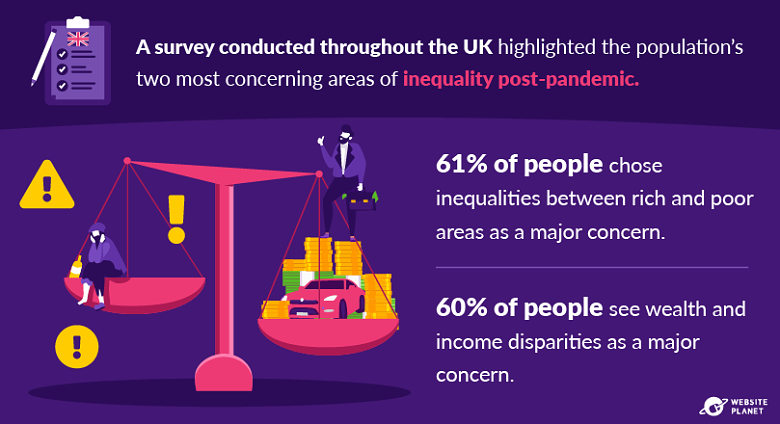 The rich get richer, and the poor get poorer. COVID-19 has highlighted the crippling inequalities of our society. Millions lost their job as trade came to a standstill, while many self-employed people lost income or clients, or were not eligible for government support schemes. Countries across the world have been borrowing record amounts to deal with the pandemic, dipping into recession and suffering a crippling loss in GDP as a result. Women, ethnic minorities, and poorer countries also felt the economic impact of the pandemic more than other groups. Despite such significant economic damage, however, the world's ten richest people made half a trillion dollars combined during the pandemic. People are well aware of this increasing inequality, and they're not happy about it.
Growth and Demand in an Online World
35. Digital Ads Are the Future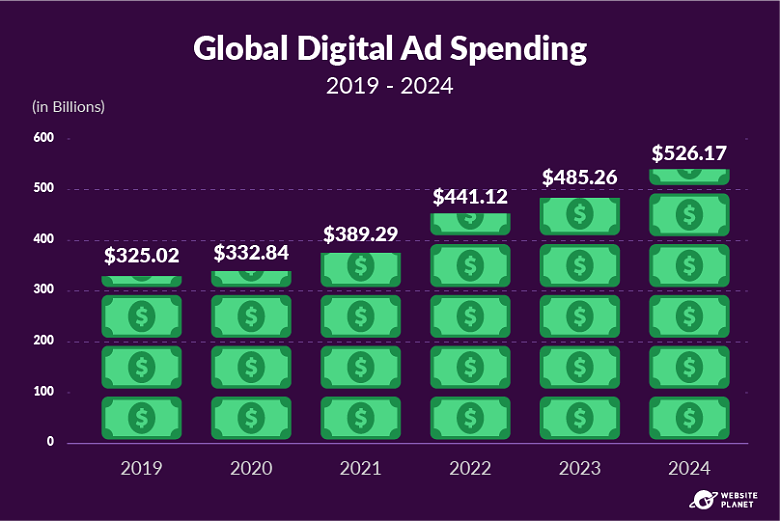 More time is being spent online, which increases exposure to digital ads, while millions of people now rely on e-commerce sites to fulfill their spending habits. Instead of blowing a portion of their budget on a poster or billboard that no one will see, it makes sense that marketers are chasing consumers onto the online spaces they're now using. Digital advertising spending could grow to $389.29 billion in 2021. That figure could reach $526.17 billion worldwide by 2024.
36. Digital Marketing Provides Competitive Salaries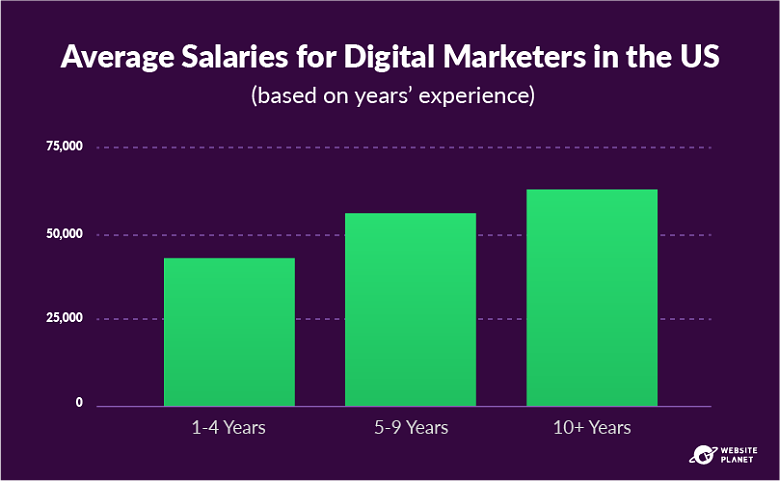 Speaking of digital marketing, it seems like a good career path right now. Exponential growth in the industry is leading to an exponential growth in wages. In 2021, you can expect to enter the digital marketing industry with a starting salary of $40,000 (given you have a marketing degree or digital marketing certification). Digital marketers earn, on average, $55k per year. With more than 10 years of experience, that figure could be as high as $63K. Digital marketing freelancers are becoming more prevalent, typically earning between $50 and $200 per hour.
37. Cybersecurity Spending Hits $123 Billion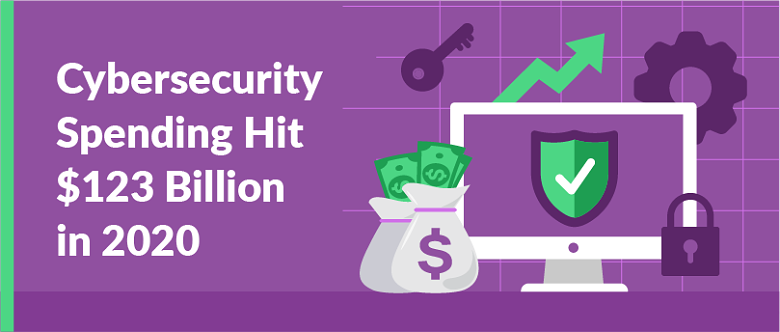 During the pandemic, there's been an alarming increase in cyberattacks across several vulnerable industries. 'Work from home' has created easy targets for hackers and snoopers, with lots of sensitive company data on workers' home devices vulnerable to being stolen and sold. There have been huge spikes in attacks on the healthcare sector, with hospitals under the pressure of COVID-19, while governments, retail outlets, and the financial sector have all seen a marked increase in cyberattacks. In response, cybersecurity spending reached $123 billion across all industries in 2020. As cyberattacks continue to wreak havoc, this upward trend shows no signs of slowing down.
38. Cybersecurity's the Highest-Paid Tech Job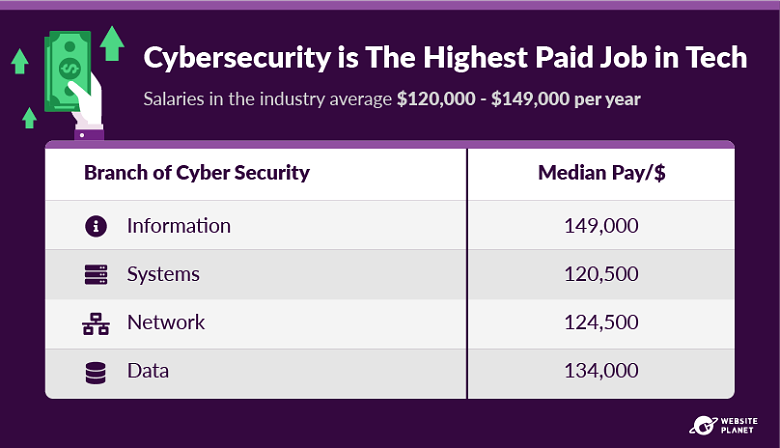 As cybersecurity grows in importance, demand for trained professionals in the industry will also continue to grow. Unsurprisingly, cybersecurity professionals are making more money than ever in the post-COVID-19 cybersecurity landscape, as they're needed to deal with a wave of cyberattacks. In the information branch, professionals are bagging $150,000 per year (on average). That's no small change. In fact, people working in cybersecurity earn more than those in any other tech-related job.
39. 3.5 Million Open Cybersecurity Jobs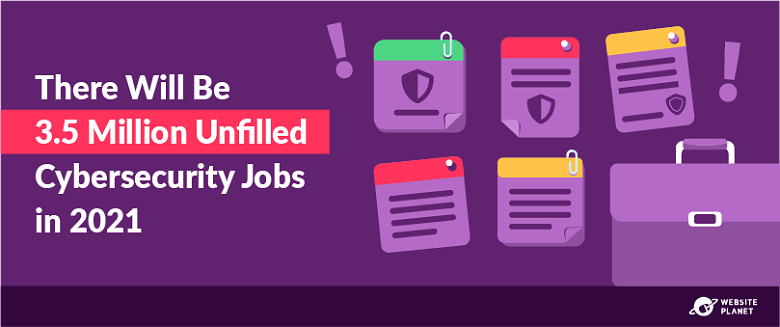 The high demand for cybersecurity professionals makes 2021 the perfect time to get into the industry. Companies are scrambling to fill cybersecurity positions, but there simply aren't enough qualified individuals available for hire. In 2021, there will be 3.5 million unfilled cybersecurity jobs — a 350% increase in open positions since 2013.
40. Independent Online Stores Are Booming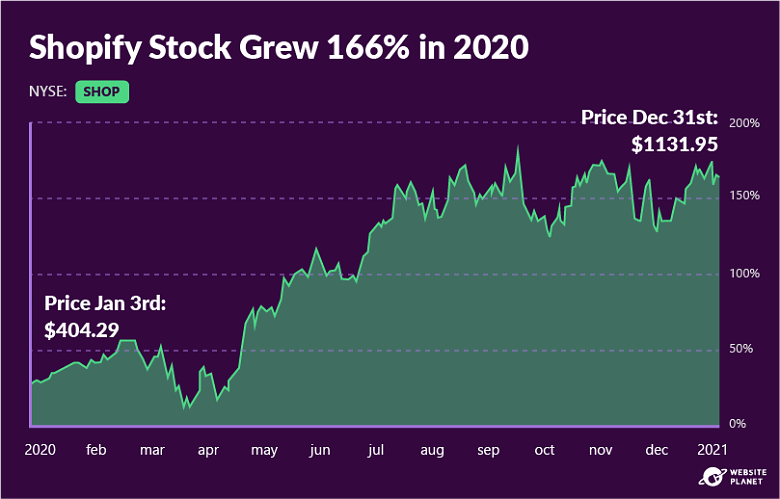 Shopify's stock grew a whopping 166% in 2020, on the back of the incredible growth in e-commerce throughout 2020. If you're looking for a new career path, or even an additional revenue stream, this stat should grab your attention. Shopify is an e-commerce platform designed to make setting up your online shop quick and easy. Given the growth of Shopify and the e-commerce industry as a whole, there are plenty of opportunities in such a thriving market.
41. Dropshipping Grows in Popularity

Dropshipping is a form of online retail where the 'dropshipper' acts essentially like a middle person between the consumer and the supplier. Dropshippers create online stores, listing goods without actually keeping any stock or inventory. Whenever someone makes a purchase on their store, the order is forwarded directly to the supplier, who then ships the product(s) straight to the buyer. Dropshippers earn a commission for every sale they make. There are some great positives to this method. You have low startup costs, zero inventory costs, and low order fulfillment costs. All of this combines into a minimal risk business plan that can have high rewards.
42. More People Are Selling Their Stuff Online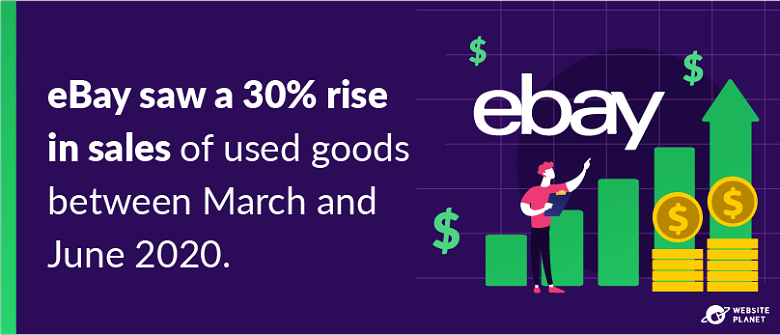 Lockdown provided a lot of people with more time to sort through their possessions. As a result, the number of listings on secondhand online marketplaces like Depop and eBay has increased. At the same time, more people than ever are buying secondhand clothes and other goods online, either out of necessity due to the economic impact of the pandemic or because of growing concerns about the impact of mass consumerism on the environment. Secondhand is more popular than ever. That's why having a clearout right now is such a great idea. You can free up space at home while making some extra cash quickly and easily.
43. Freelance Web Developers Can Earn a Lot
As our lives continue to move online in 2021 — and businesses shift their focus to meet demand — there's no better time to become a freelance web developer. As a freelance web developer, you could be earning as much as $58,000 in your first few years in the job. On average, freelance web developers earn $75,430 per year, or $60 per hour. That could quickly grow to $87,000 if you develop your skills and expertise. Top-tier web developers can charge astronomical amounts for their time — some of them pull in more than $130K a year.
44. Freelance Graphic Design Pays Handsomely

On average, freelance graphic designers earn $58,614 in the United States. Experienced designers can charge between $65 and $150 per hour. If you really make it as a graphic designer (and I mean you're 'world-renowned'), you could charge as much as $300 per hour. Phew.
45. Freelance Writing Income Can Vary Massively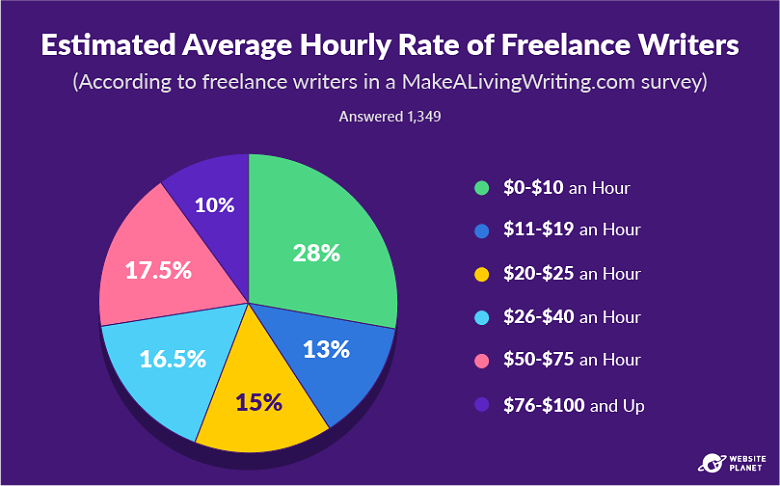 On average, freelance writers in the US earn $52,807 per year. However, there's a huge spread. Some writers make as little as $10.31 an hour, while more experienced writers can charge more than $53 an hour. While the rates are lower than in web development and graphic design, the data shows that experience and quality-of-service are essential factors for a freelance writer. Get that right, and you could be charging more than $100 an hour. Couple a good wage with the favorable work-life balance that freelancing can provide, and freelance writing looks like an attractive prospect.
The Green Economy Is Booming
Finally, it feels like governments, businesses, and consumers are taking environmental issues and the planet's future seriously.
46. The Meteoric Rise of Tesla and Electric Vehicles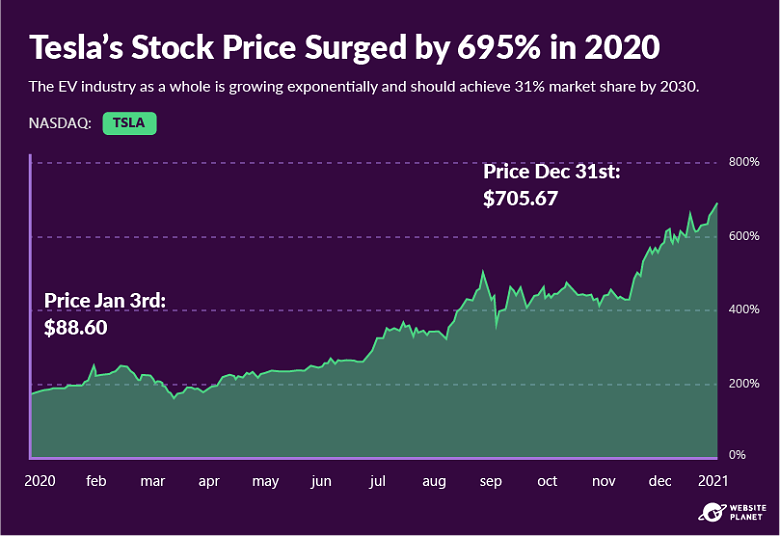 There are growing concerns about the health of our planet, and Tesla's environmentally-friendly electric vehicle range has been thrust into the limelight. Elon Musk's innovative technologies and clear ecological vision have led to significant investments in Tesla, which surged to a valuation of $630 billion in 2020. That's an eye-watering growth of 695%. The rest of the electronic vehicle market has also prospered alongside Tesla. Altogether, it's estimated that electric vehicles took a 30% market share of the vehicle industry in 2020. Our money is on that trend continuing into 2021 and beyond.
47. Eco-Products Are on the Rise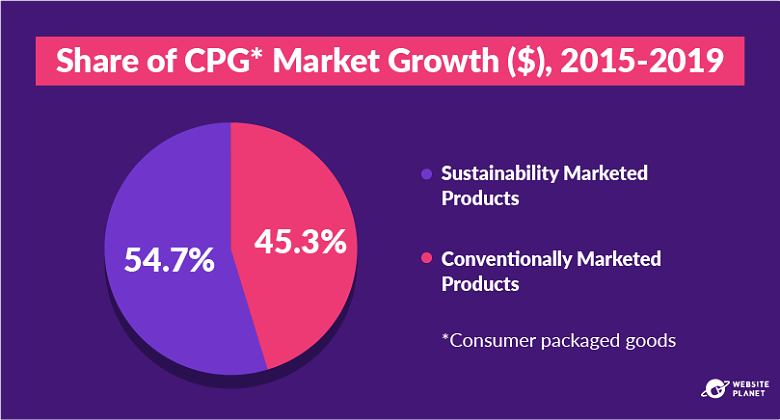 Eco-products have accounted for over 50% of the Consumer Packaged Goods (CPG) market growth from 2015-2019, despite making up just 16.1% of the entire market. Massive growth in the industry is even more spectacular when we consider that sustainable products are, on average, 39.5% more expensive than non-sustainable products. People will go out of their way to buy sustainable! Not even COVID-19 could dent the upward trajectory of eco-products. Despite so many businesses failing due to the pandemic, sustainable product sales were 180% higher than average over the week ending March 15th, 2020. Sustainable products are on-trend right now, and there's serious money to be made.
48. Sustainable Meat Is Growing in Popularity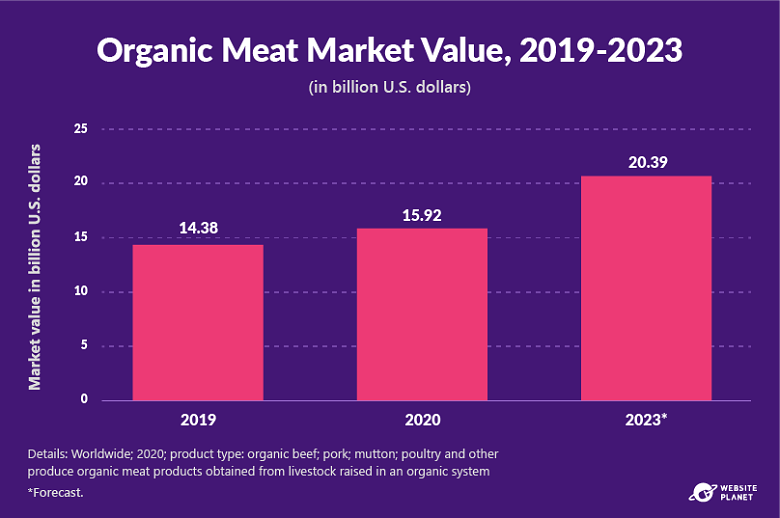 Given the rise of eco-products in general, it will come as no surprise that the eco-food market is forecast to see a significant increase in value over years to come. Sustainable food is one of the most critical areas of the green economy, as current food production methods are inhumane and damaging to ecosystems worldwide. People are eating sustainable food products with increasing regularity, as they make better-informed decisions on what they eat.
49. Sustainable Fashion Is Also On-Trend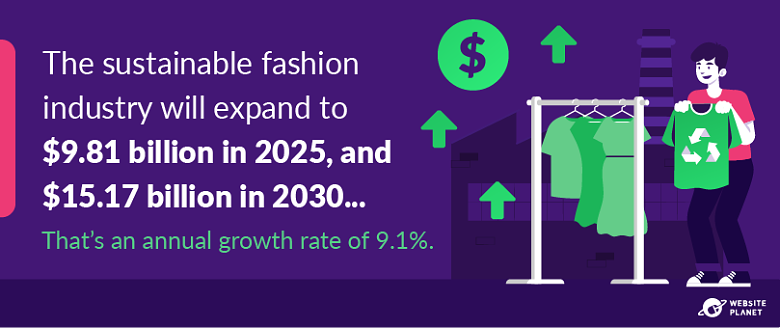 Just like sustainable food, sustainable clothing looks set for massive growth over the next few years. Fashion that uses sustainably sourced materials is all the rage right now, while many clothing resale sites like Depop encourage sustainable packaging. The growth in online retail goes hand-in-hand with an expected rise of eco-fashion, which presents exciting avenues for business startups. Online clothing resale is already booming. Why not try your hand at online eco-clothing resale? All the signs point towards this being a profitable venture both now and in the future.
50. Eco-Marketing Is Important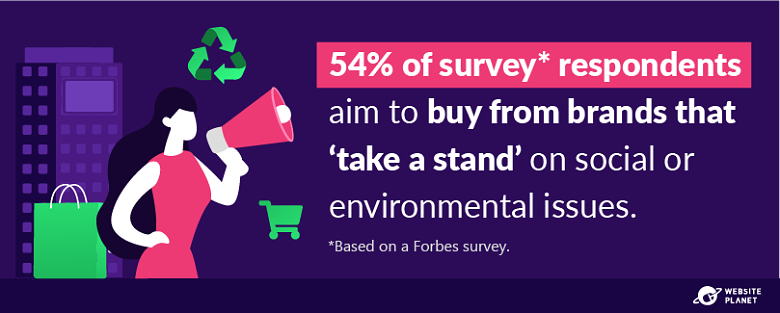 Consumers are making more informed buying decisions than ever. 65% of people say they actively look for products that facilitate a sustainable and socially responsible life. Meanwhile, 65% of people do business with socially and environmentally responsible brands. The shifting attitude of consumers means brands must take a stand on environmental issues to stand out, with more than half of respondents purchasing products from brands that do.
51. Sustainable Agriculture Reaps High Rewards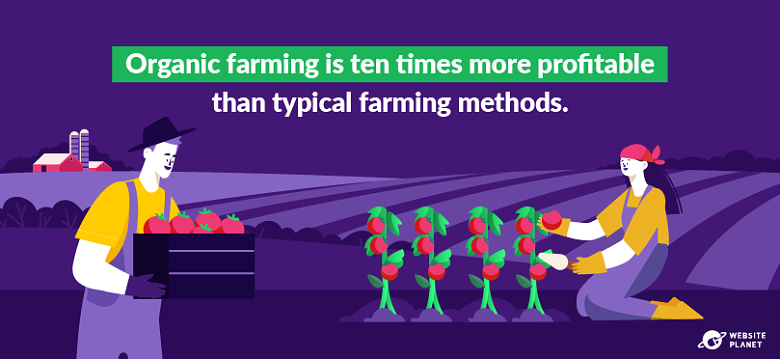 Sustainable agriculture is growing exponentially as people realize just how valuable and important it is. Sustainable agriculture rejects mass industrial approaches to farming by considering environmental, health, and economic profitability, along with social and economic equity. Sustainable agriculture efficiently increases food production by using crop rotation, waste reduction, water management, permaculture, and biodiversity. It's not just more profitable — it's also essential to our future. Industrial farming erodes forests and farmlands to an irreversible level, and these methods often use machinery that damages the environment. Sustainable agriculture reverses these effects and promises to provide enough nourishment to feed hungry populations.
52. The Race to Net-Zero Emissions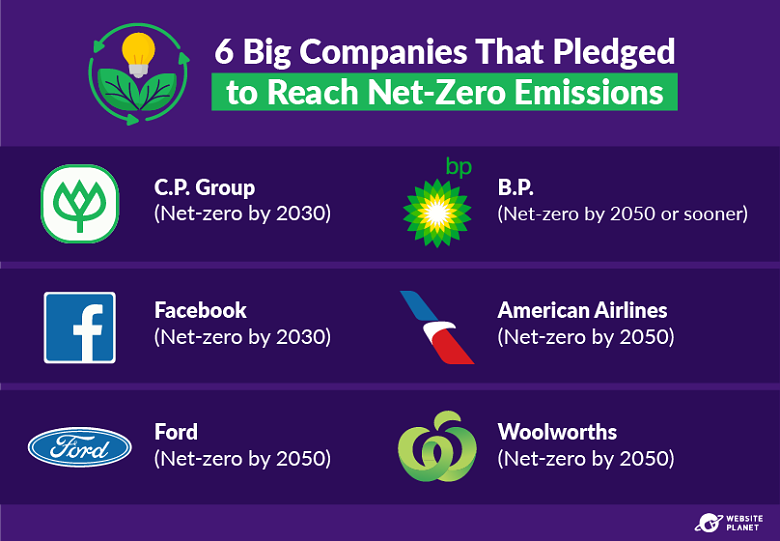 Net-zero means CO
2
emissions are balanced, as any CO
2
released into the atmosphere is reabsorbed. This is achievable by reducing our carbon footprint and removing greenhouse gases with green spaces. We must reach net-zero by 2050 to meet international global warming targets. Businesses must commit to net-zero emissions. Thankfully, 2020 saw net-zero commitments double before the year was out. For companies, this commitment reduces risks, costs, attracts investors, and elevates brand image.
53. Investing in Renewable Energy Is Smart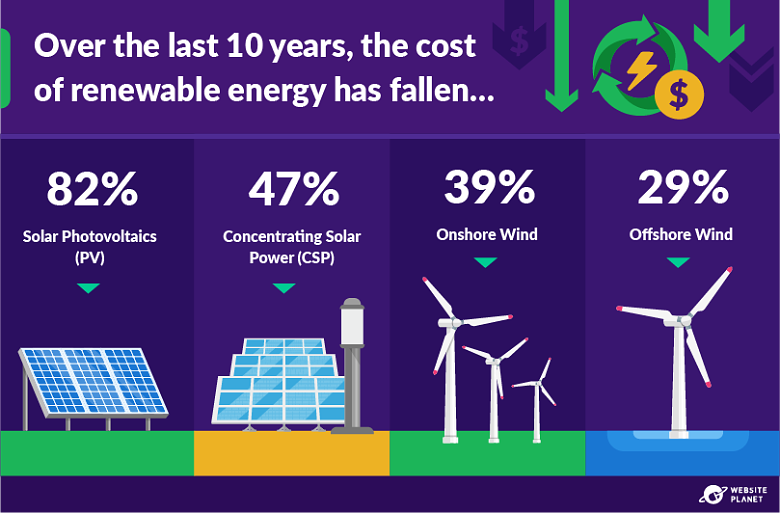 Throughout the last decade, the cost of renewable energy has plummeted dramatically. On-shore wind and PV now provide cheaper electricity than any other type of power plant, and the trend will only continue in years to come. Fueling businesses with renewable energy is now the most cost-effective option available. Not only will you save money, but you'll also be saving the planet, too. A source of ecological pride that is sure to attract a swathe of paying customers.
54. Record Levels of Sustainable Finance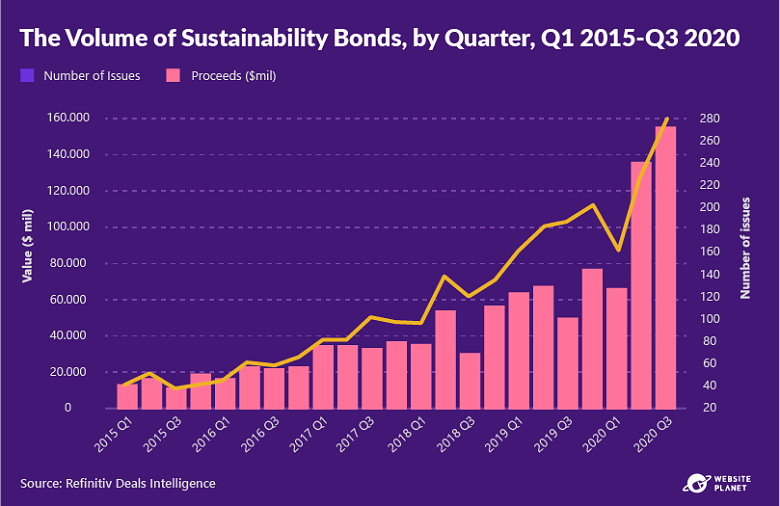 Talking of smart investments, sustainable finance reached record levels in 2020 — driven by COVID-19 and our heightened perception of sustainability issues. Sustainable finance is any investment from the financial sector that considers environmental, social, and governance (ESG) factors. Sustainable bonds are the financial packages handed over to companies with specific requirements for achieving ESG promises. Sustainable bonds hit record amounts in Q3 2020, both in terms of volume and value. The rapid growth of sustainable finance points towards the rising value of startups with an ecological ethos. In the wake of COVID-19, ESG investments only look to be heading in one direction.
55. Stocks Rise for Green Innovations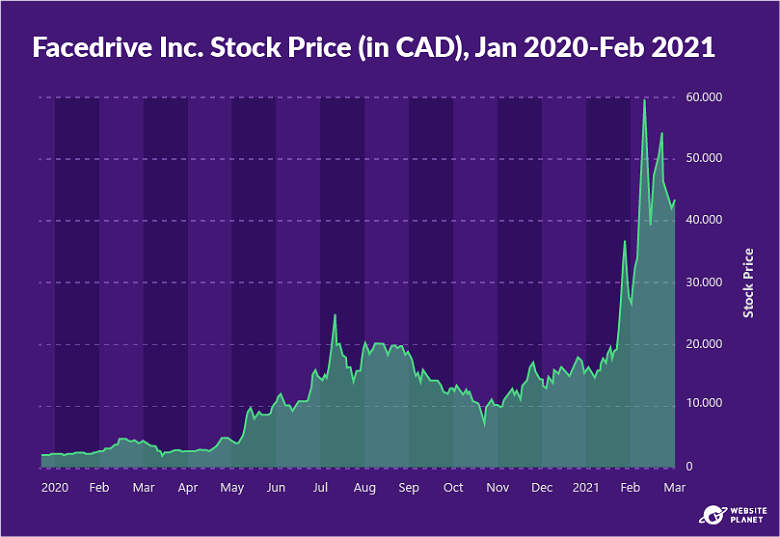 On the other hand, the ESG companies in which financing firms invest enjoyed a meteoric rise throughout the second half of 2020 and early 2021. In particular, green innovations have caught on — with plenty of new startups seeing a significant increase in investment and stock price. Facedrive Inc. is one such example. Facedrive is a Canadian ecologically motivated ride-sharing platform. At the beginning of 2020, this ESG startup's stock price sat at CAD 2.35. By mid-February 2021, Facedrive's stock rose to almost CAD 60.
How to Thrive in The Future of Work
Learn how to use the essential tools and develop critical skills for working online as a freelancer, remote worker, or online business owner.
56. Find Work on Freelance Websites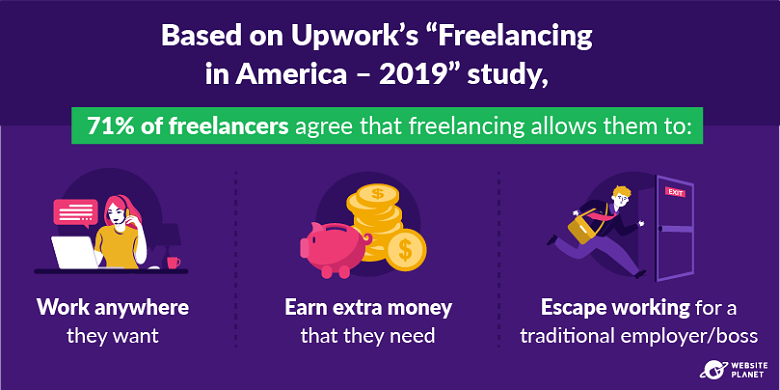 With more people turning to freelancing than ever, it's important to find work with the least amount of hassle possible. That's why freelance sites are so fantastic. You simply upload any experience, and you're free to advertise your services or apply for contracts with clients. If you're relatively inexperienced, start by doing small jobs and gradually build up your portfolio. You don't have to worry about billing since most sites do that for you. Although you will have to live with service fees from the site, it's a small price to pay given the vast amount of work available.
Upwork
,
Freelancer.com,
and
Fiverr
are among the very
best freelance sites
out there. Three great places to start making some extra cash!
57. Learn How to Create a Website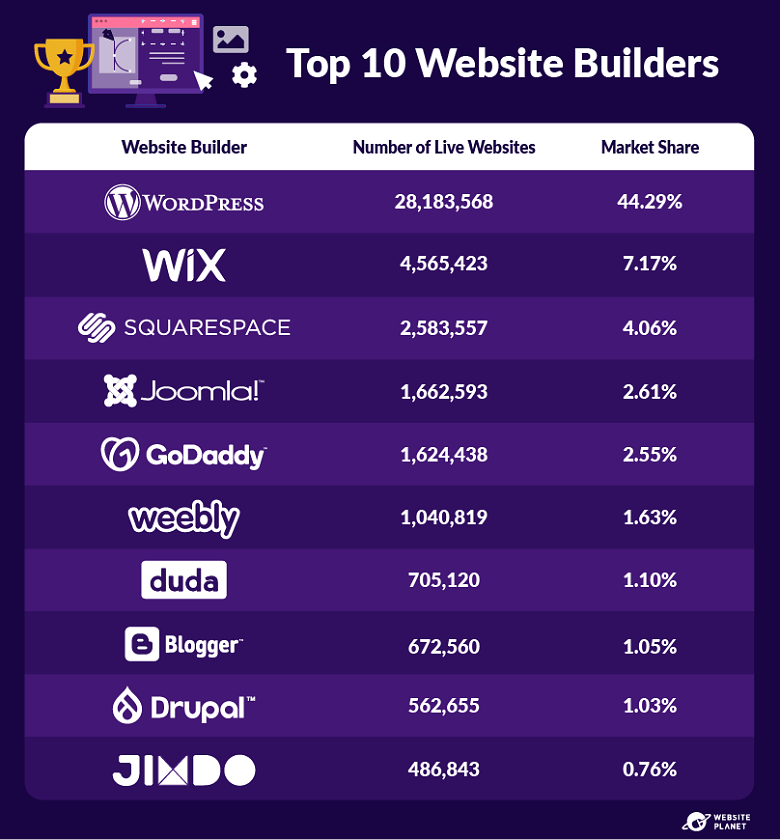 Once upon a time, building a website from scratch was time-consuming, difficult, and expensive. Now, several fantastic platforms practically do the work for you. You just pick a font, layout, color scheme, add the content, and voilà! You have a professional-looking website that's good to go.
WordPress
,
Squarespace
, and
Wix
are three top-rated website builders available, but you can find several other options in our
website builder guide.
WordPress is the go-to software for many professionals, whereas Squarespace and Wix are perfectly suited for beginners. What you do with your site is up to you. You could start blogging and monetize your content to make some extra money. You could set up an online store or create a personal website to represent yourself and your work. Finally, you could offer your website-building services to other businesses.
58. Learn Graphic Design

If you've read every word of this article so far, you'll have seen the part about graphic designers. Graphic design is super on-trend after the coronavirus pandemic. Like writing and web design, it's one of the more traditional skills that you can use to
freelance online
— and it pays well, too. What's more, graphic design will be an excellent skill to have in the bank during the digital age. You never know when you'll need to knock up a graphic for some content you're writing, or a logo for the next online business you're launching. There are loads of great apps out there to make graphic design as simple and easy as it can be. Free apps like
Design Wizard
and
Canva
allow you to create, edit, and share images with a few clicks of the mouse.
GIMP
is a little bit more complicated, but fantastic if you want to learn the ropes. Serious graphic designers might want to invest some more money. You'll need a
stylus and graphics tablet,
and
dual monitors
, while the
adobe creative cloud
suite is the best software available for everything from image editing to graphic creation.
59. Learn Video and Audio Editing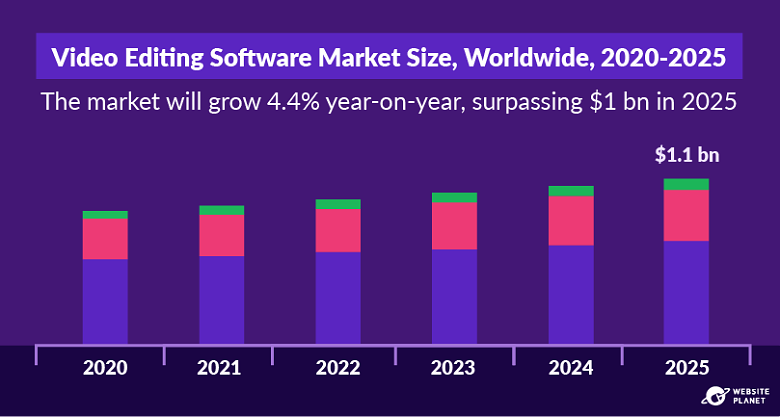 Video and audio editing are two more skills growing in demand, as seen in the growth of tools used by video and audio editors. Why? Because video and audio content are super hot right now. The rise of social media platforms TikTok and YouTube have contributed to a greater demand for video and audio editing skills. Whether that's for a podcast, social media post, or a marketing video posted on a blog or channel, editing skills like these will land you with a stockpile of available work online.
Adobe Premiere Pro
and
Adobe Audition
are two of the best programs for professionals. But lighter apps like
Audacity,
GarageBand,
OpenShot,
and
Kinemaster
are great starting points.
Udemy
even offers courses in video and audio editing.
60. Keep Up to Date With Digital Marketing Trends

Digital marketing has seen massive growth since the beginning of the pandemic, and there are many good reasons why now is the time to step up your digital marketing game. You could be launching an online brand, advertising your services, website, or products, or even finding the right followers for a social media account. The point is, you will probably have to do your own digital marketing at some stage, and knowing how, where, or to whom you should be showing your content is crucial for success. All of the same graphic design, video, and audio editing software featured above can be used to create your marketing content.
SocialPilot
,
Sendible
, and
Hootsuite
are three of the
best apps for social media marketing
optimization. With
Venngage,
you can create visual consistency across your brand and content. Meanwhile,
Hubspot, Mailchimp, and Ahrefs
will help you strategize and optimize your digital marketing strategy across multiple other channels.
61. Get Creative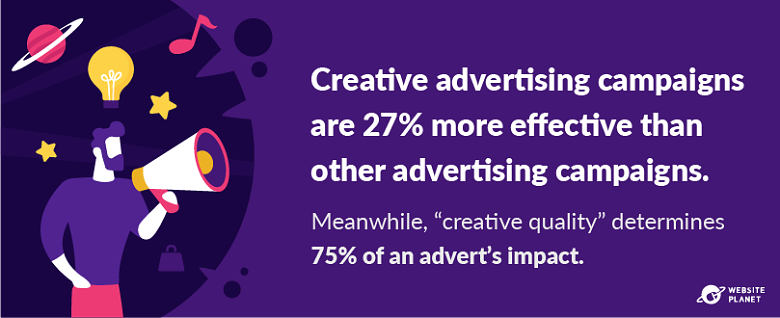 This one's a little bit more of a general skill, but still really important if you want to excel at some of the roles we've discussed throughout this article. Everything from digital marketing to content creation and editing takes a certain level of creativity. To thrive in any of these roles, you should be able to look at things differently. Take a digital marketing campaign, for example. What do you think will perform better? An advert that recycles the same cliche as its competitors? Or one that gets its message across in a way no one's seen before? The latter, of course. In so many areas of life and work, it helps to tell stories that engage people. The best way to get your creative juices flowing is by taking up a stimulating creative hobby.
Paint
,
draw
,
make crafts
,
play a musical instrument
, or even
redecorate a room
. Sites like
Skillshare
catalog loads of different online courses you can take to get better at this stuff.
62. Update Your CV/Résumé

We've talked about digital marketing a lot so far in this article, but there's one traditional way to market yourself that's still so important post-COVID-19: your résumé. The same can be said for your portfolio (if you need one of those). Your résumé and portfolio are very important in the business world, whether online or offline, and keeping yours up-to-date will give you the best chance of landing that job you want, or securing that fantastic client. Luckily for you, we've curated a
list of portfolio and résumé templates
to help you stand out. Who knows? If you get good at creating résumés, you could go one step further by selling your services as a résumé writer. You could even set up a website or e-commerce store, using those web design skills you learned earlier.
63. Develop Your Entrepreneurial Skills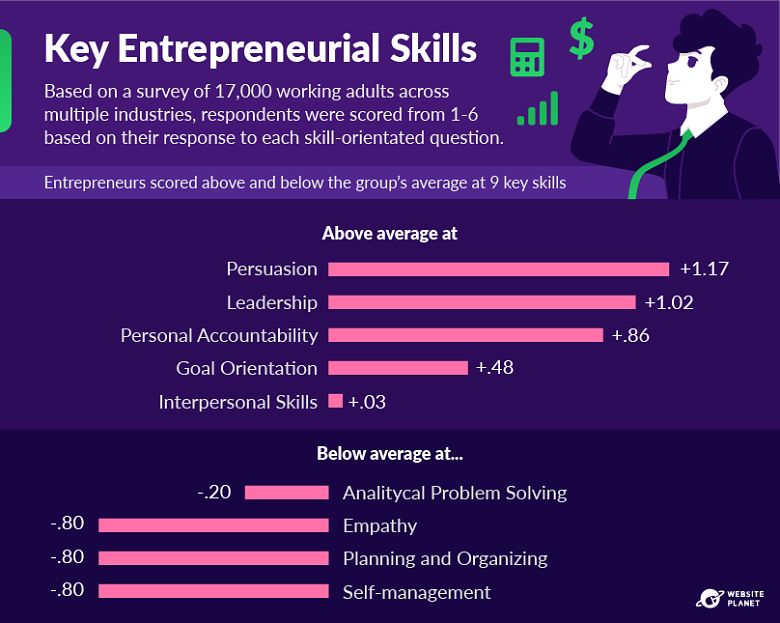 Given the new ways to make money or set up a business online, more people are now finding themselves in a position where they need to make business decisions. Entrepreneurial skills will help you interact with clients, interact with colleagues, or plan the next move for your career or business. Key entrepreneurial skills include communication, planning, critical thinking, problem-solving, teamwork, leadership, financial skills, and business management. A simple web search will reveal loads of different entrepreneurship courses that you can access online. These are the perfect places to boost your knowledge of the business world.
64. Get Computer Literate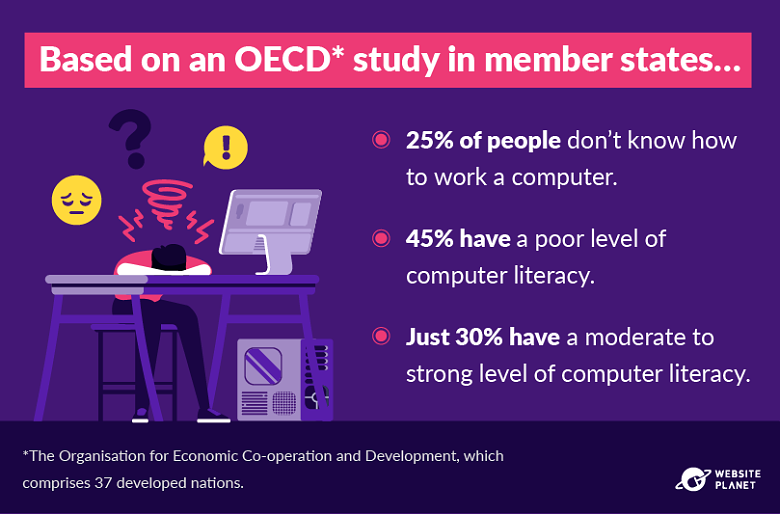 Computer literacy has nothing to do with words, by the way. It simply means how good you are at using computers and related devices, along with the software that's on them. It is crucial for everyone to possess a solid understanding of common cloud platforms such as Google Drive, Docs, and Sheets. Moreover, achieving proficiency in fast typing has become indispensable in various professional domains post-COVID-19, especially with the increasing shift of many industries to online operations.
Hand placement
and
posture
can make a big difference to your type speed, and you can
take tutorials
whenever you use a new computer program or piece of software. Should that fail,
Udemy
and
LinkedIn
offer straightforward and practical computer skills courses.
65. Think About Cybersecurity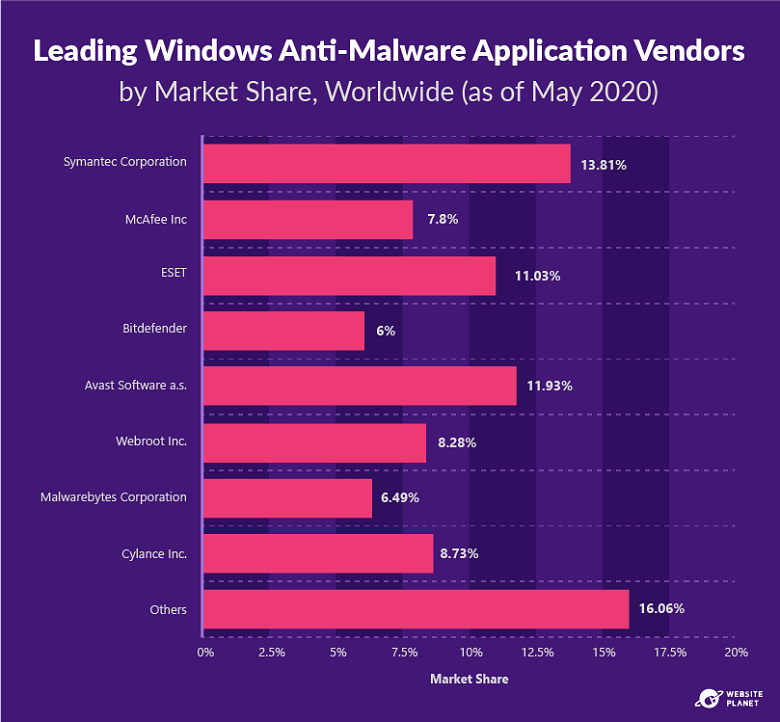 Following on from the previous skill, cybersecurity is something that you need to have at least a basic knowledge of — particularly if you've started working remotely from a laptop or home computer. That's because cyber-threats are increasing post-pandemic, and a lot of hackers are targeting people who are using hardware that doesn't have adequate safety software in place. You should always have antivirus or anti-malware installed on your device(s). Symantec's
Norton
,
McAfee
, and Avast's
AVG
are among
the best antivirus software
on the market. Elsewhere, you should educate yourself about the correct practices around staying safe from hackers, phishing attacks, and protecting your data.
66. Develop Your IT Skills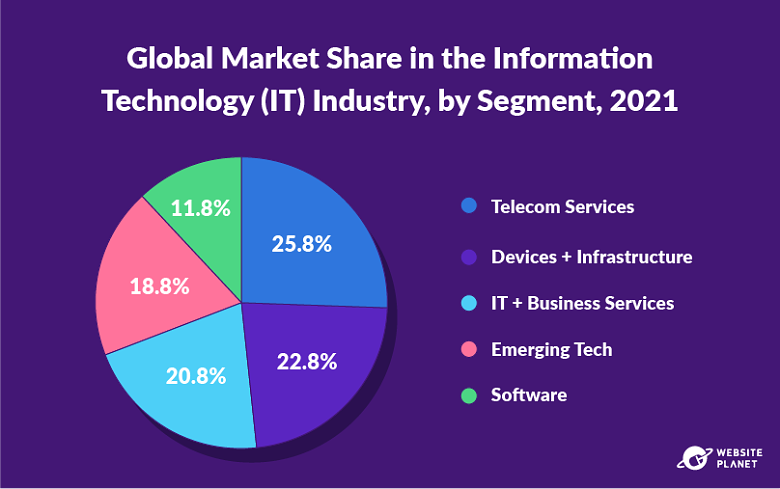 Once you're good at using computers and you have a sound knowledge of cybersecurity, it might be time to start branching out into other parts of IT. There are loads of IT skills that are high in-demand after the COVID-19 pandemic:
Cloud computing
AI and machine learning
User-experience (UX) design
App development
VR (virtual reality)
Data Analytics
Advanced cybersecurity
While it's tough to get good at all of these things at once, pick one that interests you and invest yourself. As always, there are tonnes of different online courses for IT skills.
CompTIA
does certifications in all of these different areas of IT, which could be a great place to start.
Final Thoughts
COVID-19 has shaken up so many things we take for granted, in everyday life and within the business world. Although it's easy to think about how things are worse (or not how we expect them to be), it's best to find positive outcomes in the changes we face, rather than focusing solely on the negatives. New business opportunities are opening up as people try to live a more thoughtful, cohesive, and efficient life. If you can adapt well to the changing business landscape post-pandemic, you could succeed in ways that you never thought possible. Think about this article and try some of the ideas we suggest — it could be the most profitable decision of your life!